There are few things worse than pouring a cup of coffee only to discover that instead of that perfect cup of coffee that you expected you're left with a lukewarm cup of coffee that you have to choke down.
Whether you're just in the need for a coffee carafe to take your coffee on the go or just need a way place to keep your coffee hot after brewing, you're in the right spot! Finding a carafe that keeps your coffee or other hot beverages within the ideal drinking temperature for an extended period is a game changer.
The problem is that not all thermal coffee carafes are actually great insulators over an extended period and they tend to get dirty quickly.. What's more, most aren't easy to clean and some have flimsy components.
In this article, I'll help you narrow down your search to a few of the best coffee carafes options and explain how to compare. Even a great carafe isn't the "best" fit for every use case.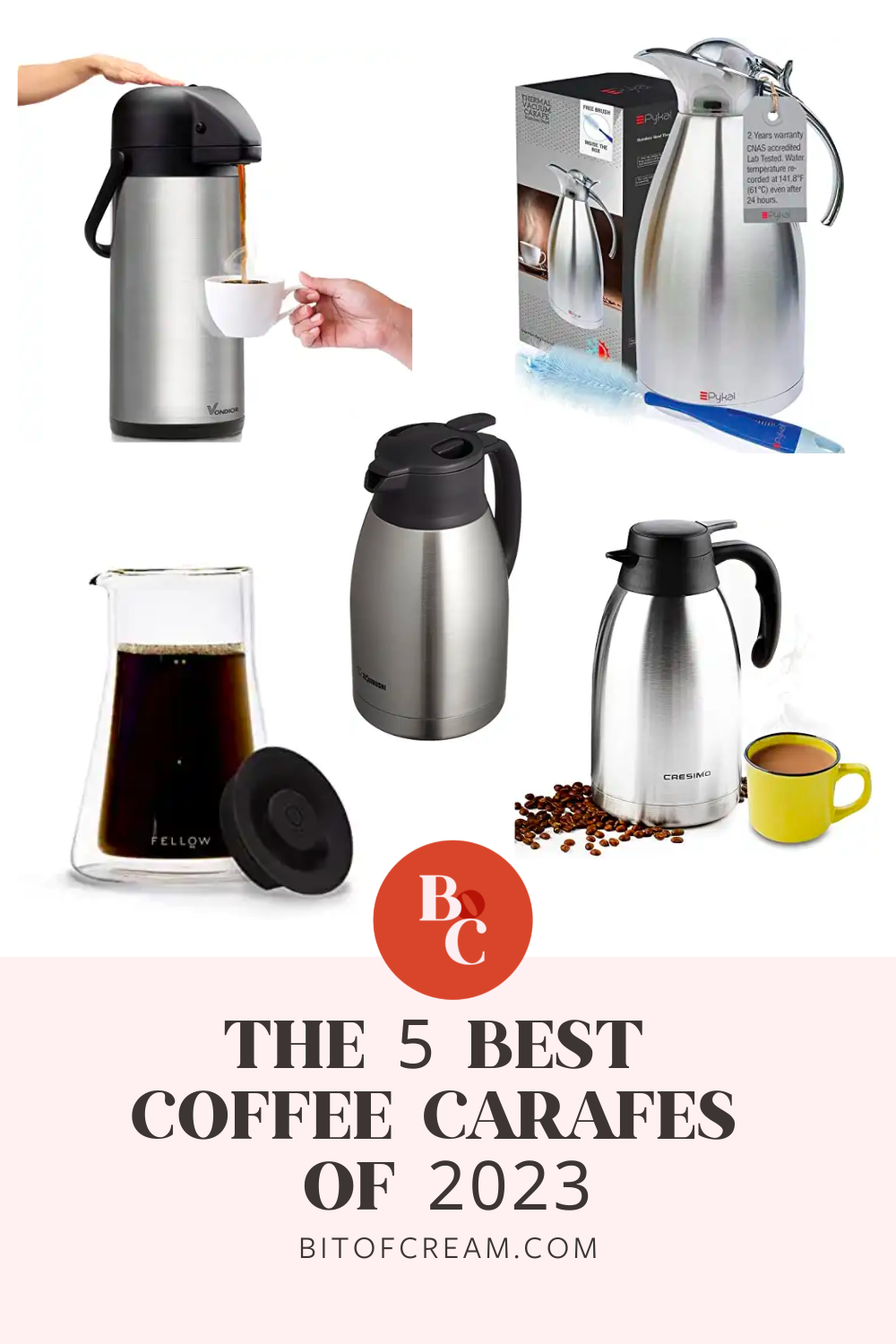 This post includes affiliate links.
Top Picks for the Best Coffee Carafes
| Product Image | Product Name | Primary Button |
| --- | --- | --- |
| | | |
| | | |
| | | |
| | | |
| | | |
Detailed Thermal Carafe Reviews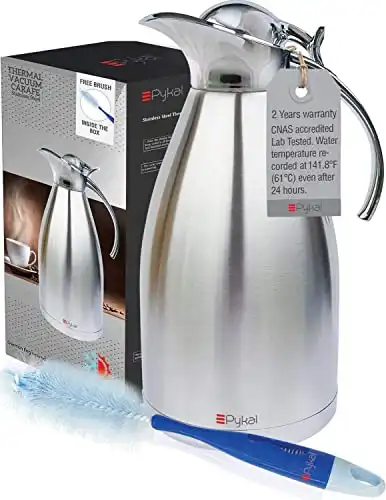 We earn a commission if you make a purchase, at no additional cost to you.
The Pykal 68 oz Thermal Coffee Carafe is our top pick because it's excellent quality and still affordable. It's the most attractive carafe on our list, and it'll keep your coffee hot for up to 24 hours.
Sleekest Design
There's no denying how good the Pykal Thermal Coffee Carafe looks. It has a satin, brushed, stainless steel finish. Even the handle and lid are made from attractive shiny steel. Plus, you'll never have to worry about rust or corrosion.
There's a press-lever opening with a no-spill spout. This design is unique and striking. This is a carafe that you'll want to display on your desk.
24-Hour Heat Retention
The walls of this carafe are vacuum-insulated to maintain its temperature for a very long time.
Pre-heating the carafe with boiling water can keep your coffee at about 160°F for 12 hours and up to 140°F for 24 hours. Of course, you might never have to test those limits, but you can rest assured that your coffee will be hot until the last sip.
On the other hand, you could also use this carafe for cold brew or iced coffee, and it'll keep your coffee as icy as ever.
Fully Plastic-Free
This is one of the only entirely plastic-free carafes on the market.
Plenty of people try to limit their plastic consumption. They don't want their food, especially hot liquids, to leech toxic chemicals from the material.
The entire inner body of this carafe is lined with surgical-grade stainless steel, and the lid has an internal BPA-Free silicon piece.
Pros
There is no plastic on this product.
Vacuum-sealed walls gives it extra long insulation period
Exceptional design
Cons
Not dishwasher safe
It cannot be submerged in water.
The lid isn't detachable, and the handle can get hot
We earn a commission if you make a purchase, at no additional cost to you.
The Vondior 85 oz Thermal Coffee Carafe With Pump is an excellent option when you need to keep enough coffee to caffeinate a crowd hot for hours. This carafe is perfect for the office, school functions, camping, buffets, or events.
Pump-Action Spout
The pump on this one makes it simple for everyone to dispense the liquid.
No one has to pick up a heavy carafe and risk dropping or spilling anything. With the touch of a button, your guests can enjoy a steaming hot cup of coffee without any fuss.
You can fill 15 coffee cups with just one press of the button for each mug.
Easy To Clean
The wide mouth on this model makes it especially easy to clean.
You can fit your whole hand and a damp rag into every inch of the interior of this carafe. And with this large opening, you can easily fit ice cubes into the carafe if you want to use it for iced coffee or iced tea.
The brushed stainless steel construction resists fingerprints and dents. Plus, it wipes down like a dream.
24-Hour Heat Retention
Preheating this carafe with boiling water before transferring in your hot coffee should maintain its heat for up to 24 hours.
Pros
Wide mouth makes for easy cleaning
Pump action spout makes serving simple
30-Day money back guarantee
Cons
Dispenser and Lid are made of plastic material
You can't tilt the carafe when its full
Cresimo Thermal Coffee Carafe
Large mouth opening to make filling and cleaning a breeze.
Easy-detachable lid is leak proof

Holds enough for 12 6oz. cups of coffee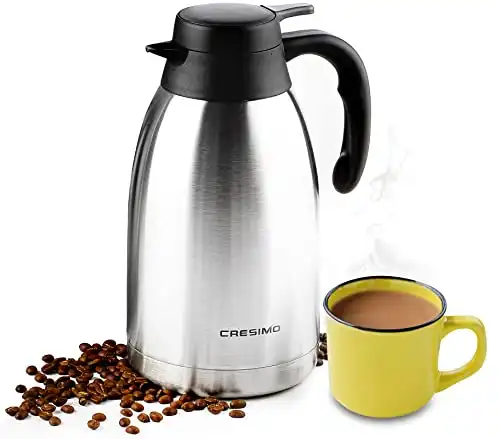 We earn a commission if you make a purchase, at no additional cost to you.
The Cresimo 68 oz Insulated Thermal Coffee Carafe is an excellent upgrade option. It's a bit more expensive than our overall pick (although you can often find it on sale for the same price or cheaper). It does the job and keeps your hot coffee hot or your cold coffee cold. Plus, it's durable and easy to use.
I use this coffee thermos for our delivery people during the bitter cold winter days for hot tea and hot cocoa. If I first fill it up with hot water, let it sit for a few minutes, empty that and refill it with hot water it will stay hot all day long in zero degree weather. It's truly amazing!
One-Hand Pouring
The pour spout easily opens with the press of a button that's built into the handle.
You can hold your mug in one hand and pour yourself a cup of coffee with the other. This makes it an excellent option for those who suffer from joint pain or arthritis in their hands and fingers.
However, if you prefer two-handed pouring, the exterior of this carafe stays cool to the touch for safe usage.
Made to Last
This is a double-walled thermal carafe that's interior and exterior are made of 18/8 stainless steel. It's a durable build made to last and is resistant to drops, dents, and scratches.
Plus, the brushed finish won't show any fingerprints and won't stain.
Non-Slip Base
You won't have to worry about knocking over this carafe with its non-slip base. You can keep it in high-traffic areas like the kitchen counter, table, or work desk. You won't have to worry about knocking it over and losing all your caffeinated hard work. And, worst case scenario, if the carafe does tip over, its no-leak lid will contain the hot coffee.
Pros
Stays hot for 12 hours or cold for 24 hours
Condensation-free exterior (with cold beverages)
Efficient one-handed pour functionality
Cons
No dishwasher-safe components
The lid seal is usually the first component to go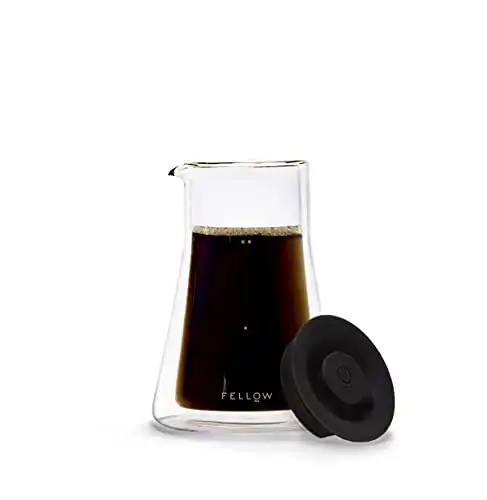 We earn a commission if you make a purchase, at no additional cost to you.
The Fellow Stagg 20 oz Double Wall Glass Carafe is the perfect option when you prefer glass coffee carafes to stainless steel ones. Plus, it has nifty markers and compatibility for pour-over drinkers. 
Pour Over Compatible
This Fellow Stagg Glass Carafe is compatible with their entire line. Their pour-over drippers fit right into this carafe, and it matches their pour-over kettle. It also has discreet ratio aid dots embossed on the side of the carafe. These dots help you hit the ideal coffee-to-water ratio used with pour-over brewing.
Handblown Borosilicate Glass
The Borosilicate Glass is handblown with care in San Francisco, CA. The glass is sleek and attractive. On top of that, the glass has the added benefit of never discoloring or leeching metallic flavors or leftover coffee odor into a fresh brew. Plus, it's incredibly lightweight.
Ulta-Compact Size
Small but mighty! This carafe is full of impressive style. Function and form merge to elevate your brewing routine. It's only 6 inches, so you can easily slip it into a cabinet or pantry. But, honestly, it's so pretty you'll probably want to show it off and leave it on the counter. The best part is that it won't take up much space, even if you leave it out.
Pros
Compatible with Stagg Pour-Over Dripper and other popular drippers
Ratio markers for pour-over brewing
Silicone lid to aid in heat retention
Cons
Hand wash only
It doesn't retain heat as long as a thermal carafe
Since the carafe is handblown, there will be minor inconsistencies (like the logo not being perfectly centered)
Zojirushi Vacuum Carafe
Unbreakable all stainless steel construction
One-touch pour
Pinch-release stopper for easy removal
We earn a commission if you make a purchase, at no additional cost to you.
The Zojirushi 1.5L Vacuum Carafe is well worth its luxury price point. It's exceptionally well made of quality materials and infinitely reliable. With this carafe, you'll get your money's worth.
Unbreakable Construction
The best part of this carafe is its unbreakable construction. It's made with ultra-durable stainless steel and a vacuum liner to keep your coffee hot for hours. In addition, it resists dents, scratches, and damage from drops.
Extra Wide Mouth
The internal mouth of this carafe is 2 ½" wide, so you can easily fit a cleaning brush into the interior to give it a good scrub down. It's easy to clean and simple to fit ice cubes inside to enjoy icy but never watered-down coffee on hot days.
One-Touch Pour
An easy-to-press pour button is built right into the cool touch handle. So you can pour with one hand and hold your mug in the other. This thoughtful and innovative design makes enjoying a hot cup of coffee effortless.
Pros
The pinch-release stopper completely disassembles for cleaning
Extra Wide Opening
5-Year Warranty
Cons
Not completely spill proof
What To Look For In A Coffee Carafe
Thermal vs. Glass
Both materials have benefits and drawbacks, so it's a matter of personal preference which one is the right fit for you.
A glass carafes won't retain heat for as long as an insulated thermal one. But they're great for really dark, strong, oily beans. Since glass won't hold onto any odors, you'll always enjoy a clean-tasting cup of coffee, even if you prefer super dark blends.
Plus, no residual flavor from the glass could leech into your coffee. Glass doesn't stain or discolor, either.
On the other hand, thermal carafes don't need a hot plate to stay warm. The best part of a thermal carafe is that it'll maintain the flavor and heat of freshly brewed coffee for hours without it going stale or bitter.
However, the metal material from which thermal carafes are made can impart a metallic flavor to your coffee over time. Plus, they're not as easily cleaned as glass ones.
Capacity
A carafe's capacity doesn't only affect how much coffee you can enjoy from it, but it also plays a part in how long it can retain heat. The fuller the carafe is, the longer it can maintain its temperature with the residual heat of the coffee. 
I like to choose a carafe that holds a little less than the amount of coffee I can feasibly consume before the max heat-retention time is reached. Let's say a carafe maintains its temperature for 12 hours, and I can drink 8 cups of coffee in that time.
In that case, I'd purchase a 6-cup carafe so I know I'm getting through all the coffee before it starts to go cold.
On the other hand, you might like to share your coffee with friends or family. In this case, a large capacity would benefit you. This way, you can fit multiple pots of coffee into one carafe and eliminate extra steps in your routine.  
Heat Retention
The whole point of purchasing a separate coffee carafe is to maintain the temperature of a freshly brewed pot. That's arguably the most crucial factor to consider when choosing the best for your needs.
How quickly do you typically drink a carafe-full of coffee? Or how long do you need the coffee to stay warm? For example, do you make a pot around 8 am and finish by 1 pm? Then you only need a carafe that can retain heat for 5 hours.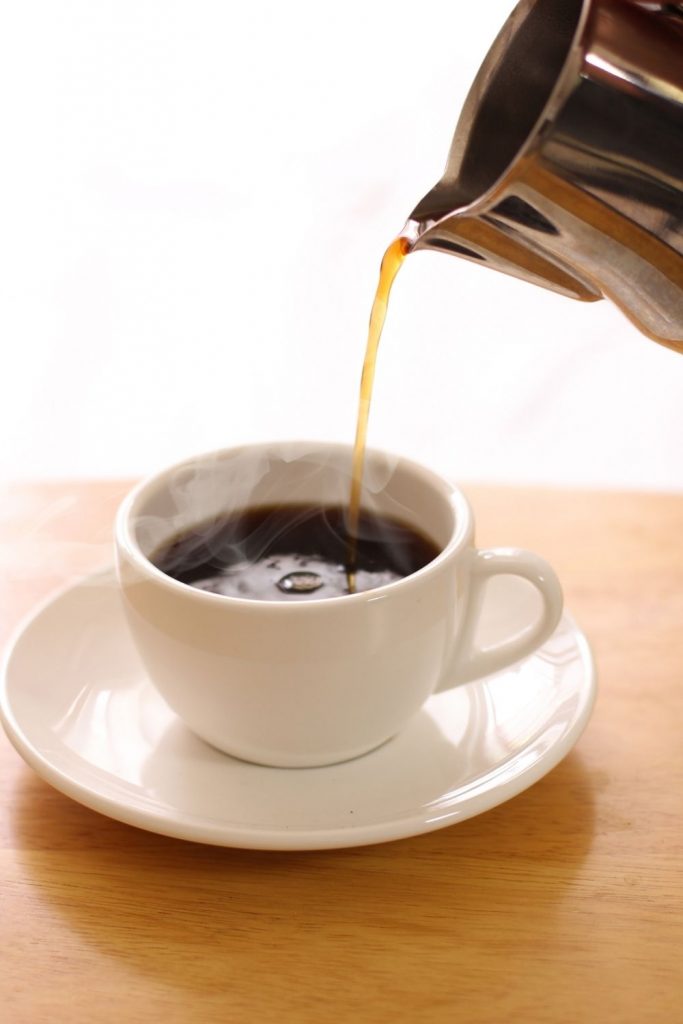 But what if you want to make a pot at 8 am and still enjoy a hot cup from that same brew after dinner? Then you'll want to go for a carafe that can maintain temperature for 12 hours, and you should pre-heat it with boiling water first.
Cleaning & Maintenance
It's easy to overlook cleaning and maintenance when distracted by the aroma of fresh coffee. Still, keeping your coffee delicious brew after brew is keeping all of your equipment clean. Over time residual coffee grounds and oils will create off-putting tastes and could ruin a perfect extraction.
The solution to this problem is simple: thoroughly wipe down and clean your equipment between each use. If you choose a carafe that has features that ease this process, you'll save yourself some time and guarantee the cleanest flavor every time.
Look for components like a wide mouth to fit your hand into or removable, dishwasher-safe components.
Design
Since these carafes are meant to keep multiple cups of coffee hot so you can enjoy each mugful over several hours, the design is important. Chances are, this carafe will be sitting on your counter, desk, or coffee table all day.
It'll be right next to you most of the day, and who wants to stare at a clunky carafe all day? Choose a carafe that's functional and beautiful.
Plus, if you have a smaller working space, you won't want something that takes up a lot of space. An attractive, sleek design might seem frivolous at first. But, if you enjoy the look and feel of the carafe, you're more likely to use it and enjoy the total value of the purchase.
My Recommendation
Of all the carafes reviewed, the overall favorite was the Pykal 68 oz Thermal Coffee Carafe. It's excellent quality at an affordable price and one of the best-looking carafes on the market.
However, if you're a pour-over drinker or don't make a ton of coffee at a time, you can't go wrong with the Fellow Stagg 20 oz Double Wall Glass Carafe. It's made by a transparent, reputable company that's a mainstay in the coffee game for a reason.
FAQs
How Long Will A Carafe Keep My Coffee Hot?
Most coffee lovers prefer that their cup falls between 150°-180°F.

A well-insulated thermal carafe can maintain this temperature or higher for at least 4-5 hours or upwards of 12 hours. If you have the time to pre-heat the carafe while you brew your coffee, it can stay hot even longer, up to 24 hours. To pre-heat the carafe, fill it with boiling water, then brew your coffee as usual. Finally, empty the carafe of the hot water before transferring in your freshly brewed coffee.
Do I Need A Carafe Separate From My Coffee Machine?
If you're brewing coffee with a standard drip machine or in glass French Press or Pour Over, you'll need a separate carafe to keep your coffee hot. However, you can purchase a coffee maker with a thermal carafe to eliminate this extra step.