For bold, easy-to-make, and ultra-hot coffee, there might not be a machine better suited for the job than a percolator.
Even though you may not see percolators in trendy coffee shops around town, this low-effort brewer shouldn't be overlooked. After all, they've stood the test of time for over 200 years.
While percolator design has been updated over the years, the simple operation remains mostly unchanged.
Whether you've been down with percolators since day one, or you're just looking for an affordable and portable way to make coffee, I've got the 5 Best Percolator Coffee Makers money can buy!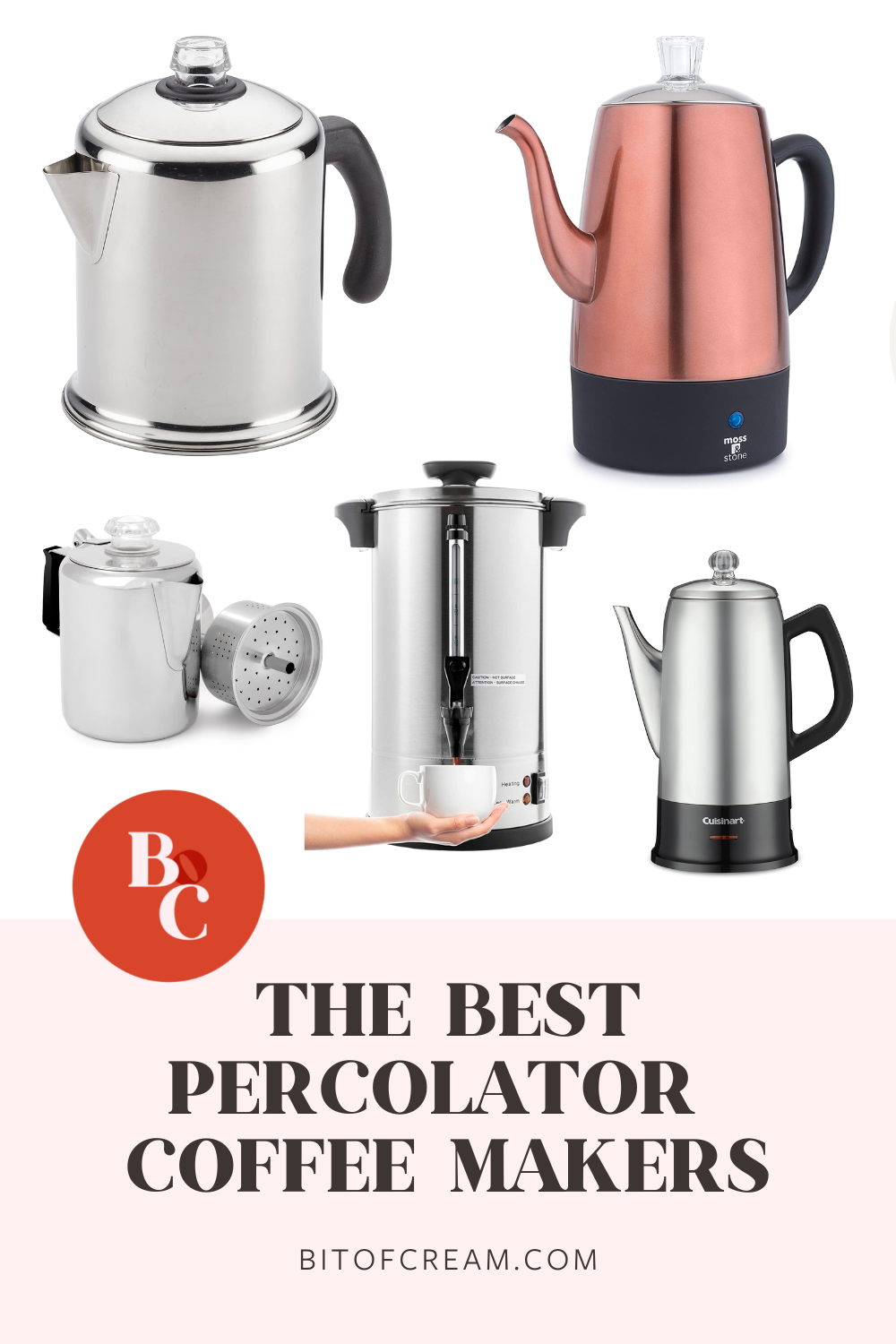 Bit of Cream is a participant in the Amazon Services LLC Associates Program, an affiliate advertising program designed to provide a means for sites to earn advertising fees by advertising and linking to Amazon.com. As an Amazon Associate we earn from qualifying purchases.
A Little Percolator History
Coffee percolators have been around for ages. Way back in 1819, the Parisian tinsmith Joseph-Henry-Marie Laurens invented the contraption. However, the percolator as we know it today wasn't patented until 1889, when Hanson Goodrich coined the name for this coffee-brewing device.
The name comes from the scientific term "to percolate." A process where heat creates pressure which causes water to rise through a tube. Then, the hot water drips through coffee grinds, brewing a delicious cup of joe.
The coffee maker consists of only a few pieces—first, a percolating reservoir where the water goes, which looks like a metal coffee pot. Then, there's a funnel filter and basket to hold the coffee grounds. Finally, a viewing globe allows the brewer to see into the pot as percolation occurs.
Besides filling the device with water and coffee grinds, the rest of the process involves monitoring heat. That's all it takes to get to that caffeine finish line.
Percolators now come in stovetop or electric options, each with advantages and drawbacks. Stovetop percolators can easily pack away and be used over a fire when camping.
They also give the brewer control over the temperature and extraction. Electric percolators eliminate guesswork. They're convenient but can be cumbersome to store or transport.
All in all, a percolator is a portable and low-footprint method of brewing mouth-watering coffee. And it's much less complicated than using a French Press, Pourover, or Espresso Machine. Now let's discuss the best coffee percolators.
My Top Picks for The Best Coffee Percolators
| Product Image | Product Name | Primary Button |
| --- | --- | --- |
| | | |
| | | |
| | | |
| | | |
| | | |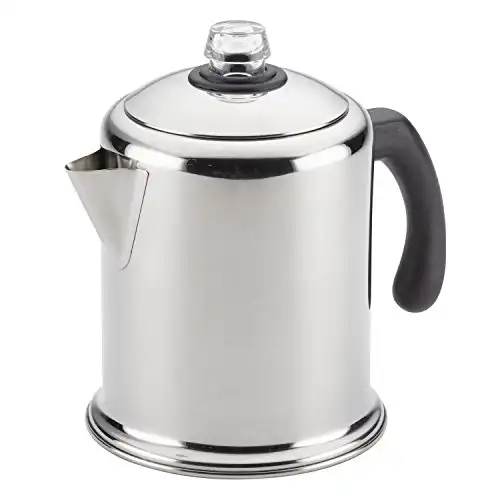 We earn a commission if you make a purchase, at no additional cost to you.
8/12 Cup Capacity
The Farberware Yosemite Coffee Percolator is available in two sizes: 8 or 12-cup capacity.
On average, stovetop percolators will serve 9 cups or fewer. So, having a large 12-cup option means everyone can have a cup without having to brew multiple pots.
Low-Effort & More Control
The everyday coffee cycle with this percolator looks like measuring the water, scooping the coffee, and setting it on the stove to brew.
It's very easy to use, and once you master the temperature, you'll taste one of the best cups of coffee you've ever had.
This stovetop percolator offers more control over the temperature and extraction time of the brew cycle. This way, you'll be able to customize your cup and avoid bitter over-extraction.
Endless Compatibility
This percolator will work on any stovetop in your home, whether it be gas, electric, or induction.
Plus, you'll love this percolator because you can brew coffee outside on a grill or over a campfire!
Use this percolator throughout the week for your pre-work caffeine fix. Then, take it on the road on the weekend, so you're never without delicious, reliable, and consistent coffee.
Easy To Clean
You can fully immerse this percolator to thoroughly clean it between uses. Every cup will taste as fresh as the first one if you maintain the device.
Plus, every component of this percolator is dishwasher-safe for ease and convenience.
Pros
No-drip spout makes pouring easy
Stainless steel longevity with individually replaceable parts
Established & trusted brand
Cons
Comes with a plastic top, but you can buy a glass replacement
For beginners, there's a slight learning curve
We earn a commission if you make a purchase, at no additional cost to you.
Low-Effort & Beginner Friendly
For one of the easiest to use options, try the Moss & Stone Electric Percolator. All you have to do is plug it in, fill it with water, scoop some coffee grinds into the basket, and press a button. Brewing a consistently tasty cup has never been easier.
2-10 Cup Capacity
Whether brewing a cup of coffee in the morning or entertaining a crowd on the weekend, the Moss & Stone Coffee Percolator can deliver.
This versatility is convenient, but some users have complained about the pot leaking when used at full capacity. If you only plan on making 8 cups of coffee at a time, this might not affect you, but if you have a large family, it might be something to consider.
Durable & Easy to Clean
The Moss & Stone Percolator has a stainless steel body and a glass viewing globe. This means the device will last longer than those made with aluminum.
Removable parts, like the filter basket, lid, and viewing globe, are also dishwasher-safe.
Helpful Features
This coffee percolator has some great features you won't want to overlook. It may seem inconsequential initially, but the easy-pour spout ensures your coffee won't spill all over the place. There's nothing worse than more coffee on the floor than in your cup on a Monday morning.
Additionally, the filter basket for this percolator is reusable stainless steel. It's easy to clean and low waste!
Pros
1-year warranty & accessible customer service
Stainless steel body means longevity
Glass viewing globe won't impart any smells or tastes
Reusable filter basket
Detachable power cord
Cons
Access to electricity is necessary
Some reported leaks when brewer is at capacity
Electric Percolator limits control for experienced baristas
Cuisinart Classic Percolator
Long, tapered and pours without a spill – with an ergonomic handle, knuckle guard, and no-drip spout, pouring your fresh coffee is simple

Ready indicator light shows when the coffee is ready to pour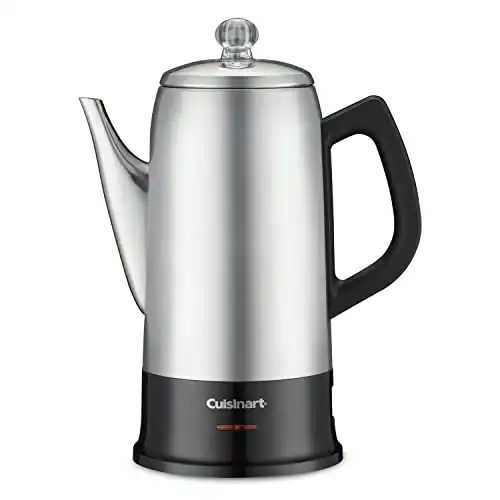 We earn a commission if you make a purchase, at no additional cost to you.
12-Cup Capacity
The Cuisinart Classic Electric Percolator can brew up to 12 cups at a time. This is already a higher capacity than the average 10-cups of most electric percolators.
Plus, with no reports of leakage, you can rest assured that you'll get the full 12 cups.
Effortless Brewing
There are measurements on the interior of the percolator for consistently delicious coffee every time.
You can view the percolation process through the plastic, transparent knob. Plus, a helpful indicator light will glow when the coffee is brewed and ready to pour.
Once the coffee has finished the percolation cycle, the base acts as a hot plate to keep your coffee hot to the last drop.
Easy to Clean
The stainless steel body and removable coffee basket make this percolator durable and easy to clean.
Cuisinart has eliminated one of the most significant drawbacks of electric percolators with a detachable cord for effortless cleaning.
This Classic edition is sleek, easily cleaned, and isn't cumbersome to store.
Stay-Cool Functionality
The bottom of this percolator is engineered to stay cool, even while keeping the coffee inside piping hot.
This way, you can safely place the coffee maker on any surface without worrying about scorching or scarring the tabletop.
Pros
Measurement markings on the interior for effortless usage
Detachable cord for quick cleaning
The plastic viewing globe makes this percolator easily portable
Easily to pour with the no-drip spout
Cons
No replacement available for a lost or broken viewing globe
It uses a coarser grind than other percolators because of the round perforations in the filter instead of slanted, oval holes
GSI Outdoors Percolator Coffee Pot
The heat-resistant silicone handle stays cool to the touch for easy pouring.

The Percolator's clear PercView knob lets you gauge the strength of your brew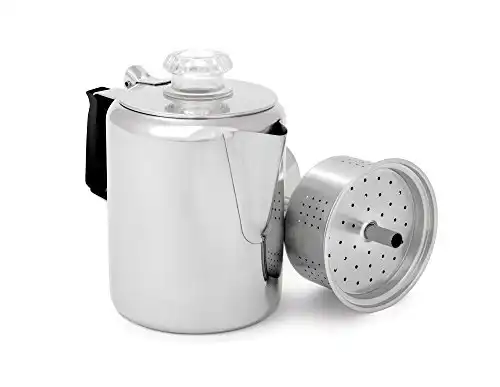 We earn a commission if you make a purchase, at no additional cost to you.
3/6/9 Cup Capacity Selection
The GSI Outdoors Stovetop Percolator comes in 3 different cup capacities.
Whether you need 3, 6, or 9 cups of coffee at a time, you can buy the exact corresponding percolator. This way, you don't have to make room for a larger brewer than you need.
If you're looking for a percolator to take camping with you, the small footprint easily packs away.
Compatible With All Stovetops, Grills, & Campfires
You can brew coffee on ceramic, electric, or gas stovetops or charcoal and propane grills. Or, pack it up and brew coffee over a campfire on your next camping trip.
Excellent Quality & Budget Friendly
This percolator is made entirely of stainless steel. It's better quality than aluminum percolators and will last much longer.
For all the great characteristics and reviews this percolator has, it's one of the most budget-friendly options I've found. You'll get great quality without splurging unnecessarily.
Silicone Handle
The silicone handle will resist heat even when using the percolator on a campfire or grill. So you won't have to worry about a wood handle catching fire or a plastic one melting.
Keep your hands safe, and still serve the coffee piping hot immediately after brewing.
Pros
The most budget-friendly option reviewed
Hinged lid prevents misplacement during transportation
Although the viewing globe is plastic, it's made of heavy-duty, heat-resistant transparent resin, which is the best option for traveling
Cons
Each cup of coffee is measured at 5oz instead of a standard 8oz/cup
Hinged lid can be cumbersome to wash
Plastic viewing globe instead of a glass one
100-Cup Capacity
The SYBO SR-CP100C Electric Percolator has the largest cup capacity out of all the percolators surveyed. Its 100-cup capacity is perfect for commercial use.
Attention catering services, restaurants, schools, churches, and event planners! You'll want to lean toward larger brew capacities if you need to keep a large crowd caffeinated.
Safe & Easy To Use
This percolator is fully ETL Intertek certified. With this safety and quality assurance, you can confidently serve even the largest crowds.
Automatic Shut-Off and Keep Warm are great functions that make using this percolator effortless. And an indicator light will signal when the coffee is ready to serve. It doesn't get any easier than that!
Reusable Filter Basket
A stainless steel filter basket eliminates the need for paper filters. This will keep costs low and have you lugging fewer components to each event.
2-Year Warranty
SYBO offers a 30-day refund/replacement policy and a 2-year new replacement warranty.
Helpful customer service and warranties are priceless when relying on anything for your business or events.
Pros
Internal measurement markers for ease and convenience
Steel body material resists dents during transportation
Spigot dispenser eliminates heavy lifting & makes serving a breeze
Cons
The cord isn't removable, so cleaning is more challenging
The Keep Warm function is only available after a percolation cycle. If the machine gets turned off, it'll have to run another cycle before reactivating
The spout is low to the counter, so cups must be filled at an angle, or a separate stand is necessary
Key Considerations
Electric vs. Stovetop
The first thing you'll need to distinguish between when choosing the right percolator coffee maker is stovetop or electric.
There are many differences between the two types of coffee brewers. Although in the end, both create coffee through the same percolation process.
Water boils up and drips through a filter of coffee grounds. This cyclical process continues until a robust and full-bodied coffee brews.
Beyond this, you may lean toward a stovetop brewer if you want more control over variables like temperature and brew time. In addition, stovetop percolators are easy to transport and don't have extra bulky equipment to store.
An electric brewer will make the process much more hands-off. However, the trade-off is less customizability with your cup, and it's not as easy to transport when you factor in cords and the need for electricity.
Size
When it comes to a cup of coffee, size matters. How much coffee do you drink per cup? How many people are you serving? Does it matter if you have to brew multiple pots of coffee, or do you want to brew once and be done?
Consider all of your answers when deciding what size percolator will suit your needs.
Materials & Weight
The materials used to manufacture a percolator and the device's weight are important when choosing the best option for your needs.
If you're looking for a portable coffee brewer for camping or catering, you'll want to focus on lighter materials. This way, they aren't a pain in the back to move…literally.
If you already have a coffee nook set up in your house, then an electric percolator with a heavy base might work for you.
Don't discount the importance of material, finish, and weight. These factors will either encourage or discourage the use of the brewer.
Viewing Globe
The difference between a burnt, bitter cup of coffee and a rich, robust cup rests on your ability to see into the percolator through the viewing globe.
With a stovetop percolator, you'll determine and adjust the temperature by monitoring the bubbles or "perks" in the water as the coffee brews.
Glass-viewing globes are widely recommended based on their clarity, reliability, and longevity. Glass is infinitely washable and will last as long as you don't break it. Plus, you won't have to worry about any off-putting scents or tastes that come along with heating plastic.
Following this line of thinking, plastic might be the best option if you're purchasing a portable percolator. It can easily be tossed in a bag for camping or long trips without risking shattered glass at the bottom of your pack.
Cleaning
Cleaning is the least exciting part of the coffee-making process. But either way, it must be done diligently to achieve a delicious cup time after time. Consider how much effort you're honestly willing to put into maintaining your coffee brewer.
Stovetop percolators come in a myriad of different finishes. Some you can even put in the dishwasher. They're simple to disassemble and don't have many parts to clean.
Electric percolators are more finicky to clean because you don't want to immerse any electrical components in water. There are plenty of home remedies to clean and descale these machines, but they're not as simple as rinsing under the tap.
Price
There's a percolator coffee brewer for every budget.
For the most part, stovetop percolators are less expensive than electric ones. However, there are varying price points to fit any budget. Materials and size are determining factors when it comes to price.
However, if you're willing to splurge for consistency and convenience, you might consider going for an electric percolator.
Ease of Use
One of the most important factors to consider when choosing which brewing method is for you is to gauge the ease of use accurately.
If you're only looking to quickly and easily brew a decent cup of coffee, you'll want to look for the least complicated method.
On the other hand, if you're a hobbyist barista, you'll probably want to dabble in more varied and sometimes challenging brewing techniques. More control will allow you to experiment and indulge your passion.
You'll need to identify what you want from your coffee-making experience. Then, find a machine compatible with your level of expertise and know-how.
Percolator vs. Drip
During the process of percolation, the water filters through the coffee grounds more than once. Drip only filters the water through the grounds once. Percolation results in stronger coffee than you'd get from the standard drip machine.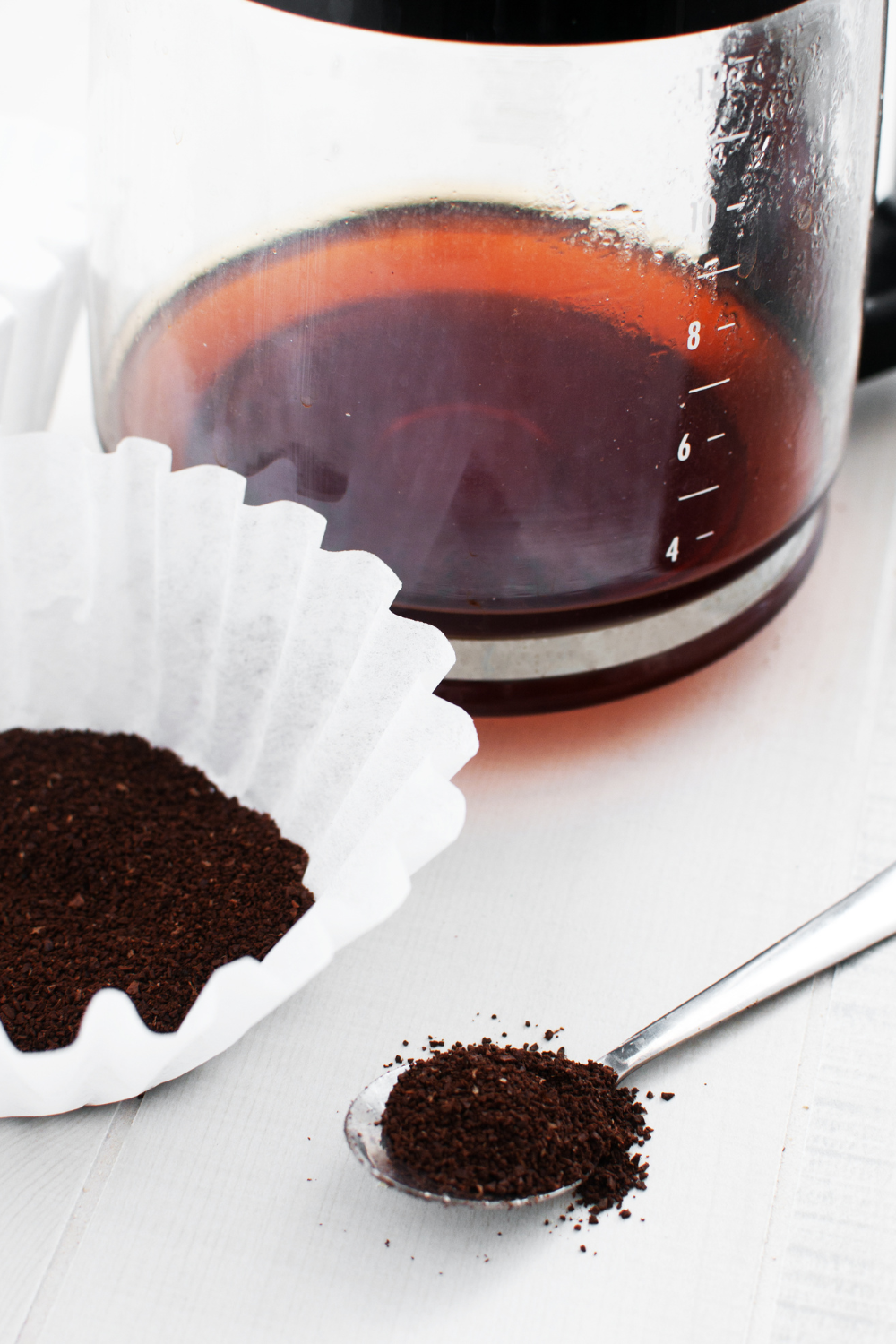 However, if you prefer a cleaner-tasting, less bitter, or acidic coffee, you'll probably prefer coffee from drip coffee makers.
The coffee from a percolator will be closer to espresso than the coffee you're used to from a drip machine, which we usually consume in copious amounts.
Percolator vs. Moka Pot
Coffee made in a percolator is closer to the ultra-strong taste of espresso than what a drip coffee maker produces. But in the end, it still doesn't come close to the rich espresso flavor that a Moka Pot achieves.
On a spectrum, drip coffee would be the weakest. Percolated coffee would be in the middle, and Moka Pot coffee would be as strong as you can get without an espresso machine.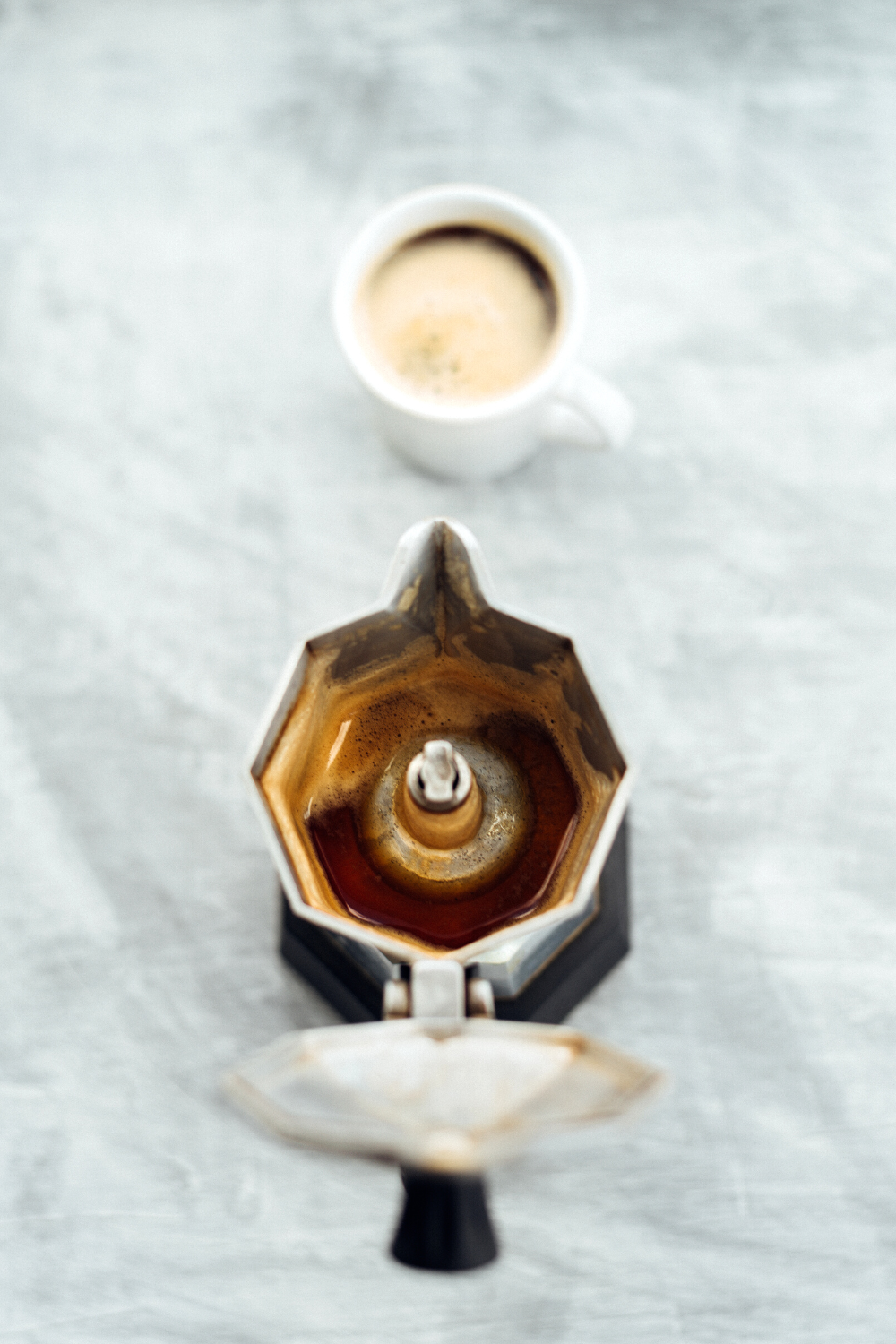 A percolator drips hot water from above the grinds to collect coffee in the bottom of the pot. Then the once-brewed coffee goes through the process again to create a thin cup (like drip) but with a darker, more acidic flavor (like espresso). There's a coarser grind used and a longer extraction time.
The Moka Pot forces hot water through a puck of finely ground coffee to create a thick, earthy, and dark coffee closer to espresso. However, it produces less bitterness than percolated coffee.
FAQs
What grind size should I use with a percolator?
The best grind size for a percolator machine is coarse-ground coffee. Since this method of brewing coffee uses a hotter water temperature than other methods, it's easy to over-extract finely ground beans. For the best-tasting cup, grind your beans roughly the size of Kosher salt. 
How much coffee should I use with a percolator?
Generally, for a strong cup, use 1 tablespoon of coarse-ground coffee for every cup of water. If you prefer weaker, less acidic, or bitter coffee, you could use 1 teaspoon of grounds per 1 cup of water. However, the best practice is to check the manufacturer's instructions for your specific percolator.
How long does it take to make coffee with a percolator?
On average, it'll take 5 – 10 minutes for a percolator to brew coffee. Electric percolators are more consistent with timing and will brew about 1 cup of coffee per minute. Stovetop percolator brew times can vary based on the individual model, heat source, and amount of heat applied. It's crucial to nail the brew time to avoid over-extracted coffee that tastes burnt and bitter.
Want to learn about other ways to make coffee? Head to one of these!