Are you craving the mellow, creamy and smooth sensations of a shaken espresso? The great news is that you'll only need 5 minutes and 5 ingredients to whip up the perfect Starbucks copycat recipe. No special syrups are required!
What is Shaken Espresso?
You may be familiar with the incredible suite of Starbucks shaken espresso drinks. In a moment, I'll explain how to make them at home. It's simpler than you might expect.
But did you know that the Starbucks menu is only the tip of the iceberg?
Shaken espresso is derived from an Italian iced coffee drink called a cafe shakerato. It features espresso shaken with ice and sweetener, then served in fancy glassware.
Starbucks added milk to the traditional formula, which mellows out the flavor of espresso and provides a creamy mouthfeel.
The basic formula is simple.
Shake espresso with ice and sweetener until it foams. Pour over ice. Add milk.
You can swap out sweeteners, flavors, and types of milk to create a thousand different combinations based on the same formula. Heck, with a little practice, you (yes, you) could invent a version that nobody has ever tried before!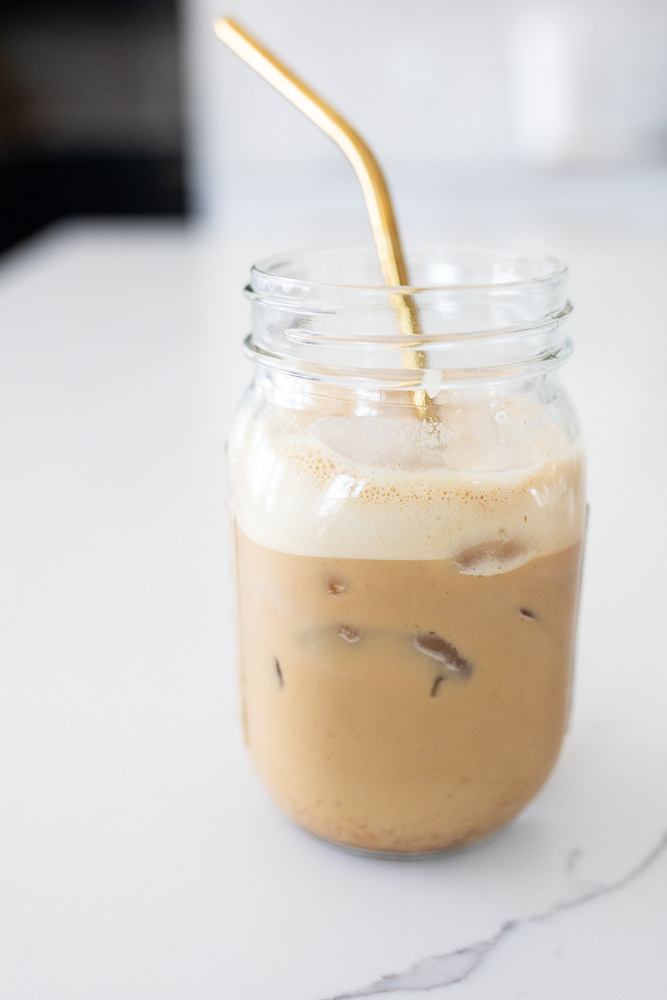 Why You'll Love Shaken Espresso
Nothing is easier. This recipe is so simple you'll be kicking yourself that you didn't try it before. It literally takes 5 minutes and 5 ingredients, which you probably already have in the pantry.
Optionality. Unlike the Starbucks version, making it at home provides A TON of flexibility. You can adjust the flavor, sweetness, and amount of caffeine you want in your drink. You'll also save money by preparing it at home.
Caffeine. Compared with cold brew, there's a lot less caffeine in shaken espresso. About half as much for a comparable-sized drink.
It's Delectable. Shaken espresso is beautiful and delicious. Low acidity, smooth flavor, and exceptional creaminess. If you're showing off, serve it in a clear glass to see the layers.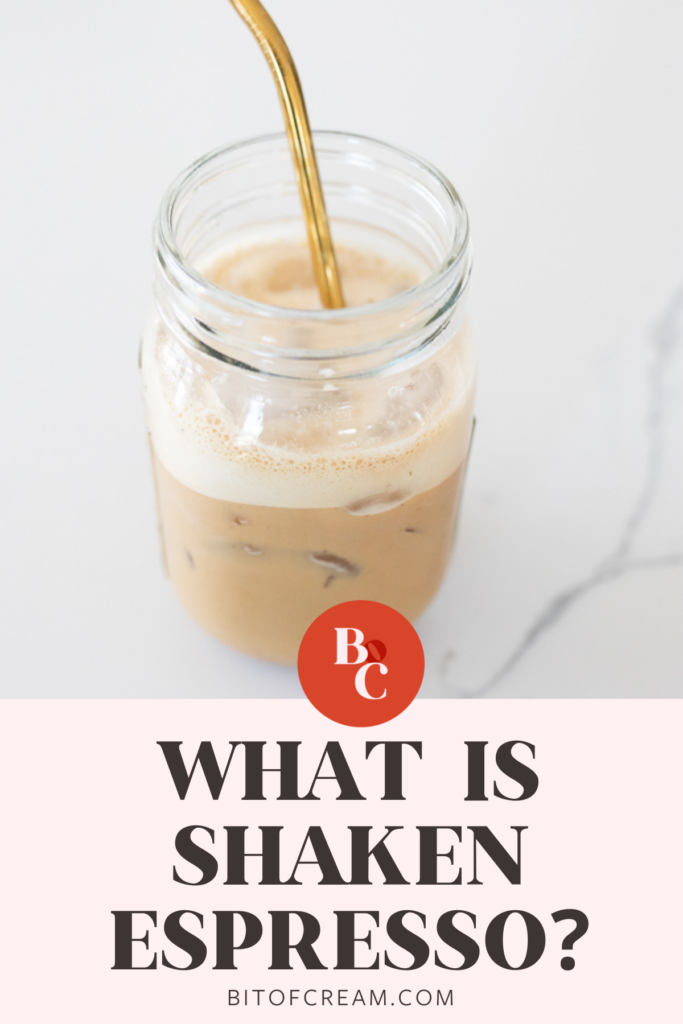 Ingredient Notes
Strong Coffee – Use a strong dark-roast coffee, so the flavor cuts through the milk. My go-to is a 2-ounce espresso doppio, but I've also used a 4-ounce strongly brewed coffee for similar results.
Sweetener – My recipe uses light brown sugar. I'd recommend following it, as it's written, the first time. Once you've got the hang of things, try experimenting with other sweeteners you love. I also like agave, maple, simple syrup, and even honey.
Flavors – If you find a shaken espresso out in the wild, it was prepared with a flavor syrup in most cases. Caramel and vanilla are really popular. I prefer to use fresh ingredients that I already have in my pantry. For this recipe, we'll use ground cinnamon. You could also use vanilla extract or other spices.
Milk – There is no right answer to the best milk for this drink. I like oat milk, which is the same ingredient that Starbucks uses. But you could substitute it with any other dairy or plant-based milk. In my opinion, Oatly is a great choice. I also like Sown's vanilla-flavored organic oat creamer.
Ice – The bigger the cubes, the better. Why? Big ice cubes melt slowly, which will prevent your drink from becoming diluted by ice melt. Just make sure they're not too big! If the cubes don't fit your shaker, it will be hard to mix the drink.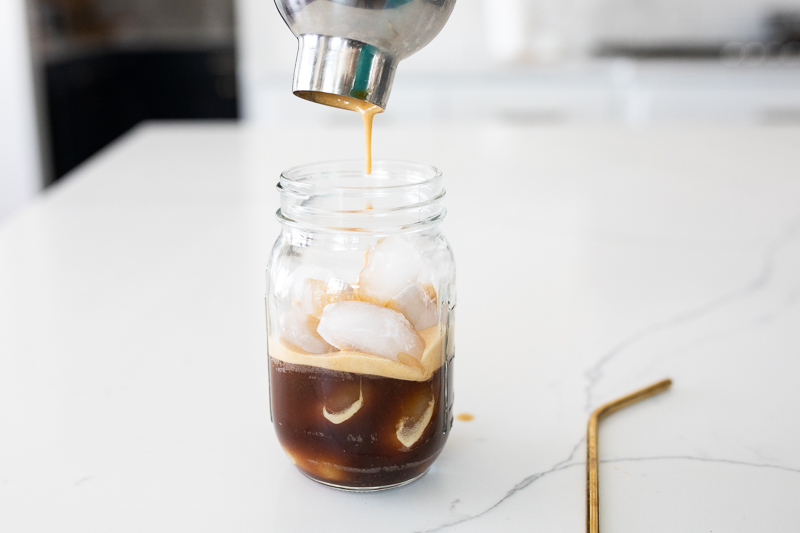 Equipment
Bit of Cream is a participant in the Amazon Services LLC Associates Program, an affiliate advertising program designed to provide a means for sites to earn advertising fees by advertising and linking to Amazon.com. As an Amazon Associate we earn from qualifying purchases.
Espresso Machine – Given that we're making shaken "espresso," using an actual espresso machine is the best practice. And it yields the best, most consistent results.
Moka Pot or Aeropress (alternatives) – If you don't have a fancy espresso maker, don't fret. Although they won't make coffee as strong as espresso, Aeropress and Moka Pot are suitable alternatives.
Cocktail Shaker – We'll use a cocktail shaker to cool the espresso on ice and combine it with sweetener and a flavor inclusion. This style is one of our favorites!
Mason Jar (alternative) – You can also shake in a sealed mason jar, which will double as a drinking glass. I don't know about you, but I'll never complain about having fewer dishes to clean.
Iced Variations
I've said it before, and I'll say it again – there are a thousand possible combinations you can use for this iced drink! My recipe uses cinnamon, brown sugar, and oat milk.
Here are a few fun alternatives,
Iced Honey Vanilla Shaken Espresso – Replace brown sugar with honey as the primary sweetener. Then use sweet vanilla creamer in place of plain oat milk. You can also substitute vanilla extract or make your own vanilla syrup using a fresh vanilla bean.
Iced Chocolate Shaken Espresso – This version goes great with almond milk. Use chocolate malt powder, chocolate syrup, or both.
Iced Pumpkin Spice Latte Shaken Espresso – Sweeten with brown sugar or maple syrup (my favorite), and flavor with pumpkin pie spice. Mix in 2 Tbsp of pumpkin puree. Try it with and without vanilla.
Plain Shaken Espresso (Shakerato) – If you care less about fancy flavors and sweets, the classic shakerato is a great way to go. Include 1 Tbsp of simple syrup for every shot of espresso. Shake and strain into a glass, preferably something fancy like a martini glass, for immediate consumption
Once you've mastered the basic recipe, I'd encourage you to swap out flavors, sweeteners, and types of milk to build your own. If you have commercial flavor syrups on hand, feel free to try them too.
In the comments below, let me know what versions you've tried!
Easy Instructions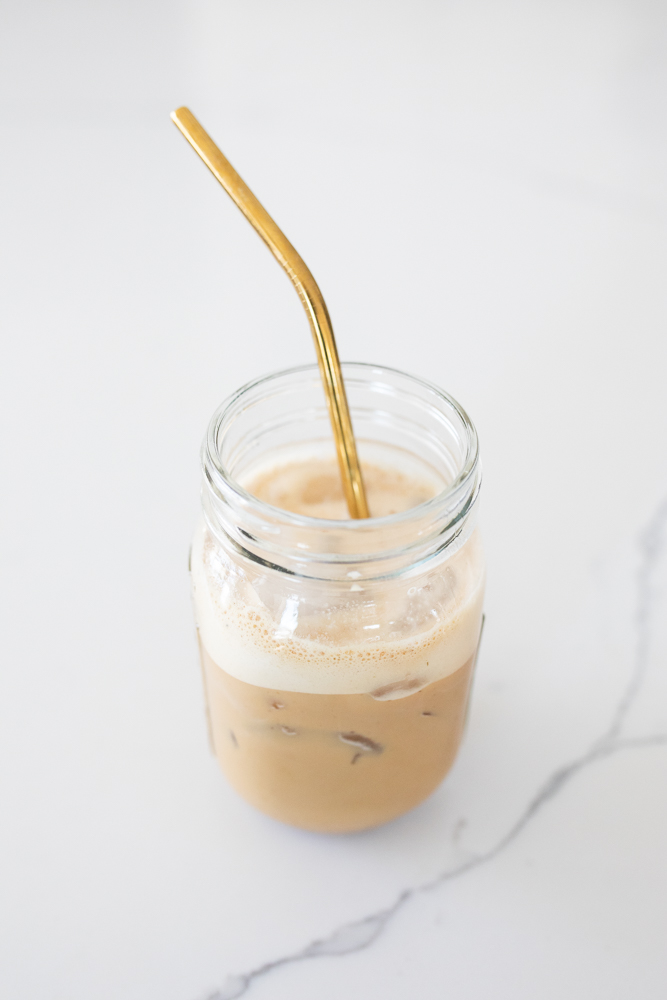 1: Prep Flavors & Sweeteners
In a cocktail shaker or mason jar, measure 2 Tbsp of brown sugar and ⅛ tsp of cinnamon atop half a dozen large ice cubes.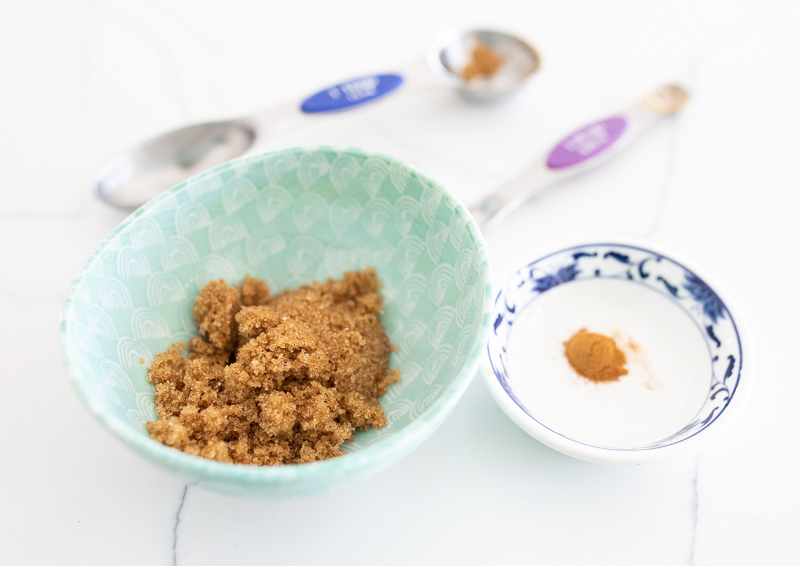 2: Add Espresso
Prepare a 2-ounce espresso doppio or 3-4 ounces of strong coffee using another method like Aeropress or Moka Pot. Then pour it atop the contents of your shaker.
The coffee should still be hot, but I've found it helps if you let it cool for 1-2 minutes before adding. If the coffee is closer to 175 F, it will cause less ice melt as it cools in the shaker.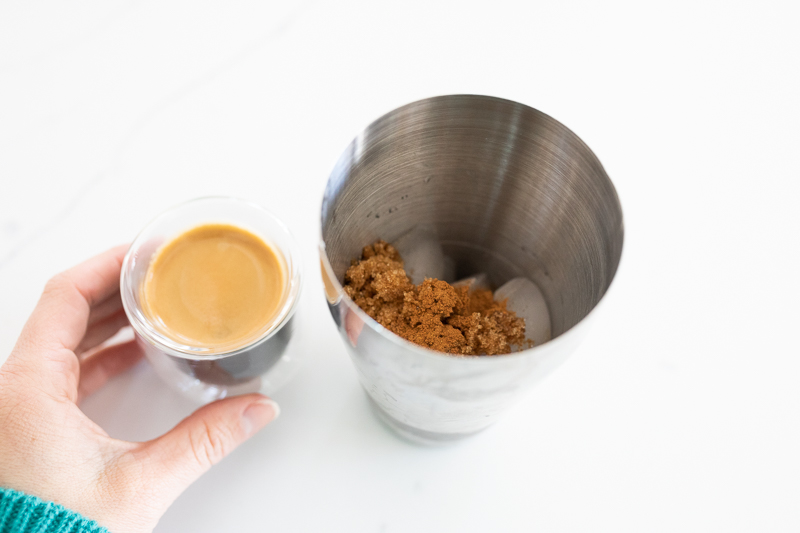 3: Shake It!
Fasten the lid on your shaker, and let those ingredients have it!
You'll need to shake well for 20-30 seconds in order for the cinnamon and brown sugar to dissolve properly. Having strong agitation will also create an awesome cold foam on top.
4: Serving Glass
Carefully pour the shaken contents into your serving glass. Before pouring, the glass should be filled to about ⅔ capacity with large ice cubes.
If you're both preparing and serving in a mason jar, simply unseal it and add a little more ice.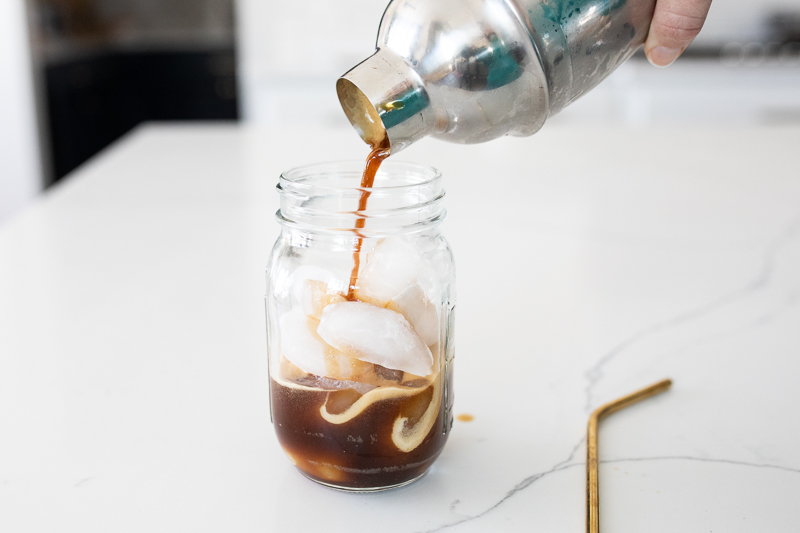 5: Add Milk
Pour milk directly into the serving glass. I like to use ½ cup of Sown's vanilla-flavored organic oatmilk, which you can pick up on Amazon or at Whole Foods. Oatly and Califia Farms are two other excellent oatmilk options.
I like the robust flavor of the iced espresso, so I tend to add less milk than other people might. Feel free to scale up your milk portion to elevate the creaminess and dissipate any espresso bitterness.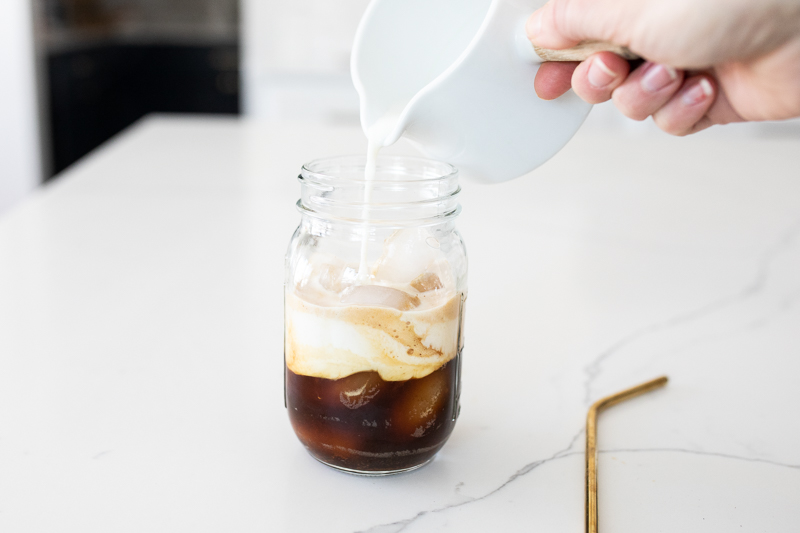 6: Stir It Up
This step is optional. After pouring milk into your serving glass, as described in the previous step, the drink will settle into layers. It should look really cool from the outside of the glass.
If you like the layered look or enjoy having a different flavor experience with every sip, you can drink it now!
I like to stir it up before consuming it so that every iced espresso sip is uniform. This can easily be done in 3 or 4 brisk stirs with a small spoon. Easy peasy.
Tips and Tricks
Make It Pretty – For the ultimate presentation, try topping this drink with a generous layer of cold foam. Use skim milk and a milk frother for the fastest results. It is possible to accomplish a similar result by using the plunger on a French Press.
Adjust The Dose – Scale up or down your coffee dose. Just because I a double shot espresso doesn't mean you need to. This recipe works fine with a single shot. And, although you may be bouncing afterward, it can certainly take on more coffee.
New Creamer – A friend recently pointed out that Trader Joe's now offers an oat milk creamer already flavored with brown sugar. If you want to simplify this recipe further, give this new creamer a whirl!
For Aeropress – If you're brewing with Aeropress, strengthen the dose. Use 2 Tbsp of ground coffee to make 2 fluid ounces of "espresso." Fill the water just above the graduation marked as #1.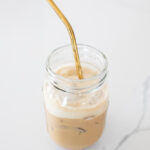 Print
Iced Brown Sugar Oat Milk Shaken Espresso
Learn how to make one of the most popular Starbucks drinks on the market right now!
Equipment
1 Espresso Machine

1 Cocktail Shaker/Mason Jar
Materials
2

oz.

Espresso Doppio

2

tbsp.

Brown Sugar

⅛

tsp.

Ground Cinnamon

½

cup

Oat Milk

ice cubes
Instructions
Combine the brown sugar, cinnamon, and half of the ice cubes in a cocktail shaker or mason jar.

Add espresso by pouring it atop the other ingredients.

Seal the container and shake vigorously for 30 seconds.

Fill a serving glass with the remaining ice, and pour the combined contents of the cocktail shaker atop it.

Pour the oat milk into the serving glass and briefly stir to combine with the coffee mix.
Iced Brown Sugar Oat Milk Shaken Espresso
Prep Time: 3 minutes
Cook Time: 3 minutes
Total Time: 6 minutes
Category: Drink
Method: Shaking
Yield: 1
Ingredients
2-ounce Espresso Doppio
2 Tbsp Brown Sugar
⅛ tsp Ground Cinnamon
½ cup Oat Milk
12 large Ice Cubes
Instructions
Combine the brown sugar, cinnamon, and half of the ice cubes in a cocktail shaker or mason jar.
Add espresso by pouring it atop the other ingredients.
Seal the container and shake vigorously for 30 seconds.
Fill a serving glass with the remaining ice, and pour the combined contents of the cocktail shaker atop it.
Pour the oat milk into the serving glass and briefly stir to combine with the coffee mix.
Enjoy!
Recipe FAQs
How many espresso shots are in a shaken espresso?
A shaken espresso usually contains between one and three 1-ounce shots of espresso. In most cases, the amount of espresso corresponds to the volume of milk and sweetener added to the drink. More milk, more espresso. When making it at home, you can choose your own dose.
What is the difference between espresso and shaken espresso?
Shaken espresso is prepared by shaking hot espresso and sweetener with ice. Most cafe versions of this drink add milk. Traditional espresso is a key ingredient in all manner of shaken espresso drinks. Strong coffee brewed by another method can be used as a substitute.
Need more coffee fun? Head on over to one of these related posts!