Editors note: Need some help knowing the best Baratza Encore grind settings? We received this grinder as a wedding gift and I loved it! The Baratza Encore is what Baratza calls their go-to entry level grinder. We use it mainly for drip coffee but has has the ability to do the pour over, espresso, french press and more.
Baratza Encore Grinder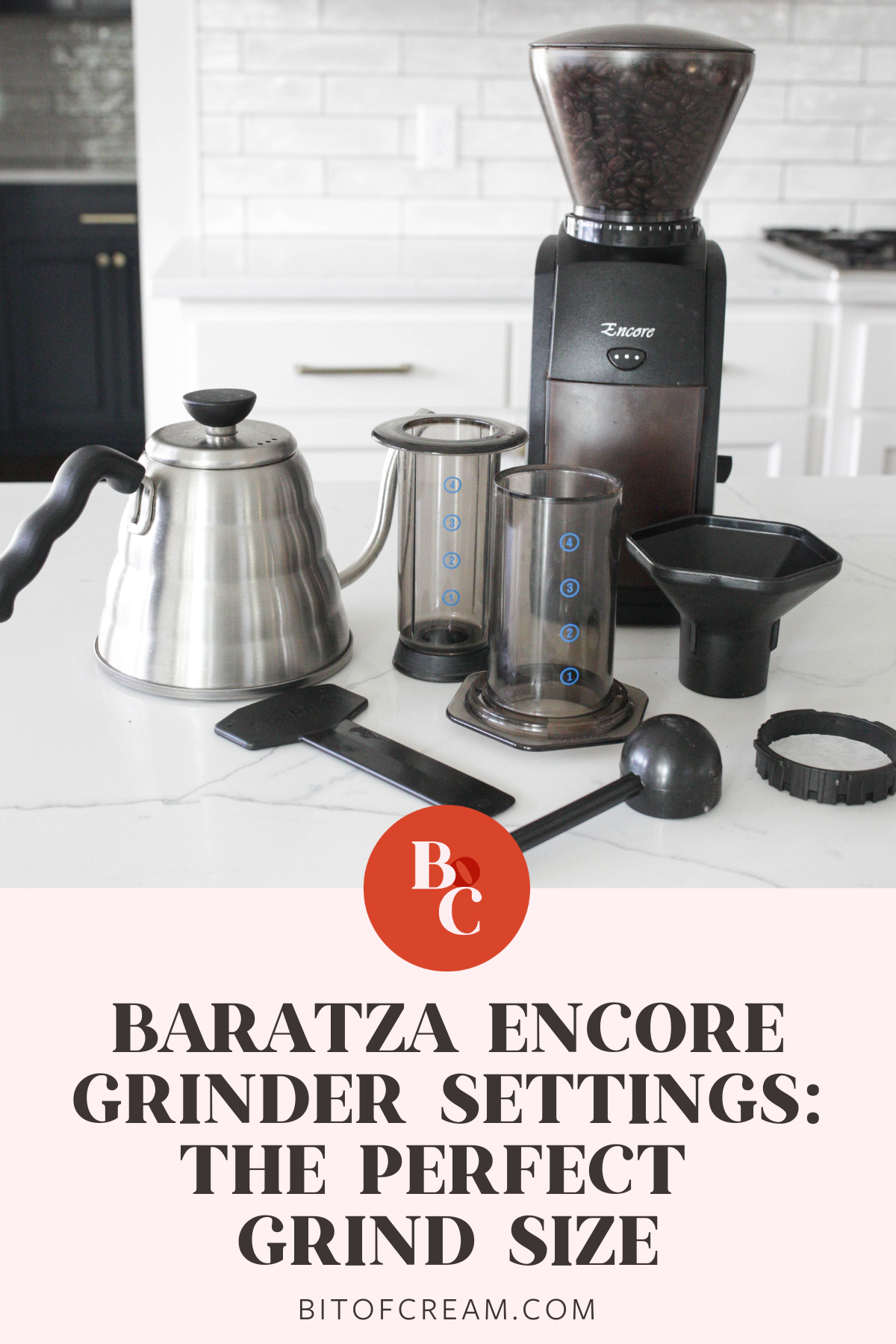 This post includes affiliate links.
Before we get into the grind settings, here's a little bit about the grinder itself. The Baratza Encore has precision conical burrs and an efficient DC motor to give you give you a precise grind every time.
It's incredibly easy to use, especially after understanding the grind sizes! It has straightforward controls (just turn the dial to change the grind size) that you don't have to adjust once you found your perfect daily grind size. It has an easy on-off switch and a front-mounted pulse button.
It has a clear grounds bin with fill line so you can see how much coffee is has been ground and an easy to fill holder. The one negative is it won't automatically grind a set amount of coffee for you.
You'll need to weigh how many ounces of whole beans you want ground before putting them into the grinder or just ensure to use a coffee scale after to use the correct amount of coffee grounds.
And best part is, it's stylish and sleek enough to leave out on the counter rather than hiding in your kitchen cabinets!
Baratza Encore
A convenient, front-mounted pulse button, plus a simple ON/OFF switch make it easy to grind fresh coffee.

Engineered with 40mm commercial-grade conical burrs that help you explore the extensive range of brew methods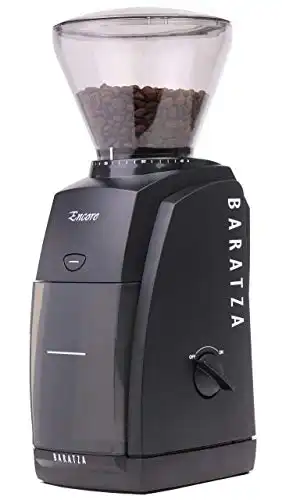 We earn a commission if you make a purchase, at no additional cost to you.
Baratza Encore Grind Size
Whether you're a coffee enthusiast or a busy mom who just wants a great cup of coffee, this helpful guide will help give you consistent grinds and that perfect cup of coffee every morning.
The Baratza Encore offers a total of 40 step-adjustment grind settings ranging from a very fine to coarse grind. Each one is tailored toward a specific brew method. Complicated, right?
Matching the right individual grind settings with your brew method is one of the easiest things you can do have a great coffee-making experience and make better coffee. Whether you're making drip coffee or espresso, you've come to the right place.
In this article, I'll help you find the perfect grind size for your brew method. One thing to note – your coffee is only as good as your coffee beans! Using a quality coffee bean will result in quality ground coffee which will result in a delicious cup of coffee.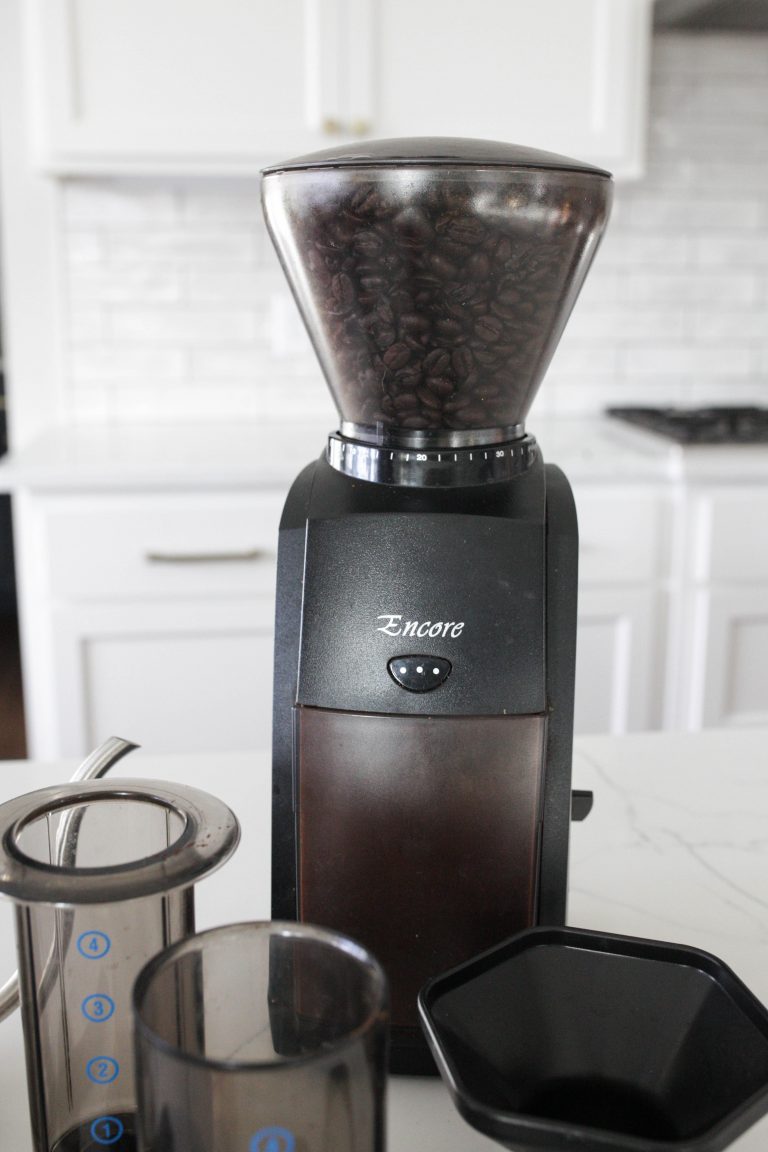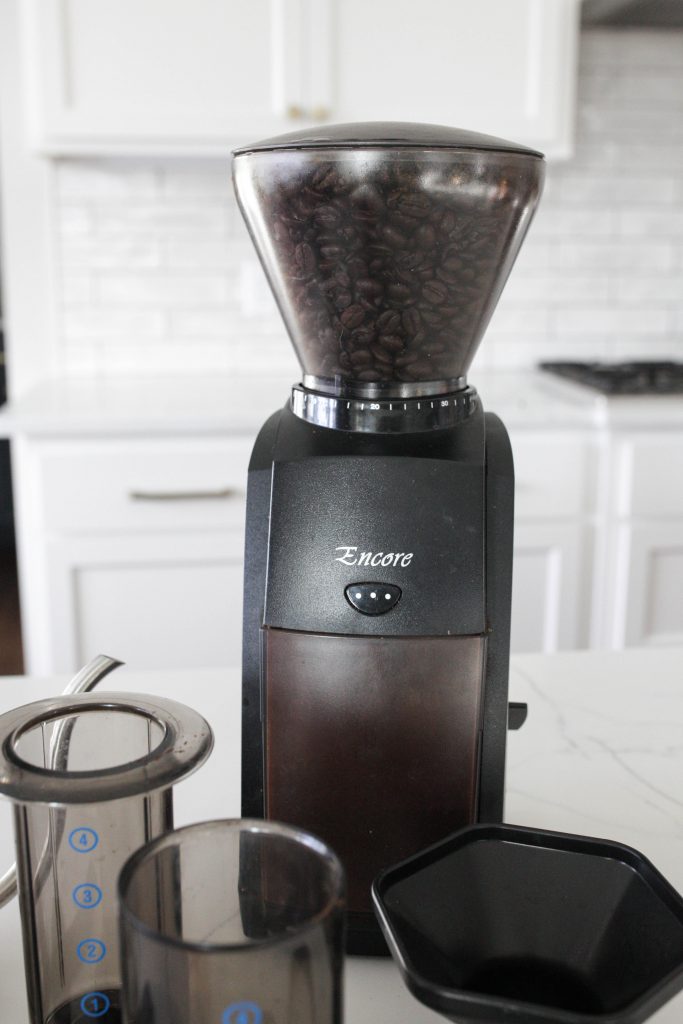 Baratza Encore Grind Size Chart
Regardless of your brewing method and styles of coffee, the Baratza Encore has you covered.
| | | |
| --- | --- | --- |
| Brew Method | Finest Setting | Coarsest Setting |
| Espresso | 4 | 10 |
| Espresso w Pressurized Portafilter | 8 | 12 |
| Moka Pot | 10 | 12 |
| Aeropress | 12 | 14 |
| Pour Over | 18 | 20 |
| Auto-Drip Machine | 16 | 22 |
| Chemex | 18 | 22 |
| French Press | 20 | 28 |
| Cold Brew | 24 | 30 |
Of course, it's important to remember that this list is a starting point and not definitive. These ranges are well-tested by coffee experts and professional baristas, like me, but your coffee will always have the final say when it comes to your grind size.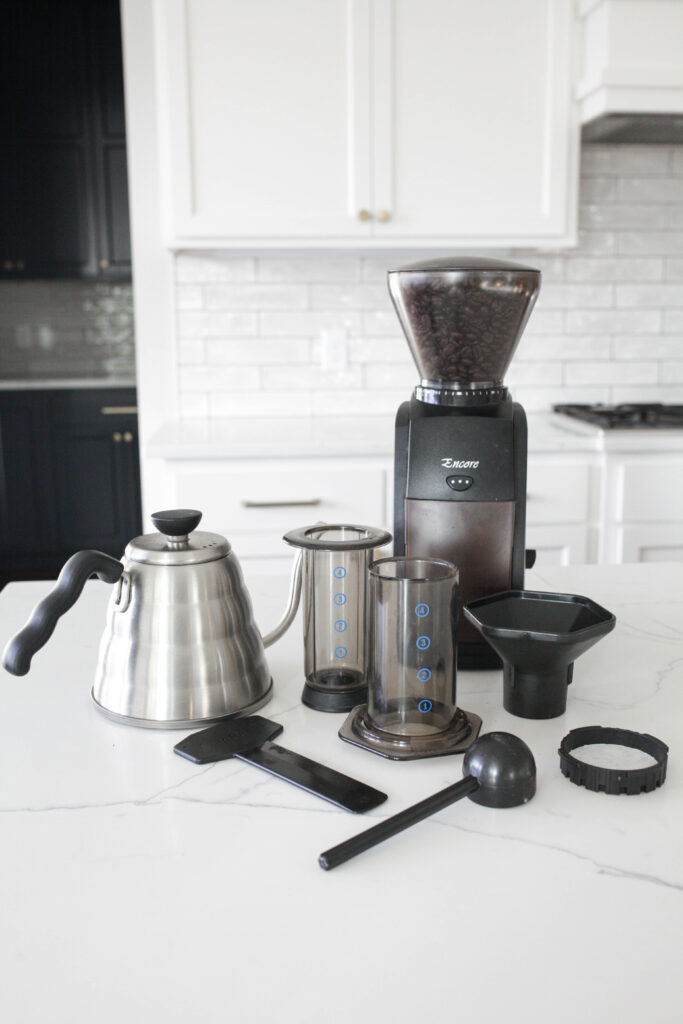 Adjusting For Flavor
Be sure to make note of the coffee's flavor after you brew it. This will help you make adjustments the next time you brew.
Say you decide to make a cup of French press and grind your favorite beans on a setting of 24. And it doesn't have a lot of flavor. Do you think you did the dose ratio correctly, but it still tastes watered down?
You might have to "fine up" the grind to extract more flavor from the beans. The next time you make a cup of French press on a new setting, try to notice any new coffee flavors you taste from a better grind size.
The Baratza Encore coffee grinder performs best in the 10-28, medium to medium-coarse settings. This was tested by measuring the particle size of the coffee with a Kruve Sifter, as explained below. This is great for the increasingly popular manual brew methods!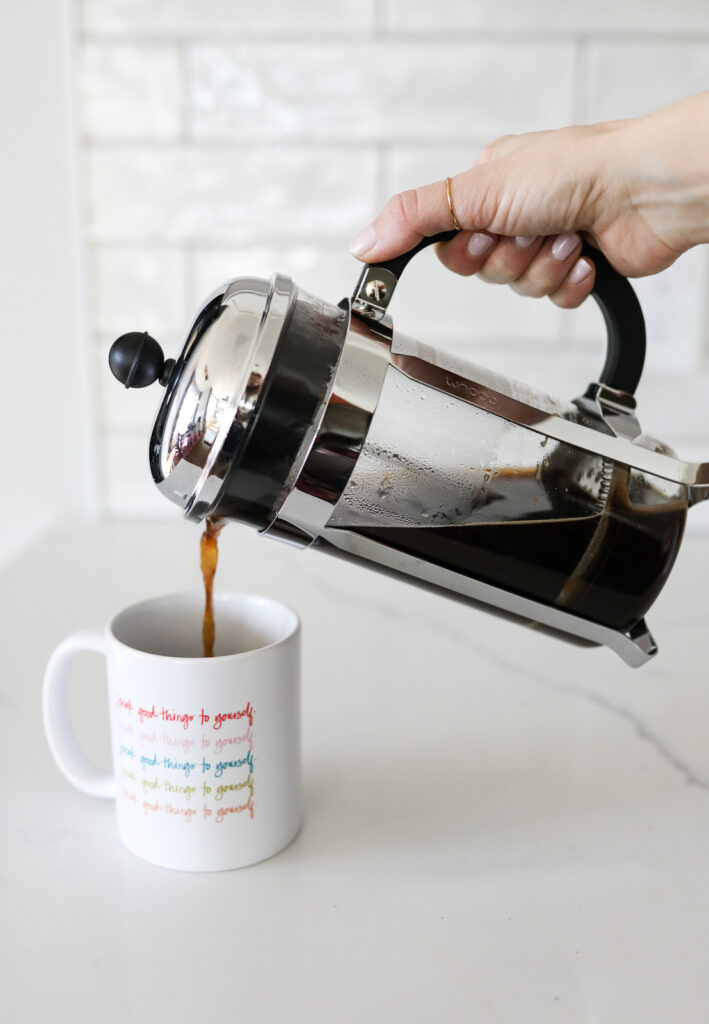 Baratza Grind Settings
There are 40 total settings on the Baratza Encore grinder, the grind range features 1 being the finest (espresso) and 40 being the coarsest, (Cold Brew).
You may have also heard of the term "grind particle" as you researched grind sizes. And while you don't have to know the nitty-gritty of grind science, it can provide helpful context.
Particle size is measured in microns (um). Think of it as a way to grade your own coffee grinder. The ground coffee's particle size determines the proper grind for each brew method.
If you want to get extra nerdy about your coffee, you can invest in a Kruve Sifter, which allows you to measure coffee particle size. Say you want to confirm particle size at a grinder setting of 12. This tool will help you make that distinction, in a very precise way.
Even though your grinder might say 12 is "medium-fine," the particle size measurement may prove otherwise.
The Encore is most uniform and precise when set in the 10-28 range.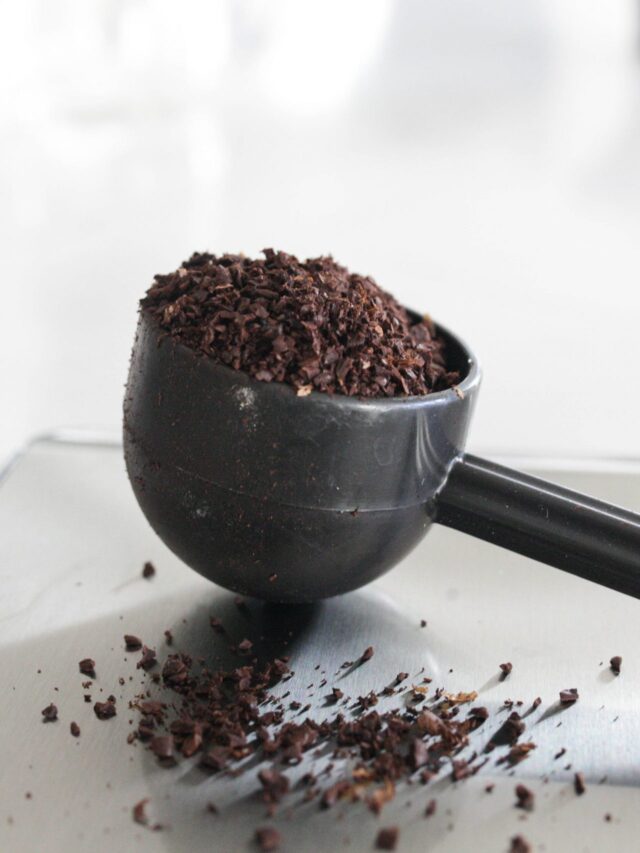 The Bottom Line
With 40 total settings, the Baratza Encore provides any home barista with a solid foundation for any brew method. Although you don't need to know the difference between particle and grind sizes, knowing this difference can provide helpful context and create a great coffee-drinking experience.
Testing of the Encore has proven that the grind size is most uniform in the 10-28 settings. For example, you can still pull a great shot of espresso on setting 4. But you'll have more overall consistency brewing a pour-over on a setting of 22.
FAQ
What is the best setting for Baratza Encore?
This depends on what you're brewing. Each setting corresponds to a specific brew method. So if you're making a Chemex, that requires a different grind setting than an Aeropress. Always taste your coffee after you brew it, and note the flavor. Small adjustments can create huge flavor improvements.
What is the best grind setting on Baratza Encore for espresso?
It depends if you're using a regular or a pressurized portafilter. A regular espresso machine requires a finer grind setting than a pressurized portafilter. This is because traditional machines rely on the barista to tamp the coffee, while pressurized portafilters apply that pressure on their own to create an artificial crema. A traditional espresso grind size lies in the 4-10 range, and the pressurized portafilter requires a coarser 8-12.
What is the medium setting on Baratza Encore?
Medium grind size begins as low as 12 and goes all the way up to 24. The typical brew methods that require an accurate medium grind are Aeropress, pour over, automatic drip, Chemex, and (sometimes) french press.
Can the Encore do Turkish coffee?
No, the Encore can't get super fine particles needed for a Turkish coffee. You can try it on the finest setting but it may not be enough to make a true Turkish coffee.
So there you have it! Now you know exactly what grind size to use on the Baratza Encore grinder. We hope this helped you in finding the perfect grind for your morning coffee to make your daily routine that much easier.