Pour over is such a precise brew method. Any change in the amount of water or coffee you use in your ratio makes a noticeable impact. That's why it's so important to have the right scale.
Finding a quality scale with all the right functions, is going to make your pour over process so much easier. As a barista of 10 years, I say this unequivocally.
In this article, I'll provide my recommendations for affordable, quality scales that work well for pour over. Toward the end, I'll also share some context about why each of these functions is important.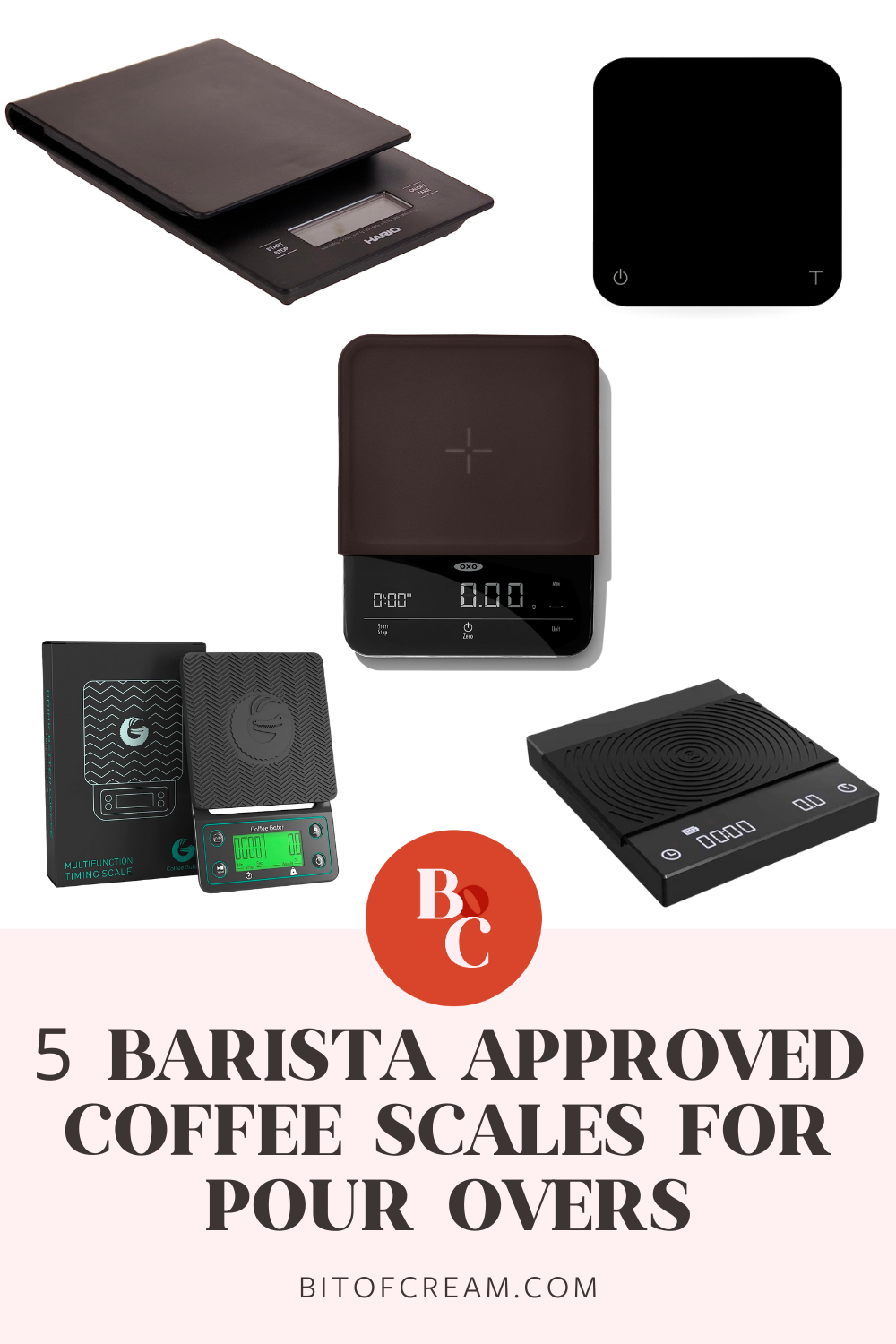 Our Top Picks
The Hario V60 scale is one of the best scales on the market, mainly due to its accuracy and affordability. It has a built-in timer and a sleek look.
This scale measures in .1 gram increments, so you can get the most precise ratio every time you brew. It's also essential for those of us who make espresso at home. Accuracy is everything when it comes to measuring coffee grounds!
With a built-in timer, you no longer have to touch the stopwatch on your phone at the same time you start pouring water. Another bonus is the scale automatically turns off after 5 minutes unless you are using the timer. So if your coffee brewing takes longer than five minutes, it won't shut off mid-pour.
This is the best scale for coffee pour over on a budget. It would be easy to spend over $100 on a good scale, but the Hario is a great scale for a lot less.
The best way to store scales on their sides to maintain longevity and accuracy. The Hario does not sit perfectly on its side. To store the Hario scale, I usually tuck it between my kitchen wall and my coffee grinder. You can also store it on a flat surface with nothing on top.
Pros
Built-in timer
.1 gram accuracy
Colorful options are USB rechargeable
Stainless steel
Cons
The black color option takes batteries.
Doesn't stack perfectly on it's side during storage.
On the more expensive side is the OXO Brew Precision scale. This scale includes extra measurements in ounces and pounds. It also includes an automatic tare function, so you won't have to hit tare every time you fire up the scale.
There is no delay with this scale. In .1 gram intervals, the OXO Brew is super accurate. It also includes a built-in timer so you can perfectly time your morning Chemex. It's also super compact and easy to store due to its small size.
The additional features make this a great all-purpose kitchen scale. Why not get a scale you can use for coffee, plus a variety of kitchen needs?
The OXO Brew uses 4 AAA batteries to power on, which some might see as a downside. But the automatic shut-off function ensures you won't leave the scale on and drain the power when you're done brewing.
As with all modern coffee scales, the touch screens can be either too sensitive or not sensitive enough. The buttons on the OXO Brew require extra attention. Make sure you really hit the timer button before you walk away.
Pros
Automatic tare function
.1 gram accuracy
Includes ounces and pounds
​Compact size
Cons
Low battery life
Finicky touch screen
Doesn't include a heat protection pad
The Acaia (pronounced uh-ky-uh) is an unbeatable scale. It is accurate, sleek, and super easy to store.
These scales are also sturdy, baristas at most coffee shops agree. Many use the Acaia Pearl scales to make countless pour overs every day. Water spills, cups fall over, and the Acaia Pearl toughs it out.
Measuring down to .1 gram, the Acaia Pearl includes a built-in timer and is USB rechargeable. If you're making pour overs in the dark before your roommates wake up, you can even adjust the brightness of your screen.
Regardless of your skill level, the Acaia Pearl is super easy to use. Simply hold down one side of the touch screen to alter your settings for both the timer and weight measurement.
This scale is on the spendy side but for a good reason.
If you're someone who makes pour over and/or Chemex on a daily basis, this is a great investment that will pay off in no time. The unique "flow rate indicator" will have you nerding out about pouring methods on day one.
Pros
Includes flow rate indicator
40-hour battery life
Durable
Interactive mobile app
Comes with a heat pad
Cons
This is a super functional scale.
Unlike the Acaia Pearl, it's perfect for the home barista who needs something simple to get the job done. The large, LED display is super accessible and easy to read in any low-light situation.
The non-slip rubber mat and feet keep the scale from sliding across your counter. Weighing grams, ounces, and milliliters, you can use this scale in other areas of the kitchen too.
The Coffee Gator also has a built-in timer, so you don't have to worry about a separate device to time your pours.
Though it's not as sleek in design as other coffee scales, the Coffee Gator is best if you tend to get a little messy. My favorite thing about this scale is that it doesn't have a touch screen. Though touch screens are all the rage, it's nice to feel that you're actually pressing the tare button, or starting your timer to get accurate measurements.
The one downside to this scale is that it can be slow to display the reading. You will likely notice the delay, especially if you've used a higher-end scale in the recent past. The slower display makes it less suitable for pour over connoisseurs, but worthwhile if you make pour over less often.
Pros
Actual buttons
LED Display
4 measurement settings
.1 gram precision
Cons
With the sleek look of a computer hard drive, the Timemore is a great coffee scale for both pour over and espresso. It maintains some of the Coffee Gator's functionality with physical off and on switches. And at the same time, it has a touch screen for tare and other settings.
The physical off-switch can reduce the use of battery power. But it will go into a low-power sleep mode if you're not using the scale while the switch is on.
The Timemore also includes a heat protector pad so you're less likely to wear out the accuracy of the scale.
The exterior of the scale is waterproof so you won't have pesky water stains left behind. Its sleek, square design is easy to store and matches most kitchen decor.
Because the scale has a minimum weight of .5 grams, this can create some issues when you go to add weight after a tare. So be mindful that you're not taring when you don't need to. This can be tricky when you decide to add a few last-minute whole beans to your grinder. Say you want to add .5 grams of coffee to your dose to pull a shot. The scale might not register that you added .3 grams, and you won't know until you reach .5 grams.
Pros
Includes heat protector pad
Strong battery life
Cons
Minimum weight is .5 grams
What To Look For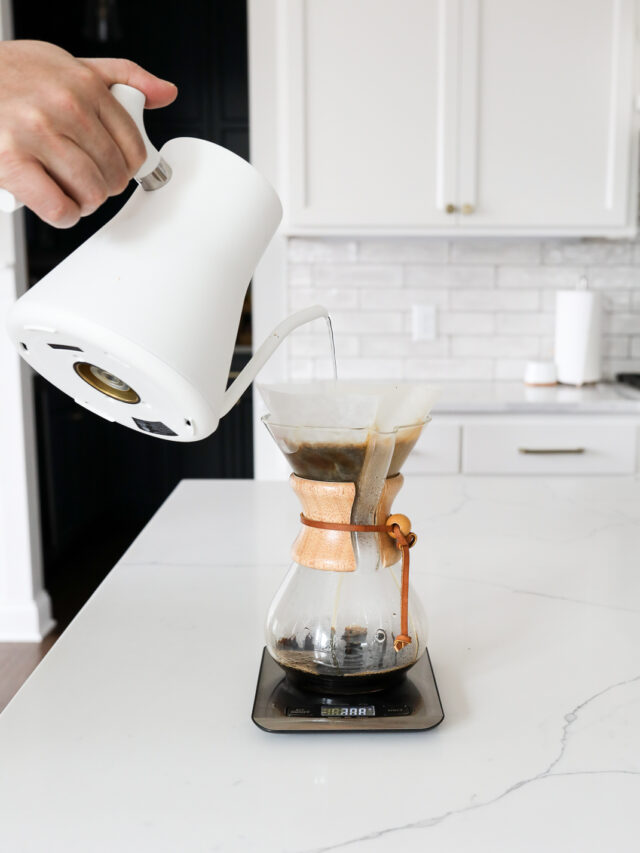 Built-in Timer
A main feature that every pour over scale should have is a built-in timer. That's just the basic essential that is going to make your pour over experience so much smoother. You need a timer to ensure that you're using the correct ratio of coffee, and that you're not pouring water too fast or too slow.
They also make sure you get a proper "bloom" for every pour over without a separate timing device. (like a phone timer) distract you. It's also important to note if the device has an auto-off function so you don't have to remember to turn off the scale once you're done making your coffee.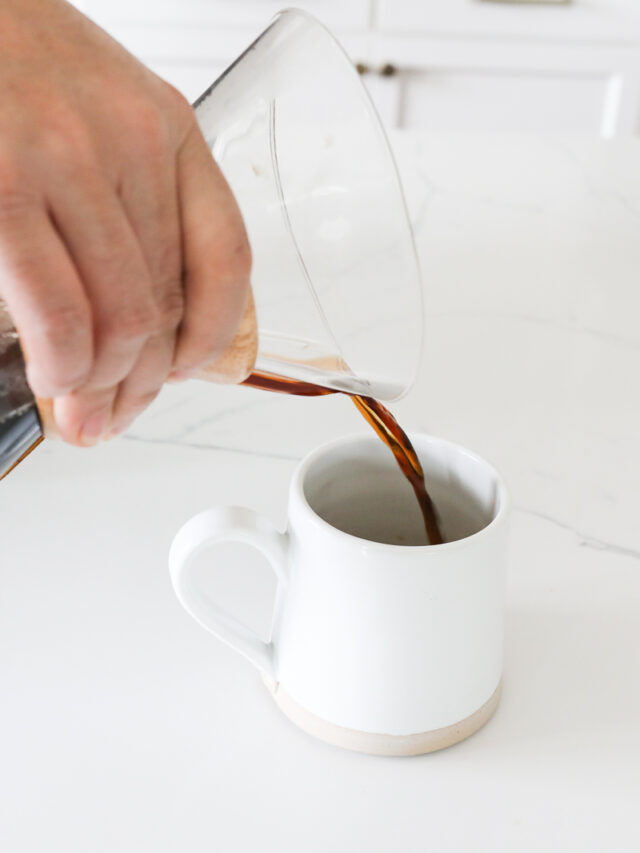 Precision (.1 grams)
Precision is so important. If your scale is always off by 2-3 grams, it's going to be impossible to make a consistent pour over. The coffee scales on this list all use .1 gram precision. This is also useful if you make espresso at home. Even the slightest change in your ratio can impact your coffee extraction.
Rechargeable
This is negotiable. But realizing your scale is dead and you're out of batteries at 6 am is truly devastating. Many coffee experts agree that a USB rechargeable scale also saves you time and money in the long run. Replacing batteries is just an extra step that's easy to avoid with a rechargeable scale. You can plug it in overnight and know you'll be set for the morning.
Heat Resistant or Non-slip Pad
It's important for coffee scales to acknowledge that you will be placing hot coffee carafes on their surfaces. Many scales come with rubber pads that are easy to clean and keep the scale protected from heat. They also serve as non-slip guards for your pour over carafes and mugs.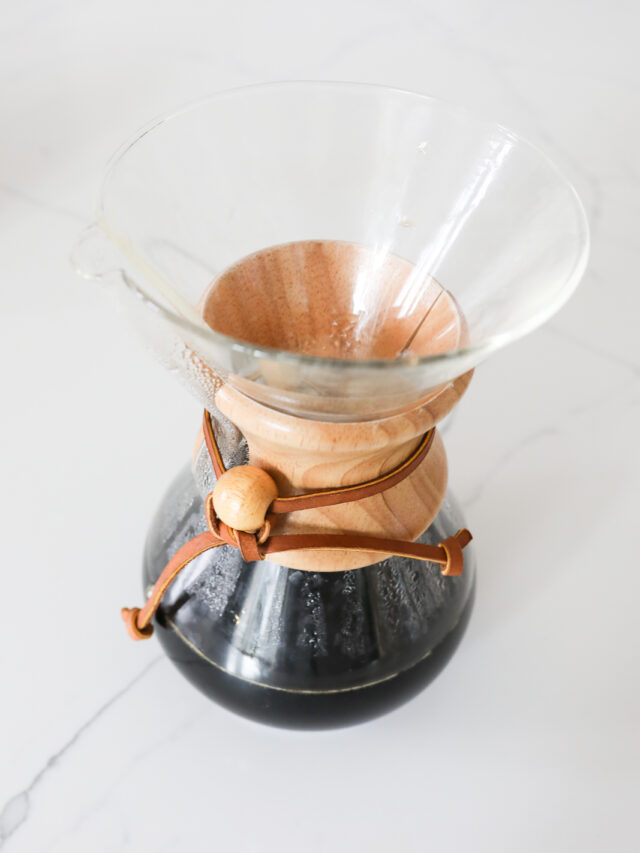 Which One Should You Buy?
The Hario V60 Pour Over Coffee Drip Scale is the best option for pour over lovers. It's affordable, with great precision and design, making it a great choice to add to your at-home barista gear.
The black scale takes batteries, while the new color options have a rechargeable battery. Another one of the special features includes the ever-necessary built-in timer makes the pour over process seamless. If you make pour overs on the regular, this is the top pick for a reason!
This excellent Youtube video provides some great context on how to use the Hario V Scale.
FAQ
Is a scale necessary for pour over coffee?
If you're a coffee lover who is looking to make a good quality pour-over coffee, a scale is a necessity. I know plenty of people who guess their ratio and weight every time they make pour over. But is that coffee actually good? If you are someone who notices when coffee is poorly extracted, then you absolutely need a scale. 
Can I use a food scale for coffee?
You can use a standard kitchen scale to measure your coffee beans to make drip, Aeropress, or French press. But if you want to make pour over, you need a coffee-specific scale with a built-in timer. Pour over is just one of those brew methods that require extra attention to make precise measurements. So an all-in-one scale makes all the difference for the perfect cup of coffee.
How accurate should a coffee scale be?
A coffee scale should be as precise as possible. The best coffee scales measure by .1 gram increments. This way you can be sure you're dialing in the right ratio every time.