Finding the best coffee beans for a pour-over is always a combination of personal preference, coffee quality, and roast level.
In this article, I've picked out several accessible coffee blends for different palates that will be easy to plug into any pour-over. These are some of my favorites after more than a decade as a professional barista.
Whichever you choose, don't forget your paper filters and to let it bloom during the brewing process!
Best Coffee Beans For Pour Over Lovers
This post includes affiliate links.
| Product Image | Product Name | Primary Button |
| --- | --- | --- |
| | | |
| | | |
| | | |
| | | |
| | | |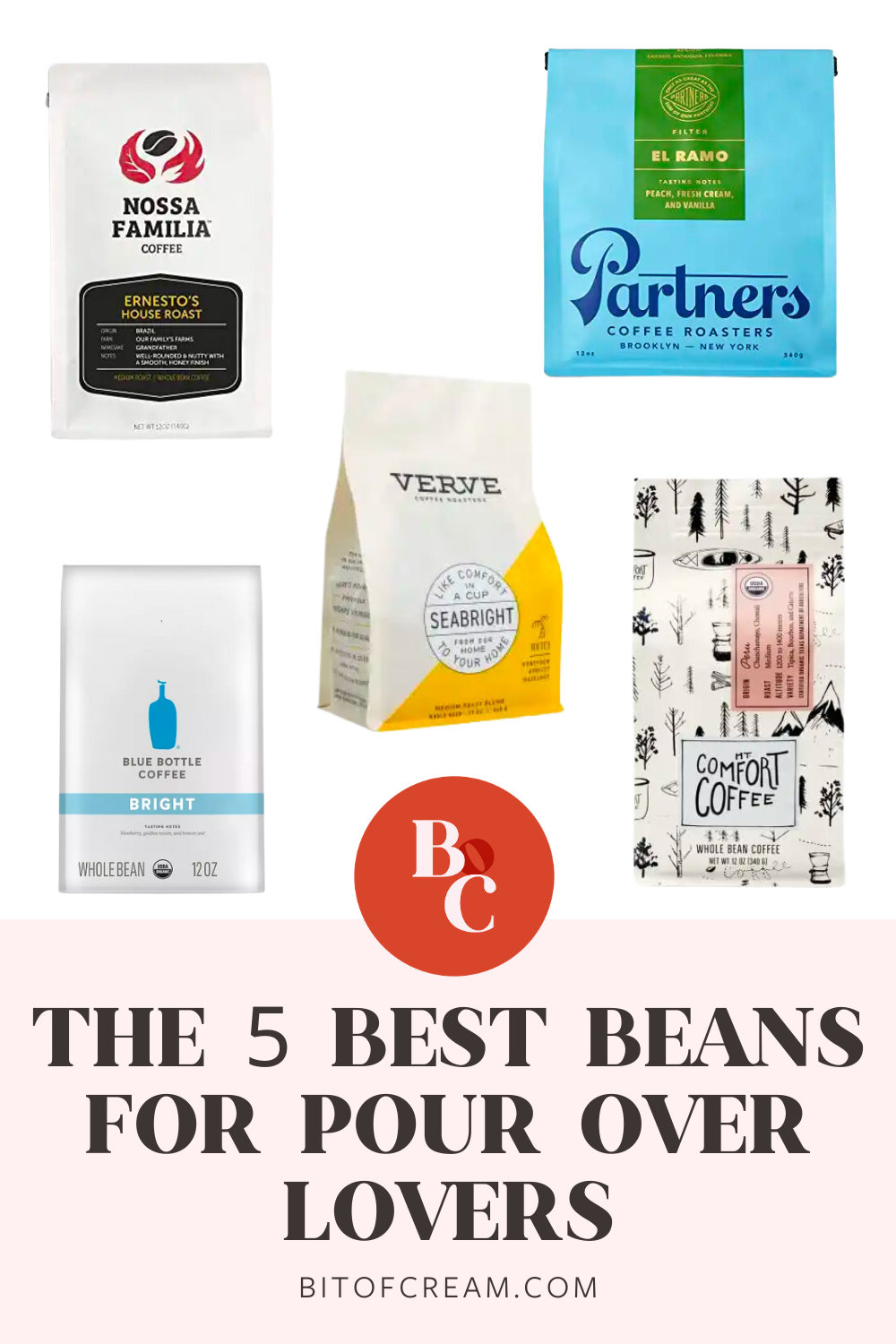 Our Top Picks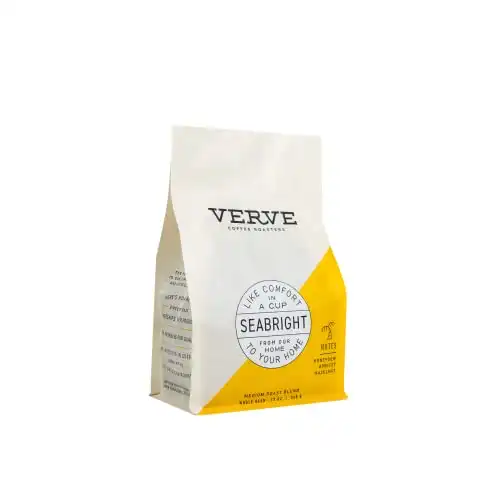 We earn a commission if you make a purchase, at no additional cost to you.
The Seabright blend from Verve is a light roast that highlights often neglected, unique coffee flavors. In this case, honeydew, apricot, and hazelnut. The hazelnut has a delightful marzipan quality that adds richness and depth.
The Seabright is a versatile coffee for those coffee lovers who like to switch up their brew method. Verve recommends this coffee for a French press or countertop brew as well.
Though it has a medium body, the Seabright Blend is a light roast that isn't for the faint of…er, palate. If you prefer dark roast coffee or a lot of espresso blends, this coffee might take some getting used to. The melon and stone fruit notes may taste "weak" at the first brew.
But a pour-over coffee maker will enhance those juicy-tasting notes if you're interested in something fresh and fruity as opposed to using a traditional drip coffee maker.
Pros
Melon and dessert notes
Juicy body
Balanced acidity
Cons
It might be too bright if you prefer darker Espresso blends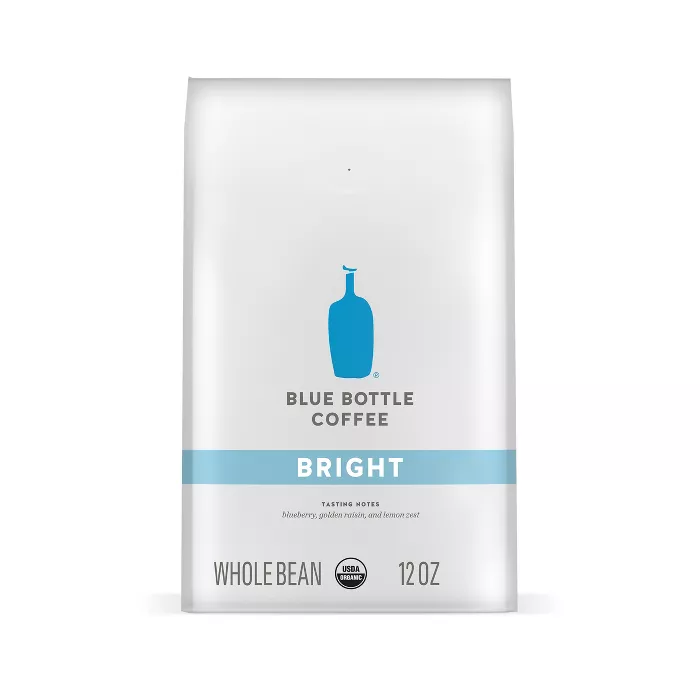 We earn a commission if you make a purchase, at no additional cost to you.
If the Seabright is like biting into an apricot pie, the Blue Bottle Bright blend is like your blueberry-forward Ethiopian coffee passed through a lemonade stand on its way to the roaster.
A good light roast that smells like fruit loops after its ground is almost unbeatable. A pour-over coffee maker will highlight all these bright notes without sacrificing depth.
If you're one of the newer coffee enthusiasts on the block and new to the light roast scene, this coffee might taste weak or too acidic when you make your first pour overs.
You can mellow it out with some cream or milk if you need to without sacrificing the delicate flavors. (Though I recommend trying it on its own first!)
Pros
Stone fruity
Sweet
Light roast with depth
Cons
Narrow margin for error, delicate
3. Best Peruvian Blend: Mt. Comfort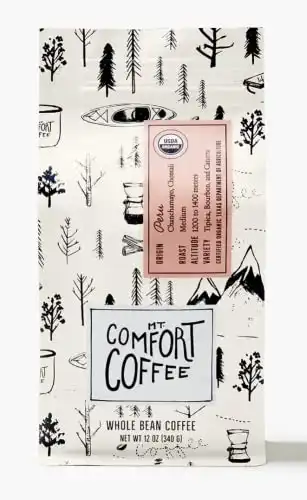 We earn a commission if you make a purchase, at no additional cost to you.
Taking it down a level in roasting profile, the medium roast Peruvian blend from Mt. Comfort is a crowd-pleasing delight. It's heavier on the chocolate notes, with lower acidity.
Mt. Comfort markets its coffee as single origin, but it's sourced from many regions in Peru. It may not be clear what region your bag of beans is from. Peruvian coffee rides a tasty balance of chocolate and mellow citrus notes. As with all coffee blends or seasonal single-origin, don't be surprised if one bag tastes different than another.
The Peru blend is a smooth, balanced coffee with tasty fruit notes that tastes great with cream or on its own.
Pros
Chocolate-y
Crowd-pleasing
Cons
Taste changes from bag to bag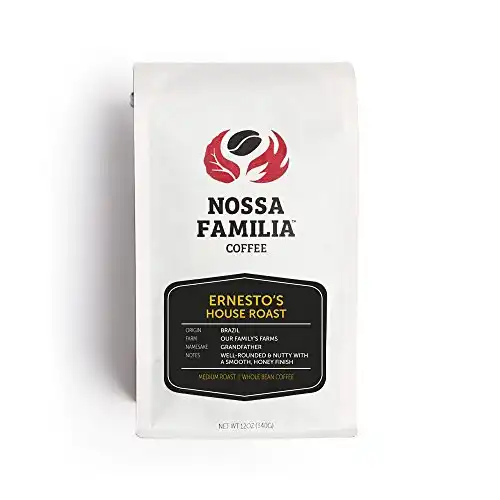 We earn a commission if you make a purchase, at no additional cost to you.
Ernesto's House Roast from Nossa Familia makes an excellent pour-over black coffee. A medium roast with minimal brightness and a sweet aftertaste, it's tasty as iced coffee, too.
Ernesto's is a "pulped natural," a typical process among Brazilian coffees. This means the cherry pectin was left on the coffee beans while they dried out, so the coffee absorbed some of that sweet flavor it may have missed if it was fully washed.
Ernesto's house roast brewed with a pour-over should retain much of the depth you'd get from a strong cup of drip and have a smooth, honey finish. Because of its medium body and low acidity, it will also do well iced with a bit of cream.
Pros
Easy to brew
Good as iced coffee
Cons
Mild flavors (could be pro or con)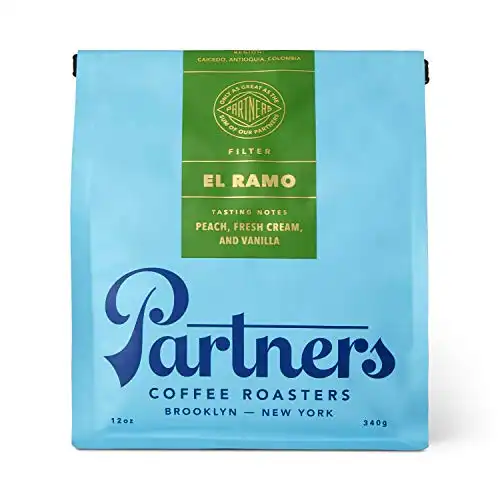 We earn a commission if you make a purchase, at no additional cost to you.
This is another excellent light roast well-suited for the pour-over method. The single-origin El Ramo (which means bouquet in Spanish) is a light roast with ample sweetness and stone fruit flavors that craft an excellent, juicy cup of coffee.
Peach is one of my favorite coffee flavors that I'm always looking for. You can't replicate the mouthfeel of a coffee with peach notes. It's light on the palate with sweet, stone-fruit acidity. This coffee is excellent at all times of the year, but it tastes like summer.
This coffee suits other filtered brew methods like drip or Chemex, but I wouldn't use this coffee on espresso or French Press where it would be too easy to over-extract the coffee.
Pros
Light roast
Stone fruit acidity
Sweet
Cons
Not good for French Press
What To Look For
Whole Beans
Pre-ground coffee sitting on the shelf for days becomes stale and flavorless. Always, always, always purchase whole-bean coffee if you can.
The best way to enjoy a cup of pour-over coffee, the beans need to be freshly ground in order to extract all the delicious, delicate flavors that make pour-over so great.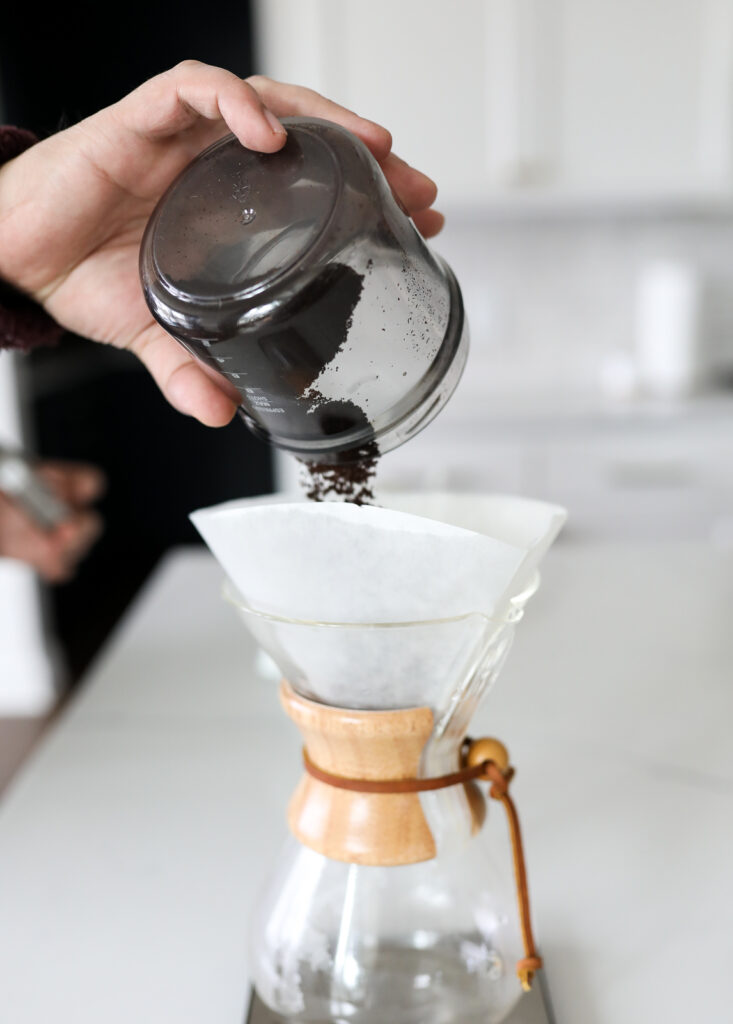 If you don't have a grinder at home, I'd recommend grinding your coffee when you purchase it at the supermarket. Or if you buy coffee from coffee shops as I do, simply ask your barista to grind them for you.
Roast Level
Dark roast coffee tends to lose its complex flavors in the roasting process. Though this isn't always the case, I've found that dark roasts are more of a gamble. Coffee drinkers can all pretty much agree that dark roasts usually have more bitterness and ashy flavors.
If you start with a dark roast, pour-over isn't going to fix anything if it's already too dark. I recommend lighter roasts to medium roast coffee beans for pour-over.
If you're a fan of decaf, don't worry! We've listed 5 of the best in our coffee guide here..
Single Origin Vs. Blend
Look for single-origin coffee with bright, citrus, and floral notes for pour-over. Pour-over is an excellent extraction method to highlight those unique flavors in coffee. In single-origin coffees, delicate flavors tend to stand out more on their own.
Blends are usually more affordable and easier to find online from bigger retailers. Single-origin coffees can be more expensive. True single-origin is sometimes easier to purchase directly from coffee roasters than from a large retailer.
So Which One Should You Buy?
The Seabright Blend from Verve Coffee Roasters is definitely one of my top picks for a reason. It has a versatile, complex, and juicy with a super clean finish flavor profile.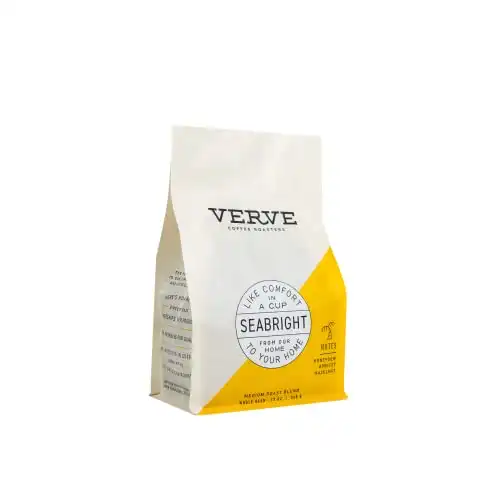 We earn a commission if you make a purchase, at no additional cost to you.
Notes of apricot and honeydew provide a balanced acidity to the backdrop of rich marzipan, which makes this a great option.
But don't be afraid of the brightness or acidity. Verve crafted this coffee to be a crowd-pleaser, combining quality beans from El Salvador and Guatemala so even a medium roast lover can get on board.
Verve is available whole-bean at many online retailers and comes in a 12-ounce bag at a reasonable price.
FAQs
What kind of coffee is best for pour-over?
Medium-light whole bean coffee roasts make for the best beans for pour-over coffees. 

Check your coffee grinder manual for specific grind levels, but a medium grind is what you should aim for if your grinder manual is unclear or you're grinding at the store. Look for flavor notes that stand out to you. I always opt for single-origin coffee because pour-over highlights those fun, complex flavors native to single-origin. 
Is pre-ground coffee good for pour-over?
Pre-ground coffee will not taste as good as fresh-ground for any brew method. Once the coffee is ground, it begins oxidizing and losing flavor. So regardless of the brew method, you can't get back those lost flavors. And once your coffee grinds, you won't be able to adjust the grind level to your liking. So you might be stuck with grounds that are not only losing flavor, but are also too coarse or too fine to make a great cup of coffee. 
Why is my pour-over coffee bitter?
If your pour-over coffee is bitter, it could be your coffee-to-water ratio. When coffee is over-extracted, it means too much hot water passed through the grounds. Try decreasing the amount of water the next time you brew to adjust the flow rate of the water. 
Love pour over? Check out one of these!