Decaf coffee runs the gamut of flavors.
While it's usually not as delicious as regular, there are plenty of tasty options on the market. And it's not difficult to cut down on your caffeine consumption without sacrificing your morning ritual.
In this article, I've reviewed five of the best whole-bean decaf options so you can get the most flavor out of your coffee without the jitters.
What makes coffee decaf?
Coffee is naturally caffeinated, so how do roasters make it decaf?
There are two main processes for decaffeinating coffee.
The first is the chemical process, which many commercial roasters rely on because it is cheaper. This process basically involves rinsing the coffee beans in a chemical such as ethyl acetate or methylene chloride over and over until the caffeine is rinsed out.
The downside of chemically processed decaf is that the chemicals are bad for the environment, and they alter the taste of the coffee. It can sometimes leave a bitter, chemical aftertaste. 
You may have noticed bags of decaf with the words "Swiss Water Process" on the label. This is a "green" process for decaffeinating coffee that is better for the environment and doesn't make the coffee taste terrible.
The swiss water method has a super specific breakdown of their decaffeination processes. You can read about it here.
5 Best Whole Bean Decaf Coffee Ranked
| Product Image | Product Name | Primary Button |
| --- | --- | --- |
| | | |
| | | |
| | | |
| | | |
| | | |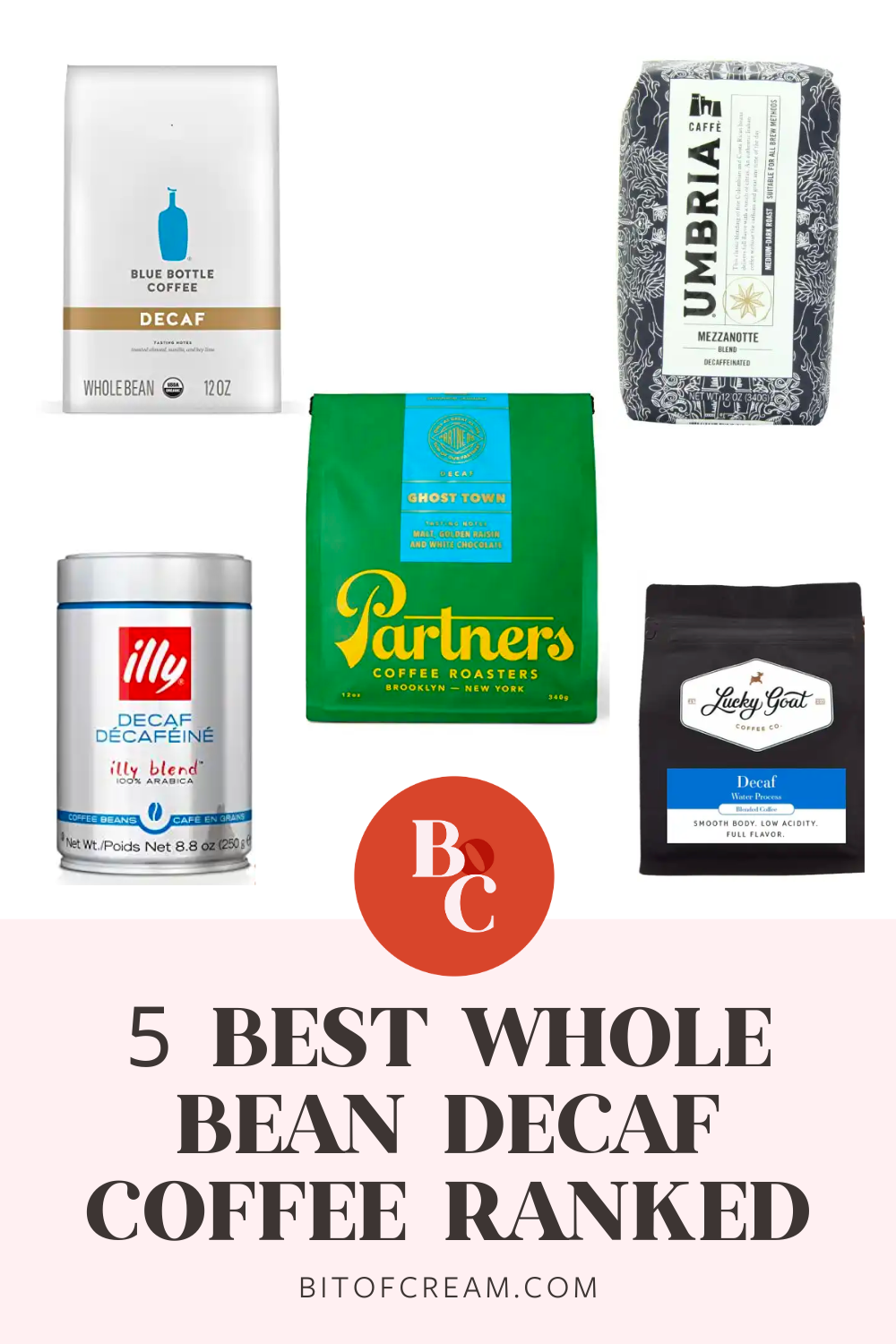 This post includes affiliate links.
The 5 Best Whole Bean Decaf Coffee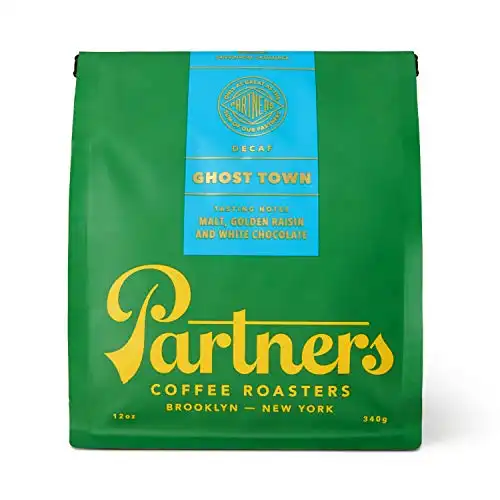 We earn a commission if you make a purchase, at no additional cost to you.
This medium roast, whole bean decaf from Partners coffee doesn't taste like decaf. To me, that's a major win and what makes it a top pick.
It's great as drip, cold brew, and espresso. The first flavor is a golden raisin tang, followed by sweet white chocolate and rounded out with malt.
Partners uses a natural water process to decaffeinate the whole beans, so you don't get any of the off-putting chemical vibes of store bought decaf. 
I would recommend the Ghost Town blend to those who prefer a lighter coffee profile.
Pros
Sweet and malty
Soft acidity
Swiss Water Process
Good for drip, cold brew, or espresso
Cons
Might be too bright for dark roast fans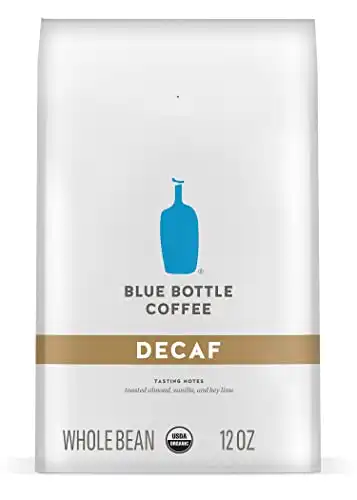 We earn a commission if you make a purchase, at no additional cost to you.
Blue Bottle's decaf blend is the best decaf coffee brands on this list. The body of this coffee comes off as a dark roast in comparison to the brightness of the Ghost Town. Blue Bottle offers a slight discount if you buy this blend in a bulk pack of 3.
Notes of vanilla add depth and sweetness to this coffee, but there's a nice touch of acidity that comes through in a note of key lime.
This coffee is a natural show-off on pour-over and espresso. Brewing this coffee on drip or pour-over especially highlights the great taste of sweetness of this blend.
Pros
Best for pour-over or espresso
Best organic coffee
Fair trade
Cons
There are less expensive options
We earn a commission if you make a purchase, at no additional cost to you.
This medium-dark roast blend from Caffee Umbria rides the line between dark and super dark. It has lower acidity than the Blue Bottle Decaf and the Ghost Town, and it's less sweet. This coffee prioritizes richness over brightness.
The word "mezzanotte" in Italian means midnight, which is an apt name for this coffee with notes of baking chocolate. A heavy, black tea body balances the toasted hazelnut flavor that comes through best on espresso.
This roaster doesn't specify the process used to decaffeinate the beans, which is questionable.
But if you like dark roast, espresso, or moka pot, this is the decaf your taste buds are looking for.
Pros
Rich
Dark chocolate notes
Best on espresso or moka pot
Low acidity
Cons
Might be chemically processed
4. Best Budget-Friendly Beans: Lucky Goat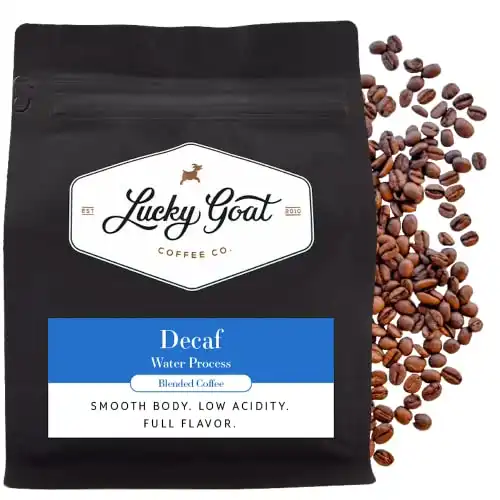 We earn a commission if you make a purchase, at no additional cost to you.
This is the best whole bean coffee for decaf drinkers on a budget. It's a medium roast coffee that tastes like a dark roast but is much lighter than the Mezzanotte. It rides the roast line between the Mezzanotte and the Blue Bottle. 
It's a water-processed coffee with notes of graham cracker, almond, and brown sugar. The sweetness of this decaf is best rendered with an espresso machine, but it works well on a french press too.
If you're concerned with acidity, this coffee is low-acid but lacks the balancing act that bright flavors bring out in a dark roast.
It's the best option for dark roast drinkers, and a great coffee pick if you're on a budget.
Pros
Cons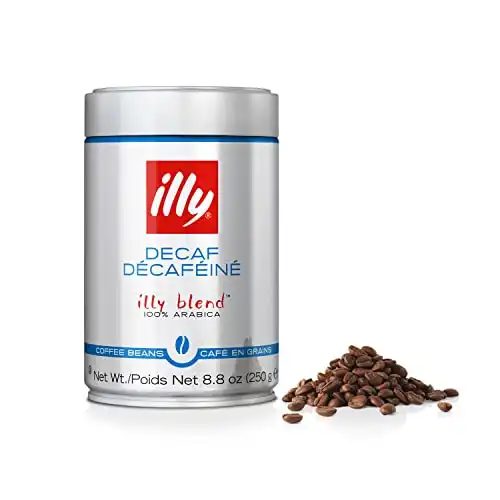 We earn a commission if you make a purchase, at no additional cost to you.
Illy's decaf whole Arabica beans are a great option for decaf coffee drinkers looking for something they can easily find in the supermarket. It's darker than the Mezzanotte. 
Note: These beans are oily! If you use a burr grinder at home, be sure to give it an extra wipe down after you go through a can of illy. 
You simply can't beat coffee that comes in a can that you can use later for art supplies or more coffee.
Its intended tasting notes are orange blossom, caramel, and jasmine. But all of these are super light flavors that came through more like orange peel, molasses, and black tea. 
Europeans love their dark roast. This coffee always reminds me of traveling in Western Europe. It's bitter in a nostalgic way, and best paired with cream and maybe some sweetener. Use it on drip to balance out the flavors. Or go for an italiano with cream or a classic cappuccino.
Pros
Best supermarket whole bean decaf
Nostalgic dark roast
Reuse the tin
Low-acidity
Cons
What To Look For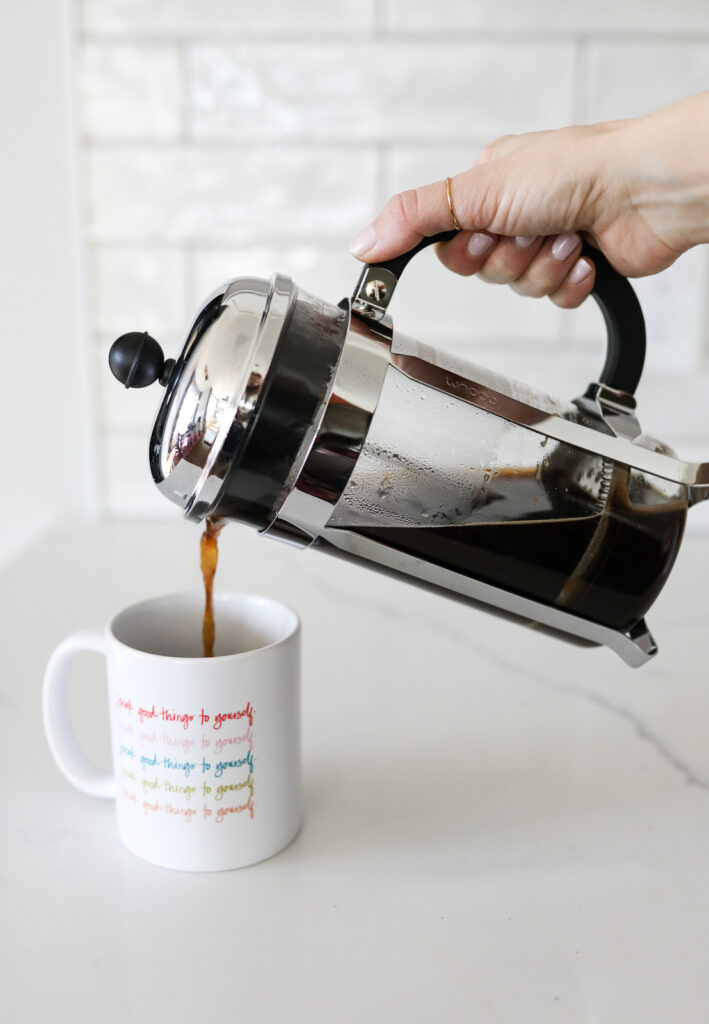 Water Processed vs Chemical
A water-processed coffee is more environmentally sound and will guarantee better flavor. Water-processed coffee does not use chemicals to cleanse the beans of their caffeine during the decaffeinating process.
Since you can never get 100% of the caffeine out of a cup of coffee, there isn't a superior method as far as caffeine level. But a difference in taste will be noticeable.
Roast Profile
Decaf coffee roasts differently than regular coffee. In the decaf water process, the outer shell of the bean is weakened. This changes the typical, tell-tale signs that roasters look for to determine at what stage the bean is at in the roasting process.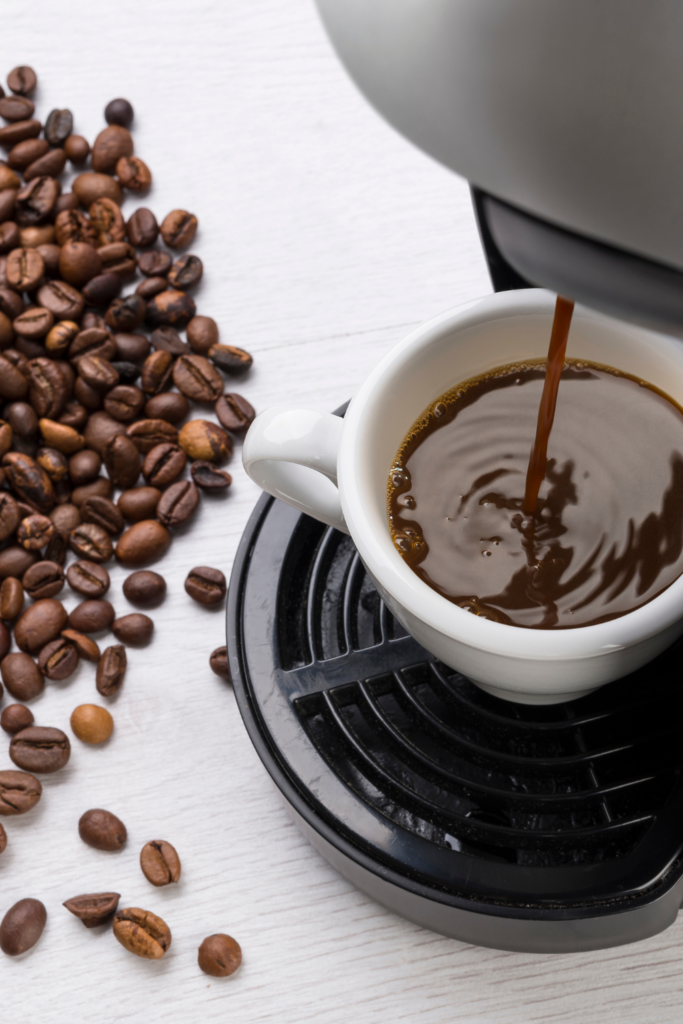 This can mean a lot of variation between decaf roast profiles. So if you tend to like medium-roast regular coffee, don't be alarmed by the darker appearance of decaf. The beans may look darker than they are in flavor.
So Which One Should You Buy?
Partners Ghost Town blend is the best decaf coffee beans on the market, and I think all coffee lovers can agree.
For a medium roast decaf, it has depth and body and only a mild, citrus-based acidity.
It's a versatile coffee that works well on a variety of brew methods. The subtle malt and white chocolate flavors pop when brewed drip.
But if you like to switch it up with cold brew or get fancy with espresso, the Ghost Town won't disappoint.
Last but not least, Partners coffee uses the Swiss Water Processing Method to decaffeinate their coffee. This keeps their whole coffee beans chemical-free!
FAQ
Can you get decaf coffee beans?
Since coffee is naturally caffeinated, it is not possible to find 100% decaffeinated coffee. 
A regular, 8-ounce cup of drip coffee averages 95 milligrams of caffeine, while a cup of decaf averages only 2 milligrams. Of course, the exact amount of caffeine will vary depending on the bean and decaffeination method. But it's a guaranteed decrease in caffeine to go decaf.
Are decaffeinated coffee beans good?
Decaf coffee is not as good as caffeinated coffee. But that doesn't mean there are not a ton of great whole bean, decaf options on the market. 

Decaf runs the gamut of flavor. My experience has always been that decaf has more vegetal, savory notes than a lot of regular coffee. While savory and vegetal flavors don't have to be "bad," it can be difficult to find a decaf roast that doesn't have a good balance of flavor. When I drink decaf, I almost always drink it with milk or cream. 
Is it OK to drink decaf coffee every day?

It's important to know what the benefits and drawbacks of daily coffee consumption (mainly health reasons) are before you start guzzling three cups a day. 
Since many of the drawbacks to consuming coffee are related to caffeine, 3 cups of decaf a day likely has more health benefits than 3 cups of regular. 
I tend to take the "everything in moderation" approach to consumption. If you wouldn't drink 3 cups of regular coffee, do you need 3 cups of decaf? Maybe not. 
If you're looking for more bean varieties head here!
Looking for the best way to store your collection of decaf beans? Check out our 5 favorite coffee canisters that will extend the freshness of your coffee!