Costco Wholesale Warehouse might be your go-to shopping center for enough chips to feed the whole soccer team.
They carry cleaning supplies for the job site and a huge selection of meat to stock your freezer. But what about Costco's coffee selection?
Costco carries its own brand of roasted beans, the Kirkland Signature range, but the warehouse also sells bulk coffee from some of your favorite brands.
So if you're someone who drinks coffee like water and can burn through an entire bag of grounds in less than a week, you might want to consider Costco's options.
In this article, we'll give you the scoop on some of the best coffee beans you can buy from Costco! You'll gain an understanding of what each coffee brings to the table and how to choose the best Costco beans for your needs and taste preference, and if you're looking for a coffee canister to hold all of your new beans head over to see our best coffee canisters guide!
Stick around because some big surprises and hidden gems are waiting in the Costco coffee aisle!
Our Top Costco Coffee Picks
| Product Image | Product Name | Primary Button |
| --- | --- | --- |
| | | |
| | | |
| | | |
| | | |
| | | |
| | | |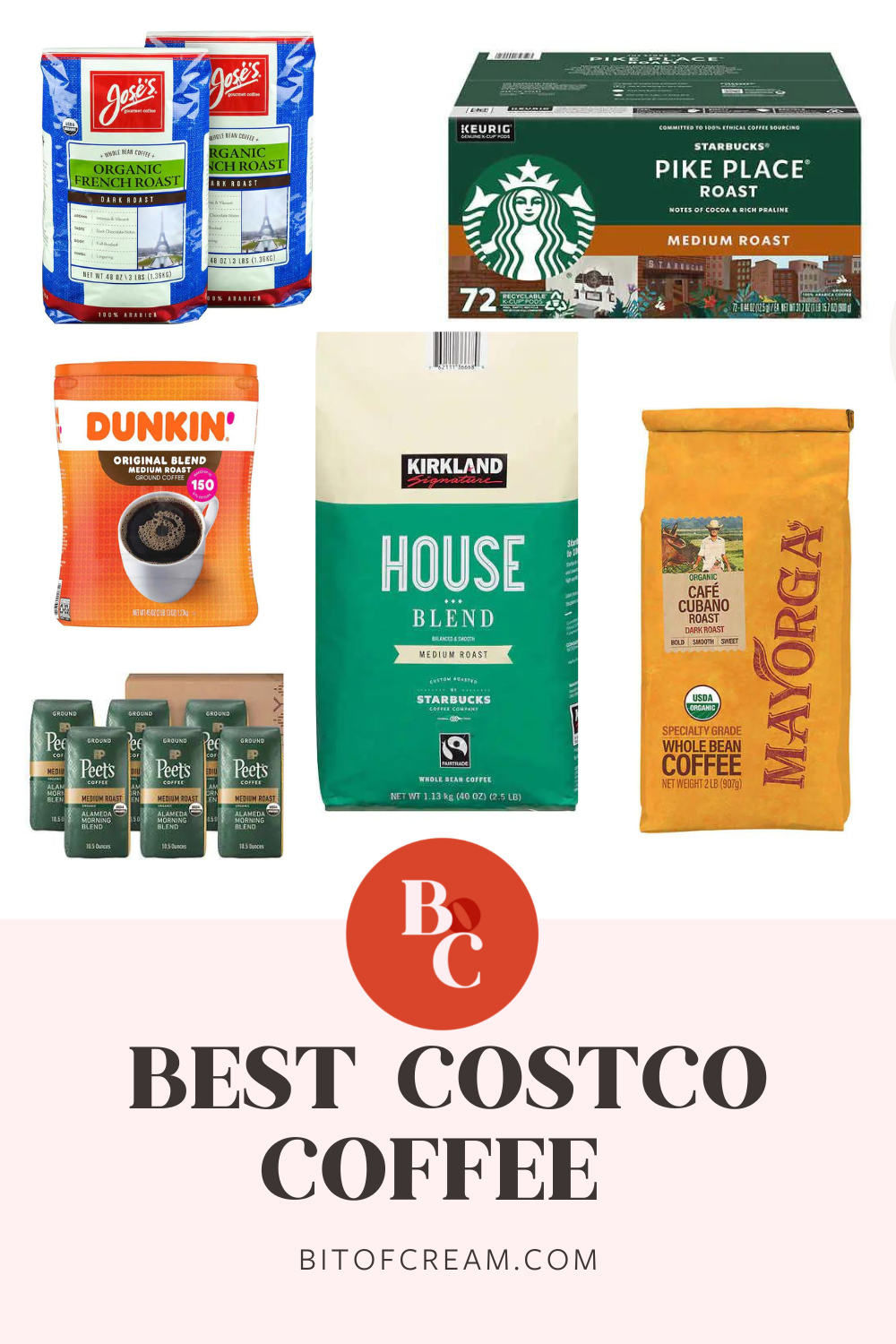 1. Kirkland Signature House Blend
Best Value for the Quality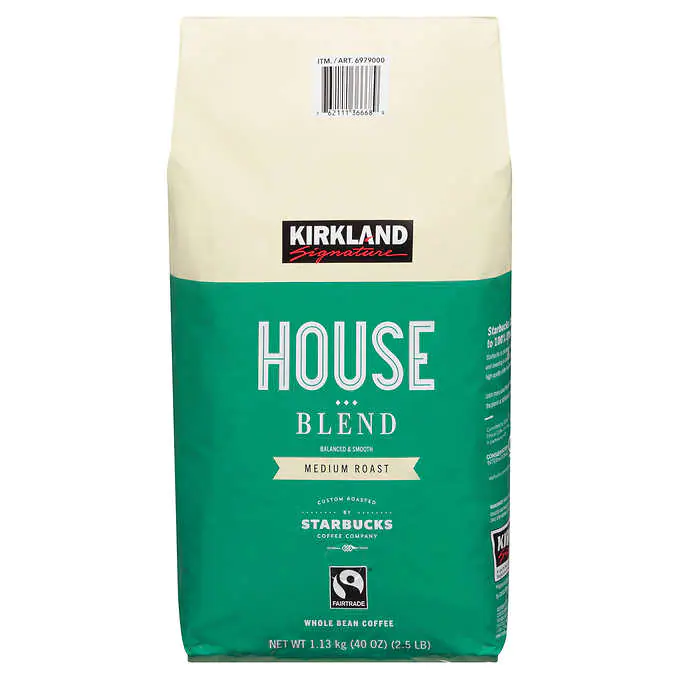 The Kirkland Signature House Blend is one of the best overall buys that you can choose from Costco's coffee selection. It's a smooth and balanced blend that every coffee drinker can enjoy.
This coffee is Fair Trade Certified and custom roasted by Starbucks. Yes, you read that right. Starbucks roasts Costco's brand of coffee beans. So, if you enjoy the rich, roasted flavor of Starbucks coffee, you'll love this blend.
Although Kirkland Signature House Blend is marketed as a medium roast, its flavor definitely leans toward the darker side. If you enjoy a light, bright, and fruity roast, this might not be the blend for you. Costco's House Blend is dark and oily with a chocolatey-almond flavor.
Since the flavor of this coffee is already so rich and robust, it works well with various brewing methods. This versatile blend is tasty when brewed from drip to pour-over, French Press to AeroPress. However, when it comes to Iced Coffee vs. Cold Brew, the Kirkland Signature House Blend is better as Iced Coffee.
2. Mayorga Cubano Organic Dark Roast
Best Espresso Option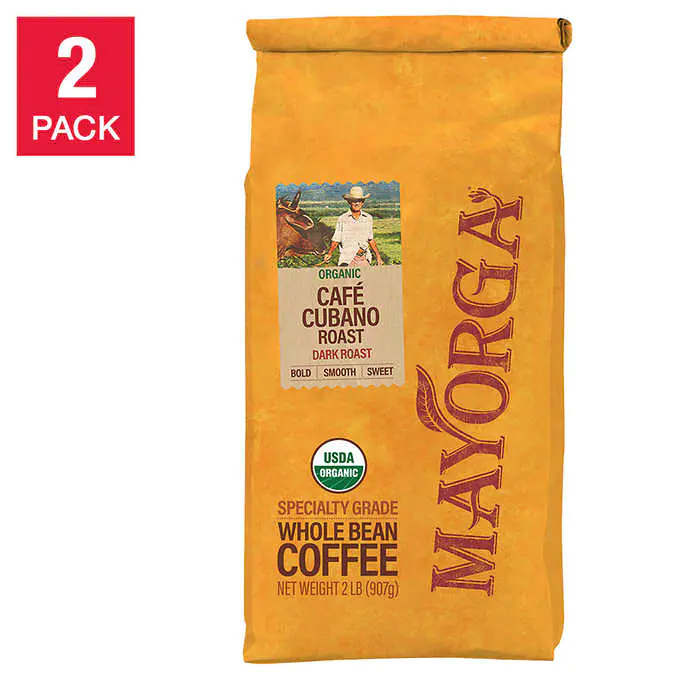 If you're a purist or particular about the origins of your beans, Mayorga Cubano Organic Dark Roast could be the best Costco pick for you. The beans are organic, non-GMO, Fair Trade, and shade-grown in Central America. Every cup brewed is a cup you can feel good about.
This coffee is a dark roast that's full-bodied, smooth, and flavorful. If you suffer from stomach upset or heartburn, especially after a cup of coffee, you should try switching from light or medium roasts to a dark roast. The roasting process produces a compound that reduces the amount of stomach acid produced after consumption.
Mayorga Cubano Organic Dark Roast is an excellent place for those new to dark roast to start. It can be enjoyed as coffee but is best when ground and brewed as espresso. For this reason, if you're looking for an espresso bean at Costco, this is the one! I recommend pairing it with demerara, a raw type of brown sugar, for delicious, authentic Cuban coffee.
3. Peet's Organic Alameda Morning Blend
Best Organic Medium Roast
Peet's Organic Alameda Morning Blend is certified USDA Organic,non-GMO, and Kosher. This way, you can rest assured that you're only buying the best. It's a true medium roast that tastes of sweet caramel with a bright, floral scent. In addition, all of Peet's brand coffee is hand-roasted in small batches for ultra-rich flavor.
Unlike the previous Costco coffees discussed, you can't buy this blend whole bean or in a large 2lb bag. Instead, they're sold already ground and in bundles of six 10.5 oz bags. It's a great option to share, gift, or keep on hand for convenience.
Costco doesn't offer this blend in K-Cups, but if you want an Organic Peet's option, you can try the Alma De La Tierra Dark Roast K-Cups.
The Alameda Morning Blend isn't a great espresso bean, but it's well-suited for all other coffee brewing methods, especially cold brew!
4. Dunkin Donuts Original Blend
Best Classic American-Breakfast Taste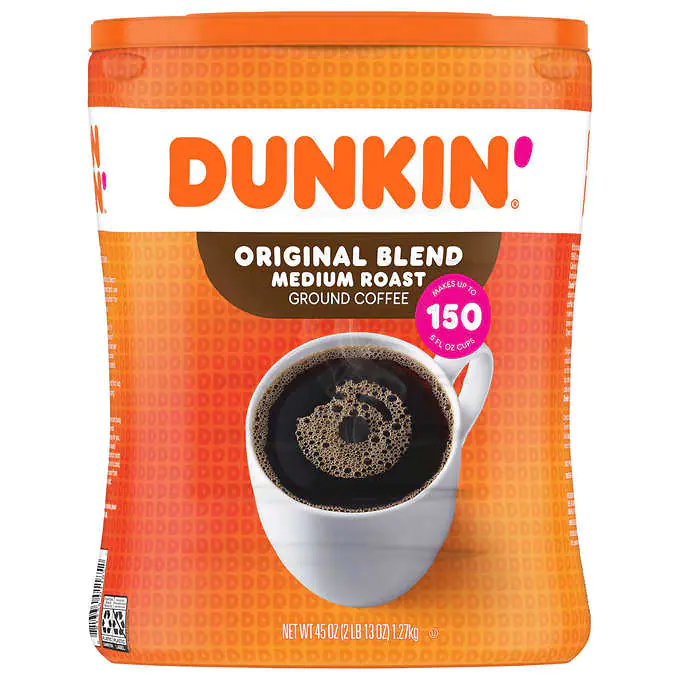 The Dunkin Donuts Original Blend is as no-frills as it gets. It's a simple, straightforward coffee falling between a light and medium roast. The world's largest coffee chain serves up this same blend of 100% Arabica beans every morning.
If you're looking for a classic American-breakfast cup of coffee that tastes like Saturday mornings at the diner, you'll love this pick. It has a subtly sweet, floral, nutty flavor with a silky mouthfeel. It's not thick or stodgy in the slightest.
At Costco, you can purchase Dunkin Donuts Original Blend in 45oz containers, which is a little over 2.5 lbs of ground coffee. Or the warehouse sells this blend in convenient K-Cups.
This coffee is already ground and isn't suited for espresso brewing. But you can enjoy this easily sippable blend brewed via drip, pour-over, french press, percolator, or over ice.
5. Jose's Gourmet Coffee
Best Costco Coffee Splurge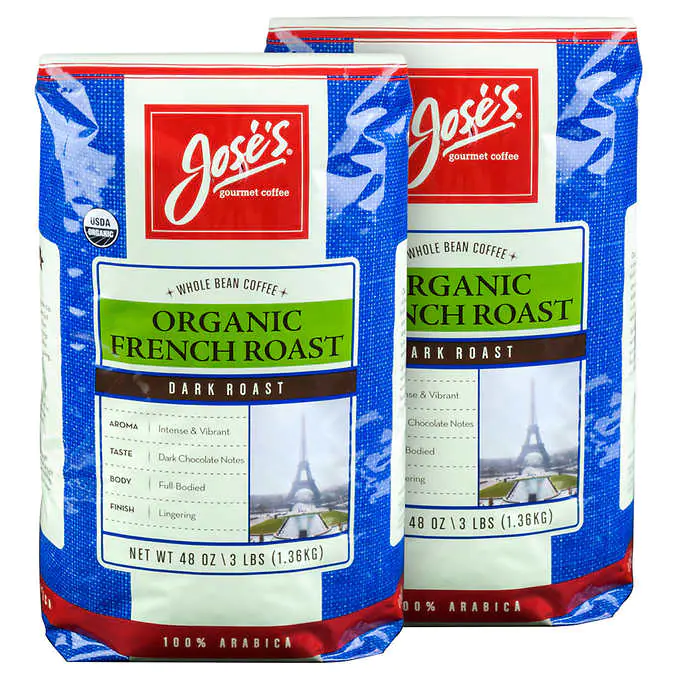 Costco carries three different varieties of Jose's Gourmet Coffee. All the coffees use excellent quality beans, and the smell of any of these picks will have your mouth watering. However, in comparison to the other coffees available at Costco, Jose's Gourmet beans are pricier.
If you like flavored coffees, you'll want to try Jose's Vanilla Nut Coffee. It's a medium roast made from 100% Arabica beans that are consistent and non-oily. It has a sweet, intense aroma and nutty caramel taste.
As for organic options, Jose's has two: 100% Organic Mayan Coffee and Organic French Dark Roast. The Mayan coffee is a medium to dark roast and leans into floral and chocolatey flavors. The French Dark Roast is full-bodied and intense, with a deep, rich chocolate taste. It definitely has a lasting finish.
Jose's Gourmet Coffee isn't available in K-Cups, but it's delicious when brewed hot or cold. The Vanilla Nut flavor is perfect for cold brew, which you can enjoy black to let the sweet nuttiness shine.
In the end, when you're buying in bulk from Costco Wholesale, you're getting a great deal on your grocery items. And Jose's Gourmet Coffee is no exception. These beans may be more expensive than others on the list, but they are well worth the price for quality, aroma, and flavor.
6. Starbucks Pike Place Medium Roast
Best for Keurig Users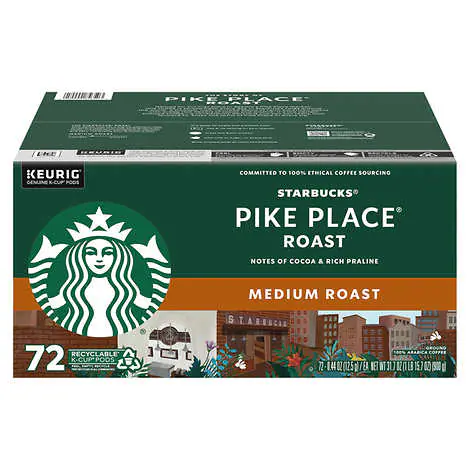 You can purchase Starbucks Pike Place Medium Roast at Costco for a steal! So, if you're a steadfast coffee chain patron, it might be in your best interest (and your wallet's) to get your favorite caffeine fix from Costco.
Starbucks Pike Place is a blend of Latin American medium roast coffee with subtle cocoa notes and a hint of toasted nuts. It's an excellent everyday coffee you can drink hot or pour over ice.
Costco only carries this blend in K-Cups, so you'll need a Keurig coffee machine to brew it. However, the K-Cups are compatible with any Keurig machine, so you don't need to have a specific one to enjoy this coffee.
This is a great option for those who value convenience and a great deal. With Costco's Starbucks Pike Place Medium Roast K-Cups, you can have your mainstay coffee chain coffee in a fraction of the time. And for a fraction of the cost, all without leaving your house!
Things To Consider When Buying Coffee At Costco
Whole Bean vs. Ground Coffee vs. Coffee Pods
There are many factors that dictate whether whole bean, ground coffee, or coffee pods are the best fit for you. What's most important to you? Is it the taste, freshness, convenience, ease of use, or brewing compatibility? Your priorities when it comes to coffee brewing will influence how you should purchase your beans.
As soon as coffee beans are roasted, they're already starting to lose flavor and freshness. Air will oxidize the beans and cause them to become stale and lose their fruity or roasted flavor.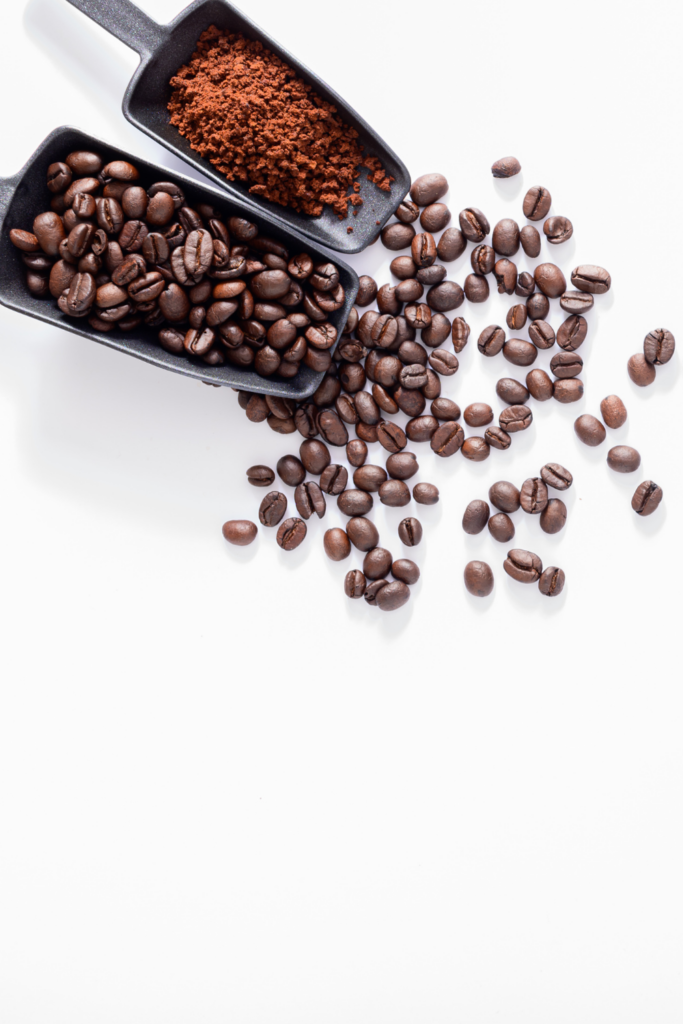 Whole Beans will give you the freshest, most flavorful cup of coffee possible. You're minimizing the surface area where each bean is exposed to the air, and air leads to stale, flavorless beans.
The best cup of coffee will be one brewed with recently roasted beans that have been ground right before brewing. However, you'll need an at-home grinder or other means to pulverize the beans, a couple of extra steps, and dishes for each cup you brew.
Ground Coffee will already be pretty stale by the time it gets to the store. So there won't be as much rich coffee flavor left by the time you use the last grounds in the bag. If you're purchasing whole-bean coffee and grinding it at the store, you'll get better flavor than if you buy coffee ground by the manufacturer.
Purchasing ground beans is a great option when visiting a local coffee roastery. There, you can get newly roasted coffee, ground for you in a small amount that you'll be able to go through within 1-2 weeks. This way, you can enjoy the ease of pre-ground coffee without compromising on flavor.
It's much more convenient to only use a coffee scoop and hot water to brew a cup in the morning. But when purchasing coffee from Costco, you're buying in bulk. So unless you have a large family of coffee drinkers or a small bakery, it'll be challenging to go through pre-ground coffee before it's overly stale.
You can't beat the ease and convenience of coffee pods. They're the most hands-off and effortless way to brew a cup of coffee. But there is a trade-off that comes with this convenience. You'll sacrifice depth of flavor for the ease of a quick cup. Admittedly, when you're caffeine deprived in the dark hours of early morning, a coffee pod will get the job done.
How To Store Your Coffee
There's a ton of misinformation and old wives' tales circulating about the best way to store coffee. Should you keep it in the fridge? What about in a jar or a bag? Should it be vented or airtight? With so many opinions, it can be intimidating to discern the best way to do it. So let's look at the facts.
Coffee is naturally deodorizing, which means it'll absorb any aromas that it's introduced to.
For this reason, you'll want to keep your coffee in a well-sealed airtight container. If your beans absorb an odor or aroma, you can be sure the coffee will taste just like it.
Next, light is the enemy of your coffee beans. Direct light causes the chemical compounds in the beans to break down and will result in a stale flavor. It's best practice to store your coffee in an opaque, air-tight container.
Moisture and heat will also compromise the integrity of your beans, so skip the fridge, the top of the refrigerator, or next to the oven. Instead, look for dark places that remain at room temperature, like a cabinet or pantry shelf.
Don't Forget About The Costco Membership
You won't be able to enjoy the money-saving benefits of shopping at Costco without a membership. Not only do they check your card when you enter the store, but to ring up the transaction, the cashier must scan your membership card to unlock the system. There's simply no avoiding it!
The most basic membership will run you around $60 a year. However, the membership will pay for itself, and then some, if you switch to brewing Costco coffee every day.
So Which One Should You Buy?
To avoid name-brand markups and still brew a delicious cup of coffee, go for the Kirkland Signature House Blend. You can't beat it, especially since it has a flavor profile pleasing to virtually every coffee drinker.
It offers the best value per pound of coffee and is roasted by Starbucks. Its sweetl, earthy flavor leans slightly toward charred cedar, nutty almond, and rich dark chocolate. It has a bright, grapefruit-citrusy aroma, even though it leans toward a dark roast than a medium one.
Each cup will taste balanced, smooth, deep but not burnt, and bright but not too acidic. It's an excellent all-around blend that'll keep your pockets just as happy as your tastebuds!
Costco Coffee FAQs
Who Makes Costco's Kirkland Coffee?
All of the Kirkland whole bean and pre-ground coffees are roasted by Starbucks Coffee Company. Kirkland K-Cups are manufactured in partnership with Green Mountain Coffee Roasters Inc. 
Can You Grind Your Own Coffee Beans At Costco?
Located either in the coffee aisle or the food court, most Costco stores have grinders. This is where you can grind the whole-bean coffee you just purchased for free! So whether you need the coffee ground for espresso or French Press, you'll leave Costco with enough bulk coffee to stay happy and caffeinated. 
Is It Better To Buy Whole Bean Or Pre-Ground Coffee?
As coffee beans get further and further from their roast date, they oxidize and go stale. Grinding the coffee beans allows more surface area for the air to reach, resulting in coffee that will go stale faster. For the freshest, most flavorful cup, buy whole beans and grind them right before you make each cup.
On the hunt for more amazing coffee beans? Check out these expert coffee guides!
Free Coffee Art Printables
Don't forget to get on the list before you go! You'll get 3 free coffee art printables delivered when you sign up and weekly coffee tips and tricks, product reviews!