Choosing the best espresso beans can be a challenging process. Since espresso was first served more than a hundred years ago, there have been so many options and companies to choose from to service your coffee needs.
Words like Fair Trade, Fruity, Keto and Bold, are associated with many coffee brands, but that doesn't necessarily mean it's going to be a delicious cup of coffee or be sourced ethically.
Finding the right espresso beans is essential if you want to make a delicious cup of coffee because no matter how nice of a machine you have, it will not be able to fix bad beans.
What are Espresso beans?
You might wonder what espresso beans are and how they differ from the beans you commonly find in your regular cup of coffee. It's not necessarily the beans that make the difference in creating espresso.
It depends on the method of preparation applied to your coffee beans. The pressure, grind size, and temperature plays a significant role in preparing your espresso. You technically can make regular coffee with espresso beans or blends.
Espresso beans are usually roasted to a dark color, which can lead to ashy flavors or an unpleasant bitter taste.
For centuries, many have assumed that's just how espresso is supposed to taste.
However, you don't have to settle for bitter-tasting coffee. Espresso can be full of complex and rich flavors without the bitter aftertaste.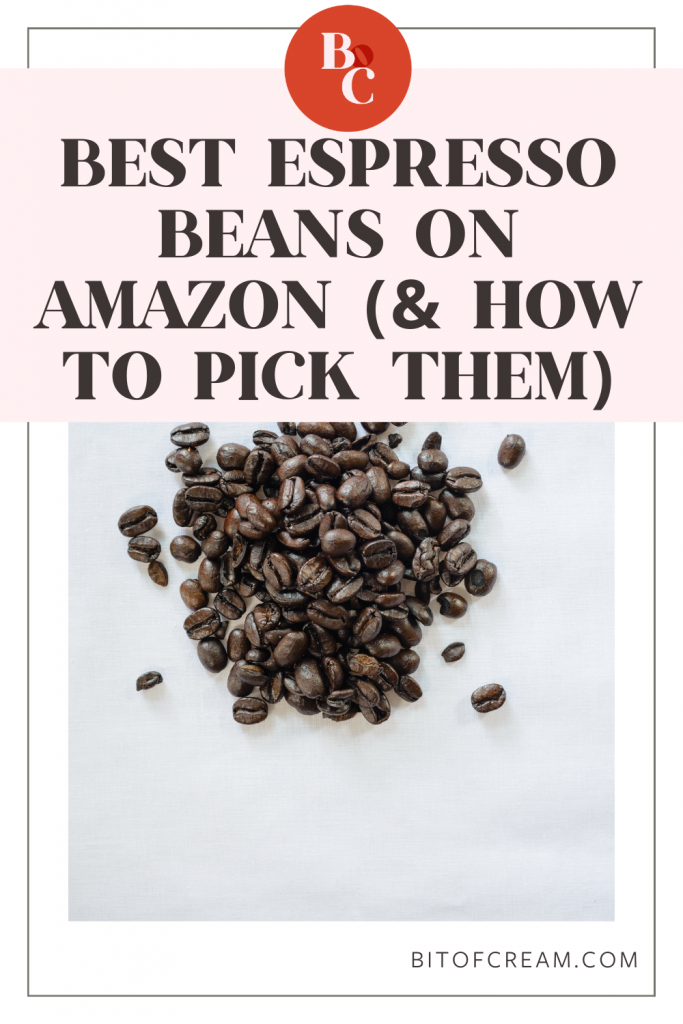 The flavor profile of your coffee beans heavily depends on the place it was grown. Many factors can affect the taste of your coffee, including the altitude, shade, rainfall, or even the soil chemistry.
Most of the coffee that we typically use and love comes from coffee trees that grow along what is known as the Bean Belt, which is a region of countries that sit near the equator.
There are more than 45 countries that sit within that region and choose to produce coffee. However, certain areas are more popular because of their quality and flavor profile. Here are the top regions where coffee beans are typically sourced from.
The Best Espresso Beans on Amazon
If you're short on time, here's our quick list.
Keep reading for more details on each one and how to decide on the right coffee thermos for you!
| Product Image | Product Name | Primary Button |
| --- | --- | --- |
| | | |
| | | |
| | | |
| | | |
| | | |
Where do Coffee Beans Come From?
Colombia
Colombia's beans are usually grown on small family farms. There is a specific nuttiness and caramel taste associated with these mild beans.
Ethiopian
Ethiopian beans offer a wide variety of flavors, from lighter coffee blends to heavy beans. This is due to the variety of altitude and land conditions.
Indonesia
Indonesian beans are known for specific varieties like Sumatran or Java. Indonesian beans usually feature a heavier body.
Kenyan
Kenyan beans have the most sunlight exposure compared to most regions. This type of coffee results in a tart but savory sweetness.
Brazilian
Like Ethiopian beans, you will find such a wide variety of coffee beans available due to the differences in land conditions and altitudes. Brazilian coffee is known for its heavy body and nutty taste.
Hawaiian
The region of Hawaii, called Kona, is typically where coffee beans are grown. The mix of sunlight and rainfall creates a fruit, sweet, and rich coffee blend.
How Do You Choose the Best Espresso Beans?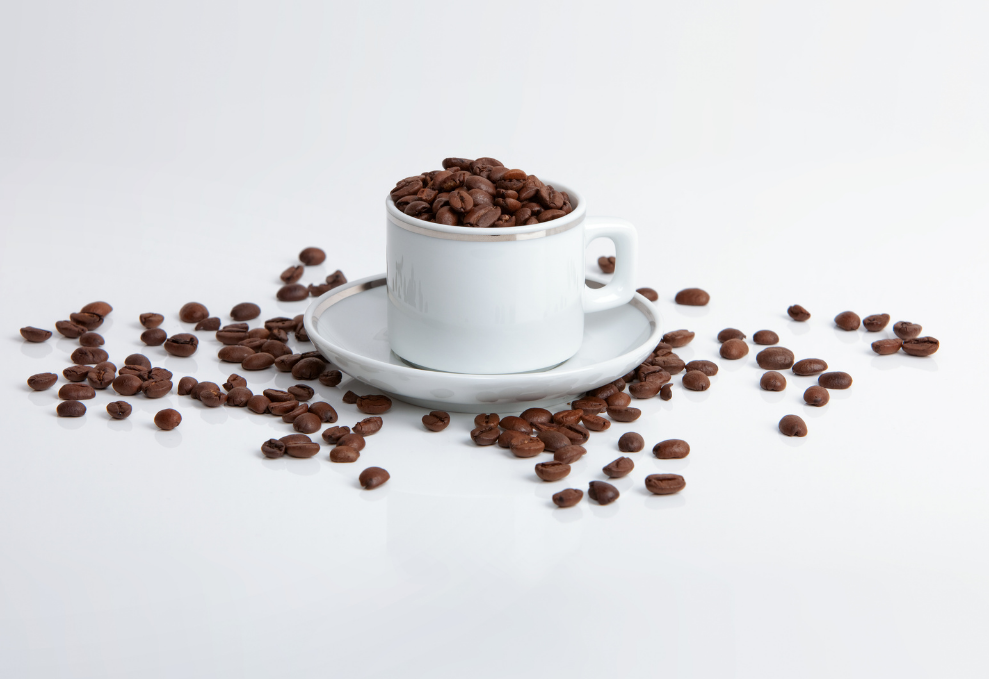 Choose Beans You Like
If you like to drink coffee that is naturally sweeter, you should consider a darker roast. If you like more subtle tasting coffee, you might want to consider a lighter roast. Trying various blends of beans is a great idea to learn which type of beans you like and enjoy.
Freshness
Always check your espresso beans' labels to understand how your beans are packaged and when they are packaged. You want to look for a longer or extended coffee expiration date. If the beans were packaged more than a few months ago or are only a few months away from expiring, they will not have the freshest taste.
Buy Quality Coffee
Buying quality coffee beans may cost a little more in the long run but will make all the difference in the coffee taste. If you buy average coffee beans you'll likely result in average tasting coffee. Buying quality coffee beans ensures that bad beans are eliminated and that they were picked when they were fully ripped.
Know Who Grows Your Coffee
Understanding your coffee's origins isn't as important as understanding how the beans are made. Are chemicals regularly used on the coffee farms that harvest your favorite coffee beans? If so, that most likely has seeped into your beans, which can significantly impact the taste quality. If you can't find the origin, or it's not listed, avoid these types of coffee beans because they're probably of lower quality.
Only Buy What You Need
You might see amazing coffee deals that allow you to buy up to five pounds of coffee at one time. However, be realistic with how much coffee you're going to go through and how you store your coffee.
If you're not drinking enough coffee to warrant a five-pound bag, avoid buying a larger amount of beans because it will go stale a lot faster. Instead, opt for smaller bags that can be used in an appropriate amount of time, so you're always ensuring a good cup of coffee.
The 5 Best Espresso Beans on Amazon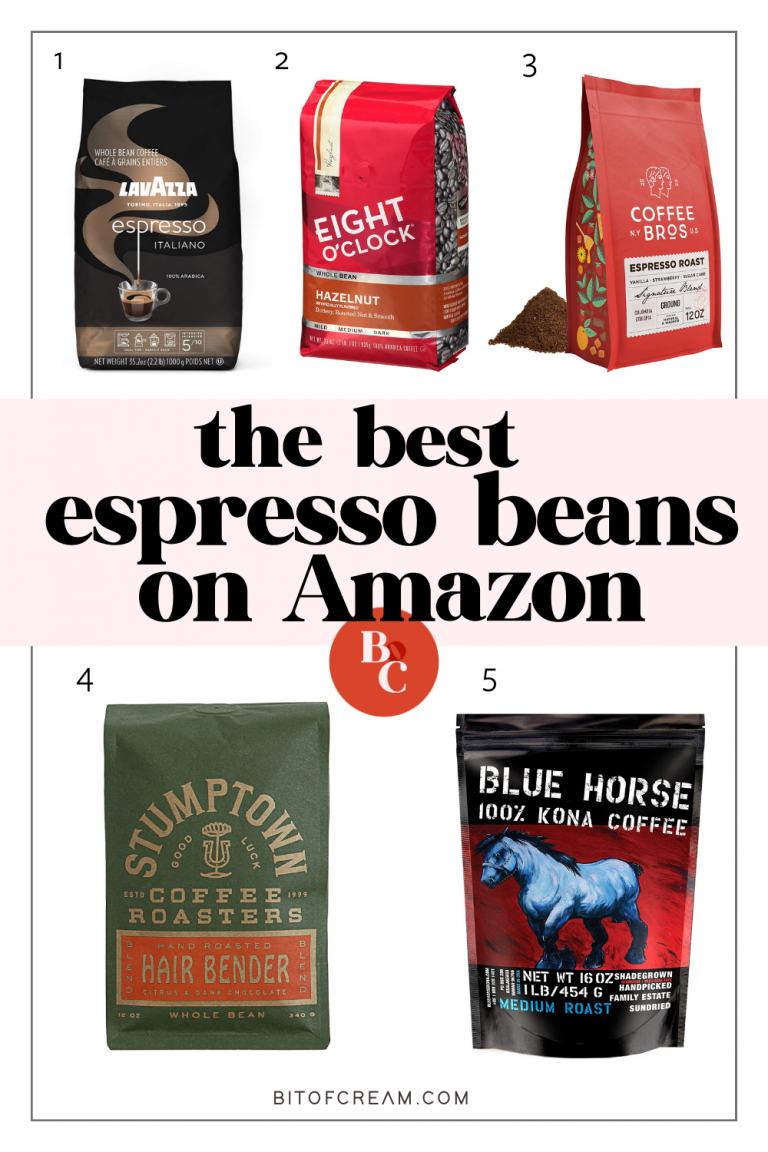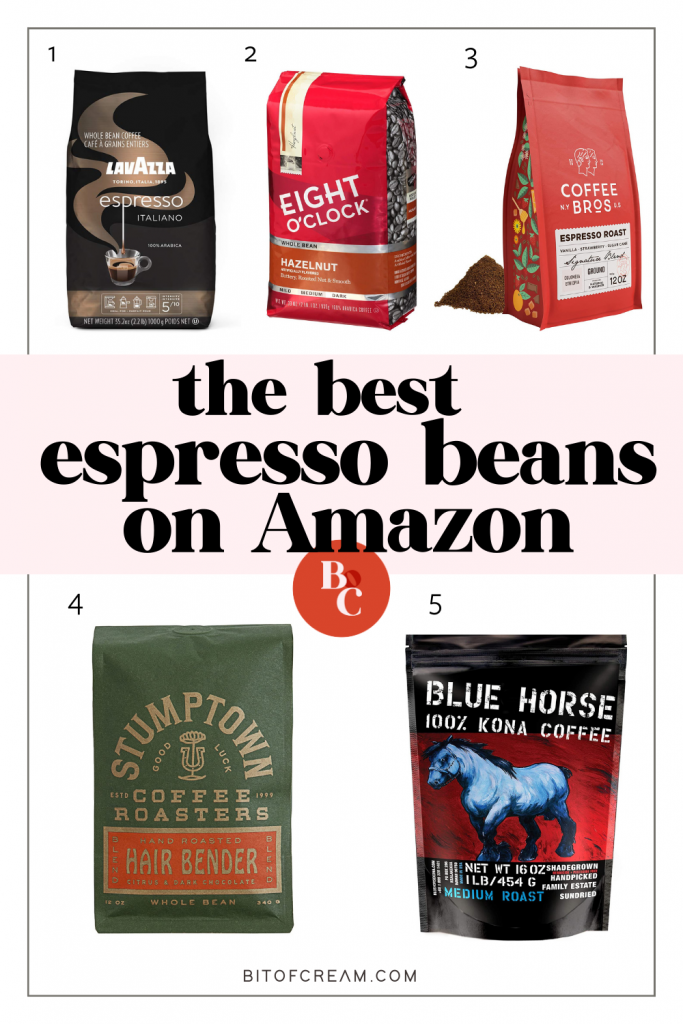 We are a participant in the Amazon Services LLC Associates Program, an affiliate advertising program designed to provide a means for sites to earn advertising fees by advertising and linking to Amazon.com. As an Amazon Associate we earn from qualifying purchases.
1. Lavazza Super Crema Espresso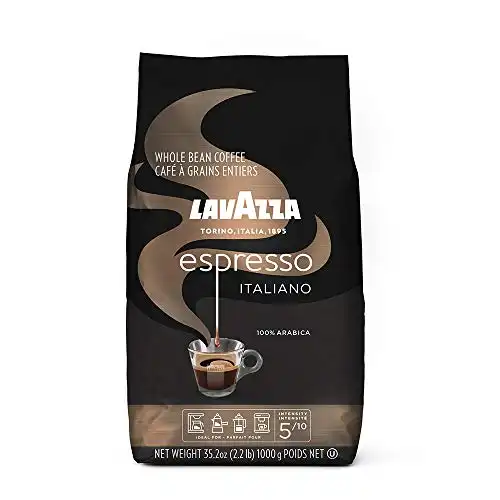 We earn a commission if you make a purchase, at no additional cost to you.
First up on our best espresso beans on Amazon list is Lavazza.
These beans are one of the most popular beans to purchase because the company works hard to ensure the quality of the products they sell. The coffee is roasted in Italy but sourced around the world from Indonesia, India, and Brazil to Colombia.
Italy prides itself on providing a good cup of espresso, so Lavazza takes a lot of pride in creating the perfect blend.
The beans used in Lavazza coffee have a longer shelf life because they are packed with nitrogen. The Super Crema Espresso is known for its creaminess and mild taste with notes of honey, nuts, and fruit.
2. Eight O'clock Whole Bean Coffee
We earn a commission if you make a purchase, at no additional cost to you.
Eight O'clock is a well-known coffee provider with over 150 years of roasting coffee beans. They provide blends that contain 100% Arabica coffee, with all roasting of their beans prepared in Maryland, located in the United States. They pride themselves on offering the highest-quality blends with their whole bean and ground varieties.
The taste of their coffee is smooth, refreshing, and light and is labeled a medium roast coffee. Eight O'clock Whole bean coffee is a robust and kosher-certified coffee that will keep you functioning throughout the day.
While a little on the expensive side, you're going to get a bold, full-tasting coffee. Plus, they have various blends to choose from, including dark Italian Espresso, Colombian peaks, central highlands, French vanilla, hazelnut, French roast, and Colombian peaks.
3. Coffee Bros Light Roast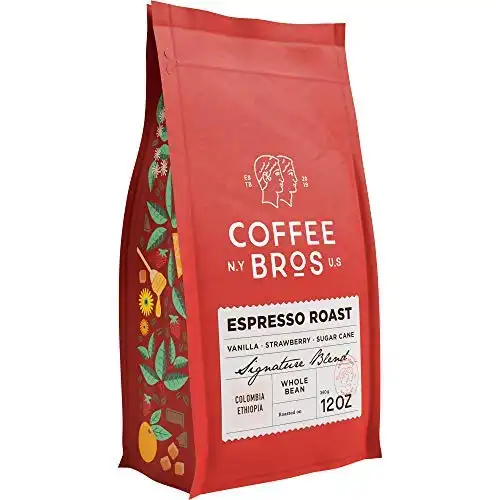 We earn a commission if you make a purchase, at no additional cost to you.
Newer to the coffee scene, Coffee Bros focuses on providing high-quality coffee while giving back to the coffee-growing regions that produce them.
The brand started in 2019 and provides a delicate and sweet tasting coffee resulting in a bright, beautiful drip.
All blends consist of 100% Arabica coffee with beans sourced from Ethiopia and Colombia. The beans are roasted in small batches to provide the ultimate quality and taste.
Coffee Bros purposely focuses on a lighter roasting process to help highlight the natural flavor notes of their coffee. You should expect to taste traces of fruit and honey in this blend.
The best part of this fantastic tasting coffee is that it is very inexpensive, allowing you to make a quick decision to try this coffee without a huge commitment.
Coffee Bros really does make one of the best espresso beans on Amazon. 
And if you're looking for the best coffee bean brands on Amazon, check out these 5 incredible options!!
4. Stumptown Coffee Roasters Hair Bender
Stumptown Coffee Roasters Medium Roast Whole Beans
Hair Bender: The sweet and balanced coffee that started it all. Hair Bender is our most celebrated blend with a flavor profile that shines no matter how you brew it!
Flavor: Hair Bender relies on coffees from Latin America, Indonesia, and Africa to achieve a complex flavor profile with notes of sweet citrus, dark chocolate, and raisin.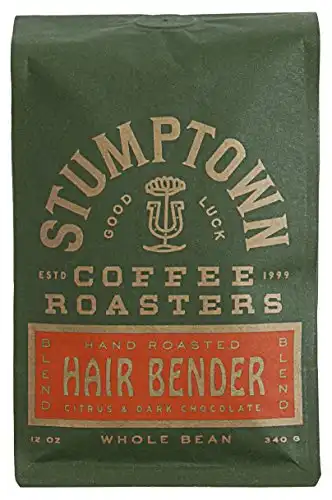 We earn a commission if you make a purchase, at no additional cost to you.
Stumptown coffee is sourced from Africa, South America, and Indonesia to create a well-balanced sweet blend. Fans around the world love this blend because of its complex flavor profiles and the perfect medium-dark color roast.
There is a prominent chocolate and toffee taste to the coffee blend, with some hints of fruity flavors. This creamy blend makes the perfect espresso drink.
Stumptown coffee is roasted in Portland. This company has over twenty years' experience in roasting its delicious coffee blends. The most popular combination, which was their first blend ever invented, is the Hair Blender flavor.
Plus, they're committed to having the least amount of impact on the environment with their coffee beans by improving their supply chain processing and using eco-friendly packaging components.
5. Blue Horse Kona Coffee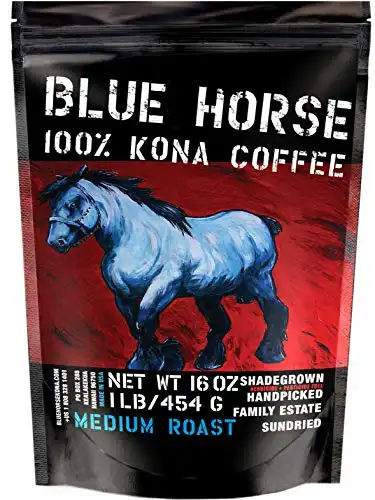 We earn a commission if you make a purchase, at no additional cost to you.
If you're looking for a unique coffee experience, you need to try Blue Horse Kona Coffee. While the beans tend to be on the pricier side, this is one of the most inexpensive blends they offer, and that's why it's one of our favorite espresso beans on Amazon.
This medium roast maintains its flavors with tastes of vanilla, almond, and a hint of spice popping through your cup of coffee.
Kona beans are picked and roasted in the Kona region of Hawaii. They are grown without pesticides or herbicides.
They're committed to providing the most organic tasting coffee, which can be tasted through the coffee beans' excellent quality without any acidic aftertaste or harshness.
Now that you know what the best espresso beans on Amazon are, check out this post for the best espresso cups to drink out of!