You've splurged on the perfect espresso machine and need something to drink your amazing shot of espresso out of. Don't just grab your everyday coffee cup! These 9 espresso cups are the perfect pair to your delicious morning espresso.
But before we get to the espresso cups, let's chat about what to look for and what you need to know.
What to Look for in Espresso Cups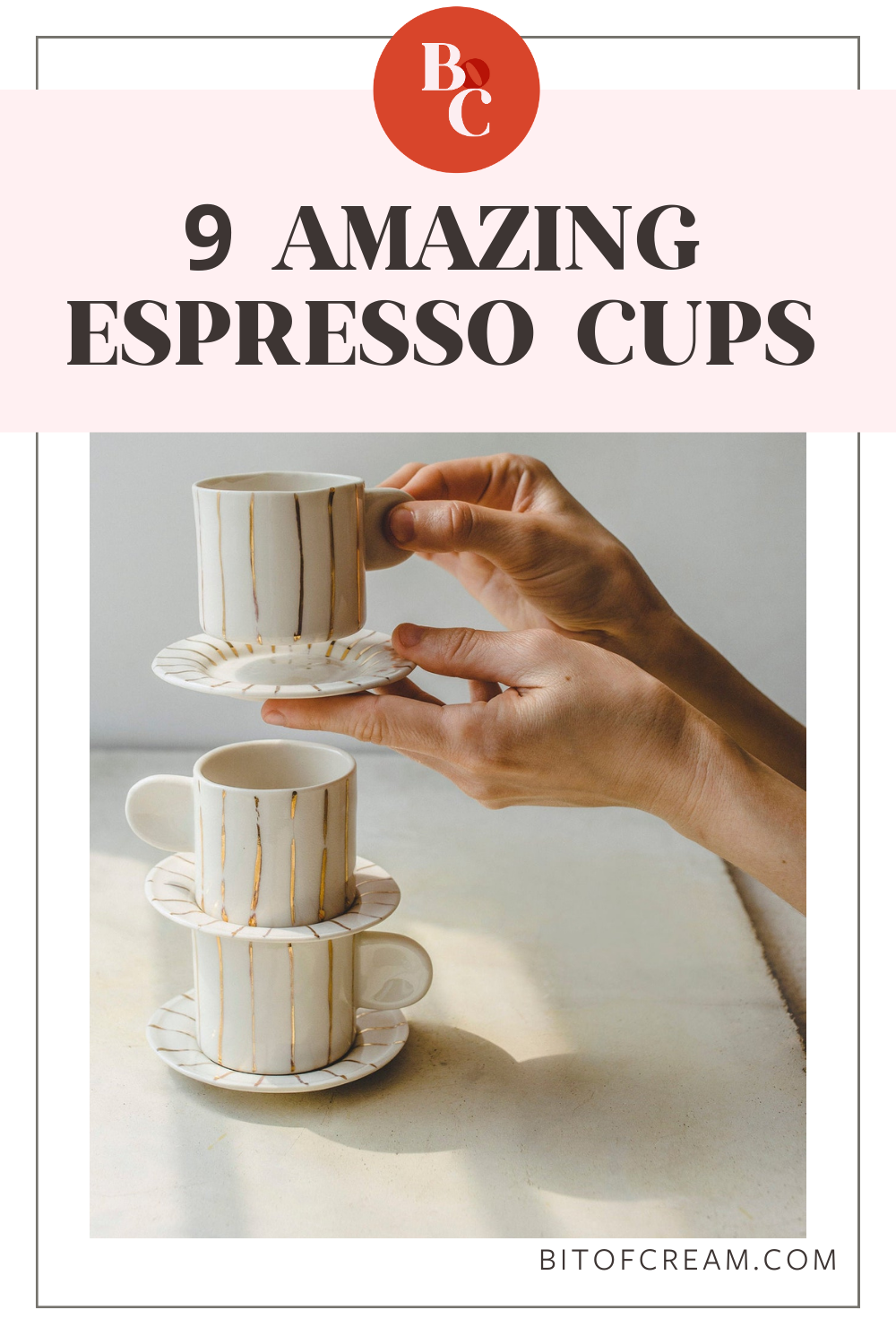 We are a participant in the Amazon Services LLC Associates Program, an affiliate advertising program designed to provide a means for sites to earn advertising fees by advertising and linking to Amazon.com. As an Amazon Associate we earn from qualifying purchases.
When it comes to getting espresso cups, there's a few things to look for.
Hand wash or Dishwasher Safe?
Are you up for hand washing your espresso cups or do you want something simple and easy that can be put in the dishwasher?
Size
What size are you looking for? Are you looking for a true espresso cup – which the correct term is demitasse cup? This holds about 2-3 ounces. Or are you looking more for a doppio cup that's smaller and hold approximately 2 ounces or something larger like a cortado cup?
Take a look at how many ounces you prefer, or need, before getting an espresso mug.
Saucer or No Saucer?
Are you someone who likes a cube of sugar with your shot of espresso? You'll likely want a saucer to hold your sugar cube spoon.
Like it black? No need for a saucer!
Double Wall or Handle?
Is the glass double walled meaning you won't burn your fingers if you hold on to the cub directly? Or is there a handle? This can be personal preference but it's good to know what you like.
(Also – double wall will keep your coffee the right temperature longer if you're someone who sips and not chugs your shot of espresso.)
9 Best Espresso Cups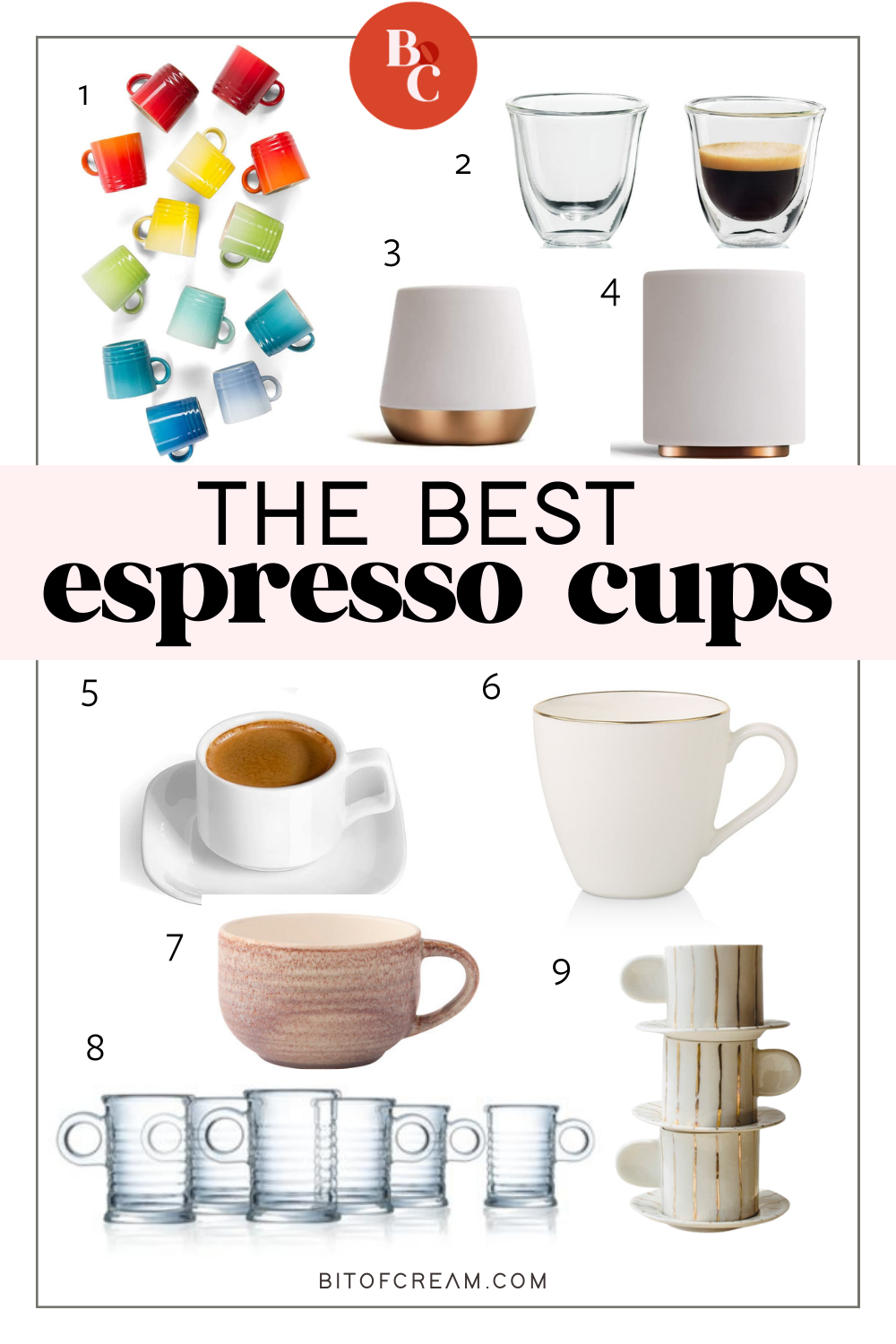 1. Le Creuset Stoneware Espresso Mug | 2. DeLonghi Glass Double Walled | 3. Fellow Monty Milk Art Espresso Cups 2.3 oz | 4. Fellow Monty Milk Art Espresso Cup Cortado Size | 5. Dowan Stackable White Porcelain With Square Saucer | 6. Villeroy & Boch Gold Rim Porcelain Espresso Cup (matching saucer) | 7. Royal Crown Derby Eco-Coastal Espresso Cup (matching saucer) | 8. Luminarc Conserve Moi Espresso Mugs (Set of 6) | 9. Porcelain Espresso Cup Set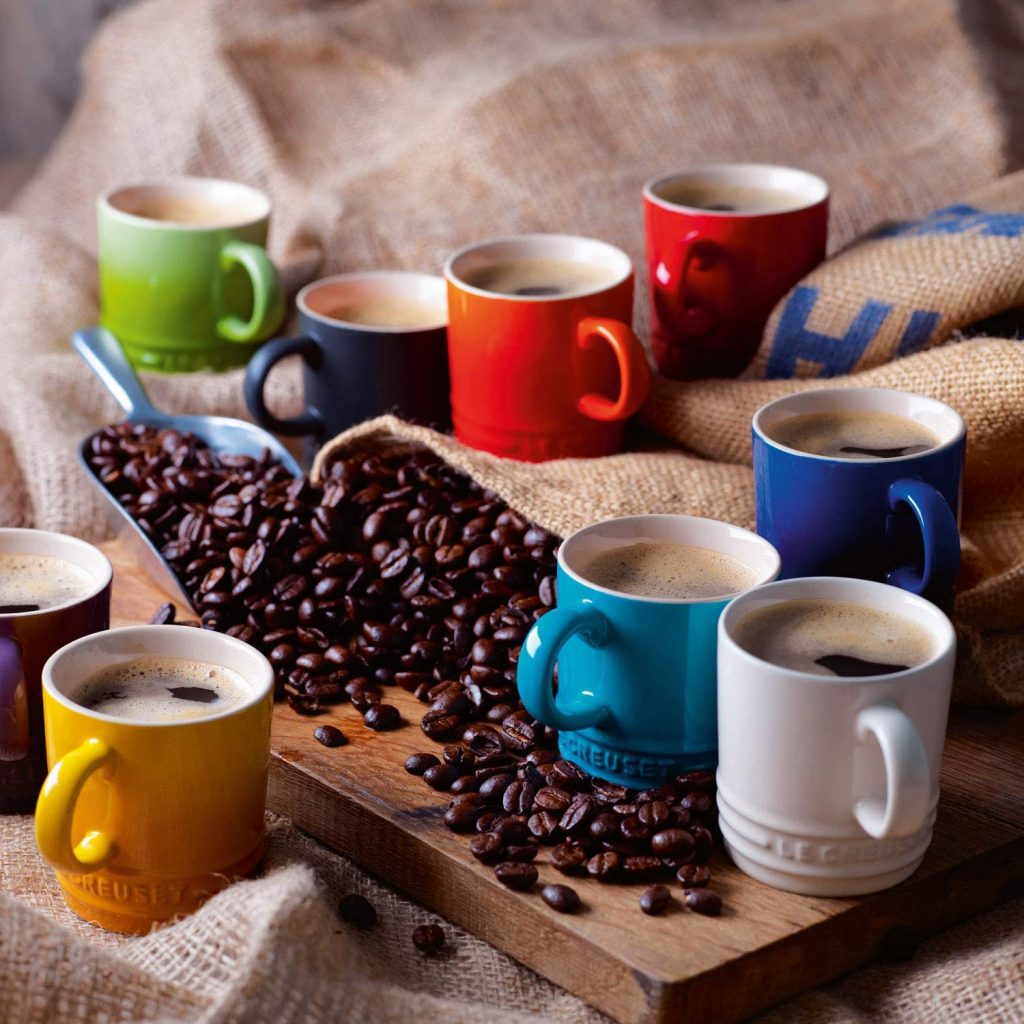 These stunning Le Creuset Stoneware Espresso Mugs are made of durable stoneware that is finished with an enamel glaze that make it not only easy to clean but also resistant to chips and scratches.
They are safe for the freezer, oven, microwave and even the dishwasher! The stoneware helps maintain an even temperature for your espresso.
Like to see your espresso in all it's glory? The color of the coffee, the amount of foam, etc? This DeLonghi espresso glass is a great option. It's double walled to ensure that your coffee doesn't cool down (or warm up) and also prevents condensation.
It can be put into the dishwasher for easy cleaning and comes in a double pack to enjoy a cup of espresso with a friend!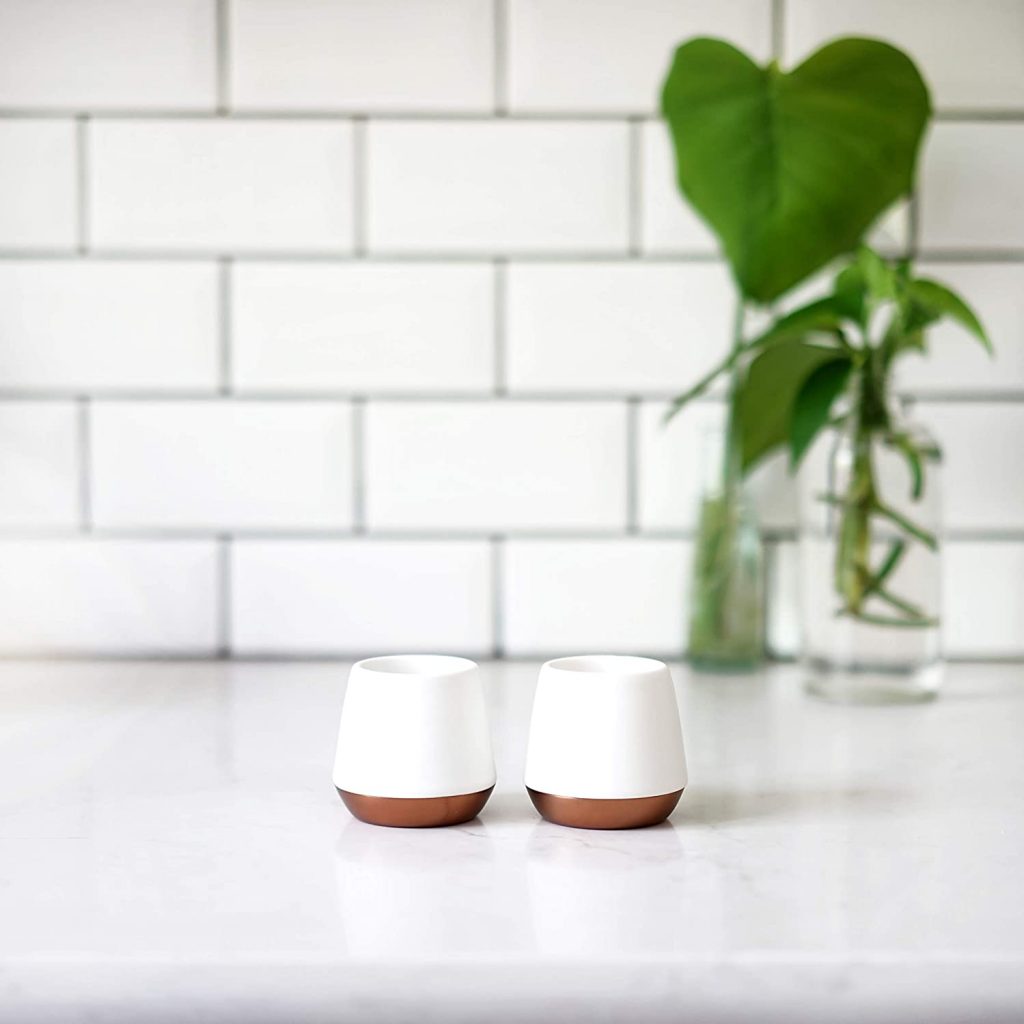 If style is important to you, these Fellow mugs are right for you. These beautiful mugs come as a set of 2 in either matte white or matte black.
They're the smallest size cups at 2.3oz for the perfect shot of espresso. The double wall makes a handle not necessary so you can sip your shot with scorching your fingers.
It's sleek and modern and will make you feel extra chic will enjoying your espresso!
Is the 2.3oz size not big enough for you? This Fellow mug is a bit bigger at 4.5 ounces great for those of you who love Cortados. (Not sure what a cortado is? Check out this cortado post!)
This one has a sleek metal bottom and is stackable – why not pick up a few?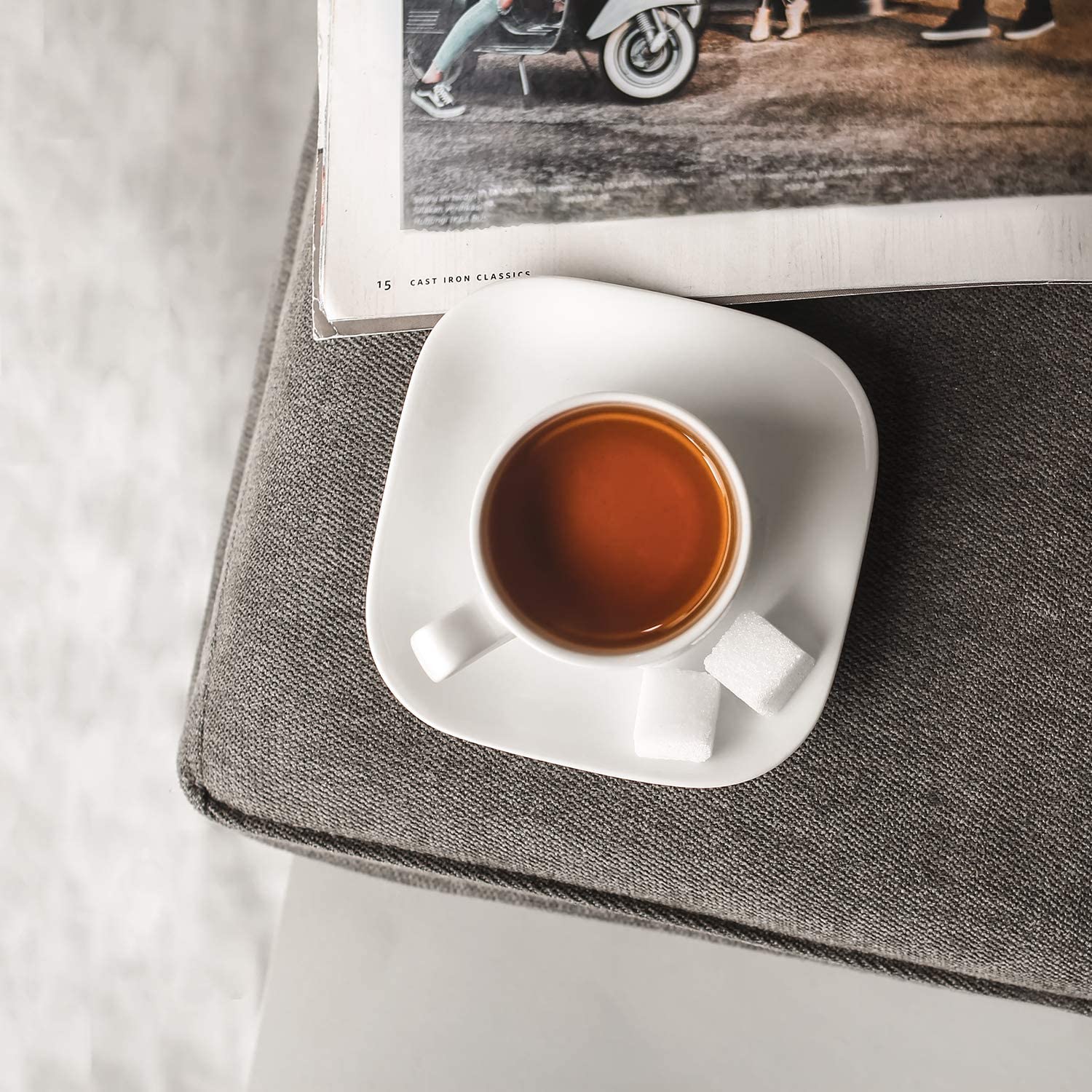 These Dowan espresso cups have a simple, classic design that will match any dish ware for both casual gatherings or formal events. This set of mugs (that come in a set of 4 or 6) have coordinating square saucers for easy moving ans serving.
Stackable for easy storage and dishwasher safe for quick cleaning.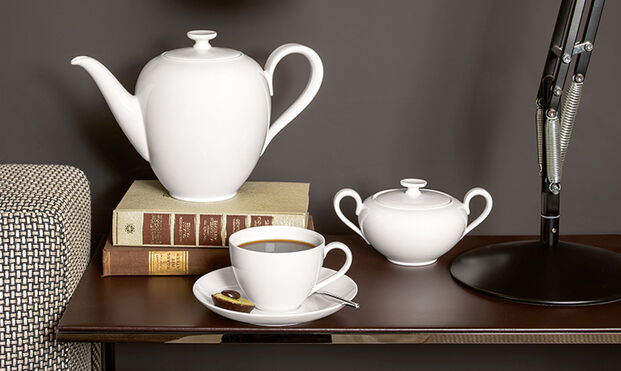 For a sleek, classy, mid century design is this Villeroy & Boch gold rimmed espresso cup. It's made in Germany and the gold tone trim is hand applied! It simple and beautiful, perfect for any occasion! Saucer is sold separate.
If you want a classic, this Royal Crown Derby espresso cup is perfect for you. These cups have been manufactured in England 1750! It's made of fine bone china with a highly reactive glaze and is inspired by rustic colors, textures and imperfections of nature and has a calming, organic look and feel to it.
This espresso mug is dishwasher safe and made in England.
Another beautiful espresso cup that allows you to see the beauty of your espresso. It's just over 3 ounces and has a unique circular handle on it. It's made in France and dishwasher safe!
Looking for something 100% unique to you? These handmade espresso mugs from Etsy are garnished with hand painted genuine gold lines. Because each mug is hand painted no 2 mugs look alike!
They're simple yet elegant with a fun eclectic vibe to them. Perfect for any coffee lover!
Want to learn more about coffee? Here are 19 espresso drinks you need to know!