Buying coffee on Amazon is always a gamble. Roasters want to reach more customers, so they use Amazon to make their coffee more accessible.
There are tons of coffees to choose from and a million reviews to sort through. It can make the coffee aisle at the supermarket seem like a breeze.
But I like to look at the bright side. Buying coffee online allows you to find new coffees unavailable in your local area. You just have to know what to search for.
In this article, I've picked out five of the best coffee beans on Amazon and included a few ways to help narrow your search.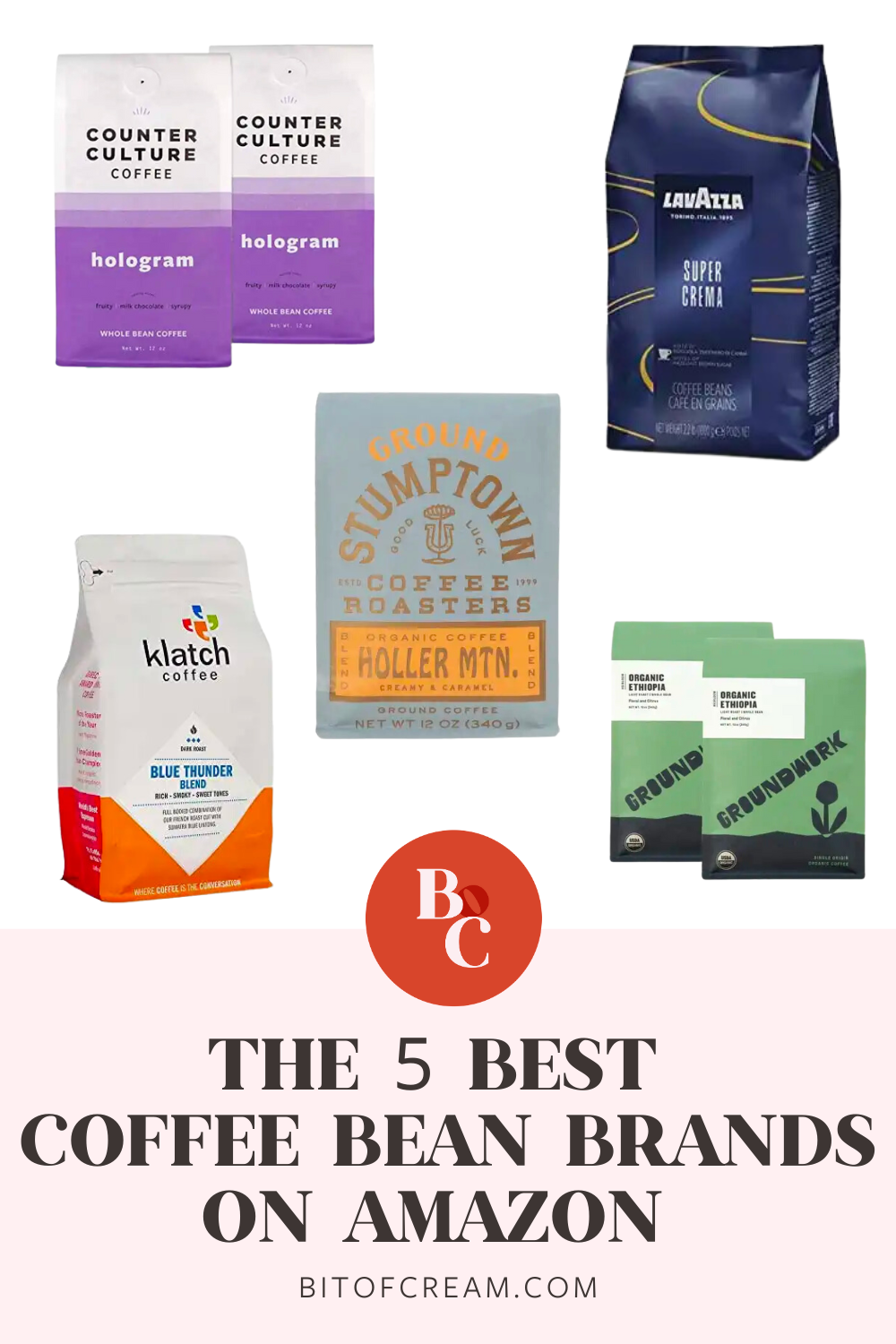 The Best Coffee Beans on Amazon
| Product Image | Product Name | Primary Button |
| --- | --- | --- |
| | | |
| | | |
| | | |
| | | |
| | | |
Bit of Cream is a participant in the Amazon Services LLC Associates Program, an affiliate advertising program designed to provide a means for sites to earn advertising fees by advertising and linking to Amazon.com. As an Amazon Associate we earn from qualifying purchases.
Our Top Picks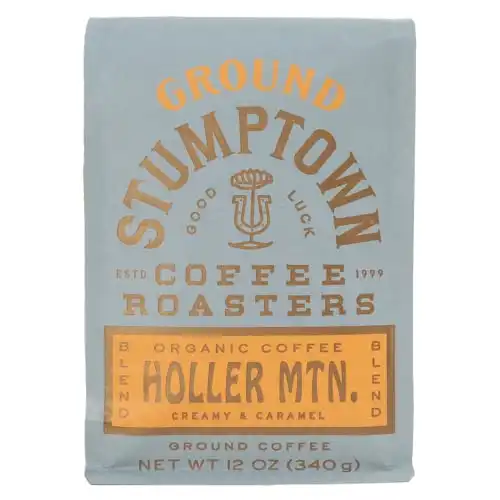 We earn a commission if you make a purchase, at no additional cost to you.
Stumptown Holler Mountain is an excellent coffee blend that's both flavorful and versatile. The Holler Mountain blend is super flavorful regardless of your preferred brewing method. 
Jammy fruit and caramel notes pop in every cup. The sweetness is balanced out by a delicious base of hazelnut. It's a crowd-pleasing medium roast coffee that you can brew on just about anything from Aeropress to espresso that delivers a smooth flavor that everyone will enjoy! 
If you're looking for more information on how to best use an Aeropress for delcilious tasting coffee, check out our expert Aeropress guide.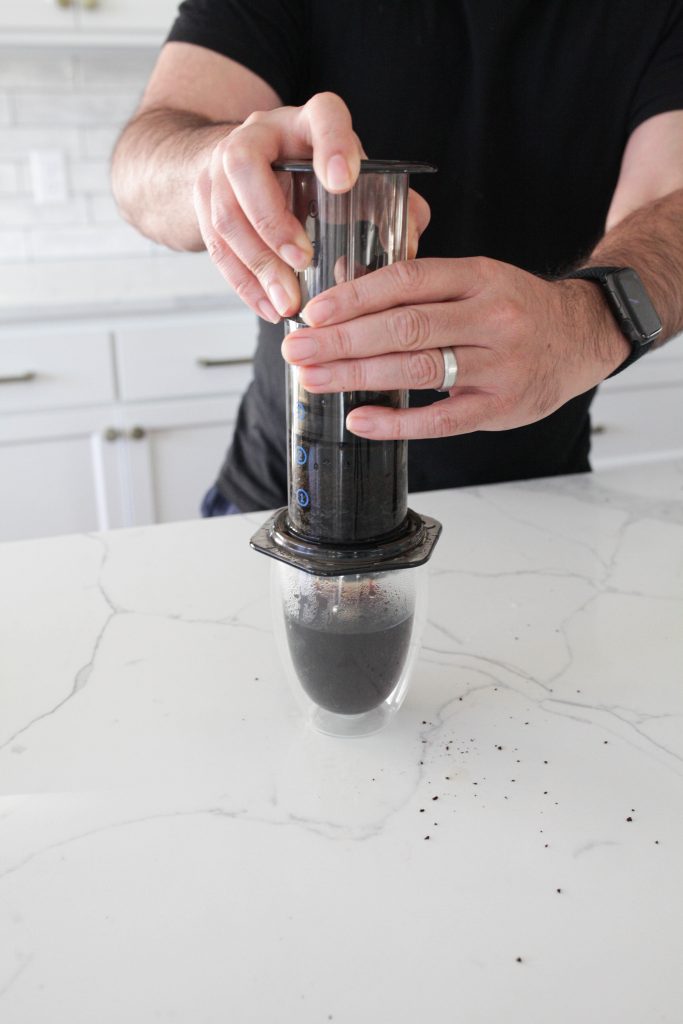 Though it boasts a burst of citrus flavor, the citrus note is subtle and registers sweet like the oil from a lemon peel which tastes great for those who love a cup of classic black coffee.
Though this doesn't affect flavor, these medium roast blend beans are 100% certified organic and ethically sourced.
Last but not least, Stumptown clearly labels roast dates on bean bags. Many big coffee companies want to get away with selling old coffee and have completely done away with roast dates. Stumptown remains transparent, so you always know how fresh your beans are.
Pros
Flavorful
Versatile
Fair trade
Organic Whole Beans
The bag labels the roast date
Cons
Might be too light for dark roast fans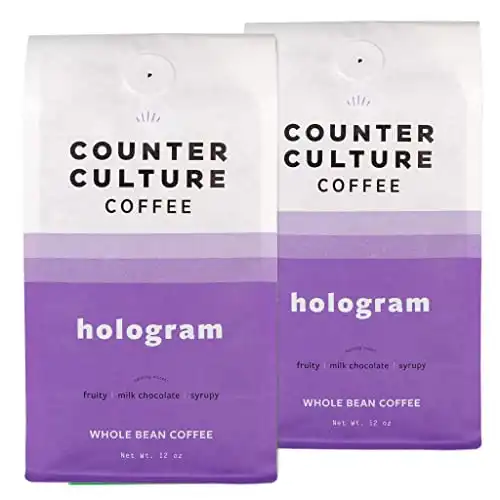 We earn a commission if you make a purchase, at no additional cost to you.
The Hologram blend from Counter Culture is one of the more darker roasts, but still has those sweet, jammy fruit flavors. Made in small batches and shipped directly from Counter Culture, the Hologram arrives super fresh and ready to brew.
Another reason the Hologram stands out is that you rarely find a dark roast coffee featuring natural-processed coffee beans. Natural process refers to how the coffee cherry's fruit pulp is left on the bean when it is dried which gives it that bold flavor.
In the Hologram, you have a combination of washed and natural process coffee which translates well to drip brewing. A cup of Hologram starts with a chocolate blueberry flavor and finishes nice and crisp.
This is a great coffee for coffee drinkers who love dark roasts, especially espresso lovers. Your taste buds will get the full-bodied mouthfeel of a dark roast with a tinge of baking chocolate and the balanced sweetness of ripe fruit.
I recommend this coffee on pour-over, but you could make it on drip or espresso and see great results.
Pros
Sold in a bargain 2-pack
Great for dark roast lovers
Low acidity
Ships direct from Counter Culture
Cons
Expensive as a single bag
We earn a commission if you make a purchase, at no additional cost to you.
If you like your dark roast on the smokey side, the Blue Thunder blend from Klatch Roasters is not to be missed. It may be less sweet than the Hologram, but it makes up for it in the super-rich mouthfeel and smokey, dark chocolate notes.
One great thing about Klatch is that they roast fresh to order. Even though they use Amazon as a purchasing platform, Klatch ships the coffee. So you always get the freshest beans possible and avoid any sign of bitter taste.
The Blue Thunder is a classic dark roast with a bold taste. Klatch sources their beans from Sumatra, a region known for its earthy and spicy coffee that's super smooth and low in acidity.
This coffee is a great option when using an espresso machine but other great brewing options include the Aeropress or french press. Adding milk in the form of a cappuccino or some cream on top of a fresh Aeropress is best way to enjoy this dark roast blend.
Pros
Earthy flavor
Smokey and rich
Great for dark roast lovers
Ships directly from Klatch
Low acidity
Cons
Sweetness is best pronounced with milk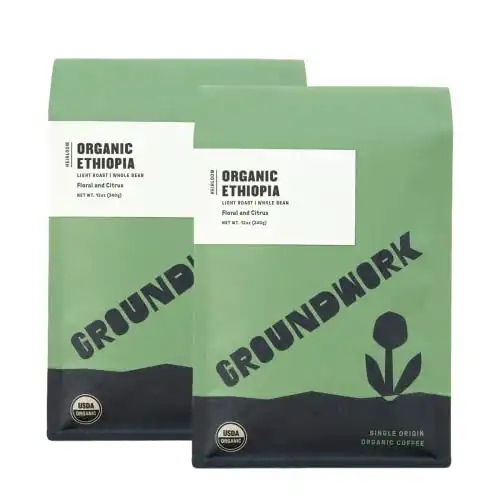 We earn a commission if you make a purchase, at no additional cost to you.
This medium roast whole bean coffee from Groundwork is lighter than the Blue Thunder and more affordable. An organic coffee sourced from Ethiopia, this is an excellent pick for those new to single-origin.
Groundwork uses a combination of natural and washed process coffees for this roast. So you get the clean, crisp finish of washed beans matched by the sweet, juicy-fruit vibes of a classic natural.
This coffee is a pour-over's best friend. The pour-over brewing process will highlight this coffee's citrus and milk chocolate flavors. But I am sure with some finessing, it will taste great in any filtered regular coffee set-up like drip or Aeropress.
The delicacy of this coffee means you can't throw it into your automatic coffee maker and expect it to come out perfect. If you're willing to spend a little extra effort to dial in a good recipe, this will deliver a good cup of coffee.
Pros
Entry-level Single Origin
Fruity and light
Medium roast
Balanced acidity
Best pour-over coffee
Sold in 2-pack
Cons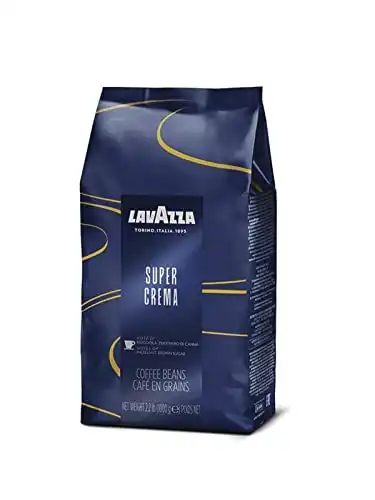 We earn a commission if you make a purchase, at no additional cost to you.
Not every coffee will perform well when run through an espresso machine. But the Super Crema blend from Lavazza will do just that. We recently picked it as our favorite espresso roast on Amazon.
The Super Crema is easily the darkest roast you'll try on this list and is the most affordable and overall the best value. This coffee is a throwback to late-nite cafes of yore when espresso shots were dark as night with major crema. With Italian-style shots like these, it's best to keep some sugar nearby. 
As long as you have the means to grind coffee for espresso, you won't have to fuss with this coffee much to pull a delicious shot.
If you're looking for the perfect espresso machine that will elevate your coffee game – check out our full review on the De'Longhi La Specialista Espresso Machine.
It's important to note that this coffee has a higher caffeine level than most. Lavazza uses 40% Robusta and 60% Arabica beans. Robusta beans can be bitter, and if you're sensitive to caffeine, you may notice a difference in your morning energy levels.
This is a super dark, rich espresso blend, served best with some cream and sugar. 4 pm cappuccino drinkers, beware.
Pros
Best for espresso
Super affordable
High caffeine
Cons
40% Robusta
Some bitter notes
What To Look For
Roast Profile
Knowing your preferred roast profile is a great place to start.
A lot of Amazon coffee is on the darker side. So if you're not a dark roast fan, peep the list above for some direction. Otherwise, you're better off ordering coffee directly from roasters.
If you're okay with dark roasts, you will have so many options on Amazon you won't know where to start. Look into the flavor notes of the coffee to see what stands out.
Check the brew methods the roaster recommends to understand if their coffee matches your brewing set-up.
Shipping
The benefit of ordering directly from roasters is that you don't have to worry about where Amazon is shipping from.
Sometimes coffee sold by Amazon is shipped from the roaster. If this is the case, you'll likely get a fresher bag of beans.
If not, check the roast date of the coffee when it arrives. Sometimes Amazon uses retailers near you that carry a specific coffee to ship from, so you get the delivery faster. This means the coffee sitting on warehouse shelves for 2 weeks or even longer is the bag that arrives on your doorstep.
Flavor Notes
Coffee lovers, be sure to check those flavor notes of various coffees on Amazon to know what you're getting into before ordering.
Do you prefer delicate flavors that are floral or tea-like? Or are you someone who looks forward to the intensity of an espresso that tastes like dark chocolate and caramel?
Medium-light roasts and single origins tend to have more vibrant flavors. Medium-dark roasts taste more like straightforward coffee without so much flair or acidity. Let your palate be your guide.
Price per ounce
The most obvious price of the coffee on Amazon will be the price of the whole bag. If you read the fine print, you can find the price per ounce and gauge which coffees are within your budget.
On average, coffee on Amazon is less than $1 per ounce. But I have found the most flavorful coffees tend to be a little bit more. Often the prices are higher because the roasters source higher-quality beans. (Which means it tastes better too!)
So Which One Should You Buy?
You should buy the Holler Mountain blend from Stumptown Roasters. It's my top recommendation.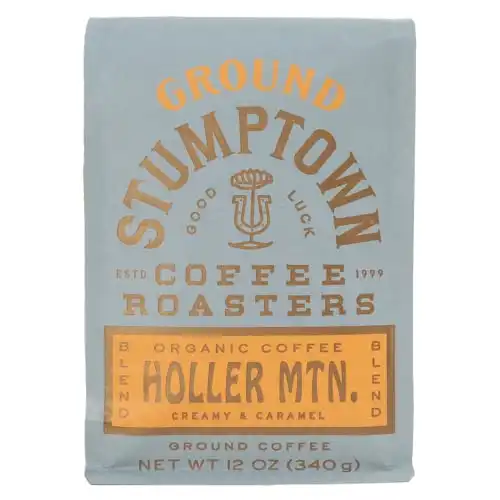 We earn a commission if you make a purchase, at no additional cost to you.
This tried and true medium roast performs well on every brew method. It's a perfect balance of sweetness, acidity, and depth.
It stands up well to cream but also tastes great on its own. If you crave a natural dessert vibe in your coffee in the morning or like switching up your brew method, you can't go wrong with Holler Mountain.
FAQ
Which country has the best coffee in the world?
Well, no one can answer this question but you. Coffee is super subjective, and everyone comes with their own specific flavor preferences. My favorite coffees may taste weak and acidic to others. While others' favorites may taste burnt and flat to me. There are also a ton of variables that affect coffee flavor beyond coffee origin. The processing of coffee beans, from drying to roasting, plays a huge role in coffee flavor. 

To understand how different growing regions affect coffee flavor, start tasting them side-by-side. It's an easy way to reveal how different (or similar) they can be. You'll learn much about what you like and don't like and have fun experimenting. 
Which is the No 1 coffee brand?
Multiple sources will lead you to the same place – Starbucks is the No. 1 coffee brand in the United States. 

It only makes sense, given that there's a Starbucks on almost every street corner of the country and nearly 16,000 cafes nationwide. Trailing behind Starbucks are Dunkin, Folgers, and Peet's. 

In my opinion, popularity does not equal "good" when it comes to coffee. Some coffee is just more conveniently located or cheaper, which makes it popular. The best gauge of good coffee is always you. 
What is the most expensive coffee brand?
Black Ivory Coffee is the most expensive coffee. It's expensive because of the way it's processed. 

The black ivory coffee process was founded in Thailand. Coffee farmers feed elephants arabica beans and use the elephant's excrement to make coffee.
 
Apparently, the elephant's digestive system does something special to the beans because it sells for nearly $500 per pound or $50 for a single cup. Full disclosure, I have never tried this coffee and probably never will. But to each their own. 
Free Coffee Art Printables
Don't forget to get on the list before you go! You'll get 3 free coffee art printables delivered when you sign up and weekly coffee tips and tricks, product reviews!