Today, De'Longhi has become a household name, especially in households that appreciate the nuance of excellent coffee.
The company's machines are easy to use, built to last, and accessible to users with various experience levels. So whether you're brand new to home coffee brewing or a professional barista, there's a De'Longhi machine that's perfect for you.
The De'Longhi La Specialista Espresso Machine was ranked as one of the best latte machines to buy in 2020 by Good Housekeeping, and for good reason.
Innovative design meets high-quality components, and helpful functions make brewing espresso a breeze.
In this article, I'll cover everything you need to know about the De'Longhi La Specialista Espresso Machine to help you decide if it's the best fit for you and your coffee routine.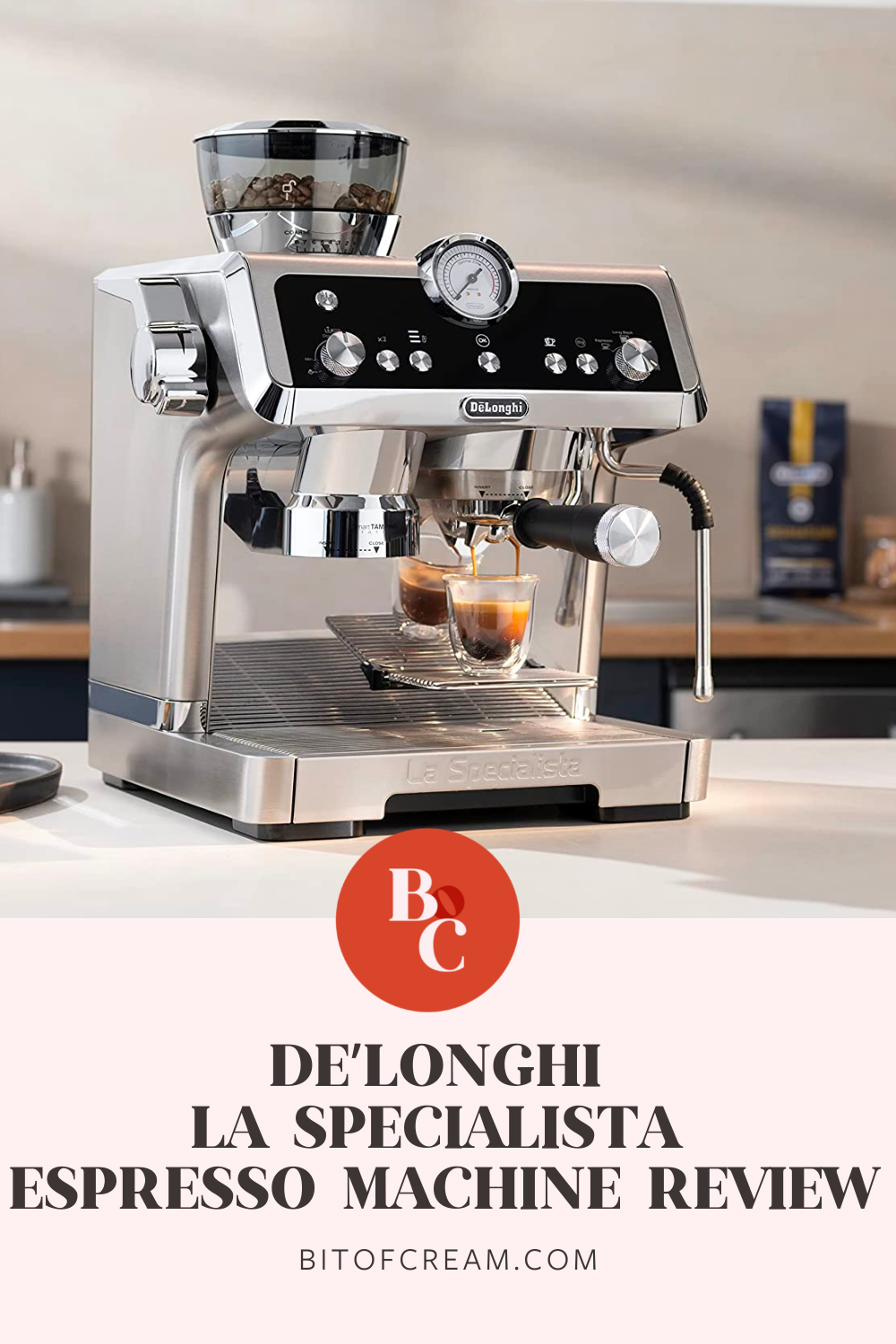 This post includes affiliate links.
About De'Longhi
Although The De'Longhi Group didn't start off selling coffee equipment, over the years, that's exactly what's become the focus of the brand.
De'Longhi manufactures professional quality coffee equipment for home brewers instead of businesses. This way, coffee enthusiasts never have to compromise on quality and can indulge their passion right from their own kitchen.
The company creates sleek, luxe, and unique devices that are accessible to a wide range of experience levels. They've successfully simplified the process and made espresso brewing approachable. Plus, the machine itself is one you'll want to show off on your countertop.
Delonghi La Specialista Espresso Machine Key Features
We earn a commission if you make a purchase, at no additional cost to you.
Sensor Grinding Technology
Not only does this espresso machine have a built-in coffee grinder, but it also has a sensor to streamline the process. This technology delivers precise, consistent coffee grounds. It also prepares the optimal dose for both single and long shots of espresso. As a result, each cup will be as consistently delicious as the last.
The hopper can store 8.8oz of beans, so you won't need to refill after every cup. On top of that, the sensor will alert you when the beans are getting low. So never again will you realize you're out of coffee mid-grind!
Smart Tamping Station
Once the grinder automatically dispenses the espresso grounds into the portafilter, it's already set to tamp.
Without removing the filter from the machine, you'll push down a lever, and that's it. The device only allows the user to exert the correct pressure to tamp the grounds into the perfect puck.
You won't have to worry about channeling or uneven, muddy espresso shots. The Smart Tamping Station is a mess-free, convenient, and effortless way to ensure perfectly extracted coffee every time.
Dual Heating System and Independent Hot Water Spout
The De'Longhi La Specialista Espresso Machine contains two separate heating systems. There's a thermoblock system to heat and extract the coffee and another heating system that controls the steam wand.
As the espresso brews, you can immediately start foaming or frothing milk. There's no more waiting around for each component to heat up. As a result, the brewing process has never been more streamlined.
With Active Temperature Control, the water temperature remains stable during the brewing process. This stability ensures even and flawless extraction. Altogether, it allows the delicious, nuanced flavor of the coffee to shine through.
The separate hot water spout makes brewing Americanos, tea, or hot cocoa seamless. You won't have to worry about residual coffee taste transferring into the hot water. It's never been so simple to prepare a variety of craft beverages.
Advanced Latte System
The Advanced Latte System simplifies the process of achieving café quality craft espresso drinks.
All you have to do is position the included milk jug under the steamer wand and choose between FLAT for hot milk or FOAM for milk frothing. Then, there's nothing left to do but wait.
If you're coming into this process with no experience whatsoever, De'Longhi makes it easy to craft a flawless latte, flat white, or other espresso drink.
The Pros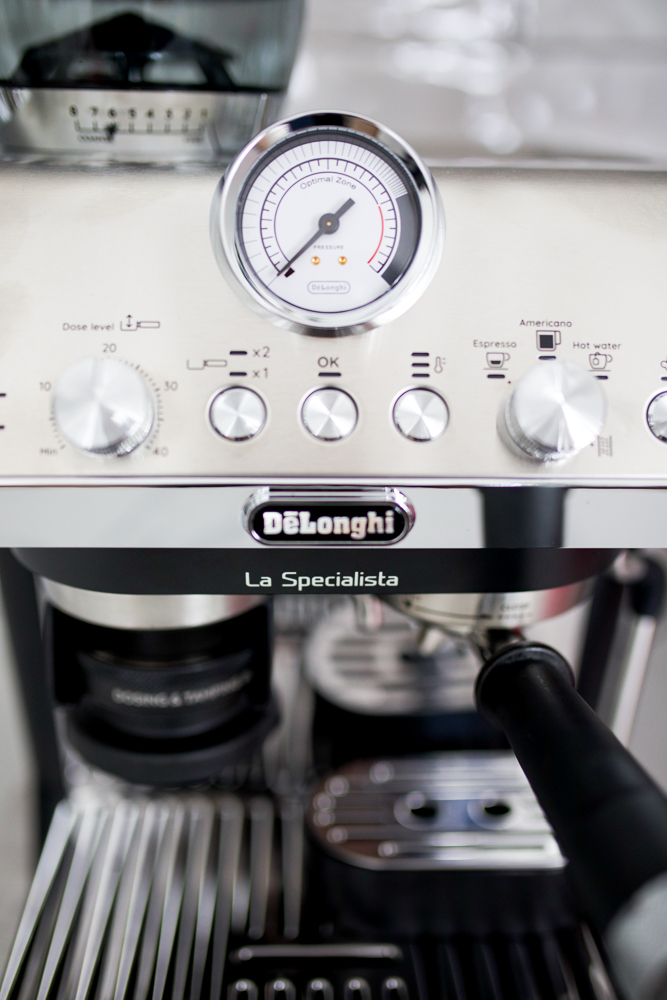 Quick Start
This machine can do it all. With a 1-second quick start button, you can power up the device, automatically grind the beans and dose the portafilter. Then, use the Smart Tamping Station to create the optimal foundation for espresso brewing
If you need a more detailed guide on how to tamp espresso, we've got you covered with a full tutorial!. There's nothing left to do but start pulling your shots!
There's no additional heat-up time needed, and with the dual heating system, you can start steaming immediately.
Say goodbye to dying shots of espresso and hello to almost-instant fresh, aromatic, and delectable macchiatos, cappuccinos, mochas, and more!
Ultimate Control and Precision
The Dual Heating System, Smart Tamping Function, Sensor Grinding Technology, and Advanced Latte System all combine to offer the user the most control and precision possible over each shot of espresso.
This machine is approachable for budding baristas because of its simplistic features. You can use the 1-second quick start to mindlessly brew flawless espresso. Or, you can turn off the grinder to use pre-ground coffee beans.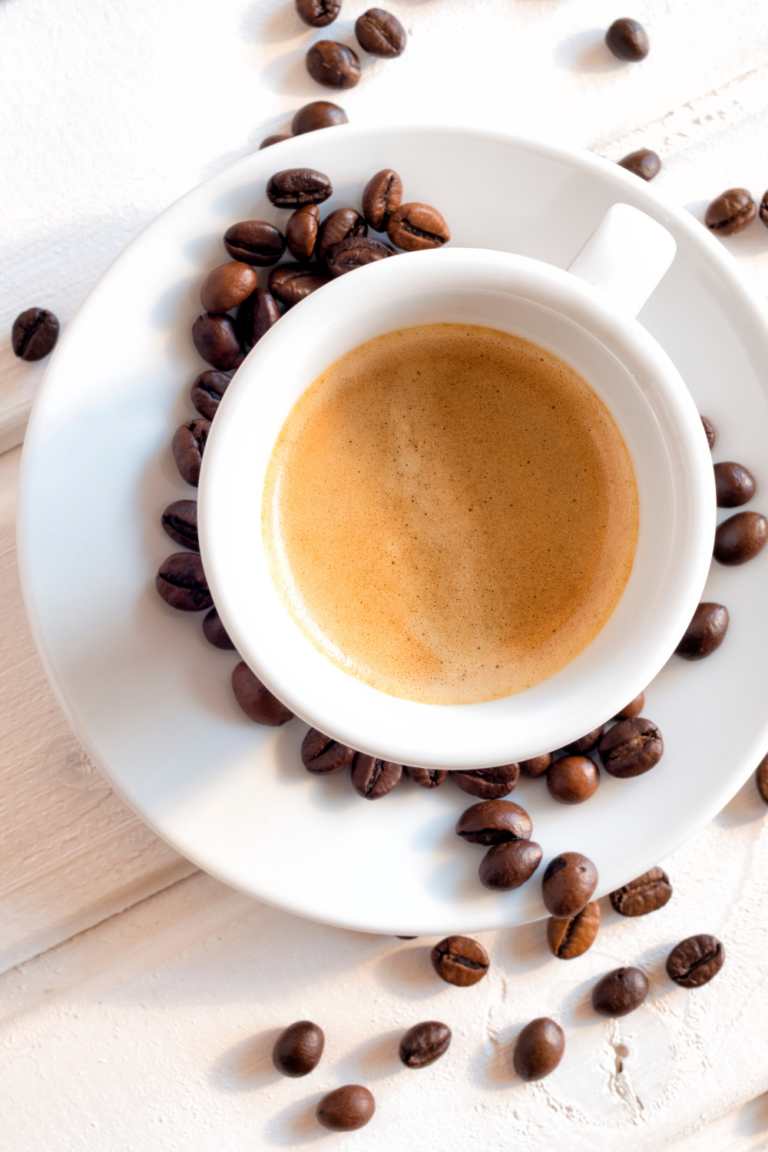 The beauty lies within just how much customizability is possible with this device. An experienced coffee brewer can tweak and alter each cup to highlight the bean or brewer's preference.
Compact Design
If you were to have a separate device to handle each individual function that this machine offers, you'd have a very cluttered countertop.
Grinder, bean storage, tamping station with accessories, espresso machine, milk frother, water kettle, and on and on. This device measures just 17.5" tall, 15" wide, and about 14.5" deep.
You can enjoy professional results and various brewing options with a very compact footprint.
Helpful Features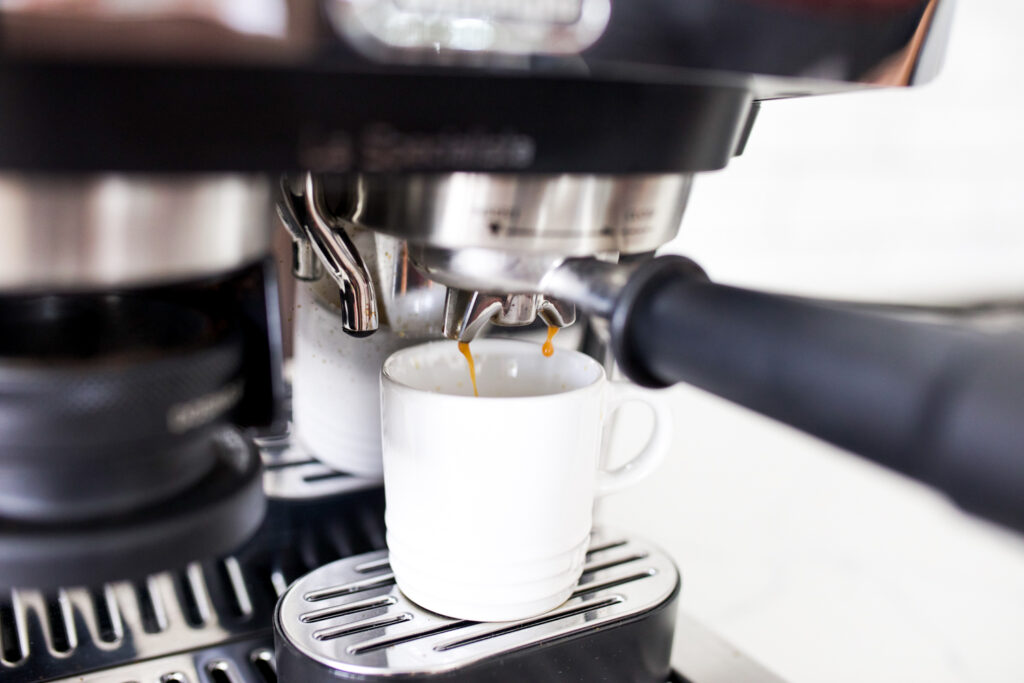 There are tons of helpful design and functionality features that De'Longhi thought of when creating this machine.
We've already covered the amazing grinder attachment on this device. But you also have the option to turn off the grinder and use pre-ground beans instead. Plus, the machine is compatible with Easy Serving Espresso (ESE) pods. They're like the K-Cup or coffee capsule equivalent for espresso making.
There's an auto-shut-off for safety and to conserve energy. This way, you don't have to worry about accidentally leaving a heating element running while you're away.
The water tank can hold about 68oz of water, so you don't have to refill it all the time. But when you do, it's easily removable. So is the drip tray, which makes cleaning up so easy.
Includes Everything You Need To Start Brewing
With the purchase of a De'Longhi La Specialista, you get every accessory you need (and then some) to start brewing immediately from the box.
The purchase includes the espresso machine itself and the portafilter. Plus, a single and double filter basket so you can pull shots of varying sizes. You'll even receive a milk pitcher for steaming.
De'Longhi also includes a descaling solution and a cleaning brush to help you maintain the longevity of your machine from the very first use.
The grinder and tamper functions are built into the machine, so you won't need any extra accessories to begin brewing. Just make sure you have a bag of your favorite whole-bean espresso coffee!
Warranty
When you purchase your machine from De'Longhi or another participating retailer, you get a 2-Year Warranty. In addition, you can register your product on the De'Longhi website to receive 1 additional year.
It's worth it to register the product since it'll unlock De'Longhi's product tips, news, special offers, and fast support.
Altogether, your investment will be protected for 3 years. It's definitely an investment when you splurge on the De'Longhi La Specialista Espresso Machine. So it's reassuring to know the company stands behind its quality and cares about helping each customer on the road, from beginners to aficionados.
The Cons
Expensive
There's no denying that purchasing one of these machines involves a considerable investment. The price ranges from store to store, but no matter which way you slice it, this purchase requires you to dig into your pocket.
Considering the longevity, quality, and host of functions this device touts, it's well worth the price tag. Even so, dropping such a large chunk of change to make coffee in the morning just isn't realistic for everyone.
There are other (more affordable) options for espresso lovers to get their caffeine fix at home, like Nespresso machines or using a Moka Pot.
De'Longhi also offers comparable machines at lower prices.
In the end, the De'Longhi La Specialista is a standout, professional quality machine at a fraction of the professional price tag.
Limited Grinder Settings
The De'Longhi La Specialista Espresso Machine includes only 6 grinder settings. For exclusively espresso brewing, this is more than enough to achieve the right grind.
If you're looking for a grinder that can grind coffee for a wide range of brewing methods, from French Press to drip to espresso, this isn't the best option.
Instead, you might want to look into an espresso machine without a grinder attachment. Then, you can purchase a separate, more versatile grinder with more grind settings.
Is the Delonghi La Specialista Right For You?
De'Longhi said it best themselves: the La Specialista is created for the passionate espresso and coffee drinker. The price tag alone should deter anyone who isn't in it for the long haul.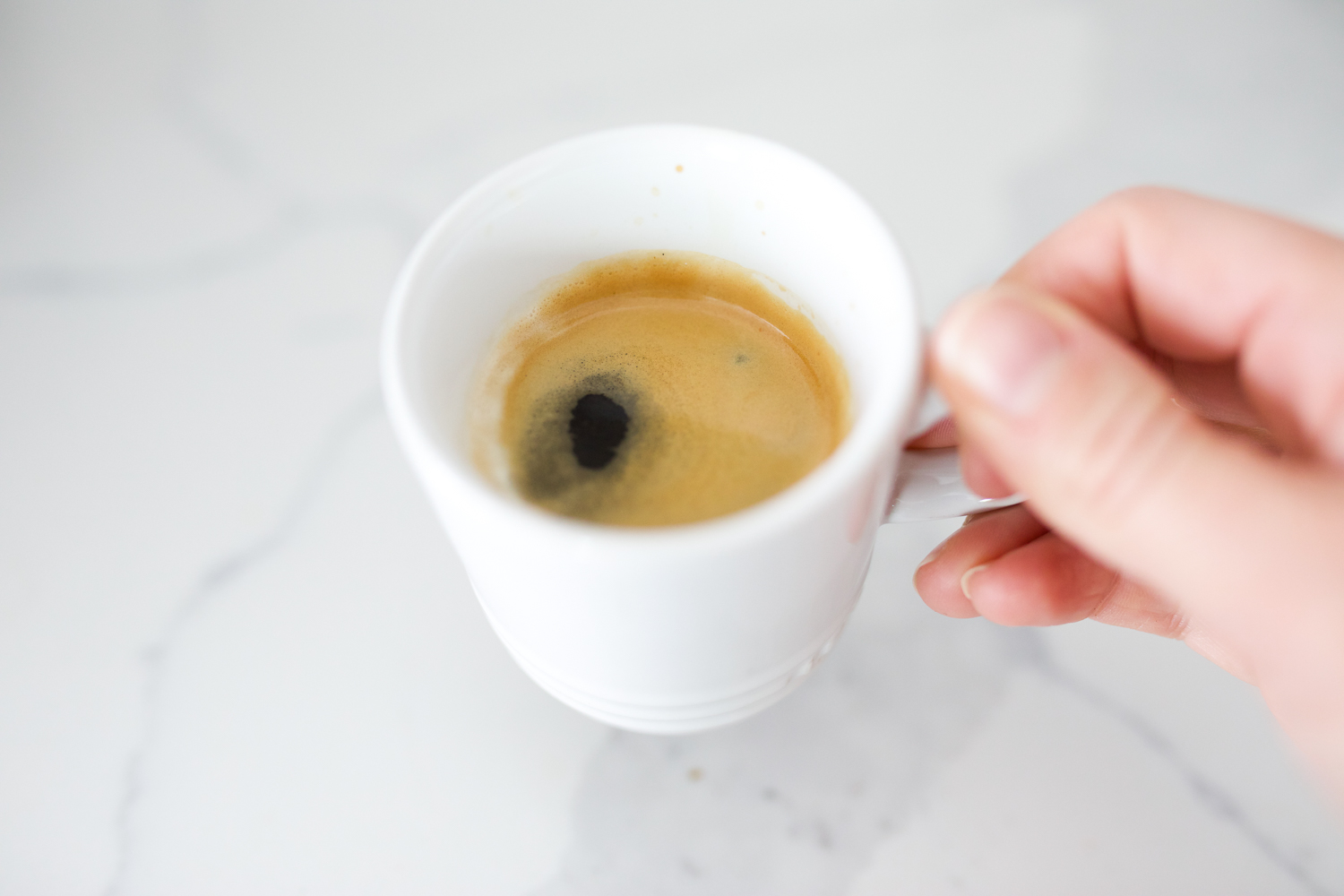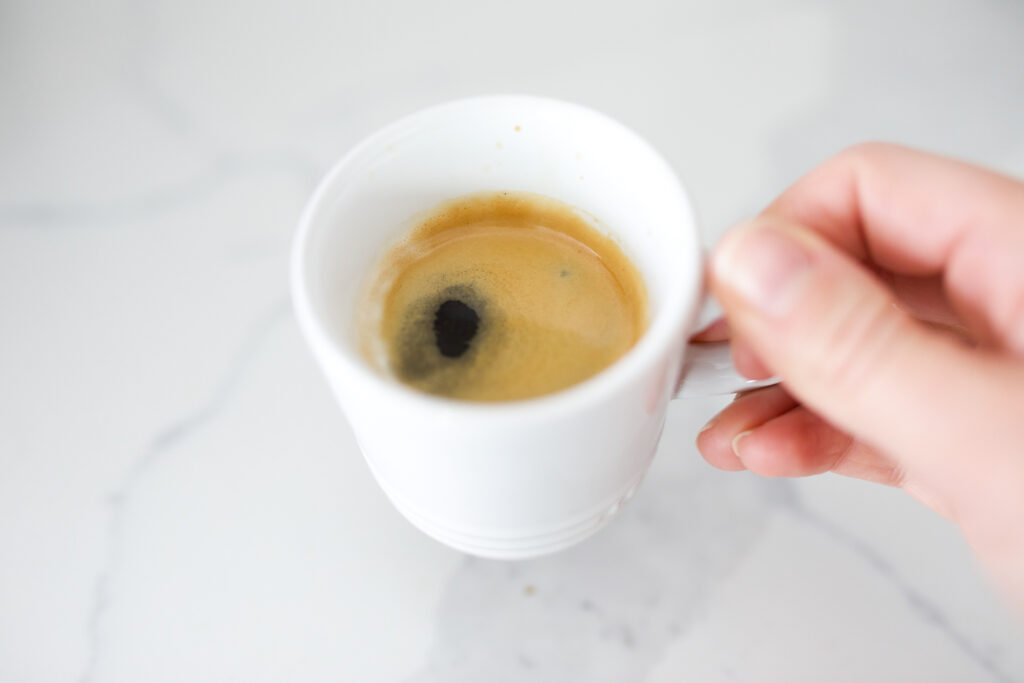 As long as you're dedicated to brewing delicious coffee, then this is an excellent machine for you. No matter if you're a beginner or an experienced brewer.
The design is intuitive enough to eliminate the guesswork that goes into espresso brewing. Beginners often experience hiccups when learning to perfect the grind, tamp, pressure, and milk steaming. But De'Longhi has almost fully automated these obstacles.
All while creating a machine that still offers customizable functionality. This way, experienced brewers can still tweak and define their perfect cup.
De'Longhi's innovative functionality has eliminated complications and complexity. Plus, you're getting multiple coffee devices all rolled into one. This machine alone eliminates the need for a grinder, bean container, tamping station, milk frother, and water kettle.
If you're looking to invest in a reliable, long-lasting piece of coffee equipment, then the De'Longhi La Specialista is right for you.
Looking for more expert coffee maker reviews? Head here!
Free Coffee Art Printables
Don't forget to get on the list before you go! You'll get 3 free coffee art printables delivered when you sign up and weekly coffee tips and tricks, product reviews!