I love starting my mornings with a strong cup of coffee. And one of my favorite pick-me-ups is espresso. It has just the right amount of caffeine I need to get me out of my morning slumber and charge me enough to push through the daily grind.
Are you, too, on the hunt for the perfect coffee brand or coffee type to create that perfect shot of espresso? With this quick guide, I hope you'll soon be well on your way to drinking the best espresso ever, right at home!
What Is Espresso?
Invented in the early 20th century in Italy, espresso is a coffee beverage that is enjoyed all over the world today. In essence, espresso is a strong, concentrated coffee drink that is served in small shots, usually a single or double shot.
The high caffeine content makes it a great choice for coffee lovers who love a good caffeine kick.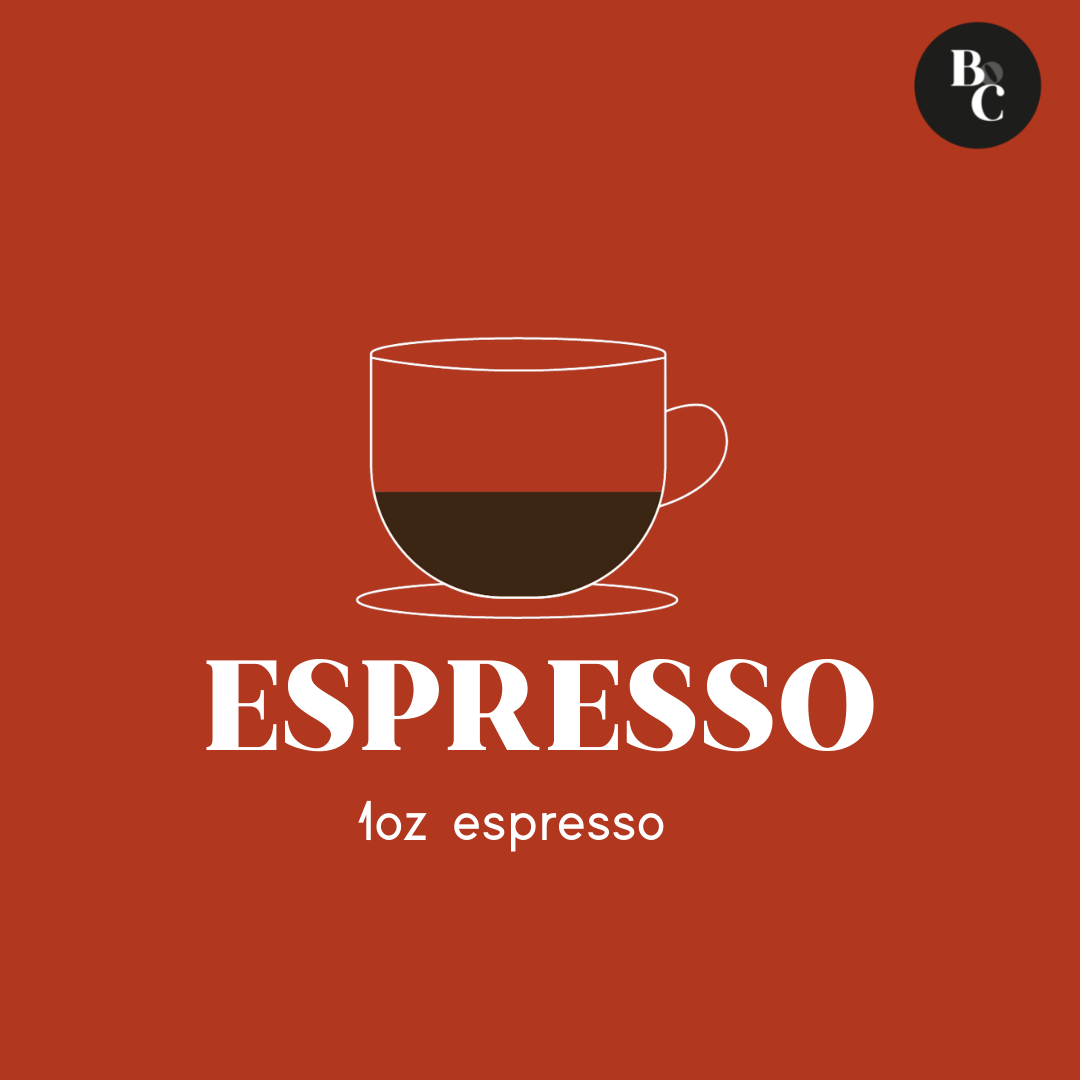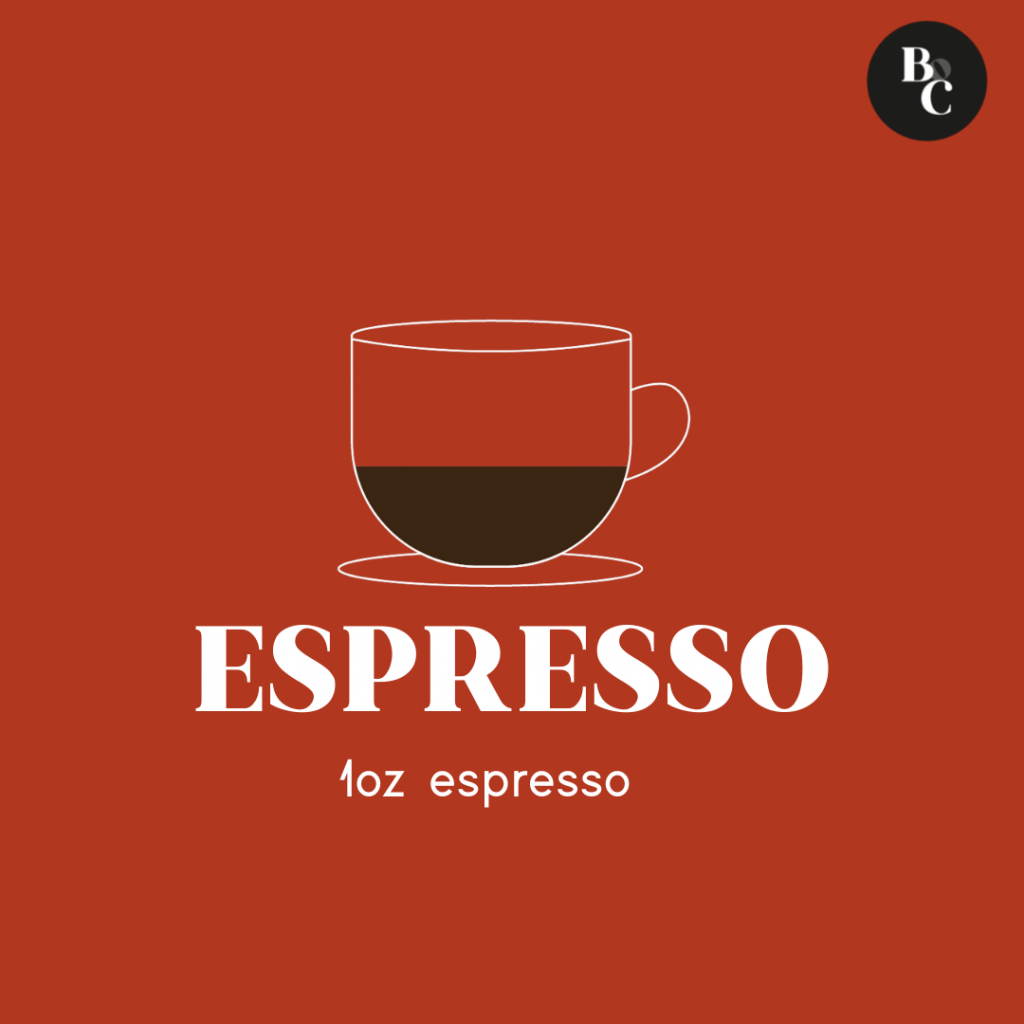 To pull a shot, i.e., to make an espresso, you'll need an espresso machine that will force hot pressurized water through finely-ground coffee beans. If you don't have an espresso machine at home, most coffee shops have an espresso machine of some sort to be able to make a shot of espresso for you.
A good espresso will always have a crema on top, which is a light brown foam that contributes to the bold flavors of coffee and offers a thick, luscious consistency. With regards to its flavor profile, espresso has a strong, bitter, acidic, and toasty taste balanced by a mild sweetness.
Espressos can also be used to make other types of coffee! Some of the most popular espresso drinks are lattes, flat whites, Americanos, cappuccinos, espresso macchiatos, and the dessert affogato.
What Type of Coffee Is Generally Best for Espresso?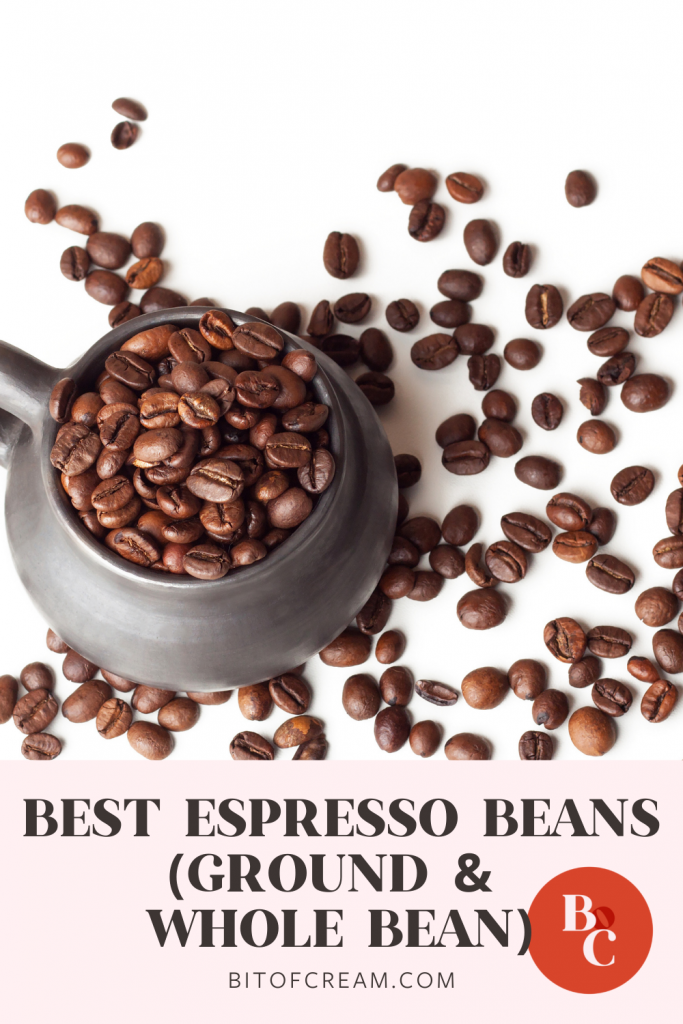 To brew a perfect cup of espresso, there are many things to consider. And one thing that stands out the most is the kind of coffee beans you use.
Check out the pros and cons of the following mainstream coffee bean types to help you choose one that suits your preferred taste.
Arabica
Arabica coffee beans refer to beans that come from the Coffea arabica species of the coffee plant. It smells like blueberries before being roasted and helps to create a mildly sweet, well-balanced espresso. It is considered to be the premium variety among coffee beans.
Pros
Less bitterness in the flavor profile
Considered superior to Robusta beans
Fruity and aromatic flavors that contain hints of dried nuts and berries
Best for espressos
Cons
Has lesser crema than Robusta beans
Lower caffeine levels than Robusta
Expensive
Robusta
Derived from the Coffea canephora coffee plant, Robusta beans are considered to be of lower quality than Arabica. However, they are great when you want to get that perfect, rich crema. Robusta coffee also has a higher caffeine content and a strong, bitter taste that helps to deliver the original coffee flavor.
Pros
Better with cream due to lower oil content
Has more crema than Arabica beans
Higher caffeine content than Arabica
Smooth texture
Mild notes of nuts and chocolate
Not as pricey as Arabica beans
Cons
Bitter taste
Considered to be of low quality
*Read more about the 4 types of coffee beans here!
Dark Roast
Rather than a type of coffee bean, dark roast coffee refers to the amount of time the originally tasteless and odorless green beans have been roasted before being recognized as the coffee we drink.
Dark roast coffee, as the name suggests, refers to coffee that has been roasted long enough for it to develop a deep brown, almost black color. It has an oily appearance and a strong flavor.
Pros
Has a strong smoky flavor
Notes of caramel, chocolate, and nuts
Low levels of caffeine
Delivers a more consistent taste compared to lighter roasts
Pairs well with milk
Cons
Original coffee flavor is disguised by the toasty flavor of roasting
Not suitable for those who enjoy a higher caffeine content
Medium Roast
Medium roasts are heated for a shorter period than dark roasts and for a longer time than light roasts. The coffee beans have a dark brown, almost dry appearance and are more acidic than dark roasts. It also has a stronger, more balanced flavor than the dark roast but lower caffeine levels than the light roast.
Pros
Moderate amounts of caffeine
Rich, bold taste
Best for espresso amateurs
Cons
Lesser caffeine than light roasts
Not as strong as dark roasts
Light Roast
These are beans that are roasted for a lesser amount of time than dark and medium roasts. Light roast beans have a lighter shade of brown and look dry. They also have a high caffeine content, a lovely earthy flavor, and are the most acidic among the three roasts.
But if you plan to make an espresso with these beans, you're headed for disappointment. Light roasts create an espresso that tastes flat and doesn't have the rich, bold, smooth flavors commonly associated with this beverage.
Pros
Has a delicate, complex flavor profile
Floral, fruity, herbal notes
Higher caffeine content than dark roasts
Cons
Thinner mouthfeel than dark and medium roast beans
May not provide a consistent taste
Now that you know the difference between the types of coffee beans, let's move on to some of the best coffee beans for your next cup of espresso!
Best Pre-Ground Coffee Brands for Espresso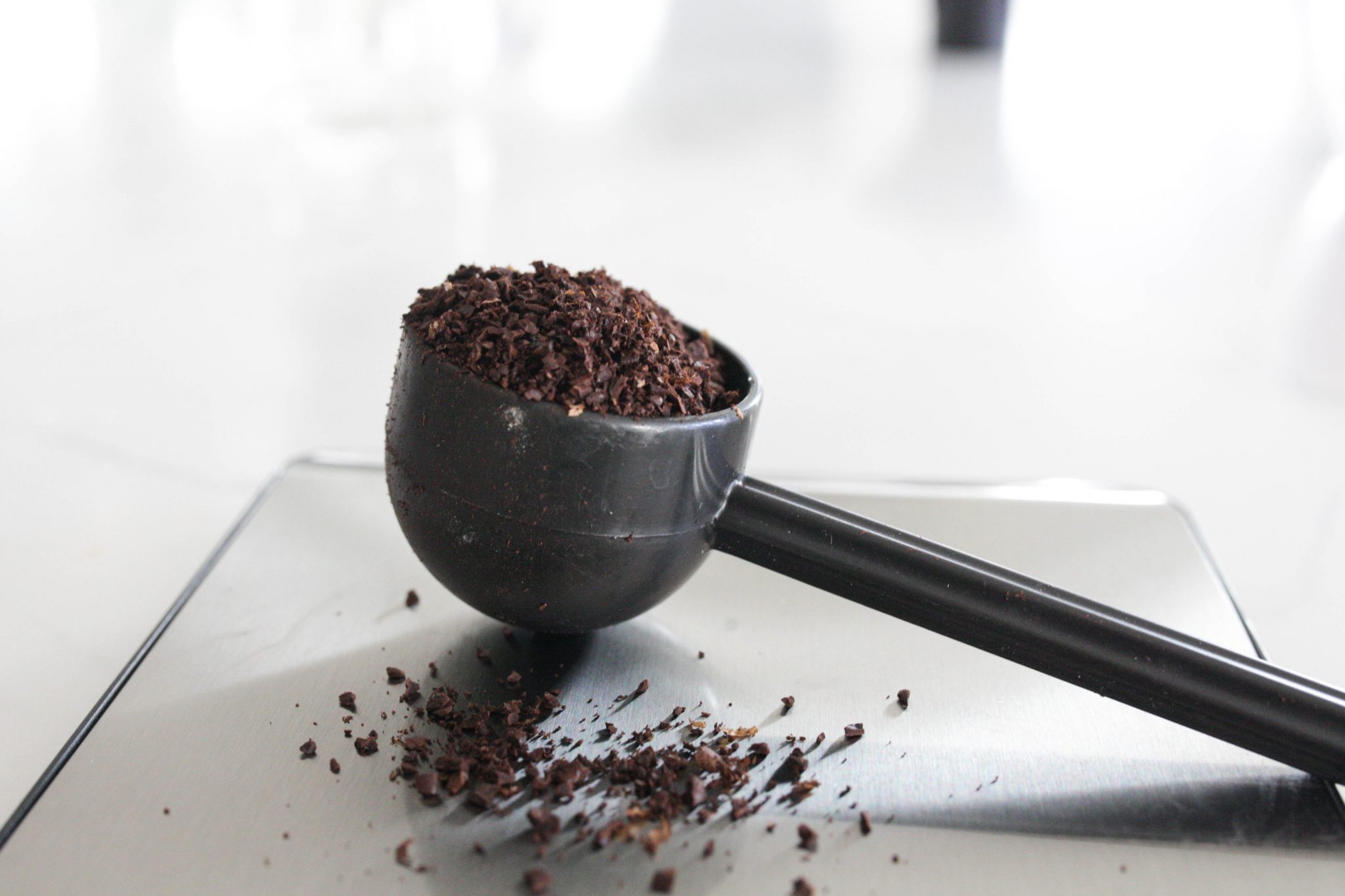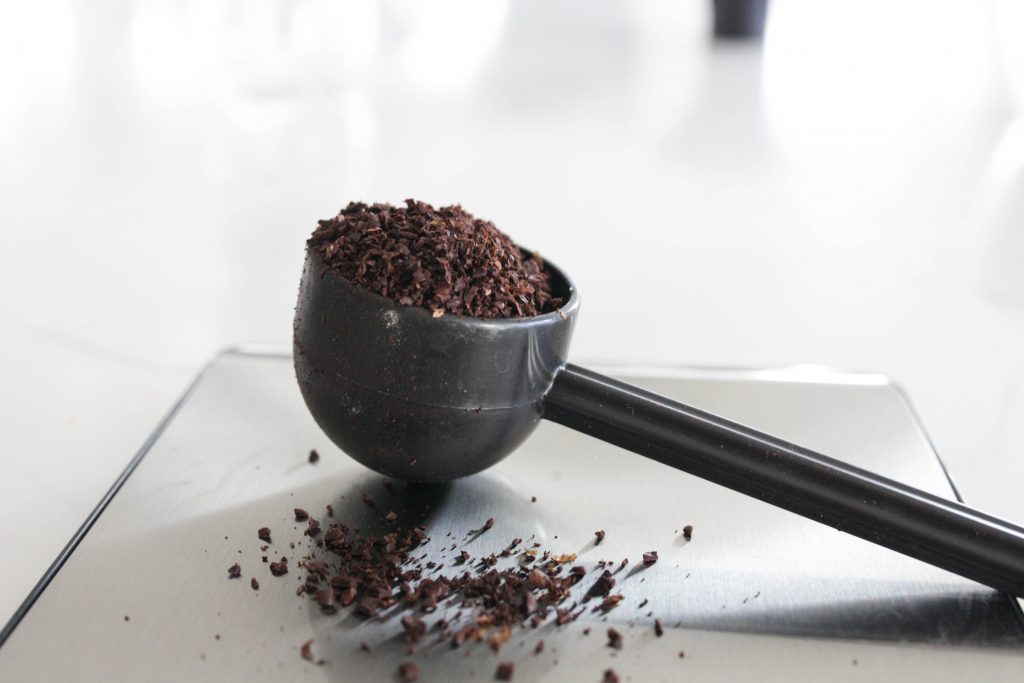 Bit of Cream is a participant in the Amazon Services LLC Associates Program, an affiliate advertising program designed to provide a means for sites to earn advertising fees by advertising and linking to Amazon.com. As an Amazon Associate we earn from qualifying purchases.
I know not everyone has a grinder (although you can grind your coffee at home without one!) and that sometimes getting the exact grind size for espresso makers can be a bit hard so I'm going to start with some pre-ground espresso coffee beans to choose from.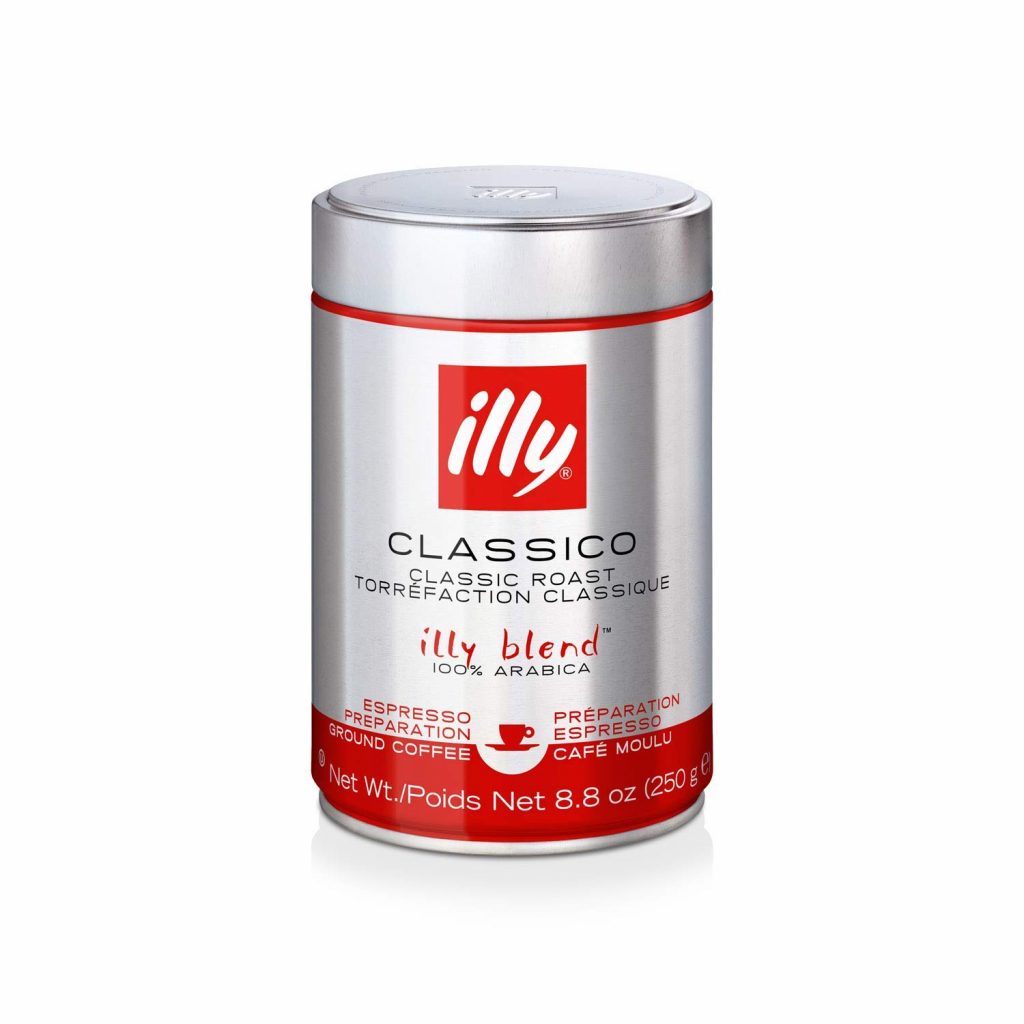 This medium roast coffee is made of 100% Arabica whole coffee beans that impart a mild yet delicious flavor. The sweet, intense notes of caramel and chocolate are complemented by floral hints of orange blossom and jasmine for a fresh, fragrant coffee experience.
Pros
Made of superior 100% Arabica coffee beans
No bitter taste
Finely ground for optimal flavor extraction
Packed in an airtight container to keep beans fresh
Cons
Can be too sweet for those who love a more balanced flavor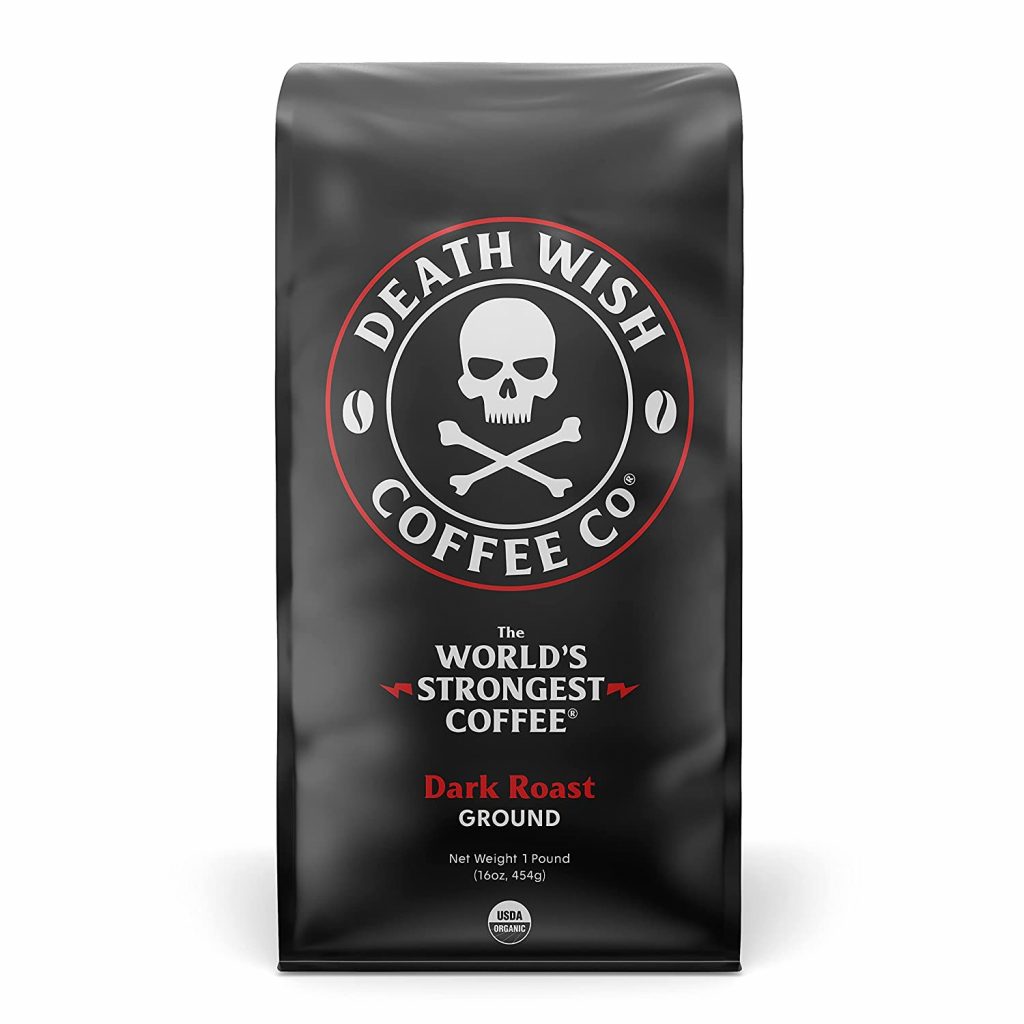 If you love all things organic, you're sure to love this one. This ground coffee espresso blend uses only USDA-certified organic and fair-trade Arabica and Robusta coffee beans.
The dark roast creates a bold, rich flavor that will snap you out of your morning grogginess and make you get on with your day with high energy.
Death Wish Ground Coffee is considered the world's strongest coffee. It was started in 2012 by Mike Brown and gained popularity in 2013 after being covered on Good Morning America.
It's an Earth-conscious company benefitting the environment and farmers. Death Wish Coffee uses carefully chosen and expertly ground premium Arabica and Robusta beans.
It has secret time and temperature variation methods for roasting it's coffee to make it the strongest coffee ever. Death Wish Coffee is roasted to ensure no bitterness with dark chocolate and black cherry flavors.
It's small batch roasting in their upstate New York headquarters and is Fairtrade International and USDA Organic certified.
Pros
Fair-trade and organic
Has rich, smooth notes of dark chocolate and black cherry
High caffeine content
No bitterness
Low acidity
Cons
Includes low-quality Robusta coffee beans
Quite expensive
Oily beans unsuitable for some coffee grinders
Not available in light and medium roasts
ShopDeath Wish Ground Coffee directly from Death Wish!
This full-bodied deep roast ground coffee is made for those who love a rich, balanced flavor profile. It has refreshing notes of hazelnut, chocolate truffle, and lemon curd that deliver complex flavors. The rich crema creates a thick and creamy coffee that gives you the perfect start to your mornings.
Pros
100% Arabica coffee beans
Freshly roasted in small batches
Rich, creamy consistency
Stout, balanced body
Great for espressos, lattes, cappuccinos, and mochas (head here if you want to learn how to make your own delicious mocha!)
Cons
Best Whole Bean Coffee Brands for Espresso
Have a coffee grinder you love that gets you that perfectly fine grind? Here are some amazing whole beans to check out!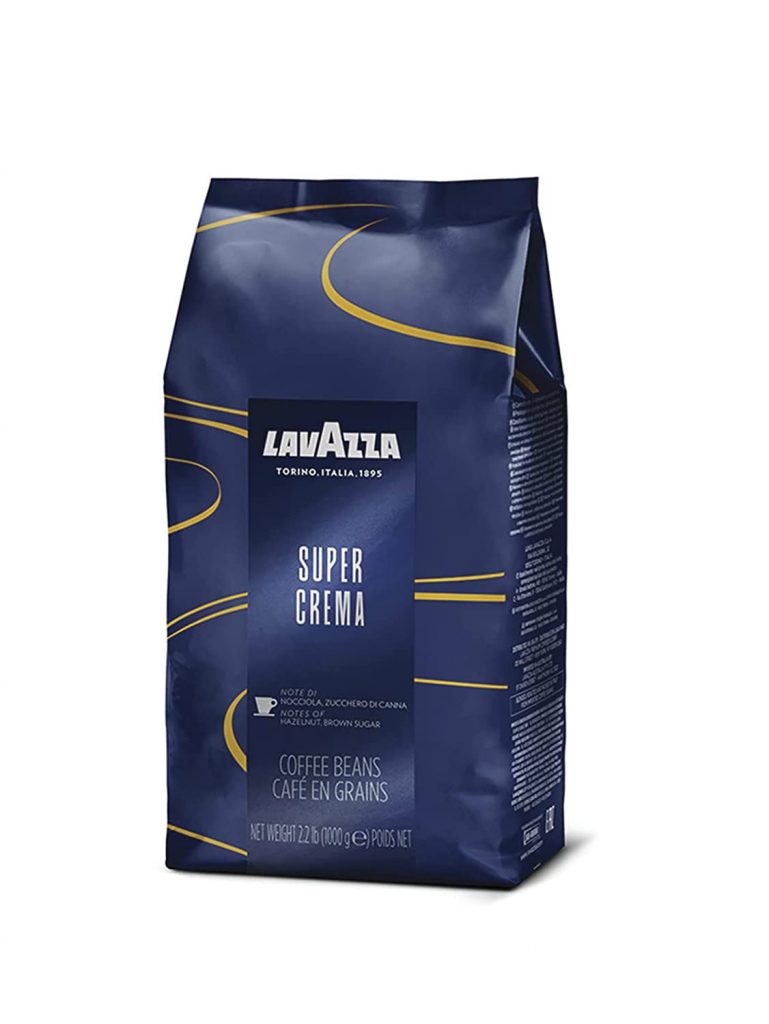 Easily one of the top whole bean coffee blends out there, Italian brand Lavazza's Super Crema Espresso Whole Bean Coffee is a fine, masterfully crafted blend of whole Arabica and Robusta coffee beans.
It offers a well-balanced, full-bodied taste and aroma, with notes of honey, roasted hazelnut, and brown sugar tantalizing the taste buds.
Pros
Smooth, well-balanced taste
Has a rich crema
Can also be used to make French press and drip coffees
Affordable price
Nitrogen-packed to maintain bean freshness
Cons
Has a slightly bitter taste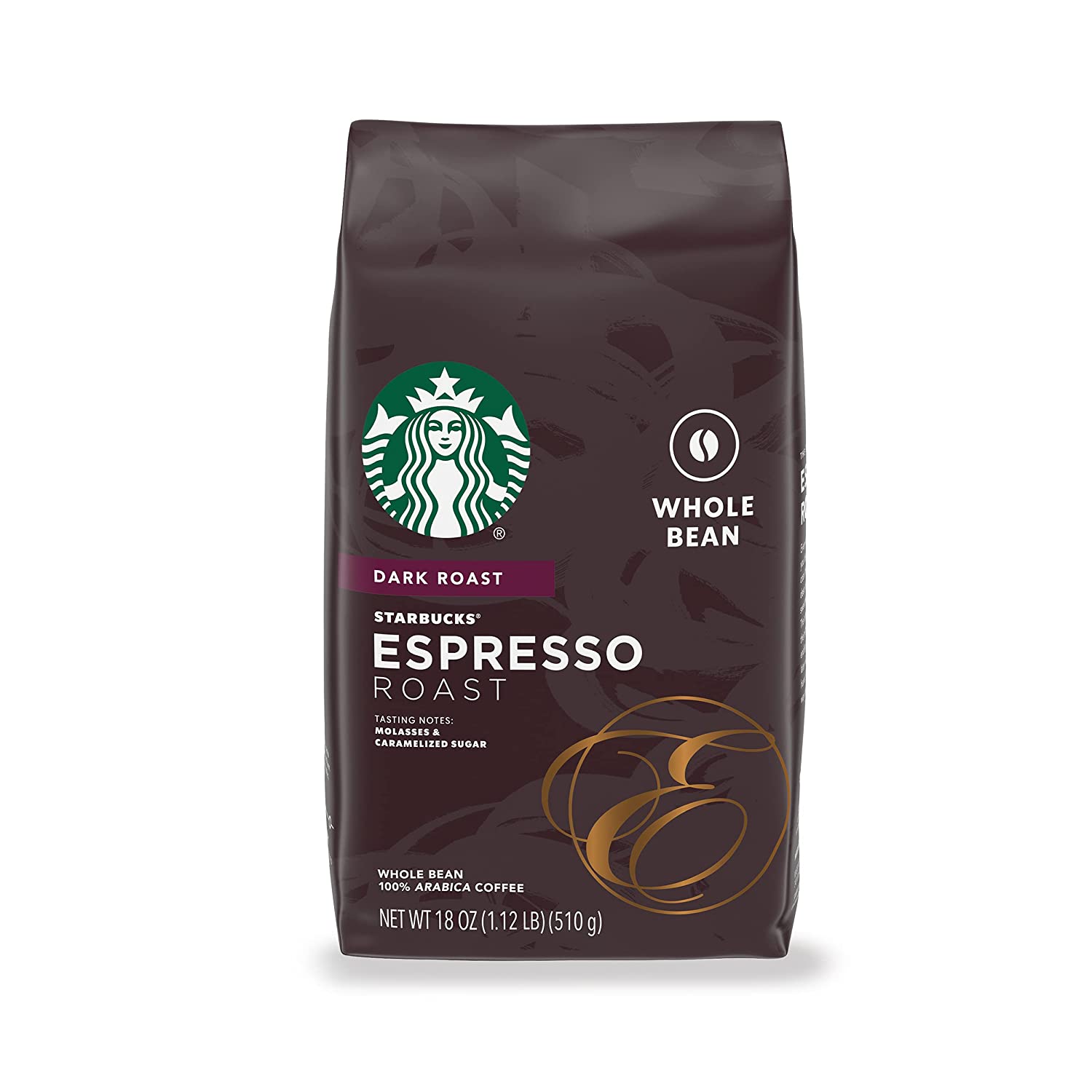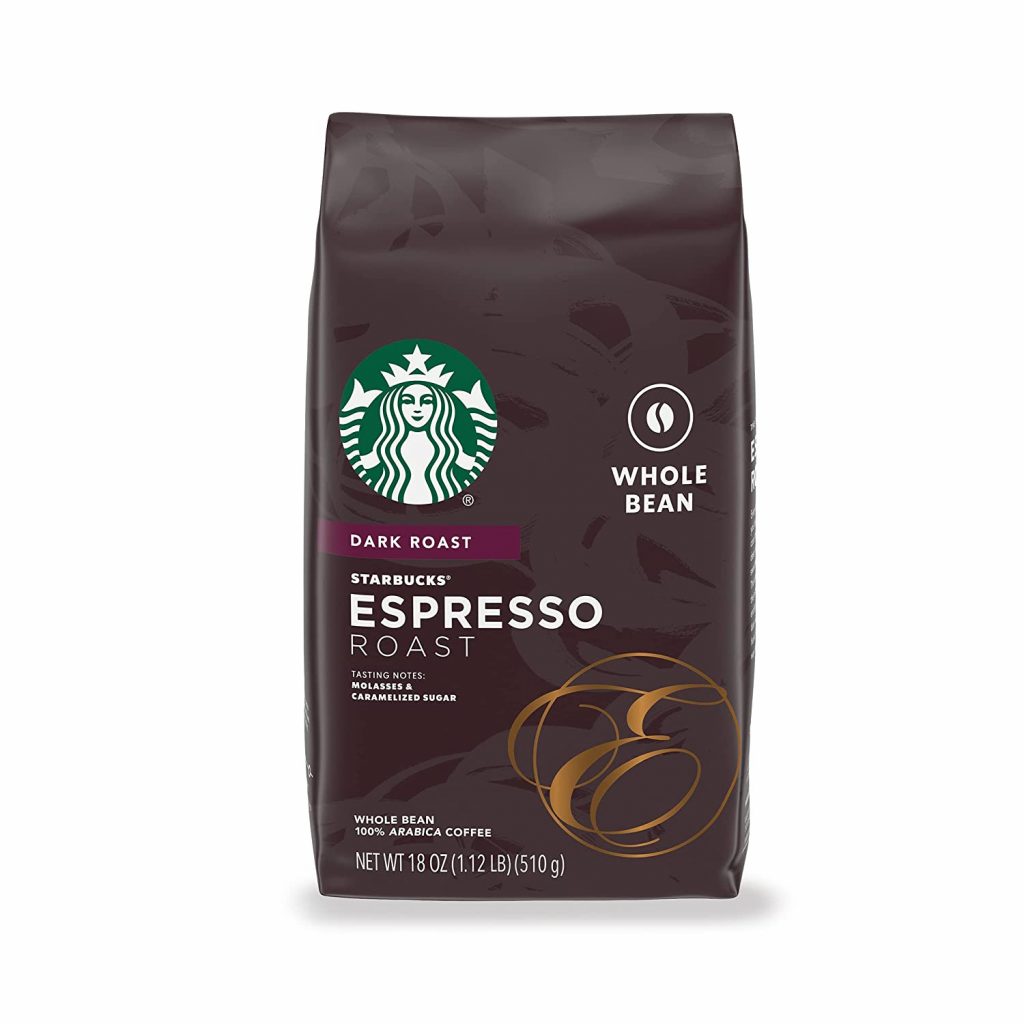 If you love Starbucks coffee but want to avoid the long queues, we've got you covered. This dark roast whole bean coffee blend from the well-loved coffee house has a full-bodied, robust flavor that comes from 100% Arabica whole coffee beans.
Its strong, lush caramel notes deliver a rich sweetness and great mouthfeel that will keep you hooked to this blend.
Pros
Bold, intense flavor
100% Arabica whole coffee beans
Cons
Unsuitable for other types of coffee, like drip and French press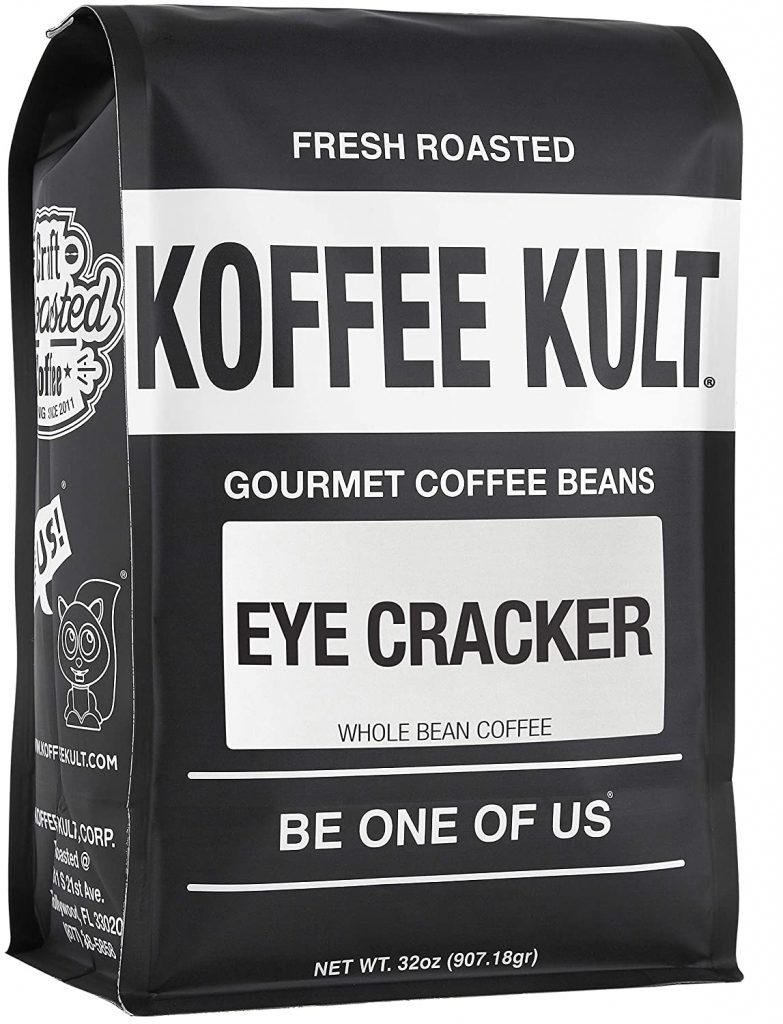 If you're looking for a medium roast of whole bean coffees, this one's for you. This 100% Arabica whole bean blend sourced from Brazil, Colombia, and Kenya has a medium-bodied, intense flavor.
The sweet notes of tangerine and cherry with subtle hints of caramel, lemon, and sugar impart a wonderful fruity taste that lingers on the taste buds for a while.
Pros
Strong, bold, balanced flavor
Makes delicious espressos and cappuccinos
No bitter taste of Robusta beans
Comes in a resealable bag
Cons
Things to Consider When Choosing a Coffee for Espresso
Roast and Color
Espressos call for dark and medium roasts, so go for coffee beans that have a dark brown to almost black appearance. It will help you create a stronger cup of espresso.
Remember, the darker the roast, the darker the color of the bean, and the stronger the flavor.
If you want a higher caffeine content though, go for the light or medium roasts. But note that light roasts create a flat taste, so medium roasts would work best.
Roast Date
Espressos are best consumed when the coffee beans are freshly roasted. Ideally, buy a bag of coffee within a week to a month after it's roasted. After this period, you'll get a stale taste in your espresso that may affect your coffee drinking experience.
Acidity
Coffee contains chlorogenic acids that taste bitter when roasted lightly. Acidity in coffee can also cause an upset stomach or acid reflux in some people.
If you prefer a sweeter, well-balanced flavor profile, choose beans with low acidity such as dark and medium roasts. However, if you don't mind a bitter brew, beans with higher acidity levels such as light roasts will suit you better.
Know Who Grows Your Coffee
Understanding your coffee's origins isn't as important as understanding how the beans are made. Are chemicals regularly used on the coffee farms that harvest your favorite coffee beans?
If so, that most likely has seeped into your beans, which can significantly impact the taste quality. If you can't find the origin, or it's not listed, avoid these types of coffee beans because they're probably of lower quality.
Only Buy What You Need
You might see amazing coffee deals that allow you to buy up to five pounds of coffee at one time. However, be realistic with how much coffee you're going to go through and how you store your coffee.
If you're not drinking enough coffee to warrant a five-pound bag, avoid buying a larger amount of beans because it will go stale a lot faster. Instead, opt for smaller bags that can be used in an appropriate amount of time, so you're always ensuring a good cup of coffee.
Conclusion
Pulling an espresso shot and drinking it is an art in itself. Choose the right coffee beans and you create a masterpiece of your espresso. I would suggest dark or medium roasts that will help you achieve the classic, bold flavor of espressos.
I hope you've been able to find a great coffee bean bag from the list above. If you've tried any one of them, do share your thoughts in the comments below!
Now that you know about the best espresso beans, you need a fun mug to drink it out of! Check out some of my favorite espresso mugs here.
Want to know the difference between coffee beans and espresso beans? Head here.