Can't pick between a cup of Espresso and a cup of Nespresso? Wondering if there's much difference between them at all? Or maybe you're stuck trying to decide which coffee machine to buy whether you get a traditional espresso machine or a Nespresso coffee maker.
Either way, you've come to the right place. Understanding what makes Nespresso different from Espresso is important for making an informed decision.
Although they're both machines that make the same coffee, there is a world of difference between the beverages. In this article, we'll cover all the facts of Nespresso vs Espresso, from the difference in their machines to a detailed comparison of the flavor of the two beverages.
This post includes affiliate links.
What Is Nespresso?
The term "Nespresso" contains the word "Espresso," which can be misleading, especially to Americans, because Nespresso is popular in Europe but has only started to gain fandom in North America.
Nespresso and Espresso are not the same. Or should we say, Nespresso is not real Espresso, unless you expand the definition of Espresso.
Nespresso is an easy-to-make brand of Espresso that is owned and produced by the well-known Swiss Nestle group, hence the addition of "N" to the word Espresso.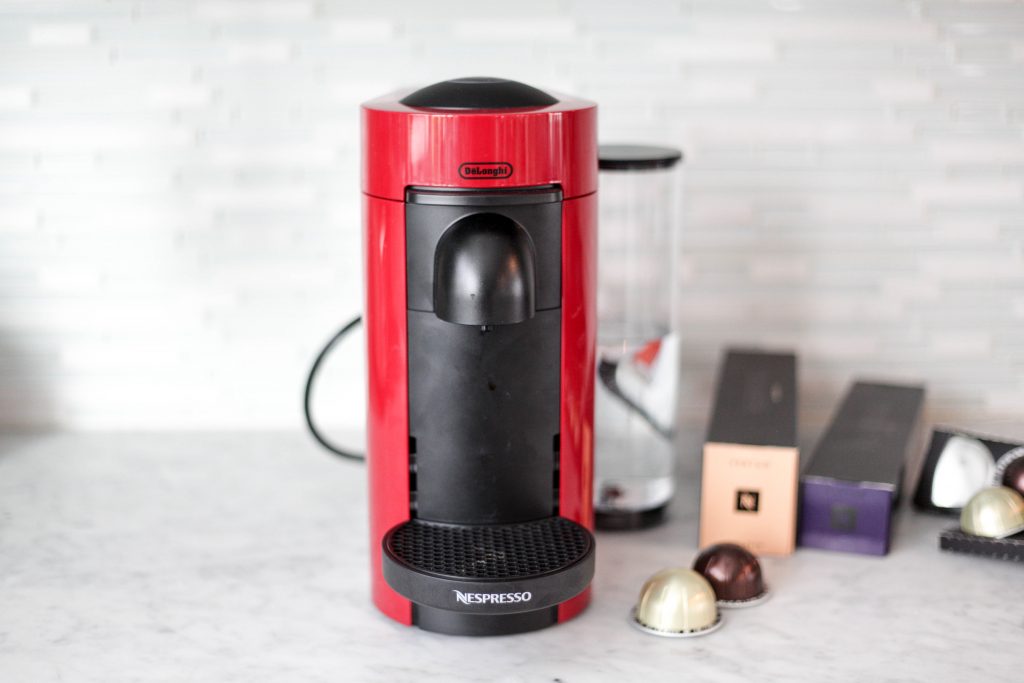 To make Nespresso, you will need to purchase a Nespresso machine and Nespresso pods The main draw of Nespresso is that it eliminates the labor of grinding and compressing ground coffee into the filter basket. It's an easy-to-make, tasty beverage that does the job of coffee when all you're looking for is a boost on a lazy morning.
(I have a full review of the Nespresso VertuoPlus Review to check out!)
What Is Espresso?
Technically speaking, the term "Espresso" refers to the Italian brewing method for coffee, and not the coffee itself. It involves forcing boiling water through finely-ground coffee beans under 9-10 bars of pressure. There are a wide variety of coffee beans you can use to make Espresso.
Espressos are generally stronger and more flavorful than Nespresso coffees. However, making a cafe-quality Espresso requires some skill. It's safe to say, professional baristas would agree that Nespresso does not compare in flavor or depth to a properly pulled shot of Espresso.
But if you lack the technique to grind and compress beans correctly or just want the convenience of coffee pods, you might be more suited to purchasing a Nespresso machine instead.
Comparison Of Drinks
Many coffee aficionados would argue Nespresso does not equate to the ideal cup of Espresso, and they're right.
Espressos are known for having richness and a playful burst of acidity. All Espressos have a similar quality, but you can't generalize the flavor because it depends on the coffee varietal you pick, degree of roast, fineness of the granulation, and the skill involved in pulling a perfect shot.
Think of Nespresso as the lite version of Espresso. It's medium-bodied but rich in flavor and adequate in the aroma department. If you're a coffee-binger, Nespresso's a drink you can have more conveniently and frequently than Espresso because it's easier to make and cheaper.
But if you prefer a more flavorful, intense shot of coffee, you may not warm up much to Nespresso. That being said, a lot of people prefer the convenience Nespresso machines offer.
Comparison Of Machines
How Nespresso Machines Work
Nespresso coffee capsules comes in standard, decaffeinated, and flavored varieties, hermetically sealed in capsules called pods. The pods are all of equal size, and each produces a homogeneous and pre-portioned cup of coffee each time, thereby eliminating the possibility of human error in terms of operating the machine's settings.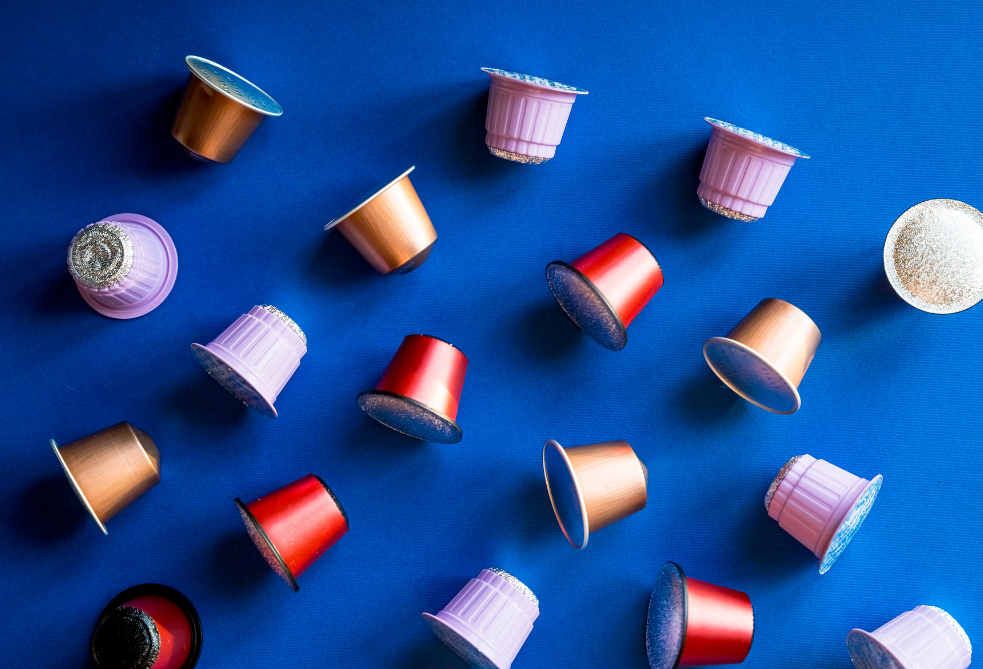 Making a cup of Nespresso is simple. Insert the capsule into the machine, push a button, and wait for the magic to happen.
The machine pumps enough water to make one cup of coffee from its reservoir and heats it in the boiler within a few seconds. It then punctures a hole in the capsule to push the boiling water through at around 15 bars of pressure, which is much more than an Espresso machine. There is a special valve that protects the machine in case pressure levels rise to a dangerous level during the boiling process.
The interaction of hot water with the coffee grounds at high pressure allows it to extract all the flavor compounds by dissolving them, giving you a tasty cup of coffee.
With Nespresso, you get your ideal cup of coffee at the single push of a button every time, thus helping you save a lot of hassle, accidents, and wastage. This is also what makes them particularly suitable for busy offices. You don't need to be a professional barista to use the machine every time you're craving a cup.
Many Nespresso machines also have a separate milk frother to use if you want to add frothed milk to your drink!
*Find how to clean and descale your Nespresso here!
How An Espresso Machine Works
Espresso machines extract coffee the same way Nespresso machines do, using boiling water. But they require some labor, precision, and skill to make that perfect cup. There are also different kinds of Espresso machines, with some even employing automation like Nespresso to offer you a bit more convenience. But more on that later.
To make a cup of Espresso, you need to grind coffee beans to just the right size. If you grind it too finely, the water may not be able to push through, and if you don't grind them enough, you might get a less flavorful cup. And that's not the only part where skill comes into the picture.
The real challenge is the next step — tamping it into the filter basket. The grounds must be compressed just the right amount so that the water doesn't flow through too slowly or too quickly.
Once you've loaded the machine, you then select the amount of water. Making the ideal cup of Espresso will require some basic calculations. It may take some trial and error until you find the best ratio of water for coffees with different degrees of roast or granulation.
With all these finer details to consider, a major problem with using Espresso machines, especially for people who need their coffee to taste just right, is how just one slip in the process can ruin the final result.
Different Kinds Of Espresso Machines
The number of Espresso machine brands in the world is overwhelming, with various machines differing in their ease of use from manual to semi-automatic.
Picking a good Espresso machine can be enormously confusing and quite the task for people not used to making coffee with machines. Let's take a look at some of the most common types of Espresso machines.
*Find the top 4 De'Longhi Espresso Machines here!
1. Super Automatic Espresso Machine
Super-automatic Espresso machines are considered the holy grail of coffee machines and receive the lion's share of attention from coffee lovers.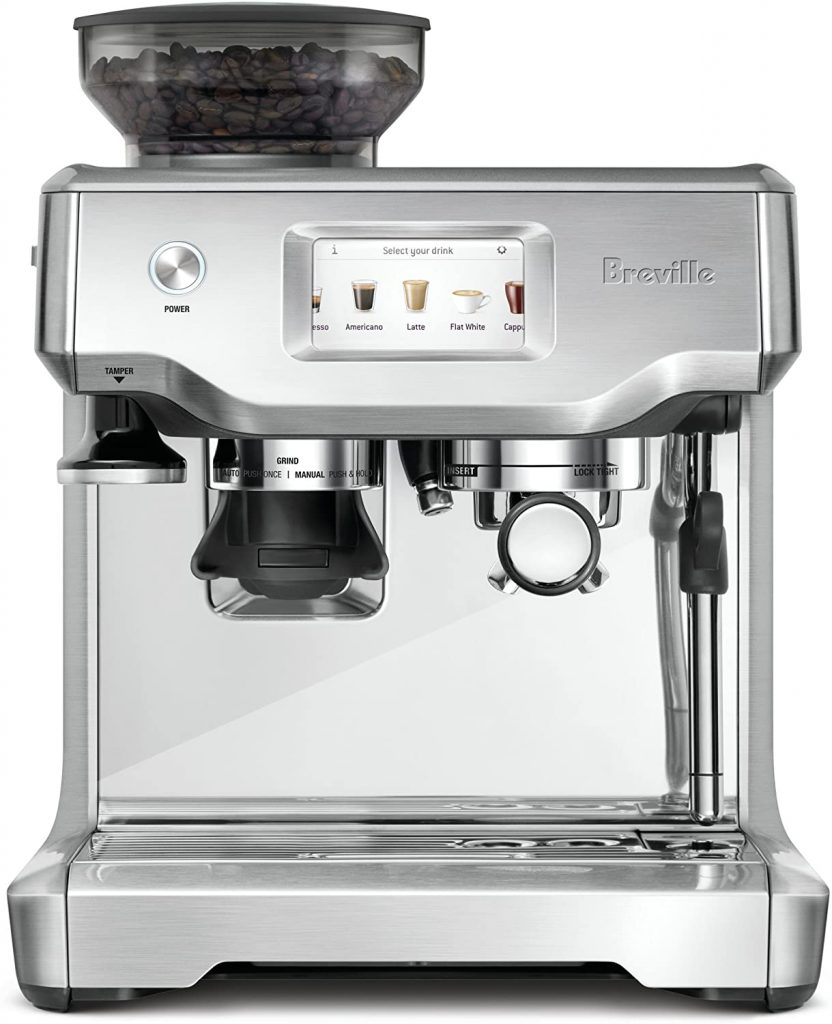 As the name suggests, it's a completely automatic machine that does everything, from grinding to loading at the touch of a button. All you have to do is load the beans and the machine does the rest. When you think about it, it's not that different from a Nespresso machine.
High-end models come with built-in smart screens that allow you to optimize the settings for different types of coffee and strength. This type of automatic coffee machine makes more than just an Espresso shot and includes options like double espresso, latte macchiatos or even a simple late. If you don't want to take the time to learn how to be a barista, it's the perfect choice for you.
While this is highly convenient and gives you cafe-quality, great Espresso right at home, it does have a few drawbacks. Starting with the cost, of course. And coffee purists may not enjoy the loss of freedom over important settings that help them customize the drink more to their liking. "Beans to Brew" isn't for everyone.
This type of home espresso machine usually has a steam wand for frothing milk.
2. Semi-Automatic Espresso Machine
Semi-automatic Espresso machines are the kind you're more likely to find at someone's home and your local coffee shop. They don't have a built-in grinder, so you will have to grind the beans and tamp them down yourself. You will also have to adjust the pump to control how much water flows through it.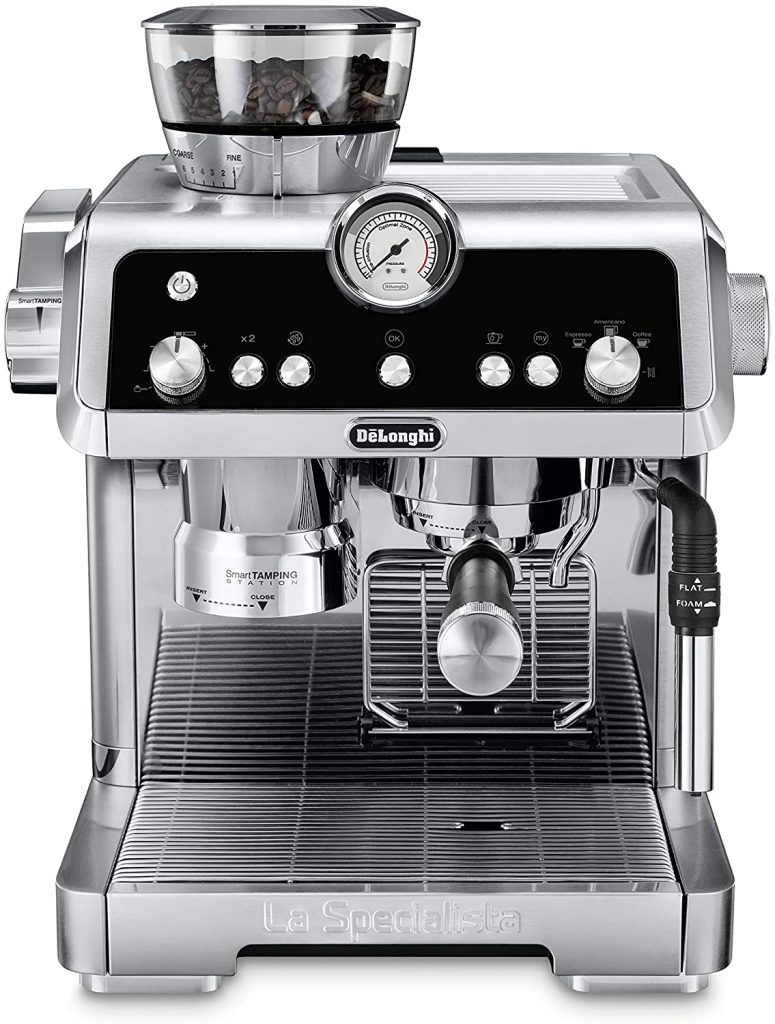 Depending on the subtle differences in the flavor of different coffee beans, your "ideal shot" may require more or less water than the pre-programmed settings of a super-automatic espresso machine.
A semi-automatic machine offers more control over the process, which is an advantage for people who know what they're doing. Most of this type of regular espresso machine also have milk frothers.
3. Commercial Espresso Machine
Commercial Espresso machines can be manual, semi-automatic, or super-automatic. The main difference is that they're designed to cater to the coffee needs of a large group of people. Commercial espresso machines are larger in size and usually only found in offices, restaurants, and cafes.
Commercial machines can produce a large volume of coffee at a time. Some of them even have a dedicated water line that connects directly to your water supply rather than a water tank.
The best commercial Espresso machines are sanctioned by the National Sanitation Foundation (NSF). A commercial Espresso machine is likely to be more efficient, robust, precise, and come with unique features depending on the model.
4. Moka Pot
Moka pots are the simplest and cheapest Espresso makers you can purchase. They're more of a specially designed pot than a machine because you have to use it on a stove rather than plugging it in. Having a Moka pot can save you in a bind if there's ever a power outage.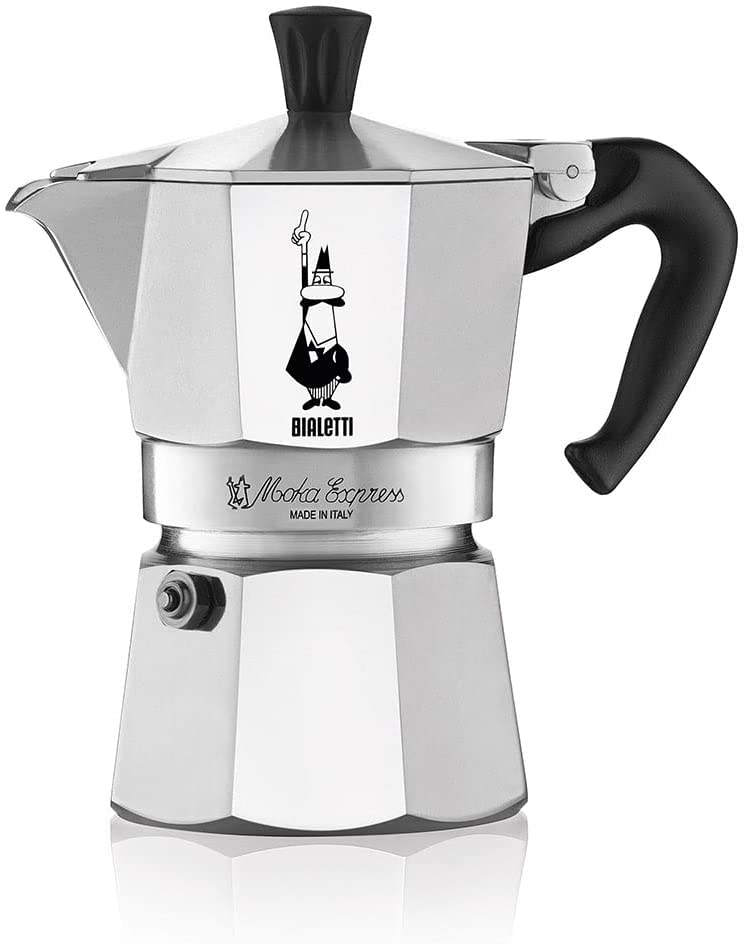 The lowest compartment of the pot is where you add the water. Above it, there's a filter where you place the ground coffee. Then the pot goes on the stove. Once the water boils, it starts rising and mixing into the coffee. A small pipe inside the pot filters and carries the coffee-infused water to the top.
The biggest advantage of Moka pots is that they're easy to use and give you complete control over the preparation. The disadvantage of a Moka pot, however, is that you need to clean it after every use and the brewing process is longer. They're also single-serve coffee makers. Also, a cup of coffee will take longer to make since you're boiling the water on a stove.
5. Manual Espresso Machines
Manual Espresso machines have become outdated and are only really sought after by collectors and a special niche of coffee fanatics. For a master brewer, however, manual Espresso machines have many advantages.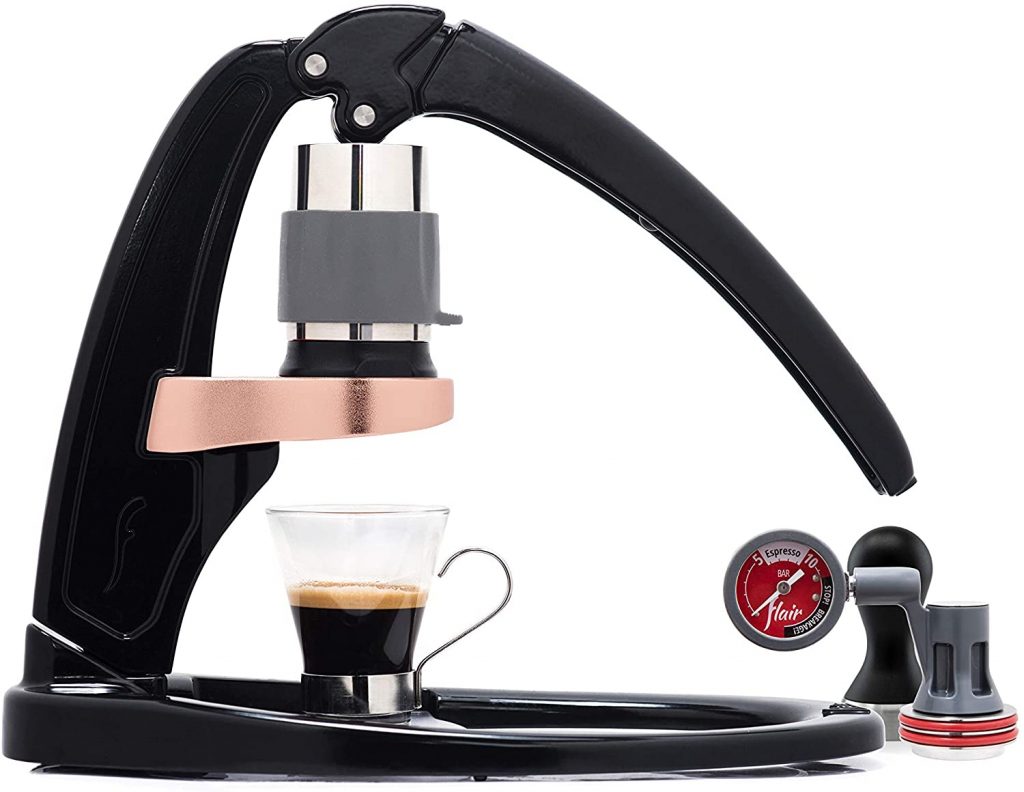 Find this Manual Coffee Maker on Amazon
Firstly, they give you complete control over every step of the production process and allow you to achieve the most ideal outcome. You have to do everything by yourself, from grinding the beans to hand tamping them, heating the water, adjusting the pressure, and using a lever to pump the water.
Manual Espresso machines are cheaper, smaller in size, and don't require any electricity. If you're an unapologetic coffee snob and have your technique pat-down, this could be the perfect machine for you.
Should You Buy A Nespresso Or Espresso Machine?
Cost
Most Nespresso machines fall in the range of USD 150-300, whereas Espresso machines vary in cost but are typically more expensive if you're purchasing one that's super-automatic or even semi-automatic.
And Nespresso capsules for the Nespresso machine will only set you back about 60 cents per cup, which is a manageable ongoing expense. On the other hand, depending on the variety of Espresso, it can cost you as little as 20 cents per shot. Premium brands may be upwards of a dollar.
Flavor
Flavor is a subjective quality. Some might prefer the consistency of Nespresso over the gourmet cafe-quality Espresso. But in most cases, the degree of control Espresso machines offer (unless they're super-automatic) gives you a more flavorful cup of coffee every single time when used by someone who knows what they're doing.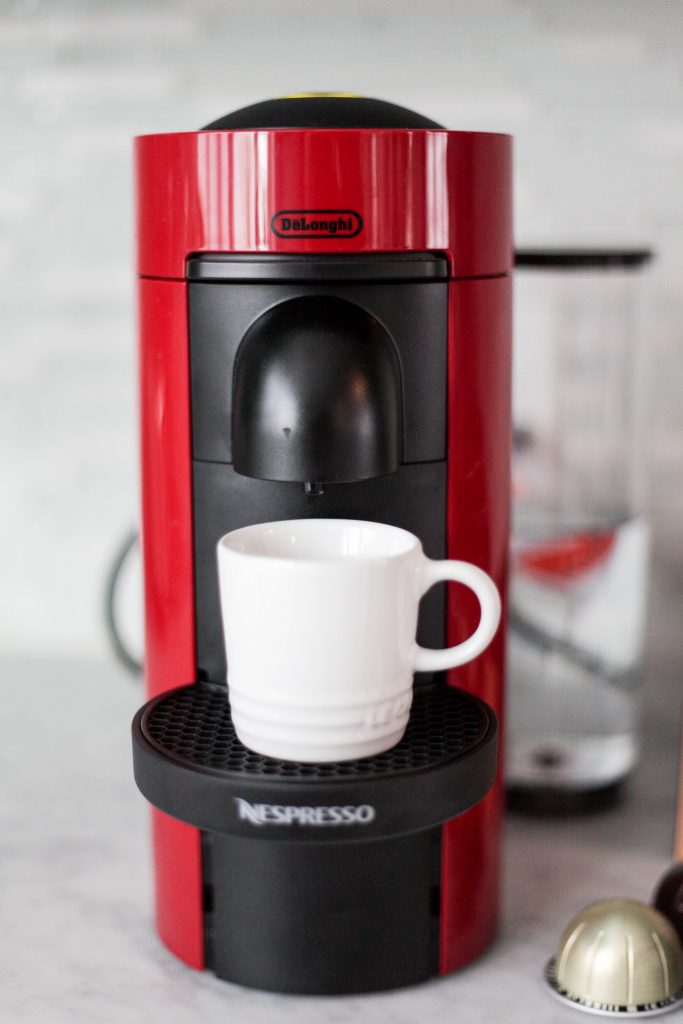 If you purchase Nespresso, you're stuck with drinking the exact same coffee every day. This is not to say that Nespresso is bad, but it's not the best for people who like switching things up once in a while.
If you enjoy creating, experimenting, and trying to reach new heights of flavor with coffee, you should purchase an Espresso machine, preferably a semi-automatic one.
Size Of Machine
Nespresso machines are fairly compact and take up less space compared to Espresso machines. Some Nespresso machines are small enough to carry on airplanes. If you have a small kitchen counter, getting a Nespresso machine may be a better choice.
Speed/Ease Of Use
Nespresso machines are easier to use unless you're comparing them to super-automatic Espresso machines. All you have to do is load a capsule, push the button, and wait. The entire process takes about 30 seconds.
Espresso machines, as we've seen, require labor and skill to use. They usually operate at a lower pressure, which means coffee can take slightly longer to prepare once you've started the machine.
Conclusion
The debate between Nespresso and Espresso is endless. Both have their own unique benefits and pitfalls.
If you're a habitual coffee drinker and would rather have a reliable option, Nespresso would be an ideal choice for you. But if you consider coffee your labor of love and enjoy the entire process of getting that ideal cup, you can't go wrong with Espresso.
If you want more Nespresso fun, check out my Nespresso review here! If you're looking for espresso fun, check out the best espresso coffee here and my favorite espresso cups here!