I love that I can stroll by the local cafe for a quick double shot from their $20k La Marzocco commercial rig. The problem is that this habit gets expensive quick, and I don't always have time to leave the house when an espresso craving strikes
Sure, it would be great to have that same professional set-up in my kitchen.
I'm just unsure where I'd put it, or if I want to take out a second mortgage to afford it. All for maybe…2 shots, a day!?!
I'm guessing that a commercial espresso machine probably doesn't make much sense for you either. Fortunately for us, there are now several options for espresso at home.
In my experience, De'Longhi espresso machines are easy to use, built with quality components, and have options for any skill level and budget.
In this article, I'll walk you through four of their most popular models. You'll get a better sense of which one fits your skill level, and what to expect from an at-home espresso machine.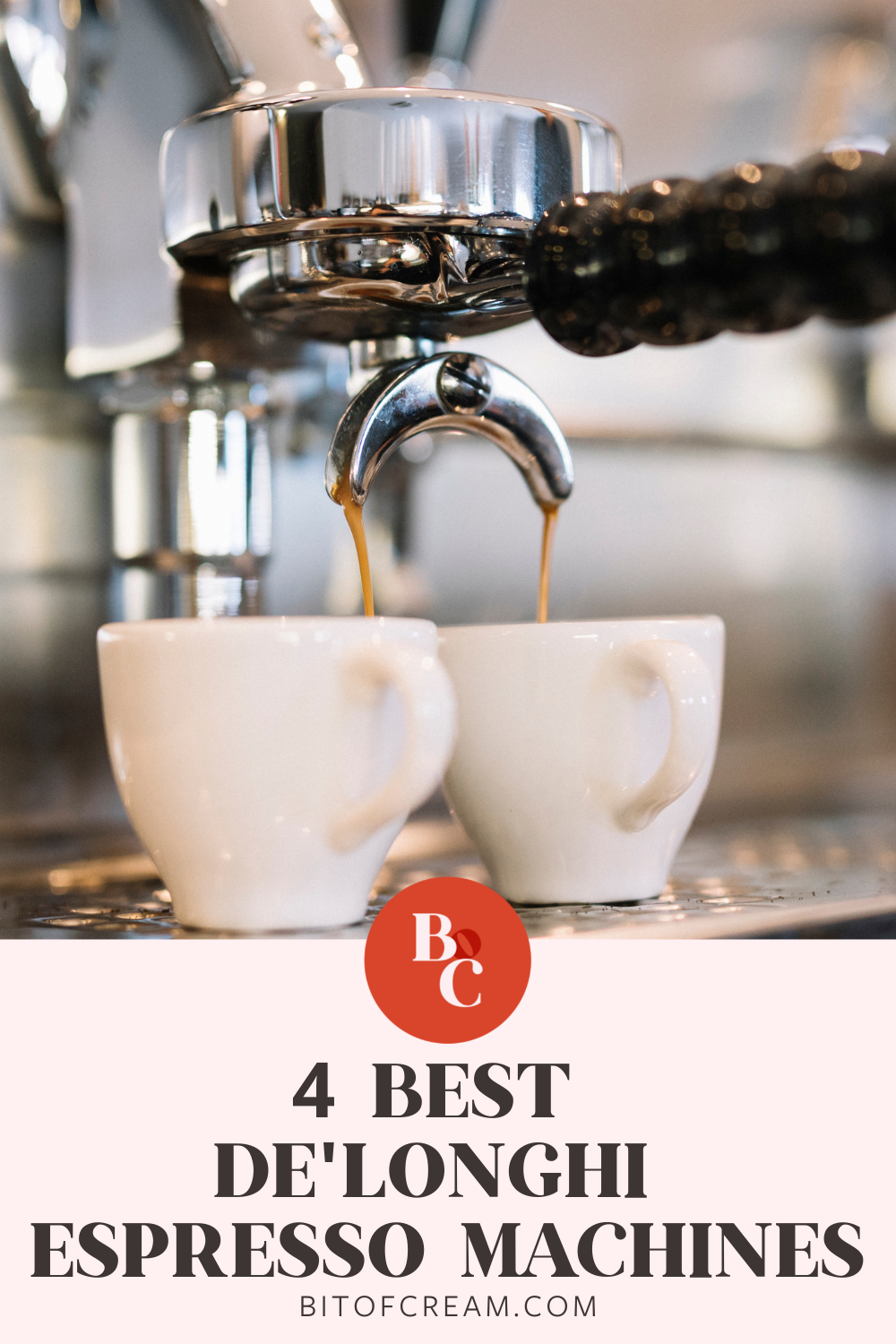 About De'Longhi
The De'Longhi Group started in 1974 selling electric radiators (not great for brewing coffee), and didn't get into espresso until the mid-90s.
Today, coffee equipment is at the heart of the brand. De'Longhi focuses on creating espresso machines for coffee enthusiasts, specifically for personal use. And the price of their products is geared toward people rather than businesses.
The company emphasizes incorporating technology and unique design elements into their products, which makes them accessible to owners with a wide range of experience.
Even if this is your first foray into espresso, De'Longhi has a friendly maker for your experience level that will also allow you to develop new skills.
What Is The Best De'Longhi Espresso Machine?
Unfortunately, there is no singular answer to this question, and De'Longhi offers an incredible amount of optionality.
On one end of the spectrum, you'll discover that manual espresso makers that allow you to tweak and customize every aspect of every shot. And on the other, a hands-off model that will produce a consistent cup at the push of a button.
Today, I'll walk you through the pros and cons of 4 of De'Longhi's 20 home machines – the Dedica, Magnifica, EC155, and ECP3630 models – which are all products intended for beginner and intermediate home baristas.
Automation, speed, size, ease of cleaning, pressure, and steam power are a few characteristics we'll consider on each of the De'Longhi espresso machines.
4 Best De'Longhi Espresso Machines
We earn a commission if you make a purchase, at no additional cost to you.
If you want to make an excellent cup without needing the skills of a professional barista, the Dedica is a great place to start. This machine will produce consistent, repeatable results even if you don't have much skills or experience…yet.
Semi-Automatic Control
The semi-automatic control is perfect for beginners since it will keep your results consistent and repeatable. Of course, you'll still be able to have a hand in switching up some of the variables, like the beans you use or the grind you choose. But you won't have to worry about more advanced elements like managing pressure or volume.
Compact Size
If you've got minimal counter space to work with, the Dedica stands at only 13" tall x 6" wide x 12" deep. This compact footprint makes it a favorite for home baristas in small apartments and efficient kitchens. And if you really don't have any space, it's light and portable enough (9 lbs) to store in a cabinet between uses.
Fast Brew Time
With Thermoblock technology, the water for your coffee heats up as it travels through hot pipes to your cup. As opposed to a boiler function that heats all the water needed at once and takes longer to come to temperature.
The Dedica uses thermocoils to heat the water to the perfect espresso-making temperature in only 40 seconds, meaning you'll be able to enjoy consistently delicious coffees one after another.
Frothing Wand
The frothing wand on this model is versatile and gives you complete control to get the perfect temperature and consistency of your steamed milk. It also serves double duty and can steam water for teas, infusions, Americanos, and more.
ESE Pod Compatibility
If you're a fan of pre-ground and packaged coffee pods, these espresso machines have ESE Pod Compatibility. This eliminates even more guesswork from the process and increases ease of use by pre-measuring and grinding the beans to the perfect consistency. It's like the fast food of the espresso world, but you'll still end up with gourmet results. If convenience is important, this feature is hard to beat.
Pros
Small footprint means you can tuck it away when not in use
Manual milk frother that allows customizability between drinks
Option to use fresh grounds, or ESE Pods
Cons
Doesn't include a bean grinder
You'll need two hands to operate since it's lightweight and can tip easily
Smaller water tank capacity can be inconvenient for more than 2 people
De'Longhi ESAM3300 Magnifica Super Automatic Espresso Machine
Each cup is automatically brewed to the perfect temperature, richness and density, and you can customize the settings too! A manual frother mixes steam and milk to create a rich, creamy froth for evenly textured drinks – just the way you like them.
We earn a commission if you make a purchase, at no additional cost to you.
A more luxurious but still beginner-friendly step up from the Dedica for those with a bit more space. If you're looking for something that will produce consistently good coffee with very little interference, you should check this one out.
Super Automatic Control
The super automatic control allows you to brew various espresso drinks with just the press of a button. Utilizing these pre-programmed automatic brewing options will have you crafting perfect lattes, cappuccinos, and flat whites like a pro.
So if you're new to pulling shots of espresso, the automatic controls of these makers make the craft accessible to all skill levels.
Programmable Brew Settings
If you have a bit more barista experience or know that you like your coffee in a specific way, this machine still allows for some customization preferences.
You can change the machine's settings however you'd like and then program those settings into the machine. This way, you'll be able to achieve that exact cup of coffee time and time again.
Built-In Bean Grinder
One big change from the Dedica to the Magnifica is the built-in grinder for whole coffee beans. This eliminates the need for a separate coffee grinder and will save you time and space with its integration.
If you already have ground coffee on hand, you can still use that in a separate compartment within the machine.
Easy To Clean With Indicators
There's a removable water tank, drip tray, and coffee container, which makes cleaning this machine a breeze. It also has a decalcification indicator which lets you know when it's time to give these makers a good scrub down.
This alert is very helpful if a spotless machine is important to you.
Patented Cappuccino System
The Magnifica model has a unique cappuccino system that mixes milk and steam to achieve a silky, rich foam every time.
On top of that, the frother wand can twist 180 degrees. This allows it to fit into any shape milk container, and it's easy to use even if the machine is tightly tucked next to a wall or between other appliances.
Pros
Hands-off automatic cups of coffee
Custom coffee programmability for your perfect cup every time
Built-in grinder for freshly ground beans in every cup
Alerts you when to clean the machine to eliminate guess-work
Cons
Less customizability and control for experienced brewers
At 23 lbs, it'll take a bit of muscle to move this machine around
Loud grinder may wake up the whole house for those early morning brews
High price tag compared to some other De'Longhi options
DeLonghi EC155 15 Bar Espresso and Cappuccino Machine, Black
Note: 1)Too coarse a grind, too little coffee, or insufficiently tamping the grounds before brewing can all lead to inadequate pressure for a proper brew. 2)It is important to note that the amount of espresso extracted will vary depending on the grind size and amount and reprogramming may be needed when the size and amount are adjusted
EVERY CUP TO YOUR LIKING: 15-bar professional pressure assures quality results every time, and adjustable controls allow you to make modifications for your personal taste preferences.
BREW LIKE A PRO: Whatever your preference – single or double espresso, cappuccino or latte – the machine brews authentic barista-quality beverages just like you enjoy at your favorite coffeehouse.Input power (W): 1050
YOUR FOAM, YOUR WAY: A manual frother mixes steam and milk to create a rich, creamy froth for evenly textured drinks – just the way you like them.
ONE ESPRESSO SHOT OR TWO. The three-in-one filter holder, included with the unit, has filters for one espresso shot, two shots, and one for an easy-serve espresso pod – whatever your preference.
NO WAITING BETWEEN CUPS: The Advanced Cappuccino System maintains the optimal temperature so you can brew cup after cup instantly.
SLEEK SPACE-SAVING DESIGN: With a sleek profile, compact design and narrow footprint, the EC155 fits beautifully on a kitchen countertop – without taking up too much space.
CONVENIENT WATER TANK: The water tank is simple to remove, refill and reattach, and the water level is easily visible to eliminate the guesswork.
EASY TO CLEAN: Removable water tank and drip tray make for easy cleanup, and the parts are dishwasher safe.
We earn a commission if you make a purchase, at no additional cost to you.
If you favor convenience over manual control and want a compact, budget-friendly machine that eliminates guesswork, the De'Longhi EC155 machine might be exactly what you're looking for.
Automatic & Semi-Adjustable Controls
This machine is best for beginners who don't want to fuss with priming, pressure, or timing. Instead, simply add ground beans to the filter and press a button. The EC155 will self-prime at startup, and you only have to stop the machine once it's dispensed your desired amount of espresso.
You get some adjustment with the four controls on the front of the machine, but you won't be able to tweak variables or manually operate any features. Simplicity is the goal of this model.
Compact Size
The EC155 is 7.4 x 9.5 x 11in and 3.5 lbs, making this a fantastic budget option for apartments, kitchens with roommates, or even college dorms. Whether you leave it on the counter or want to tuck it away, its small footprint and light weight make it incredibly easy to transport from place to place or cupboard to counter.
Rapid Cappuccino System
When this DeLonghi espresso maker is in use, it maintains the same heated water temperature to make back-to-back brewing seamless and consistent.
You can swap out the grounds without a long reheat time between espressos and continue serving up delicious espressos one after the other.
Milk Frother with Separate Temperature Control
The frother on this model is controlled by its own thermostat system, separate from the water thermostat used for espresso.
This way, you can effortlessly transition between pulling shots and creating silky microfoam. Your shots won't have time to cool, and each drink will be consistent and repeatable.
ESE Pod Compatibility
Grinding your own coffee beans will always give you the best results, but when time is of the essence, this DeLonghi machine lets you opt for loading pre-ground and packaged ESE pods in the machine for even more ease of use.
Easy Cleanup & Descaling Alert
The removable water reservoir and drip tray are dishwasher safe, making cleaning this machine extremely simple.
And when it's time for a deep clean, there's a light that illuminates as a sign that the machine needs descaling. A small detail, but it's one less thing to manage and remember in our often hectic lives.
Pros
Automatic machine with extremely simplistic controls
Beginner friendly
Use fresh grounds or convenient pre-packed ESE pods
Dishwasher safe components with descaling alert
Cons
Overly simplified controls leave no room for manual control
Limited brewing options
Plastic body doesn't feel as substantial as high-end stainless steel models
Grinder system not included
Single shot capacity only
De'Longhi Bar Pump Espresso Machine
15 bar professional pressure assures quality results every time
Second tier drip tray to accommodate larger cups
Removable 37 ounce water tank. Full stainless steel housing
Self priming operation for minimum start up preparation
Two Separate Thermostats - Water and steam pressure are controlled separately, so you can make espresso or cappuccino at the perfect
We earn a commission if you make a purchase, at no additional cost to you.
Although the De'Longhi ECP3630 machine isn't suited for artisan baristas, it's an affordable option for beginner coffee lovers. While its operations are similar to the EC155, its stainless steel body is sleek and feels more durable.
Semi-Automatic Controls
Beginner baristas will love the ease of dealing with just a few dials to control this machine. There aren't many variables that you can tweak, so you know you'll get consistent coffee every time.
However, if you're an experienced espresso drinker, you might feel hindered by this model's lack of customizable options.
Each espresso drink is ready at the touch of a button. Simply pour the coffee grounds into the filter, press a button, and brew!
Stainless Steel Finishes
The stainless steel body makes this machine heavier, better looking, and more resistant to scratches and dents.
Milk Frother with Separate Temperature Control
The frother has a separate thermometer from the one that controls the water for brewing. This way, you can froth your milk while pulling espresso shots, ensuring you can enjoy your coffee while the espresso is at its peak.
However, this frother is shorter and less adjustable than other models, so you'll have to steam more milk or water at a time to achieve the right consistency.
Rapid Cappuccino System
The rapid cappuccino system keeps the water at perfect brewing temperature when the machine is in use. And unlike the EC155, this model can brew single and double-shots of espresso.
ESE Pod Compatibility
These espresso machines can process ground beans or prepackaged ESE pods for increased versatility and convenience. A great option if you like a more hands-on approach, but another house member wants espresso with the click of a button.
Pros
Stainless steel finishes but still lightweight and compact
Beginner and user-friendly
Use ground coffee or ESE pods
Doubleshot capacity
Cons
Slower to heat up
Grinder not included
Milk frother is a bit short and not as adjustable as others
So Which One Should You Buy?
Honestly, you can't go wrong with any of these De'longhi espresso makers. But if you consider the type of coffee drinker you are, you'll have an easier time choosing an espresso machine you'll enjoy and get the most use from.
The Magnifica Super Automatic is all about speed, ease of use, and consistency. With the push of a button, you'll get a perfect pull every time, with no fiddling or tweaking. However, if you enjoy the tactile experience of filling a portafilter and packing a perfect puck, you'll miss that with this machine.
For a more manual experience, the EC155 and the ECP3630 are great entry-level options. The two models are similar, but opt for the ECP3630 if you want the high-end look, feel, and durability of stainless steel.
Both De'Longhi machines have everything you need to pull a great shot without any complicated settings system. So if you're new to the sport (it is a sport, right?), you'll have an easy time learning the basics and beginning to hone your craft.
Finally, if you take your coffee seriously, but you're tight on space, the De'Longhi Dedica packs professional performance into a tiny package.
It's a perfect choice for small apartments or those that enjoy an open and minimal kitchen. Heck, you could even pack this little wonder up and bring it on the road to bring that authentic coffee shop taste on the go.
Looking for the best espresso beans to use with your new machine? Head on over to this post to learn about some of my favorites.
Free Coffee Art Printables
Don't forget to get on the list before you go! You'll get 3 free coffee art printables delivered when you sign up and weekly coffee tips and tricks, product reviews!