If you are looking for a convenient way to brew coffee in a variety of ways, a dual coffee maker may be just what you're looking for. A combination coffee maker gives you the option for drip coffee, lattes, cappuccinos, iced coffee, or even tea, the possibilities are endless!
A duo coffee maker is one of the best options for an office with varying coffee preferences, a large household, or someone who enjoys jumping between different coffee styles.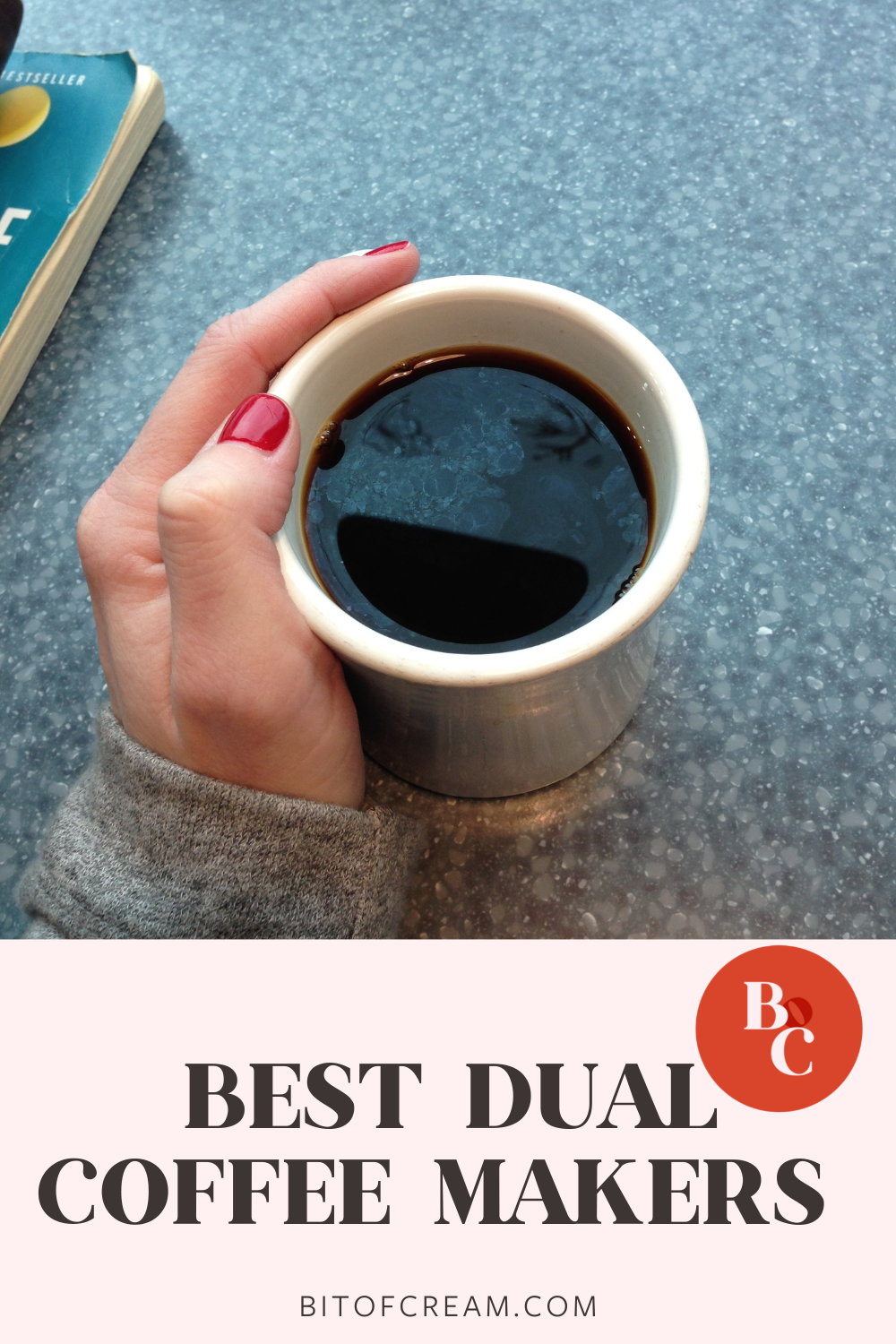 What Exactly Are Dual Coffee Makers?
A dual coffee maker is a two-in-one machine. They come in many varieties, so you can buy one that is best suited to your coffee habits. They come with options to brew full pots of coffee, single servings, instant coffee, espresso, tea, or hot chocolate. Many feature a hot water dispenser too.
The Best Part About Owning a Dual Coffee Maker
A dual coffee maker offers versatility and convenience while saving you space and money.
If you love French Vanilla coffee, but someone else prefers Americanos, a dual coffee maker gives you the option to make both specialty coffees with one machine. You can have the best of both worlds and have the gear to brew a pot of coffee while leaving the espresso side open to make the Americano.
This can save you space too. Instead of having two machines take up space on your counter, they can be swapped for one coffee maker dual machine that does both jobs – and make equally delicious cups of coffee!
Speaking of savings, dual coffee makers might be best for the wallet too. You only have to buy one machine instead of two and you can make specialty espresso coffee at home instead of going to a coffee shop and paying a hefty price for your specialty drink. You can also learn different recipes and show off to your coffee loving friends.
Top Considerations When Buying a Two-Way Coffee Maker
At best, dual coffee makers will usually last between two and five years. High-quality machines will work better and last longer, so that is something to keep in mind when considering the price tag. Higher quality machines are typically made of stainless steel and have permanent filters. Middle and lower-quality machines use more plastic.
In addition to being made with top quality materials, the best dual coffee makers will also have functions like coffee brew pause, brew-strength control, self-cleaning, and programmable features.
These coffee makers need to be cleaned just like a traditional coffee pot. Maintenance might be more difficult and take longer with a dual machine since each side will need to be cleaned according to its specifications.
It is important to note that if you want a coffee maker that does both of the functions well, it will likely cost you money. Not all dual coffee makers are created equally. If you want a machine that can brew 12 cups of coffee and have the pressure to make a shot of espresso, you will likely pay top dollar for that convenience.
But it is worth it if you're looking to recreate that coffee shop experience from the comfort of your home!
8 Best Dual Coffee Makers: Pros and Cons
Bit of Cream is a participant in the Amazon Services LLC Associates Program, an affiliate advertising program designed to provide a means for sites to earn advertising fees by advertising and linking to Amazon.com. As an Amazon Associate we earn from qualifying purchases.
One of the most important factors and information to keep in mind when considering a dual coffee maker is to choose the functions that will work best for you. Size, quality, and ease of cleaning should also be considered.
Check out our list of some of the best coffee machines on the market: 
The latest Ninja Hot and Cold Brewed System is one of the best and most recommended duo coffee makers on the market. This coffee maker can make one cup of coffee, tea, iced coffee, iced tea, and frothy drinks.
This model also has five brew styles to choose from (depending on which type of coffee you fancy!): classic, rich, over ice, cold brew, or specialty. Sizes range from a single cup to a full carafe.
Capacity: 10 cups
Dimensions: 11.81 x 10.01 x 15 in
Pros
Impressively versatile coffee maker making it easier to cater to everyone's taste.
Ability to brew tea and cold-brew coffee.
Two separate baskets for coffee and tea. Smart basket recognition will automatically know which basket is full.
Coffee maker customizability: 6 sizes and 5 coffee brew styles.
Removable water reservoir that is easy to refill.
Less environmental impact, less waste.
Found on Amazon.
Cons
Reviews say the cold brew coffee may come out lukewarm instead of cold.
The wait for one cup of coffee is a little longer than other one cup coffee makers.
Needs an adapter to work with K-cups
The Keurig K-Duo Coffee Maker is best for people who are looking to optimize counter top space but still want to enjoy a nice cup of coffee from the comfort of their home. It is less than 8 inches wide and has a 60 oz. water reservoir that can be placed to the right, left, or back of the coffee maker to adapt the appliance to your space. The reservoir is also compatible with other Keurig model water filters.
The K-Duo can also be used to brew one serving of coffee or full carafes. Each coffee maker comes with a stainless steel carafe and a gold-tone mesh filter. The K-Duo can use K-Cups or Keurig's reusable coffee filters to make single servings of coffee.
Capacity: 12 cups
Dimensions: 15.9 x 7.7 x 14.9 inches
Pros
Counter space optimization.
Compatible with K-Cups and Keurig's reusable coffee filter.
Pause and serve side function (for those times when you need a cup of coffee before the full pot is finished brewing).
8 coffee size choices.
Setup your coffee 24 hours in advance.
Coffee maker brewer automatically turns off.
Found on Amazon.
Cons
Top facing controls on the brewer may not be easy to access on some kitchen counters
The Hamilton Beach Two-Way Coffee Brewer can brew drip coffee into a 12-cup carafe or make one cup of coffee. This two-way coffee maker is made with BPA-free plastic with stainless steel accents. This coffee brewer is not compatible with K-Cups. This can be a pro or a con, but it was an intentional decision by the brand to make a positive environmental impact when creating this coffee brewer.
Capacity: 12 cups
Dimensions: 14 x 15.5 x 11.75 inches
Pros
Coffee maker program brewing up to 24 hours in advance.
Pause and serve coffee feature.
Automatic coffee maker shutdown.
Brewer not compatible with K-Cups.
Budget-friendly price.
Found on Amazon.
Cons
This brewer model is not compatible with K-Cups.
If you are looking to dive into the world of espresso, the De'Longhi COM532M might be the best dual coffee maker for you. This model can brew a regular pot of coffee on one side and espresso on the other (hence the dual coffee name!).
This is one of the best espresso machines to take your at home coffee game to the next level and should be on every coffee lovers wish list. You can make lattes and cappuccinos every morning or stick with a traditional cup of coffee.
Capacity: 10 cups
Dimensions: 14.52 x 11.02 x 12.79 inches
Pros
Brews drip coffee and espresso drinks.
Features a steaming wand for the best lattes and cappuccinos.
Set it to brew coffee on a timer and program an automatic shutoff time.
Found on Amazon.
Cons
Reviews of the product mention problems with water leaking under the coffee maker.
Some people may find the price to be steep.
This coffee maker machine is great for a house or office that loves both coffee and tea. This drip coffee maker will brew carafes of coffee, but it also has a hot water dispenser that can be used to make the best variety of drinks such as tea, instant coffee, hot cocoa, and more. The possibilities are endless!
Capacity: 12 cups
Dimensions: 10.2 x 9.5 x 14.3 inches
Pros
This coffee maker is capable of making a variety of beverages.
Charcoal filter on the water reservoir.
Brew-pause feature for grabbing a cup of coffee before the full carafe has brewed.
Carafe temperature control.
Auto-on/auto-shutoff features.
Coffee maker self-clean function.
Found on Amazon.
Cons
Reviews say the hot water side may malfunction or leave your drinks tasting like plastic.
If saving counter space is your goal, then check out the Mr. Coffee Space-Saving Combo Brewer. It takes up half the space a traditional coffee machine does and this model can brew a full carafe or a one cup of coffee.
Capacity: 10 cups
Dimensions: 15.16 x 7.36 x 15.43 inches
Pro
Very compact design – best for folks who are trying to save space but still trying get their coffee fix.
Coffee maker comes with a thermal carafe which is good for coffee quality and keeping the environmental footprint small.
Uses pods or ground coffee.
Brews one cup, a full 10-cup carafe, or any size in between of coffee.
Programmable to brew coffee later.
An advanced water filtration system.
Found on Amazon.
Con
K-Cup function is reportedly hard to use according to reviews.
Users report water level reading errors with the water reservoir.
This machine is best for those who need two coffee makers in one machine. The CucinaPro Double Coffee Maker has two water reservoirs, two hot plates, two 12-cup glass carafes, two filter baskets, two brewing switches, and two coffee scoops.
This coffee maker is also one of the best choices for homes or offices that want to brew a pot of decaf and a pot of regular coffee (or a dark roast and a light roast) at the same time.
Capacity: 2 x 12 cups
Dimensions: 16 x 17 x 23 inches
Pros
Smaller than two standard coffee makers.
Double the coffee with one machine.
Two water reservoirs.
Found on Amazon.
Cons
Larger than the standard coffee maker design.
It is not programmable like other coffee machines we have mentioned.
This option is one of the best because it combines a well-built brew coffee maker that has plenty of brewing possibilities at affordable prices. With the FlexBrew coffee maker you have the option of choosing between a thermal or glass carafe. Thermal carafes on this brewer coffee maker are practically indestructible and keep your coffee warm without the risk of burning it on the hot plate.
Capacity: 10 cups
Dimensions: 13.6 x 14.5 x 15.13 inches
Pros
Serving size flexibility: choose between 10 ounces and a 10-cup carafe.
Brewing flexibility: use ground coffee in the included filter basket or use a K-Cup style pod.
The drip tray is removable so you can brew directly into your cup.
Coffee maker check programmable timing.
Choose between regular or bold strength coffee.
Found on Amazon.
Cons
No manual shutoff for warmer plates on older models.
Choosing the right dual coffee maker sounds like a daunting task, but I promise it's not! Just think about what your main coffee needs are as well as other coffee drinkers in your household, and which machine you all would benefit from.
I hope you've been able to find the perfect dual coffee maker from the list above. If you purchased any of the coffee makers, do share your thoughts in the comments below!
Now that you know a little bit more about dual coffee makers and the possibilities of making speciality drinks, you need a fun mug to drink out of! Check out some of my favorite espresso mugs here.
Want to know the difference between coffee beans and espresso beans? Head here.