If you're looking to add a layer of connectivity or automation to your morning coffee, you're living in the right decade. Wifi, Bluetooth, programmability, and voice automation are moving quickly into craft coffee. Before long, they may be ubiquitous.
As you probably guessed, not all smart brewers are created equal. The technology of last year is quickly getting replaced by what comes next. In this article, I'll feature a few of the best smart coffee makers available right now and round up the features worth looking for.
Whether you like drip or espresso, there is the best smart coffee maker out there that matches your needs.
5 Best Smart Coffee Makers
| Product Image | Product Name | Primary Button |
| --- | --- | --- |
| | | |
| | | |
| | | |
| | | |
| | | |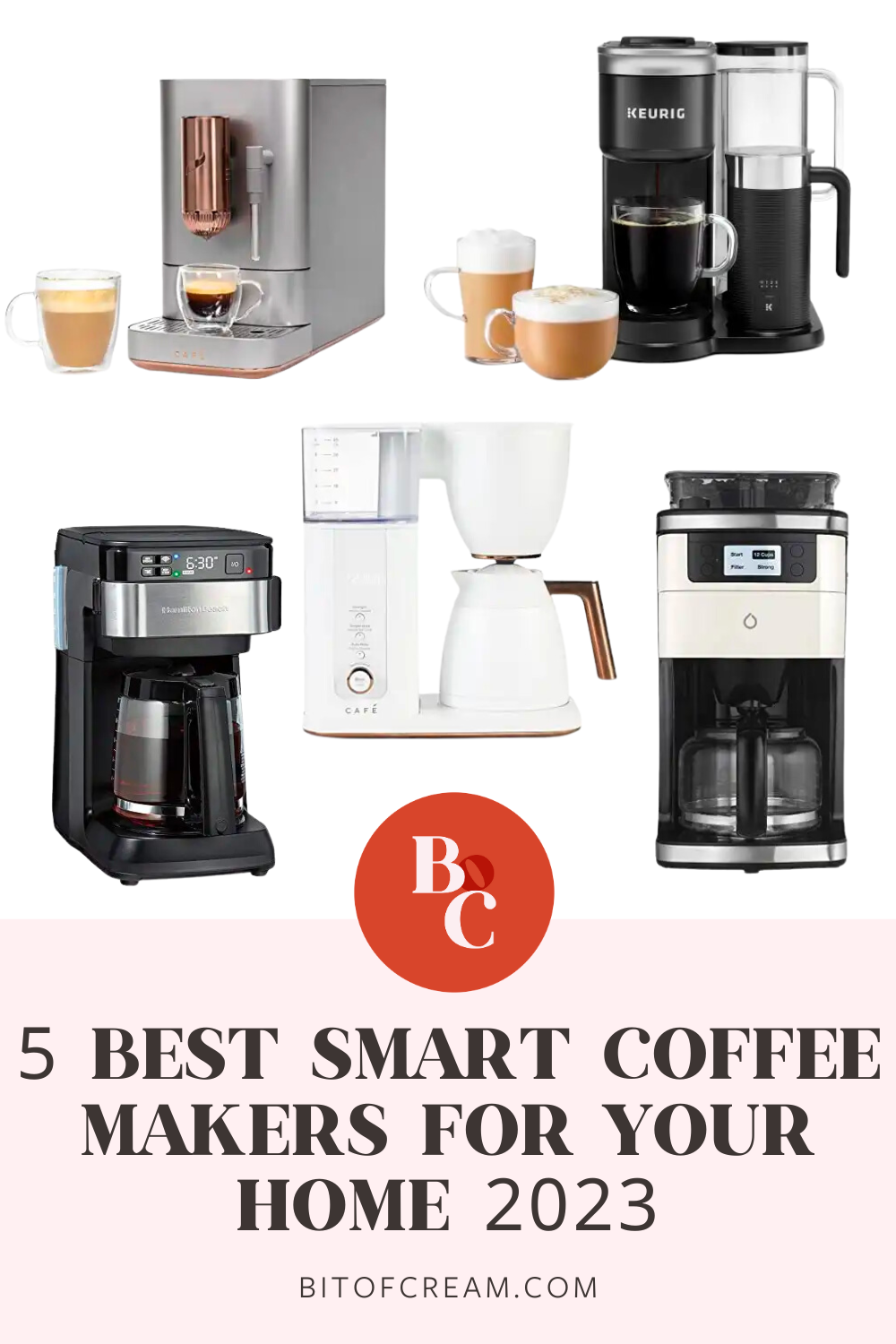 Our Top Picks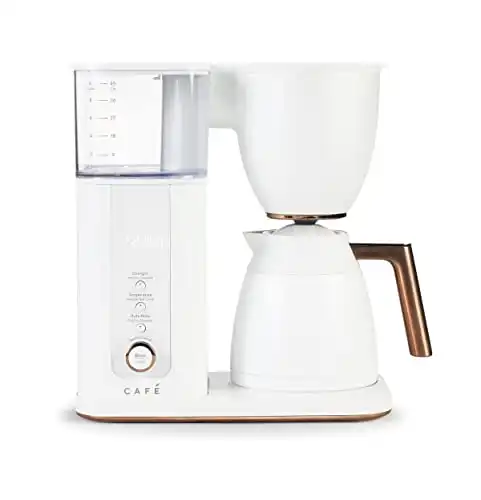 We earn a commission if you make a purchase, at no additional cost to you.
The Cafe Specialty brewer is SCA certified, which makes it a top pick on the smart coffee machine scene.
This brewer uses the SmartHQ app, which allows you to control your brewer from afar using the impressive voice commands technology. You can adjust the temperature for ultimate experimentation, and there is even a "descale" option for easy cleaning.
The Cafe Specialty heats the water to an appropriate brewing temperature and has an insulated brew basket and insulated thermal carafe. It also includes showerhead water dispersal, so your grounds are always well-saturated for optimal extraction.
The Cafe Specialty is not 100% hands-free.
You still need to grind your own coffee. No pods or built-in grinder. Though you still have to come up with your own grounds, this voice-activated brewer delivers the best quality cup of hot coffee and definitely has ease of use for smart coffee beginners.
Pros
SCA certified
Insulated carafe and brew basket
Easy cleaning function
Scheduled brew time function
Minimalist aesthetic
Cons
No built-in grinder or bean hopper
2. Best Built-In Grinder Option: Smarter iCoffee
Smarter iCoffee Remote Brewer
Built-in burr grinder
Connects to Google Assistant or Alexa

Three different color panels include red, black, and cream.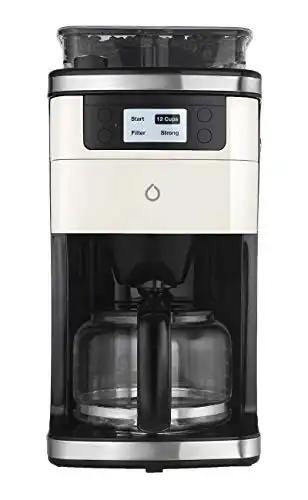 We earn a commission if you make a purchase, at no additional cost to you.
If your priority in converting to an automatic brewer is fresh-ground coffee, this is the machine for you. Though it's not SCA certified like the Cafe Specialty, it offers more convenience and saves counter space.
Few smart brewers include a built-in grinder. In my opinion, if you're going to go fully automatic, you might as well go all the way.
What is so deluxe about this brewer is that it allows you to choose grind settings and begin brewing without so much as touching the machine. But if you want to use the LED screen to start your coffee, that is also an option.
The iCoffee brewer Smarter App is compatible with any type of of smart speaker you may have such as, Google Assistant and Alexa. After the initial setup process, you can use whichever connectivity mobile app you prefer. You have the option to choose between two brewing modes: bean-to-cup or filter.
Pros
An adjustable, built-in burr grinder
Smarter App connects to Google Assistant or Alexa
Simplified brewing options
Cons
The heating plate shuts off when you remove the carafe
Only brews 4 cups at a time when you use the smartphone app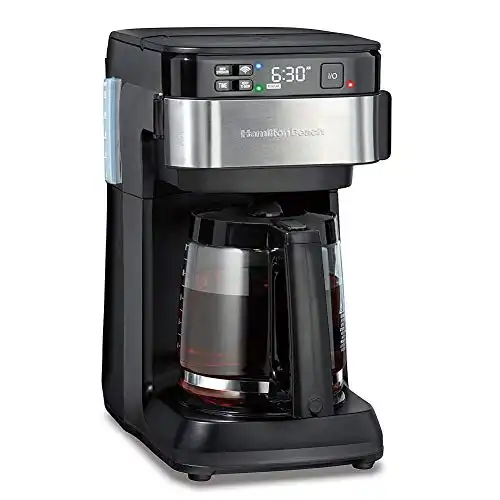 We earn a commission if you make a purchase, at no additional cost to you.
Coffee lovers and Amazon fans will love that this brewer pairs with the Alexa app, so you can program it to brew on-demand. Though it's not SCA-certified like the Cafe Specialty, it's the best budget "smart" brewer.
The only manual activity this brewer requires is refilling the water tank and grinding your coffee. You can use voice control to brew when you want it or increase the strength of your cup.
All you have to do is slide open the top to add water, replace your coffee filter and add the grounds.
You can even program this brewer to start at a specific time in the morning via the app or on the coffee maker itself. Another bonus of this machine is its friendly cleaning reminder, which I know I always need.
Last but not least, the heating plate stays on for two hours. So if you're a slow sipper like me, this is a significant win. 
To top it off, this black and stainless steel machine will even look great on your counter!
Pros
Customizable
Easy to program
Cleaning reminder
The heating plate stays on for 2 hours
Cons
Not SCA-certified
Glass carafe
The display stops functioning after a few months of use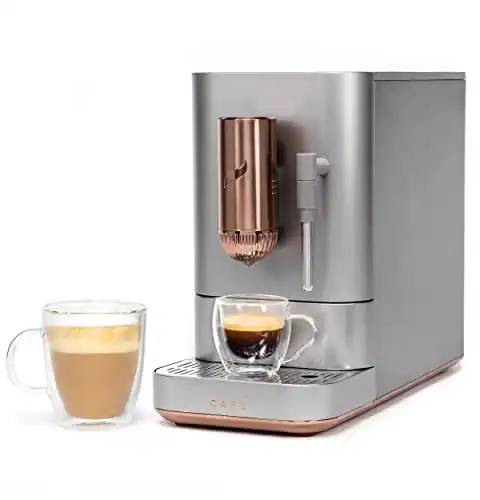 We earn a commission if you make a purchase, at no additional cost to you.
The Caffe Affeto is an excellent option if you primarily drink espresso.
In general, espresso machines are expensive. Add in the smart technology, and you're looking at triple-digit prices. Needless to say, this machine delivers on functionality and quality.
You can choose between pre-fixed settings and make an Americano or customize the volume and strength of your shot in the SmartHQ app.
The conical burr grinders uses step adjustment and offers 5 grind settings. The bean hopper holds 6.5 ounces of coffee.
Enjoy the built-in frother if you like a cappuccino or latte as much as I do. Notice how I didn't say steam wand. It looks like a steam wand. But know that if you're a latte art fan, the frother doesn't have the flexibility necessary to create proper microfoam.
Pros
Built-in bean hopper & grinder
Pre-infusion
Milk steam wand
5 grind settings
Use whatever coffee you'd like
Cons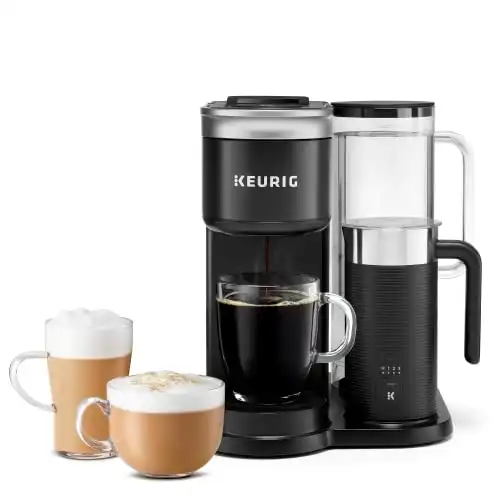 We earn a commission if you make a purchase, at no additional cost to you.
This super programmable coffee maker stands out because it provides so many brewing options for espresso. Prefer iced coffee? This brewer comes with a milk frother that will make excellent foam, cold or hot.
The K-Cafe is compatible with Alexa. The "Brew-ID" recommends drink recipes based on the type of K-Pod you're using. When you connect your Keurig to wifi, you get access to "Barista Mode," which offers directions on how to make classic drinks.
And like other brewers on this list, you can customize your brew from another room in the house. You can schedule when you want the K-Cafe to start brewing at a set time or on demand.
While this brewer offers exceptional convenience and variety, it lacks overall coffee quality. K-pods are not known for their delicious flavor. The environmentally-conscious, reusable filter allows you to substitute other coffee for improved flavor.
Pros
Access to recipes and recommendations
Automatic milk frother
5 "strength" options
6 temperature settings
Cold coffee and milk frothing option
Cons
K-cup pods lack flavor
Reusable filters sold separately
No heating plate
What To Look For
Drip or Espresso?
Most "smart" brewers are only capable of one kind of brew method. It's important to decide what type of coffee you think you'll regularly make before investing.
If you prefer espresso drinks, look for a smart espresso machine with an attached steam wand or milk frother. This way, you can make cappuccinos and lattes for days.
Many devices these days come with milk frothers, which can give the milk quality foam that is totally hands-free.
If you prefer drip or pour-over style coffee, you're in luck. There are far more smart drip machines than smart espresso machines that deliver the perfect brew.
It's also important to know that espresso machines, smart or otherwise, will be more expensive than drip.
Grinders
Does the smart brewer have a built-in grinder?
Most "smart" coffee brewers do not include grinders. So if you don't own a coffee grinder, you'll have to buy one separately. Grinding your own coffee does add an extra step to the brewing process. You will have to make a cost/benefit analysis.
For example, suppose you're investing in a smart brewer so that you can make coffee from your bedroom.
In that case, you must always ensure ground coffee is in the basket, ready to go. This can remove some of the glamour of a fully automatic "smart" brewer.
Many non-smart automatic brewers have built-in timers. If your entire aim is to have coffee brewed when you wake up, then a regular drip coffee maker can do just that. No wifi or Alexa is necessary.
If you want to go fully automated, a pod-based smart coffee maker or one that grinds the coffee for you will provide the most hands-off experience. You won't have to grind anything the night before. Just remember to fill the water tank.
Voice Activated
Are you looking to chat up your brewer? Or are you happy using an app on your phone? Only some brewers will be voice-activated. If you want to tell Alexa to make you that 3rd cappuccino at 2:30 pm, double-check that the brewer is compatible with Alexa or another voice-activation technology.
Some brewers will connect to wifi and Bluetooth without voice activation. But these still offer key features. Benefits include turning your coffee brewer off/on from your bed and adjusting the grind or coffee strength without touching a button.
Brew Flexibility
Do you want to use your own coffee?
Smart brewers that rely on coffee pods often produce a weak cup. Pod coffee is pre-ground, and even though it's sealed up tight, it's often stale. This is more obvious when brewing drip coffee with pods because the coffee is brewed with too much water, which weakens the flavor.
If you buy something like a Keurig, it can help to purchase one of their reusable pod filters. This way, you can fill it with fresh and flavorful coffee.
Many smart coffee makers do allow you to use your own coffee. However, this requires the extra step of finding and grinding your own beans.
Brew Temperature
Weak-tasting coffee is a strong possibility if the brewer doesn't reach adequate brewing temperature.
According to the National Coffee Association, coffee should be brewed between 195 and 205 degrees Fahrenheit.
Keurig says their machines only reach up to 192 degrees. It doesn't necessarily mean the coffee will be awful, but you won't get the best out of it if you start with a low brew temperature.
Homebrewers certified by the SCA are brewed to reach adequate brewing temperature. Few smart coffee makers are SCA certified. Smart coffee makers are new on the scene, so many have not been tested yet. It can be a red flag if the brewer doesn't share the brew temperature.
So Which One Should You Buy?
The Cafe Specialty Drip Coffee maker offers the best quality drip and "smart capabilities" at a reasonable price point and an overall easy user experience, making it one of the best coffee makers on our list.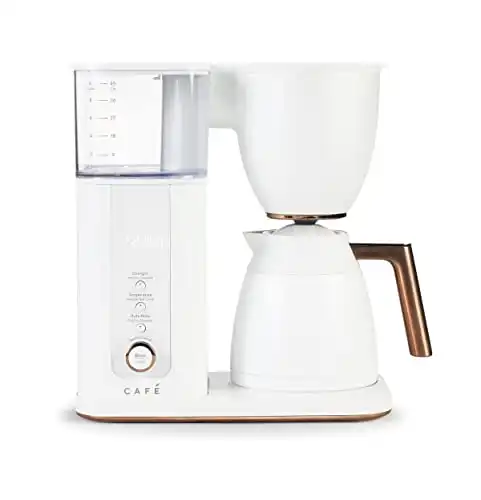 We earn a commission if you make a purchase, at no additional cost to you.
SCA-certified to craft a golden cup, the Cafe Specialty comes with an insulated carafe and brew basket. This way, the coffee is kept at optimum temperature and brew strength at each step of the brewing process.
While you don't have the option to brew espresso in the Cafe Specialty, you can use your own coffee beans and grind it however you'd like. It also brews up to 10 cups of coffee at a time.
Grind your coffee the night before you're ready to brew for maximum convenience. Using the SmartHQ app, you can set the timer to brew your coffee right before you wake up.
FAQ
What is the best automatic coffee maker for home use?
There are a ton of automatic coffee makers on the market, but not all of them are "smart" coffee makers. Technically, all home coffee makers have some "automatic" function, meaning they brew the coffee for you by dispersing water. Smart coffee makers include wifi, Bluetooth, or voice activation capabilities.
How many times a day can you drink smart coffee?
Smart coffee isn't any different than regular coffee. There are health benefits to consuming moderate amounts of coffee, but there are also drawbacks to excessive caffeine use. Deciding how much coffee to drink is a personal choice based on personal health and how caffeine makes you feel. 
What should I know before buying a coffee machine?
You should know what kind of coffee you will drink the most. Do you prefer the flavor of pour-over to drip? Or, at the end of the day, do you just want a cappuccino?

Most coffee makers offer one specific brew method. So if you know you get sick of drip after one cup, you might want to look into an espresso machine. An automatic pour-over might be worth the investment if you like specialty coffee.