Many Americans' morning begins with a fast cup of joe from their local coffee chain. On average, we spend over $2 a day on our caffeine fix.
We all have the excuse that the fancy espressos and coffees we buy are way better than what we can brew at home. But the reality is delicious craft espresso and coffee drinks are way more accessible than you think.
Buying an espresso machine requires an initial investment. But when you're not getting your daily fix at a coffee shop, most will pay for themselves within a year.
Of course, with any investment, you'll want to make sure you're getting the most value for your money and the best device to fit your needs.
Together, we'll explore the 4 best espresso machines for home use by the reputed brand Breville. By the end, you'll know what's essential to consider when purchasing an espresso machine.
Plus, you'll understand the pros and cons of each and maybe even gain a more coffee knowledge than you began with.
Let's get started, and happy brewing!
This post includes affiliate links.
About Breville
Breville was founded in 1932 in Sydney, Australia. Their start was manufacturing radios and then mine detectors during World War II. Since then, they've become a well-known global brand specializing in kitchen appliances. Blenders, juicers, toasters, ovens, air-fryers, and more.
You name it, and Breville has probably found an innovative way to make it sleek and user-friendly. 
Our Top Breville Picks
| Product Image | Product Name | Primary Button |
| --- | --- | --- |
| | | |
| | | |
| | | |
| | | |
What To Expect
All Breville Espresso Makers come with at least a 1-Year Limited Product Warranty. This covers defects in the machine right from the box. If you receive your espresso maker and something is dented or broken, you can contact Breville for a replacement.
You can rest assured that what you order is ultimately what you'll get. However, you'll want to refer to the product-specific warranty for complete terms and conditions.
Breville is known for its innovative and sleek designs. You'll get the most bells and whistles possible in the smallest footprint. All while maintaining a high-end, luxe appearance.
All Breville coffee makers use high-quality stainless steel materials that perform well, last a long time, and clean easily. Plus, you'll have a variety of finishes to choose from, so you can coordinate this countertop mainstay to match your kitchen design.
What is the best Breville espresso machine?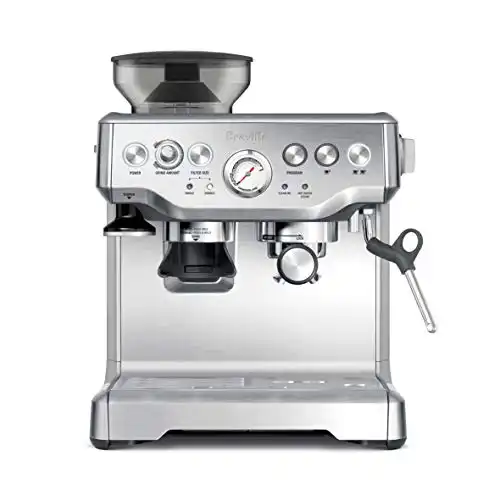 We earn a commission if you make a purchase, at no additional cost to you.
The Breville Barista Express is the best overall espresso machine for the at home barista. You can't beat its flexible blend of manual and automatic features to fit every coffee brewer's needs.
Even compared to other devices at the same price point, the Breville Barista Express has spectacular quality. You'll get consistent brews and all the features you can ask for.
Pressure Gauge for Manual Extraction
You'll achieve creamy and rich espresso perfection by being able to monitor and manually pull your shots. Never again will you have to force down burnt, bitter, over-extracted coffee when you have control over each and every cup.
Even if you're new to manual espresso brewing, the gauge on this system marks where the Espresso Range of pressure lands. This way, you can learn the feel of manual brewing while still producing delicious, quality coffee from your very first shot.
Auto Grind & Dose with Built-In Burr Grinder
When brewing an espresso with this machine, the option to auto grind and dose the portafilter is a convenient feature. No more messy coffee grinds spilling everywhere. There will be fewer coffee grounds wasted in transfer and even fewer variables to consider when groggy in the morning.
The best part is that this conical burr grinder has 16 different grind settings. So you can customize each cup or use the built-in grinder for other brewing methods from Pour Over to French Press.
Easy To Use Interface
Although you have the option of pulling your own shot, the interface makes the rest of the process seamless. There are buttons for volumetric shot control depending on if you want 1 or 2 shots or complete manual control.
You also get light-up indicators to differentiate between filter sizes. These are useful when controlling the hot water and steam wand or when you need to clean and descale the machine. In addition, each piece and attachment has clear instructions on the device, so you'll never forget how to brew your favorite espresso.
This intuitive interface makes learning how to manually brew espresso accessible for beginners.
Pros
15 bar Italian Pump
Thermocoil Stainless Steel Heating System
Integrated Steel Conical Burr Grinder w/ 16 Grind Settings
Manual Steam Wand
Cup Warmer on the top of the machine
Price includes all the accessories you need to start brewing
Cons
Not as many color and finish options as other machines
Manual brewing and milk texturing options require a learning curve for beginner brewers
Breville Barista Pro Espresso Machine
Innovative ThermoJet heating system achieves the optimum extraction temperature in 3 seconds

Achieve a consistent and balanced espresso using the right amount of ground coffee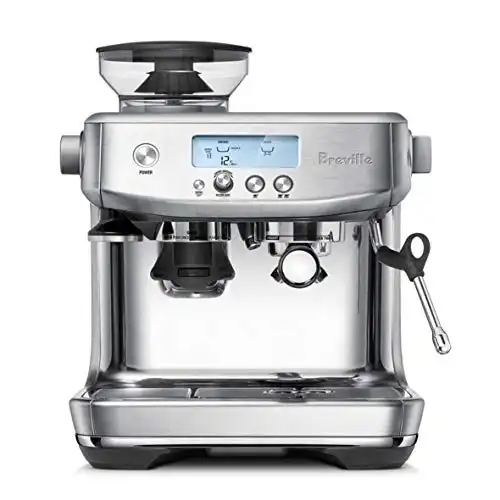 We earn a commission if you make a purchase, at no additional cost to you.
The Breville Barista Pro is the best upgrade option when you're looking to purchase an espresso machine for home brewing. It takes all the great qualities found in our best overall pick and builds upon them for even easier use and faster brewing capabilities.
LCD User Interface
Featuring an LCD display, this machine is a bit more high-tech than the standard or traditional manual espresso machine. The buttons on the device control and program the information displayed on the screen. 
This screen is sleeker and easier to navigate than a completely manual water pressure gauge. Pre-programmable options and intuitive controls give this machine an upgraded edge. 
Auto Grind & Dose with Built-In Burr Grinder
This machine has a built-in burr steel conical burr grinder that can auto grind and dose the grounds directly into the portafilter. This eliminates variables for more automatic and low-effort brewing.
However, this built-in grinder also has 30 different grind settings. So not only can you use this grinder for the perfect espresso, but you have a wide range of options to use with other brewing methods. Or you have the option to customize your ideal cup of coffee entirely.
ThermoJet Heating System
The ThermoJet Heating System uses PID temperature control technology to accurately and consistently heat the water in as little as 3 seconds.
This is an excellent feature for brewing multiple coffees back to back. You won't have to wait very long for the water temperature to regulate before you can pull another shot. By the time you grind and tamp the beans, the machine will be ready to go.
Pros
15 bar Italian Pump
LCD Screen & Button Control
Easily Customizable Settings
Integrated Steel Conical Burr Grinder w/ 30 Grind Settings
ThermoJet Heating System
Cup Warmer on the top of the machine
Includes all the accessories you need to get started brewing right from the box
Cons
Heftier price tag than other comparable Breville machines
The LCD screen may deter some old-school users
Largest footprint of all devices compared (13.9″ x 13.5″ x 16″)
Breville Barista Touch Espresso Machine
Digital Temperature Control (PID) delivers water at precisely the right temperature

Innovative grinding cradle allows any at home Barista to grind directly into the espresso portafilter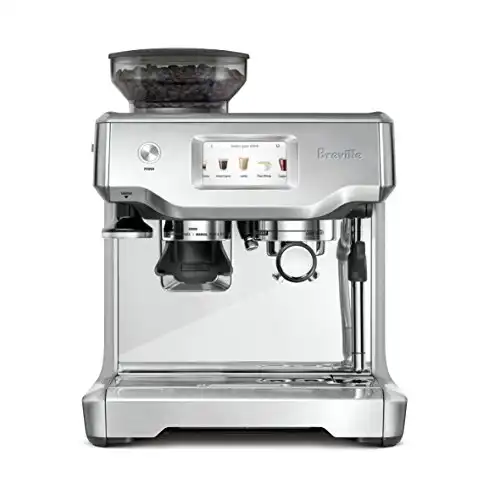 We earn a commission if you make a purchase, at no additional cost to you.
The Breville Barista Touch is the best pick for super-automatic brewing. It's the highest tech option on the list, with the capabilities of brewing an entire coffee shop menu's worth of espresso drinks.
So skip the line and morning rush by brewing whatever craft coffee you're craving with the touch of your finger.
Touchscreen With Programmable Personalized Coffees
Who wouldn't want consistent, perfectly brewed espresso at their fingertips? This machine has an intuitive, effortless touch screen interface. There are already 5 pre-programmed café drinks, including a latte, flat white, and cappuccino. 
You'll also have the option to create, save, and name 8 customized coffees. So you can have your personalized favorite espresso drink literally at the touch of your finger.
Milk temperature is also customizable and programmable, or you can manually froth it yourself.
Auto Grind & Dose with Built-In Burr Grinder
Similar to the first two Breville espresso machines we've covered, this one also has a built-in burr grinder.
The burrs on this Breville coffee machine were upgraded to hardened precision conical burrs. They're made of hardened steel for even more longevity, grind consistency, and precision. 
With 30 different grind settings, you can really control this variable when brewing espresso. Or, you can use the device to grind beans for other brewing methods.
ThermoJet Heating System
The ThermoJet Heating System is Breville's unique thermocoil system. With PID Temperature Control, the machine can heat water to the ideal brewing temperature in as little as 3 seconds.
You can brew cup after cup of espresso with only an incremental wait time between brews.
Pros
15 bar Italian Pump
Touchscreen Interface
Easily Customizable Settings
Integrated Hardened Precision Steel Conical Burr Grinder w/ 30 Grind Settings
ThermoJet Heating System
Auto and manual steam wand for silky microfoam
Cup Warmer on the top of the machine
Includes all necessary accessories to start brewing
Cons
Biggest splurge machine on this list
Some reviewers have experienced the spent coffee puck sticking to the group head instead of remaining in the portafilter for easy disposal.
Breville Bambino Plus Espresso Machine
Low pressure pre-infusion gradually increases pressure at the start and helps ensure all the flavors are drawn out evenly

One of the most compact machines with a width of 7.7 inches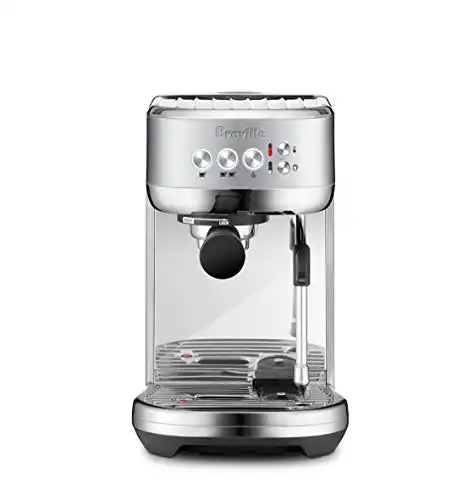 We earn a commission if you make a purchase, at no additional cost to you.
The Breville Bambino Plus is the smallest machine on our list. It might be compact, but it's mighty powerful. You'll still enjoy the same 15 bars of pressure from even the high-end Breville espresso machines, a steam wand, and semi-automatic controls. You'll need a separate coffee grinder, though.
Simplistic Interface
This machine couldn't be simpler to use. There are buttons for volumetric shot control, so you'll pick whether you're brewing a single or double shot or steaming milk.
There aren't any pre-programmed or saveable customized options, but sometimes less is more. You can brew consistently delectable espresso without all the fuss.
Compact Footprint
This machine is highly compact, especially considering it includes a steamer wand.
The dimensions of this machine are (7.7″ x 12.6″ x 12.2″) and it's only about 3 pounds. So if you need a powerful machine that you can pack away and store in a pantry, this is the one.
ThermoJet Heating System
This small machine also includes Breville's ThermoJet Heating System. With only 3 seconds needed between brews, you can share espresso with a group without needing to allot space for a considerable setup.
Pros
Ultra-Compact Footprint
15 bar Italian Pump
ThermoJet Heating System
Manual or Hands-Free Automatic Steam Wand
Cup Warmer on the top of the machine
All necessary accessories included
Cons
No built-in grinder
64 fl. oz capacity
What To Look For
Manual vs. Automatic vs. Semi-Automatic
Manual
If you're an espresso aficionado or experienced barista, you'll probably want to consider a manual machine. To operate these machines, precision and focus are key. The payoff is complete control when brewing your espresso.
Manual machines are the most hands-on you can get. You'll grind the beans, tamp them, operate the piston lever to generate pressure, and pull the shot yourself. Beginners will need practice, trial, and error to nail this process.
Automatic
Fully automatic machines will allow you to brew espresso at the touch of a button—literally. Some devices require you to grind and tamp your beans, but others do all the work for you.
You'll trade off ease of use and convenience for control. You'll be limited in what you can customize with fully automatic machines. But an effortless and delicious espresso to rival your local coffee shop might be worth it.
This is a great option for beginners or those who don't want to spend much time learning how to brew delicious coffee. This way, you can spend more time actually drinking that cup of joe.
Semi-Automatic
Semi-Automatic machines marry the pros of both manual and fully automatic machines. You'll get the best of both worlds with control and convenience.
Often with these machines, you'll grind the beans yourself, tamp them, and decide when to stop pulling the shot. The device will handle the pressure aspect of espresso brewing. You can customize the extraction and make all kinds of craft espresso drinks.
Semi-Automatic machines are great for coffee enthusiasts and experienced brewers alike. Overall, these machines fit most brewer's needs and wants without breaking the bank.
Built-in Grinder
One way or another, the coffee beans have to be ground to begin the brewing process. It's no secret that freshly ground coffee beans produce the freshest, most flavorful cup. So when choosing an espresso machine, it's essential to consider how you'll handle this part of the brewing process.
If you have the space and don't mind multiple devices on the countertop, you can have a separate dedicated bean grinder.
But for some people, it's worth it to splurge on a machine that includes a built-in grinder. These machines will save space and make it easy and convenient to brew a fresh cup of espresso.
The grinder will already be compatible with the machine it's attached to, meaning you won't have to worry about nailing the grind size. However, if you enjoy cycling between brewing methods, the built-in espresso grinder may not produce the large grind you need for something like a French Press.
Thermocoil vs. Boiler
The two most common methods for heating espresso machines are via thermocoils or a boiler system.
Thermocoils are a single unit comprising a heating element embedded in a metal body. A water pipe runs alongside the internal heating element, which heats the water during the brewing process. The metal body of thermocoils are often made of aluminum, but the internal pipes can be made of copper or stainless steel.
Boilers come in single-boiler or double-boiler variations. The difference between the two is whether the same mechanism heats the water for espresso and steam for a steam wand. Otherwise, they'll each have a dedicated boiler. These boilers can be made from many materials, often copper or stainless steel.
Thermocoils will have worse temperature control than a double-boiler system. But they'll have more control when compared to a single-boiler system. However, boilers have a longer lifespan than thermocoils since the coils are more susceptible to scale buildup.
Thermocoils can heat up faster than a boiler and are usually less expensive. Still, boilers are generally regarded as the best heating method. Traditional brewers tout their consistent temperatures and unmatched flavor.
So Which One Should You Buy?
Foremost, you'll need to decide how much effort you're willing to expend to brew a cup of coffee in the morning. Then, evaluate how important control is to you when brewing espresso. This trade-off will determine how manual or automatic your ideal machine will be.
Then, figure out whether you'll only be brewing espresso or if you'd like the option to vary your brewing methods. This will help you determine whether or not you're better off with a built-in grinder or a separate dedicated grinder.
It can be challenging to find budget-friendly, quality grinders capable of a consistent espresso grind. More often than not, it's best to go with the built-in option and then pick up a separate grinder for other coffees.
The heating method will come into play in your decision, but it'll mostly come down to your budget. Boiler systems will be more expensive than thermocoil systems, but both will get you to the end goal of a steaming, mouth-watering cup of espresso.
FAQs
How long do Breville espresso machines last?
Breville is known for its durability and high quality. They're purposefully built to last a long time without much maintenance. On average, your Breville machine will last between 5-10 years. As you upgrade to higher-quality materials like a copper boiler, or a larger water reservoir, the longevity of your machine will extend.
Plus, keeping it clean and rotating the water will work to extend the lifespan of your investment.
Where are Breville espresso machines made?
Breville's main designing and engineering process is housed in Melbourne and Sydney, Australia. However, they do outsource some manufacturing operations to other countries like the US, China, and Austria.
Looking for more expert espresso reviews? Head here:
Free Coffee Art Printables
Don't forget to get on the list before you go! You'll get 3 free coffee art printables delivered when you sign up and weekly coffee tips and tricks, product reviews!