You can't beat a cup of coffee made with freshly ground coffee. The taste and aroma are unmatched.
However, no one wants their kitchen counters cluttered with a bunch of coffee-making devices. That's where a Grind and Brew Coffee Maker can change the game.
At bitofcream.com, we've covered everything from the greatest Manual Coffee Grinders to the best Dual Coffee Makers, Percolators, and Espresso Machines.
But now it's time to further our quest for the best cup of morning brew and look at the ultimate Grind and Brew Coffee Makers on the market.
An excellent Grind and Brew Coffee Maker will give you even, consistent grounds. Plus, the grounds will be perfectly compatible with the machine. This way, every cup will be as fresh, aromatic, and delicious as possible.
In this article, we'll present our top 5 picks for the best Grind and Brew Coffee Makers. You'll learn what differentiates each option and how to find the best one for your coffee brewing routine and needs.
Our Top Picks
| Product Image | Product Name | Primary Button |
| --- | --- | --- |
| | | |
| | | |
| | | |
| | | |
| | | |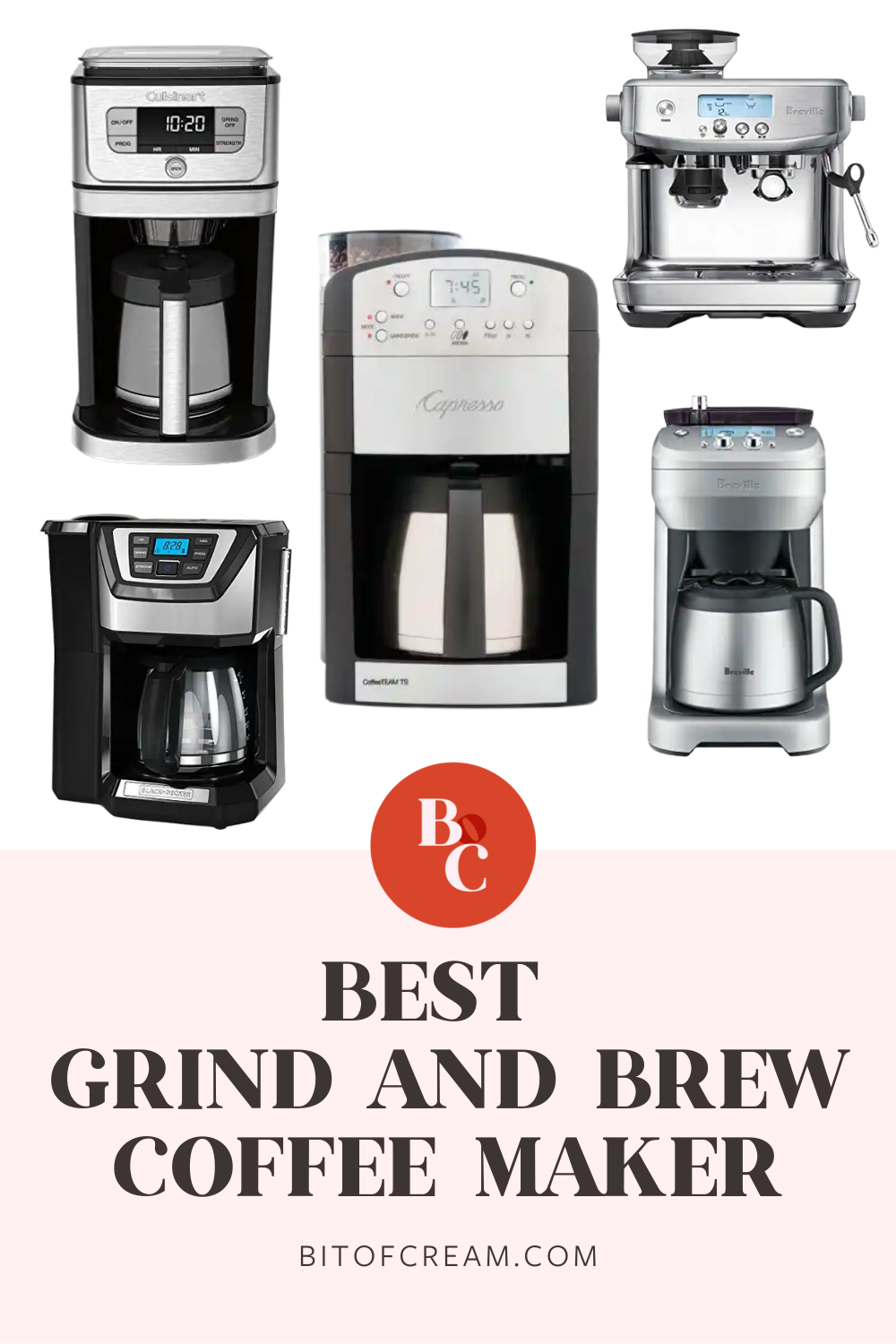 This post includes affiliate links.
Cuisinart Burr Grind & Brew
Professional-style burr grinder for uniform consistency
Half-pound bean hopper with sealed lid - keeps beans fresh
Flavor strength options – regular, bold or extra-bold
We earn a commission if you make a purchase, at no additional cost to you.
The Cuisinart Burr Grind & Brew has the best value for quality out of the machines compared in this list. This isn't the cheapest device. But, when you consider the reliability, functions, and size of both the hopper and carafe, this is a Grind and Burr option that can't be ignored.
Options, Options, and More Options!
There's so much customizability with this machine. For example, you can determine the strength for each cup, whether you prefer regular, bold, or extra-bold coffee. In addition, you can program the Cuisinart Burr Grind & Brew to make anywhere between 4 – 12 cups of coffee.
Plus, if you have pre-ground coffee on hand, you can use the Grind-Off feature to brew it to perfection.
DirectFlow & AutoRinse Features
The DirectFlow grind capability allows the freshly ground coffee to dispense directly into the brew basket. This way, you can go directly from grind to brew without any more steps or buttons.
Plus, the AutoRinse filter uses a small burst of water to push any and all leftover grinds from the chute to the brew basket. This keeps the entire coffee-making process from grind to cleanup effortless.
Brew PauseTM Functionality
With Cuisinart's Brew PauseTM functionality, you can pause the flow of coffee mid-brew to fill a mug before the whole pot has finished.
No more of the agonizing wait as irresistible coffee aromas waft around the kitchen and your mouth drools. Now, you won't have to wait for 12 cups to brew before you can enjoy your first sip.
Pros
12-Cup Glass Carafe w/ Knuckle Guard to prevent burns
Conical Burr Grinder
½ lb bean Hopper with Sealed Lid
Programmable Auto-Brewing
Self Clean and Auto Shut-Off
GoldTone Permanent Filter
Charcoal Water Filter
Limited 3-Year Warranty
Cons
The hot plate is necessary to keep the coffee warm
Some reviewers experienced leakage between the dispenser and the carafe
Breville Grind Control Coffee Maker
Adjust the grinder output to suit any bean from anywhere and customize the grind size to suit your taste

Brew your coffee directly into a large carafe, tall cup or travel mug

A clear and concise LCD screen shows grind setting, grind time and number of shots or cups you have selected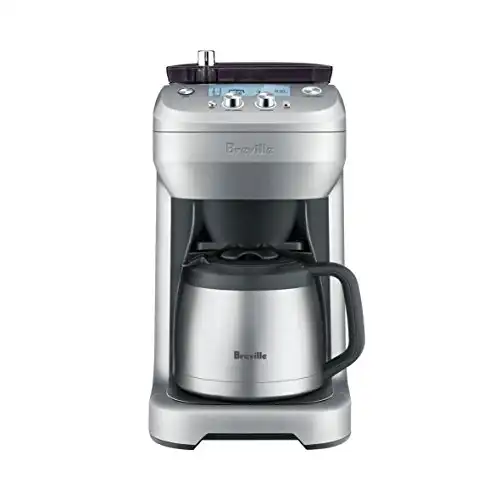 We earn a commission if you make a purchase, at no additional cost to you.
The Breville Grind Control is the best overall Grind and Brew coffee maker. It blends sleek, high-quality, and innovative design with the ability to produce fresh and aromatic coffee. There's no compromise here. The machine does everything you could ask for, all with a compact, pleasing finish.
Ultimate Grind Control
The stainless steel conical burr grinder encased in this machine has 6 distinct settings. Fine-tune each brew's grind size and coffee volume with the adjustable grinder and calibration function.
Steep and Release Technology
You can decide precisely how much coffee you'd like to brew, whether that means a 12-cup carafe, travel mug, or a single cup. No matter how much coffee you're brewing, each drop will be balanced and flavorful.
No one wants a muddy cup of over or under-extracted coffee. Fortunately, this Breville Grind Control prevents this by steeping (or blooming) the beans before allowing the brew to flow into the waiting vessel.
User-Friendly LCD Display
The clear and concise LCD screen allows you to navigate between and choose the grind setting, grind time, and the number of cups you've selected.
An intuitive, user-friendly interface is essential. This is especially true when you're half-asleep and trying to brew a morning cup. There aren't too many buttons or small print functions cluttering this machine. It mainly uses dials that you'll turn to adjust the strength, grind size, and amount brewed. It's sleek, easy to use, and makes the brewing process enjoyable, even before you've had that first sip of caffeine.
Pros
Stainless Steel Conical Burrs
½ lb Coffee Bean Hopper Capacity
Programmable Auto Start
12-cup Thermal Carafe
1-Year Limited Product Warranty
Cons
The hopper isn't removable, so cleaning can be a hassle
Requires frequent cleaning of the grinder and chute
BLACK+DECKER 12-Cup Mill and Brew Coffeemaker
Brew you favorite cup, the grinder quickly prepares whole beans

Easily program the 24-hour auto brew feature so you can wake up to a fresh pot of coffee

Use the brew strength selector for coffee that fits your taste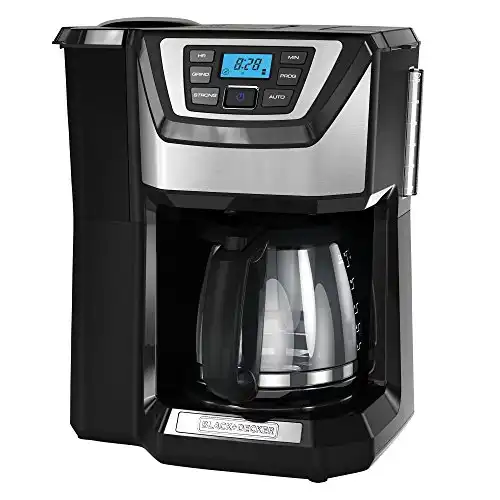 We earn a commission if you make a purchase, at no additional cost to you.
The Black+Decker Mill And Brew is the most economical option we're reviewing today. It's an excellent option for those just entering the coffee-brewing world and trying to find a routine that suits their preferences.
This machine isn't limited in functionality and is a great introduction to the Grind and Brew method.
QuickTouch Programming
This machine's interface has a large, bold font and doesn't require any tech-savviness to navigate. In addition, all of the brewing options have their own clearly labeled buttons.
So, customizing the grind, brew strength, time settings, and auto-brew features is simple and intuitive.
Small Brew Options and Sneak-a-cup Technology
The Black + Decker Mill and Brew gives you the option to brew smaller amounts of coffee than the full 12 oz carafe. Even better, you can pause the machine to sneak a freshly brewed cup from the carafe before finishing the cycle.
Easy to Clean
You can remove the machine's all-in-one grinder and permanent filter without much fuss. This makes cleanup a breeze.
Plus, the removable brew basket and glass carafe are top-rack dishwasher safe, so coffee brewing can be enjoyable and not a chore.
Pros
Programmable Auto-Brew
Whole or Ground Bean Compatibility
12-Cup Carafe Capacity
Auto Shut Off
2-Year Limited Warranty
Permanent Filter Compatible
Cons
Blade Grinder isn't as consistent as a burr grinder
Glass carafe and hot plate design
Capresso 465 CoffeeTeam TS
Grinds fresh, whole beans right before brewing for freshest flavor

Integrated conical burr grinder with direct-feed technology

Compact space saving design
We earn a commission if you make a purchase, at no additional cost to you.
The Capresso 465 CoffeeTeam TS takes all the great functionality of the Black + Decker Grind and Brew Coffee Maker and elevates it. This is a great upgrade option for those willing to sink a little more time, money, and interest into their morning brew.
Five Grind Settings
This machine includes 5 grind settings so you can customize each brew to the type of bean you're using. For example, darker, more oily beans will use a coarser setting when brewing coffee, while lighter roasts can use a finer grind.
GoldTone Filter Compatible
The GoldTone filter is dishwasher safe and eliminates the need for paper filters. So not only is this an environmentally friendly option, but it's also an economical one.
Plus, you'll never have to run to the corner store, half awake in your slippers, to pick up more coffee filters at the crack of dawn.
Easy To Clean
A detachable see-through cover on the top of the machine allows you to check the flow of ground coffee. This makes it extremely easy to spot clogs or clean the grinder channel between uses.
The easier a machine is to clean, the more likely you'll be to clean it. And there's no denying that the key to a perfectly brewed cup of coffee is a well-maintained machine.
Pros
Programmable Auto-Brew Capabilities
Conical Burr Grinder
Thermal Carafe eliminates the need for a hot plate
Charcoal Water Filter to remove chlorine and other water impurities
Drip stop for sneaking a cup during brewing
Auto-shut off for safety and energy conservation
Cons
10 oz carafe is 2 oz smaller than the average
6 oz hopper capacity is about 2 oz smaller than the average
Breville Barista Pro Espresso Machine
Innovative ThermoJet heating system achieves the optimum extraction temperature in 3 seconds

Achieve a consistent and balanced espresso using the right amount of ground coffee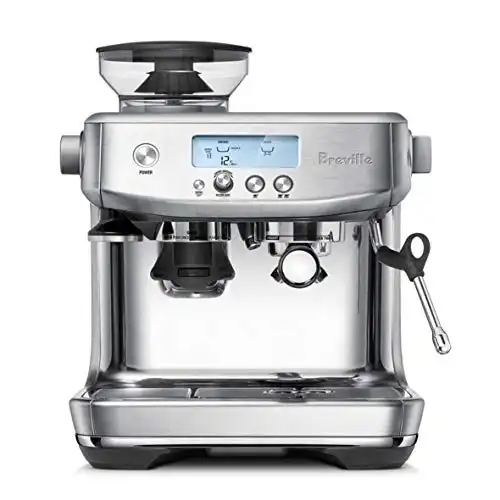 We earn a commission if you make a purchase, at no additional cost to you.
Don't let the sticker shock get to you! The Breville Barista Pro is a professional quality espresso machine made for the home brewer. Not only does it brew exceptional espresso, but it has a built-in grinder that'll auto-dose the portafilter. It doesn't get any easier than that!
Intuitive LCD Interface
The LCD screen paired with only a few key buttons make the operation of this machine effortless. This machine may contain a bunch of bells and whistles, but that doesn't mean it has to be challenging to learn or use.
There's volumetric shot control displayed on the screen to make pulling shots simple, even for beginners. Or, more experienced baristas can enjoy the process of pulling manual shots.
ThermoJet Heating System
Breville's ThermoJet Heating System uses thermocoils and PID temperature control to heat water to exactly 200°F in only 3 seconds.
This means you can enjoy balanced, perfectly extracted espresso in no time. Plus, back-to-back brewing shots is a breeze.
Steam Wand for Milk Texturing
No latte, cortado, or mocha is complete without velvety, silky steamed milk. The Breville Barista Pro includes an integrated and powerful steam wand. The wand can reach 266°F in about 3 seconds. You can achieve professional, perfectly textured microfoam in an instant.
Pros
Professional level espresso shots
Auto Grind and Dose Functions
30 Precision Grind Settings
Steel Conical Burr Grinder
½ lb Bean Hopper Capacity
67 oz Water Tank Capacity
2-Year Limited Product Warranty
Cons
Professional quality machine means a significant investment upfront
Limited to espresso drinks
What To Look For In A Grind And Brew Coffee Maker
Grinder Type
There are tons of grinders on the market, all with their own way of processing coffee beans. Most often, you'll see flat or conical burr grinders and, in some cases, blade grinders.
Burr grinders are better for coffee brewing since they crush the beans instead of shaving them. This results in more consistent grinds that will extract evenly to create a clean cup. They're more durable and offer more control when grinding as well.
Flat burr grinders hold the beans symmetrically as they grind, making excellent fine espresso grinds. Conical burr grinders are the industry standard, for the most part, and make decent but less consistent grounds.
Blade grinders are faster and more affordable, but the consistency is best reserved for spices, not coffee. For this reason, you're usually better off purchasing a conical Grind and Brew Coffee Maker than using a blade grinder and separate brewer.
Grind Settings
The more grind settings your machine has, the more control and customizability you'll have with each cup of coffee.
For example, finer ground coffee is great for bolder, more intense, full-bodied brews like espresso. On the other hand, a coarse grind will make delicious French Press or Cold Brew.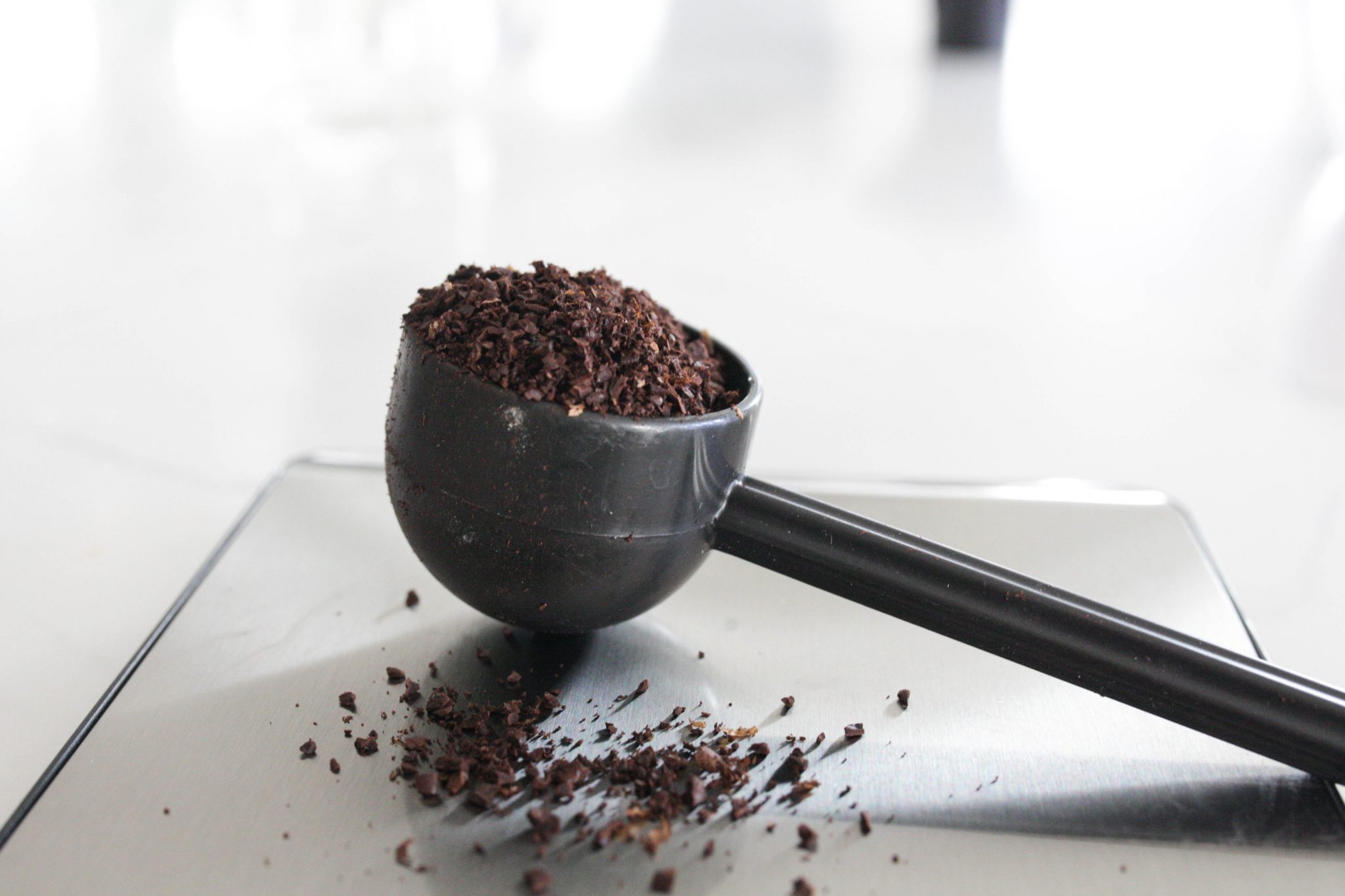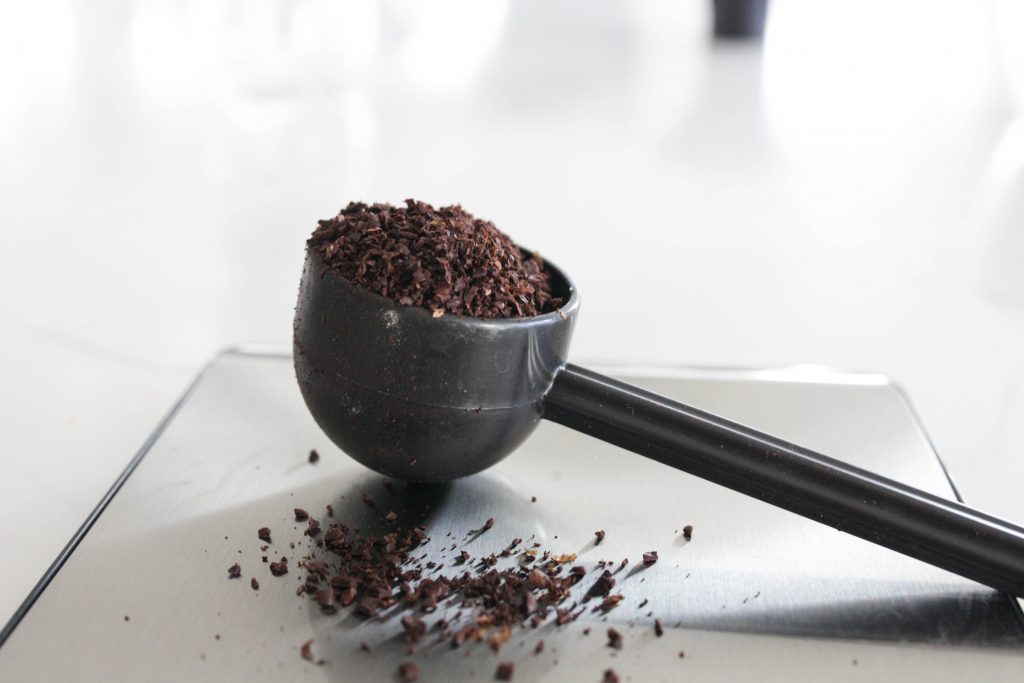 More settings mean you can use that same grinder for coffee brewing outside of the machine it's attached to. Plus, you'll be able to tweak and fine-tune your coffee routine to discover your favorite brewing combination.
Hopper Capacity
The hopper capacity dictates how many beans your machine can store, so you aren't constantly refilling the grinder. Part of the magic of a Grind and Brew machine is convenience. You're getting freshness, flavor, and aroma without compromising on pre-ground beans or multiple devices.
The more airtight the hopper, the longer the beans will stay fresh. Sealed, airtight, and UV-coated hoppers work to maintain the quality of your beans. You're better off storing your beans in an opaque, airtight container than in a cheaply-made hopper.
Grind and Brew machines incorporate many mechanical parts and are too heavy and bulky to turn upside down to pour old beans from the hopper. You'll want to only put enough beans in the hopper that you'll use up before they stale. And a hopper that's removable for easy cleanup is a big bonus.
Carafe Type & Size
You should choose a machine with a brewing capacity that fits your lifestyle. For example, if you're the only coffee drinker in the house and you'll only ever brew one cup at a time, then you won't mind a per-cup brew.
But if you live in a house full of coffee drinkers or like to entertain, you'll want a machine with a larger carafe. This way, you have the option to brew multiple cups of coffee at once.
Not only should you consider the size of the carafe, but also the type. The standard carafe is glass, but thermal carafes are also available to keep your freshly brewed coffee hot for longer.
So Which One Should You Buy?
The best overall Grind and Brew Coffee Maker is the Breville Grind Control. It's the one I would purchase if I were in the market for a new machine. It checks every box for a quality, functional, everyday coffee brewer and then some. Admittedly, it is a bit of a splurge, but the design is worth the money.
Otherwise, the Cuisinart Burr Grind & Brew is best if you're looking for a reliable, affordable machine with less bells and whistles. It's a straightforward grind and brew device that you'll be able to use for years to come.
Finally, for espresso brewing, you can't beat the Breville Barista Pro Espresso Machine. Undeniably, it's an investment.
This machine will serve the passionate coffee enthusiast well as they learn to brew authentic, delicious espresso at home. It's a professional quality machine made for the home brewer.
FAQs
Is It Better To Have A Coffee Grinder Built In Or Separate?
There are pros and cons to both options. Having a built-in grinder is a space saver since you don't need an additional machine. It's also convenient to have a single button that can grind and then dose the filter. 

On the other hand, if the grinder breaks, the whole machine is out of commission until you can get it fixed. So you might need to go without the entire machine while the grinder is repaired or replaced. 
Is It Better To Grind Your Own Beans Or Buy Them Ground?
It's always best to grind your own beans right before brewing. As soon as the beans are roasted, they are at their peak flavor and freshness. From then on, they will gradually stale and lose both flavor and aroma. In addition, grinding the beans creates more surface area for air to oxidize and stale the coffee.
Free Coffee Art Printables
Don't forget to get on the list before you go! You'll get 3 free coffee art printables delivered when you sign up and weekly coffee tips and tricks, product reviews!