If you are a coffee drinker, you know how important it is to grind your coffee beans right before you plan to brew your coffee. Doing this is the only way to get the full flavor and aroma out of your coffee beans.
Many people use an electric grinder to grind their coffee beans. However, when you're on the go, or you want full control of the grind, a manual coffee grinder may be the best option for you.
Manual coffee grinders are very simple machines. They're usually small, so you can easily hold the grinder in one hand and crank it with the other.
Manual grinders consist of the hopper, which is the area that stores the beans. Then the burrs grind the coffee, and a collection bin at the bottom collects your grinds.
Manual coffee grinders are durable and perform well to allow you to grind to make your desired type of coffee.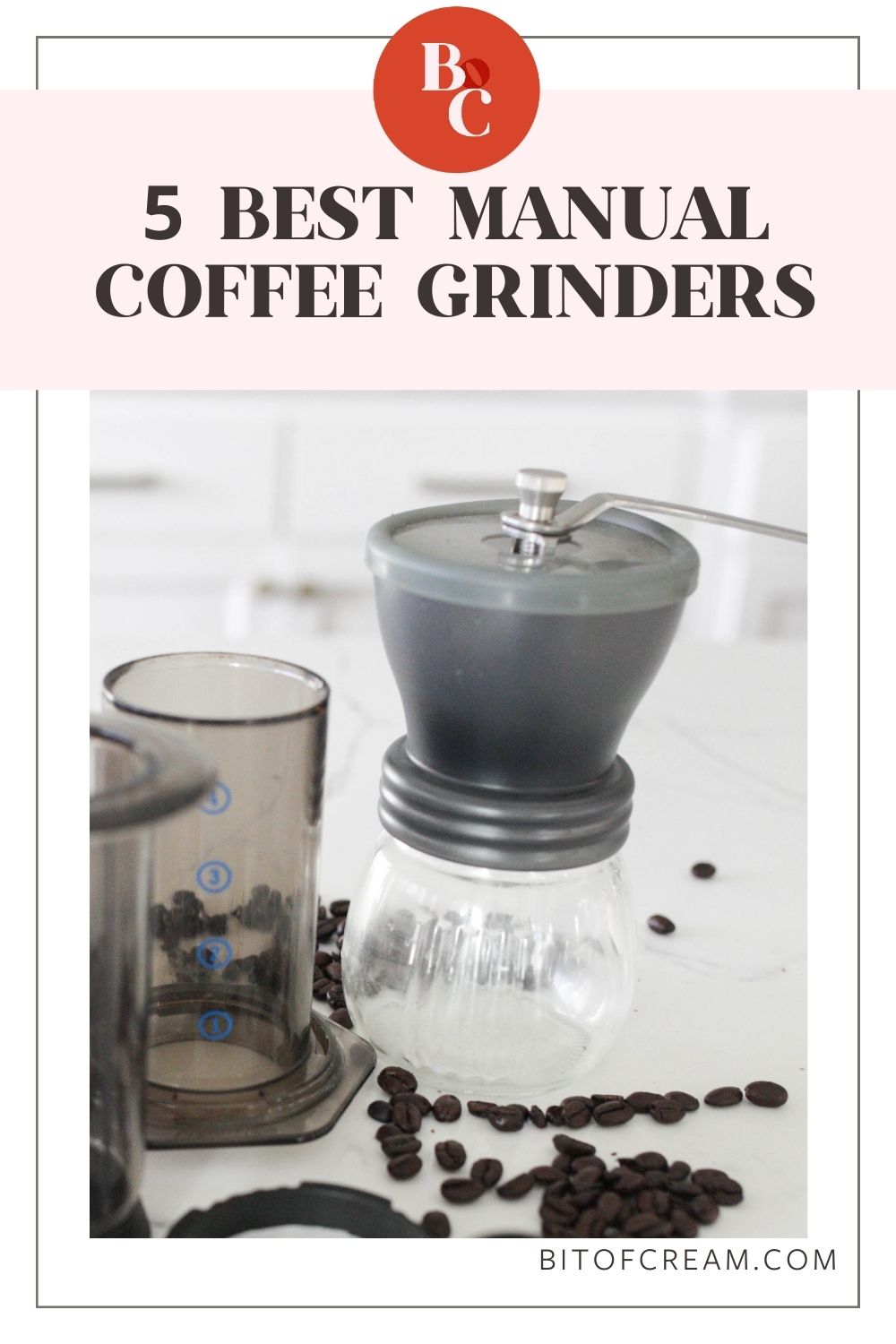 This post includes affiliate links.
Are Manual Coffee Grinders Any Good?
The short answer: Yes! They are great to use. You must take the time to research and invest in the right manual coffee grinder to ensure it's worth your time.
**But that's what we're for! We've done the research so just keep reading. 😉
Manual Coffee Grinders are better at making a consistent fine coffee grind, and are fantastic if you are in a situation with no electricity. Finding a valuable, high-quality coffee grinder is essential but be warned – it may cost you a pretty penny.
Why are Manual Coffee Grinders So Expensive?
Many avid coffee drinkers say that the grinder is the most essential part of making coffee, not the coffee maker. This holds true because it can completely control the taste and outcome of your coffee.
If your beans are not appropriately ground, it could result in a lousy cup of coffee. However, some of the best coffee grinders can be very expensive because of the high quality of parts and design.
That doesn't mean that you can't find a coffee grinder that performs well with an affordable price tag. If you're looking for more control and to get a better taste out of your coffee, a manual coffee grinder is something you should invest in, regardless of the price.
How Do I Choose a Manual Coffee Grinder?
If you're ready to buy a manual coffee grinder for yourself, you want to look at certain benefits and factors of each manual coffee grinder to ensure you're making the best decision. Consider the following factors before purchasing a manual coffee grinder.
Transportable
Manual coffee grinders are the perfect traveling companion. Besides travel purposes, you want to make sure your grinder will fit with the size of your current household. When searching for a Manual Coffee grinder, ensure that you're looking for something portable and small.
Handle Length
The length of the handle can make or break your experience with a hand grinder. If you purchase a manual coffee grinder that has too short of a handle, you're going to spend a lot of unnecessary extra effort and energy into grinding your beans.
Grind Settings
You want to choose a grinder that lets you switch back and forth between different coffee types, such as going from an aero press to a French press. Machines that have click settings, so you can count and remember your favorite settings, will make your grinding more consistent.
Bearings
You want your manual coffee grinder to include bearings. Bearings will help make grinding your coffee easier and smoother. You won't have to exert extra energy if you have the proper bearings.
Maximum Capacity
It's essential to know just how much you can store and make with your manual coffee grinder. If you can only make enough for one cup, but you have a three-person household, it won't make sense to purchase that type of grinder.
Warranty
You want to know if the parts are replaceable for your manual coffee grinder. Checking the manufacturer's warranty is a great way to see if the grinder was created with expertise and care. A longer and less restrictive warranty will show you how much confidence the manufacturer has in their products.
Type of Grinder
You need to know what exactly you're looking for out of a grinder. Grinders usually only excel in one type of coffee, so it's essential to understand your coffee grinder goals before purchasing one.
Burrs
All manual coffee grinders either have steel or ceramic burrs. Steel is the better choice because it's faster, sharper, and more consistent than Ceramic. However, it is more expensive, so you may want to consider Ceramic if you're on a budget.
Budget
You can find a manual coffee grinder that will fit every budget. It's essential to start by setting a realistic budget and comparing market prices for other manual coffee grinders. You'll get what you pay for, so ensure that you're getting maximum quality out of your manual coffee grinder. It's no fun to spend money on something that doesn't work well for what you need.
How Long Does It Take to Grind Coffee?
This is a common question that most people want to know before purchasing a manual coffee grinder. It does take a fair amount of effort to grind by hand.
For a big cup of coffee, you'll need to grind for about a minute. Using a cheaper model, it can take about three minutes to grind three scoops of coffee. The finer you grind, the more you'll need to work before you reach your desired outcome.
If you're only looking to make espresso, consider looking into an electric coffee grinder if that sounds like too long of a process.
Best Manual Coffee Grinders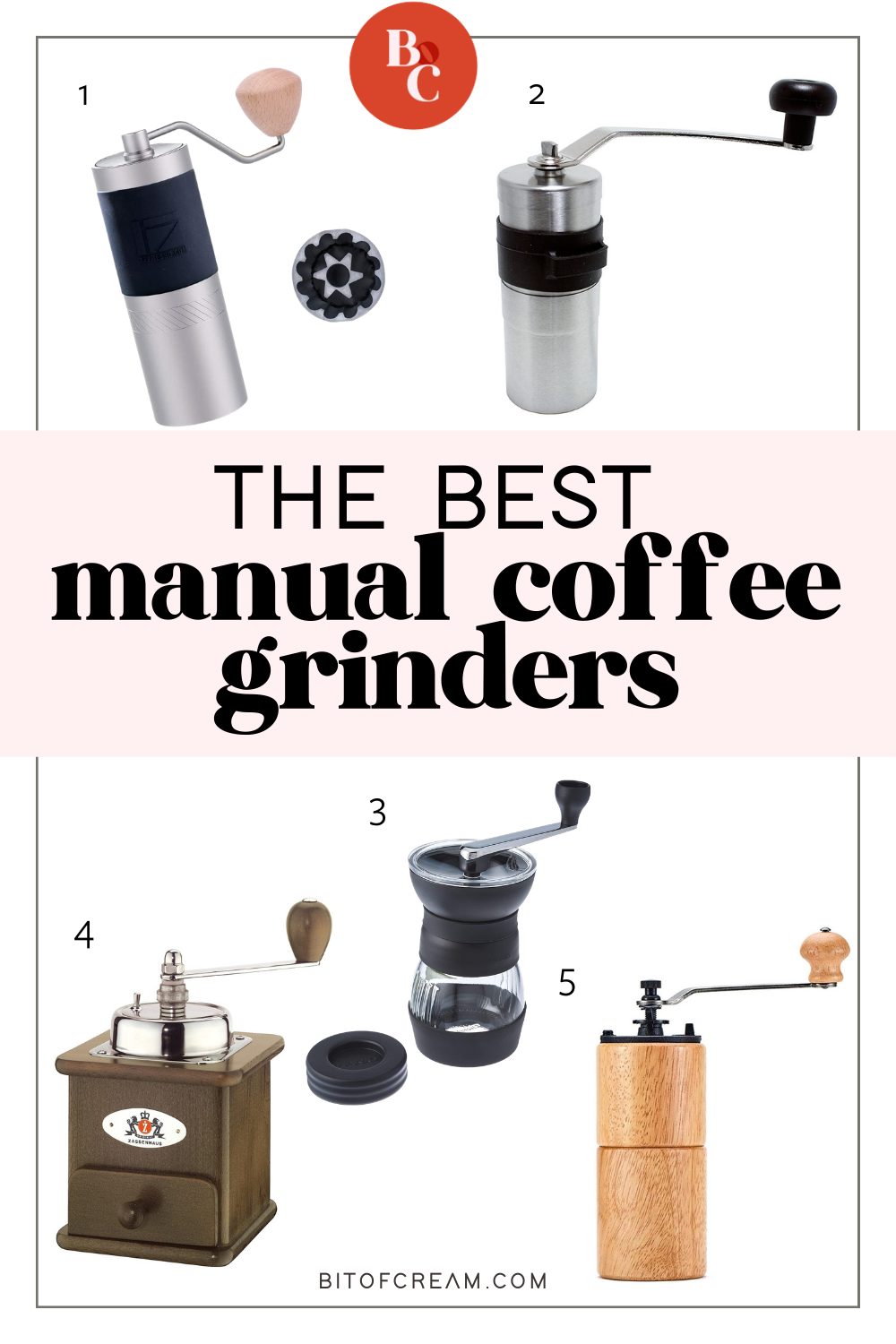 We earn a commission if you make a purchase, at no additional cost to you.
The JX Model from 1Zpresso is one of the best-rated coffee grinders on the market. It looks fantastic, is easy to use, and grinds at a professional level.
It's also really fast when you compare it to other models and gives you a lot of value for the price you pay. It's 48mm steel burs ensure that you'll get a better and faster grind. It can grind 25 grams in 30 seconds.
What's most impressive about this manual coffee grinder is that it has a lot of consistency and can be used for every coffee type. The only downside to this manual coffee grinder is that it is a bit on the bulkier side, so it's not as portable as other models.
We earn a commission if you make a purchase, at no additional cost to you.
The Prolex Mini Portable Hand grinder is one of the most popular travel manual coffee grinders you can find. You'll be able to make a perfect cup of coffee when you're on the go!. It's one of the tiniest grinders you can find on the manual coffee grinders market.
Created out of stainless steel, the Problem Mini is very indestructible. Prolex consists of ceramic burrs, so you can expect it to produce a consistent grind around the medium setting. The Prolex Mini is perfect for a pour-over but may not taste the best for a French Press.
Hario Skerton Pro Manual Grinder
This grinder can make a full range of grind sizes, whatever your preference

The Skerton Pro features a modern update on the classic design with sleek lines, and with easier-to-adjust burr settings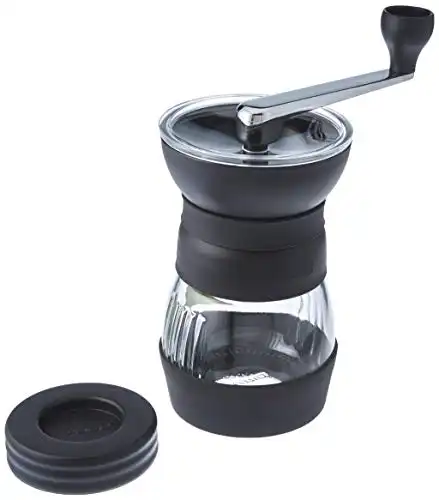 We earn a commission if you make a purchase, at no additional cost to you.
The Hario Skerton is a very well-known manual coffee grinder and it's the one that we own (and what we use when we use our aeropress)! It's perfect for slow coffee. The burrs on the Hario are very stable, which makes using the machine very simple.
It's easy to adjust your grind, as the Hario features settings based on different clicks. The grind settings make it easy to replicate grinds you like.
The Hario is a beautiful manual coffee grinder. However, it is constructed out of glass, which means it's more fragile than other manual coffee grinders made of plastic or steel.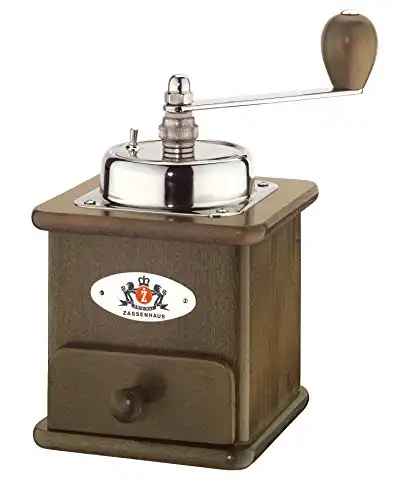 We earn a commission if you make a purchase, at no additional cost to you.
The Zassehaus is one of the most iconic manual coffee grinders you can purchase. This German-based company has been around for over 100 years. The Zassehaus is made from high-quality materials, and your purchase includes a 25-year guarantee.
If you're into vintage looking machines, this should be your pick. It's not great if you must travel because it is considerably bulky. However, the machine is versatile and can be used for every coffee type, even to make espresso.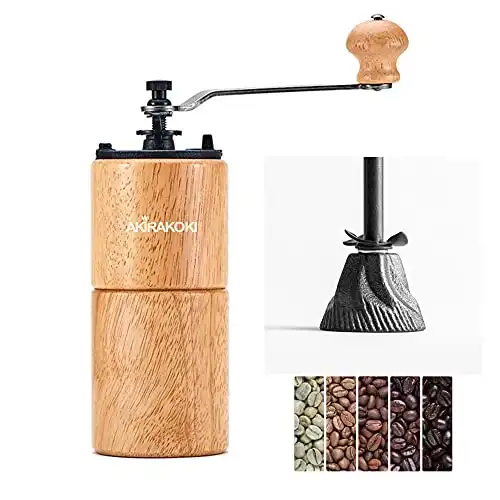 We earn a commission if you make a purchase, at no additional cost to you.
The budget-friendly Akirakoki is both beautiful and functional. It's made from solid wood, so you never have to worry about the frame cracking or rusting. This compact coffee grinder is perfect for traveling so you can make instant Americanos on the go..
The storage space is big enough to grind coffee for up to three friends. With the click adjustment system, you'll be able to find and keep your ideal grind settings.
How Do I Know Which Manual Coffee Grinder Is for Me?
When choosing which manual coffee grinder is best for you, it's essential to think about what you're looking for out of a manual coffee grinder.
Do you care about quality and design? Or is budget and flexibility more important to you? Think about how you'll use your manual coffee grinder.
Will it be something you will primarily operate at home? Or do you plan on traveling and need something lightweight and portable?
Having an idea of what you need the manual coffee grinder to do for you can help ensure that you're making the best choice before you purchase.
Here's more coffee fun!