Coffee aficionados and regular coffee drinkers can all agree on one thing. Pour over coffees make some super delicious coffee. If you love the pour over but want a quicker way to make more than just one or two cups of coffee, it may be time for an automatic pour-over brewer! Today we're going to talk about the best automatic pour over coffee makers.
If you're upgrading from a traditional drip machine to an automatic pour over coffee maker, you should know that not all options are created equally.
Since you'd generally expect to pay $200-400, it's worth knowing what to look for. Brew capacity, heat retention, warranty length, and style are all factors worth considering.
I've been a pro barista for more than a decade, and have gotten hands-on experience with a ton of different options.
In this article, I'll share a few of the best automatic pour over coffee makers. More importantly, I'll explain what to look for when picking one for your kitchen!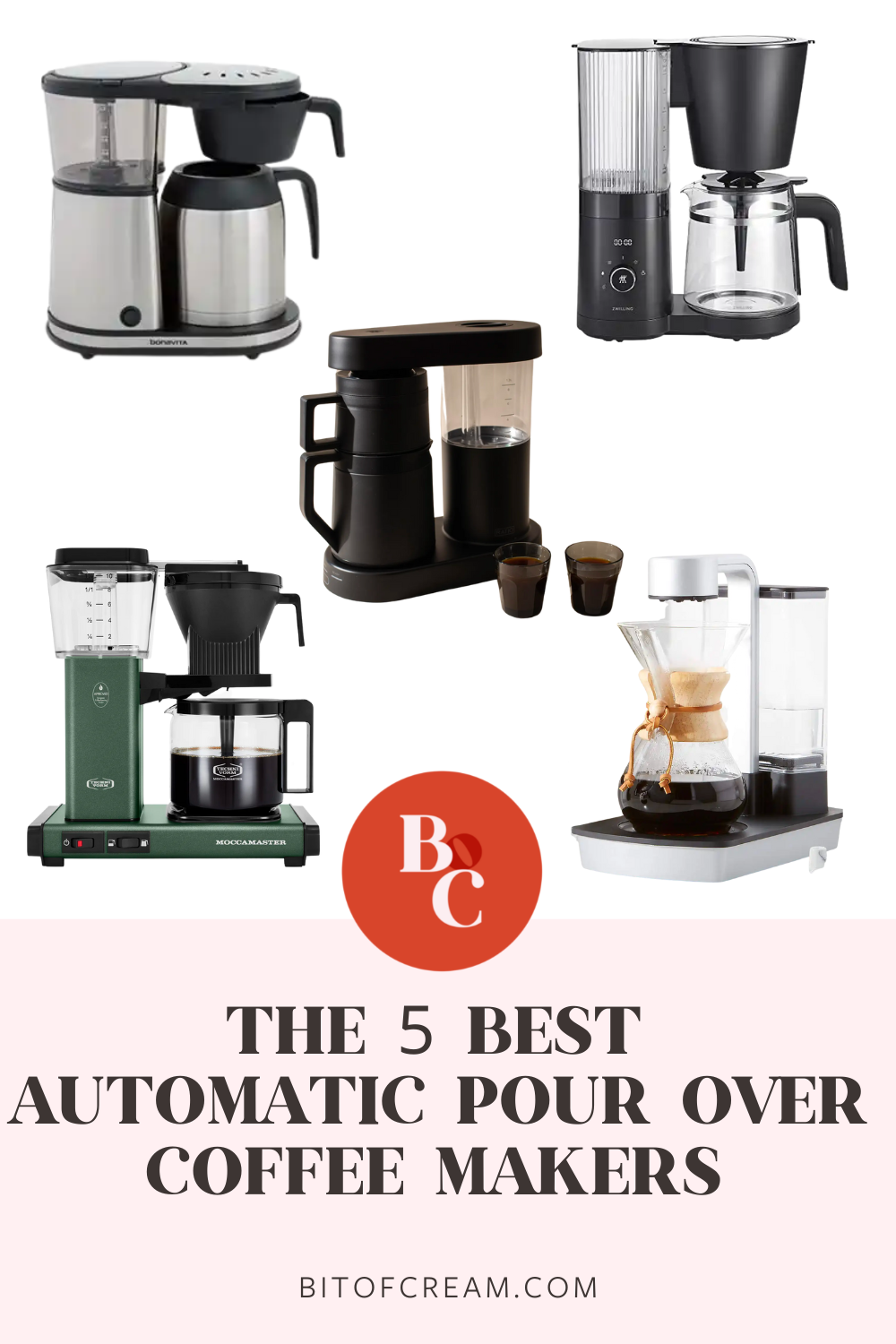 Bit of Cream is a participant in the Amazon Services LLC Associates Program, an affiliate advertising program designed to provide a means for sites to earn advertising fees by advertising and linking to Amazon.com. As an Amazon Associate we earn from qualifying purchases.
Best Automatic Pour Over Coffee Makers
The Ratio Six pour over is my top pick for best coffee maker – automatic pour over style.
It falls into a medium-level price bracket for other brewers on the market. It's simple to use, brews an excellent cup, and has a five-year warranty.
The one thing it can't do is cold brew. Still, it's a barista favorite.
If you're looking for a consistent brew result, and great heat retention that's where this machine really shines. The water temperature is heat-protected throughout the entire brewing process. And the carafe is stainless steel and insulated, rather than a glass carafe. The hot plate also stays on for up to an hour. 
The brew time for a full carafe is 8-minutes. This might seem like a long time, but if you'd consider how long it takes to manually make a 40-ounce pour over then the benefit is obvious.
The Ratio Six also allows for "flexible brewing." This means you can use the flat-bottom brew basket it comes with or a conical brew basket–if that's your preference.
Perhaps my favorite feature is that this automatic coffee maker is controlled by a single button. 
You don't have to manually adjust anything for your coffee to bloom. A small light at the machine's base lets you know what stage of the process it's in: Bloom, Brew, Ready.
Pros
Brew a full carafe in 8-minutes
BPA Free Water Reservoir
The brew basket lid, carafe, and heating plate are all insulated
Simple, stainless steel design
Single push-button simplicity
Cons
Expensive. (But they all are)
Bloom step can't be shut off
The Moccamaster matches the Ratio Six in its straightforward and classic design.
It has a 5-year warranty, an automatic bloom function and a 40-ounce brew capacity. The most significant difference is that the carafe is less insulated, and you can only brew a half or a whole pot.
If you enjoy simplicity, the Moccamaster's stripped down size setting might be a bonus. After all, it can brew a full pot in 6 minutes.
Style-wise, these machines look like your favorite camp-stove brand decided to make a coffee brewer. They also come in 23 different colors and will complement any kitchen aesthetic.
It's turned off and on by the flick of a switch—no dials or flashy lights.
Technivorm has an eye for sustainability, opting for durable parts and avoiding plastic which lends them major credibility in my book. I always look for companies that have been making things since I was born.
Maybe that's silly logic, but the online reviews have great things to say about the durability of this brewer.
Lastly, the Moccamaster has a destratification tube in the carafe, which helps mix the coffee as it is brewing into the carafe.
Pros
Full pot done in 6 minutes
Comes in 23 color options
Simplified control settings
Cons
Machine has to "warm up" before brewing
Hot plate automatically turns off at 40 minutes
Only two settings, 20 or 40-ounces
Do you drink iced coffee year-round?
The Chemex Ottomatic 2.0 is one of the few brewers with a built-in iced coffee setting. It differs from the Moccamaster and Ratio Six in that the machine and brew basket are disconnected, and the hot plate stays on for 30 minutes.
The Chemex acts as both a brew basket and carafe and the 2.0 uses the 6- or 8-cup size Chemex. The Ottomatic is basically your automatic water dispenser for your Chemex, which is how they can include a cold coffee function.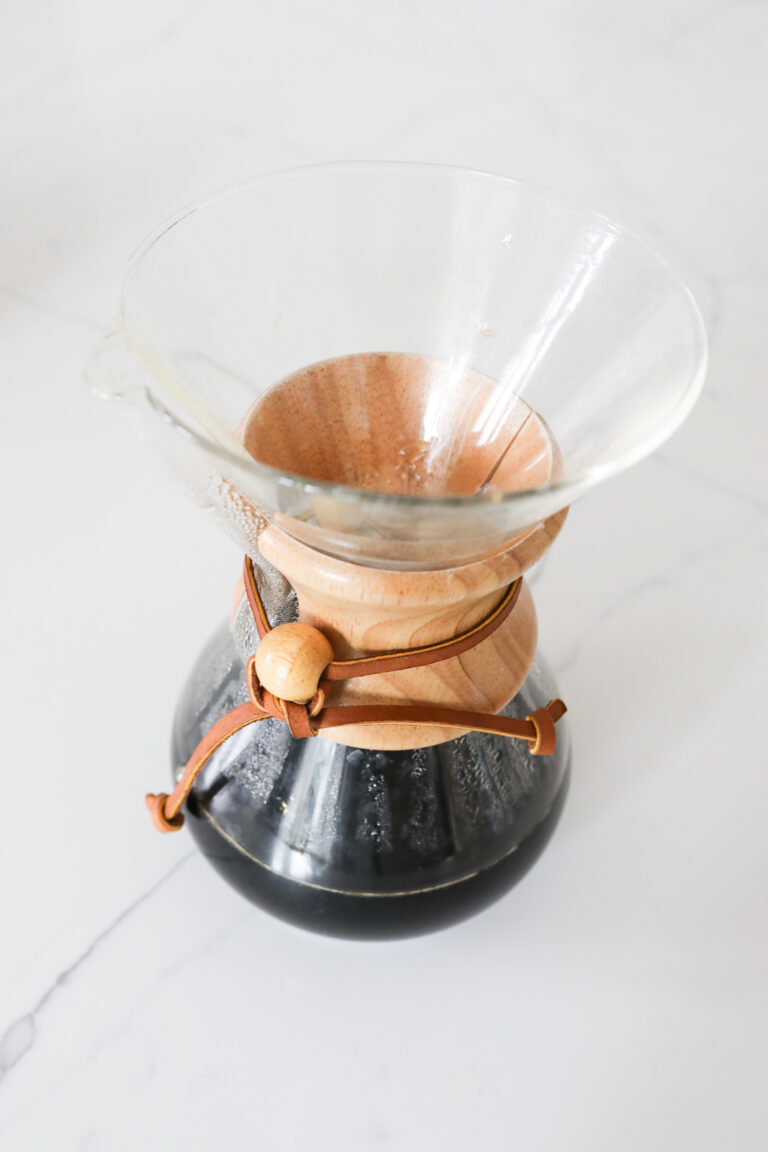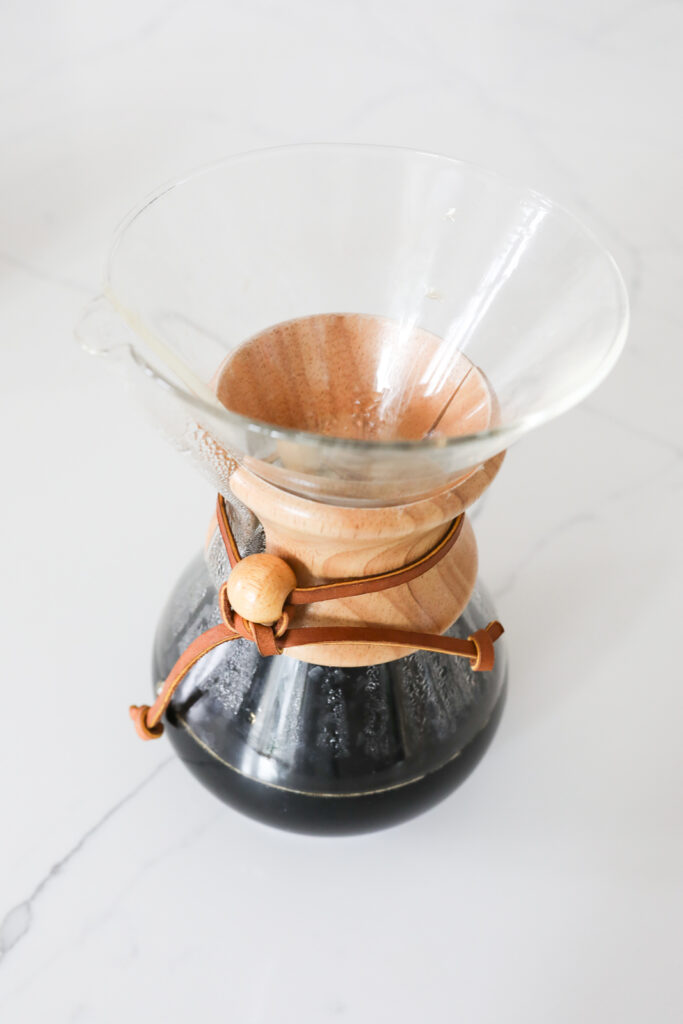 As someone who owns a Chemex, I would not hesitate to go all in for an Ottomatic 2.0. I love the Chemex carafes' aesthetic, so it would be nice to keep using it while updating to something automatic.
At the same time, I have never been a cold coffee person, so the cold brew option is lost on me. I would, however, welcome the glass lid, which helps insulate the Chemex carafe.
Pros
Brew hot or cold coffee
The hot plate stays on for 30 minutes
Option to buy without Chemex for a discount
Cons
Expensive
1-year limited warranty
Not SCA certified
The Bonavita Connoisseur gives all the options on this list a run for their money. It's the best value for the money.
Bonavita offers a big discount compared to the Ratio Six or the Moccamaster, and it brews an excellent cup with all the same pour over technique. Unlike those brewers, pre-infusion is optional.
The Connoisseur's optional bloom could be a slight drawback for those who always want our coffee pre-infused without thinking about it. The good news is you only need to hold the brew switch for five seconds until the light blinks red before the pre-infusion begins.
The classic drip-machine aesthetic makes it an easy pairing for any kitchen design. And though the carafe shape is perhaps less functional than the others on this list, it's double-walled and durable. This coffee will stay warm with the hot plate while you sip.
Suppose you're shopping on a budget and don't mind setting your brewer to "bloom" mode. In that case, the Connoisseur is a really great deal for an automatic pour-over machine. 
Pros
Full pot in 6 minutes
Simple design, ease of use
Hot plate + thermal carafe = maximum heat retention
Cons
Large, awkward carafe
Pre-infusion is manual rather than automatic
1-year limited warranty
The Zwilling Enfinigy is less expensive than the Moccamaster or Ratio Six but has more control settings. It comes with the option to program the time of your brew, which sets it apart from many automatic pour overs that just turn off or on.
The bloom function on the Enfinigy is optional. This is important because blooming is what pronounces all the exciting coffee flavors. So if turning the dial to "bloom" is too "extra," this might not be your pick.
After you've bloomed the coffee, you turn the dial to choose how many cups of coffee you plan to brew. You miss the blooming function if you program the Effinigy to brew automatically.
Like the Moccamaster, the Enfinigy has a retro feel and a "drip circulator" tube in its carafe. Though I wouldn't say the circulation tubes are 100% necessary, there is a level of security in knowing the tube will always give you a balanced cup.
This is your best option if a timer function is more important to you than pre-infusion.
The Efinigy is an excellent choice for those who don't mind extra programming and want something more affordable.
Pros
3-year warranty
Cleaning mode setting
Time programming function
Cons
Blooming is optional/manual
10-minute brew-time for a full carafe
Carafe is not well-insulated
What To Look For
Capacity
I'd only recommend spending extra money for an "automatic" pour over brewer if I planned to make more than two cups of coffee daily. A manual cone works fine for brewing one or two cups at a time.
If you're brewing for an office or a houseful, most automatic pour-over machines brew up to 40 ounces. 
I don't know about you, but a "cup" is at least 8 ounces in my book.
Be mindful that some machines claim to brew up to 12 cups at a time, but if you check the actual brew capacity in ounces, you may find they refer to 4 or 5-ounce cup sizes.
Brew Time
A major benefit of automatic pour overs is the time savings they offer. Some of the options I mentioned in this article can brew as many as 10 cups in as little as 6 minutes. Not bad!
Just because these brewers are replicating the "artisan-style" pour over doesn't mean they will take forever.
Most do not take longer than 10 minutes, but it's worth taking a second look before investing in a machine that takes forever.
Control Options
Many automatic pour overs limit their control options so you don't have to overthink the process.
Personally, I aim for automatic machines with the least amount of settings. Having extra controls seems counterintuitive when, for most people, the driving purpose of this purchase is to simplify the process. The controls should be fixed, and effective.
Look for a bloom function, and an iced coffee mode.
Thermal Carafe vs. Hot Plate
Each option on my list has a hot plate, though not all include a thermal carafe.
Thermal carafes are great because they protect the heat of the coffee on all sides after brewing. A hot plate without a thermal carafe will let your coffee cool faster but maintain a decent temperature for as long as the heating plate stays on.
If you plan on brewing a lot of coffee that you sip throughout the day, a thermal carafe is your safest option. Even after the heating plate shuts off, the thermal carafe will slow the cooling process.
Design
Automatic pour over machines are known for their intentional design.
Unlike many home, automatic drip machines, automatic pour overs use "showerhead" water dispersal so that the coffee in your brew basket is evenly saturated.
Most include a blooming function, which pre-infuses the coffee with hot water before it starts brewing, allowing it to off-gas and release oils that make for a tastier cup.
Like automatic drip, automatic pour overs also include hot plates on timers to keep the coffee hot long after it's brewed. Carafes, insulated or not, will vary.
Some include a flat-bottom brew basket, while others stand by a conical shape. Which brew basket is better? While there is a proven difference in flavor results, it's ultimately up to you and your taste buds if a flat or conical brew basket is better. If you use good-quality coffee, you'll be fine either way.
Materials
Like an automatic drip machine, excess materials for pour over brewers should be limited to filters and coffee. These brewers come decked out with all the necessary equipment to get brewing.
Each machine will come with different paper filters that fit that particular machine. Regular drip machine filters may not suffice. If you purchase directly from the company that made your brewer, you should easily find the proper filters on that page or website.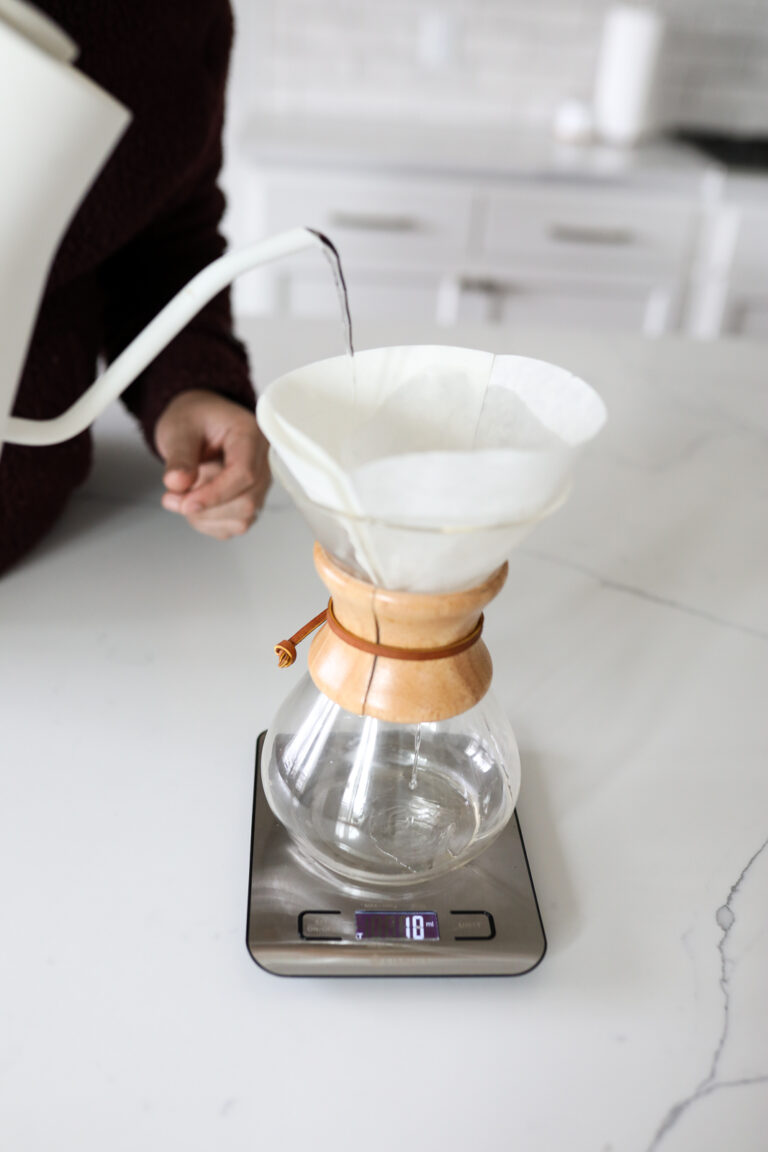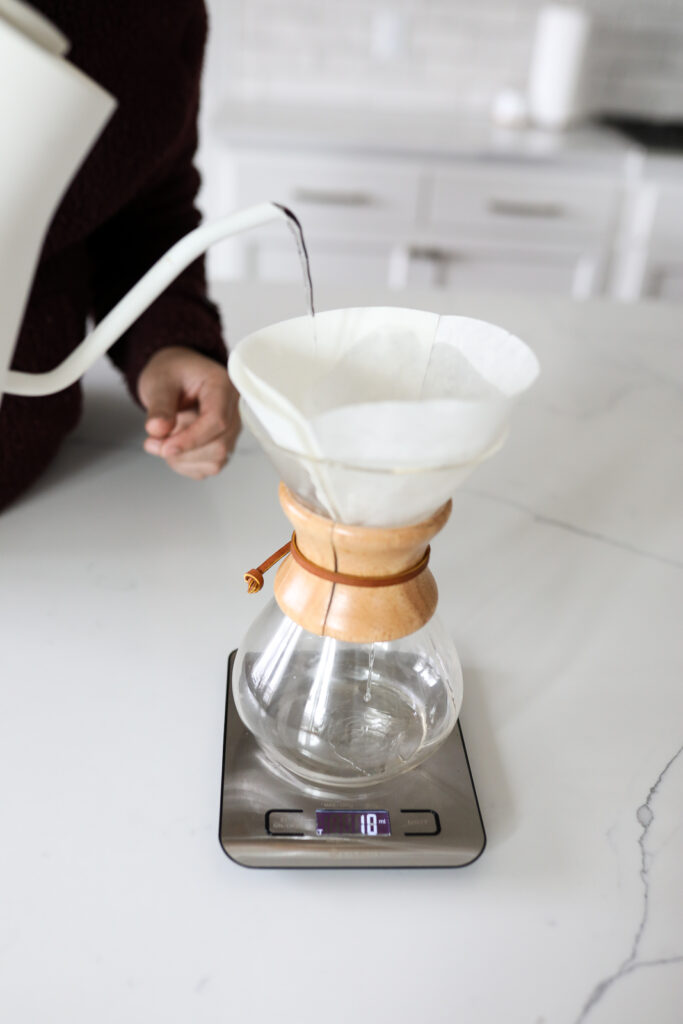 Price
Prices of automatic pour over machines do vary. They range from expensive to more expensive.
Why spend $350 on an automatic pour over coffee maker? The price is that high because of the reliability, quality design, and a better cup of coffee.
On the higher end, these machines often include more extended warranties from companies that have been at the coffee-brewing game for decades. You pay for something reliable and the option to have your machine repaired for no extra cost.
Attention to design is not just for Instagram photos. These brewers have the user experience in mind. For example: pouring fresh-brewed coffee out of a lightweight carafe that looks like a piece of art may be more comfortable–and enjoyable–than pouring out of a carafe that feels like a heavy bowl with a handle attached.
A lower-end, $200 brewer can still give you an excellent cup of coffee. Some controls might be manual instead of automatic, like the coffee blooming option.
Either way, automatic pour overs tend to run at higher prices than drip machines because they replicate the pour over process. The pour over process often yields a more flavorful cup, so you're paying for better-quality extraction.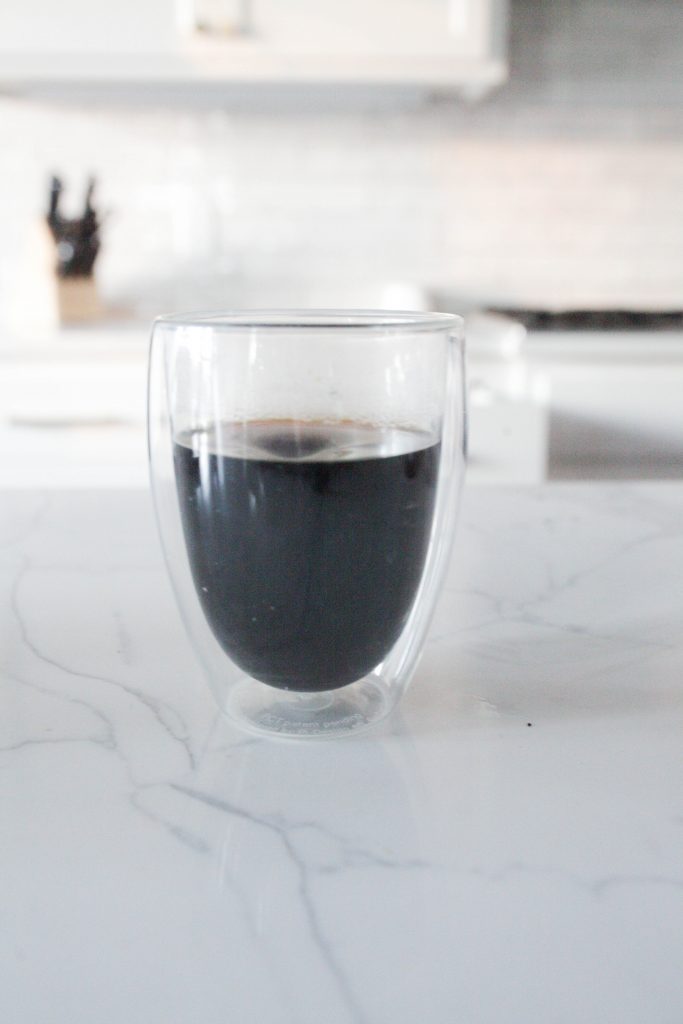 My Recommendation
The Ratio Six coffee brewer is the best option. It falls into a medium-level price bracket for other brewers on the market. It's simple to use, brews an excellent cup, and has a five-year warranty.
What sets this brewer apart is that every aspect of the machine prioritizes heat retention and temperature control. The water is protected and insulated and doesn't have to pass through your cold kitchen air to reach the brew basket.
It has an insulated stainless steel carafe and rests on a hot plate that stays hot for up to a full hour.
The stainless steel design also provides durability. No glass. The water tank is plastic, but it's BPA-free.
You only have to press one button! A small light at the base of the brewer tells you whether the coffee is blooming, brewing, or ready. The Ratio Six can brew up to 8 5oz cups of coffee in about ten minutes.
It's fast, simple, and well-designed.
FAQs
Want more coffee machine reviews?
Check out my OXO Brew 8 Cup Coffee Maker review if you're wanting a regular drip coffee machine. Love the aeropress or french press?
Check out exactly how to use an aeropress or how to know what size of french press to get!
Want weekly coffee tips and tricks, recipes and more?
Put your email in the box below and you'll not only get added to our list but you'll also get 3 free recipe cards (Colada Coffee, Mocha and Spanish Latte) delivered right to your inbox!