You may have heard barista jargon thrown around in a coffee shop and wondered what does that even mean?
What's a Breve, Americano, or Cortado? And is there even a difference between an iced coffee and a fancy-sounding iced latte anyway? 
At first glance, both an iced latte and an iced coffee appear as similar chilled and caffeinated beverages.
However, there are plenty of unique traits that differentiate the two. Once you learn how to make each drink the best way, you'll be able to taste the difference and enjoy both in their own right.
In this article, you'll learn the components that make up each iced drink and all the differences between the two.
By the end, you'll be equipped with a watering mouth and the best methods to brew both coffee drinks the right way!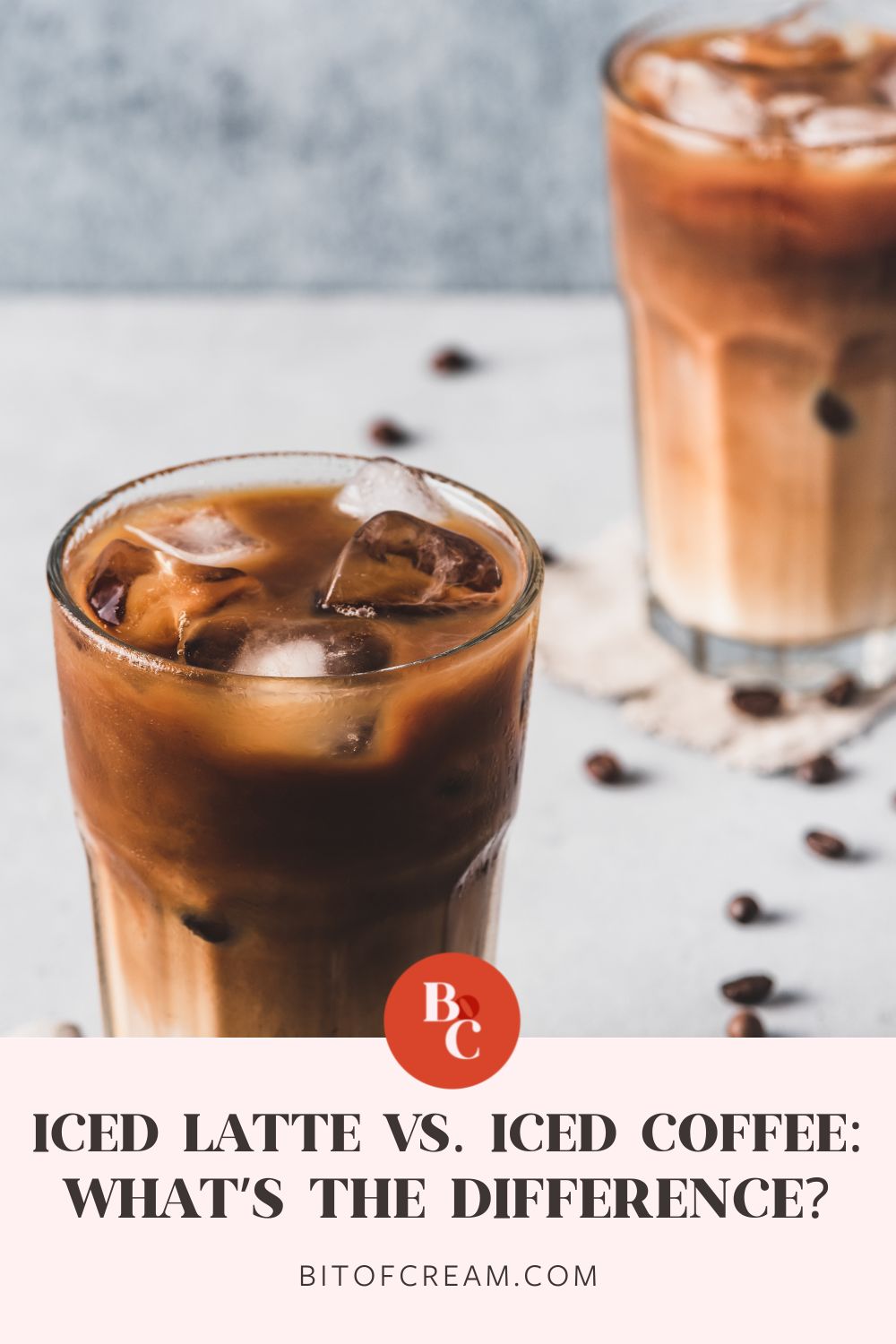 What Is An Iced Latte?
An iced latte is very similar to a hot latte in that it's made with espresso and milk. And an iced latte is simply the chilled, or iced version of the same drink.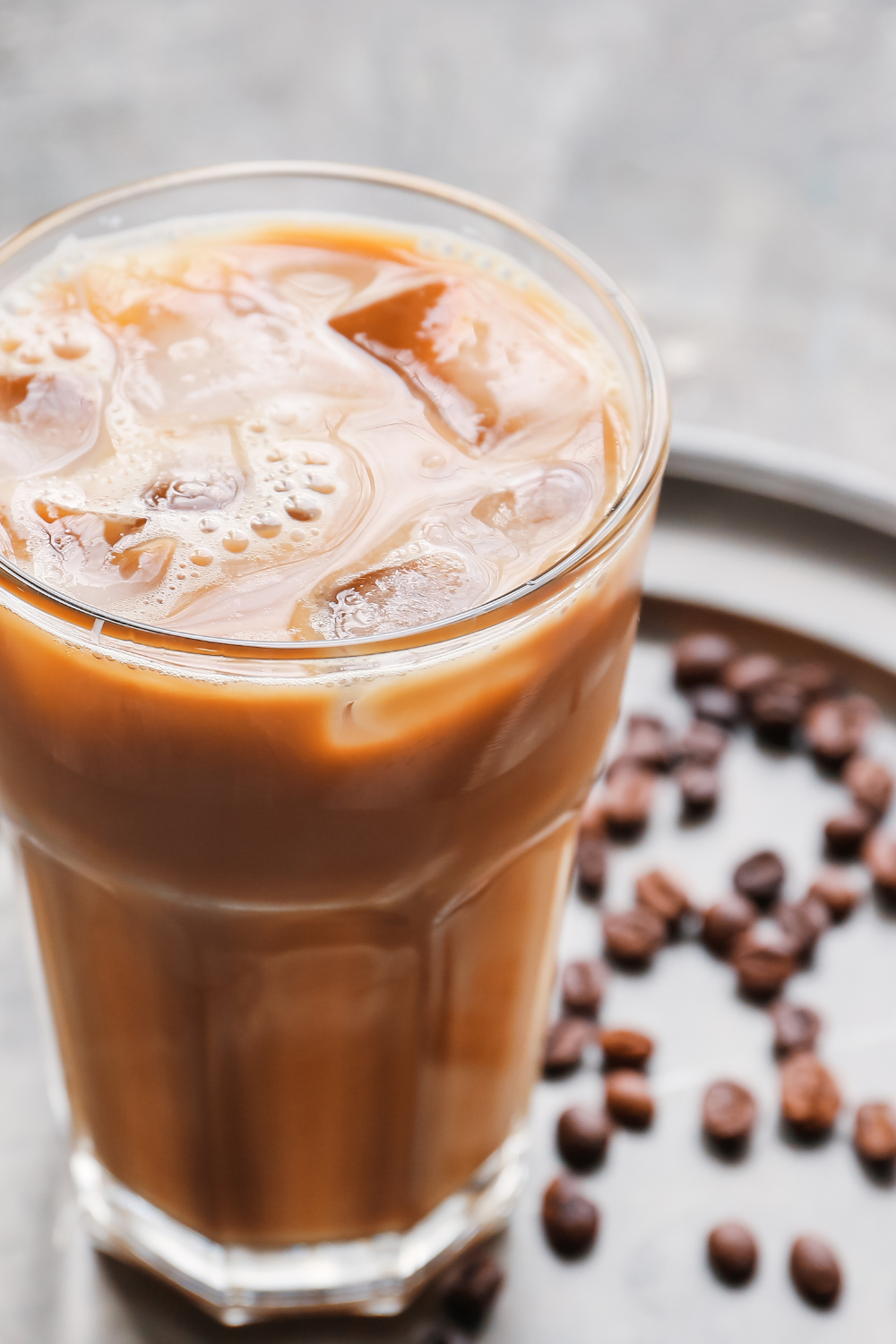 First, the espresso is brewed hot, like usual. Then, you can foam the milk to mimic the texture of steamed milk in a hot latte or pour the milk right from the fridge.
The espresso gives this beverage a strong, rich flavor. While the milk makes it endlessly drinkable. It's also a great canvas to add sweetened syrups or other flavorings to create unique and delicious variations.
What Is an Iced Coffee?
Iced coffee consists of hot brewed coffee poured over ice
And if you're looking for some of the best iced coffee drinks to try, check out these 19 incredible options from Starbucks!. Not to be confused with steeped Cold Brew, iced coffee uses coffee brewed through any hot extraction method.
You can make iced coffee with coffee brewed in a Pour Over or French Press, but most often, it's made with drip coffee.
The iced coffee can be served black, sweetened, flavored, or with milk. The hot brewing methods will still produce a robust and slightly bitter flavor but more mild than a hot black coffee.
Differences Between Iced Latte vs Iced Coffee
Taste
An iced latte will have a deep coffee flavor from the espresso, but the milk disguises the bitter, toasted flavor of the strong coffee. Even an unsweetened iced latte will taste sweeter than a black Iced coffee. People who don't usually drink coffee might even enjoy a sweetened, flavored iced latte for dessert.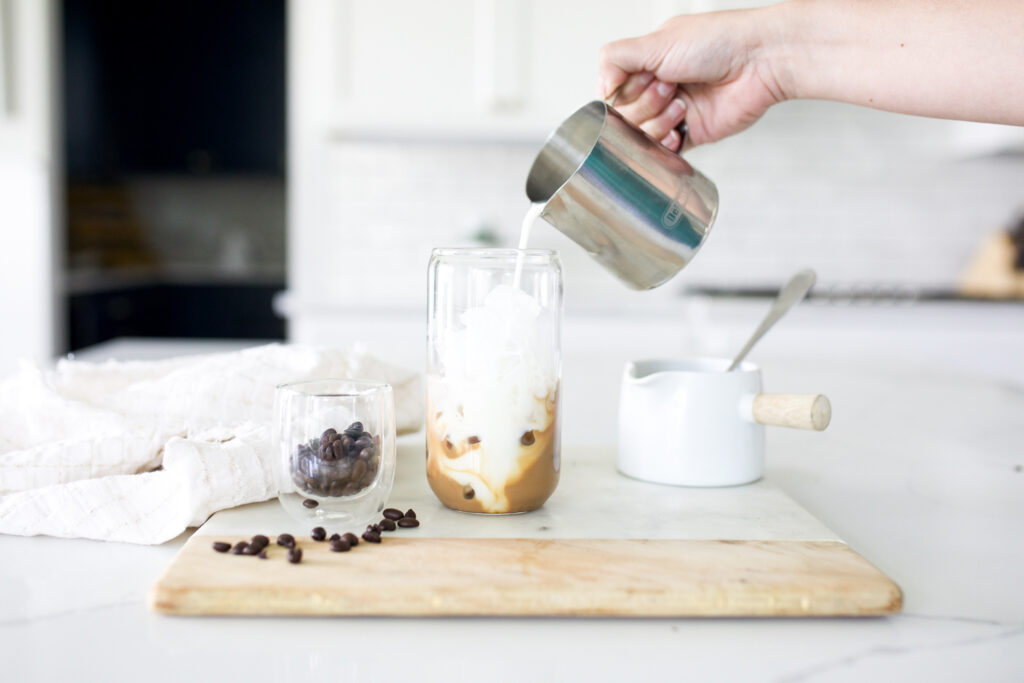 Iced coffee will vary in flavor depending on how it's prepared. It will taste different depending on the brewing method used.
For instance, drip-brewed iced coffee will taste weaker and more diluted than AeroPress or French Press coffee. Plus, the amount and type of sweetener or dairy used will also alter the flavor of the drink.
Most often, an iced latte won't taste as strong as an iced coffee even though it uses the strongest coffee, espresso. There is more coffee in an iced coffee than there is espresso in an iced latte.
So, even though an iced latte uses a stronger tasting coffee, there isn't enough in the beverage to compete with an entire glass of iced coffee.
Flavorings
The same syrups, sauces, and sweeteners that deliciously flavor an Iced Latte will be just as good in an Iced Coffee.
Since both drinks center on coffee, the same flavors will compliment both drinks. Vanilla, caramel, hazelnut, and chocolate all taste delectable when added to the mix.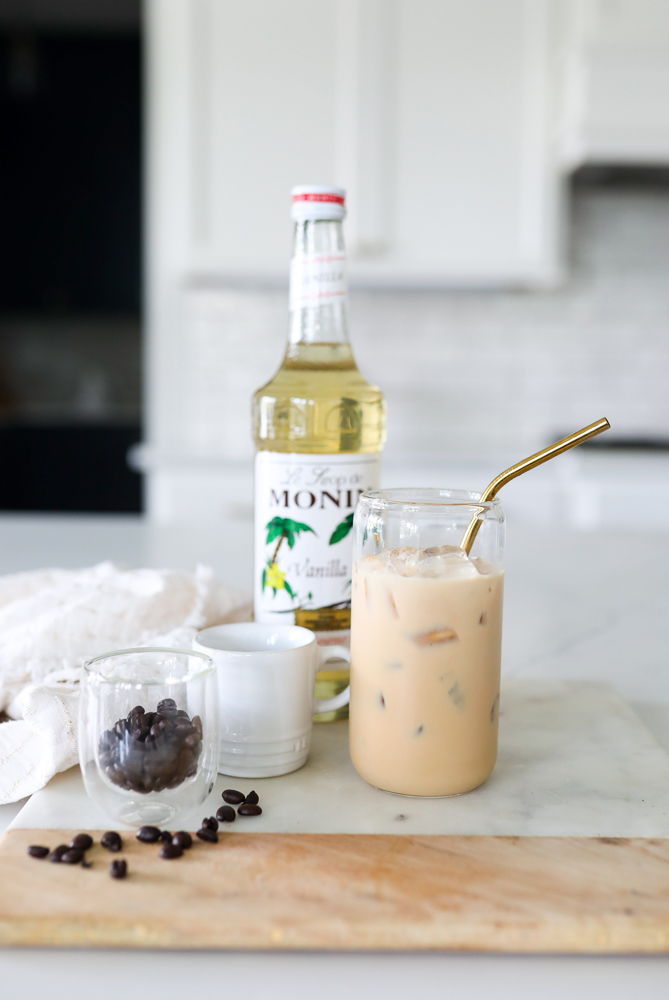 Surprising syrup flavors like pistachio and salted caramel keep your morning cup exciting.
Simple swaps like adding brown sugar, maple syrup, or cinnamon to your iced latte or coffee can open up endless brewing possibilities.
Appearance
An iced latte will always include milk, whereas an iced coffee can be served black. The inclusion or exclusion of milk will differ between these two coffee beverages drastically.
Moreover, you could only add a splash of milk to your iced coffee, which would make it a deep, rich brown color. Whereas an iced latte will always have more milk than espresso and a very pale appearance (or green appearance if you're making an iced matcha latte!).
Both drinks are served over ice, usually in the same type of glassware or plastic take-out cold cups.
Caffeine
The amount of caffeine in an Iced Coffee will differ depending on the brewing method used.
Drip, French Press, AeroPress, and Pour-Over brewing methods will yield more caffeine per 8 oz coffee than 1 or even 2 shots of espresso.
In most cases, an Iced Coffee will have more caffeine than an Iced Latte.
Quantity
Iced Lattes are typically served in a 12 oz size for a small, 16 oz for a medium, and 20-24 oz for a large. A latte's size centers around the necessary 1 oz shots of espresso that distinguish this coffee drink from others.
Iced Coffees, on the other hand, can be served in whatever amount you'd like because there aren't any preset ratios for coffee, milk, or sweetener. So you could enjoy an 8 oz black iced coffee or a 24 oz iced coffee with caramel drizzle and extra cream.
How To Make An Iced Latte
Making an Iced Latte might seem more involved than brewing an Iced Coffee, mainly because you'll need a way to pull shots of espresso. You could use an at-home espresso machine or brew strong Moka Pot coffee on the stove. Either way, you'll need a setup different from the one used to brew standard coffee.
1. Prepare Your Espresso Grinds & Pull Your Shots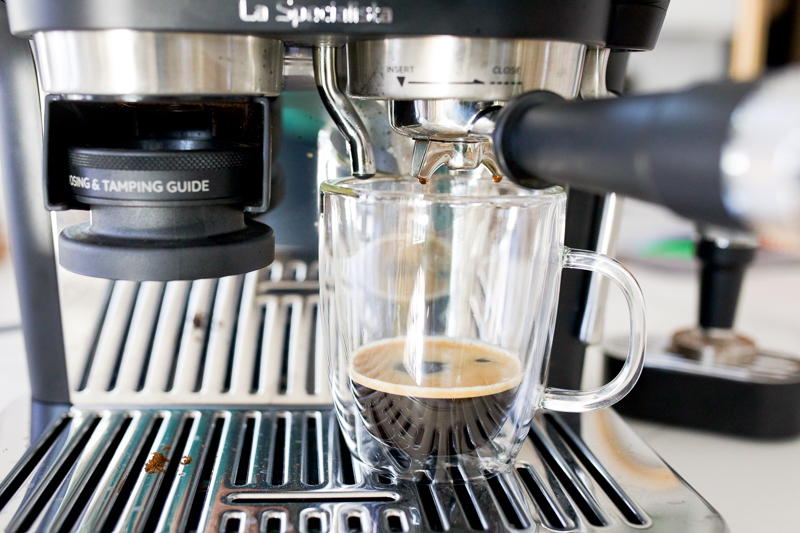 You'll want to ensure you're using espresso beans that are ground to a fine consistency. For a 12oz iced latte, you'll need 1 shot of espresso, a 16oz will require 2 shots, and a 20 oz calls for 3. Fill the designated cup with ice and pull the shots directly over the cubes.
2. Froth (Optional) and Add Milk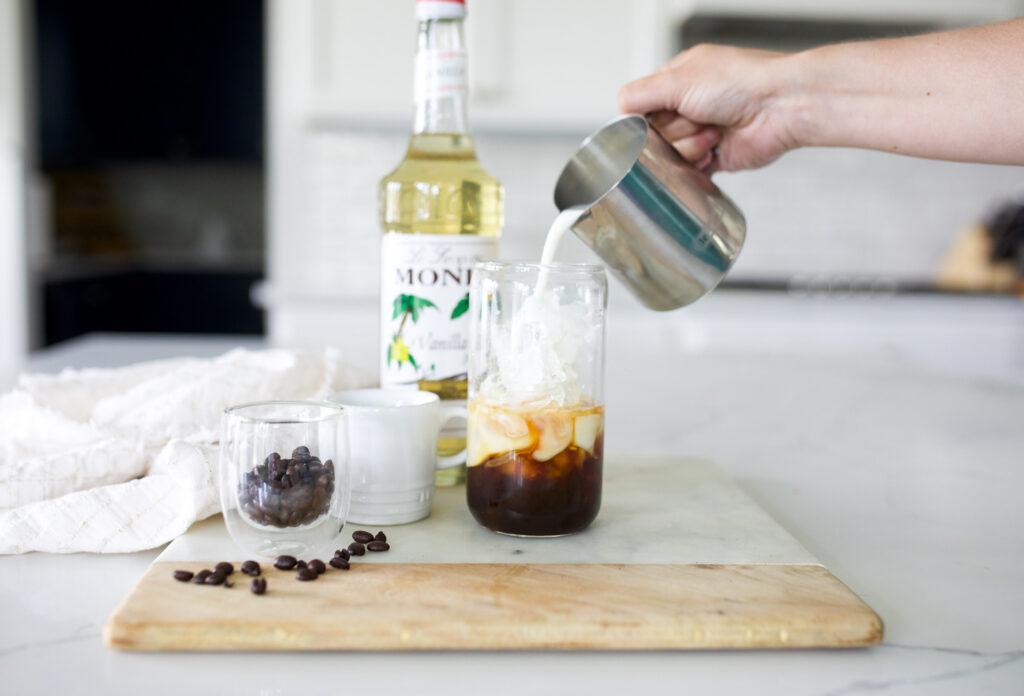 To create perfectly balanced Iced Lattes follow the ratio of 1 part espresso to 3 parts milk that you should follow.
It's perfectly acceptable to add plain old milk straight from the fridge. But, if you'd like to take the extra step to froth chilled milk to simulate the texture of velvety steamed milk in a hot latte, you can. You can use a milk frother, immersion blender, blender, mason jar, or even a French Press to create air bubbles and a fluffy texture.
3. Sweeten (Optional) and Assemble
If you're going to sweeten your latte, I recommend using a liquid syrup or sweetener that'll easily mix into the chilled drink. About 1oz of liquid sweetener is ideal for a 12oz latte, 2oz of sweetener for a 16oz latte, and 4 oz of sweetener for a 20 oz latte.
Pour the syrup into the cup with ice and espresso and mix or shake well. Then top with your milk and enjoy!
How to Make an Iced Coffee
1. Brew the Coffee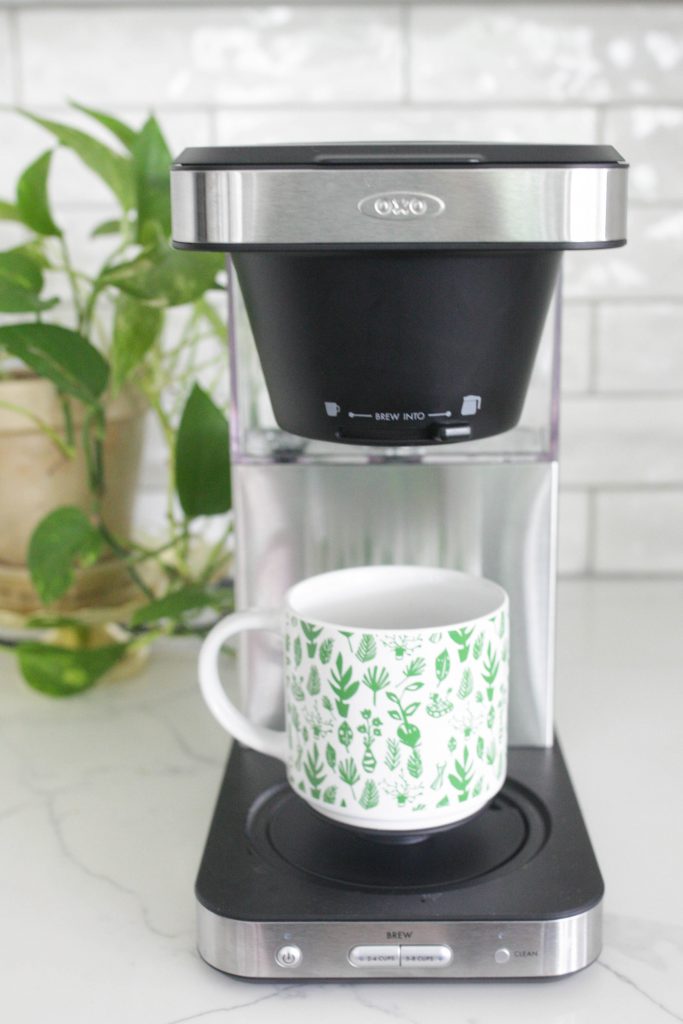 Using whichever hot extraction method you prefer, brew some coffee. Drip machines, Pour Over, French Press, or percolated coffee all work perfectly.
Consider brewing extra strong coffee so that the flavor can hold up against the added water from melting ice cubes.
2. Sweeten or Flavor While Hot (Optional)
It's easiest to add granulated sweeteners like sugar or powdered sugar substitutes while the coffee is still hot. 
If you're not into the powdered sugar substitutes, check out some of our favorite guilt-free coffee syrups here.. This way, the temperature will melt the sugar and provide a smooth and evenly sweetened drinking experience. No one wants a mouthful of grainy sugar sucked up through their straw.
Liquid sweeteners and syrups can be added to the coffee now, or to flavor each cup as it's assembled.
3. Chill (Optional)
If you have the time, let the coffee cool down or even chill it before making cups of iced coffee. The cooler the coffee becomes, the less the ice will melt, and you will preserve more flavor in each cup.
4. Add Milk (Optional) & Serve Over Ice
Fill a glass with ice and pour the chilled coffee over the top. Now is the time to add as much milk, dairy substitute, or creamer as you'd like, sip, and enjoy!
FAQ
Iced latte vs iced coffee – which is stronger?
When comparing an iced latte vs iced coffee ounce for ounce, there's more coffee in an iced coffee than there is espresso in an iced latte. Plus, there's so much milk added to a latte that the full-bodied espresso flavor is mellowed out. As a result, iced coffee will taste more robust than a latte and have more caffeine.
Is iced coffee healthier than an iced latte?
Between an iced latte vs iced coffee, a standard iced latte will automatically include more milk than an iced coffee. Coffee can be healthier because you can control how much sweetener or milk you want to add to the cup and monitor calories, fat, and sugar. 
Can I use espresso to make iced coffee?
If you'd like to use espresso to make iced coffee, your best bet is to make an iced Americano. This is simply espresso mixed with water and then poured over ice. You'll get a slightly different taste than traditionally brewed iced coffee, but it's delicious nonetheless.