Looking for guilt-free coffee flavors? Look no further.
If you need a break from the classic sugary barista syrups, there are fewer sugar-free options. But it is possible to find a few good ones.
I've assembled the options I love, for anybody on a low-sugar diet, watching calorie intake, or who simply who is looking to improve their overall health but still wants to indulge their sweet tooth.
And if you're looking for some more healthy options, don't forget to check out these healthy coffee creamers!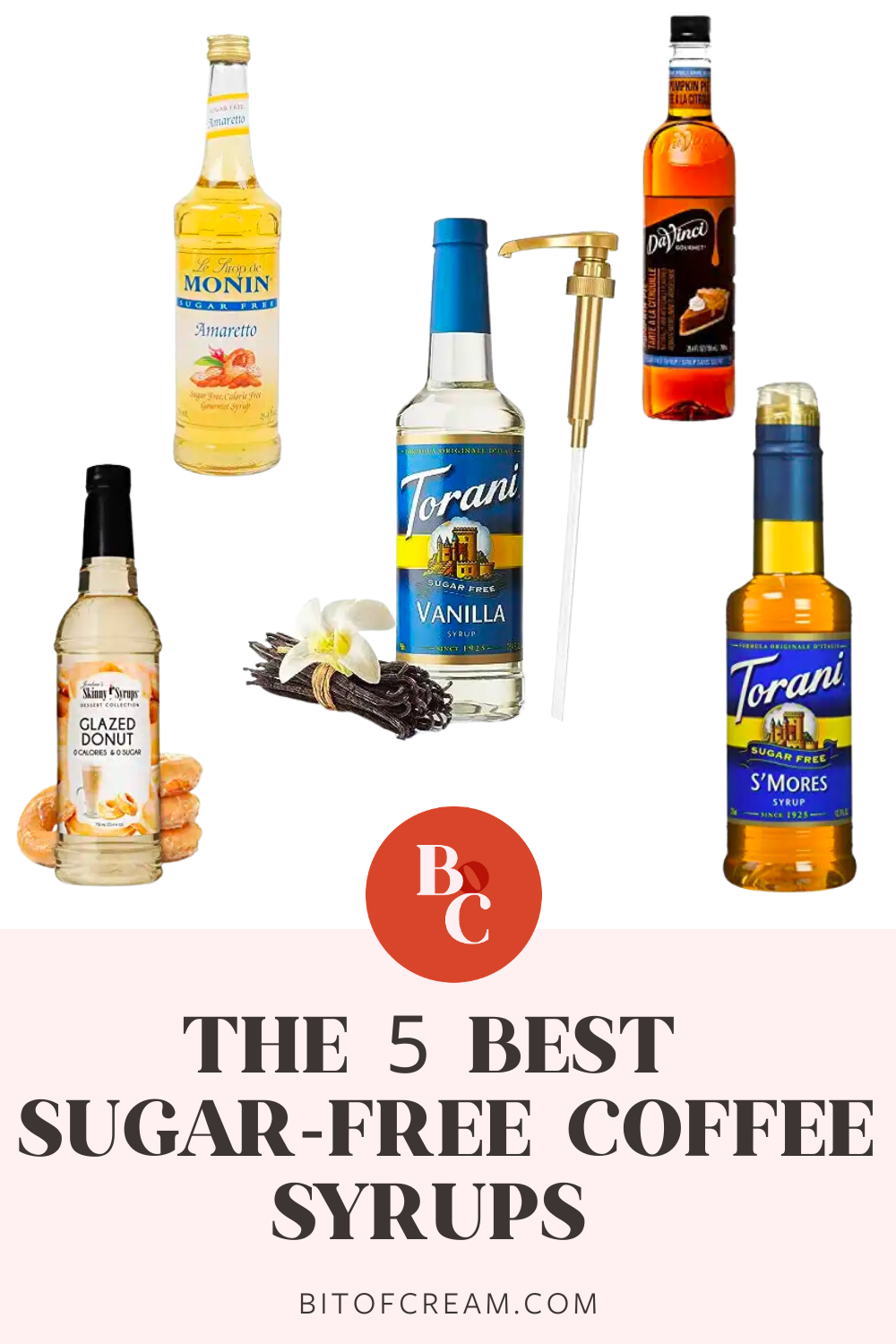 This post includes affiliate links.
Our Top Picks of the 5 Best Sugar-Free Coffee Syrups
| Product Image | Product Name | Primary Button |
| --- | --- | --- |
| | | |
| | | |
| | | |
| | | |
| | | |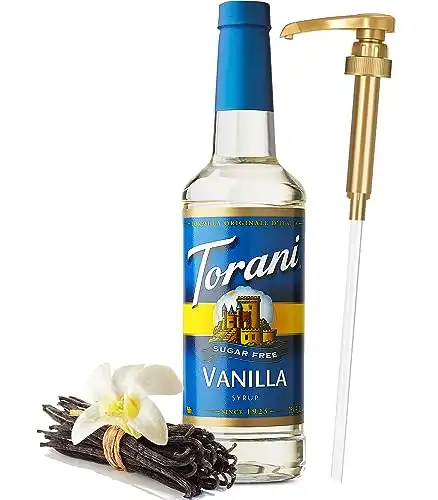 We earn a commission if you make a purchase, at no additional cost to you.
Torani is known for creating syrups with authentic and high-quality flavors. Their Sugar-Free Vanilla Syrup is a classic flavor that is no exception. It delivers a rich and smooth vanilla taste that closely resembles the natural flavors of vanilla beans, making it one of the best sugar-free coffee syrups to add to your favorite drinks.
One of the challenges with sugar-free syrups is achieving the right balance of sweetness. You want a hint of sweetness without an overpowering artificial aftertaste. Torani has formulated its Sugar-Free Vanilla Syrup to precisely hit this mark.
If you're not making your own sugar-free syrups and on the hunt for sugar substitutes to add to your favorite coffee drinks, Torani syrups are a great place to start.
The only drawbacks with this product are that it includes artificial ingredients, preservatives, sugar alcohols, and has a thinner mouthfeel than other syrups.
Check out our full copycat recipe to see our favorite way to make a Starbucks Skinny Vanilla Latte at home!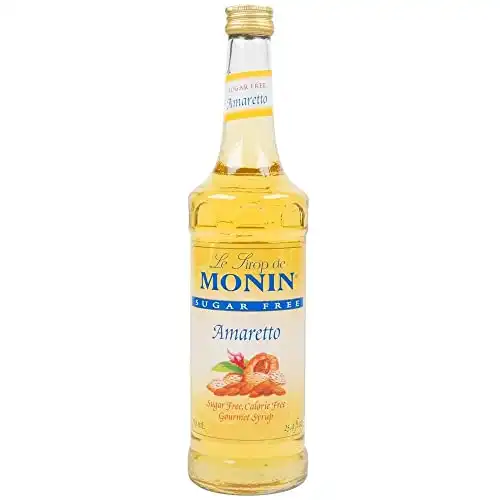 We earn a commission if you make a purchase, at no additional cost to you.
Monin's syrup product line has pretty incredible quality and a ton of popular flavors. They're a renowned brand with a strong presence in the coffee industry. Professionals in coffee shops, bars, and restaurants all gravitate toward Monin syrups.
These delicious syrups are made with premium ingredients, are crafted with care, and ensure a balanced and authentic flavor profile. Pair this with a delectable, velvety mouthfeel, and Monin's Sugar-Free Amaretto Syrup is our choice for Best Splurge Option.
The Amaretto syrup infuses your coffee with rich almond-caramel cookie flavor that'll keep you coming back sip after sip. It has an enticing, sweet aroma and slight bitterness that perfectly compliments a creamy latte, or perhaps a flat white or shaken espresso.
The flavor is unique enough to surprise and excite a wide range of coffee lovers. You can serve this to your family, friends, and guests, and everyone will be impressed. (Or, you can hoard it all for yourself when you need a bit of a pick-me-up treat, we won't judge!)

We earn a commission if you make a purchase, at no additional cost to you.
The combination of graham crackers, chocolate, and toasted marshmallows creates an indulgent experience with this syrup. This Torani sugar free syrup has captured the nostalgic essence of a classic campfire treat without the added sugar and calories.
The best way to enjoy this syrup is to add it to your hot coffees, lattes, and cold drinks like cold brew or iced coffee. But it's just as delicious when mixed into hot chocolate, creamy cocktails, or milkshakes.
Or, as a topping for pancakes, waffles, or ice cream, a tiny drizzle of this syrup can open up a world of flavorful possibilities for you to explore and enjoy. In short, this syrup is versatile.
You can even consider adding this syrup to your next batch of cold foam! Check out our full Starbucks cold foam copycat recipe.
The flavor is unique and exciting, and no lingering artificial aftertaste exists making it undoubtedly one of the best coffee syrups.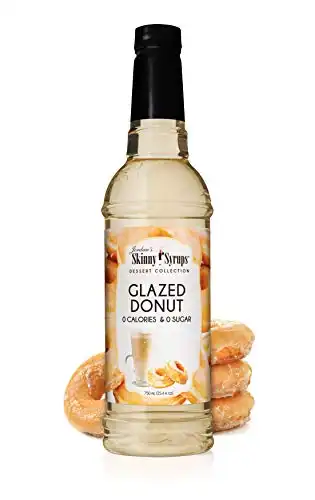 We earn a commission if you make a purchase, at no additional cost to you.
To be fair, I'm not the first person to praise glazed donut syrup. It's gained a reputation for its smoothness and balanced flavor. Unlike many other brands, you won't get the bitter aftertaste that is commonly associated with sugar-free syrups.
The only knock on this syrup is that it can be too sweet. I'd recommend simply starting with less, and then adding more as needed the next time you brew your cup of coffee.
If glazed donut isn't bold enough for you, check out these 21 new latte flavor ideas that will rock your coffee world!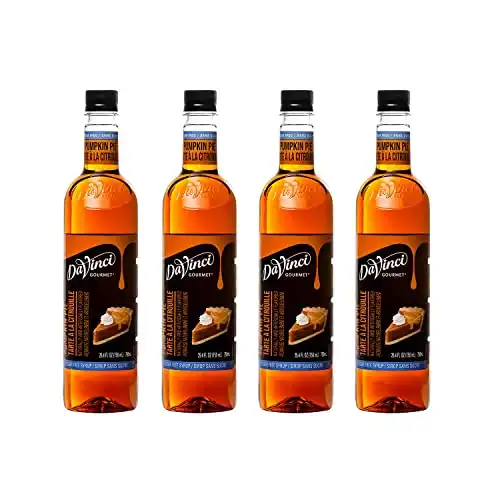 We earn a commission if you make a purchase, at no additional cost to you.
DaVinci has mastered the art of capturing pumpkin pie in a syrup. It features a blend of warm spices, creamy pumpkin, and a touch of sweetness to mirror the rich and comforting flavors of homemade pumpkin pie.
A big draw of this syrup is that it resists curdling when combined with dairy. This makes creating your very own pumpkin spice latte at home easily achievable. Plus, it dissolves quickly into both hot and cold versions of your favorite coffee drinks.
And what is a pumpkin spice latte without a cute mug? We've narrowed down some of the best latte mugs that will keep your drink hot while also being Instagram-worthy!
Another thing I love about this syrup is that the sugar-free version is very comparable to the sugar-full version. It won't leave you feeling like you missed out, plus you don't have to worry about the sugar content making it an excellent seasonal choice.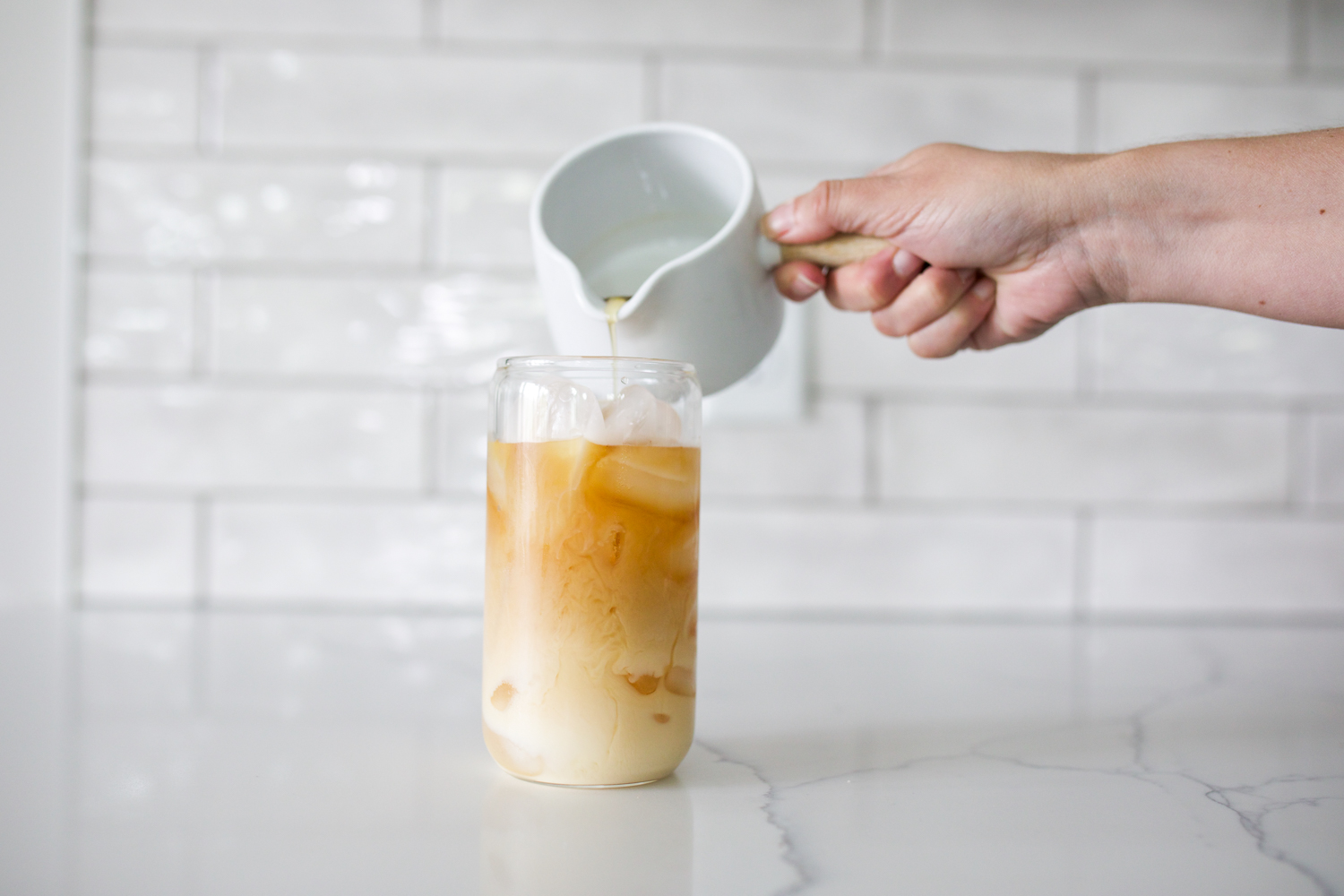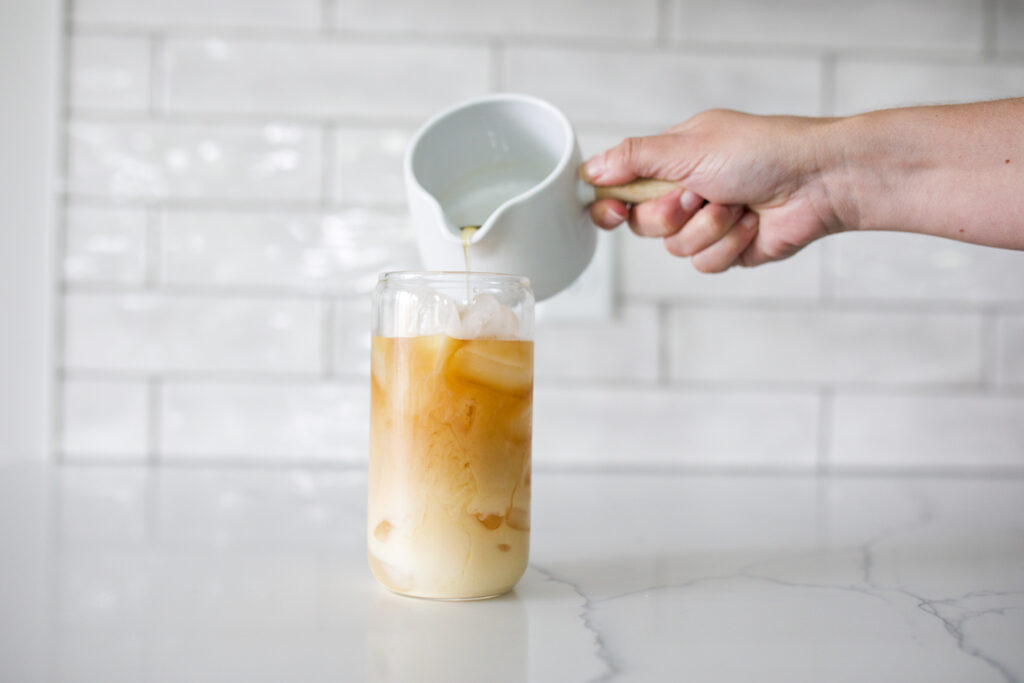 What To Look For
Authentic Flavor Profiles
Look for syrups that offer truer-to-life flavor profiles. There's nothing worse than buying a Sugar-Free Brown Sugar Cinnamon coffee syrup and only experiencing a vaguely sweet taste.
Look for options that capture the essence of your desired flavor, even if those flavors are simple, like vanilla, caramel, or hazelnut. A well-crafted syrup will provide a rich and distinct taste. The flavor will enhance your coffee without overpowering it or leaving behind a bitter aftertaste.
No Artificial Additives
Choose syrups that avoid artificial additives such as flavors, colors, and preservatives.
Artificial additives can distract from the quality and natural taste of the syrup.
Syrups made with clean and minimal ingredient lists are generally preferred. They provide a more wholesome choice.
Balanced Sweetness
Look for syrups that strike a balance between sweetness and flavor intensity.
A good sugar-free syrup should enhance the coffee's taste without overwhelming it with excessive sweetness.
It should allow you to customize your coffee to your desired level of sweetness without becoming cloying or artificial.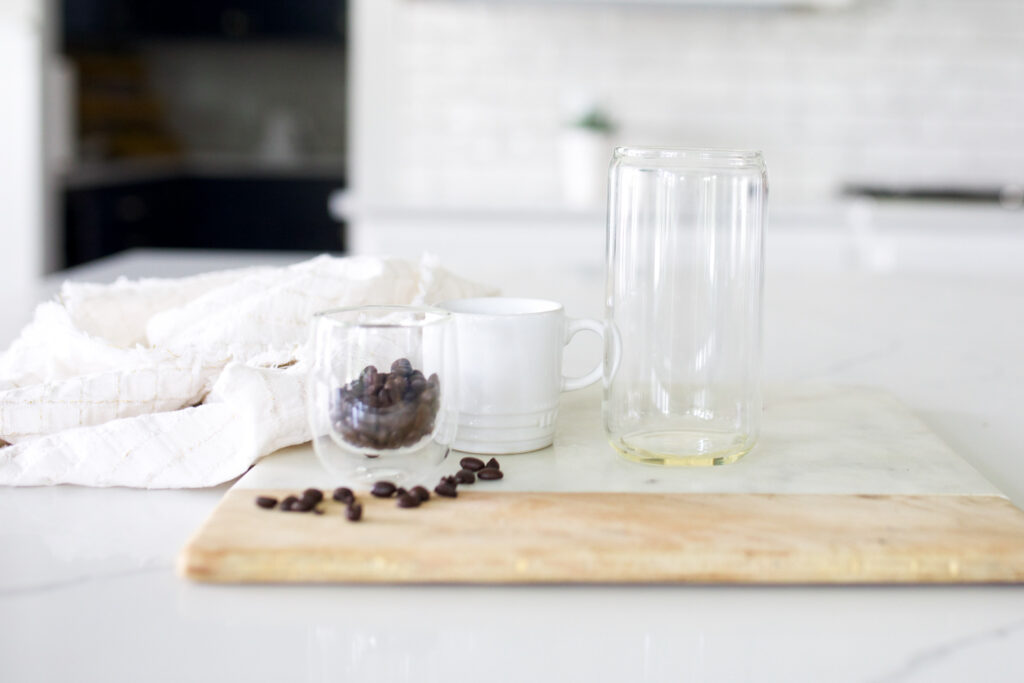 Natural Sweeteners
Opt for syrups that use natural sweeteners like stevia, erythritol, or monk fruit extract when possible. These alternatives provide sweetness without added calories.
Plus, they don't come with adverse health effects sometimes associated with artificial sweeteners.
Natural sweeteners can contribute to a more rounded and enjoyable taste experience.
Versatility
Consider the versatility of the syrup beyond a standard drip coffee. When purchasing an entire bottle of syrup, you might need some creative ways to use it all up.
Look for syrup options that you can use in various ways, like teas, lattes, hot chocolate, or cocktails.
This way, you can ensure that the sugar-free syrup you invest in won't go to waste.
So Which One Should You Buy?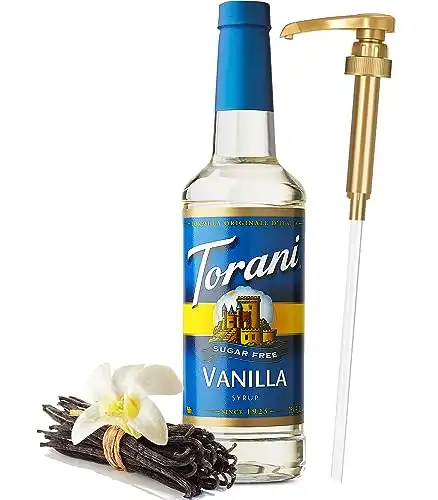 We earn a commission if you make a purchase, at no additional cost to you.
My favorite sugar-free syrup overall is Torani's Sugar-Free Vanilla. But try out Torani's Sugar-Free S'mores Syrup if you want a more exciting and sweeter flavor.
Monin's Sugar-Free Amaretto Syrup is worth the splurge if you like to invest in crafting the ultimate coffee. Still, Jordan's Skinny Syrups offers a Glazed Donut flavor that's just as delicious and more affordable.
And, of course, DaVinci Gourmet Sugar-Free Pumpkin Pie Syrup delivers that seasonal, classic pumpkin spice flavor without the added sugar or calories.
If you're on the hunt for some iced coffee drink inspo, check out these 7 incredible iced coffee drinks we're loving!
FAQ
Is sugar-free coffee syrup good for you?
Sugar-free coffee syrup is a great choice for those looking to reduce their sugar intake. It can also help manage overall calorie consumption. By using alternative sweeteners, sugar-free syrups add flavor to coffee without added calories. However, remember to consume sugar-free syrups in moderation. Also, be mindful of individual sensitivities or reactions to artificial sweeteners.
Does Starbucks use sugar-free syrup?
Starbucks doesn't automatically use sugar-free syrup. But they have sugar-free options for customizing your coffee. They always have a sugar-free classic and vanilla. Occasionally, they also have a cinnamon dolce option. You can request sugar-free syrup in any Starbucks beverage.
Is sugar-free syrup really better?
Sugar-free syrup can be a better option than standard syrups when you're looking to decrease sugar consumption. This swap can also help regulate calorie intake. Those following a keto diet or those with diabetes will benefit from swapping sugar-free syrups for sugary ones. But you should still keep in mind that most sugar-free syrups contain artificial sweeteners, which some people prefer to avoid.