Double ristretto shots with a smooth layer of microfoam poured over ice create the divine Iced Flat White.
It's easier to make than a latte or cappuccino, and it's the perfect coffee for warm days. Whip one up for a super-sippable coffee when you're on the go.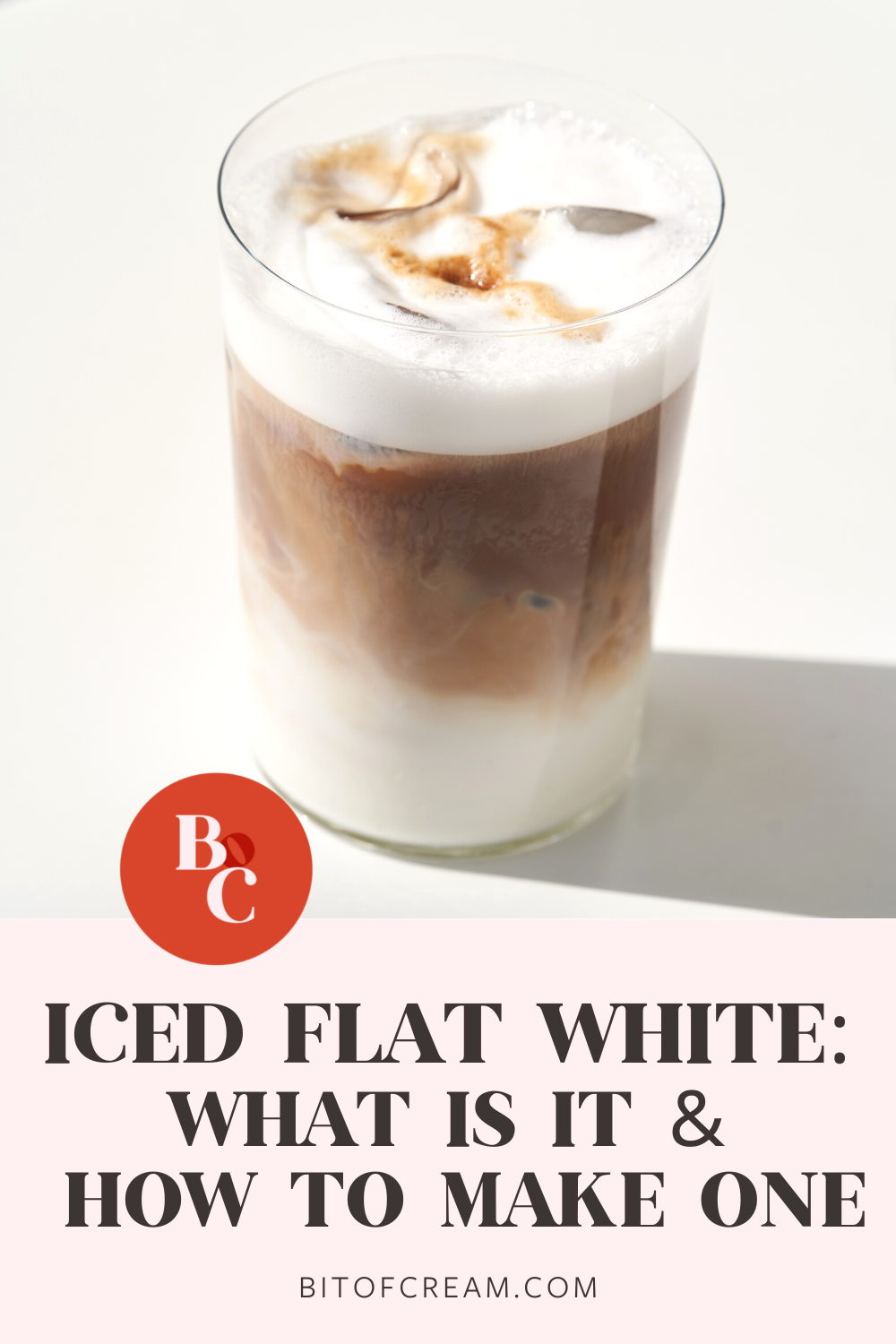 This post includes affiliate links.
What Is An Iced Flat White?
An Iced Flat White is derived from the hot version of the same espresso drink. The only difference is the cold version is served over ice.
A standard Flat White is a small, hot espresso drink with a minimal layer of silky, steamed microfoam. There's less foam than in a latte, and the texture is more velvety than frothy.
In other countries, it's made with a double shot of espresso, but in the US, we use ristretto shots.
The name comes from the flat, smooth appearance the drink has once it's been topped with the microfoam. The steamed milk creates surface tension and allows a meniscus to form. This emphasizes the microfoam's polished, flat complexion on the coffee.
The milk can be steamed and then chilled when making an Iced Flat White. Or, you can make cold foam. However, no one will judge you for using regular cold milk if you're in a hurry!
Why You'll Love It
An Iced Flat White already bends the rules a bit, so you can feel free to break away from coffee snobbery and enjoy your espresso however you'd like.
The most important part of a flat white is the microfoam. But if you don't have a steamer at home, there are plenty of other methods to achieve a delicious Iced Flat White.
It's easily customizable. You can sip one as-is or add your favorite syrups and flavors.
An Iced Flat White is one of the most simple craft coffees you can make. At its core, it's nothing but espresso and a thin layer of steamed milk.
Flat White Ingredient Notes
Filtered Water
Milk
Ice Cubes
(Optional) Sweeteners, Syrups, or Flavorings
Dark, Italian roast coffee beans are best for an Iced Flat White drinks. Since the ratio of espresso-to-milk for a flat white is 1:2, you can get away with vibrant, roasted beans.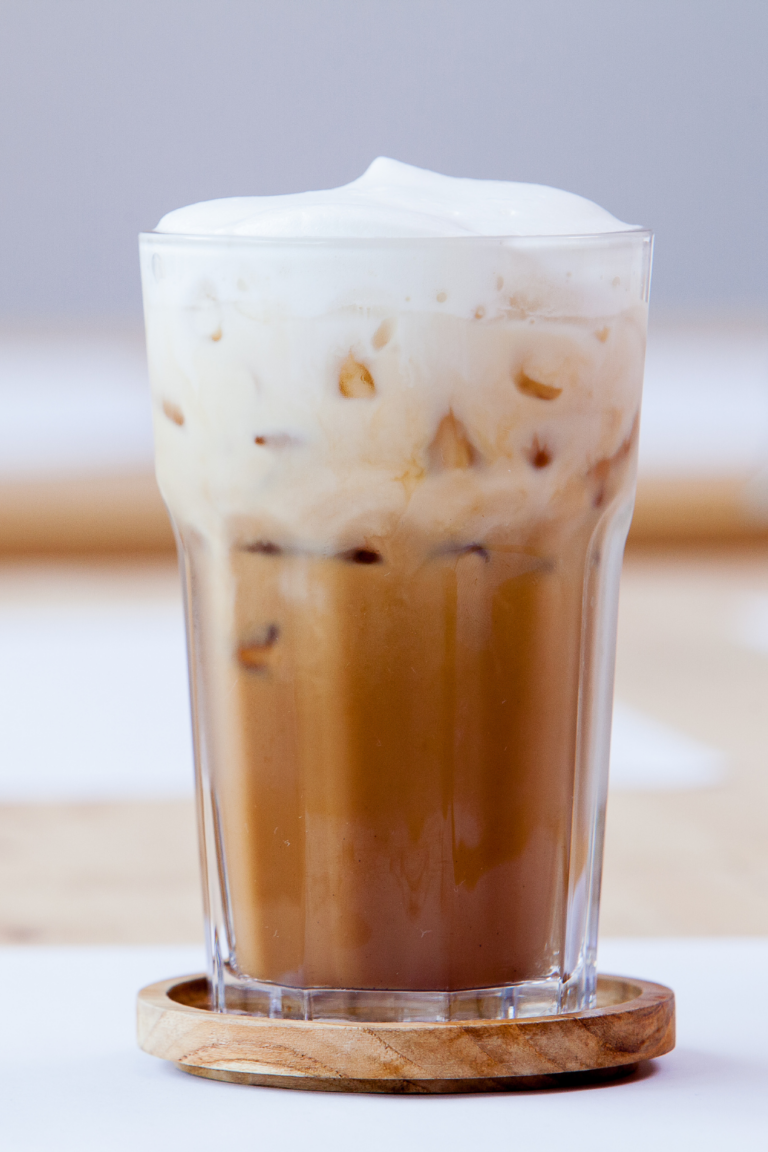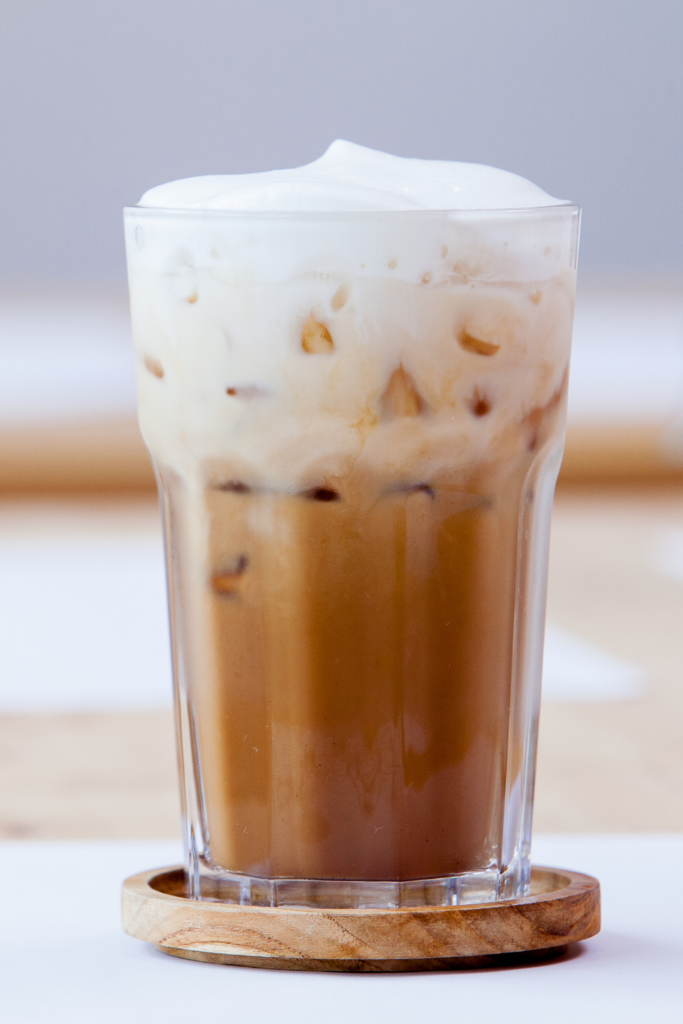 We'll be using concentrated ristretto shots over standard ones so that the flavor will be more robust. The strong coffee flavor will harmonize with the subtle sweetness of the milk to create a mellow, flavorful coffee experience.
Always use filtered water to pull the best espresso shots without any off-flavors.
You can use whatever milk you prefer, from whole to almond milk. However, if you're going to steam and chill the milk, 2% gives the best texture.
Use whatever shape of large ice cubes you prefer. You don't want to use ice chips or shaved ice because hot coffee will melt them instantly and water down your drink.
You can really get creative when flavoring an Iced Flat White. Its mellow flavor offers the perfect base for exciting flavors. Classic vanilla, mocha, and caramel are the mainstays. But don't shy away from flavors like ube, lavender, or pistachio!
Equipment
You'll need an espresso machine to pull the ristretto shots. You can use regular shots instead of ristretto, but the end result will be more bitter.
It's always more accurate to weigh your coffee grinds than to measure them by volume with a measuring spoon. For the best Iced Flat White, you want to pull two 15 ml ristretto shots using 7 grams of ground coffee each.
A milk frothing machine or handheld milk frother will help you achieve the perfect velvety microfoam that an Iced Flat White is known for. However, if you don't have either of those, you can use a stand or immersion blender, a french press, or even a mason jar with a lid. The goal is to agitate the cold milk until you have a thick, smooth, and glossy consistency.
A decadent Iced Flat White isn't a large drink. It's sippable and meant to be savored. Therefore, you won't need a huge glass to serve it in. A 6 or 7-oz glass is a perfect size, but if you like more ice, you can always scale up.
Easy Instructions
Pull two ristretto shots using 7 grams of finely ground coffee and 15 ml of filtered water each.
Foam, froth, or steam your milk until you achieve a silky, glossy microfoam texture.
If you're flavoring the coffee, add the syrup or sweetener to the espresso or milk before assembling.
Fill a glass with ice and pour the ristretto shots into the glass.
Top with your milk of choice, and enjoy!
Tips and Tricks
Remember to pull one ristretto shot, toss the puck of used grounds, repack, and then pull another, and pour!
If you steam the milk, pop it into the fridge to chill for a few minutes before assembling the Iced Flat White. I like to steam the milk and let it cool as I pull my shots of espresso.
Larger ice cubes will quickly cool down the ristretto shots without watering down the drink too much.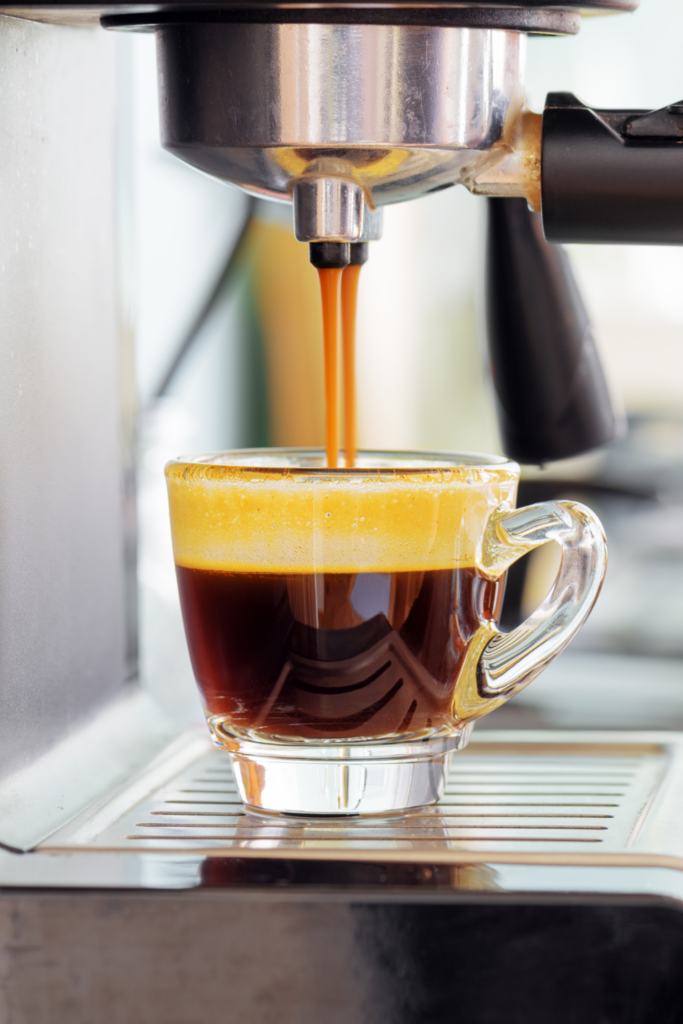 Serving Suggestions
An Iced Flat White is delectable enough to sit and savor like an iced coffee, but not so fussy that you can't toss it into a to-go cup and sip on the move.
It's easy to customize this drink by adding a variety of syrups and flavorings. Add your favorites to the espresso or the cold foam to create delicious and surprising pairings the next time you order one!
Another tasty suggestion is to make a brown sugar syrup that you can stream into the cold foam for a cozy fall flavor.
If you order a flat white at Starbucks, don't expect a drink that's made as strong or refined as the real deal. They do use ristretto shots, but the drink is then heavily diluted with your choice of milk, making it more akin to a latte.
FAQs
Is an iced flat white the same as a latte?
An Iced Flat White is similar to a latte. However, there are a few differences. For one, an Iced Flat White is served cold and poured over ice. Additionally, a latte uses much more frothed milk and foam than the small microfoam layer in an Iced Flat White. 
How sweet is an iced flat white?
There's a subtle, natural sweetness from the microfoam, but that's about it. If you don't add any sweetener, an Iced Flat White will be smooth and balanced, not sweet.
How much caffeine is in this drink?
A good rule of thumb is 75mg of caffeine per shot of espresso, although it varies.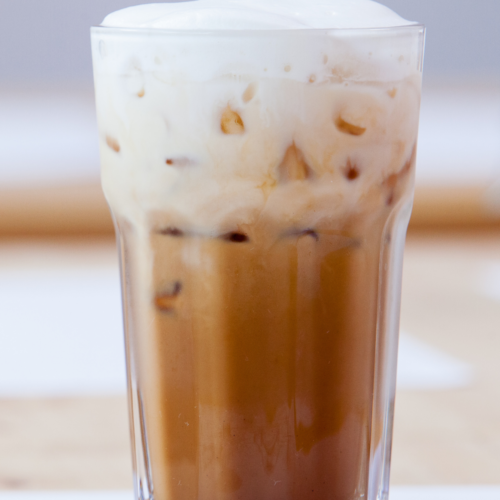 Iced Flat White
Love the iced flat white from Starbucks? Check out the easiest iced flat white copycat recipe ever!
Equipment
Espresso Machine

Digital Scale

Milk frother

Small Glass
Ingredients
14

grams

Finely ground coffee (2 separate 7gram pucks of espresso)

1

ounce

Filtered water

2

ounces

Milk

½

cup

Ice cubes
Instructions
Pack 7 grams or ¼ oz of finely ground coffee into an espresso portafilter. Pull a 15ml or ½ oz shot and set aside. Discard the puck, repack the portafilter with the remaining 7 grams of grinds and pull the second ristretto shot. 

Steam and chill 2 oz of milk, or froth 2 oz of milk until you have a smooth, velvety, and thick consistency.

Fill a small glass with ice. Then, add the espresso to the glass, and top it with milk.
Notes
Make sure only to pull one ristretto shot at a time.
You can add sweetener, syrups, or other flavorings to either the espresso or the cold foam.
You can skip the milk-frothing step and top the iced ristretto with cold milk in a pinch.
Looking for more expert coffee guides? Check these out!
Before you go – join me for a weekly coffee date! Put your email in the box below and you'll not only get added my weekly email with coffee tips, recipes and more but you'll also get 3 Starbucks Copycat coffee recipe cards delivered right to your inbox!