Since no hard and fast rule designates what makes creamer "creamer," many brands use creative ingredients with diet restrictions in mind to support healthy habits.
As someone who loves drip coffee and grew up drinking French Vanilla International Delight, I've made an effort to test out a slew of healthier alternatives.
In this article, I showcase the best creamer options based on the most common health criteria: non-dairy creamer, high protein, low carb, low sugar, or sugar-free.
Finding a healthy creamer that doesn't taste too bland or too sweet is a challenge. Even so, I was able to find 5 great creamers that won't drastically alter your morning cup.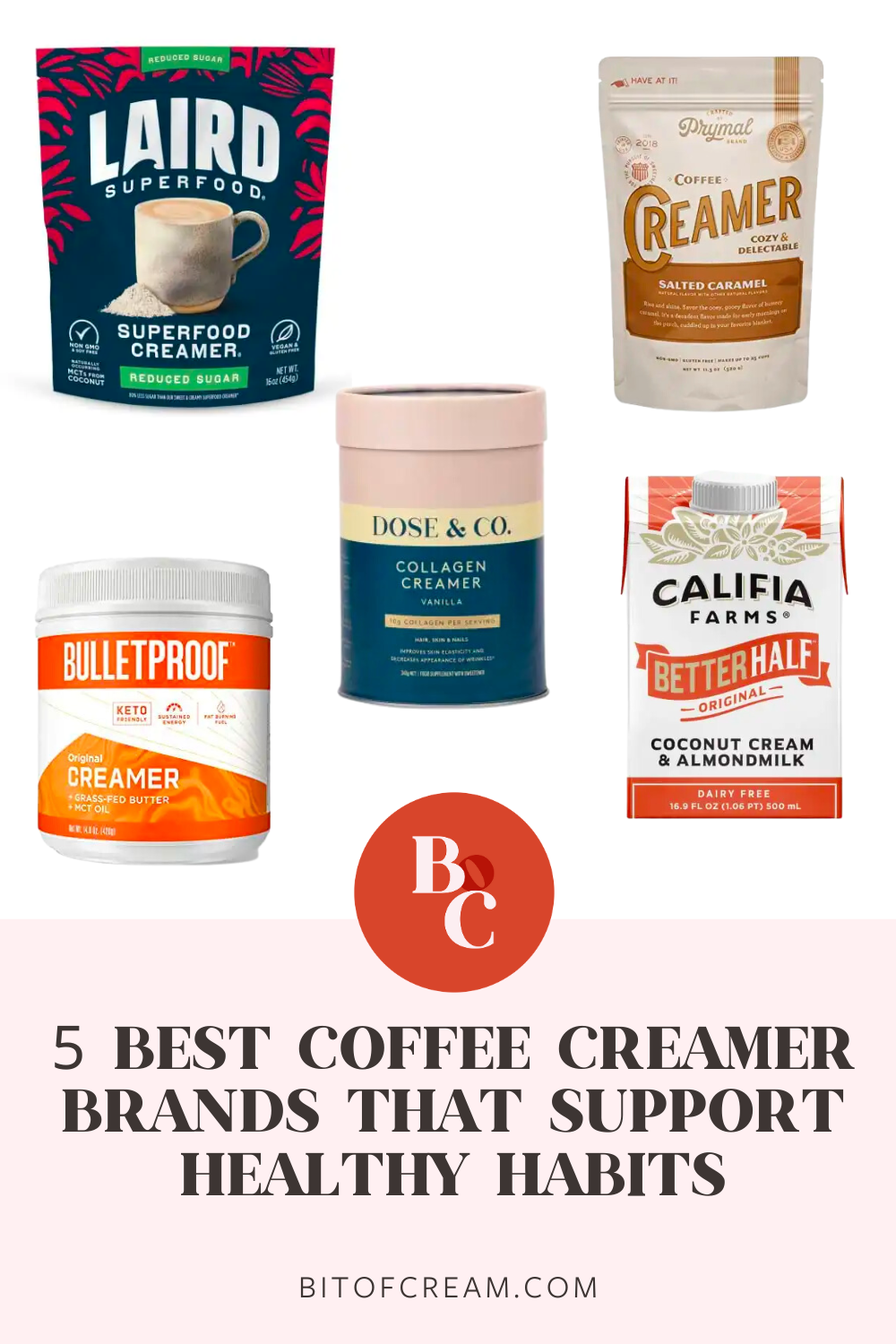 Bit of Cream is a participant in the Amazon Services LLC Associates Program, an affiliate advertising program designed to provide a means for sites to earn advertising fees by advertising and linking to Amazon.com. As an Amazon Associate we earn from qualifying purchases.
Best Coffee Creamers
| Product Image | Product Name | Primary Button |
| --- | --- | --- |
| | | |
| | | |
| | | |
| | | |
| | | |
Coffee Creamer 101
Creamers are their own special coffee condiment. It's not cream, and it's not milk–so what the heck is it?
There are so many to choose from it's hard to say. Most are a combination of water, sugar, and filler in the form of oil or derived proteins.
Creamers need some heavy lifting in the fat department because they can't rely on the natural fat of milk or cream. So oil and casein act as common fillers and thickeners in bigger-name brands.
High-processed oils and casein do not have the healthiest reputations, so alternative thickeners like MCT oil, butter, collagen, and coconut oil are prominent features on this list.
Our Top Picks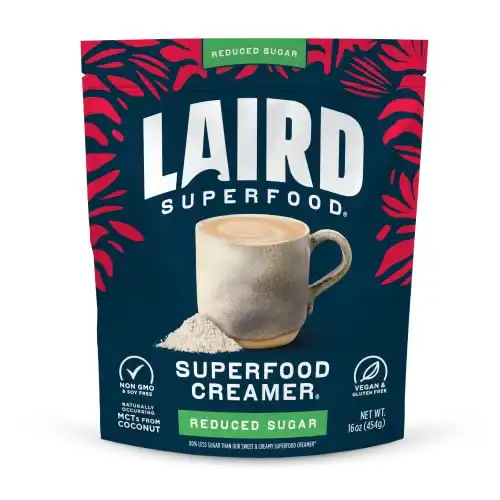 We earn a commission if you make a purchase, at no additional cost to you.
How can you beat a creamer that's made out of almost nothing?
This is the best coffee creamer with only one ingredient in this natural flavor creamer: coconut milk powder. It's non-dairy, gluten-free, and low-carb. With only 1 gram of sugar per 2 tablespoon serving, this creamer is keto diet and diabetic-friendly.
Not only does this creamer dissolve and blend well with coffee for a powder-based creamer, but it also doesn't negatively affect the taste of the coffee.
The suggested serving size for an 8-ounce cup of coffee is 2 tablespoons. You might go through this creamer faster than other brands that recommend smaller servings if you're a daily drinker.
This creamer's biggest "con" is that it is bland. If you prefer a little sweet taste, it might be a good idea to add cinnamon, honey, or both since it is an unsweetened creamer. 
Pros
Only 15 calories per serving
Vegan
Keto
No added sugar
Cons
Grainy texture
Neutral flavor, so it may come across as bland if you prefer flavored creamer
We earn a commission if you make a purchase, at no additional cost to you.
This powder-based creamer from Dose & Co. is sweeter with higher protein content than the Laird Superfoods. It dissolves well in coffee and tastes great without an overpowering flavor. Its protein count weighs in at a whopping 11 grams per serving.
Each 12-ounce container of Dose & Co is 23.3% whey and 55% collagen peptides, giving it protein heft and a creamy mouthfeel.
Collagen has become a popular drink additive due to its supposed health benefits. Collagen is naturally formed in the body. Some health practitioners claim that adding collagen to your diet can benefit skin, nail, and hair health.
The Dose & Co Vanilla is a perfect creamer for those who want protein added in their coffee with a mild base of vanilla sweetness without added artificial sweeteners.
Pros
High protein
Easily dissolves in coffee
Low-glycemic
Cons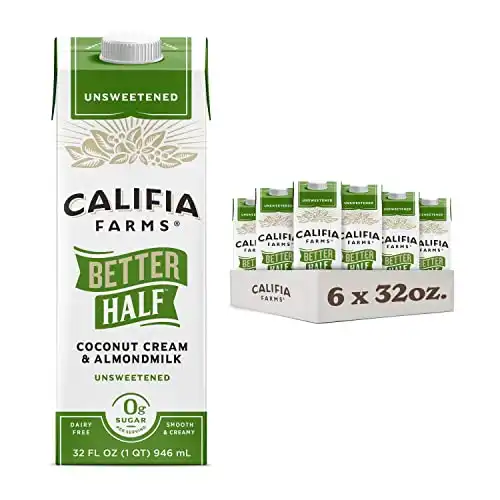 We earn a commission if you make a purchase, at no additional cost to you.
Califia Farms almond-based liquid creamer is sweeter and thicker than the Dose & Co. without using any animal products and only using natural ingredients. These plant-based creamers also has a thick texture that blends well with coffee and isn't too sweet, which is nice for a non-dairy coffee creamer.
If you're dairy-free and off-put by straight coconut or almond flavors, the Better Half is a good choice for you. They seem to cancel each other out, so you're not getting one dominating flavor that dominates the coffee. 
Better Half has lower sugar content than many dairy-free options on the market—only 1 gram per serving.
The only downside to this creamer is its use of sunflower lecithin as a thickener. Many healthy coffee creamers tend to carry these sneaky thickeners. So those who are dairy-free with sunflower or processed-oil sensitivities would do well to opt for other options on this list.
Pros
Creamy
Dairy-free
Low-sugar
Only 20 calories per serving
Cons
We earn a commission if you make a purchase, at no additional cost to you.
Prymal Salted Caramel has a sweeter aftertaste than the Better Half, but it relies on stevia for its sweetness making it the best option for those looking for a low-glycemic choice. This is a great option for those on low-carb, low-sugar, and low-calorie diets who are not vegan.
Coconut and MCT oil act as fatty agents in this creamer to give it some heft and body. MCT and coconut oil are saturated fats (usually not good) but there is some research in recent years that says MCT is a healthy fat that can promote weight loss.
Prymal recommends mixing their powder with water in advance and storing it, rather than adding the powder on its own to each cup. This way it can be used for iced coffee as well, but it does add extra prep time.
This is the best low-carb creamer option for those who like a little dessert with their morning cup of joe and want to switch between hot and cold coffee.
Pros
Dessert in a cup
Lactose-free
Good for iced coffee
Cons
Not dairy-free (includes casein)
Requires extra prep for best results
45 calories per serving
5. Best No Frills Creamer: Bulletproof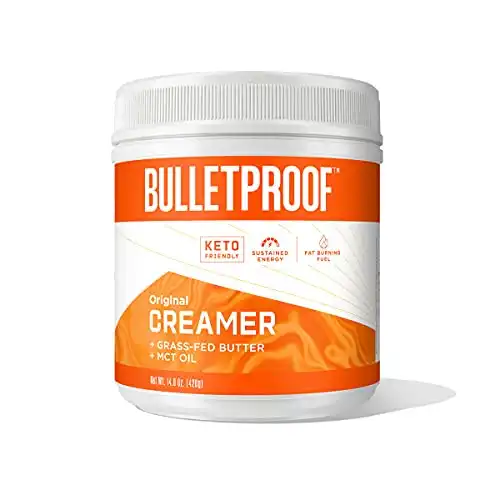 We earn a commission if you make a purchase, at no additional cost to you.
Bulletproof creamer is a no-frills, powder-based creamer. It's far less sweet than the Prymal creamer, with no added sugar. This creamer includes dairy and MCT oil to up the fat content to 10 grams per serving.
Some research suggests that the high-fat content of butter reduces the speed of caffeine digestion as you sip and therefore prolongs the effects of the caffeine buzz. If you want the additional benefit of healthy fats in your morning brew without sugar or carbs, this is the best creamer option.
Not for the low-calorie diet, this creamer contains 100 calories per serving. The flavor is mellow but a tad earthy, so it may take some getting used to if you're used to sweet creamers.
Pros
High-fat content
Super Creamy
Low carb
No sweeteners
Cons
Needs a frother to dissolve properly
Earthy flavor
100 calories per serving
What To Look For
Short Ingredient List
When in doubt, look for creamers with fewer ingredients.
These creamers tend to have less of the artificial flavors and additives you might want to avoid in creamers, like corn syrup or highly processed fillers.
Sugar Content
Always be sure to check nutrition facts.
Five grams of sugar doesn't seem like a lot when you consider the entire container of creamer. But sugar is always measured per serving. Which means you get that 5 grams in every cup. Or more if you prefer extra creamer in your coffee.
The source of sweeteners is also important.
Does the creamer use stevia, cane sugar, or high-fructose corn syrup? While stevia is a low-glycemic, natural sweetener, it has a flavor that can be off-putting if you're not used to it.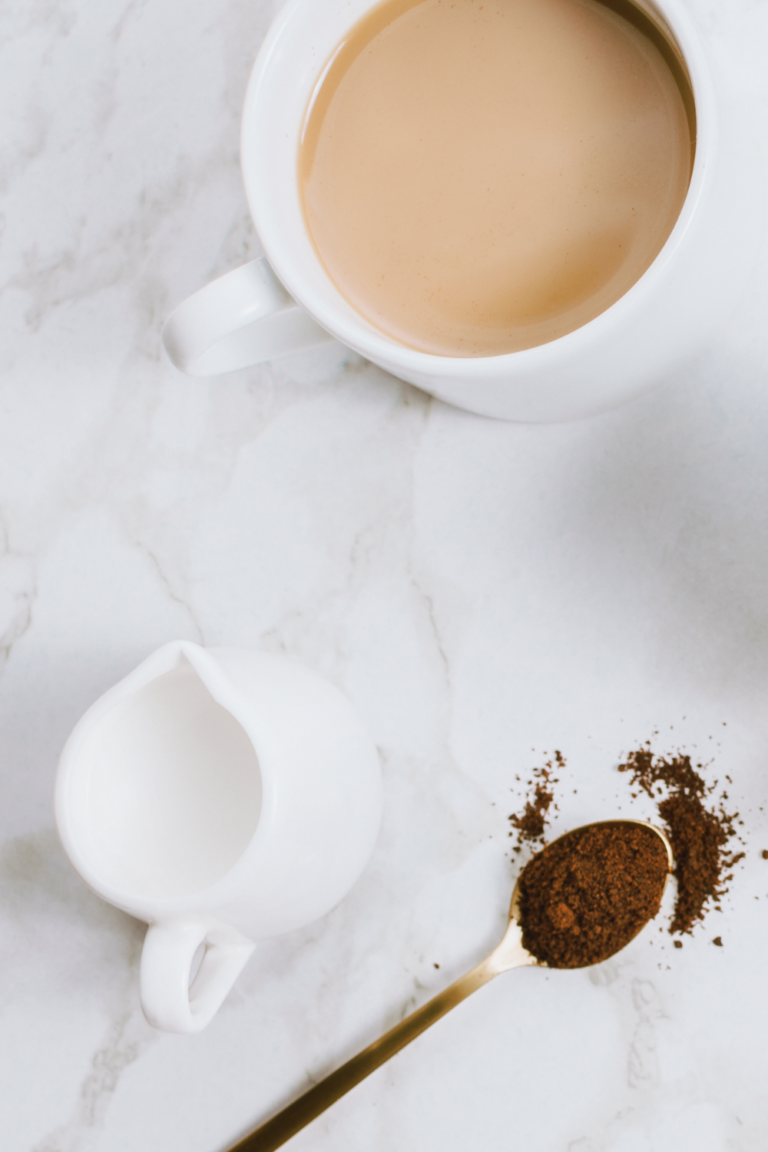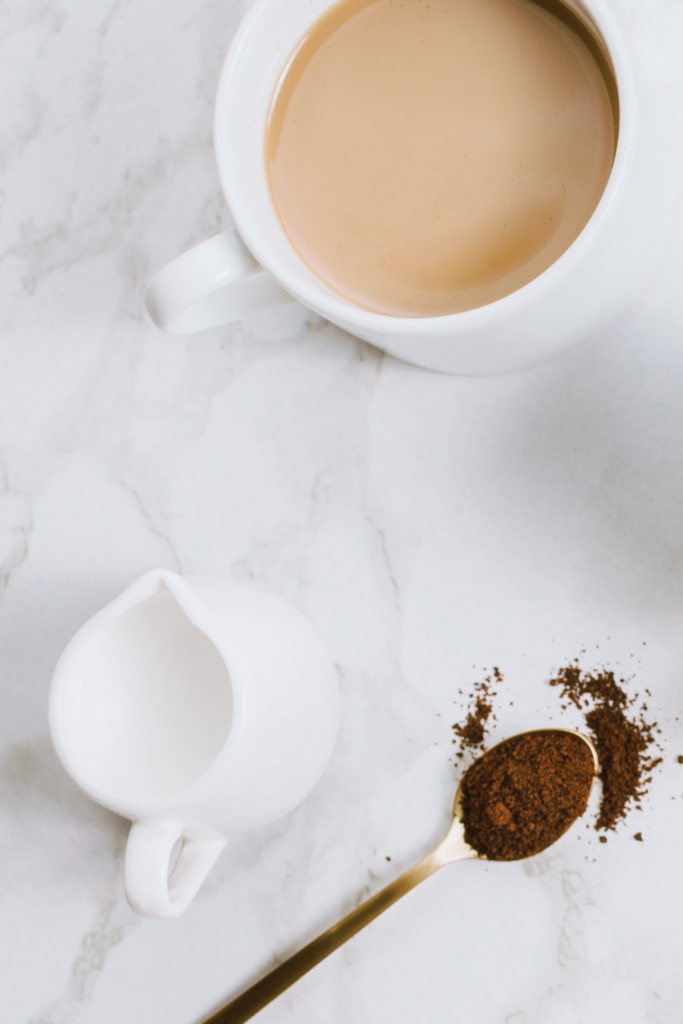 Many healthy, powder-based creamers use stevia, while a lot of liquid-based creamers rely on cane sugar or corn syrup.
Fat Content
If you prefer thicker creamer that resembles half and half or whole milk, then look for a creamer with high fat content. The fat in creamer keeps it from separating from the coffee and replicates that tasty, rich flavor of half and half.
If you try to avoid high fat content but still want that rich and creamy mouthfeel, you can look for creamers with MCT or coconut oil. These help bind the ingredients of the creamer to give it that rich mouthfeel without the use of dairy.
So Which One Should You Buy?
This depends a bit on personal preference depending on your tastes. However, the powder-based creamer from Laird Superfoods is the best pick. It's easy to give this creamer the "healthy" award because it doesn't have anything in it.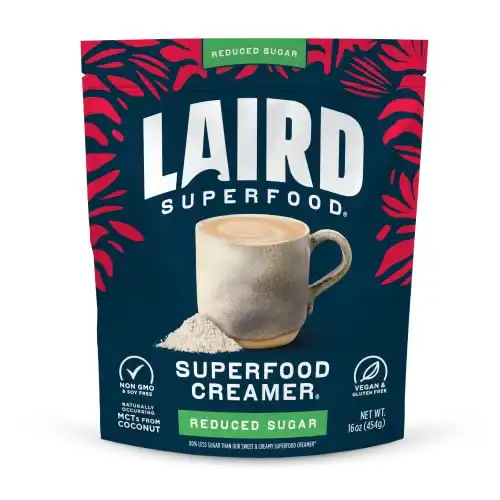 We earn a commission if you make a purchase, at no additional cost to you.
But simplicity aside, this creamer blends well without any sneaky flavors that dominate the flavor of the cup.
The coconut powder also provides natural sweetness but only contributes to 1 gram of sugar per serving, so you get a touch of sweetness without extra calories.
To boot, it's easy to travel with and won't go bad if you skip town for a weekend.
FAQ
Which is healthier – creamer or milk?
Because "creamer" doesn't have a designated "base" (sugar, water, and thickener), creamers tend to be more unhealthy than regular milk. But that's why we made this list. Healthy creamers do exist! They are just not the majority.
Is coffee with coffee creamer healthy?
Black coffee on its own is a zero-calorie beverage with no added sugar or artificial ingredients. So anytime you add creamer to coffee, you could be adding something to it that makes it unhealthy for your diet. Whether that be in the form of sugar, fat, or highly processed ingredients. But if you like your coffee black then you're safe with a zero-calorie beverage.
Is creamer or half-and-half better?
Half and half is made from equal parts heavy cream and milk.  Creamer doesn't rely on a milk or cream base, so the ingredients, quality, taste and texture of creamers vary. 

One could argue half and half is better because it is just milk. So if you're not a non-dairy person, half and half is the least processed option with the least amount of sugar or additives. 

If you tend to shy away from high fat and dairy in general, then choosing a type of creamer that suits your taste preferences is the better option.