Looking for the best mini K-Cup coffee maker to fit a small kitchen or an on-the-go lifestyle? We've got you covered!
In this article, I'll dive into the details of each coffee maker. We'll explore their compact designs, unique features, brewing capacities, and more. And I'll provide an in-depth comparison to help you make the best choice for your kitchen's coffee bar!
| Product Image | Product Name | Primary Button |
| --- | --- | --- |
| | | |
| | | |
| | | |
| | | |
| | | |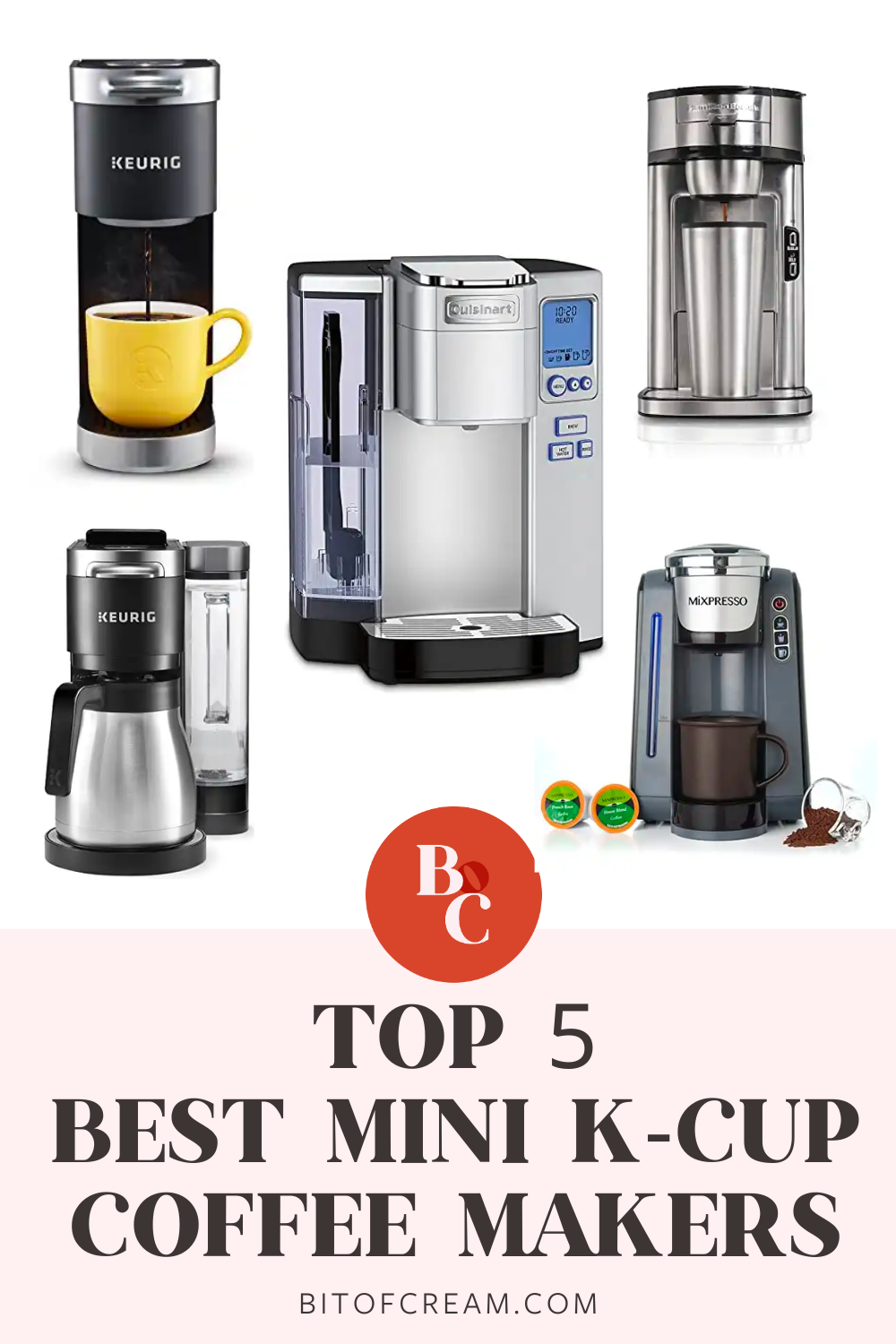 Our Top Picks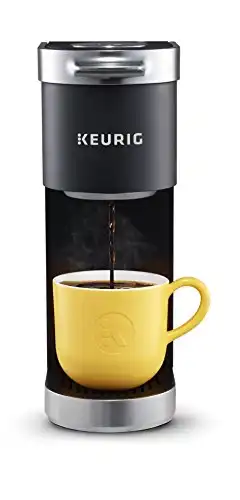 We earn a commission if you make a purchase, at no additional cost to you.
The Keurig K-Mini Plus stands out as the best overall mini K-Cup coffee maker. It's compact, has a strong brew feature, and a user-friendly design. Its versatility and convenience make it an excellent choice for daily coffee brewing. Although it may not be suitable for serving a crowd, its performance and ease of use more than compensate for any minor drawbacks.
Super Compact: At only 5" wide, the K-Mini Plus takes up minimal space on your countertop. It's ideal for small kitchens, dorm rooms, or office desks. It comes in 7 different colors, so you'll be able to find one that fits right in with your aesthetic.
And if you're looking for some great thermoses to go alongside your new K-Mini Plus, check out a few of our top picks here.
Strong Brew Option: One of the key differentiators of the K-Mini Plus is its strong brew option. Now you can brew a more intense and robust cup of coffee. This feature is perfect for those who prefer bolder flavors in their morning cup.
Removable Water Reservoir: Unlike many other coffee makers with fixed reservoirs, the K-Mini Plus boasts a removable 1-cup water reservoir. You'll have to refill it for each cup, but the removability simplifies the process and improves overall usability.
Pros
Space-saving and portable design.
Strong brew option for bolder coffee.
Removable water reservoir for easy refills.
Energy-efficient with auto-off function.
Cons
Limited brewing capacity for larger groups.
Lack of temperature control.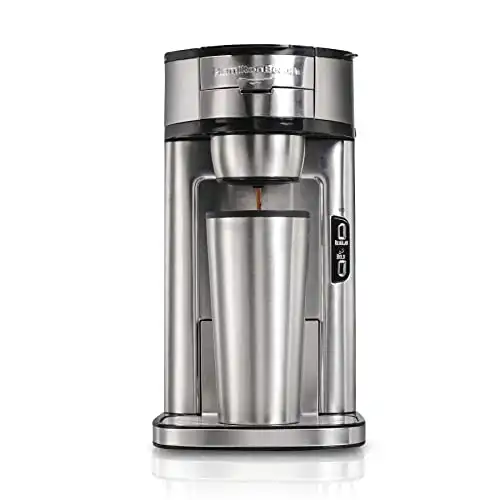 We earn a commission if you make a purchase, at no additional cost to you.
The Hamilton Beach The Scoop is undeniably the best budget option. It's cost-effective and has the ability to brew any coffee grounds with a permanent filter. This makes it a great choice for budget-conscious users since this coffee machine is affordable, and you won't have to buy the name-brand K-Cups.
Customizable & Eco-Conscious: The Scoop allows you to use your preferred ground coffee. This can save you money and reduce environmental impact by eliminating the need for disposable K-Cups.
Also, the coffee maker comes with a convenient mesh filter basket, eliminating the need for paper filters. No disposable filters mean you'll save money, and this feature makes the entire brewing process more eco-friendly.
Fast Brewing Time: The Scoop boasts a quick brewing time of around 90 seconds. So you can enjoy your cup of coffee without any long waits.
If you're someone on the go and looking for quick tips on how to best keep your coffee warm and fresh, check out these 9 top coffee-on-the-go tips that will keep you from heading to the gas station or overpriced coffee shops!
Pros
Affordable and budget-friendly.
Environmentally friendly with no need for single-use plastic K-Cups.
Mesh filter basket eliminates paper waste.
Fast brewing time for convenience.
Easy-to-clean, dishwasher-safe parts.
Cons
Limited brewing capacity for single servings only.
No adjustable brew strength or temperature settings.
May not be suitable for those who prefer the convenience of pre-packaged K-Cups.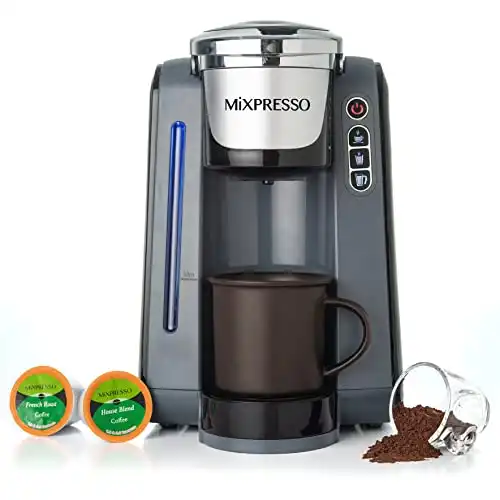 We earn a commission if you make a purchase, at no additional cost to you.
We've chosen the Mixpresso as the best upgrade option because it's a bit pricier than our budget option but with worthwhile features. A large brewing capacity and better-tasting, hotter brews justify the price. Plus, the 45oz water reservoir means you can brew a couple of cups before it needs a refill.
Larger Brewing Capacity: With the ability to brew a 4-12 oz coffee using Keurig K-Cups, the Mixpresso offers more than one brew size. It's suitable for both a quick single cup or a larger serving for those who crave more caffeine.
Hot Brews and Flavor Quality: The Mixpresso brews at a high temperature, ensuring a hotter cup of coffee than comparable makers. The lengthy brew time means you'll have to wait a moment for your coffee, but it also allows for better extraction and a more flavorful result.
Compact and Travel-Friendly: Despite its larger brewing capacity, the Mixpresso remains compact. So it's ideal for travel or storing in small spaces like cabinets, and if you're looking for travel mugs to keep your coffee warm while you're on the coffee, check out our favorite double-walled coffee mugs!
Pros
Large brewing capacity (4-12oz).
Hot brew temperature.
Compact and travel-friendly design.
Maximum extraction for improved flavor.
Convenient 45oz water reservoir.
Cons
No grounds basket included.
Longer brew time than other machines.
Limited brewing customization options compared to other machines.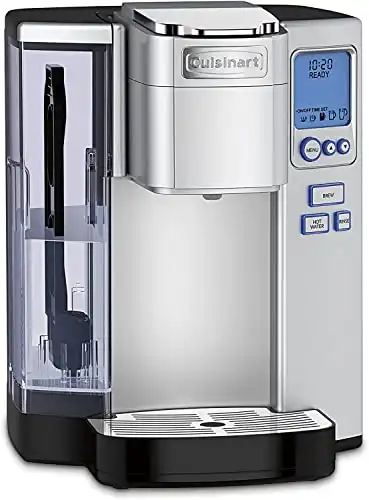 We earn a commission if you make a purchase, at no additional cost to you.
The Cuisinart Premium Single Serve Brewer is our top pick for the best splurge option. It boasts impressive features, versatile brewing options, and high-quality construction with sparkling stainless steel. This machine offers a premium coffee brewing experience that justifies the investment. It's perfect for coffee enthusiasts seeking top-notch performance who don't necessarily want to splurge on any of the latest Nespresso machines.
Customizable Brewing Sizes and Temperature: With five beverage sizes ranging from 4 to 12 oz and adjustable temperature control, this machine provides a level of customization that ensures your coffee turns out just the way you like it. So if you're more of a dark roast lover or a light roast junkie (check out these light roast coffees, they're some of the best on the market!) this machine has you covered.
Ultimate Convenience: The hot water button adds versatility by allowing you to enjoy instant coffee, tea, soup, or hot cocoa. But the best part is the rinse feature, which instantly flushes the brew chamber after each brew cycle. That means less time and effort spent on maintenance, but every cup will taste as clean and fresh as the last.
Pros
Multiple beverage sizes and adjustable temperature control.
Removable 72oz fresh water reservoir
Convenient hot water button for various beverages.
Easy maintenance with the self-cleaning functions
Durable construction and BPA-free materials.
Cons
Higher price point compared to other mini K-Cup coffee makers.
The larger 72 oz water reservoir might be bulky for some kitchen spaces.
The fully programmable interface may be overwhelming for casual users.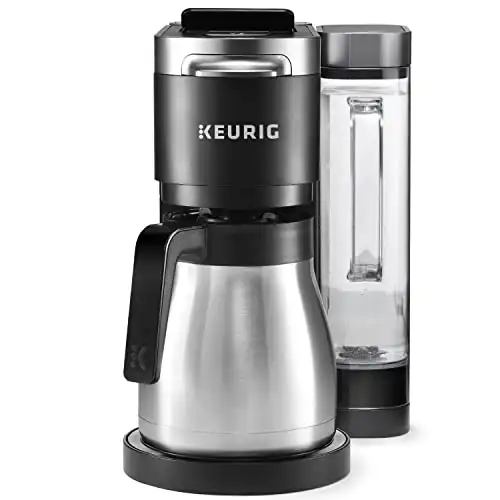 We earn a commission if you make a purchase, at no additional cost to you.
The K-Duo Plus is easily our choice for the most versatile mini K-Cup coffee maker on the list. It offers the best of both worlds by accommodating K-Cups and ground coffee. Plus, you can use it as a single-serve brewer or brew an entire carafe to share!
Dual Brewing Options: The K-Duo Plus sets itself apart by providing two brewing methods in one machine. You can use either K-Cup pods or ground coffee to brew a single cup or a carafe of your favorite varieties.
Convenient Carafe Features: The included 12-cup thermal carafe keeps your coffee warm for up to 2 hours. This way, you can enjoy a fresh and hot carafe when you're ready to serve. Plus, the convenient Pause & Pour feature allows you to interrupt the brewing process and pour a cup before the carafe completes.
If you're looking for more thermal coffee carafe options, we've got you covered with our deep dive list, which includes 5 of our favorites!
Customizable Brewing Options: With the Strong Brew option and four brew sizes (6, 8, 10, and 12 oz. cups), the K-Duo Plus offers a range of customization to suit different taste preferences and strengths for your hot coffee needs!
Pros
Versatile, accommodating both K-Cup pods and ground coffee.
Included 12-cup thermal carafe for keeping coffee warm.
Pause & Pour feature for added convenience.
Programmable carafe auto brew for scheduled brewing.
Multi-Position Water Reservoir for optimal countertop configuration.
Cons
Larger footprint due to the inclusion of a carafe option.
More complex to operate and maintain compared to simpler single-serve machines.
What To Look For
Size
Size is important when choosing a coffee brewer because you want to ensure it will fit on your counter.
Not everyone has a designated coffee bar in their home (although I'm sure it's on all of our wishlists). You might need a brewer that can be tucked away in a pantry or cabinet when it's not in use or even something small enough to fit in a dorm room if you're a college student who doesn't have a lot of extra space.
Make sure the coffee maker you choose fits your space, lifestyle, and budget.
The good thing is though, that these types of coffee makers are all compact. They provide the same quality coffee as larger machines with added convenience. Their size makes them energy-efficient, cost-effective, and portable.
Reservoir Capacity
The reservoir capacity of a machine will determine how many cups of coffee you can brew before needing to refill it.
A larger reservoir means you can make multiple cups without constant refilling. This is especially beneficial in busy households or office settings. On the other hand, a smaller reservoir might be more suitable for occasional users or those with limited counter space.
It's essential to strike a balance—too small a reservoir can become inconvenient if you frequently need to refill it during the day. Meanwhile, a larger reservoir might take up more space, so choosing a size that fits your needs and available kitchen space is crucial.
Additionally, if you're choosing a brewer where you'll need to refill the reservoir for each cup, is it removable? A removable reservoir is much easier to fill and replace than one attached to the machine.
Brew Temperature
There's nothing worse than settling in to take that first sip of freshly brewed coffee only for it to be lukewarm at best. A brewing temperature that's too cold or hot is the quickest way to ruin the flavor and quality of an otherwise excellent coffee.
The ideal temperature for coffee extraction falls between 195°F and 205°F. If a coffee maker can't reach or maintain this temperature range, it can result in under-or-over-extraction. And no one likes a weak or bitter-tasting brew.
If you need some tips on how to solve your bitter-tasting coffee, we've uncovered a few household hacks that can help make your cup of joe taste better!
Consistent and accurate brew temperature is vital for unlocking the full range of flavors and aromas from the coffee, ensuring a rich and balanced cup time and time again.
Brew Time
Why does the wait time between pressing the brew button and that first sip feel like an eternity?
We all want our coffee in as little time as possible, but you'll need a brewer that can strike the sweet spot of speedy brewing and perfect extraction.
The coffee may be weak and flavorless if the brew time is too short. An excessively long brew time can lead to over-extraction, resulting in a bitter and unpleasant taste.
Customer reviews are an excellent way to determine if the device you're considering has an acceptable brew time.
Otherwise, consider looking into brewers that allow the user to adjust the brew time. This way, you can experiment with different grind sizes and coffee varieties to tailor each cup to your perfect balance of flavors.
Bells & Whistles
Each brewer will come with unique features and upgrades, and these additional qualities might make or break your decision to buy.
Are you usually running behind in the mornings, and a coffee maker with a programmable auto-start would simplify your routine?
Do you know you're a tad forgetful, and a machine with an auto-shut-off feature would make your life much easier?
Or maybe you're into the science of coffee and want precise control over the brew temperature and extraction time.
If you take a moment to decide which features are important to you and your preferences, it'll make the buying process much smoother. And if you determine that you're in the market for a more luxurious brewing system, check out our Nespresso VertuoPlus Review to see if that model is more your speed!
Or if you're more in the market for a latte and cappuccino instead of coffee, check out some of our favorite Breville espresso machines that won't break the bank!
So Which One Should You Buy?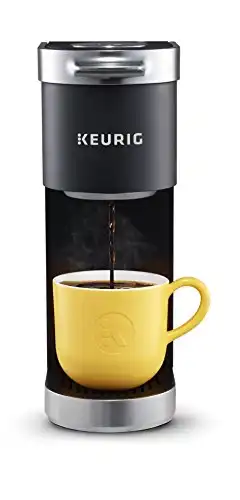 We earn a commission if you make a purchase, at no additional cost to you.
To recap, the Keurig K-Mini Plus is the best small coffee maker pick and an ideal choice that you can't go wrong with! It comes down to its compact design, strong brew option, and user-friendly features that cater to a wide range of coffee enthusiasts.
Hamilton Beach The Scoop excels as the best budget mini K-Cup coffee maker. It offers cost savings and eco-conscious features by allowing you to use your ground coffee.
The Mixpresso K-Cup Coffee Maker is an excellent upgrade option. It offers a large brewing capacity, hotter coffee, and ultimate extraction for enhanced flavor.
The Cuisinart Premium Single Serve Brewer is our splurge-worthy pick. Although it has a higher price tag, its premium brewing experience, customizable options, durable construction, and comprehensive warranty ensure a long-lasting investment. The K-Duo Plus is perfect if you value versatility. The customization options and ability to brew a single cup or a carafe make this one the ideal addition to any coffee station.
You can't go wrong with any of these picks. Pair it with a cute K-Cup storage option as an added bonus, and you'll only be steps away from a great cup of coffee!
Happy brewing!
FAQ
What is the smallest Keurig coffee maker?
The smallest Keurig coffee maker is the Keurig K-Mini, a compact and space-saving model perfect for brewing a single cup of coffee. Its size makes it convenient for small kitchens, dorm rooms, or anywhere with limited counter space.
Do Keurig Minis use the same K-cups?
The machines in the Keurig Mini series all use the same standard Keurig k-cup pods as other Keurig models. The K-Cup system is designed to be compatible across all of Keurig's machines.
What is the difference between Keurig and Mini?
The Keurig K-Mini is a smaller, more compact version of a Keurig coffee maker. The Mini is designed for single-cup brewing and is ideal for smaller spaces.