Whether you prefer to use a French Press, Automatic Drip, or other brew method, chances are, your coffee ends up in a carafe. The coffee carafe is the vessel that holds the brewed coffee, and it can affect the flavor of your brew quite a bit!
A carafe usually features a lid, a handle, and a pouring spout. They can be made from different materials, such as glass or metal. However, glass doesn't hold onto heat for very long. So, glass pots usually sit on a hot plate to remain warm, and over time it'll burn and become bitter.
The answer to this dilemma? Thermal coffee carafes.
They're insulted to keep your coffee warm for hours. That means no more scorched coffee. Instead, you can enjoy delicious, perfectly hot cups all day long.
Check out this list of coffee makers that include a thermal carafe. They're the best picks, so they're all excellent quality and will keep your coffee hot to the very last drop!
The 5 Best Thermal Carafe Coffee Makers of 2023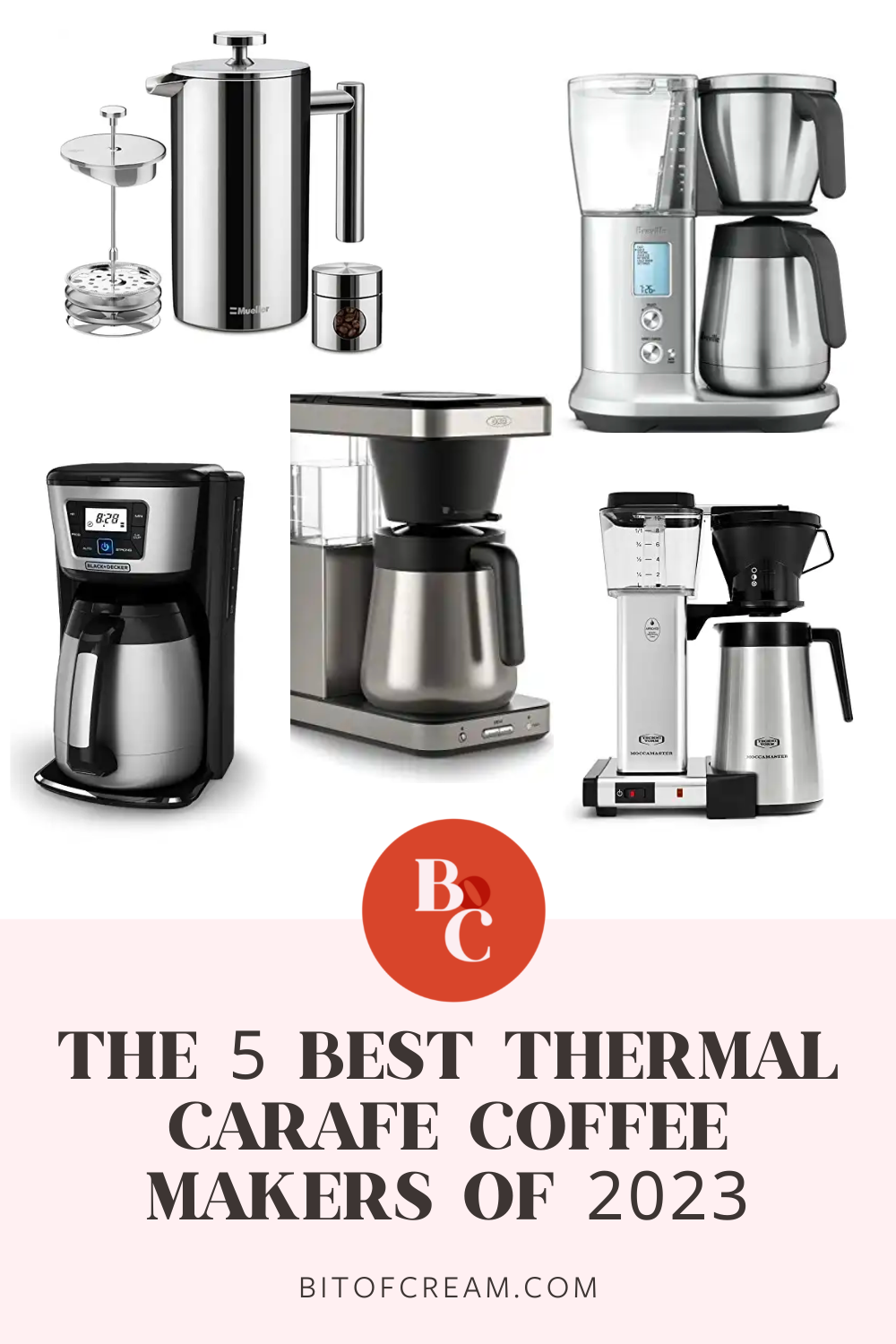 Bit of Cream is a participant in the Amazon Services LLC Associates Program, an affiliate advertising program designed to provide a means for sites to earn advertising fees by advertising and linking to Amazon.com. As an Amazon Associate we earn from qualifying purchases.
| Product Image | Product Name | Primary Button |
| --- | --- | --- |
| | | |
| | | |
| | | |
| | | |
| | | |
1. Best Overall Pick: OXO Brew 8
OXO Brew 8 Cup Coffee Maker
Single-serve capability
Rainmaker shower head evenly distributes water over grounds
Removable well cover makes room for tall mugs
We earn a commission if you make a purchase, at no additional cost to you.
The OXO Brew 8 is our best overall pick because it delivers excellent quality at an affordable price. It has so many amazing features that higher-end machines offer, but at a price point that's more accessible for coffee brewing beginners.
If you want a deep dive into all this coffee maker has to offer, check out our full hands-on review!
BetterBrew Precision Brewing
OXO's trademarked BetterBrew Precision Brewing feature ensures that your coffee is brewed with the perfect cup in mind. Water temperature, water volume, and brew time are reliably consistent. It takes all the guesswork out of achieving perfectly extracted coffee. This way, you can spend more time sipping and savoring and less time fussing over temperatures and brew timing.
Rainmaker Showerhead
This coffee maker uses a Rainmaker Showerhead, which evenly distributes the hot water over the grounds. This feature eliminates any channeling that might happen in the beans. Channeling causes a mixture of over and under-extracted coffee, but with this drip method, you'll always have a balanced cup.
The Rainmaker pairs with an integrated bloom cycle to brew delicious coffee with optimal flavor extraction. It's a low-effort and ultra-convenient path toward a mug full of caffeinated goodness.
Single Serve or 8-Cup Capacity
This coffee maker's double-walled and vacuum-insulated thermal carafe has an 8-cup capacity that will keep your coffee hot for hours!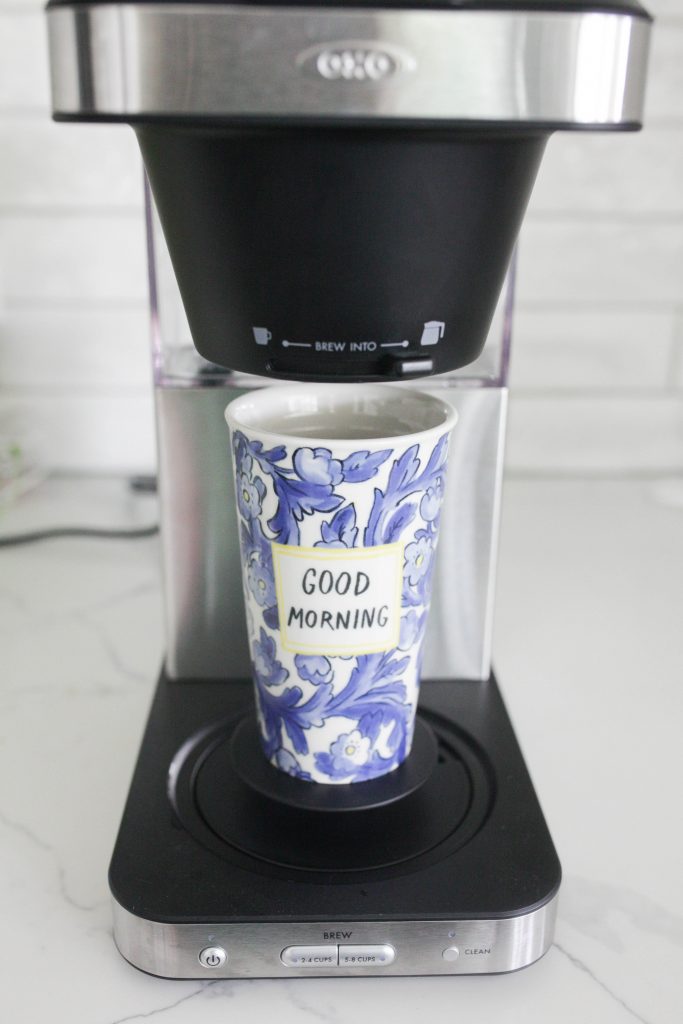 Or, you could use the single-serve option to brew your coffee directly into your mug of choice. Same result, less waste. Plus, this device has a removable well cover that can elevate short mugs to eliminate coffee splatter.
Pros
Brew into a carafe or directly into a mug.
Double-wall vacuum-insulated thermal carafe keeps coffee hot for hours.
Compact enough to easily fit underneath overhead cabinets.
Built-in cleaning cycle.
Brew baskets, coffee scoop, well cover, and Rainmaker are all top-rack dishwasher safe.
Speciality Coffee Association Certified.
Cons
The carafe is hand-wash only.
No timer setting.
Technivorm Moccamaster
4-6 minute brew time

Manual adjust brew basket allows you to customize coffee
5-year Warranty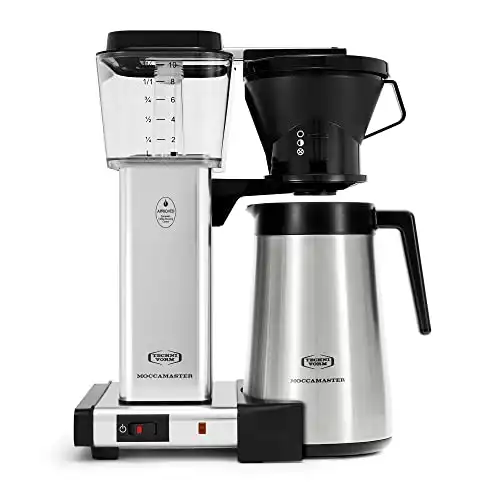 We earn a commission if you make a purchase, at no additional cost to you.
Although the Technivorm Moccamaster is a bit of a splurge compared to other thermal carafe coffee makers, it's made with the best materials. An automatic drip machine has never been more professional with a borosilicate glass-lined stainless steel carafe and copper boiling elements.
Speedy & Quiet Brewing
This machine is fantastic for when you want coffee and want it fast. For example, the Moccamaster can brew a full 10-cup carafe in only 4-6 minutes—that's less time than it would take your local coffee shop!
Plus, this coffee maker is whisper-quiet, so you don't have to worry about waking the house with a morning pot of coffee. However, with the mouth-watering aroma, you might end up with a groggy line of caffeine fiends at the kitchen counter.
Optional Control
If you want the option to be more hands-on than the typical auto-drip machine allows, then this is the coffee maker for you. The Mocca master's brew basket will enable you to control the brew speed or stop it altogether. This way, you can control the extraction or brew however much coffee you'd like.
Optimized Extraction
This machine combines consistent temperature controls with a percolator-esque extraction method to deliver exceptional quality coffee with every brew. In addition, the device mimics a manual pour-over style of brewing for full-bodied, complex, and robust brews.
Pros
One-button automatic operation.
Brew-Thru lid for seamless brewing and pouring + a travel lid.
Borosilicate glass-lined stainless steel carafe eliminates any transference of metal flavor.
European Coffee Brewing Center Approved.
Speciality Coffee Association Certified.
5-Year Warranty.
Cons
The glass lining prevents metal-leaching flavor and odor, but it also lessens how long the carafe maintains a hot temperature. So you'll only get about 2 hours of hot coffee.
We earn a commission if you make a purchase, at no additional cost to you.
The Breville Precision Brewer is the best upgrade option since it's not quite as pricey as the Moccamaster. But it's more sleek and professional than our overall pick, the OXO brewer. The Breville machine has the most customizability and easy-to-use functions and features. It makes brewing coffee with this machine a joy (and the resulting cup is even better!)
Automatic Preset & Customizable Brew Settings
This coffee maker is already programmed with 6 different preset modes: Gold, Fast, Strong, Iced, Cold Brew, and My Brew. Or you can also manually customize each brew to your preference.
The Gold Cup mode automatically adjusts the water temperature and brew times to meet the standards set by the SCA. The My Brew setting allows you to set parameters like bloom time, brew temperature, flow rate, and more to achieve your perfect cup of coffee.
With this coffee maker, you'll have customizable options. Or you can leave the hard work to the machine and just sit back and enjoy coffee at home that's better than what your local chain serves.
Precise & Adjustable Temperature Control
This Breville Precision Brewer uses a thermocoil heating system, like those found in professional espresso machines. Now, even your drip coffee will have the same amount of control and care as a more involved brewing method.
You can choose between 3 different flow rates to optimize your extraction. Plus, the heating element will maintain the exact and ideal temperature to brew rich coffee.
Includes Multiple Brew Baskets
Did you know that the shape of your brew basket can affect the flavor of your coffee? Depending on the shape of the filter and basket, different flavor notes will be emphasized in the brew.
So, if you favor a light roast bean with juicy, fruity, citrusy notes, you're better off using a cone-shaped filter. A flat-bottom round filter will emphasize the flavors of medium or dark roasts with a floral, chocolatey, or nutty profile.
Breville has included both flat-bottom and cone filter baskets. So, you can brew your ideal cup of coffee with the best method possible.
Pros
Pour Over Adapter Compatible.
Thermocoil Heating System is very precise.
Adjustable Bloom Time.
Adjustable Flow Rate.
2-Year Limited Product Warranty.
Cons
The water tank isn't removable, which can make cleanup challenging.
Reviewers find the instructions difficult to decipher.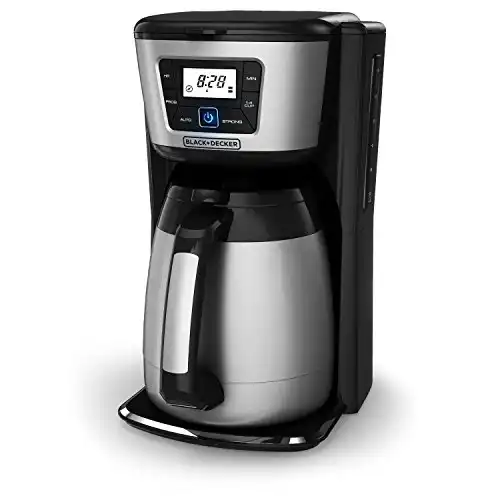 We earn a commission if you make a purchase, at no additional cost to you.
The Black+Decker Thermal Coffee Maker proves that delicious, hot coffee doesn't have to be expensive. This coffee machine will upgrade your morning routine to be as caffeinated and effortless as possible.
Evenstream Showerhead
The Evenstream Showerhead mimics a rainfall showerhead. It evenly drips the water over the top of the coffee grounds for ideal extraction and maximized flavor.
The grounds will all extract at the same rate, so you won't even end up with a muddy mug of coffee again.
Sneak-A-Cup Technology
This coffee maker has a built-in technology that can recognize when you remove the carafe for a sneaky cup before the brew cycle has finished. The machine will automatically pause the flow and continue brewing without spilling or wasting any coffee. Then, when you replace the carafe, it'll continue the flow as if nothing ever happened.
Seriously, sneak the cup of coffee. No one will know!
Wide-Mouth Carafe Opening & Easy Cleaning
Cleanup has never been easier than with this wide-mouth carafe opening. Finally, a carafe that allows you to actually fit your hand and a damp towel into the interior to give it a thorough wipe down. It's even dishwasher-safe!
In addition, the brew basket is easily removable and top-rack dishwasher safe, so you can keep it clean between brews.
Pros
Easy Pour Spout eliminates drips and spills.
Intuitive controls right from the box.
Auto & Programmable functionality.
Regular, strong, & bold strength settings.
Brew Timer.
Easy-to-view water window.
Cons
On average, the water temperature only reached about 182°F with this maker. So the extraction won't be ideal and will be significantly weaker than with other machines.
Not as sleek and luxe as other options.
Mueller French Press
Double-layered stainless-steel

Make tea, hot chocolate, almond milk, and more

Rust proof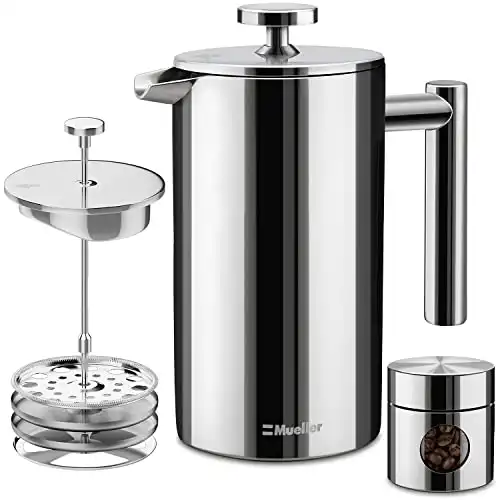 We earn a commission if you make a purchase, at no additional cost to you.
The Mueller Double-Insulated French Press offers all the benefits of French Press brewing, plus an insulated carafe that'll keep your coffee hot for hours! It's affordable and an option that's perfect for travel or camping since you don't need electricity. All you need is a way to heat the water, and you're on your way to a rejuvenating cup of coffee.
Quadruple-Layer Filter
Most complaints surrounding French Press coffee are from sediment sneaking through the filter and into your cup. With this quadruple-layer filter, there's more insurance that none of the coffee grinds will sneak through. However, you'll still be able to enjoy full-bodied, rich, and robust French Press coffee.
Multi-Use
If you're going to bring a coffee maker camping or on a road trip, it's helpful if it can do more than just brew a delicious cup of joe. This way, you can save space in your pack and still enjoy various beverages.
This Double-Insulated French Press can brew hot coffee, tea, hot chocolate, cold brew, frothed milk, nut milk, fruit infusions, herbal drinks, and more.
Immersion Brewing & Thermal Perks
Now, you can still use your favorite immersion brewing method with the added benefit of a thermal carafe. It'll keep your coffee hot for way longer than average.
Unlike the few seconds of extraction that happens with a drip machine, the grounds will soak in hot water for a few minutes. As a result, you'll enjoy a deliciously robust flavor in a vessel that'll retain heat for hours.
Pros
Thick stainless steel is drop-proof and rust-proof, so you don't have to worry about packing it away and taking it on the road with you.
4-layer filtration system.
Perfect for travel.
Easy to disassemble all parts for thorough and effortless cleaning.
All parts are dishwasher safe.
Cons
Smaller capacity than carafes included with a machine.
Need a separate method to heat the water.
What To Look For In A Thermal Carafe Coffee Maker
Carafe Capacity
Depending on how much coffee you drink in a day or how many people you share that pot of joe with will determine the carafe capacity that's right for you.
If you only drink a few cups daily, you can save money by choosing a smaller carafe size but splurging on features and settings. However, going for a larger carafe is in your best interest if you like to entertain on the weekends or enjoy a Sunday brunch spread with the whole family.
Since thermal carafes are meant for convenience, you brew the coffee once, and then the carafe will keep it hot for you. So lean into this feature and size up so that you won't have to brew multiple pots of coffee so everyone can have a cup.
Settings
There are tons of different settings and functionalities that are available with each coffee maker.
Once you decide which features take priority in your coffee routine, you can choose a maker accordingly.
Do you like to be able to customize each pot of coffee, or do you want something with preset and automatic brewing modes?
Will you remember to shut the coffee pot off, or does your groggy morning mind need auto-shutoff?
Do you want to be able to program your preferred brew settings for convenience? Or do you like the process of tailoring each brew to the beans you're using that day?
Cleaning And Maintenance
One of the essential and often overlooked components of brewing great coffee is the cleanliness of your machine.
Over time, leftover grounds and hard-water buildup will cause issues. They'll lead to bitter coffee and an acrid-smelling device. Eventually, you'll end up with clogging and blockages that can render your machine virtually unusable.
The best way to avoid these issues is to clean and maintain your machine regularly. Make your life easier by choosing a coffee maker that's easy to clean with simple removable parts, and maybe even ones that are dishwasher safe.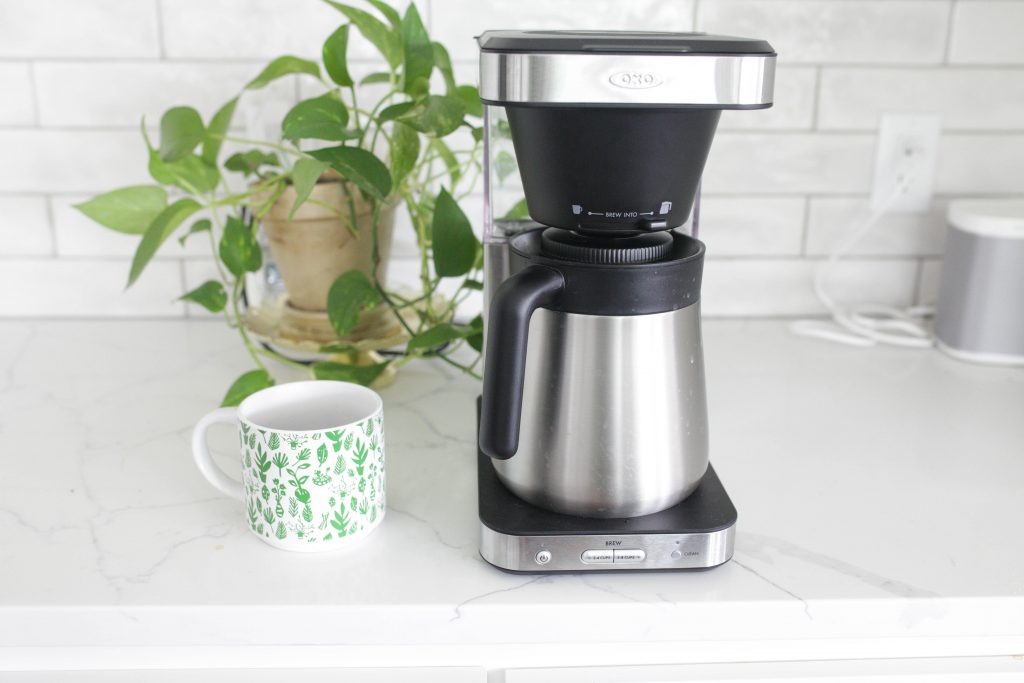 Don't make it hard on yourself to take care of your coffee maker because then you probably won't use it as much. And what's the point of an at-home coffee setup that collects dust while you empty your wallet at the local coffee shop down the street?
Keep your machine clean, and you'll enjoy coffee that's more delicious, affordable, and convenient than any coffee drinks you'll buy.
Coffee Brewing Temperature
For the best flavor and extraction possible, you will want a brewer capable of maintaining a water temperature between 195°F and 205°F.
Water boils at 212°F, and using this high heat to brew your coffee will result in over-extracted muddy coffee. However, when your machine can maintain the ideal temperature, you'll experience sweet, bold, and balanced coffee every time.
So Which One Should You Buy?
Our overall pick when you consider the quality of the machine for the price is the OXO Brew 8. It's sturdy, durable, and looks like a higher-end machine without the high-end price. You can count on this coffee maker to brew consistent, precise, and reliably delicious coffee every time.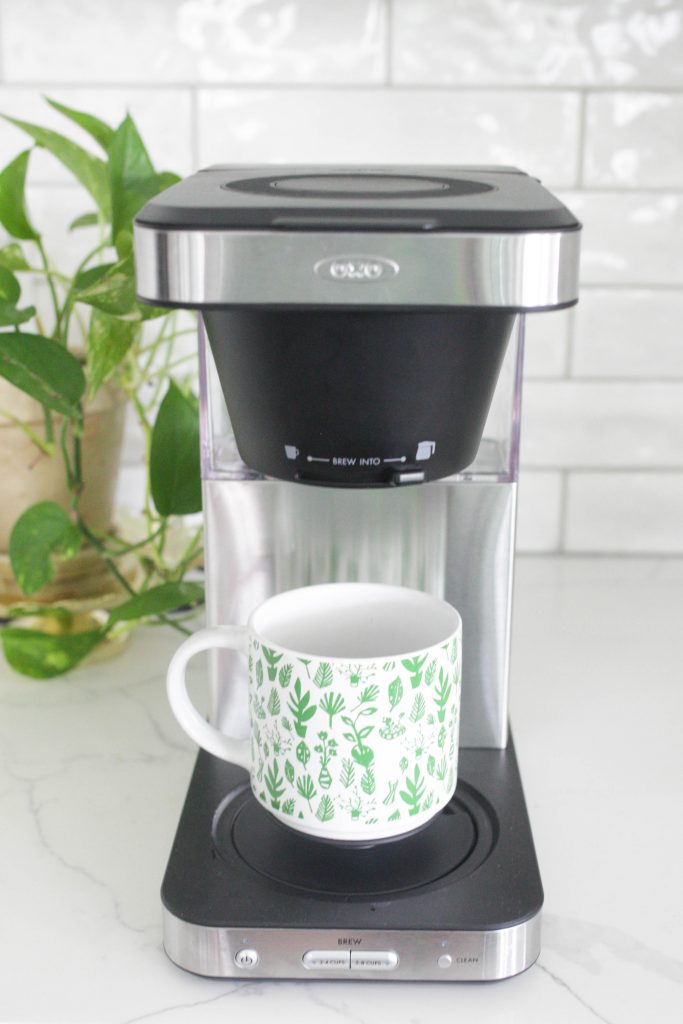 However, if you have the budget, my favorite maker on this list is the Breville Precision Brewer. It has professional-grade materials and components, plus a ton of settings that make brewing an ideal cup of joe effortless. And you can't beat the large carafe size when you want to share your excellent coffee with friends!
FAQs
Is A Thermal Carafe Better Than A Glass Carafe?
Glass Carafes never retain flavors or scents, and they're more affordable than thermal ones. But they're also prone to breaking and need a hot plate to stay warm. The longer the coffee sits on a hot plate, the more bitter it gets. A Thermal Carafe will keep coffee hot for hours without needing a hot plate.
How Long Will Coffee Stay Hot In A Thermal Carafe?
A thermal carafe will keep coffee between 150°-180° for at least two hours, but up to about four.
Free Coffee Art Printables
Don't forget to get on the list before you go! You'll get 3 free coffee art printables delivered when you sign up and weekly coffee tips and tricks, product reviews!