If you're just getting into double-walled coffee mugs, the hype is real.
Across the board, they keep hot things hot for longer. And cool things cool, without sweating onto your table or jeans. The problem is that not all double-wall mugs are equally effective.
In this article, I'll share a few products that work especially well and explain how to navigate design and material options to make the best pick for your situation.
5 Best Double-Walled Coffee Mugs of 2023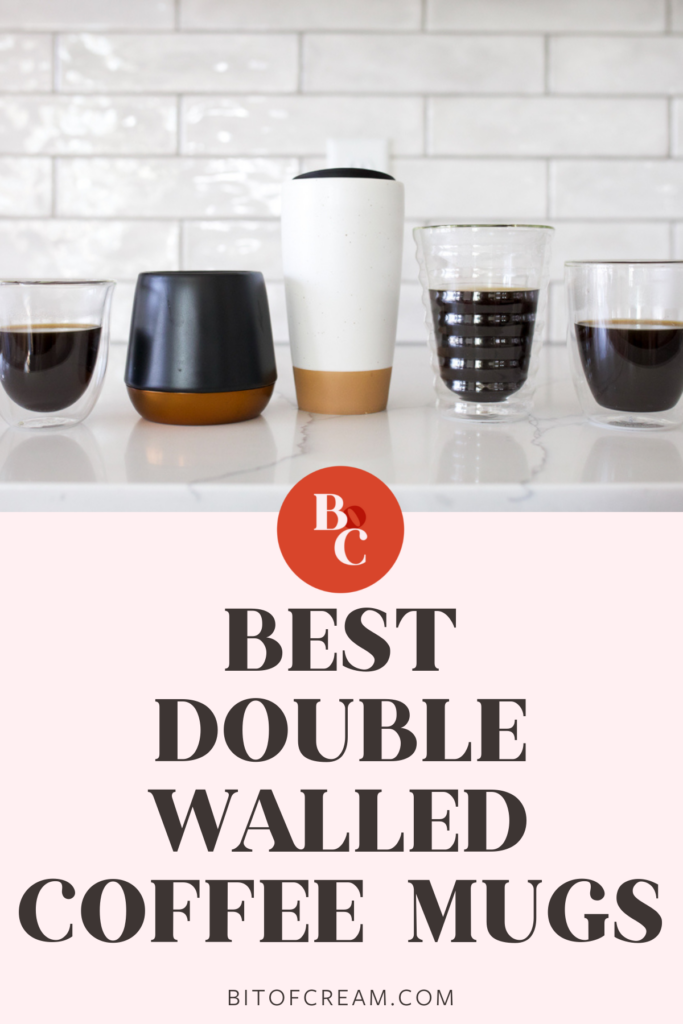 Bit of Cream is a participant in the Amazon Services LLC Associates Program, an affiliate advertising program designed to provide a means for sites to earn advertising fees by advertising and linking to Amazon.com. As an Amazon Associate we earn from qualifying purchases.
| Product Image | Product Name | Primary Button |
| --- | --- | --- |
| | | |
| | | |
| | | |
| | | |
| | | |
Detailed Double-Wall Coffee Mug Reviews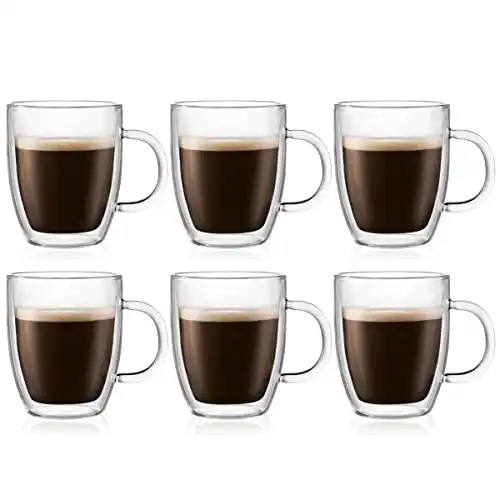 We earn a commission if you make a purchase, at no additional cost to you.
Bodum is a favorite among pro baristas, so you know that whatever they make is going to be good.
The company's mantra is "form follows function," so it's not surprising that their Bistro Coffee Mugs have a streamlined, minimalist design. Rounded edges on all parts of the mug and handle make it a pleasure to look at, hold, and sip from.
These 10-ounce mugs are made of strong, hand-blown borosilicate glass. With its excellent insulation properties, your drinks will stay hot or cold longer, guaranteed. This type of glass can also handle extreme temperature changes without shattering or cracking.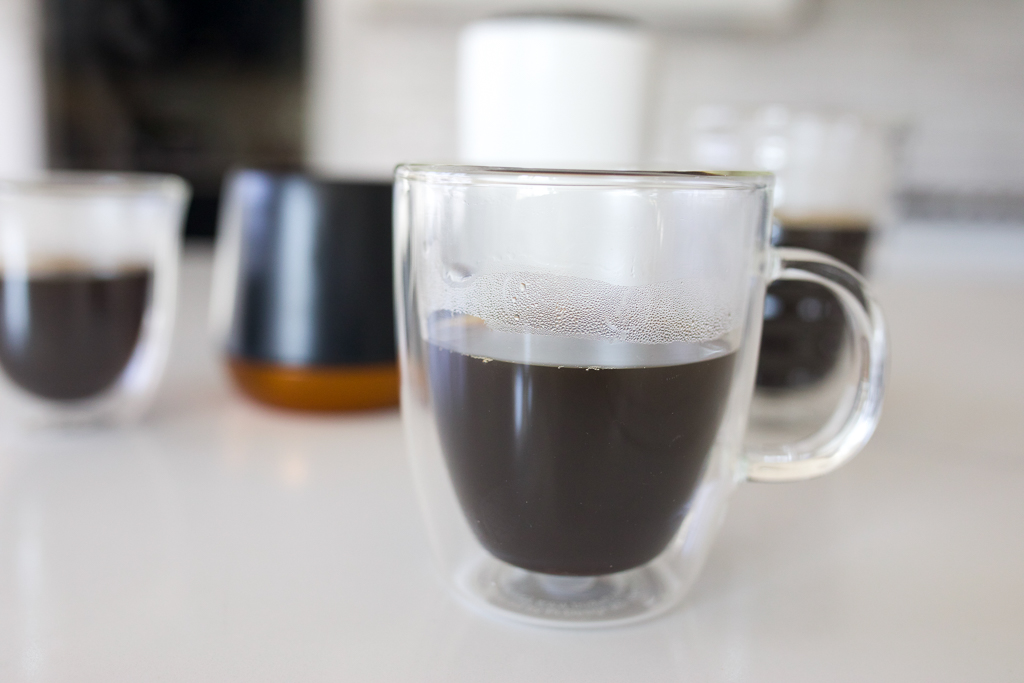 There's no need to hand wash them unless you prefer to. The mug is dishwasher and microwave safe. While some drinking glasses get scratched up easily in the wash, these Bodum mugs will keep their shine and clarity wash after wash.
Originating in Copenhagen, Denmark, Bodum has been making coffee gear since 1944. And their products are built to last. I'm also a huge fan of their home-use bean grinders and french press.
Pros
Durable and reviews state that they last longer than cheaper brands
Worth the higher price point for the quality
An award-winning design makes it easy to trust they're a smart purchase
It can be bought in packs of two or six
Cons
Handled design is not ideal for all coffee drinkers
A higher price point than most other brands
Fellow Big Jo' Double Wall Ceramic Coffee Mug
Bring a sense of occasion to your everyday ritual with the tuxedo of coffee cups. The tapered design allows for easy gripping while the double wall keeps the exterior cool and condensation-free.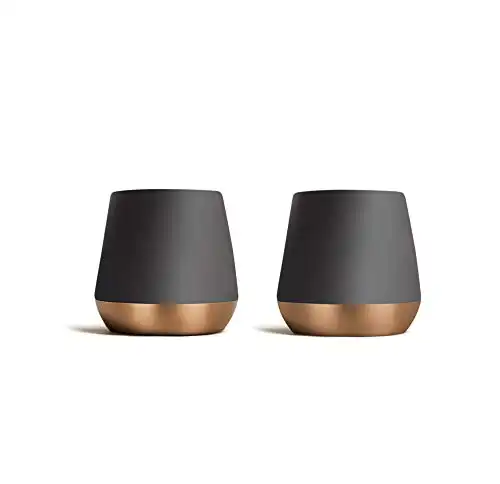 We earn a commission if you make a purchase, at no additional cost to you.
If you want a modern, sophisticated ceramic mug then the Fellow Jo' mug is a great pickup. The Jo' mug is designed with a sleek, polished copper bottom with a matte black ceramic finish.
These mugs influence the taste and enhance your gourmet coffee experience. They have a tapered design that allows for easy gripping that looks chic!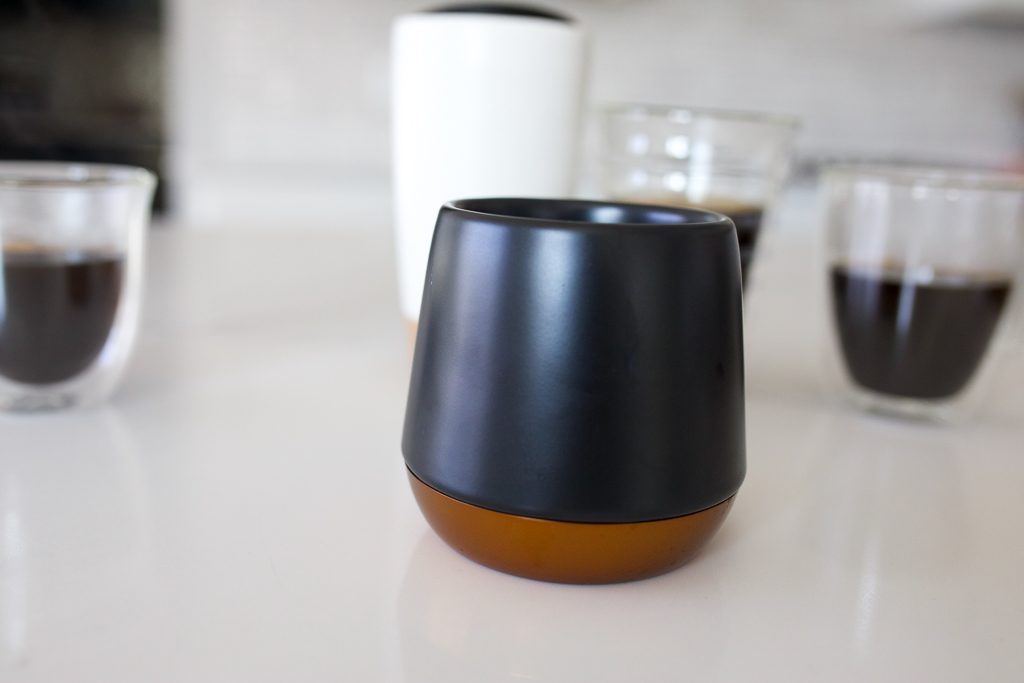 Pros
Better heat retention and no exterior condensation
Attractive 12-ounce design with a fluted lip 
Ideal for tasting the full array of flavors in your coffee
Comfortable to hold with smooth sides
Comes in a set of two or solo
Cons
No-handle design can mean a less secure grip
More fragile due to the single-walled fluted lip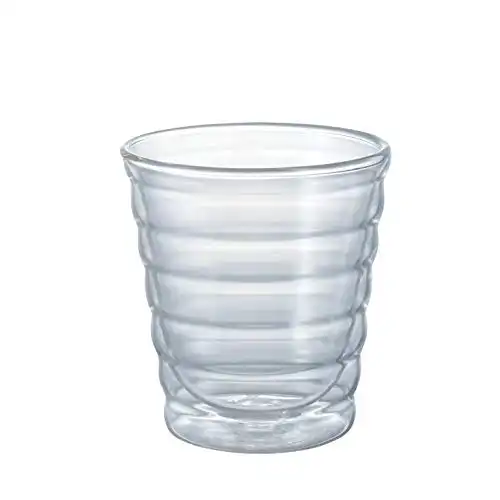 We earn a commission if you make a purchase, at no additional cost to you.
Hario designed their V60 glass with a unique beehive-style look that's also functional.
They're easy and comfortable to grip, so they're less likely to slip out of your hand. The ribs can also measure portions inside the glass, which helps make more complex coffee and espresso drinks.
If you're more of a 12-16 ounce coffee drinker, the Hario V60 glass has a larger capacity at 15 ounces each.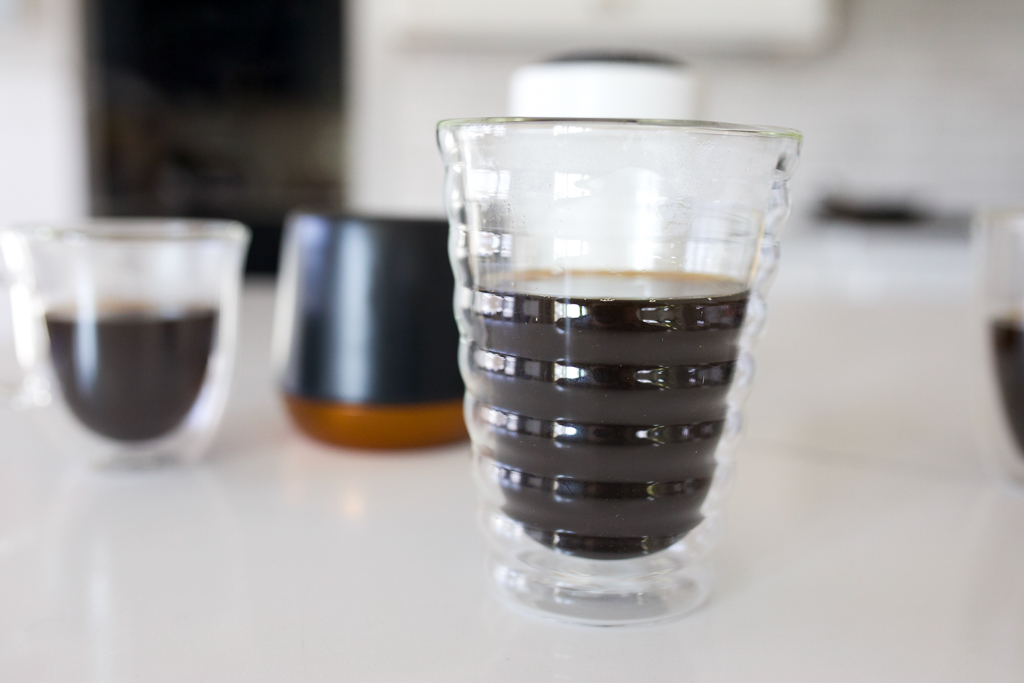 With thicker borosilicate glass than some brands of double-walled mugs, the Hario V60 glasses can last for years with proper care. They're also dishwasher-safe on the top rack.
Pros
The ribbed design is comfortable and secure to grip
Ribbed sides help with measuring coffee drink components
Compatible with Hario's ceramic pour-over coffee filter
Dishwasher-safe on the top rack only
Cons
Not microwave-safe
Each mug is sold separately
A dimple on the bottom reportedly prevented some mugs from sitting flat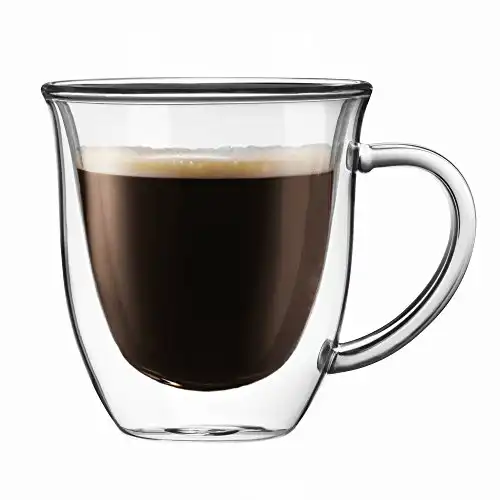 We earn a commission if you make a purchase, at no additional cost to you.
The JoyJolt double-walled mugs have an attractive restaurant-style design. Curvy sides and a simple handle will look as great in your kitchen as in a café.
The Serene mugs are microwave-safe, dishwasher-safe, and freezer friendly. They're even oven safe up to 350°F.
As with most hand-blown glass mugs, they're best washed on the top rack of the dishwasher with a bit of space around them. They'll stand the test of time and will resist scratching, too.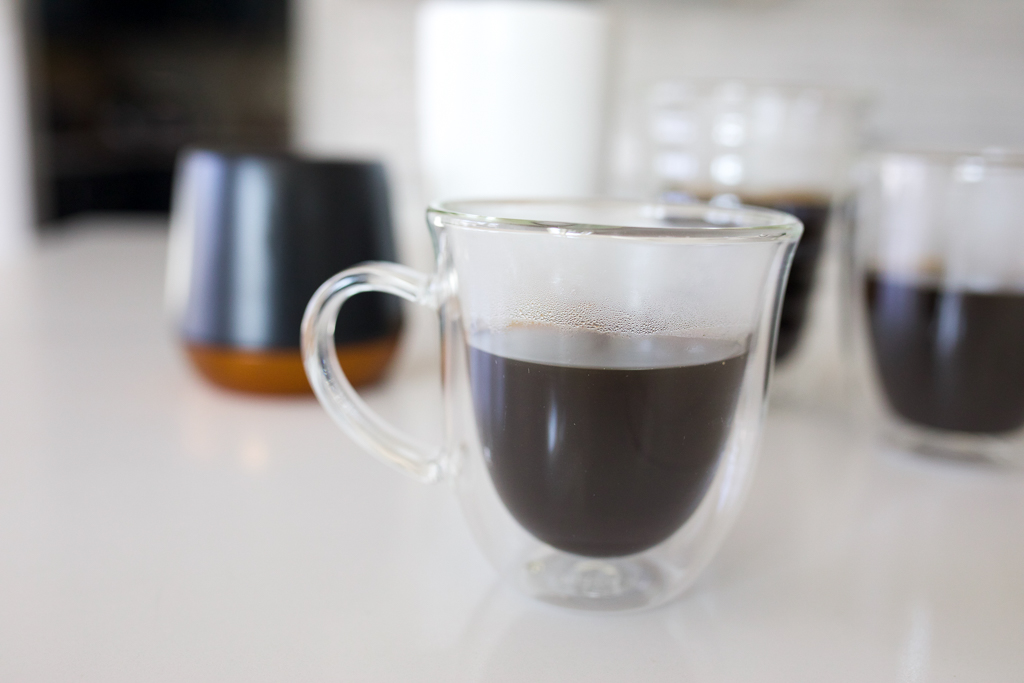 Pros
Pick the capacity you need between 7.4 and 13.4-ounce sizes
Highly affordable and can be bought as a set of two
Microwave safe, and the handle won't heat up in the microwave
Attractive curvy restaurant-style design with a handle
One-year warranty available
Cons
The handled design may not be for everyone
No larger 16-ounce sizes are available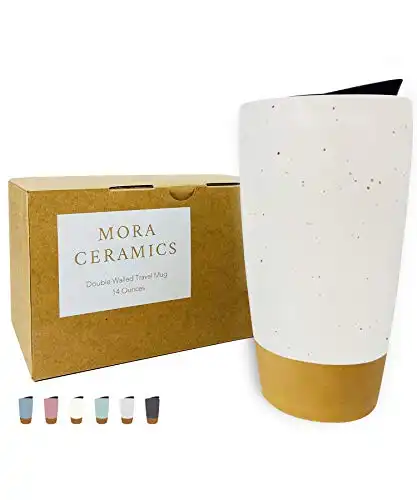 We earn a commission if you make a purchase, at no additional cost to you.
If you're looking for a double-walled travel mug, this is it.
Mora comes with a splash-proof lid containing an extra-thick silicone ring to keep the lid fully sealed as you drive. The lid also helps prevent coffee from splashing over your face as you drink, which is always a bonus.
This particular type of clay is reportedly 20% stronger than other ceramics. While it's technically breakable, it's less likely to shatter than a standard ceramic mug.
Some ceramic glazes contain lead, but not Mora's double-walled travel mugs. They're made with a lead-free ceramic glaze, so you won't have to worry about any unsafe chemicals leaching into your drink.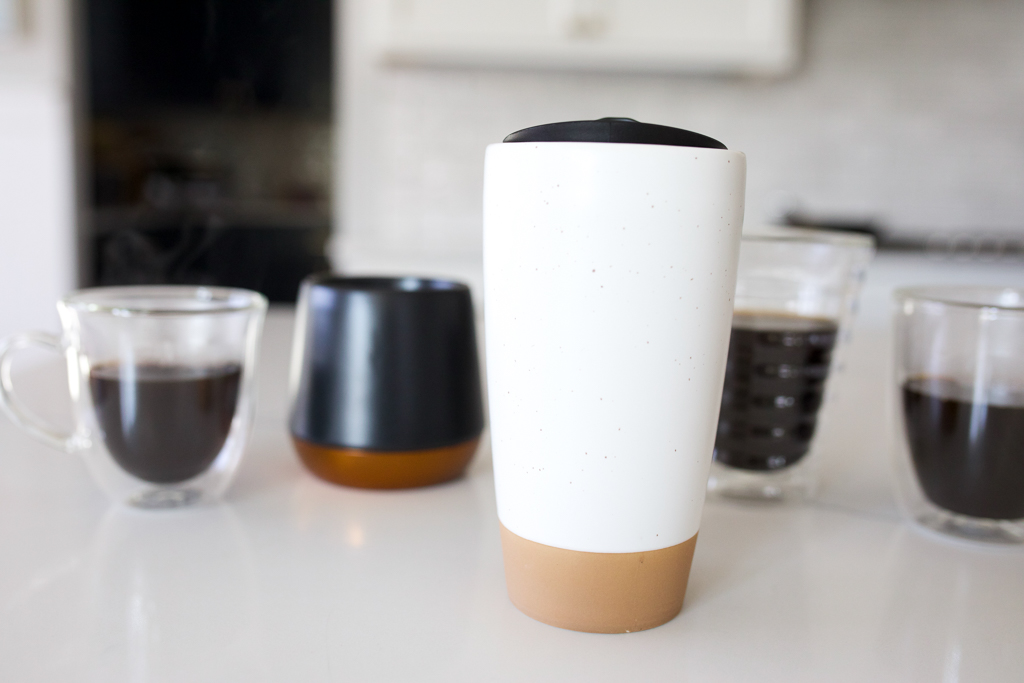 Pros
Larger capacity at 14 ounces
Microwave safe, which is rare for a travel mug
Beautiful design with multiple color choices available
30-day return policy offering a full refund if you're not satisfied
Cons
The lid is not microwave-safe
Not 100% leak-proof, so it's best for cars with cup holders only
More breakable than metal travel mugs
What To Look For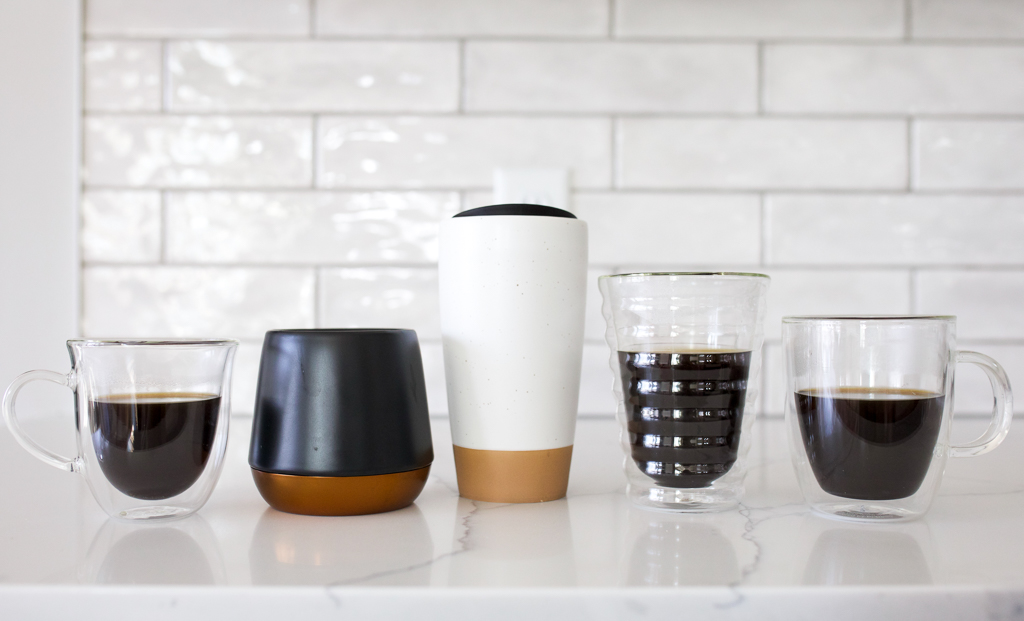 Material
You can find a double-walled mug made of glass, ceramic, and metal.
Metal mugs keep liquids warm the longest but also interfere with the flavor. That's why I left metal mugs out of this list.
Neither glass nor ceramic mugs will interfere with the flavor of your coffee. They won't leach flavors or absorb them, so you can be sure you're getting the cleanest-tasting cup possible.
Glass double-walled mugs are the most stain resistant and visually appealing. Whether you're drinking drip coffee or a thick mocha with whipped cream on top, you'll be able to savor the colors of your drink from all angles. Best of all, you can see how much is left in your mug.
Ceramic mugs are more likely to stain and shatter than other materials. Still, if you're into the ceramic artsy aesthetic, there really is no substitute.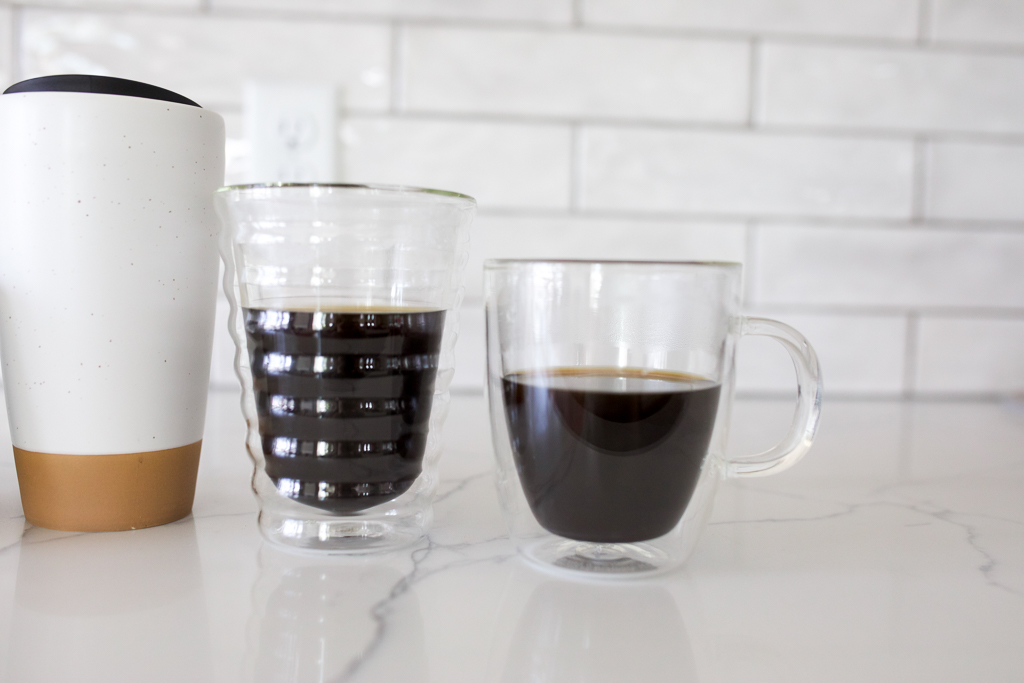 Durability
Durability is mostly a result of material selection.
Metal is the most durable material, so it may be a great choice if you are headed outdoors. There's no denying metal will take a beating before it breaks.
Since each double-walled glass layer is thinner than single-layer glass mugs, they can be more breakable overall. It's wise to avoid putting weight and pressure on glass double-walled mugs. For example, brewing on a mug with an Aeropress would not be a good idea.
Usually, when a double-walled mug is dishwasher-safe, that's a good sign of durability. With that said, even dishwasher-safe mugs can still be fragile. To extend the longevity of your mugs, hand washing is helpful.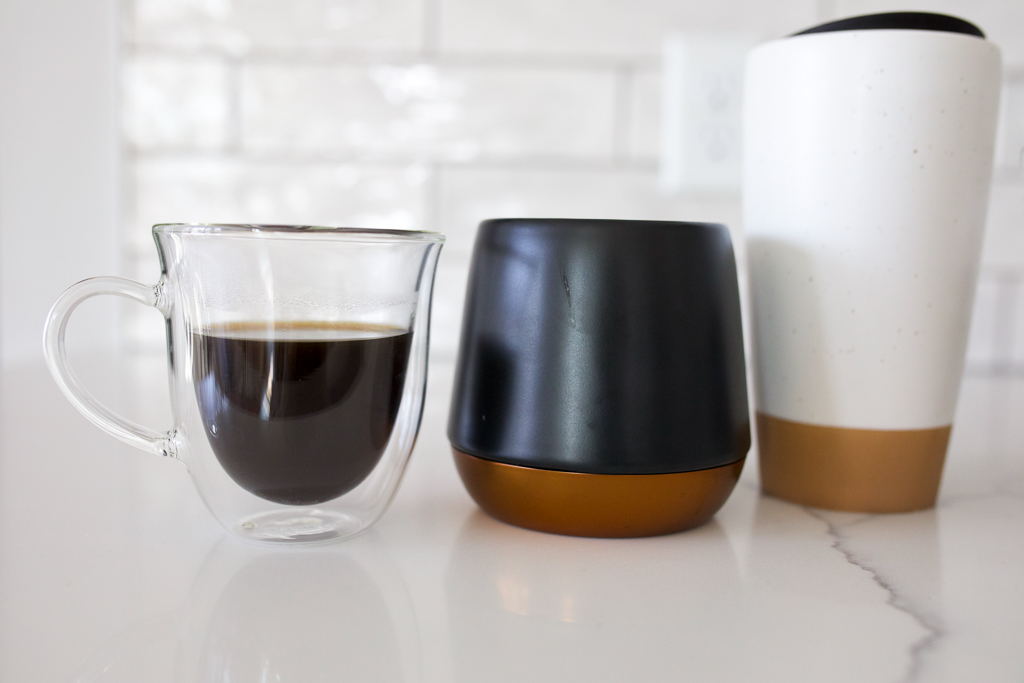 Design
The design of a mug has both aesthetic and functional implications. Those with straight sides tend to retain heat slightly longer than those that are more narrow at the bottom and wide at the top.
Whether you prefer a sleek, minimalist design or something that feels like a comforting mug from home, there's an aesthetic option with your name on it.
Capacity is another design decision worth thinking about.
Most double-wall mugs are sized between 8 and 16 ounces. Keep in mind that most people fill up their cups, so if you're trying to tamp down your caffeine intake, start by getting a smaller mug.
Handles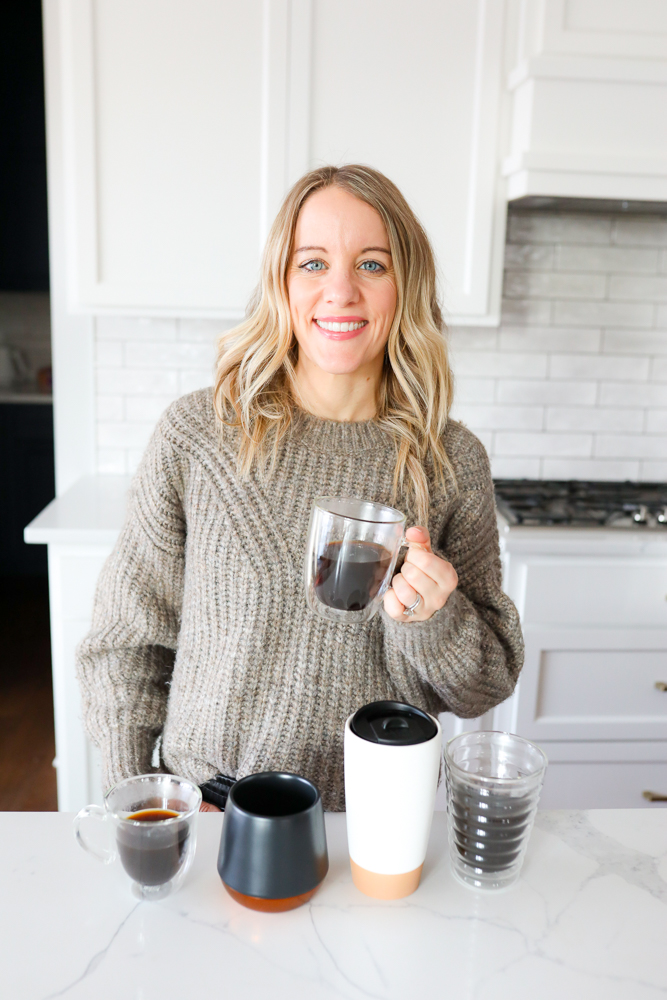 This distinction won't make a meaningful difference in how well the mug insulates. Still, it may influence how pleasant it is to hold and use. Or if it fits in your car's cup holder.
Most double-wall mugs are smooth-sided and more like a regular drinking glass than a mug, but some designs mimic a classic handled mug.
Keep in mind that glass double-walled mugs with handles may be slightly more breakable. The handle can break off easily if the mug is dropped.
Why Are Double-Walled Mugs Better?
You won't burn your fingertips or lips on a hot mug, either (though I can't make any promises about the coffee!).
Double-walled mugs have 2 layers of glass, ceramic, or metal with an insulating pocket of air between them. This keeps your drinks piping hot without a lid, usually for 10-20 minutes.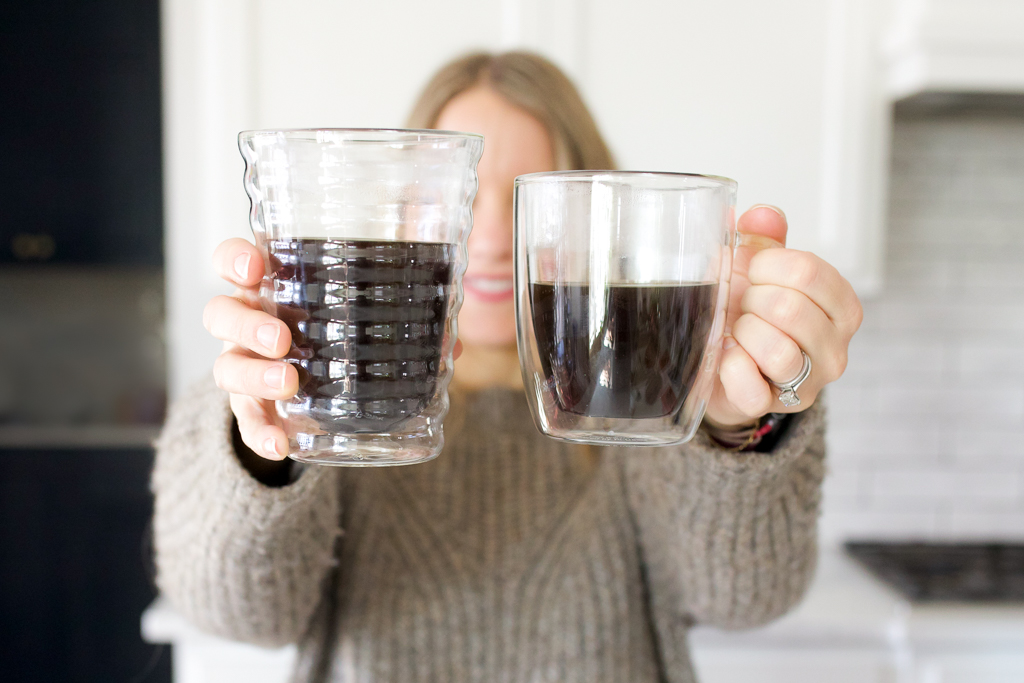 If you prefer your coffee or cold brew on ice, double-walled mugs will keep it frosty without any condensation buildup on the outside. So there's no need for a coaster or worrying about moisture rings on your knee while driving.
Although they may appear thicker, these coffee mugs are often more lightweight than single-walled ones.
FAQs
Are Double-Walled Coffee Mugs Dishwasher Safe?
This depends on the brand, but most double-walled coffee mugs are dishwasher-safe on the top rack only. Check the manufacturer's label, and when in doubt, hand wash them to be safe.
Do Double-Walled Mugs Really Keep Drinks Hotter?
They really do keep drinks hotter! Expect them to keep your coffee piping hot for at least 10-20 minutes. 
Free Coffee Art Printables
Don't forget to get on the list before you go! You'll get 3 free coffee art printables delivered when you sign up and weekly coffee tips and tricks, product reviews!