A reliable thermos is a must for many of us. Whether you take your coffee hot or iced, a reliable thermos may become your new best friend.
They are great for anything from camping to commuting to your morning walk to drop the kids off at school.
If you're like me, you've gone through your fair share of coffee thermoses in your life – some terrible, some ok and some amazing. Today I'm going to share the 9 best coffee thermoses to try!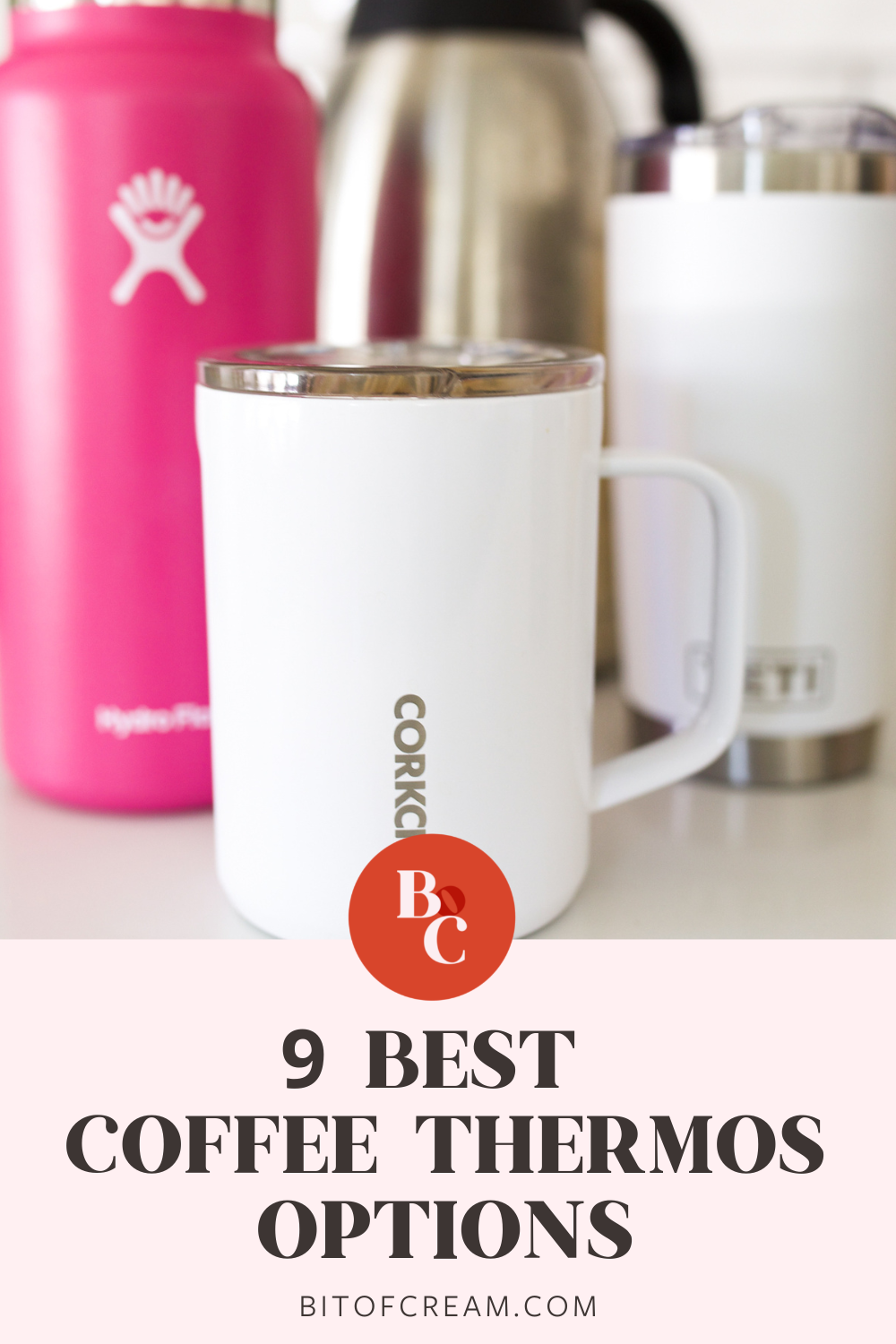 Bit of Cream is a participant in the Amazon Services LLC Associates Program, an affiliate advertising program designed to provide a means for sites to earn advertising fees by advertising and linking to Amazon.com. As an Amazon Associate we earn from qualifying purchases.
If you're short on time, here's the quick list. Keep reading for more details on each one and how to decide on the right coffee thermos for you!
| Product Image | Product Name | Primary Button |
| --- | --- | --- |
| | | |
| | | |
| | | |
| | | |
| | | |
| | | |
| | | |
| | | |
| | | |
Which coffee thermos is best for your lifestyle?
The thermos that works best for you will depend on what you want it to do. Do you need it to be leak-proof so you can toss it in your bag or are you looking for a thermos that is easy to drink your coffee from while you drive?
The answers to these questions will determine the best thermos that will fit for your needs.
Having a nice coffee thermos can save you money in a few ways. It may be an incentive to make your coffee at home to try out unique and fun coffee recipes.
Also, many coffee chains offer a discounted price on your coffee if you bring your own reusable cup. Using a stainless steel travel mug is better for the environment than single-use coffee cups, so it is a win for the environment and your wallet.
This article is looking at size, use, vacuum insulation, and cleaning to compare different thermoses on the market today so you can pick the best coffee thermos that fits with your lifestyle.
Coffee Thermos Size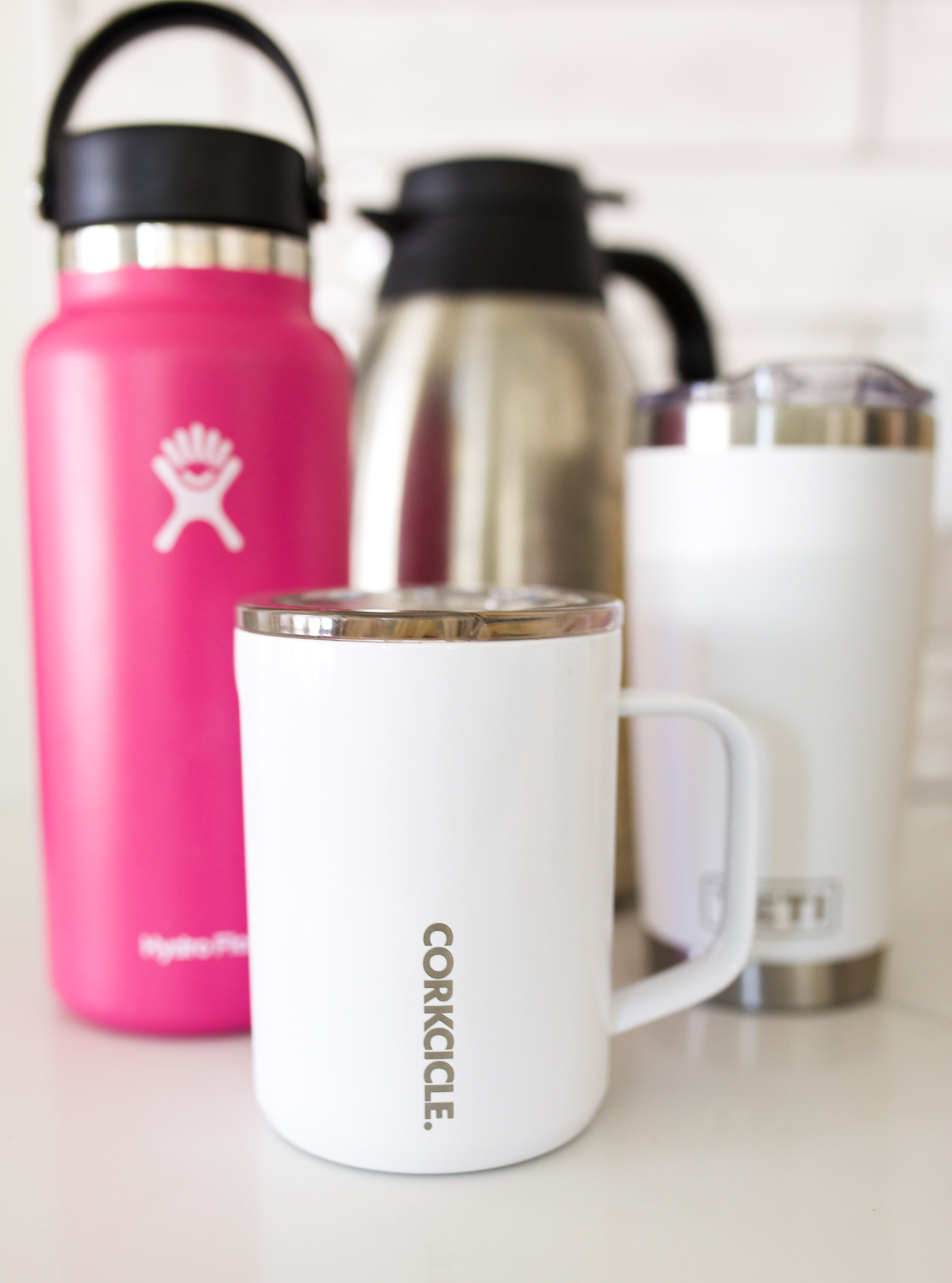 How much coffee or tea do you drink? Are you going to be sharing the contents of the thermos or is the thermos just for you? Are you looking for a travel mug that is easy to use?
Thermoses come in all shapes and sizes, so these questions will determine if you need a larger thermos or if a travel mug would be best.
Use
Thermoses come in all styles too. You want a thermos that best fits your lifestyle and capacity needs. Smaller, more lightweight tumbler-style thermoses are best for activities like commuting or a walk during lunch.
If camping or longer hikes are on your schedule, a bigger, more robust thermos with a screw-on lid would be the best coffee thermos to keep your beverage secured.
Stainless Steel Thermos vs. Plastic Thermos
Insulation is the key factor when it comes to maintaining the temperature of your coffee. The best insulation is vacuum insulated with double stainless steel walls. Most vacuum insulated thermoses can keep coffee hot for 5 to 12 hours.
Plastic insulation is not as effective as vacuum insulation and will only retain the temperature of your coffee for a couple of hours.
Cleaning Your Thermos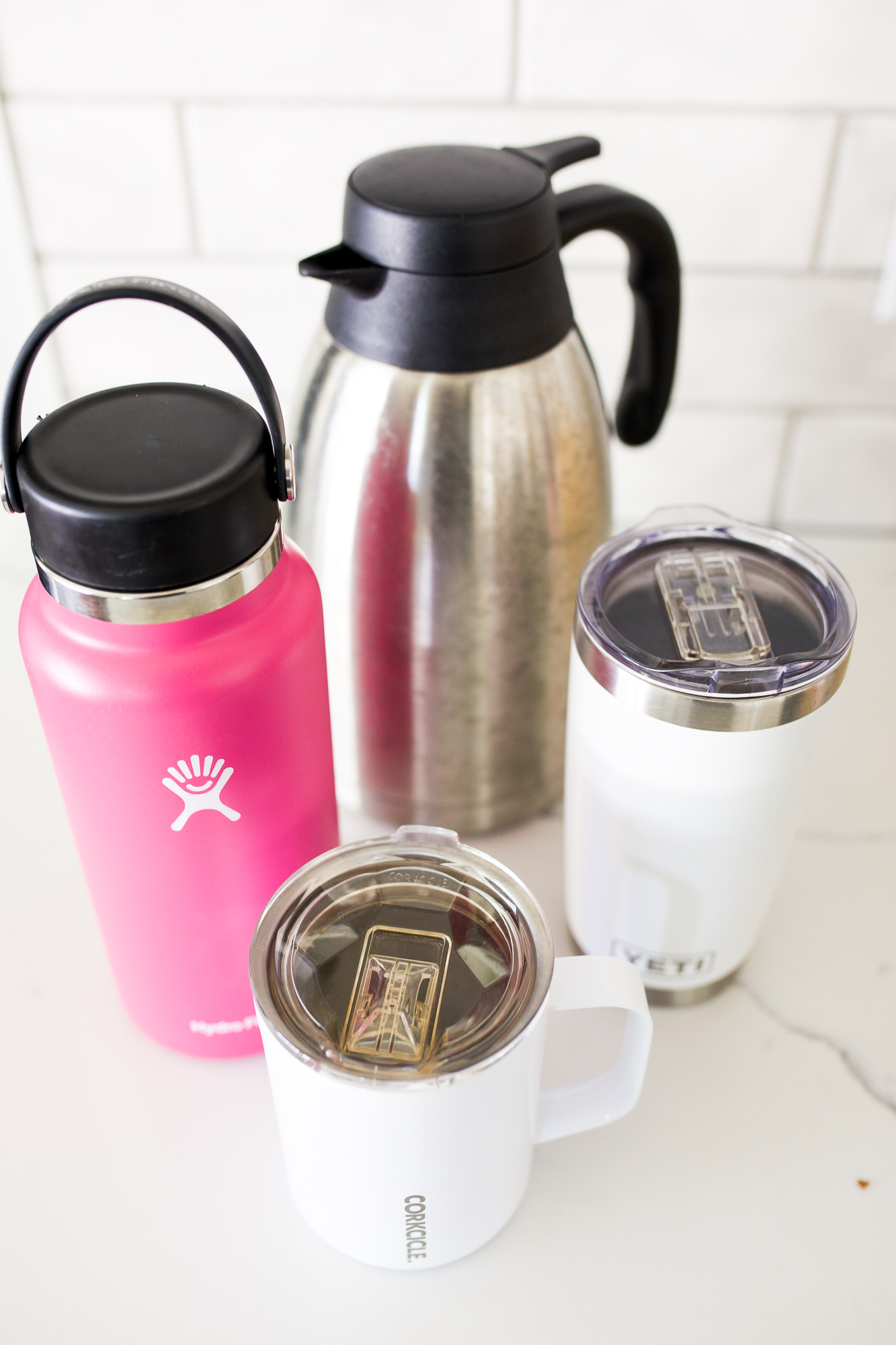 Many thermoses can be washed in the dishwasher, but the brand may recommend cleaning them by hand to make them last longer. You can check the manufacturer's recommendations to see what they recommended best for the thermos you choose.
A mild detergent and a brush or sponge are all you need to clean a steel thermos. They can be soaked in water and dish soap if they have coffee stains or set-in odors. Vinegar and baking soda can be used if an odor or coffee stain is particularly stubborn.
There will be a reaction if these two chemicals are used together (think about that 5th-grade volcano experiment and then determine if this is a road you want to go down!)
9 Best Coffee Thermoses: Pros and Cons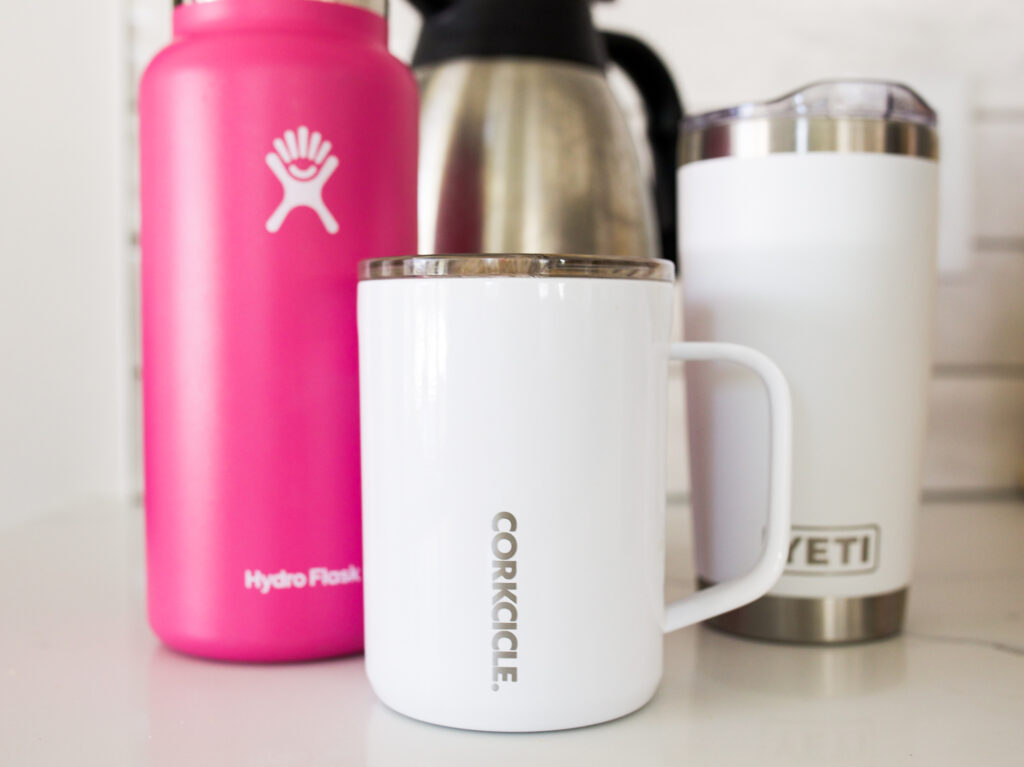 Here are 9 of our top picks for the best coffee thermoses out there. We included a variety of types to fit all kinds of needs that can be readily found on Amazon.
Stanley Classic Vacuum Insulated Bottle
This Stanley Classic Vacuum Bottle is made with superior insulation that keeps liquids (soup, coffee, tea) hot or cold drinks cool for up to 24 hours. It's also made with BPA-free materials, keeping its contents safe to consume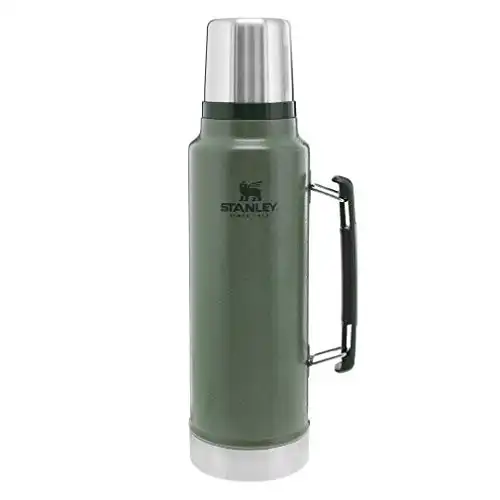 We earn a commission if you make a purchase, at no additional cost to you.
Stanley has been making a vacuum bottles since 1912 and they stand behind their work. They offer a lifetime warranty on their products. This Stanley Classic Legendary vacuum bottle will keep coffee hot or cold for up to 24 hours.
The bottle has a leak-proof twist-on lid. This carafe has a handle for easy carrying, which is good because it is a bit on the heavy side. This is a great thermos when you need hot coffee or tea to take on a camping trip or to a long day at the office.
Pros:
Keeps liquid hot or cold for 24 hours
Lifetime warranty
Found on Amazon
Cons: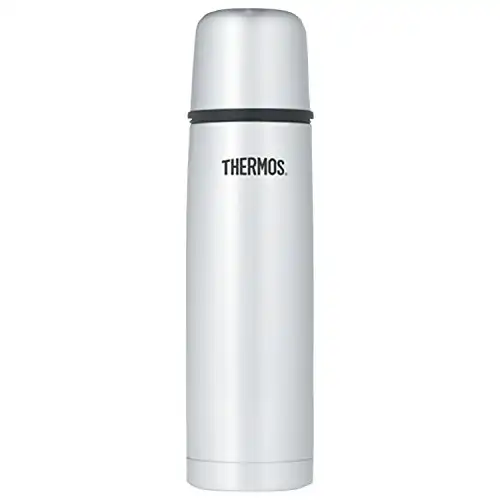 We earn a commission if you make a purchase, at no additional cost to you.
This is a Thermos vacuum insulated insulated stainless steel coffee thermos. Thermos has been around for 110 years and they do make a good product. This insulated steel container holds hot liquids, such as coffee, for 12 hours and cold ones for 24 hours.
This stainless steel thermos weighs a little more than a pound. Reviews say this thermos shows dents and dings after a time, but the quality stays the same. The dents just add character. It comes in a few sizes, but the 16 oz. seems to be a popular choice.
Pros:
Great insulation
Durable steel material
Found on Amazon
Cons:
YETI Rambler
Keeps your dinnertime drink cool well past sundown or your coffee nice and hot throughout the morning!
We earn a commission if you make a purchase, at no additional cost to you.
The Yeti Rambler is wide on top and narrower at the bottom so it fits in most cup holders. It is a double-insulated tumbler with a clear lid. They come in 20 oz and 30 oz sizes.
While it does not specifically say how long it will keep drinks hot or cold, I can say these tumblers do a really great job at keeping coffee hot! We have quite a few Yeti tumblers and they're amazing!
The clear lid lets you see what you are drinking and when you are getting close to needing a refill on your coffee!
Pros:
Double-walled insulation
Comes in 3 sizes
Found on Amazon
Cons:
Hydro Flask Wide Mouth Bottle
Dishwasher safe TempShield double-wall vacuum insulation. Made with 18/8 pro-grade stainless steel to ensure durability, pure taste and no flavor transfer.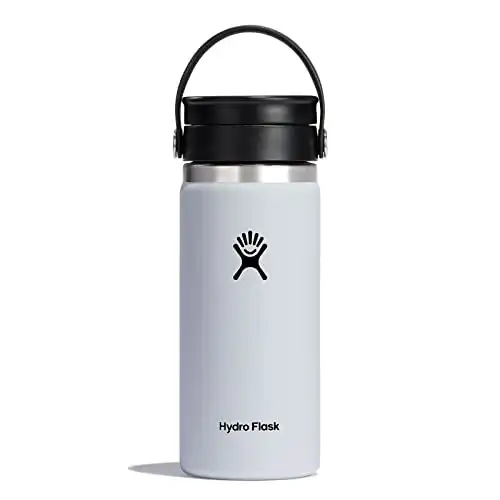 We earn a commission if you make a purchase, at no additional cost to you.
This travel coffee flask from Hydro Flask keeps drinks hot or cold for 6 hours. While that is not as impressive as 24 hours, I usually do not keep a cup of coffee for longer than 6 hours.
You can pick from three sizes of this style steel travel mug: 12 oz, 16 oz, or 20 oz., and there are a lot of colors to choose from. It has a wide mouth that makes it easy to clean.
It comes with a twist-on lid that makes it leak-proof to avoid spilling any liquid in your car or bag. The lid even has a handle on top for easy carrying.
What makes this the best travel is the handle! I personally use this bottle as my water bottle every single day and I never have to worry about spilling and the handle makes it easy to carry. Whether you fill it with your favorite coffee or water, this is a great on the go option!
Pros:
Easy to clean
Has a handle
Leak-proof
Found on Amazon
Cons: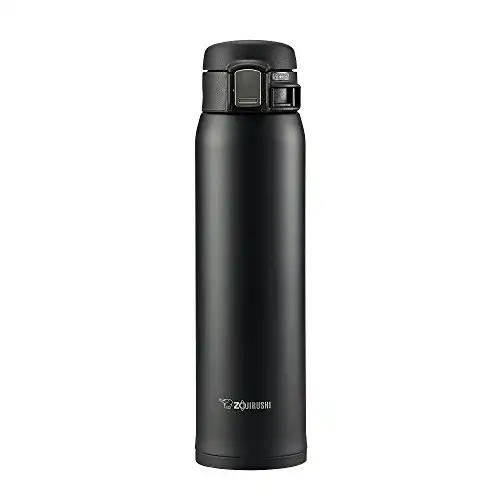 We earn a commission if you make a purchase, at no additional cost to you.
A similar option to the Stanley that is on the cost effective side would be the Zojirushi Travel Mug – though many reviewers said that the product description recommended to not fill the mug with the following: dairy products and fruit juice, fruit pulp, and tea leaves.
We've use the Zojirushi coffee maker in the past and have loved the quality. They're a great coffee brand!
Pros:
Lightweight
5 year Warranty
Safety Lock
Found on Amazon
Cons:
Thermos Stainless King
Thermos vacuum insulation technology for max temperature retention of hot or cold beverages. Perfect take-along for outdoor adventures, keeping beverages hot or cold for 24 hours.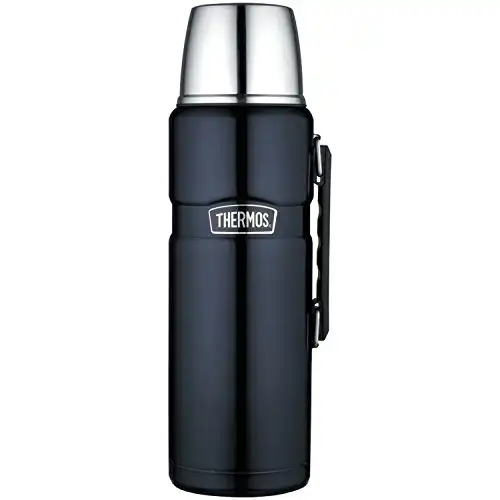 We earn a commission if you make a purchase, at no additional cost to you.
Another pick from the brand Thermos, but they have outdone themselves here. The Thermos Stainless King holds more than half a gallon of liquid and can keep hot liquids hot and cold liquids cold for up to 24 hours.
It has a twist-and-pour stopper so you can serve drinks without exposing the contents of the entire thermos to the elements. It is heavy though, when I tested it, it weighed around 2 pounds.
Pros:
Keeps drinks hot or cold for 24 hours
68 fluid ounces capacity
Found on Amazon
Cons:
7. Best With A Handle: Corkcicle
Corkcicle Coffee Mug
Patented sleek sides with an ergonomic handle. Shatterproof, crystal-clear lid has a built-in slider to ensure your drink stays inside between sips. The detachable silicone gasket offers leak-resistance and easy cleaning.
We earn a commission if you make a purchase, at no additional cost to you.
Corkcicle is a well known brand that got their start with an in-bottle wine chiller! Since that amazing product they've come out with canteens, tumblers, stemless wine cups and these mugs!
These mugs have an ergonomic handle – perfect if you love to feel like you're drinking out of a real coffee mug when you're on the go. The lid is see through with a built in slider to keep your drinks nice and hot.
The bottom is made of silicone making it non-slip. Nobody wants spilled coffee! 🙂 They say they keep drinks hot up to 3 hours (however from personal use it keeps it hot much longer than that!).
We personally own two of these mugs as well as two of the stemless wine cups (which my husband uses for coffee and not wine haha).
Pros:
Has a handle!
Silicone bottom
Found on Amazon
Cons:
One of ours started to peel when put in the dishwasher
Contigo Vacuum-Insulated Travel Mug
Drinks stay hot up to 7 hours or cold up to 18 with vacuum insulation. The easy clean lid opens completely for thorough cleaning and locks for added peace of mind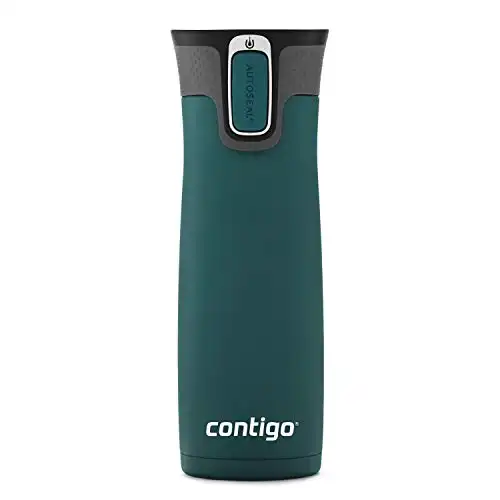 We earn a commission if you make a purchase, at no additional cost to you.
If you want something that definitely won't spill, the Contigo is your friend! This mug has an autoseal technology that is leak and spill proof.
It keeps hot drinks hot up to 5 hours and cold drinks cold for 12 thanks to it's vacuum insulated stainless steel technology. It's easy to drink out of with a push of a button and can fit into most car cup holders!
Pros:
Keeps liquid hot for 5 hours
LeakproofFound on Amazon
Cons:
When button is released, some say liquid can leak out
Cresimo Thermal Coffee Carafe
Large mouth opening to make filling and cleaning a breeze.
Easy-detachable lid is leak proof

Holds enough for 12 6oz. cups of coffee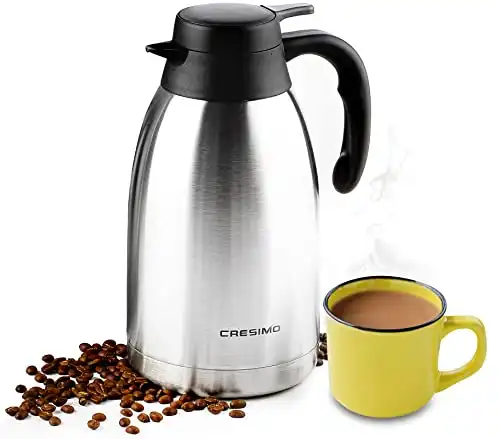 We earn a commission if you make a purchase, at no additional cost to you.
If you're looking for a carafe to bring with you to a sporting event, outdoor brunch or just to leave out for delivery people (like me!), look no further. This carafe is the king of carafes! Let me explain.
I live in Minnesota where the winters are brutal. Our mail person has to walk their route (awful, I know!) and given the nature of my job as a blogger, I order a lot of items and therefore have a lot of deliveries each week. To keep my delivery friends happy, I leave out hot water with tea and hot cocoa packets for them to use.
I bought this carafe back in 2019 and use it all winter long. Outside. I fill it up in the morning with boiling water, set it outside in frigid weather (often times below 0) and when I dump it out at the end of the day it is STILL steaming.
It doesn't leak, is easy to use and best of all keeps things hot!
Pros:
Keeps liquid hot for 12 hours
Easy to clean
Found on Amazon
Cons:
FAQ
Will a thermos keep coffee hot overnight?
Some of them will and some of them will not. The best thermoses are usually vacuum insulated and made of stainless steel and can keep coffee warm for up to 24 hours. Most thermoses do not reach the 24 hour mark. A common range for most insulated thermoses is between 5 to 12 hours. The cold retention on thermoses will typically be longer than the heat retention. 

You can help your steel thermos retention out by priming it. Fill it with hot water for about 10 minutes to warm up the inside of your thermos before pouring your coffee in there. If this is not done, your drink can cool down a few degrees when you pour it into the thermos. Priming is not necessary for cold drinks, but if you are switching from a hot liquid to a cold liquid priming is a good idea or your beverage will warm up when you pour it into the thermos. You can prime your thermos for cold drinks using cold water or ice.
What is the best material for a thermos?
Stainless steel is considered the best material for thermoses. Stainless steel does not transfer as much heat as other metals making it a good insulator. It is also resistant to acidic drinks and has a neutral effect on odors and flavors.

Vacuum-sealed stainless steel thermoses have two layers of stainless steel. These are the best when it comes to insulation and heat retention for your coffee. Thermoses with a stainless steel inner layer and a plastic outer layer will not last as long and are prone to breaking.
How do you use a coffee thermos?
Priming your thermos is an important step that many people skip. Stainless steel is a cold material. If you want to keep your coffee hot for longer, it is best practice to warm up the cup before pouring your coffee in will help keep your coffee hot for hours. 

If you are a cold brew person, filling a thermos with ice and cold brew can make sure you have the best iced coffee all day long.
You can pour coffee or tea directly into thermoses, especially if you are using a travel mug. However, if you wanted to try one of the latest coffee recipes or tea each time you pour another mug, you can use it as a hot water thermos. This is good to do if you have several people using the same steel thermos for hot water to make different drinks.
How do you clean a coffee thermos?
Many thermoses are labeled as dishwasher safe, but hand washing may extend the life of the container. You can always check the brand's recommendation for cleaning. This is important since some warranties might be voided if the thermoses are put in the dishwasher.

A mild detergent and a brush or sponge are all that are needed to clean a thermos and the lid. You can soak them if needed. For stubborn coffee stains, a mixture of baking soda and vinegar is best. These two chemicals cause a reaction, so be mindful of that. Stainless steel does not like bleach, so that should not be used for cleaning a thermos. 
Why does coffee taste different in a thermos?
Some serious coffee purists may say holding coffee in a thermos for a long time is an abomination because coffee oxidizes with time. Vacuum-sealed flasks can keep coffee hot for long enough that it basically slow cooks the coffee for too long. This affects the taste of the coffee and can make drinking coffee out of a thermos less appetizing for some people.
Looking for more coffee fun? Check out one of these other coffee guides: