Coffee is the gift that keeps on giving.
It's the perfect way to start your day, and it's also a great way to show someone you care.
If you're looking for a unique and thoughtful gift for the coffee lover in your life, look no further than our list of 20 unique gifts for coffee lovers under $50.
From coffee beans and grinders to mugs and accessories, we've got something for everyone on your list. So whether you're shopping for a friend, family member, or co-worker, you're sure to find the perfect gift that will also make your wallet happy.
These gifts are so good, you might want to get one for yourself too! And without further ado, your ultimate guide to the best gifts for coffee lovers under $50!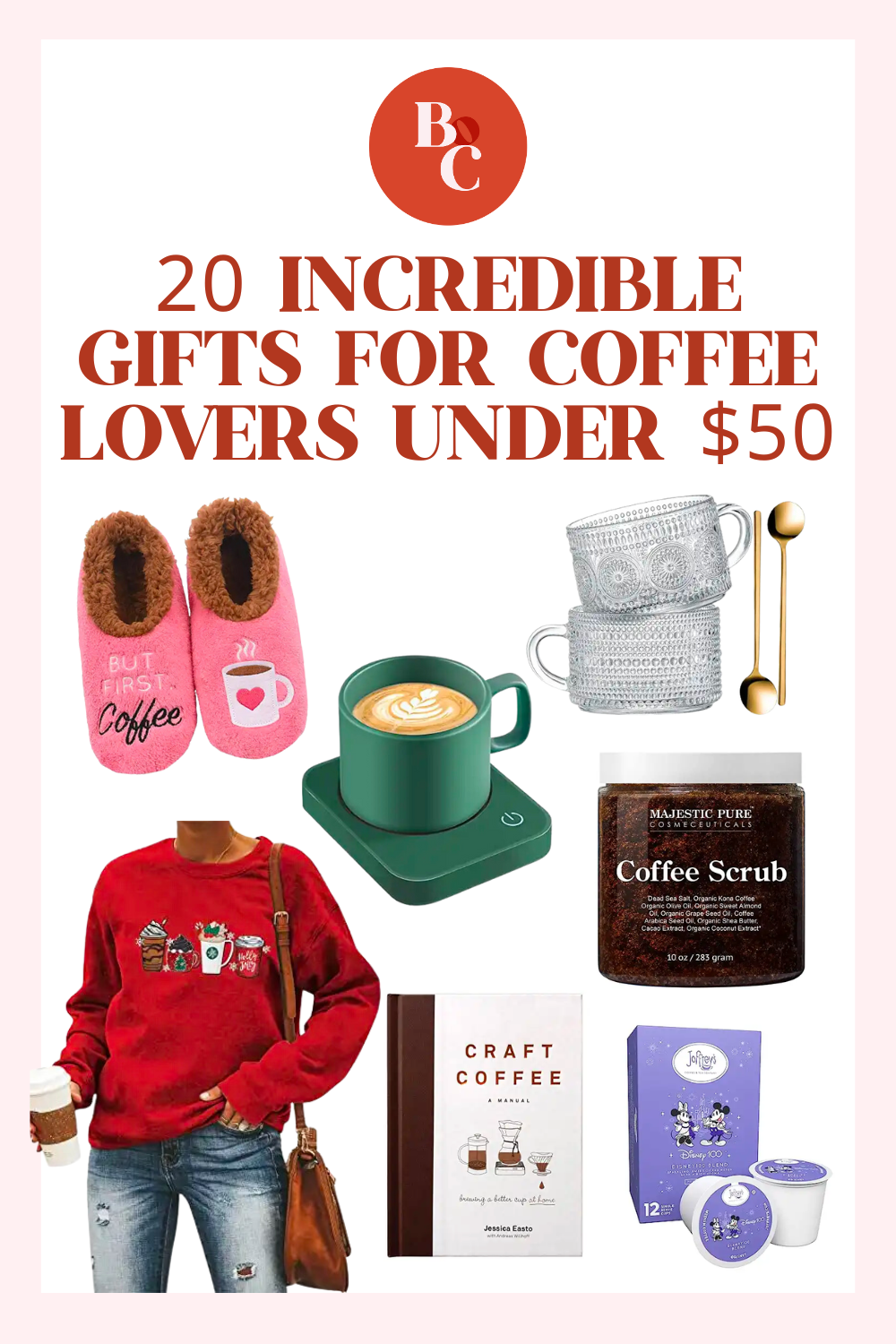 20 of the Best Gifts for Coffee Lovers Under $50
This premium collection of Monin coffee syrups has something for everyone.
Whether your loved one loves the smooth taste of vanilla, the sweet and sticky goodness of caramel, the nutty flavor of hazelnut, the tropical taste of coconut, or the fruity flavor of raspberry, this set has them covered.
Each bottle is packed with flavor, so they can create barista-level coffee drinks and their favorite beverages right at home.
We've got 7 more amazing syrup options that any coffee will love here!
Crafted with soft, plush materials, these slippers are perfect for cozy nights in.
The plush lining and memory foam insole offer comfort, making every step a dreamy experience.
Got any Disney lovers in your life?
This specialty coffee collection from Joffrey's Coffee features a selection of exclusive Disney-inspired blends that transports you to the enchanting world of Disney with every sip!
Each coffee is carefully crafted to capture the essence and flavors of beloved Disney destinations, making it the perfect gift for Disney enthusiasts.
Searching for the perfect practical gift? This anti-spill and anti-slip couch drink holder is the perfect find!
This smartly designed cup holder not only stops drinks from spilling, but it also has a convenient phone and remote slot so it's easy to keep all of your things in one place!
Any Gen-Z'ers in your life will LOVE this Chamberlain Coffee Variety pack.
This set features a selection of original and unique blends, each with its own captivating character and taste profile.
Whether you prefer the bold and robust flavors of "Original," the smooth and velvety notes of "Don't Be Careless," or the vibrant and exotic aromas of "Comoros," this collection offers a coffee experience like no other.
The BAYKA French Press boasts a timeless design with a modern twist. The combination of glass and copper stainless steel not only adds a touch of sophistication to your kitchen but also ensures long-lasting performance.
This is the perfect gift for anyone who's looking to kickstart their day or unwind in the evening, the Majestic Pure Coffee Scrub fits seamlessly into any self-care routine.
Enriched with a blend of natural oils, including coconut oil and shea butter, this scrub not only exfoliates but also deeply hydrates, leaving skin feeling silky smooth and nourished.
Looking for a unique and entertaining gift for the coffee lover in your life? This "Coffee Before Talkie" glass is the perfect present that brings laughter and personality to any home. It doubles as both a coffee cup in the morning and a wine glass for evenings.
Whether the person you're buying for is a seasoned coffee aficionado or just beginning their journey into the world of coffee, this manual is a treasure trove of knowledge.
From understanding bean varieties to perfecting grind sizes and mastering brewing techniques, every page is filled with insights to help you savor each sip.
Indulge in the art of pour-over coffee with the COSORI Pour Over Coffee Maker.
Meticulously designed for both connoisseurs and casual coffee enthusiasts, this 8-cup brewer is a fusion of elegance, functionality, and the purest coffee brewing experience.
This is the ultimate companion for iced coffee lovers!
They can level up their beverage experience with this stylish and functional insulated neoprene cup sleeve, designed to keep drinks refreshingly cool sip after delightful sip.
This stylish set of four mugs is crafted to elevate any sipping experience, perfect for mug lovers who appreciate a touch of rustic elegance in their daily routine.
Designed for discerning coffee enthusiasts, this one-touch automatic grinder is a master of precision, ensuring that every cup is infused with the rich, full-bodied flavor of freshly ground beans.
If you're looking for other grinders, we have an extensive guide featuring some of our favorite models!
This sleek and versatile tumbler is designed to enhance your coffee-drinking experience whether you're commuting, traveling, or simply enjoying a quiet moment at home.
If you're looking for more coffee tumbler's that would make great gifts, check out some of our top tumbler picks!
This coffee warmer would look great on any coffee lover's desk. The VOBAGA Coffee Mug Warmer efficiently beverages, maintaining the perfect temperature without ever risking overheating.
Plus, there's an auto-shut off feature so you can enjoy peace of mind knowing that your coffee is heated just right and won't be subjected to excessive heat.
This adorable coffee sweatshirt would make a cozy and playful addition to any holiday wardrobe. This pullover effortlessly blends comfort, and style, making it the perfect choice for coffee lovers who want to celebrate Christmas with a touch of fun!
Delight the coffee enthusiast in your life with the Coffee Gift Box Set, a carefully curated collection featuring 8 assorted coffees sourced from all corners of the globe. Including a sleek French Press Stainless Steel Glass Coffee Maker.
This set not only enhances any kitchen decor but also provides a practical solution for storing and dispensing your favorite coffee syrups!
With a sleek black finish and included sugar-free coffee syrup labels, this set is a must-have for any coffee enthusiast in your life!
And if you're looking for some of the best sugar free syrups, check out some of the best ones on the market in our sugar-free syrup guide.
Searching for the perfect gift for the coffee lover in your life?
These Gezzeny Vintage Glass Coffee Mugs are a thoughtful and stylish choice that come with a delicate gold spoon that would look great on any coffee bar!
If you're looking for more stunning coffee mugs, check out some of our favorite cups for home baristas here!
No gift guide would be complete without Cameron's Coffee! Cameron's Coffee Limited Edition Winter Blend is a delicious combination of rich, medium-roast coffee beans, accented with subtle notes of seasonal spices and a hint of cocoa. It's the perfect fusion of comfort and celebration in a cup.
And if you're still in a shopping mood, check out our fabulous luxury coffee gift guide that has a treasure trove of coffee gifts!