Keeping a few syrups on hand is a must if you love sweet and flavorful coffee drinks.
When walking into a place like Starbucks, you've probably noticed a wall of flavor syrups behind the barista. Their sheer volume begs the question, where would I even begin?
If you take a single piece of advice from this article, let it be this. Start with what you already love.
Pick a go-to cafe drink, and copycat it at home. You'll save a lot of money and probably discover new preferences in the process!
The truth is that most people find one way they like to take their coffee, and they generally stick with it.
Vanilla, Caramel, Hazelnut – these are the staple syrups in people's flavor range. The seasonal flavor specials, like Peppermint Mocha and Pumpkin Spiced Latte, come and go.
Today I'll explain what coffee syrup is, which brands make the best coffee syrup, and how to make your own at home.
And once you're good on syrups, check out the 5 best coffee creamers that will make your coffee drinks oh-so-delicious!. But first, let's start with my recommendations for the first (and best) coffee syrups to add to your home collection.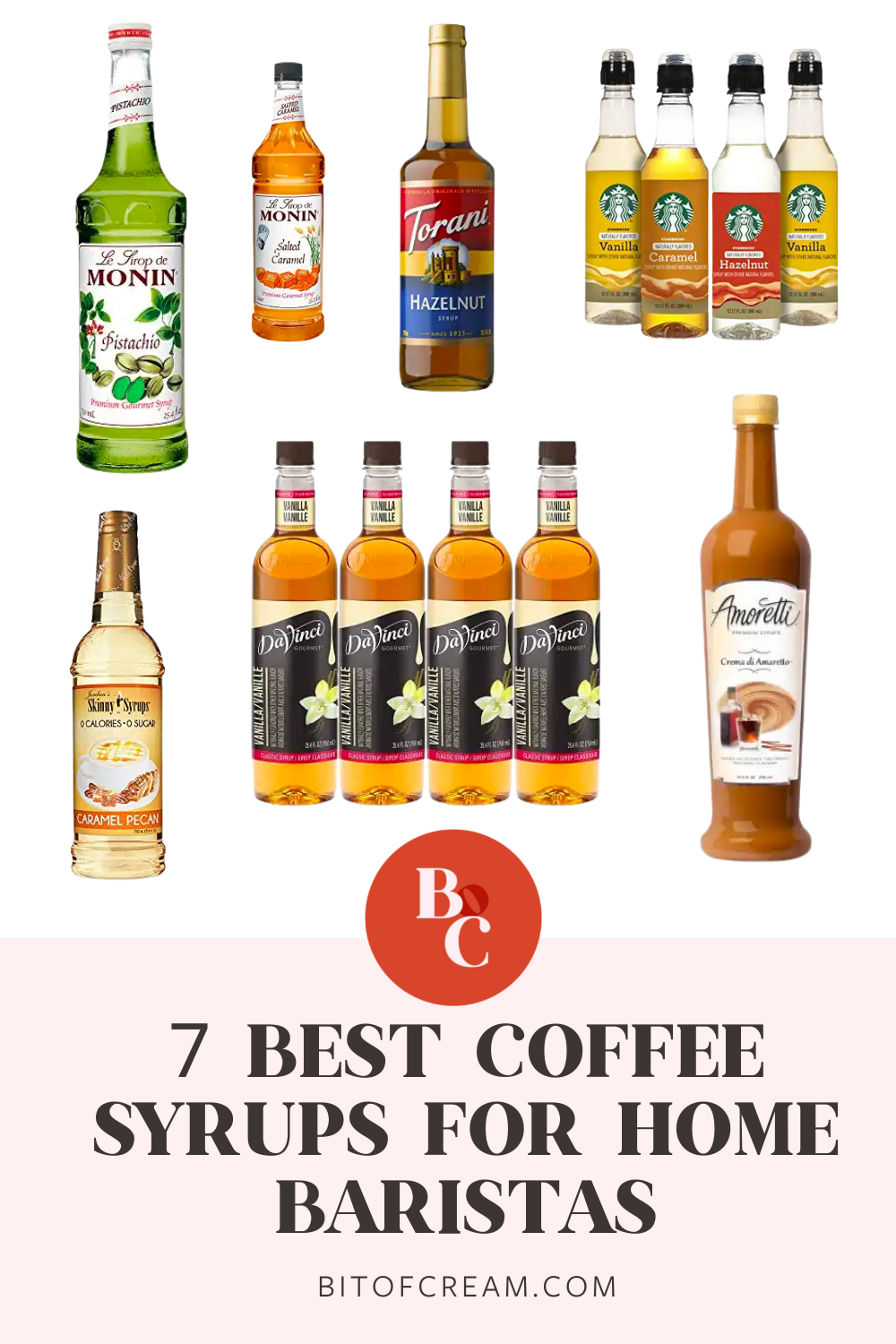 This post includes affiliate links.
Our Top Picks for Best Coffee Syrups
What Is Coffee Syrup?
At its core, coffee syrup is sugar, water, flavor, and color. That's it.
The basic recipe is simple, and minor adjustments make the difference from one brand to the next. Both in quality and in cost.
Getting creative with obscure ingredients usually costs more money. Starting out with cheap processed sweeteners usually costs less.
Coffee Syrup Flavor Basics
While there are hundreds of flavor options, there are only a few that everyone loves. Check out the order board at your local Starbucks, and you'll see what I mean.
Vanilla – Everyone's favorite first syrup. This one is a classic. Vanilla Latte? Check. Vanilla Sweet Cream Nitro Cold Brew? There's another. Whether at a traditional cafe or a new chain shop, this is the first syrup you're likely to find.
Caramel – There are a dozen types of caramel syrup. My favorite is salted. Combine with milk, espresso, and caramel sauce, and you've got a Latte Caramel Macchiato. Yum!
Hazelnut – Maybe the best "all seasons" option to start exploring the entire world of syrups. It's mild, nutty and combines perfectly with chocolate and coffee.
Beyond the basics, you'll find any number of flavor options.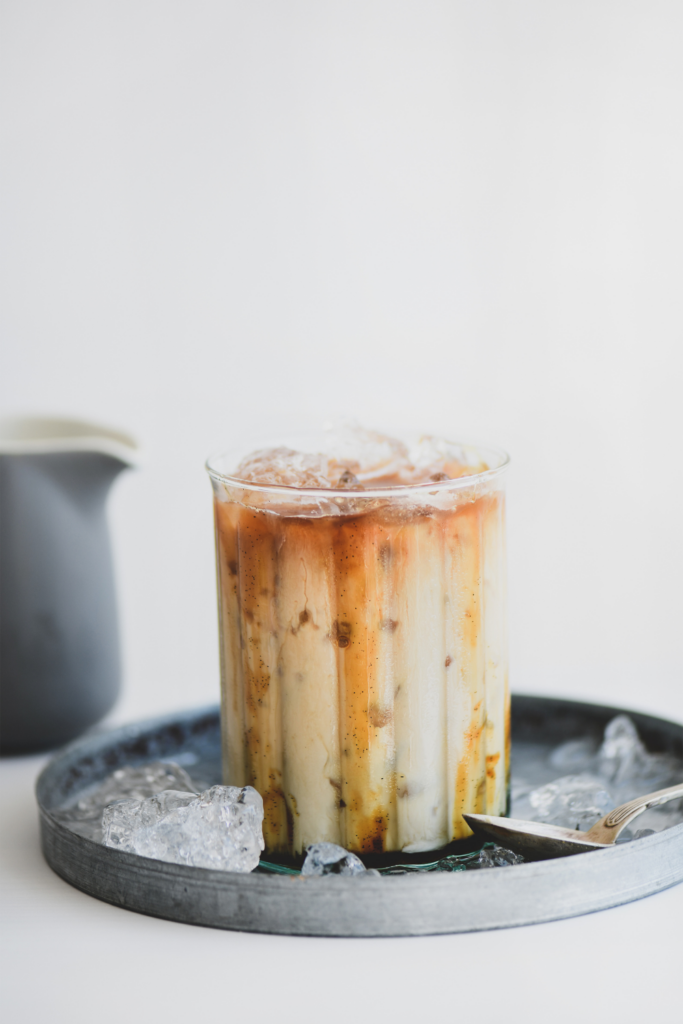 Some are exotic, and others were created because it's easier to combine liquid ingredients with coffee than dry ones. If you need proof, try making a spiced brown sugar shaken espresso with dry sugar. It's more than a workout.
Every brand has its own take on (mostly) the same set of coffee syrup flavors that they've had featured for a long time. This one may be sweeter, that one saltier, and the other less concentrated.
Top Coffee Syrup Brands
DaVinci Gourmet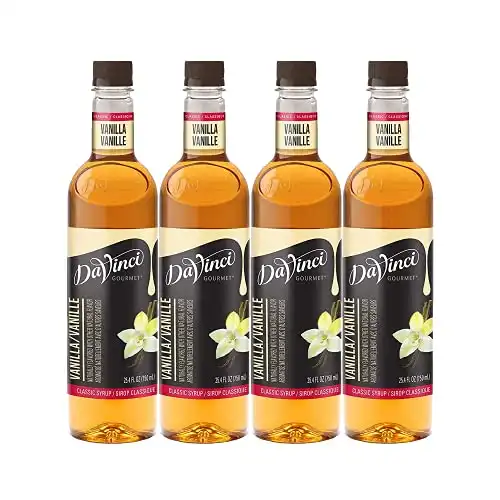 We earn a commission if you make a purchase, at no additional cost to you.
DaVinci makes my favorite vanilla coffee syrup. The flavor is classic, and it's one of the sweetest big brand syrup makers.
If you like sweet drinks, try DaVinci coffee syrup first.
They have 170 varieties, so you will never run out of options. Many of their syrups mix well in hot and cold drinks, which isn't always the case with other brands. They serve both baristas and mixologists.
We earn a commission if you make a purchase, at no additional cost to you.
Although the bottles are reasonably priced, they're slightly less concentrated than some competitors. One of my favorites is their pistachio syrup, which goes great with a latte or dessert cocktail.
Monin
Monin Salted Caramel Syrup
The decadence of caramel combined with the complement of salt makes for a surprising flavor pairing.

Dairy Free, Gluten Free, Halal, Kosher, No Artificial Colors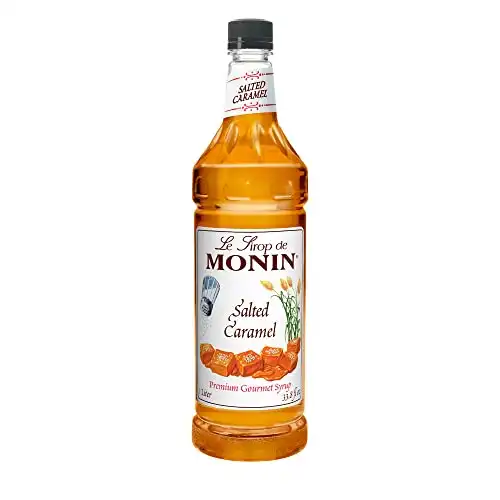 We earn a commission if you make a purchase, at no additional cost to you.
Monin makes my favorite caramel coffee syrup. Out of their 8 caramel options, I prefer the salted version. It's rich and satisfying.
Compared with DaVinci, Monin tends to make a more concentrated syrup. This can be beneficial because you'll use less volume of syrup for every drink. And a single bottle should, therefore, last longer.
The brand makes more than 100 specialty syrups, and is continually developing something new. From cookie butter to dragon fruit and granny smith to grenadine – there's something for everyone.
Most of Monin's products are made with pure cane sugar and all-natural ingredients. They've been doing it for over a century.
Torani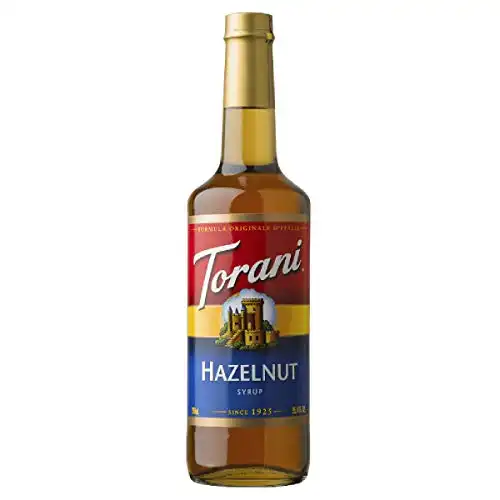 We earn a commission if you make a purchase, at no additional cost to you.
Torani is the first brand of flavor syrup I encountered. Their bottles were everywhere throughout the early 2000s, in cafes and cocktail bars.
The Torani brand's dedication to flavor nuance is one thing that stands out. For example, they have 11 flavors of vanilla. Some salty, some subtle, others sweeter.
They've probably got it if you're looking for a hyper-specific take on a coffeehouse classic. Torani makes my favorite hazelnut syrup which you can purchase individually or as part of their basic variety pack.
Torani Variety Pack
Includes Caramel, French Vanilla, Vanilla, and Hazelnut

Made with pure cane sugar, natural flavors and cold-filtered water
We earn a commission if you make a purchase, at no additional cost to you.
The variety pack is all you need if you're just getting started. It's got caramel, french vanilla, vanilla, and hazelnut in an affordable package deal.
Starbucks
We earn a commission if you make a purchase, at no additional cost to you.
If you're looking to copycat Starbucks drinks at home, there's no better way to do it than using the exact same syrups. A starter pack won't set you back much, either.
You probably already know what you're getting if you're a regular Starbucks customer. These syrups are less concentrated than some other brands, so you may add a lot to reach your desired level of flavor. It's the same thing you've seen their baristas do in-house.
Starbucks only sells its classic flavors online. But I have heard stories of local stores letting go of seasonal syrups to inquiring customers. It certainly doesn't hurt to wave around $15 and ask, right? If it was me, I'd try this at the end of the current season, just before the menu turns over.
Ghirardelli
Ghirardelli Sauce Variety Pack
Includes Chocolate, White Chocolate, Vanilla, Caramel, Sea Salt Caramel Sauces
Exclusive Ghirardelli stamped metal spoon included free with purchase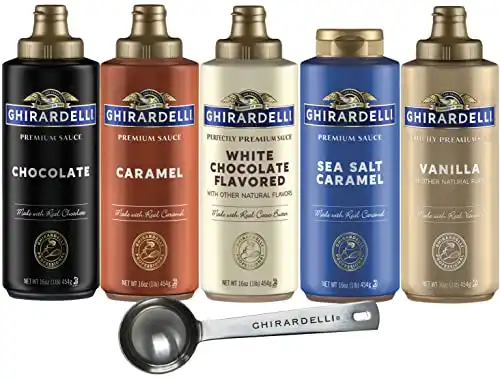 We earn a commission if you make a purchase, at no additional cost to you.
The truth is that I snuck this one into the list because Ghirardelli doesn't actually make syrups, but they do make awesome sauce!
We both know that the best part of most dessert drinks is the criss-cross drizzle of something sweet atop the foamy surface of the cup. Caramel macchiato? Yum. Cafe Mocha? Delicious!
Ghirardelli makes chocolate, caramel, white chocolate, sea salt caramel, and vanilla sauce. I recommend picking up one of each.
While I love them for coffee, you can also use these sauces to top cake, ice cream, and other desserts. They are made without preservatives and have all-natural colors and flavors.
Amoretti Premium
We earn a commission if you make a purchase, at no additional cost to you.
Amoretti has been making a variety of extracts, syrups, and sauces over the past 30 years. They found their initial success working with bakers and later moved into coffee.
I've found their products highly similar to others on this list, except for the Crema Di syrups. This is a creamier take on traditional coffee syrups.
They're creamy, thick, and decadent. I like them for iced drinks and desserts especially. Try the Amaretto syrup for a Frappuccino or Italian soda. It uses kosher dairy and will not curdle when added to hot drinks.
Jordan's Skinny Syrups
We earn a commission if you make a purchase, at no additional cost to you.
If you're looking for sugar-free coffee syrup, look no further. Most brands make a sugar-free option, but none are as reputable as Jordan's. It's all they do.
Not only is the brand focused on sugar-free nutrition, but the price is right too.
We earn a commission if you make a purchase, at no additional cost to you.
Like any sugar-free product, it's not the same as the original. But they get pretty darn close. Start with the Caramel Pecan or a classic Sampler 6-pack.
What To Look For in Coffee Syrups
Flavor
When entering the world of flavor drinks at home, start with the flavors you already love to order. Vanilla, Caramel, and Hazelnut are the classics.
I've found the best way to get into flavor infusions is to copy cat drinks that are popular elsewhere. Try a classic vanilla latte, and move into a caramel latte macchiato.
Plan ahead for the seasons.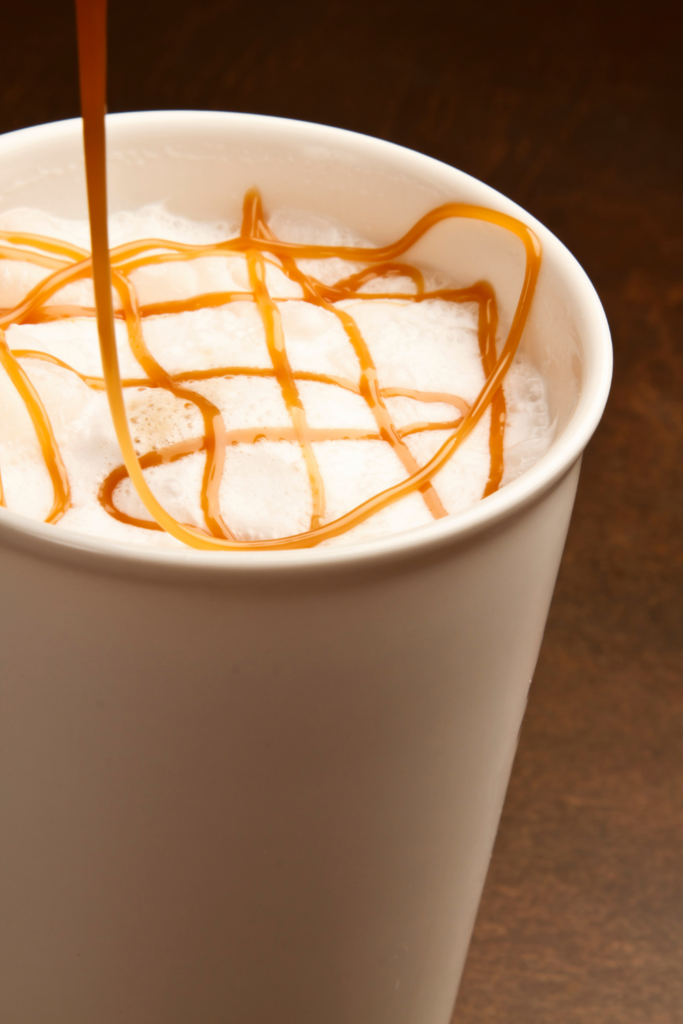 Don't wait until you've tried a pumpkin spice latte on October 15th to order the syrup that will allow you to make one at home. By the time it arrives, you'll be over pumpkins and onto the peppermint mocha.
It's fun to order ahead of time and be prepared for the season to come. Coffee syrup doesn't have a "forever" shelf life, so give yourself plenty of time to use it.
Once you've got a collection of syrups, try mixing and matching them. Brown sugar and cinnamon sound nice, or mint chocolate with a chocolate chip sprinkle. You may even create something that has never been done before.
Syrup Concentration
It can be difficult to quantify syrup's "potency" before trying it yourself.
Some brands are simply more concentrated than others. I've found that Monin tends to have the strongest syrups. And Starbucks syrup isn't very strong.
Why does it matter?
You'll need to add more of a less potent syrup to achieve the same level of flavor. More syrup means more money, and you'll quickly run through your supply.
Syrup Ingredients
Always check the ingredients in your syrup before buying them – not all are created equal!
Most brands do a great job of labeling for lifestyle or dietary preferences. If a product is Kosher, they'll let you know. If it's one of the sugar free options, there's a label for that too.
Some ingredient preferences are by necessity, for example, if you're limiting sugar intake for diabetes. Or following a specific diet like Keto. Or even low calorie options.
Maybe you're driven to find the freshest flavors from natural ingredients with no preservatives (keep in mind that means they'll have a shorter shelf life). Don't be fooled by cheap sugars and fake flavors if you want the real thing. Sometimes it's worth looking at the slightly more expensive option in order to get quality ingredients and flavor before buying them.
Bottle Design
The good design of small details on the bottle can save you a lot of headaches. Look for a syrup that is easy to pour and has an airtight seal. This will save you from extra messes, make the product last longer, and prevent contamination from an open container.
Another thing worth considering is plastic vs. glass. I stay away from glass because my kids knock everything off the counter. I want no part of glass injuries in my home!
Coffee-Specific Syrups
Legend has it that the first flavored lattes came about from a curious barista who got his hands on a few bottles of cocktail syrup. There are several types of non-coffee syrup and sweeteners worth experimenting with.
Many home baristas reach for agave, cocktail, and cooking syrups. I wouldn't recommend it, especially if you're just getting started.
Many cocktail syrups work well in cold drinks but don't mix effectively with hot coffee. And several cooking sauces are loaded with more calories than their coffee counterparts.
My advice is – if you have it, try it. See what you think. Otherwise, buy or make your own coffee-specific syrups. There are hundreds of flavor options, and you can feel confident that yours will work for the job at hand.
How To Make Your Own Coffee Syrup
Believe it or not, you can make your own coffee syrup in less than 10 minutes, which makes a great addition to your morning coffees. One of the pros of making syrups at home is you don't need special ingredients or tools, which cost a fraction than buying the premade stuff.
You may not be able to do 150+ specialized flavors like the big makers, but you can crank out the basics without breaking a sweat.
The basis of coffee syrup is simple syrup – sugar and water combined with heat. Add a flavor, let it cool, and add it to a glass bar bottle for dispensing. A sealable mason jar works fine too for ensuring it has a longer shelf life.
Homemade Vanilla Syrup
There are few things simpler than making vanilla coffee syrup.
Here's how to do it in 4 simple steps:
Homemade Vanilla Syrup
Use this delicious homemade syrup in all of your favorite coffee drinks!
Ingredients
¾

cup

Water

1½

cups

granulated sugar

½

cup

light brown sugar

1

teaspoon

vanilla extract
Instructions
In a saucepan, add equal parts of sugar and water. 

Heat at medium temperature on the stovetop while stirring gently with a wooden spoon.

Once all of the sugar has dissolved, add a splash of vanilla extract. Stir a few times to incorporate, then remove the saucepan from the heat.

When the syrup has cooled, funnel it into a bar bottle or glass jar for refrigerated storage and to dispense. Bottles with a pour spout work best.
Notes
Note: You can also use crushed vanilla beans or artificial vanilla flavor.
I've found that vanilla extract has great flavor and is easy to incorporate. You can also use crushed vanilla beans or artificial vanilla flavor.
Use white granulated sugar for this recipe or a mix of white and brown sugar. Double up the sugar-to-water ratio for a syrup that is richer and thicker than the base recipe.
Adding a pinch of salt will help make the vanilla flavor stand out in the final syrup. And you'll always get a better result if you start with filtered water.
It should last about 6-months in the refrigerator. Toss it and make another batch if it starts to discolor or grows cloudy. The fresher, the better.
Homemade Caramel Syrup
Caramel syrup uses fewer ingredients than vanilla. But it does require a more refined technique. In short, you'll need to "caramelize" the sugars before adding water.
Here's how to do it at home: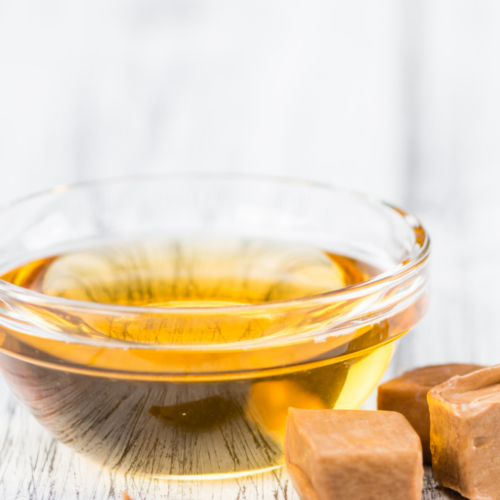 Homemade Caramel Syrup
Learn how to make delicious and richly sweet caramel syrup at home!
Ingredients
¾

cup

granulated sugar

1

cup

water

divided

½

teaspoon

vanilla extract

pinch of

salt
Instructions
Measure equal parts sugar and water. Place each ingredient in a separate saucepan.

Add a pinch of salt to the water, and begin heating on a medium-high stovetop setting.

Heat the sugar at a medium temperature until it turns golden and dissolves. This is caramel.

Pour your near-boiling water into the caramelized sugar, stirring with a wooden spoon. Remove from heat once the water and caramel have full incorporated.

When the syrup has cooled, funnel it into a bar bottle or glass jar for refrigerated storage and to dispense. Bottles with a pour spout work best.
Notes
Picking the right temperature for caramelization is important. If you overheat the sugar, it will burn and become more than a chore to clean up. You'll also taste any carbonized sugars in the end result.
Homemade Everything Else
Start with the base recipe for vanilla and caramel syrup, and the world is your oyster. There are so many simple ways to adjust it. Try different types of sugar. Adjust the sugar-water ratio. Add other flavoring ingredients like almond or hazelnut extract.
You may not be able to get all of the crazy flavors the big makers do, but you can still accomplish a lot with very few tools and ingredients, and you can find the recipe that works best for you and your preferred flavor profile!
Syrup FAQs
What are the most popular coffee syrup flavors?
Vanilla and Caramel are the most popular coffee syrup flavors for any season. And, while that's only 2 flavors, you can find them prepared in 100 varieties. Hazelnut may be the most popular of the "specialty" syrups. It compliments the flavor profile of chocolate and coffee very effectively.
Are there any sugar-free coffee syrups?
Yes, most major syrup makers have at least one line of sugar-free syrup. I prefer Jordan's Skinny Syrup for a sugar-free option. It's not quite the same as traditional syrup, but it's pretty darn close.
Can I make coffee flavor syrups at home?
Yes, making vanilla and caramel coffee syrup at home is easier than you might expect. Other exotic or specialty syrups are more complicated and may be difficult to replicate.
Looking for more coffee posts like this? Check out these related guides!