It's never a bad time of year to spice up your latte game and welcome new flavors to your coffee routine. Whether you prefer hot or iced coffee, there are many great flavors for added sweetness, spice, and depth.
You can make many of your own flavors by following a classic recipe for simple syrup and adding your chosen herb or spice. Or, if you want to make things faster, pre-made flavors from vanilla to ube are available online.
This list covers a lot of flavors, so they are organized by genre – classic, familiar, and new.
I've included some holiday-specific drinks (though they are good year-round!) and the age-old Starbucks go-to's. I'll explain how to make them at home and what to look for in pre-made syrups.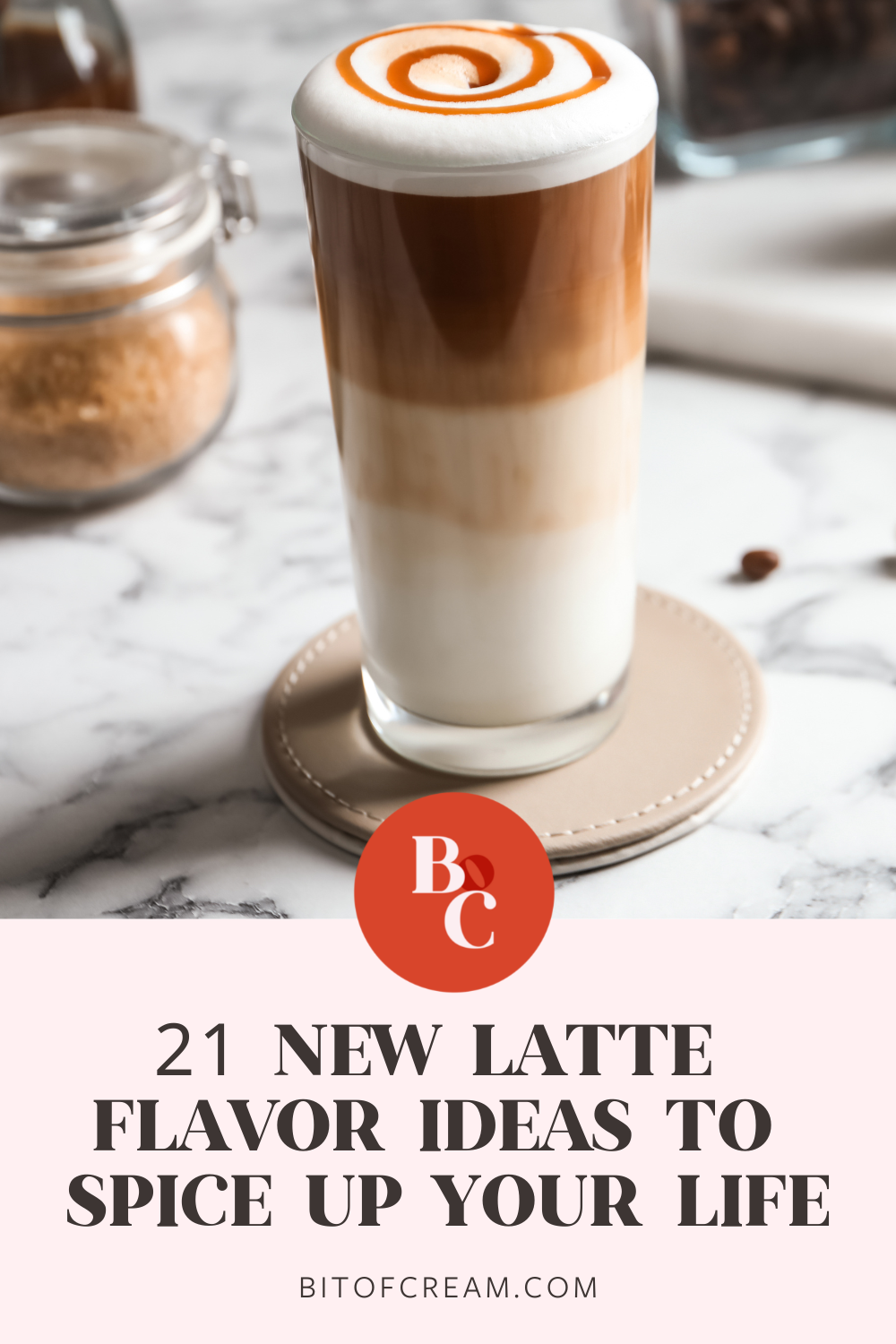 Bit of Cream is a participant in the Amazon Services LLC Associates Program, an affiliate advertising program designed to provide a means for sites to earn advertising fees by advertising and linking to Amazon.com. As an Amazon Associate we earn from qualifying purchases.
The Classics
1. Vanilla
You can't go wrong with classic vanilla. Vanilla syrup made with real vanilla adds a level of body and depth to a latte few other flavors can. It's so rich that one teaspoon in a 12-ounce latte is all you need.
Artificial vanilla extract isn't terrible, but you won't get the same level of depth that you can with the real stuff. Mix with fresh espresso and add milk on top.
2. Caramel Latte
There's a reason this flavor is offered on so many cafe menus. It's rich, creamy, and sweet, and an excellent compliment to any espresso drink!
You may be wondering—sauce or syrup?
I would opt for caramel sauce. The sauce is thicker and has a richer flavor than syrup. Make sure you warm your caramel before adding it to your espresso.
You can warm the caramel for your latte by adding as much as you want to your cup and then mixing in a teaspoon of hot water to melt it down. Add your espresso, stir more, and add steamed or cold milk on top.
3. Chocolate
Does anything go better with espresso than chocolate?
In case you were wondering – A chocolate latte is a mocha latte, and a mocha is a chocolate latte.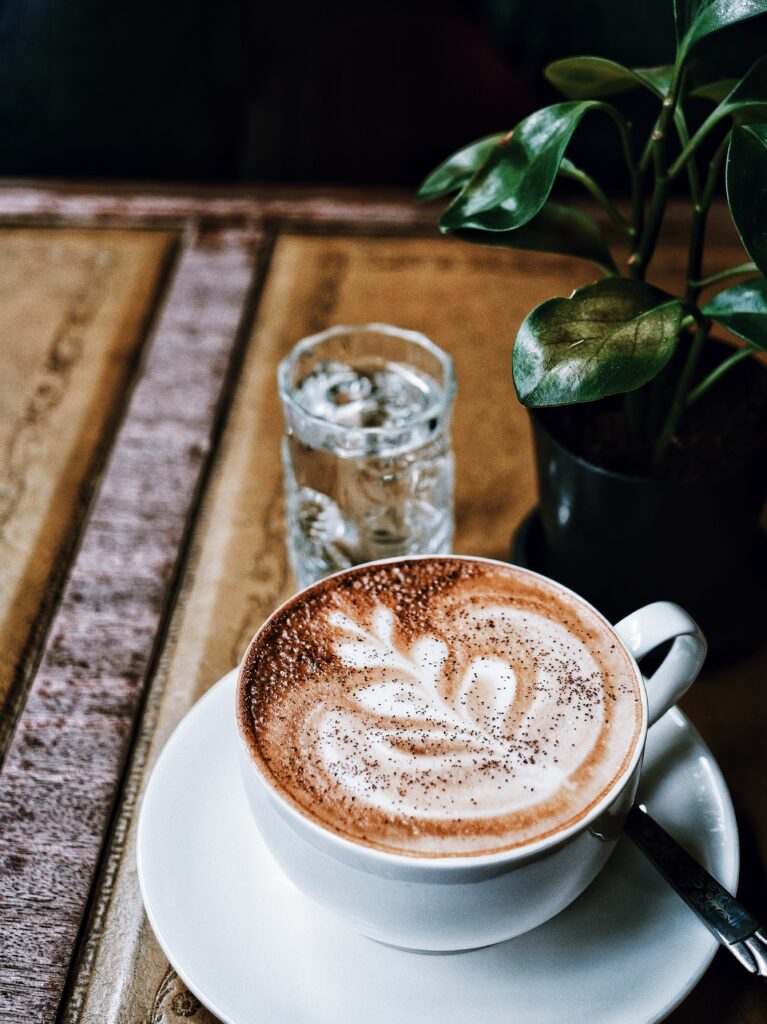 Like caramel, stick with the sauces.
Chocolate sauce will be thicker, but it will have a richer flavor that compliments the espresso instead of overpowering it.
Using cocoa powder is also an option.
We earn a commission if you make a purchase, at no additional cost to you.
Because of the delicacy of regular chocolate (it's easy to burn), I prefer to buy sauce or powder rather than make a flavor at home.
It's hard to go wrong with chocolate. Consider whether you prefer milk or dark chocolate. I always aim for higher cocoa content because I prefer the bitter flavors in chocolate over the sweet.
4. White Chocolate
White chocolate was my teenage introduction to sweet coffee.
I always added more espresso shots to balance the sweetness instead of decreasing the amount of white chocolate. Needless to say, I was amped.
We earn a commission if you make a purchase, at no additional cost to you.
Ghirardelli White Chocolate powder is popular and easy to find at the store. Since we all know white chocolate mochas are all about sweetness, I would go for the Ghirardelli. It's a classic.
5. Pumpkin Spice
Pumpkin spice lattes provide a comforting, nostalgic flavor that reminds you of the fall season. They are a great way to indulge in a sweet treat without feeling guilty.
The Torani Pumpkin Spice syrup is one of my favorites because it's not overly sweet but still gives you those delicious ground cinnamon and nutmeg flavor notes.
Pumpkin Spice Syrup
Made with pure cane sugar and natural flavors.

Dispense without mess, syrup pump included.
We earn a commission if you make a purchase, at no additional cost to you.
Enjoying a pumpkin spice lattes at home is a simple way to add a touch of luxury to your life!
Copycat Recipes
6. Salted Caramel
There's caramel, and then there's salted caramel.
Studies have shown that the combination of salty and sweet releases endorphins in the brain—it's that good.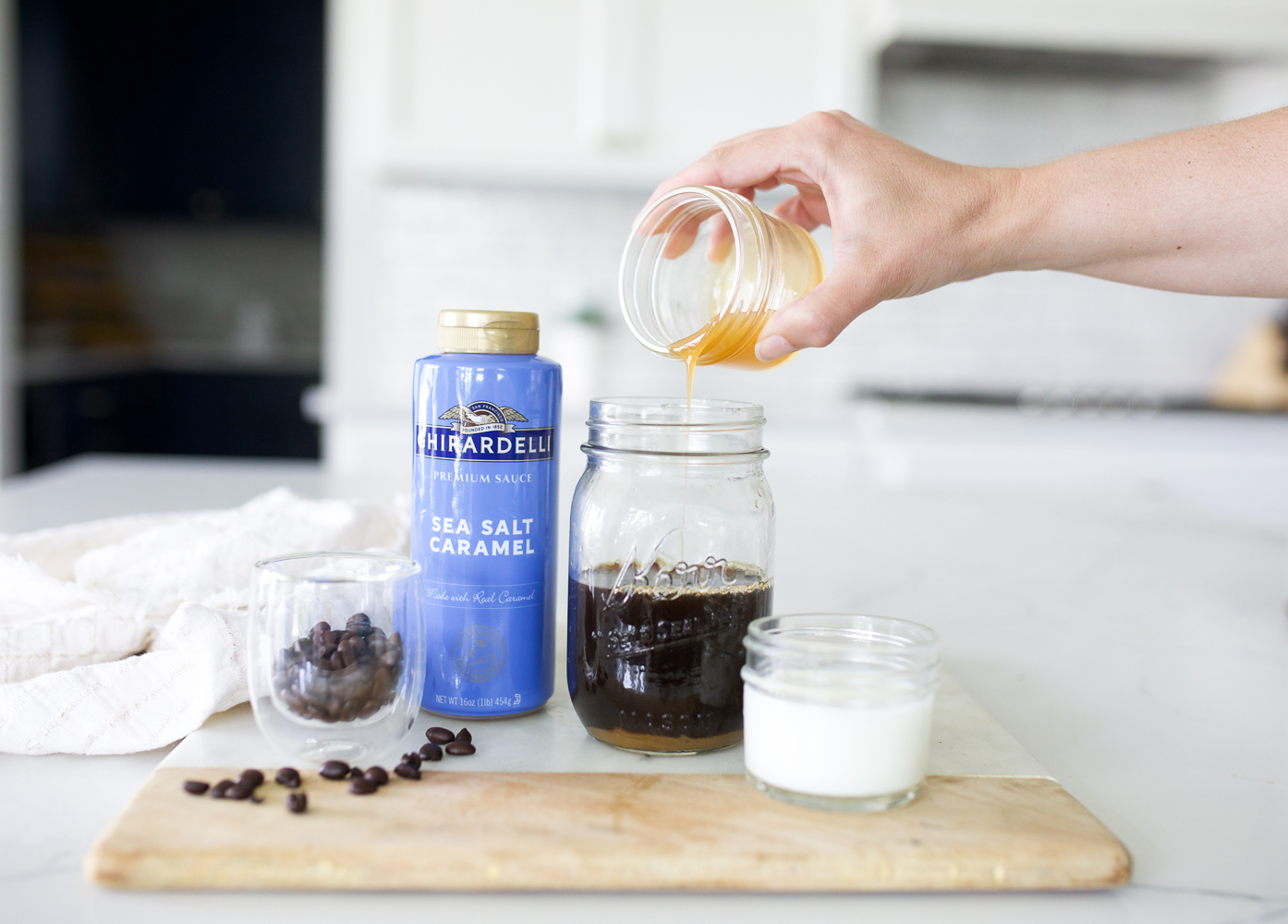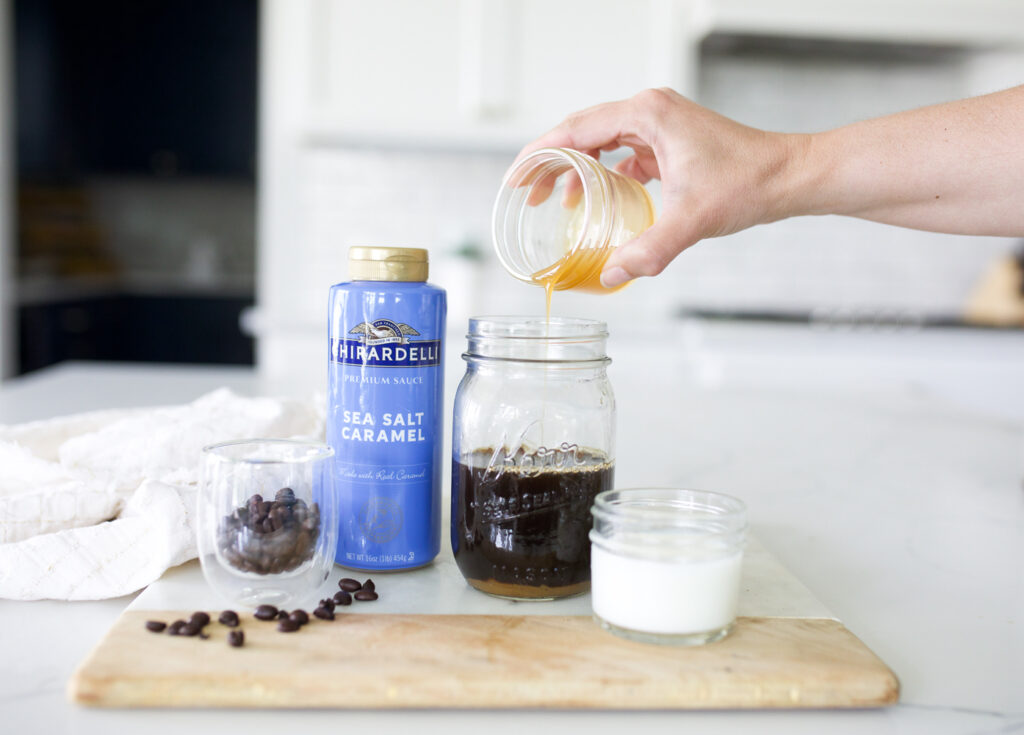 Add flaked sea salt to your caramel sauce for a flavorful twist on an old classic.
Flaked sea salt is much less harsh than table salt. Try side by side, and the difference is obvious. So while you can use table salt, a good quality, flaked sea salt will taste better and won't overpower the caramel.
7. Cinnamon Dolce
Cinnamon dolce, or cinnamon "sweet," is exactly what it sounds like.
We earn a commission if you make a purchase, at no additional cost to you.
You can make this recipe at home by making sugar simple and adding cinnamon while you dissolve the sugar. Or you can opt for the classic Cinnamon Bun syrup and top your latte with ground cinnamon when it's done.
8. Peppermint White Chocolate
This is truly Christmas in a cup.
You can't go wrong with this combination of bright, fresh peppermint and the creamy sweetness of white chocolate.
When prepping a latte, start with a base of white chocolate mixed with espresso. Then add small drops of peppermint flavor until you reach your desired levels.
We earn a commission if you make a purchase, at no additional cost to you.
If you want to make peppermint syrup at home, make simple syrup and add fresh peppermint, then strain out the leftover leaves after it cools overnight.
9. Brown Sugar
This is one of the easiest flavors to make at home. You can make a regular simple syrup but substitute dark brown sugar. Dark brown sugar retains that warm, molasses flavor that regular and light brown sugar doesn't.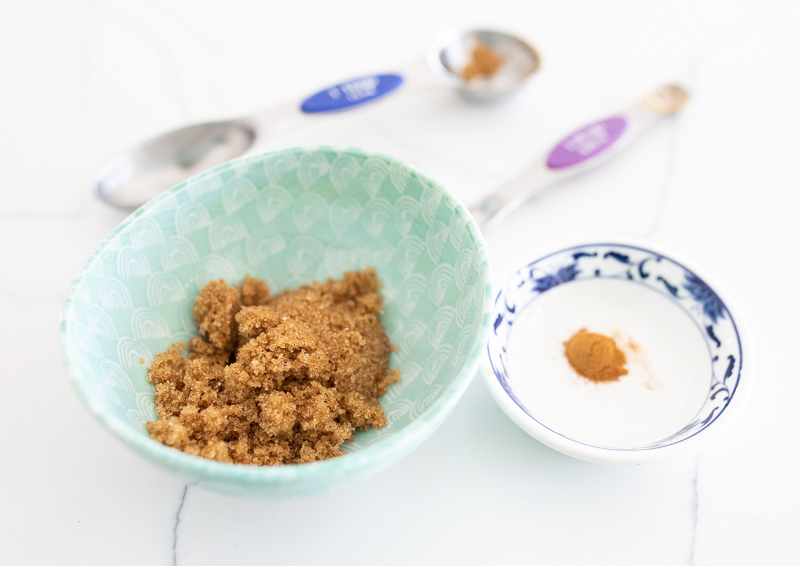 This is a great option if you love a vanilla latte's warmth and subtle sweetness. It's especially delicious in a iced brown sugar oat milk shaken espresso drink!
10. Pistachio
Pistachio is a great flavor for ice cream, macarons, and lattes. Starbucks hooks it up with this recipe, and it sounds awesome.
We earn a commission if you make a purchase, at no additional cost to you.
I especially love that they use actual pistachios in the recipe, not artificial flavoring, which never turns out as good. You even get the festive green color in your drink when it's done.
11. Hazelnut Bianco
This drink gets its name from a combination of the classic hazelnut flavor combined with white chocolate. The hazelnut balances out the sweetness of the white chocolate and feels like something new when you've been drinking white mochas for days.
What I like about this Starbucks recipe is they actually suggest using a hazelnut spread. Mix fresh espresso, shaved white chocolate, and a teaspoon of hazelnut spread.
Combine well, and add steamed (or cold) milk.
12. Honey
Honey latte is another easy recipe for a new flavor on the fly.
Any honey you like will compliment espresso. Mix a tablespoon of honey with your espresso and add the steamed or cold milk.
If you like spice, this drink goes great with a dash or two of cinnamon.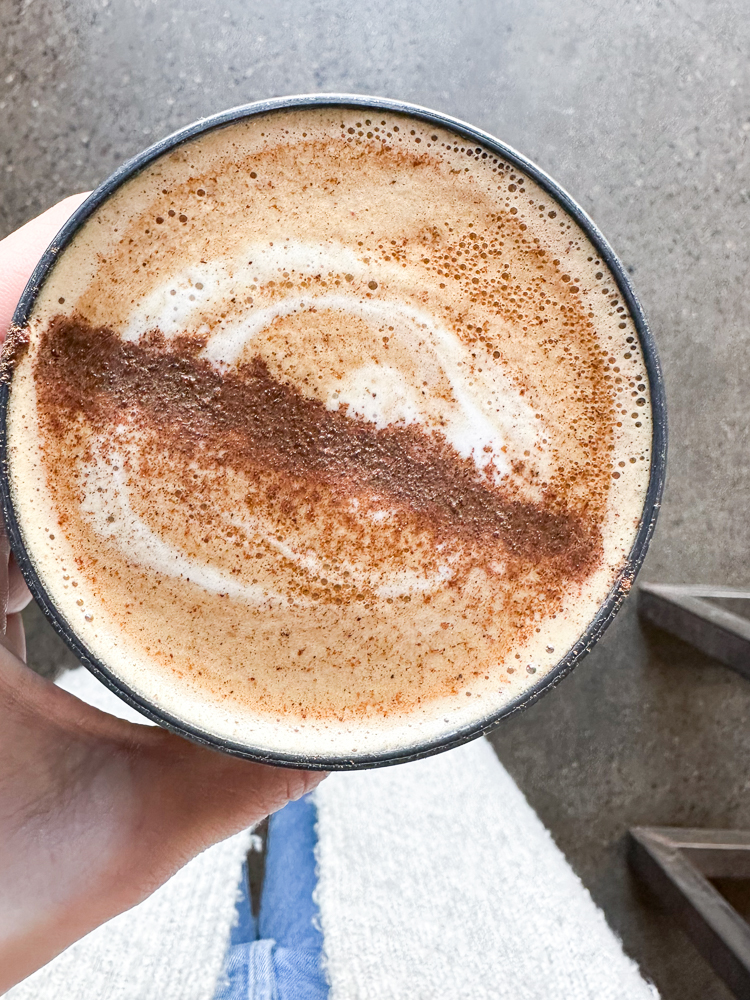 Add the cinnamon before you add the milk, so the cinnamon swirls throughout the drink as you pour.
13. Lavender
When you smell a fresh sprig, you can tell lavender is a part of the mint family. It's almost like spearmint and rosemary had a baby, with more floral notes.
We earn a commission if you make a purchase, at no additional cost to you.
Lavender is a popular latte flavor, and many brands carry pre-made lavender syrup for coffee and cocktails.
If you want to make a bigger batch for less money, make simple syrup on the stove, and add a few sprigs of lavender. Let the flavors infuse overnight, then strain and refrigerate.
Add a teaspoon to your morning espresso before topping it with the steamed milk of your choice.
Flavors To Experiment With
14. Ube
Ube refers to a purple yam originally from the Philippines. Baristas love it because it makes your drink purple (so fun!) and has a unique sweetness comparable to vanilla bean. It's simple and not overpowering.
We earn a commission if you make a purchase, at no additional cost to you.
I've had mixed results between ube syrup, extract, and powder. Opt for pre-made syrup if experimenting with extract or powder sounds too much. 
This flavor is great for hot or cold lattes, but I prefer an iced latte. Try it with oat or condensed coconut milk.
15. Cereal Milk
Ever wish the leftover milk at the bottom of your cornflakes bowl was caffeinated? Look no further than the cereal-milk latte.
Soak your favorite cereal in milk overnight in the refrigerator. The choice of cereal depends on how experimental you want to get. Fruity pebbles? Oreo cereal? The choice is yours.
In the morning, strain the milk, getting as much of the cereal bits out as possible.
If you want the full cereal-milk experience, drink this cold! It's sweet enough. No need to add syrups or extra flavors. But if you go with something simple like cornflakes, a dash of cinnamon wouldn't hurt. Don't forget the espresso.
16. Rose
Rose is a great flavor in baked goods and ice cream – so it makes sense as a latte flavor.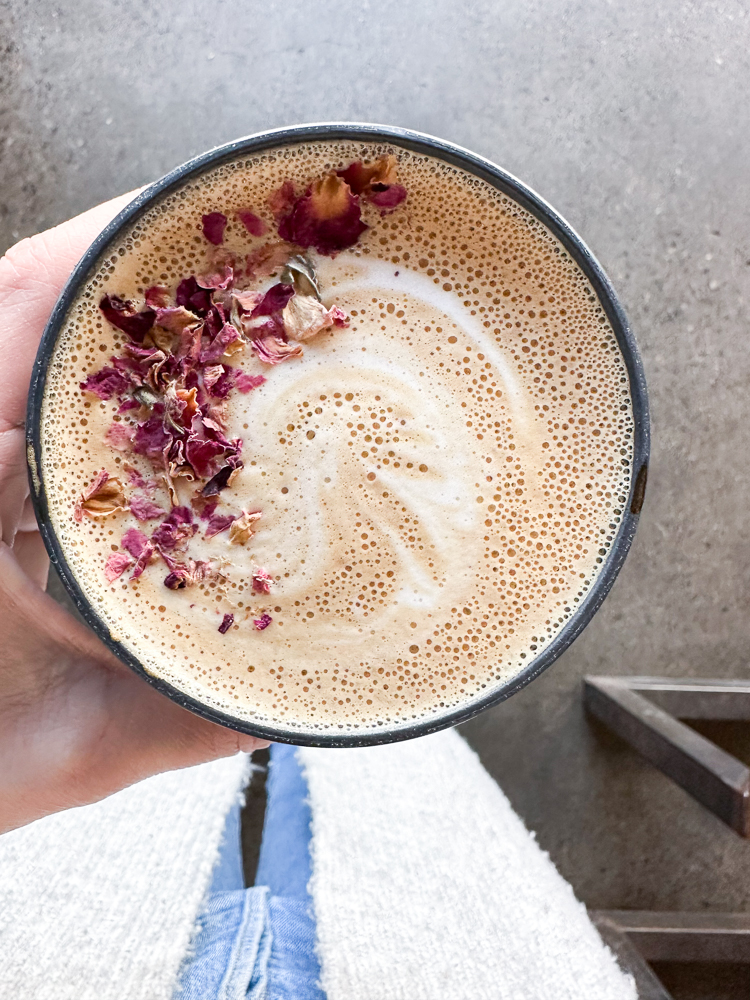 There are a few ways to replicate rose flavor in your latte. One way is to buy a small bag of dried rose petals and add them to homemade simple syrup. This way, you get a natural rose flavor, and the rose petals infuse the sugar.
This is a great drink for spring when things are in bloom. I think it's best served hot, but then again, I always prefer a hot latte.
Don't forget to save a few rose petals for garnish.
17. Maple
Maple seems like an easy latte flavor, yet I rarely see it on cafe menus.
The best part is you might already have maple syrup on hand.
If not, be sure to get 100% maple syrup, not maple syrup "flavor," which is corn syrup and doesn't have the same rich flavor or body.
We earn a commission if you make a purchase, at no additional cost to you.
Throw a tablespoon into your fresh espresso and pour steamed (or cold) milk over the top. Add cinnamon for a breakfast-latte vibe.
18. Cardamom
The special thing about cardamom is its unique flavor. It has a peppery warmth that goes well with sweet or savory recipes. You may recognize it from curry dishes or your favorite brand of chai tea.
Holy Kakow Cardamom Syrup
Himalayan salt and lemons are used to maintain freshness and heighten flavor

Made with Colombian sugar rich in molasses and dark in color
We earn a commission if you make a purchase, at no additional cost to you.
To make a cardamom latte, add ground cardamom as a topping. But if you want it to be well combined and add some sweetness, you can buy cardamom-flavored syrup.
Another fun twist is making a honey simple syrup and adding cardamom. You get the peppery warmth of the cardamom plus the herby sweetness of honey. I recommend this drink hot. It's a great fall or winter-time latte.
19. Rosemary
Romesary is not just for food!
This flavorful herb is a part of the mint family and goes great with coffee.
The bonus of making your own rosemary simple syrup is that you can use it for cocktails, too. If you don't have a neighbor with a fresh sprig to spare, you can find it in the produce section at the supermarket.
Add it to your simple syrup on the stove, let it sit, and infuse the sugar overnight. Strain in the morning. I would start with a teaspoon and taste test from there.
20. Toasted Marshmallow
Who doesn't love a campfire classic flavor like toasted marshmallow?
There's something special when the supremely sweet marshmallow mixes with the rich espresso that really makes a next level latte.
We earn a commission if you make a purchase, at no additional cost to you.
This drink is perfect for chilly winter days when you're snuggled up on the couch or turn it into your next summer drink by making it iced.
Try topping your toasted marshmallow latte creation with crumbled up graham crackers and chocolate syrup for a decadent touch that takes you back to summer camp!
21. Horchata
The refreshing flavor of traditional horchata mixed with the warmth and sweetness of a latte- these are the comforting notes of a horchata latte.
Whether you're looking for something flavorful and unique or just a hot, comforting beverage to curl up with, a horchata latte will hit the spot every time.
Enjoy the combination of aromatic spices, creamy milks, and sweet syrups as they come together in one delicious drink.
Free Coffee Art Printables
Don't forget to get on the list before you go! You'll get 3 free coffee art printables delivered when you sign up and weekly coffee tips and tricks, product reviews!