Contrary to popular belief, I'm a firm believer that iced coffee is refreshing year-round.
There are many kinds of tasty, iced coffee flavors to choose from. And they're all easy to make at home.
As someone who's worked countless summers at a coffee shop, I've tried almost all the iced coffees out there. But the classics are still my favorite.
Whether you're brewing espresso, iced coffee, or cold brew, there's a tasty drink to spice up your iced coffee game. Here are a few of the best iced coffee drinks out there.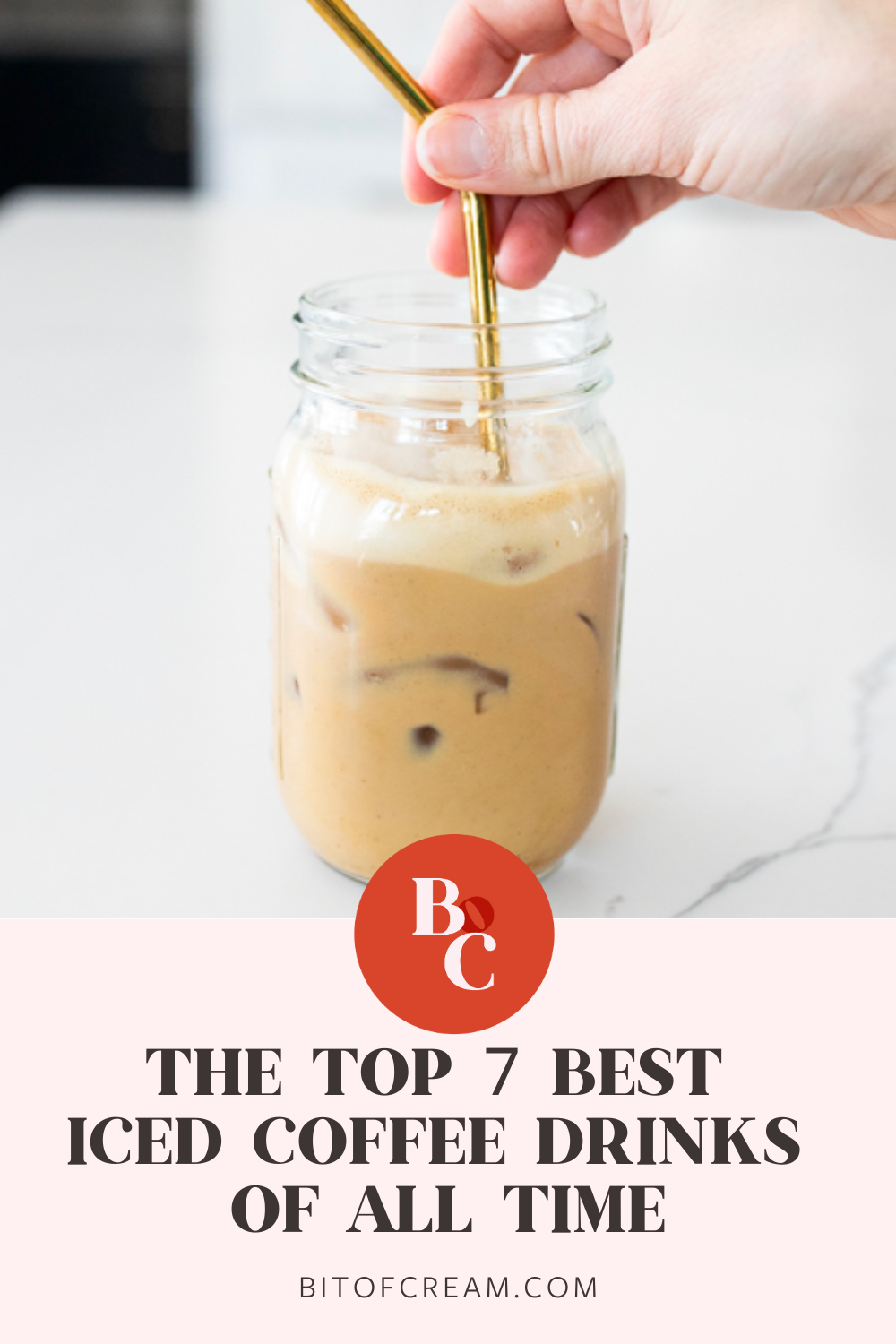 This post includes affiliate links.
7 Best Iced Coffee Drinks
1. Salted Caramel Cold Brew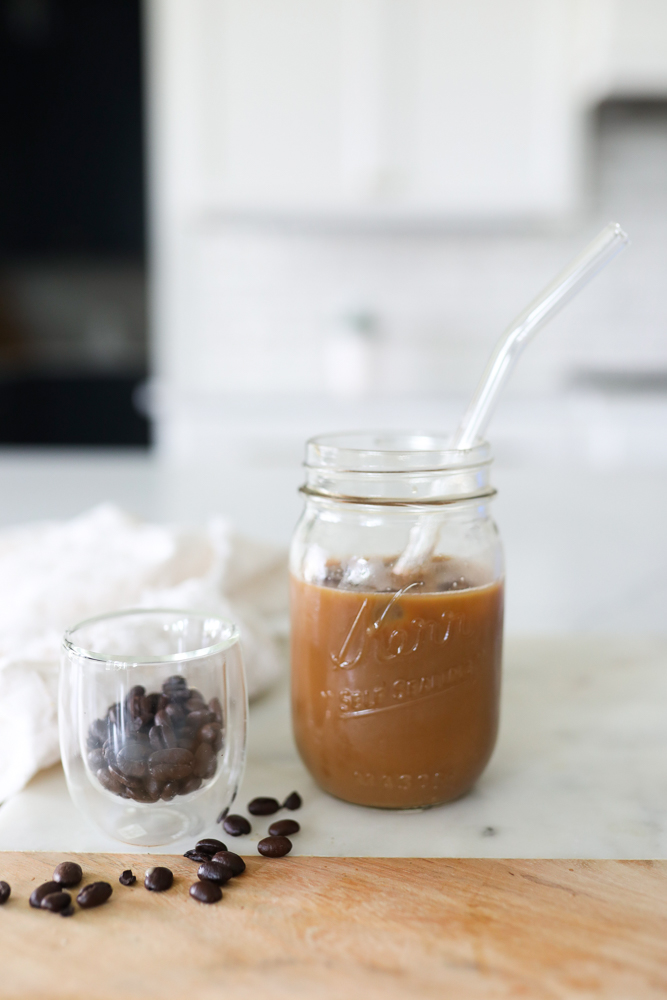 A classic Starbucks menu item that's simple to make with only three main ingredients: cold brew, vanilla sweet cream, and salted caramel.
This is the drink that solidified my love for iced coffee. And it's simple to concoct your own at home.
To make the vanilla sweet cream, all you have to do is add vanilla syrup to half and half and whisk.
Salted caramel sauce is often available at supermarkets. Make sure you give the sauce a gentle warm-up before adding it to the coffee, or it will stick to the bottom of your cup.
I recommend shaking the cold brew, salted caramel, and ice all together, then adding a desired amount of sweet vanilla cream on top.
We earn a commission if you make a purchase, at no additional cost to you.
2. Classic Cold Brew
If you prefer less acidic coffee, cold brew is your go-to for iced coffee.
One of the easiest ways to make cold brew at home is by using a french press.
And once you've perfected making cold brew at home, check out this delicious Salted Caramel Starbucks recipe that is to die for!. All you need is coarse-ground coffee, a french press, and water. Let the grounds soak in the french press overnight, and plunge the grounds in the morning.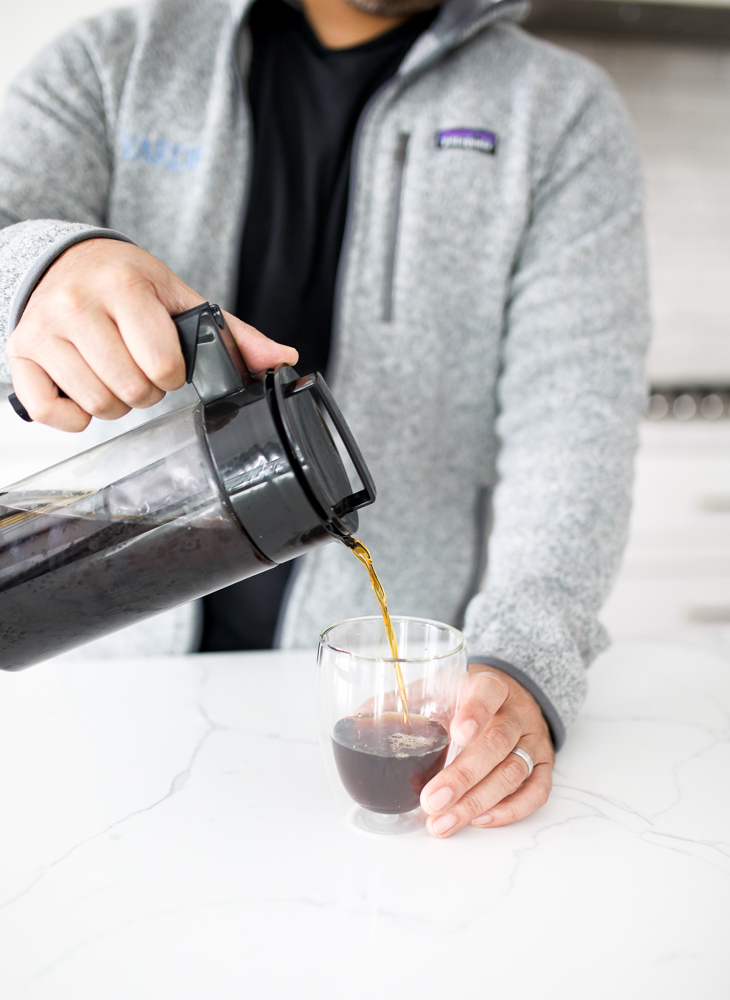 You can store any extra cold brew in the fridge in a jar, and it should stay delicious for several days.
At-home cold brew is a great entry-level iced coffee drink for beginners. You don't need to add anything to it. But if you prefer creamy coffee, add some milk (or almond milk) or even your favorite brand of sweetened creamer.
3. Iced Vanilla Latte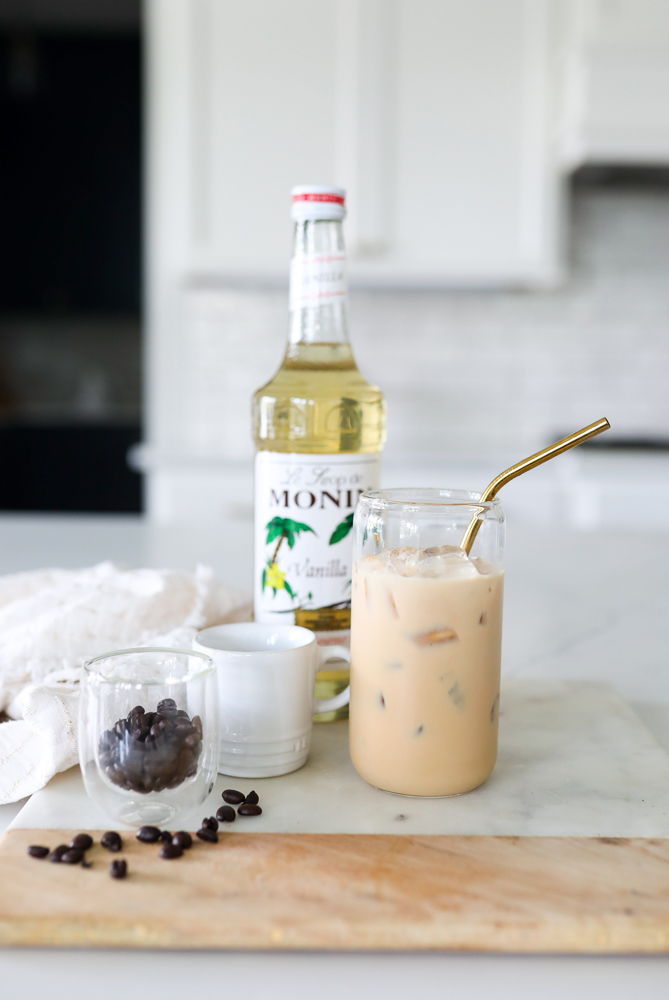 If you use an espresso machine at home, or an Aeropress, you can make an iced latte at home. Traditional lattes are made with espresso and steamed milk.
Iced lattes are even easier to make at home than hot lattes. You don't have to learn any milk-steaming techniques to make a sweet latte perfect for the summer months.
There are many kinds of vanilla syrup on the market.
Monin Vanilla is an affordable option that you can use for cocktails and other sweet treats, you can even mix in some hazelnut flavoring to create your own take on French Vanilla.
We earn a commission if you make a purchase, at no additional cost to you.
Add vanilla to your iced latte glass. After you brew your shot of espresso, pour it over the vanilla syrup. Give it a gentle stir. Fill the cup ¾ full with ice, then add your favorite kind of milk on top.
If you'd like, you can even grab your milk frother (I love the Maestri House model!) and add a dash of cold foam on top to make it a tasty treat!
And if you're making this drink during the autumn season, try adding some pumpkin syrup to your milk frother to make your own pumpkin cream drink!
4. Iced Oat Macchiato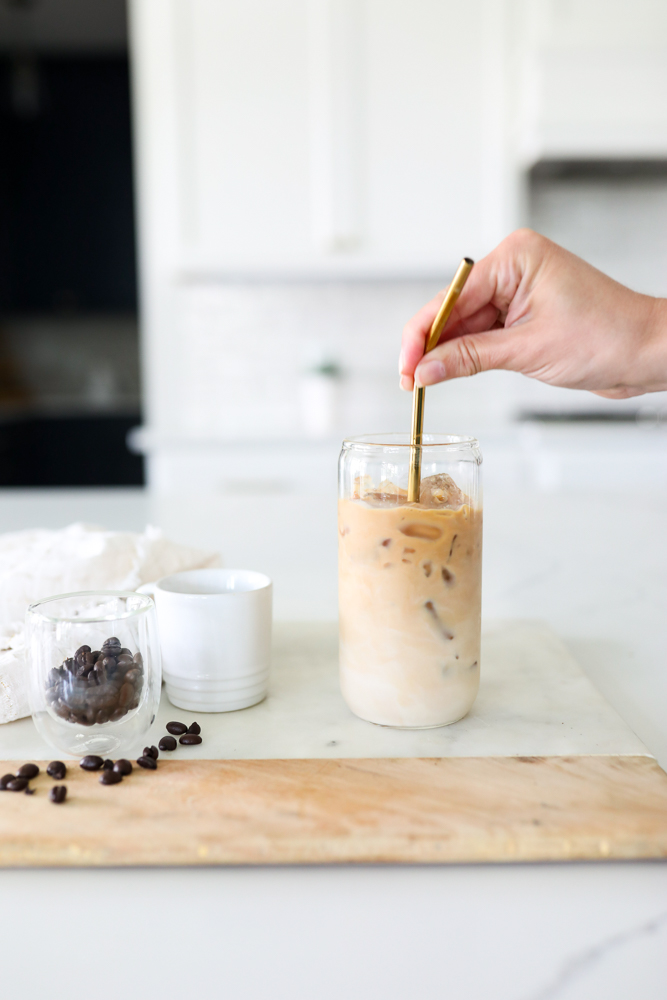 The iced macchiato sounds like one of the more fancier iced coffee recipes, but it's a fancy way of saying espresso on top of milk. The inverse of a classic macchiato, espresso "marked" with milk.
Oat milk (I love the Oatly brand) is my go-to milk option for iced drinks. It's super creamy but not as heavy as whole milk. It also has a great flavor that doesn't overpower the nutty flavor of the coffee.
Iced Macchiatos, like most cold coffee drinks, are beginner-friendly. All you need for this drink is oat milk, espresso, and ice.
Fill a tall glass ¾ full with ice. Then cover the ice with oat milk and pour the shot or some matcha powder on top. Notice how the espresso marks the top of the milk before settling on the bottom. It's basically latte art for iced drinks. Stir and enjoy!
5. Iced Mocha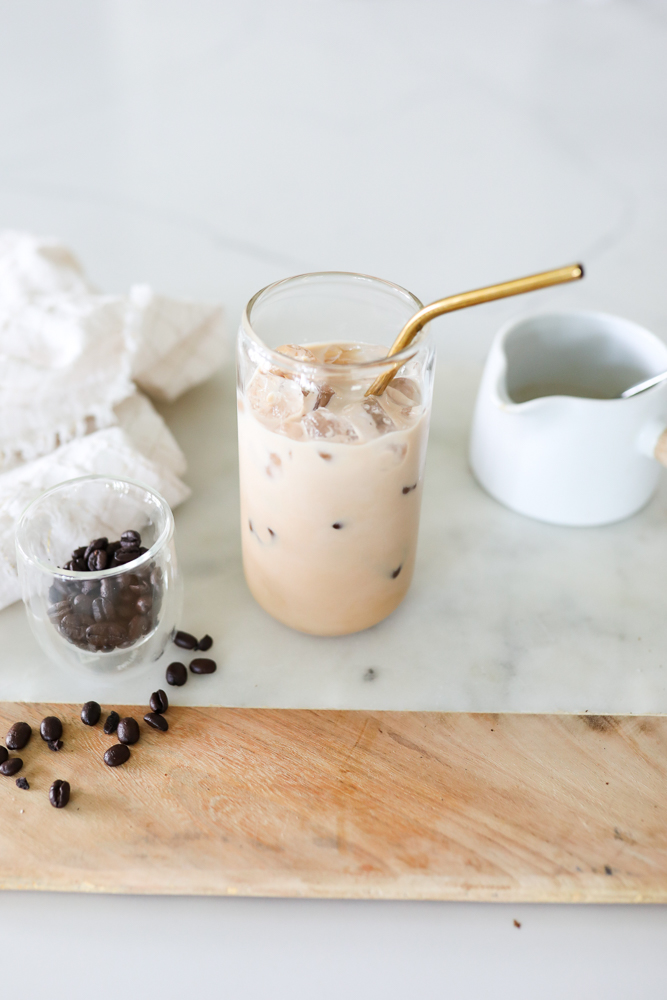 Perfect for chocolate lovers, the iced mocha is like dessert in a cup. If you're craving something caffeinated and sweet, this drink is delicious and easy to make at home.
Add your espresso to a tall glass and mix your desired amount of chocolate syrup into the espresso. Add a little bit of your milk, and mix more. Fill the glass ¾ full with ice, and top the rest of the way with milk. This drink is excellent with whipped cream on top.
6. One-minute Instant Iced Coffee with Cinnamon
Instant coffee is a simple alternative to brewing your own with whole-bean coffee. Add cream and cinnamon for an iced coffee drink that tastes like an iced latte with a kick of spice.
Instant coffee doesn't have to be steeped overnight to make iced coffee because you can still brew it hot. Then add your cold water and ice on top.
We earn a commission if you make a purchase, at no additional cost to you.
For this drink, mix a couple of ounces of hot water with your preferred amount of instant coffee powder. I use Starbucks Premium, medium roast.
Then go ahead and add ice to fill your cup and a dash of milk or cream. Sprinkle with cinnamon.
7. Honey Oat Cold Brew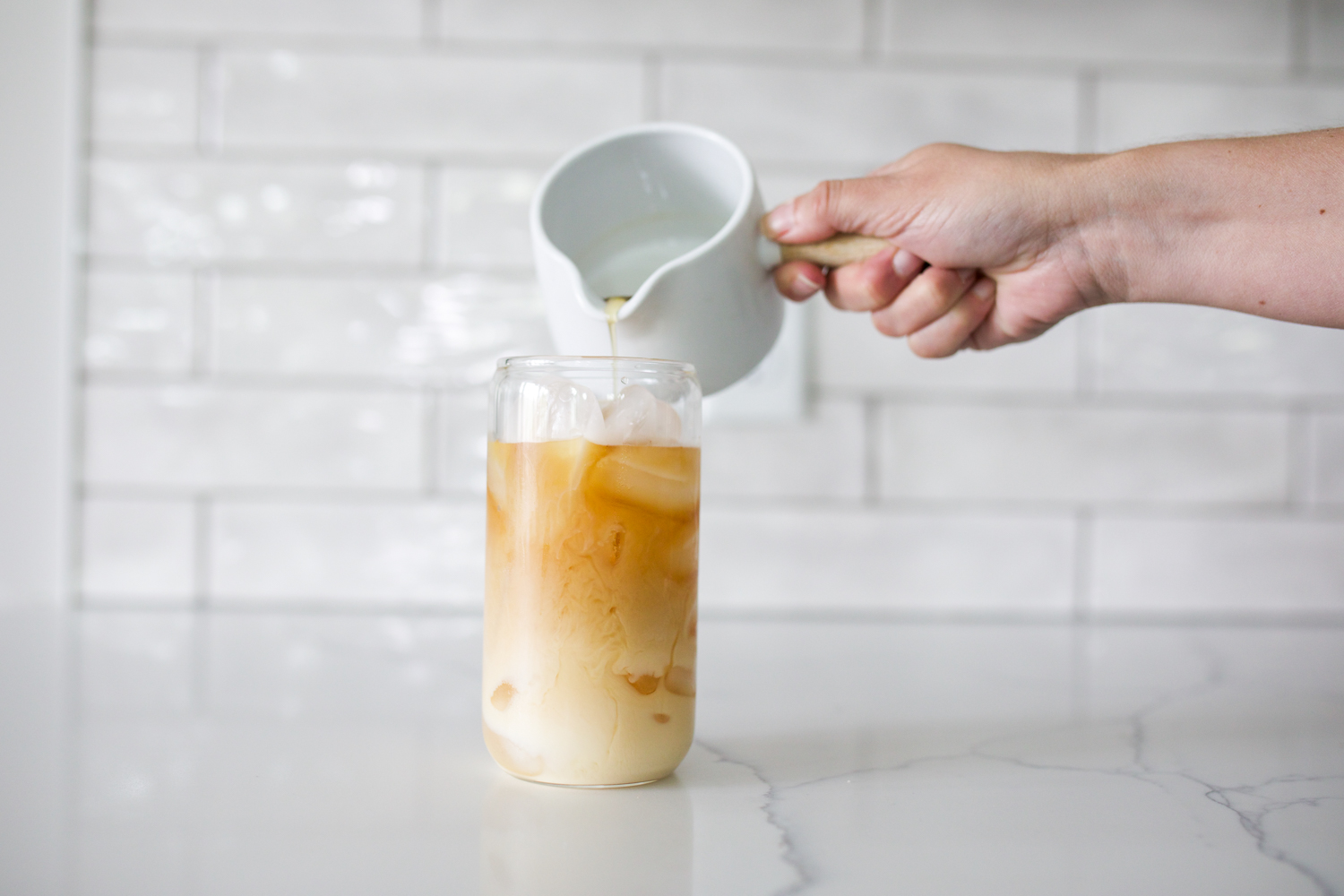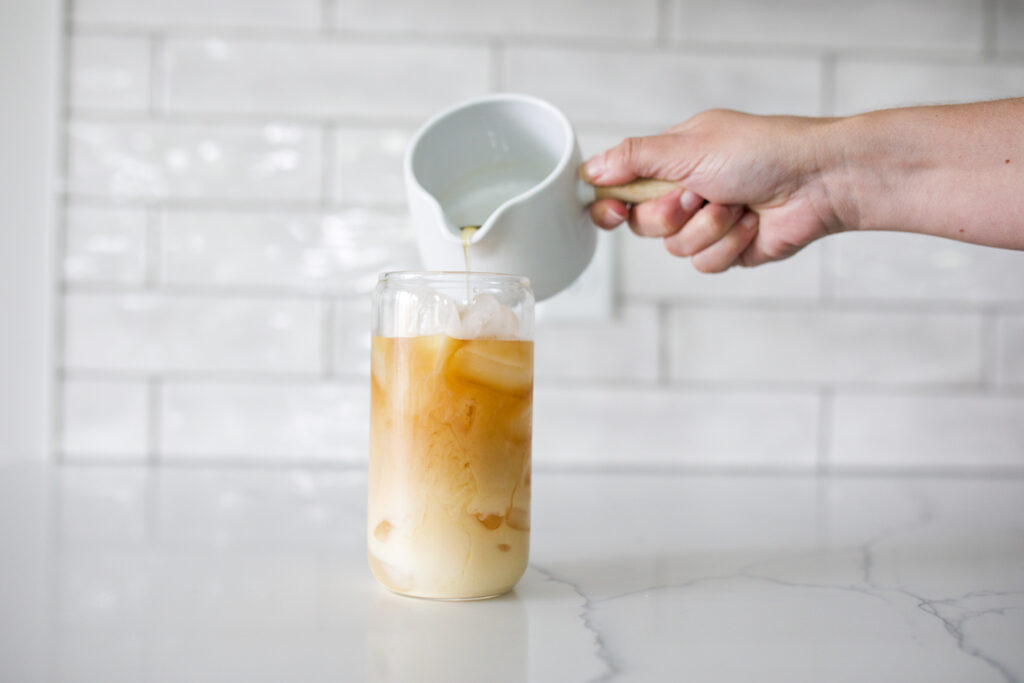 Good quality honey can add a unique, floral sweetness to your coffee.
You can make honey "simple syrup" on the stove and store it in the refrigerator for coffee, tea, or cocktails. Just make sure you follow a 1:1 water-to-honey ratio, or the syrup will not be sweet enough.
Then use homemade french press cold brew or store bought cold brew. I love the pre-ground cold brew bags from Chamberlain coffee.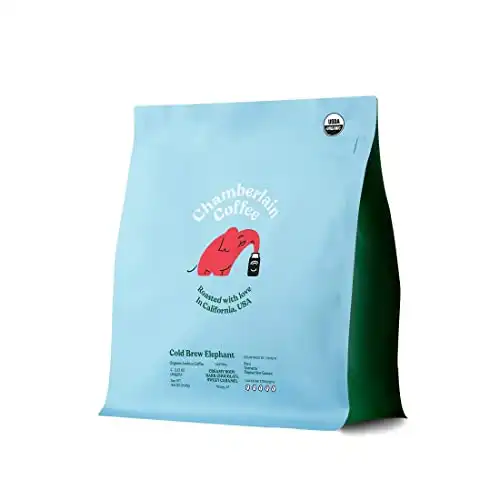 We earn a commission if you make a purchase, at no additional cost to you.
After you have a fresh batch of cold brew, fill a tall glass with ice and add your cold brew on top until you reach ¾ full. Add oat milk, then honey simple, and stir.
If you have a shaker at home, follow all the same steps but give the drink a vigorous shake with all the ingredients added together. It gives the drink an extra smooth, frothy texture similar to nitro cold brew.
Next Level Iced Coffee Flavors
Do iced coffee flavors make coffee taste better, or is it the other way around?
Either way, coffee is one of those versatile drinks that is enhanced by additional flavors. True coffee lovers have no shame in testing out different flavor combinations, from fruity to herbaceous, to floral.
Here are a few flavors you can try out at home combined with cold brew, espresso, or regular iced coffee.
Tiramisu
Kahlua
Gingerbread
Brown sugar
Honey lavender
Fig
Basil
Yuzu
Recap
It's super easy to make iced coffee at home. You don't need an espresso machine or a coffee scale to make iced coffee.
It's easy to start out with basic flavors like vanilla, honey, and chocolate.
These flavors are easy to find and low-cost. Plus, the likelihood of making a bad, sweetened iced latte is super low.
Once you nail down your preferred iced coffee recipe, the possibilities of flavor combinations are endless and taste divine on hot summer days.
FAQ
What is the most popular iced coffee?
Rise Brewing Co. is one of the most popular, store-bought iced coffees in the form of cold brew. It's dark, strong, and stands up well to cream and cold milk. Since it's super low in acidity, it's also easy to combine with tasty flavor combinations. 
What are the most popular iced coffee flavors?
Iced mochas may be the most popular iced coffee drink. And it shouldn't be a surprise. Iced mochas are easy to make at home, and you can't go wrong with a refreshing drink that has the combination of chocolate and coffee.
How many types of cold coffee are there?
Take into account the way people have been brewing iced coffee all over the world for centuries, and the types are endless. All of them are simple and beginner friendly.

Almost every brew method for hot coffee has a cold brew coffee translation. Traditional iced coffee, cold brew, and iced espresso drinks are the most common forms of iced coffee. 

Traditional iced coffee and cold brew are convenient choices because they allow you to make large batches. Espresso shots are easy too, because you don't have to change the brewing method in any specific way to make espresso any differently to make it iced.