This salted caramel cream cold brew recipe is as close to the original Starbucks favorite as it gets. It's creamy, a little salty, and an excellent afternoon caffeine boost.
You'll be making these all summer for your friends once you master this simple recipe featuring step-by-step instructions. Enjoy!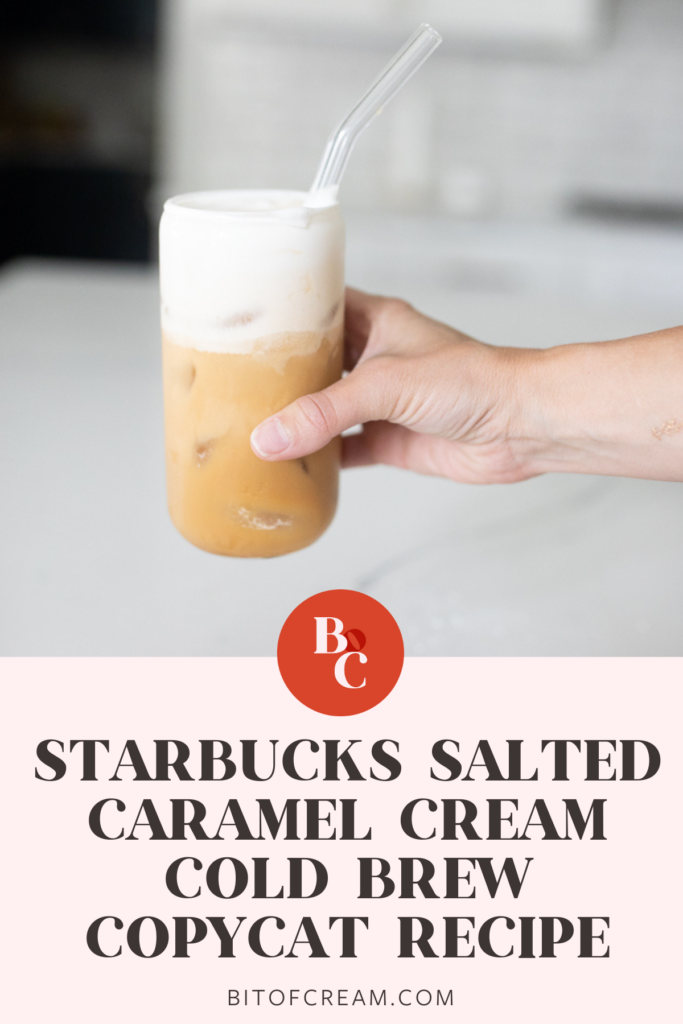 What is Salted Caramel Cream Cold Brew?
A salted caramel cream cold brew is a salty and sweet, cold coffee drink. It combines cold brewed coffee with sweetened cream using simple ingredients. You may have seen it on Starbucks menus or at local coffee shops. This homemade version is especially popular in the summer.
Unlike a latte, the Starbucks Salted Caramel Cream Cold Brew does not use espresso. Cold brew is coffee that is brewed cold, meaning no hot water ever passes through the coffee. Instead, the coffee grounds are immersed overnight in cold water, making a cold brew concentrate.
This results in a bold, smooth, and low-acidity coffee and one of your new favorite Starbucks drinks – that you can make right from the comfort of your own home!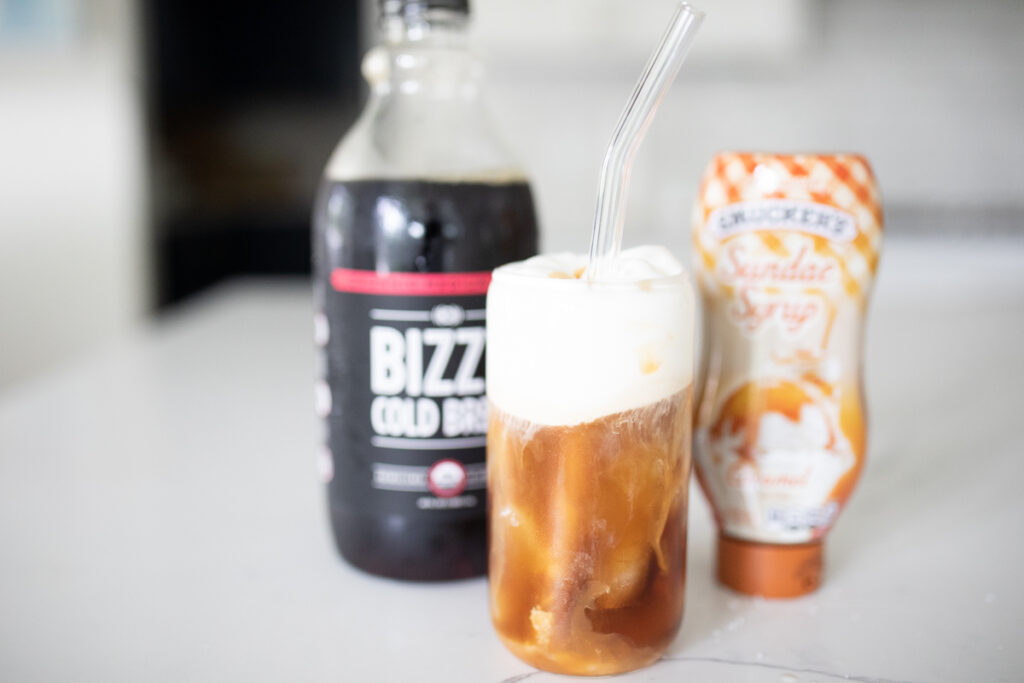 Why You'll Love It
The salted caramel cream cold brew packs an unbeatable combination of salty and sweet caramel with the rich body of cold brew coffee. The salted caramel flavor and foamy cream taste like dessert in a cup – plus, the best part?
It's an easy recipe to enjoy on those hot summer days and you can all of the tasty ingredients from your local grocery store! 
Unlike iced lattes, this drink has more coffee than milk. So if you want to join the iced coffee drink party, but don't want to sacrifice bold coffee flavor, you've come to the right drink.
The salt neutralizes any bitterness in the coffee and intensifies the sweetness of the caramel making this drink next level, you can also add a bit of simple syrup if you need an extra bit of added sugar.
This cold drink is easy to adapt to keto dietary restrictions by using sugar-free sweeteners like this one.
Cold brew is less acidic than regular iced coffee, but it still packs a ton of flavor.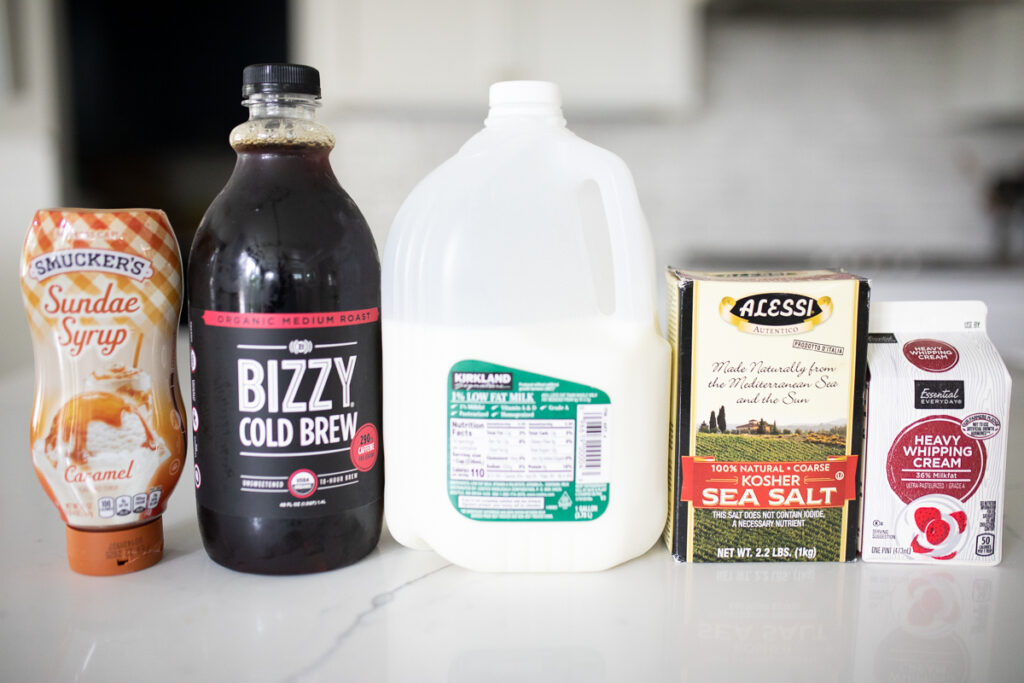 Ingredient Notes
Cold brew coffee (store-bought or homemade)
Heavy whipping cream
Milk
Sea Salt
Caramel Syrup (homemade with sugar or store-bought caramel sauce.)
Coffee lovers are drawn to this drink because cold brew is notoriously smooth due to its cold immersion brew process.
But if you plan to add flavor or milk to your cold brew, I recommend using a medium-dark roast. If the coffee is too light, milk or cream might subdue the coffee's flavor too much.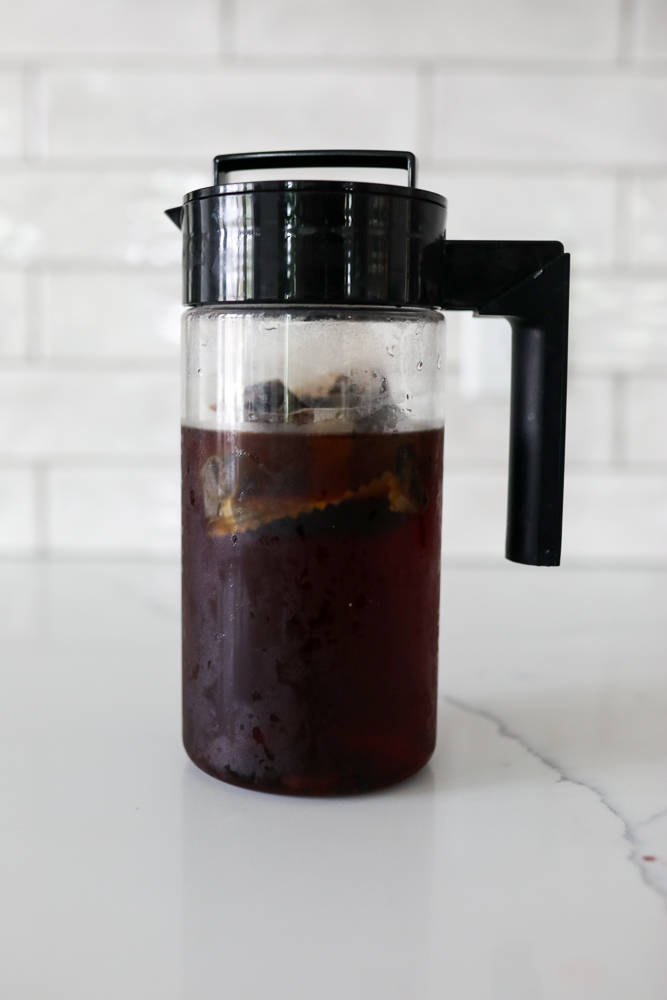 Grinding your coffee for the cold brew process is important. Using pre-ground coffee is dicey at best because the coffee will be too fine. Not to mention, stale. If you can, grind your coffee to a coarse, cold brew setting at the store when you buy it, or at home with a burr grinder. This will ensure your coffee doesn't taste over or under-extracted.
For the cream component, use a combination of heavy whipping cream and milk of choice for the perfect texture.
To make homemade caramel syrup, you can caramelize sugar yourself on the stove and skip the store-bought stuff. But don't walk away or get distracted, or you risk burning the sugar.
Equipment
Cheesecloth
Pitcher or gallon jar
Digital Scale (optional)
Measuring cup
Milk frother or whisk
If you're making your own cold brew at home, you'll need a pitcher and some cheesecloth. Soak the coffee grounds in the pitcher overnight, and use the cheesecloth to strain the grounds in the morning.
Though not necessary, I would recommend using a scale to weigh out how much coffee you're using to batch your cold brew. This way, you can guarantee better extraction.
A milk frother or immersion blender will give you the best possible cold foam that closely replicates the Starbucks original. And if you can't use either of these tools, use some elbow grease to hand-whisk your cream in a mixing bowl.
Easy Instructions
Fill a drinking glass ¾ full of ice and set it aside.
In a squat glass like a mason jar or a Pyrex measuring cup, add your milk and cream, a bit of sugar, and a sprinkle of salt.
Take your milk frother or whisk and froth the milk and sweetener combination until it rises and fluffs.
Eyeball a teaspoon or two of your caramel syrup into your cup of ice.
Then fill the glass ¾ full of cold brew.
Add a portion of your caramel cold foam on top of the cold brew until the glass is full.
Drizzle caramel sauce over the top of the foam for fun, added sweetness, and presentation.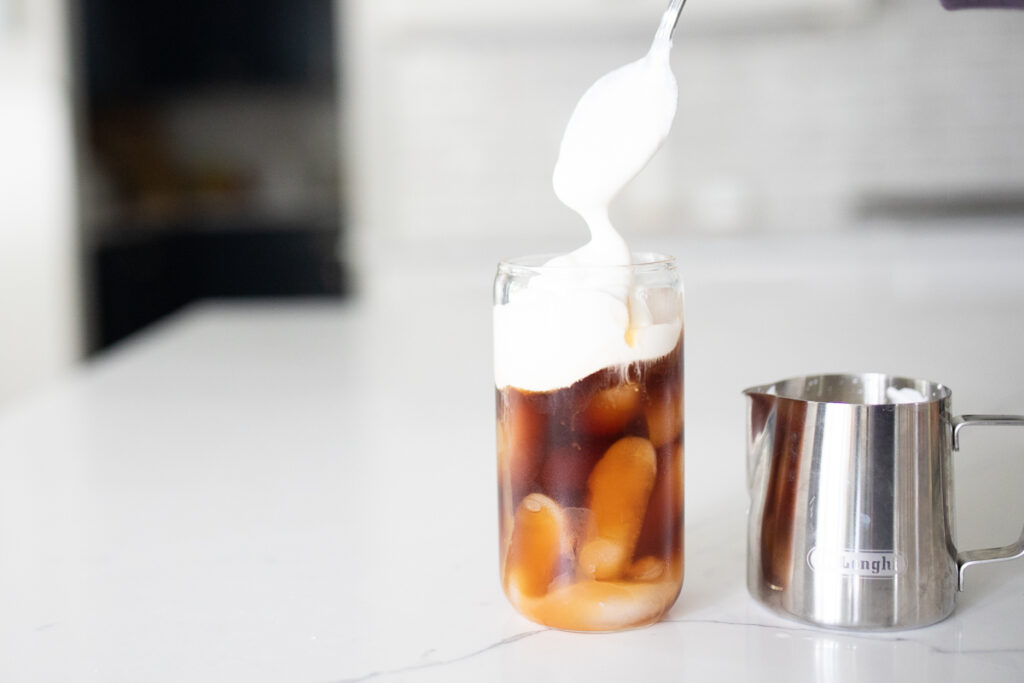 Tips and Tricks
First, make sure you have your cold brew ready to go in advance. If you are making your own cold brew coffee most cold brew recipes require at least 12 hours of overnight soaking in an airtight container for full-bodied flavor.
Also, the night before, prepare your caramel sauce by making it on the stove. Or purchase a pre-made sweetener like this one. Just make sure that if you buy salted caramel syrup, you don't oversalt the drink by adding salt to your cold foam.
Use sea salt, not table salt. If you've never tried sea salt and table salt side by side, now is the time to try. Table salt is super harsh. Sea salt is smoother. Still, a little goes a long way. Use a sprinkle at first, then add more based on flavor.
If making your own cold brew is too time-consuming, the good news is that you can purchase Starbucks' store-bought cold brew at many supermarkets. I think the best flavor comes from making it yourself, but you will still see great results with the store-bought option.
I would not recommend substituting iced coffee for cold brew. Iced coffee is delicious, but it doesn't have the depth or brew strength to stand up to so much cream and sweetener.
The salted caramel cold foam should not be made in advance. As the cold foam sits, it loses its fluffy consistency.
Serving Suggestions
Salted Caramel Cold Brew is delicious year-round, and its combination of sweet and salty makes it a perfect afternoon pick-me-up.
If you have a thermos or a reusable water cup with a straw, you can easily take this drink on the go. But the best way to have it is straight from the glass. That way, you get to fully experience the cold foam texture as you sip.
If you don't love salt or if cold brew isn't your thing, try an iced caramel macchiato instead. It's a latte, so it uses espresso, milk, and caramel syrup instead of cold brew. It's cold, refreshing, and sweet, but creamier because it uses more milk than coffee.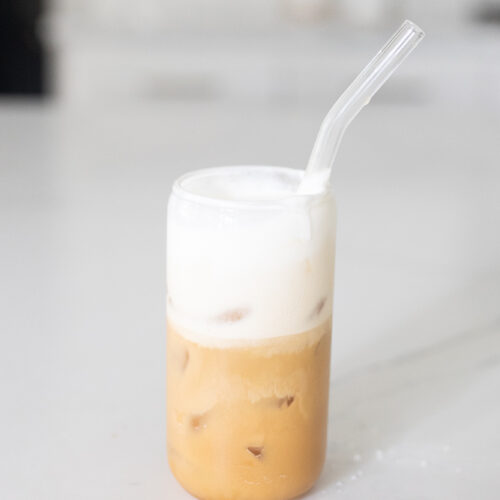 Salted Caramel Cream Cold Brew Recipe    
This salted caramel cream cold brew recipe is as close to the original Starbucks favorite as it gets. It's creamy, a little salty, and an excellent afternoon caffeine boost. You'll be making these all summer for your friends once you master this simple recipe.
Ingredients
½

cup

heavy cream

¼

cup

milk

1

tsp

caramel syrup

sea salt

cold brew coffee

ice
Instructions
Fill a 16-ounce glass with ice and set aside.

Combine heavy cream, milk with a pinch of sea salt, and froth until stiff peaks form.

Add desired amount of caramel syrups to glass of ice.

Fill the glass ¾ full with the cold brew. 

Spoon the cream mixture over the top of the cold brew until the glass is full. 

Drizzle with caramel and more sea salt if desired.
FAQs
Is the salted caramel cream cold brew sweet?
Salted caramel cream cold brew is sweet because it includes caramel syrup. But it's less sweet than many iced coffee drinks that have a higher milk content. The strength of the cold brew balances out the sweetness quite well. But if dessert-level sweetness isn't your thing, you're welcome to cut the sweetness in half when you make it at home.
How many calories are in a salted caramel cream cold brew?
The calories in this drink come from the salted caramel cream cold foam, which is a combination of heavy cream, milk, salt, and caramel syrup. The calories of the cream will depend on the kind of sweetener and milk you use and how much. The cold brew itself has zero calories. Starbucks says its version contains 240 calories. 
How do you order a salted caramel cream cold brew from Starbucks?
Since the drink's name is exactly what the drink original recipe is, you should have no problem ordering this drink at Starbucks. They even carry the drink year-round. Like a classic iced drink at Starbucks, you have multiple size options and the ability to ask for more or decreased levels of sweetener.
Before you go – join me for a weekly coffee date! Put your email in the box below and you'll not only get added my weekly email with coffee tips, recipes and more but you'll also get 3 Starbucks Copycat coffee recipe cards delivered right to your inbox!