If you've never compared a standard iced coffee to a cold brew, let me introduce you to your new favorite brewing method.
Iced coffee is created by brewing hot coffee and pouring it over ice. The coffee is extracted through the process of heat. This creates a watery, acidic, and bitter flavor that's best served with a scoop of sugar and a dash of cream.
On the other hand, cold Brew comes from coarsely ground coffee beans steeped in cool water over an extended period, from 12 to 24-hours. This results in a concentrated, smooth, naturally sweet cold coffee that's delicious as-is.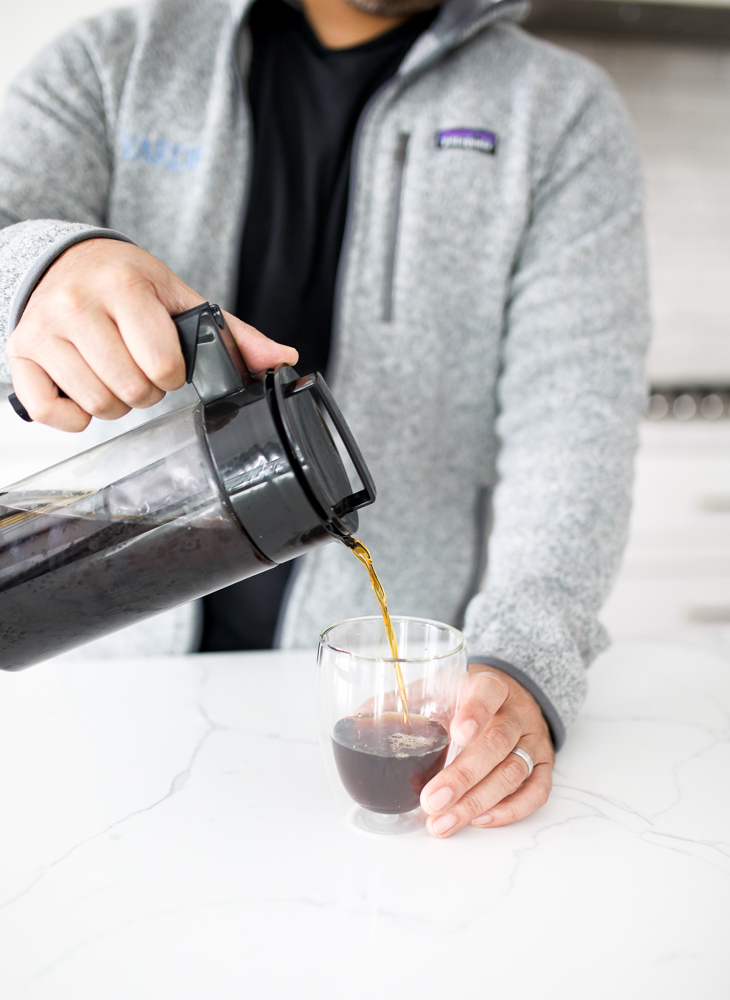 The most significant factor in achieving the perfect cold brew is fresh, consistent, coarsely ground beans. Together, we'll discuss the 5 best cold brew coffee grinders for differing needs.
Now, you can skip the local coffee chain and create mouth-watering cold brew in your own kitchen.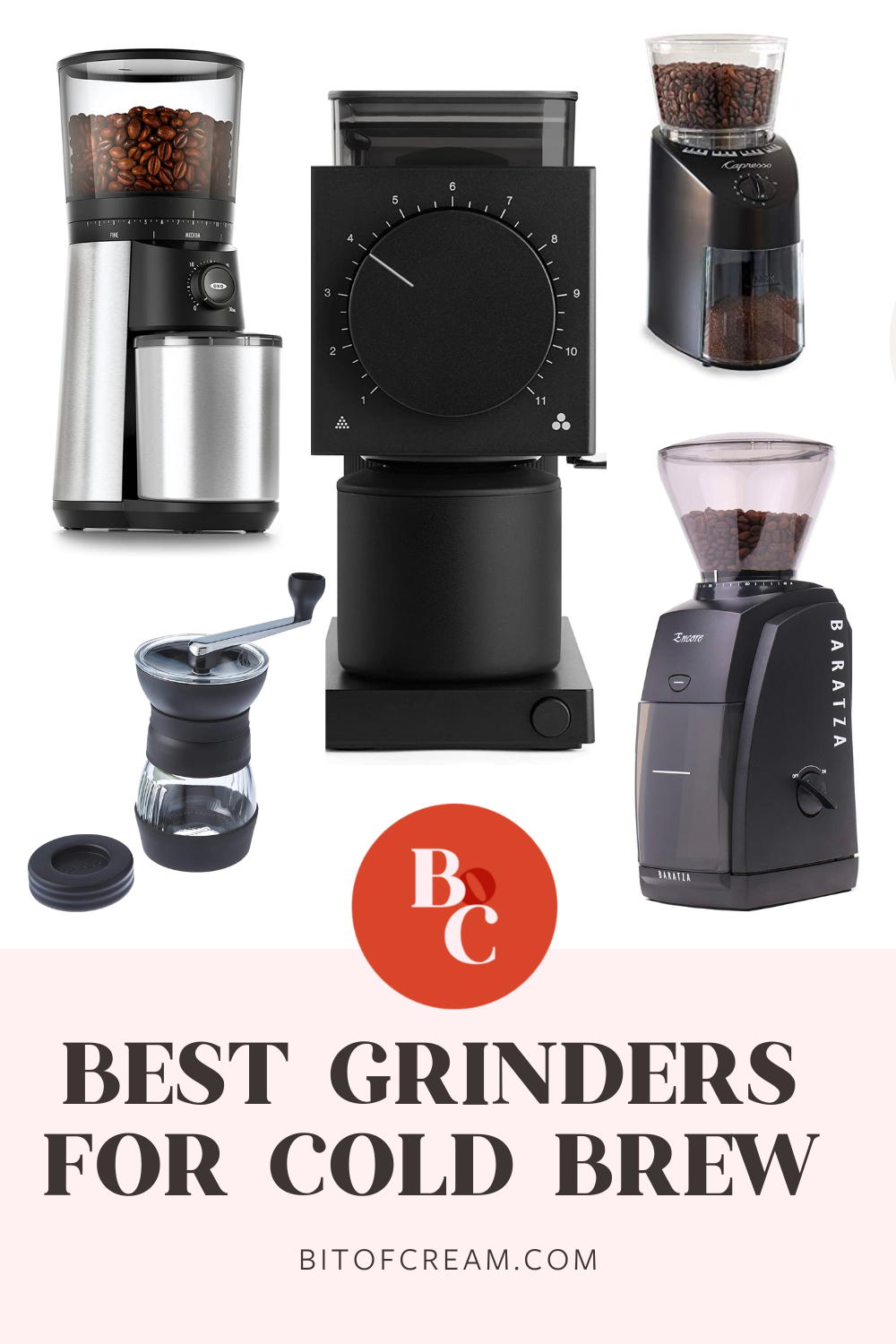 This post includes affiliate links.
Why Grind Your Own Beans In The First Place
Not only will grinding your coffee at home give you the freshest cup possible. But it also gives you control over as many variables as possible for that perfect cup of coffee.
Once coffee beans are roasted, they immediately begin oxidizing. Grinding the beans exposes them to even more air, so they'll expire much faster. This is why pre-ground coffee is already stale by the time you bring it home.
All those tasty oils and aromas have already been released from the ground beans, and none of that flavor is making it into your cup. Freshly ground coffee beans are unmatched when it comes to body, fragrance, and nuanced flavor.
Under-extracted coffee happens when the grounds are too coarse for the brewing method or the brew time is too short. The result is sour, acidic, almost salty-tasting coffee.
Over-extracted coffee results from too finely ground beans, too much heat, or too much brew time. This leads to bitter, burnt, or hollow-tasting coffee.
Consistency is the golden ticket for perfectly balanced flavor.
When making cold brew, the flavors are more pronounced than in some other brewing methods. This is because the grounds steep in the water over a long period of time. You don't want to end up with small and large grinds because you'll get a combination of over and under-extracted coffee.
Grinding your beans at home keeps them as fresh and flavorful as possible. Plus, it allows you to monitor and control the coarseness for a smooth cold brew every time.
5 Best Grinders For Cold Brew
Check out the table below for a quick look at our top grinders for cold brew. Want more details on one of the grinders? Keep reading for a deep dive into each one.
| Product Image | Product Name | Primary Button |
| --- | --- | --- |
| | | |
| | | |
| | | |
| | | |
| | | |
OXO Brew Burr Coffee Grinder
One touch start timer keeps your last setting, just push to grind
Durable 40 millimeter stainless steel conical burrs create uniform grounds for optimal flavor extraction
We earn a commission if you make a purchase, at no additional cost to you.
The OXO Brew Burr Grinder is our pick for the best overall grinder. It's affordable, capable of multiple grind settings, and made of quality materials. Whether you're making cold brew, drip, or pour-over, this grinder has you covered.
Stainless Steel Conical Burrs & 15 Grind Settings
This machine's stainless steel conical burrs will give you a consistent grind for perfectly extracted cold brew. With 15 different grind settings, you could use this grinder for multiple brewing methods like espresso or French Press.
In addition, the stainless steel materials used are durable and create a machine with longevity. Your investment will be well worth it, considering the quality of this grinder.
110g Capacity
The hopper has a 110g bean capacity, so you'll be able to brew a generous helping of cold brew without loading the machine multiple times.
Plus, the anti-static grounds container means less coffee wasted within the machine.
Timer & Push To Grind Button
This device has a convenient timer feature that makes grinding fresh beans effortless. Or, you can use the button to pulse grind on demand.
This grinder even remembers your last setting, so you can replicate yesterday's grind with the touch of a button.
Pros
Anti-Static Grounds Container
Stainless Steel Conical Burrs
15 Grind Settings (From Espresso to Cold Brew)
110g Capacity
Most Parts are Removable for Easy Cleaning
High Quality, Consistent Grind
Budget-Friendly when compared to similar grinders
Cons
The bottom burr isn't removable, so you'll have to clean around this one while it's still attached to the machine
Reviewers note that this grinder is loud in comparison to other burr grinders but still quieter than blade grinders
Baratza Encore
A convenient, front-mounted pulse button, plus a simple ON/OFF switch make it easy to grind fresh coffee.

Engineered with 40mm commercial-grade conical burrs that help you explore the extensive range of brew methods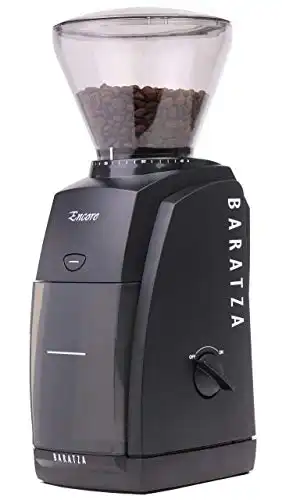 We earn a commission if you make a purchase, at no additional cost to you.
The Baratza Encore Burr Grinder is an exceptional upgrade option for those dedicated coffee brewers who want to invest in a higher-quality grinder. This machine builds on all the qualities and features of the OXO Brew Burr Grinder for those looking for a grinder a step above.
Replaceable Parts for Longevity
Baratza prides itself on offering reliable consumer appliances. Their home appliances are similar to commercial-use machines, and are equipped with serviceable and replaceable parts.
Since you'll have the option to get your grinder repaired or even rebuilt through the company. You can rest assured that your investment is protected for years beyond the Warranty.
145g Grounds Capacity
The large grounds container can hold more than enough coffee to brew a generous helping of cold brew.
You'll need about 125g of grounds to make 1 liter of cold brew. However, this device can hold above and beyond that amount, so you won't have to go through multiple grind cycles per brew.
Great for Coarse Grounds
If you're a cold brew lover, your main concern will be how consistently your grinder can perform at the coarser settings. This machine isn't well suited for espresso brewers, but it's spectacular with coarse grinds.
The machine doesn't have a timer. You can only turn it on/off or hold down a button for on-demand grinding. Using this button to pulse the beans will give you control over your grind and produce a perfect base for flavorful cold brew.
Pros
40 Grind Settings
Stainless Steel Conical Burrs
Easy to Clean
8oz hopper with a grounds container that can hold ~145g
Replaceable parts
1-year Warranty
Cons
No timer feature
Plastic body instead of stainless steel
Fellow Ode Brew Grinder
A powerful, precise, and quieter home coffee grinder with café capabilities

With 11 settings and 31 steps in between, you can easily adjust the grind settings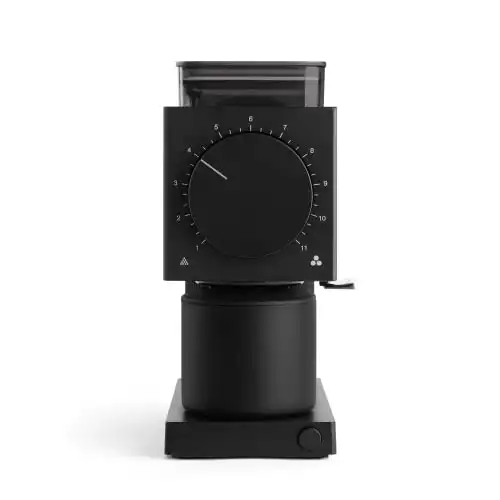 We earn a commission if you make a purchase, at no additional cost to you.
The Fellow Ode Burr Grinder is a splurge option when considering a coffee grinder for cold brew. However, it's well worth it if you're a serious coffee aficionado. This grinder does everything: it's fast, quiet, consistent, sleek, compact, and has all the bells and whistles you could ask for.
Sleek and Attractive Design
Just one look at the Fellow Ode Burr Grinder, and you can tell it's not like the rest. A matte black or white finish paired with a simple, minimalistic interface creates a grinder that deserves to be seen.
It's compact enough to be displayed on your countertop at 9.4"x 4.2"x 9.5".
Even though this grinder is beautiful, it's even better at delivering reliably consistent grinds. This consistency is what makes for the ultimate cold brew experience.
Quiet, Fast Grinding
Of all the grinders compared in this list, this one is the quietest. Not only is there minimal noise with the grinder, but it can achieve this dampened sound even at the highest rpm settings.
Especially when you're brewing cold brew, this machine will sound like a whisper compared to the competitors. The coarse grind doesn't require a high rpm, so you can start your cold brew in the morning without waking up the entire house.
Professional Quality for Professional Results
This machine uses flat steel burrs instead of conical ones. Flat burrs stack one on top of another and hold the beans still as they're ground. This results in symmetrical, even, and consistent grinds.
Precision and quality materials will ensure that every cup of coffee you brew is as delicious as the last one.
Pros
A sleek design you'll want to show off on your counter
Flat, Stainless Steel Burrs
Fast, Quiet, Consistent Grinds
31 Grind Settings
Easily removable and cleanable parts
1-year warranty
Cons
Pricey when compared to other burr grinders
80g grinds capacity is smaller than comparable grinders' capacities
Doesn't grind for espresso (but is superb for cold brew)
Capresso Infinity Burr Grinder
Commercial-grade, solid steel conical burrs with advanced cutting design

Gear reduction motor grinds slow with reduced noise and little static build-up
We earn a commission if you make a purchase, at no additional cost to you.
The Capresso Infinity Burr Grinder is an exceptional all-around grinder. Especially when you consider its compact size and noise-reduction. The price is reasonable for the quality and it's a great option for cold brew and coffee lovers in general. The consistent grind capabilities are well worth the modest investment.
Reduced-Noise Grinding
This is one of the quietest automatic grinders at this price point. It has a unique gear-reduction motor, allowing the machine to grind the beans slowly. This way, not only will you achieve consistent grind sizes, but it'll do so quietly (in comparison to other grinding devices).
The slow grinding mechanism also creates less heat and friction so that it won't alter the flavor of your beans.
Compact Size
This is the smallest automatic grinder we're comparing in this list at 5″ x 7¾" x 10½". This machine is only about 3 lbs, so it isn't a hassle to store in a pantry or cabinet until you're ready to brew.
A compact and easily moveable footprint is essential if you don't have a ton of counter space. This way, you'll actually use the device instead of letting it collect dust in a closet. Believe me; we've all been there.
Timer for Automatic Grinding
You can set it and forget it or manually turn the timer on and off to pulse the machine.
This grinder gives you the best of both worlds. It can be hands-off during a busy morning, or you can indulge in the process and completely control your grind.
Pros
16 grind settings for brewing cold brew and beyond
Gear reduction motor produces consistent grinds with less noise
Removable parts for easy cleanup
Hopper holds 8.8oz (~250g) of beans which is more than enough for a large jug of cold brew
Cons
No on-demand grind button. You'll have to use the timer switch to pulse the beans
Some reviewers have experienced annoying static electricity after grinding
Hario Skerton Pro Manual Grinder
This grinder can make a full range of grind sizes, whatever your preference

The Skerton Pro features a modern update on the classic design with sleek lines, and with easier-to-adjust burr settings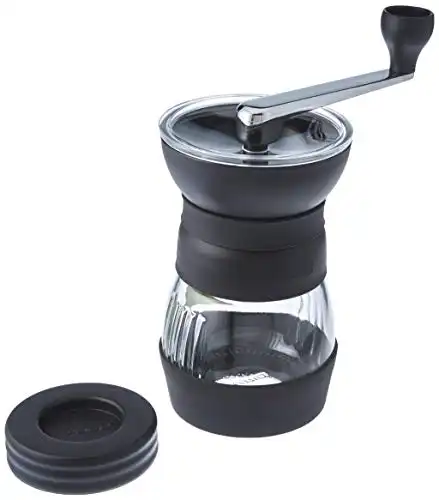 We earn a commission if you make a purchase, at no additional cost to you.
The Hario "Skerton Pro" Ceramic Manual Grinder is the perfect portable grinder. It doesn't require electricity, so you can bring it on the go.
Whether you're camping, road-tripping, or just want to make delicious cold brew at the office, the Hario "Skerton Pro" Ceramic Manual Grinder can go along with you.
Upgraded Body & Adjustable Grind
The Skerton manual grinders have undergone upgrades with each new model. The Skerton Pro is the third iteration and thus has many improvements from the first variation.
The body is made of heat-resistant glass and can hold a decent amount of grinds. The handle is ergonomic, secure, and comfortable to use. And, there's now a rubber base to keep the grinder in place on your tabletop as you use it.
Arguably, the most important change has been the ease of adjusting grind settings and grind consistency. This model is the easiest and least laborious to use. Grinding is smooth and doesn't require a whole lot of muscle.
Detachable Handle
The stainless steel handle is strong and comfortable to hold. It's also very secure and doesn't tighten as you grind the beans.
Its snap-in mechanism lets it quickly and easily attach and detach from the lid. This way, the device can become even more compact for portability.
100g Grounds Capacity
This device has one of the largest capacities of manual grinders on the market. This makes it especially well suited to brewing cold brew since you'll need about 1g of coffee per 8g of water. For a liter of cold brew, you'd need 125g of grounds.
As a bonus, the grinder attachment fits onto a standard Mason Jar when you need a larger capacity.
Pros
Ceramic Conical Burrs
Rubber base to keep the grinder in place as you use it
Doesn't need electricity to function
Less than 1.5 lbs
Portable
Grinder Attachment Compatible with Standard Mason Jars
Cons
Slower than automatic grinders
Requires user to crank the lever by hand
Spare and Replacement Parts are available, but depending on where you are, shipping can be expensive from Japan
What To Look For In A Cold Brew Grinder
Manual vs. Automatic
Both Manual and Automatic coffee grinders can get you to that smooth, sweet glass of cold brew you're craving. But there are differences between the two methods.
A manual grinder can produce consistently sized grinds, which is key to perfectly extracted coffee. However, you'll have to use some elbow grease to hand-grind those beans.
Manual grinders are typically less expensive than automatic ones. Plus, they're portable and don't require any electricity. Whether you're in a campground or road-tripping, you'll never have to be without a caffeinated cup of joe.
Automatic grinders, on the other hand, can grind larger amounts of beans quickly. Automatic grinders will be more expensive than manual ones. But, you're paying for ease of use, convenience, speed, and a larger capacity for beans. You will need electricity to run these machines, and some are more portable than others.
Burr vs. Blade Grinders
Blade grinders are the most affordable option when it comes to choosing a coffee grinder. However, most coffee lovers will recommend you use a burr grinder for the best-tasting brews.
Blade grinders crack and chop the beans as a food processor would. There's really no way to ensure consistency when using this type of grinder. Pulsing, as opposed to auto-grinding, will give you more control over the grind and will avoid heating and altering the flavor of the beans.
The industry standard for burr grinders is to use conical burrs. An outer serrated burr surrounds a cone-shaped center burr. This method is both energy-efficient and heat-resistant, so you won't alter the flavor of the beans when grinding.
Burr grinders can achieve more evenly ground coffee than what you'd get with a blade grinder. Even though you need a very coarse grind for cold brew, consistency is key. If you have finely ground coffee mixed in with bigger grinds, the smaller pieces will over-extract and create a bitter flavor.
Number Of Grind Sizes
The number of grind sizes available on a machine will afford you variety in your brewing methods. For example, finely ground coffee is ideal for espresso, while very coarse beans are perfect for cold brew.
If you like to vary your brewing methods from espresso to drip to French Press and beyond, you'll want a grinder with multiple-size capabilities.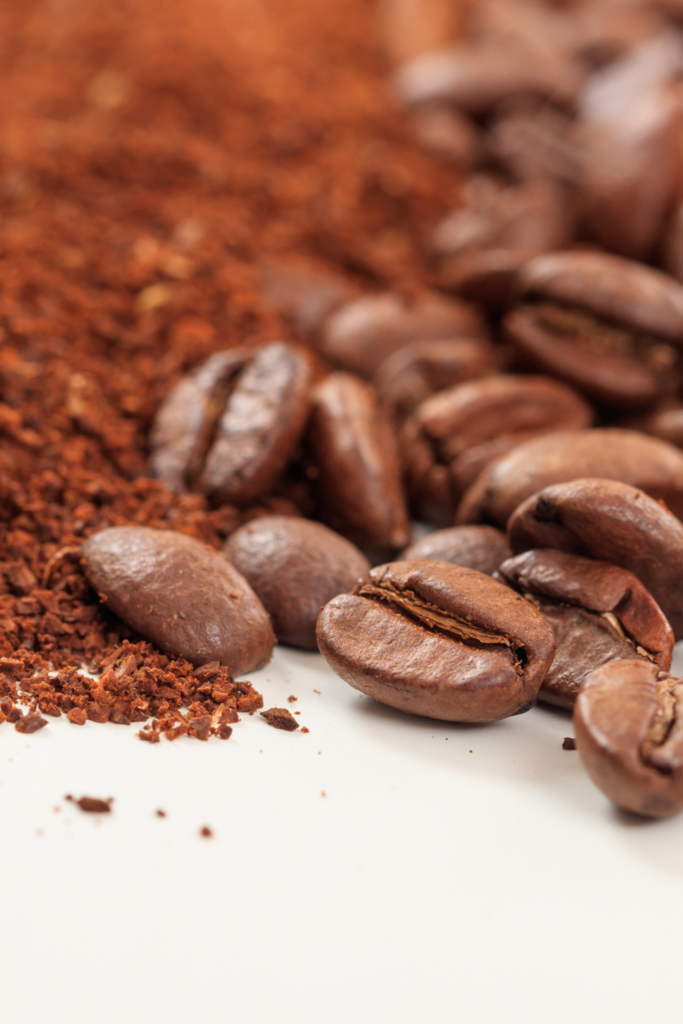 The more grind sizes available and the more consistent the grinder is, the higher the price tag. However, you're probably better off investing in a quality grinder in the beginning. As your coffee brewing journey develops and expands, the grinder can keep up.
Capacity
It's essential to consider capacity when you're looking to purchase the best grinder for your needs.
Are you looking to brew only one cup of coffee at a time, or do you normally have a crowd to caffeinate? This will determine the size hopper that'll work best for you.
Cold brewing especially requires a large capacity. This is because the grinds are coarse, and this bigger size will take up room in the grinder. Since cold brewing is a time-consuming process, more often than not, you'll want to brew more than 1 cup at a time.
Remember that for cold brew, you'll need about 1g of coffee per 8g of water. So, you'd need 125g of grounds for a liter of cold brew.
Cost
There's a quality grinder at every price point, especially one capable of consistent coarse coffee grounds, at every price point. You may have to pick and choose between some fancy features or bells and whistles. But at the end of the day, you can invest in a grinder that'll get the job done without breaking the bank.
So Which One Should You Buy?
Consider your individual needs and find where you land on the spectrum of grinders.
Are you looking for something you can plug in and display on your counter as a mainstay in your kitchen? Or something that can easily be packed away and taken with you on the go? This will help determine if you should opt for a manual or automatic grinder.
Are consistency, taste, control, and durability the most important factors to you? You'll probably lean toward a burr grinder. Pick one in your price range that's made with quality materials.
Is affordability at the top of your list? What about speed and convenience? Then, you might want to start with a blade grinder as you enter the endless world of coffee brewing.
Make sure you choose a grinder with enough capacity to withhold the grinds necessary for your favorite brewing methods. Remember that you'll need about 125g of coarsely ground beans for a liter of cold brew.
FAQs
Can I use my regular coffee grinder for cold brew?
Any good quality grinder will work for cold brew. Cold Brew requires the coarsest grind you'll ever use for any coffee brewing method. Try to stick with a burr grinder over a blade grinder for the best results with any brewing method.
What's The Best Grind Size For Cold Brew?
Since the grounds will be steeping in cold water for multiple hours, you'll want to use an extra coarse grind to make cold brew. You'll probably use your coarsest grind setting to get results that resemble chunky, ground peppercorns.
Looking for more cold brew content? Head over to one of these coffee guides!