Maybe your grinder wakes up your roommates, or you're sensitive to the pitch and volume of the one you've got. The unfortunate truth is that all electric coffee grinders are loud. Some are just much louder than others.
With a little foresight, you could always grind your own coffee beansthe night before. Or, with a little extra effort, you can crank out fresh ground coffee with a quiet hand-crank grinder.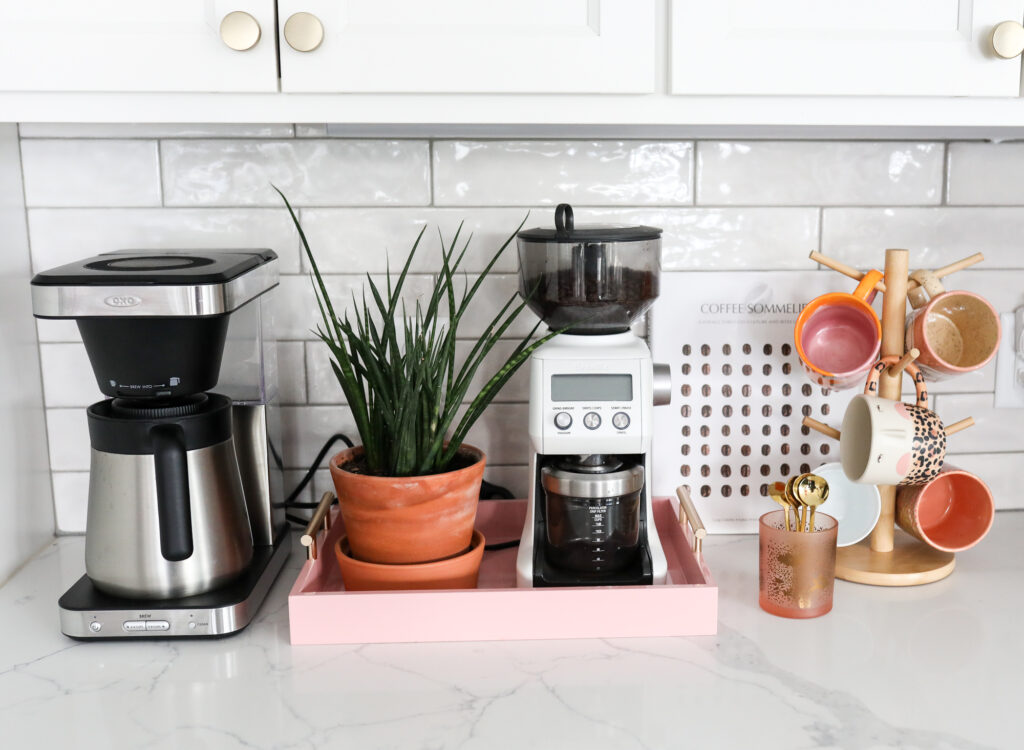 But the truth is, if you're looking for on-demand convenience for home use, there is no substitute for an electric model.  
In this article, I'll share a few of my favorites, including a manual option. I'll also cover what you can expect from a "quiet" model, and how much you can expect to pay.
Best Quiet Coffee Grinders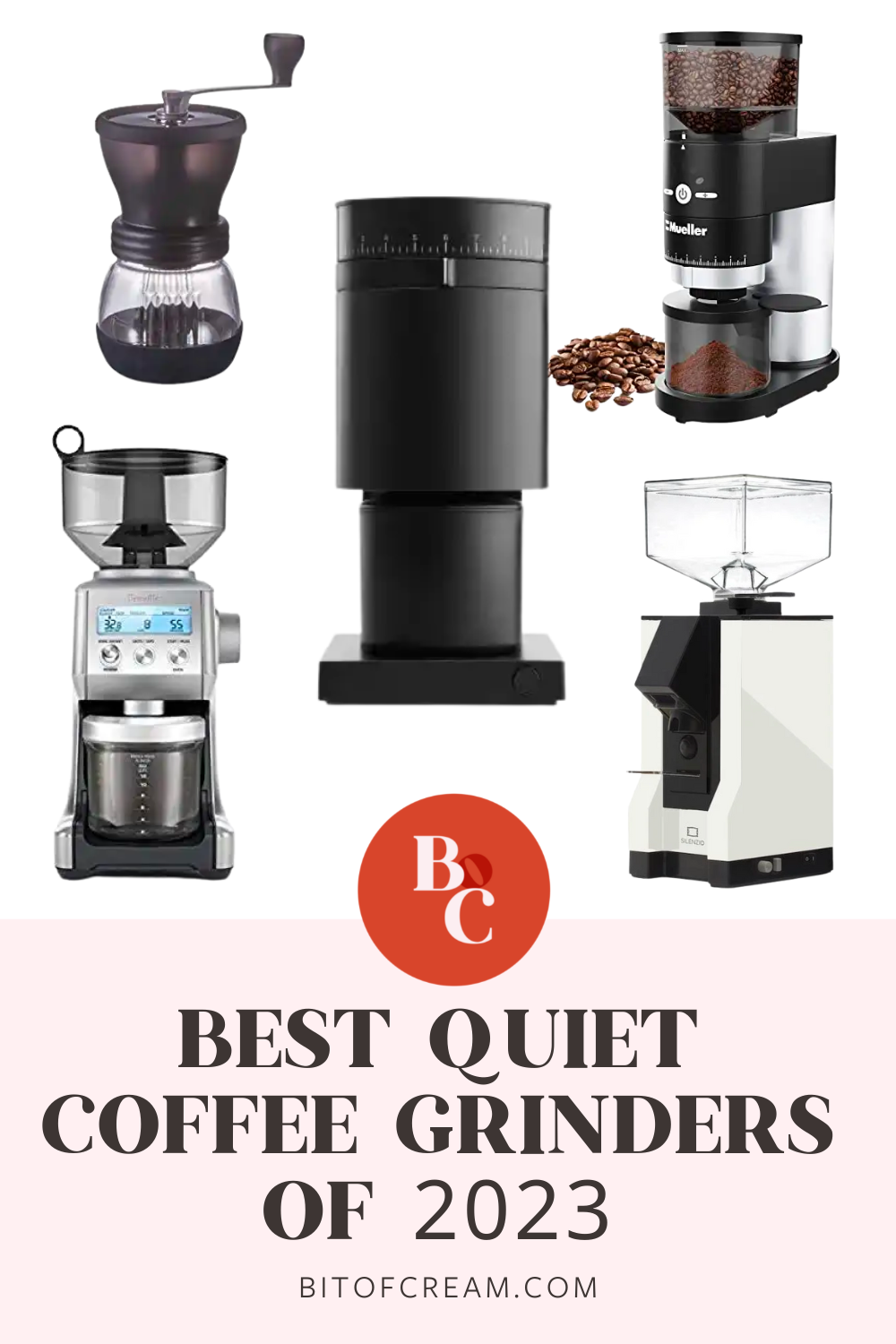 This post includes affiliate links.
| Product Image | Product Name | Primary Button |
| --- | --- | --- |
| | | |
| | | |
| | | |
| | | |
| | | |
Best Quiet Coffee Grinders: Our Top Picks
We earn a commission if you make a purchase, at no additional cost to you.
The Fellow Opus sounds more like a quietly inflating air mattress than it does an actual coffee grinder.
This model is expensive, but it can do A LOT!
The Opus has 41 grind settings, making it ideal for those who use a wide range of brew methods. It also has a 12-cup grind capacity if you're looking to brew large batches.
Fellow is known for excellent design in all they do, and it shows in the minimalist style and functionality of the Opus grinder. This product uses static technology to minimize mess. It even has a "dosing lid" so you can easily measure how much coffee, by volume, you want to grind.
The Opus includes a magnetic catch cup, great for those of us making espresso at home. The catch cup has a magnetic edge sized to fit a portafilter, so you can transfer the grounds without mess or fuss.
It also has a timed auto-stop so that you don't have to reach to turn it off when you've started pulling your espresso shots.
If you prefer to have your coffee stored in your grinder's hopper, the Opus is intended for single-dose loading. This means you measure the amount of coffee you want to use and add it to the grinder each time you're ready to brew.
This is a high-quality grinder for a great price. It's stylish, functional, and versatile. And it won't wake the cat/baby/husband/neighbors.
Pros
12-cup grind capacity
Magnetized catch cup
41 grind settings
Cons
3-year warranty if you register your grinder
Single-dose loading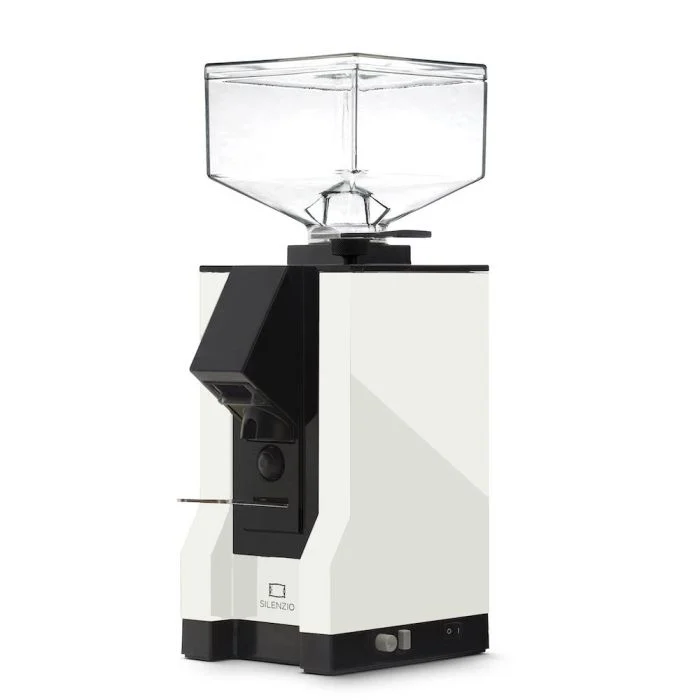 We earn a commission if you make a purchase, at no additional cost to you.
This grinder is spendy, but it was specially designed to be quiet.
The Eureka sounds like soft, television static. This is because it is designed with rubber casings on the interior and exterior to reduce rattling and excess vibration.
It's even quieter than the Opus. Though the dB rating says otherwise, it may be quieter than the Mueller too.
It also has a metal casing that surrounds the steel burrs to insulate the noise from within. It's a slower grinder, which means it's quieter. The associated drawback is that you'll have to wait a little longer to grind that espresso.
Unlike the Opus, Silenzio has a hopper for easy storage.
The grind settings are continuous, rather than organized in steps. This means you've got near infinite control over the specific grind diameter you're creating.
Another bonus of this grinder is that it's especially compact. (And shiny, if that's your thing.) You can remove the portafilter rest for easy cleaning, and it comes with an analog timer that is optional. If you use it for single dosing, the grinder will automatically shut off.
If I was made of money, I would definitely buy this grinder. Very few grinders can remain this quiet, even in their clunky coarser settings.
Pros
Optional analog timer
Stepless grind adjustment
10-ounce bean hopper for coffee storage
Wide range of grind settings (Turkish to french press)
Cons
French press setting is less consistent
Expensive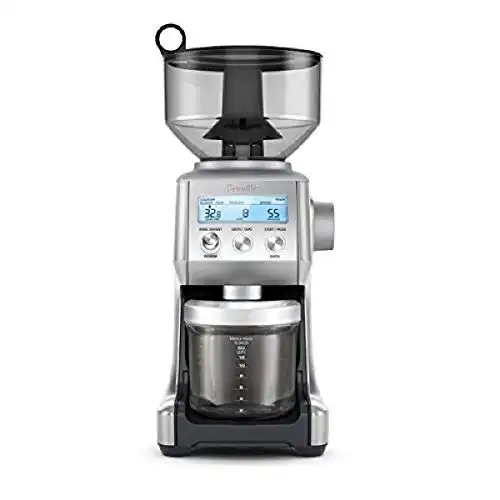 We earn a commission if you make a purchase, at no additional cost to you.
This is the grinder we use every single morning and is one of the best coffee grinders we've owned! It's a great option for both drip and espresso machines.
With its stainless steel and 80 dB rating, the Breville Smart Grinder Pro is known for its low noise output. The stainless steel casing helps keep the machine and its parts sturdy on your kitchen counter, reducing vibration levels. It also insulates the sound of the grinder's motor.
This model has fewer grind settings than my other recommendations. It also has rubber casings. But it makes up for it with a large hopper capacity, manual grinding, and time-programmed options.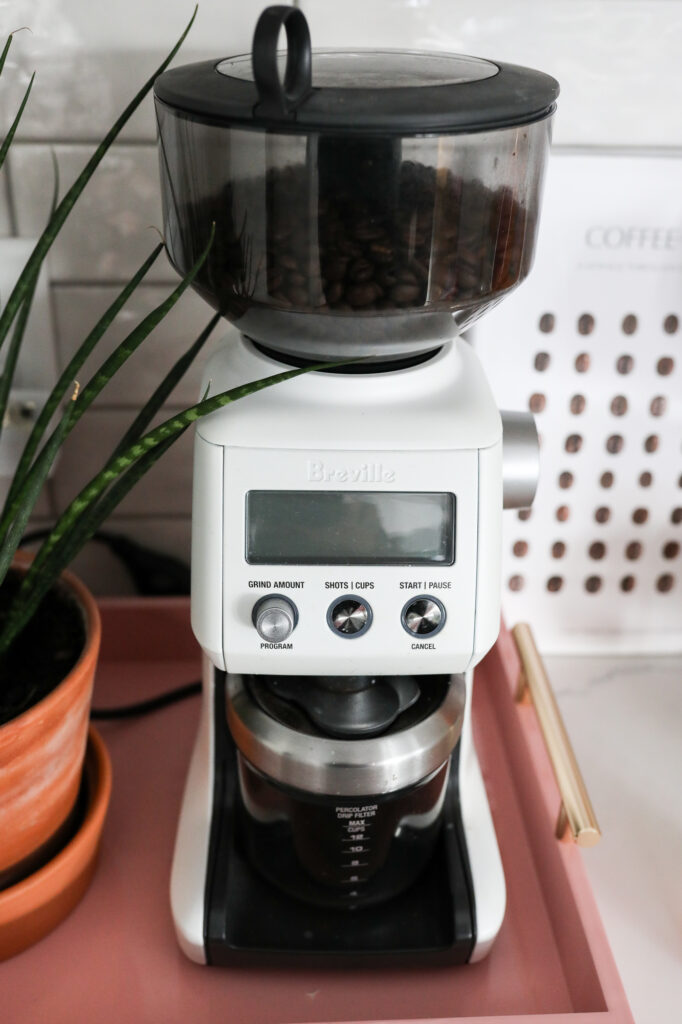 The hopper has a large 18-ounce bean capacity. It's also easy to remove for cleaning when your coffee oils start to build up.
You can press a button that manually grinds the coffee. Or you can program the machine to grind for a certain amount of time. There's also an option to pause the grind in the middle of a time-programmed cycle.
Working with the dials and small, LED screen, choose between the "Shots" or "Cups" setting to set an appropriate timer for your grind.
If either setting is grinding too much or too little, switch to manual grind and grind into your portafilter or catch cup until you've reached the desired amount.
Pros
80 dB rating
Large 18-ounce hopper capacity
Easily programmable, and you can automatically or manually grind
Cons
Hario Ceramic Coffee Mill
Ceramic conical burrs ensure a precise grind

Designed to be portable, and easy to use

Ergonomically designed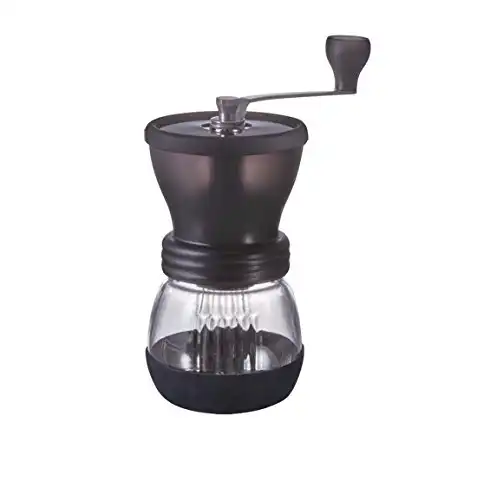 We earn a commission if you make a purchase, at no additional cost to you.
I had to put a manual coffee grinder on this list. This one is the quietest grinder because you grind the coffee yourself! No rattling machine parts or revving motor. The motor is you. The burrs here are a silent ceramic for more durability and an even, quality grind. 
This is the grinder that we use for pour over coffers. It's a great choice when wanting to really slow down your coffee experience!
Of course, it doesn't have a giant hopper or even a noticeable dB rating, it's that quiet.
Hario has a few different options for manual burr grinders, but the ones I have tried, especially the Ceramic Mill, are easy to use and adjust.
Some prefer other manual grinders by Hario that are not glass. I prefer the glass because I think it looks better and feels more sturdy when I'm turning multiple rotations for a morning pour over.
What I really like about the Ceramic Mill is it has a rubber bottom. This feature means that, if your arm gets tired while you grind, you can rest the base of the catch cup on a table for stability.
I would recommend this grinder for someone who tends to stick with one brewing method. Adjusting the grind setting frequently can become tedious.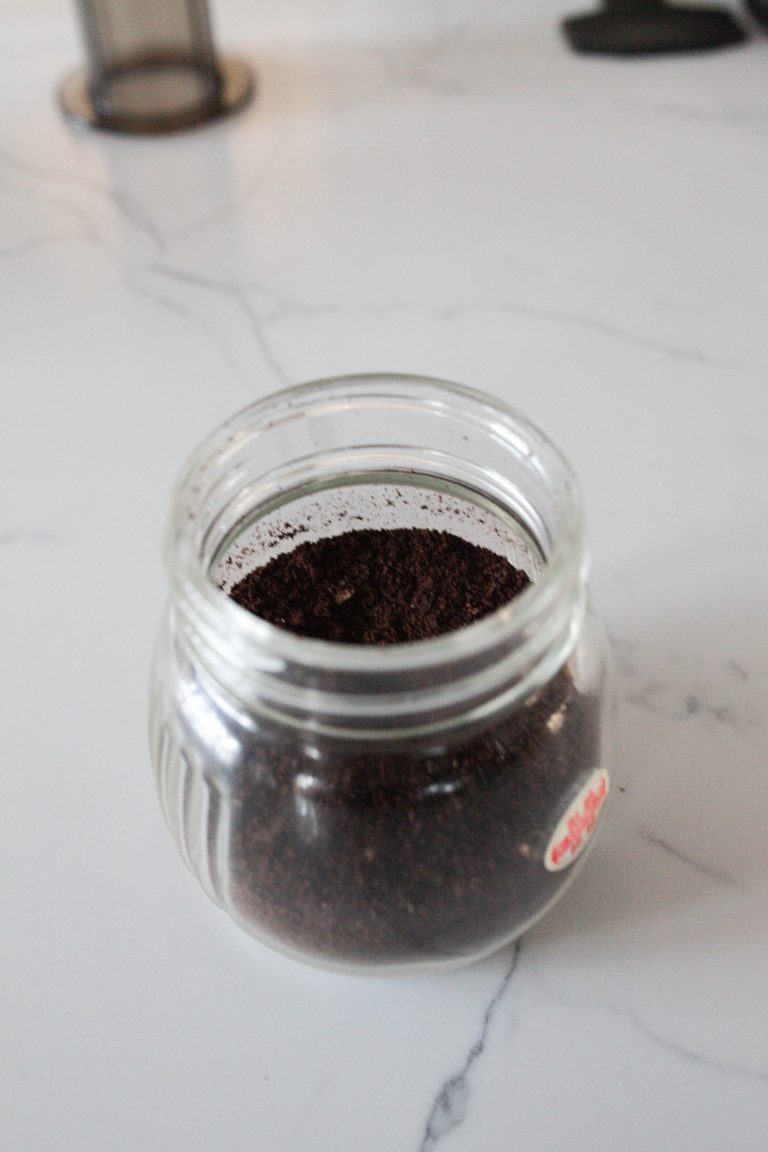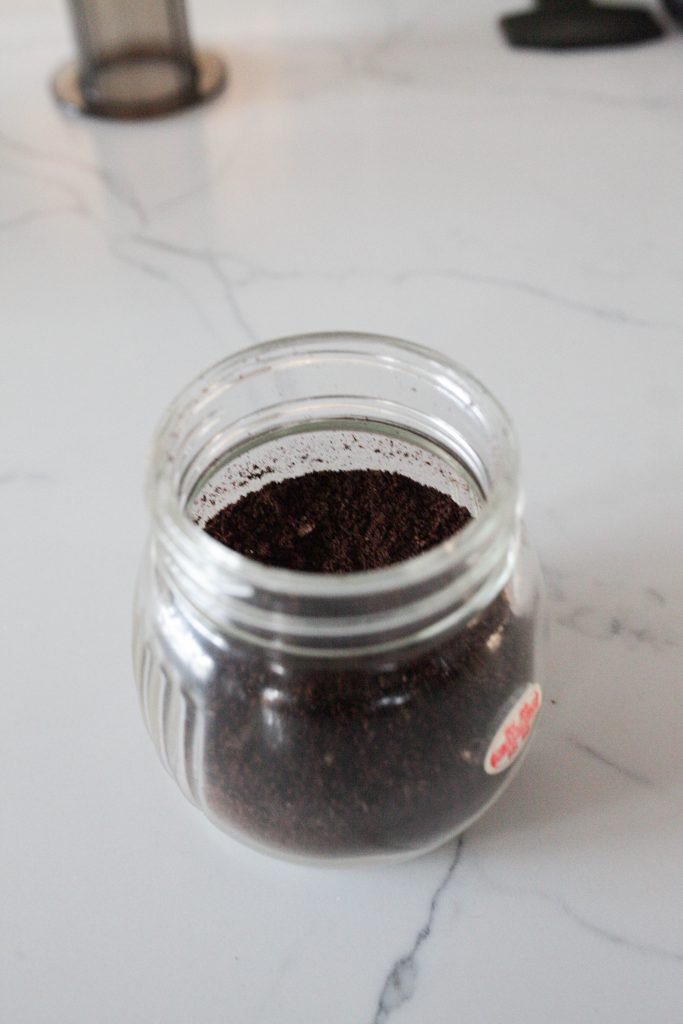 These are great for bachelor coffee drinkers like me, solo travelers, pour over fans, or fair-weather coffee drinkers.
Pros
Lightweight & compact
Affordable
Ceramic burrs
Cons
Grind must be adjusted manually
Not ideal if you're using a different brew method every day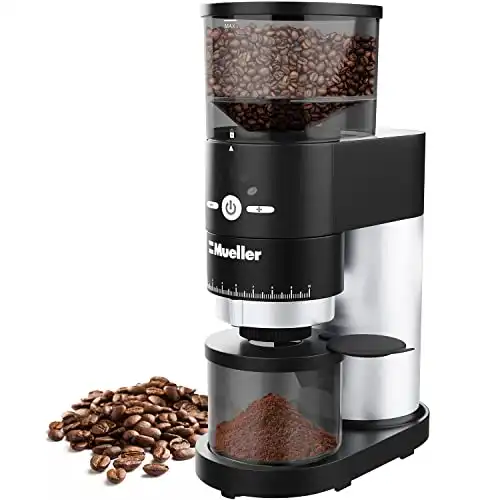 We earn a commission if you make a purchase, at no additional cost to you.
The Mueller Ultra-Grind has a reputation for silence at 76 dB.
It's even quieter than the Opus and has a larger capacity. Still, it costs less than $100. It includes an auto-stop function and grinds quality espresso using steel conical burrs.
With only 10 different grind settings, this model is ideal if you want to stick with a fine-medium range grind. These settings are best used for espresso up to a pour-over, but may not match a French Press as effectively.
The hopper has a larger capacity than most grinders, so if you like to save space and store your coffee in your grinder, Mueller has you covered.
These grinders are sold online, but at the time I'm writing, you'll only find refurbished products and not new ones. They're completely sold out from Mueller's website. It's unclear when they will be available again, but if you can get your hands on one it's a great pick.
Pros
Very affordable sold certified refurbished
Auto-stop option
Low decibel rating of 76
Cons
Can be difficult to clean
Only 10 grind settings
What To Look For
Noise
Most coffee grinders' noise is measured by a decibel (dB) rating.
Many coffee grinders reach upwards of 95 dBs. Manual coffee grinders will always be quieter because they don't have a motor.
Another factor that makes electric grinders louder is that they usually reside on a countertop. The resonant vibrations against the counter surface increase noise and volume of the device.
The noisiness of your grinder isn't an indicator of quality. A quiet device can create an inconsistent grind output, or be highly precise. All of my recommendations have high ratings for grind consistency and durability.
Many good-quality, quietest coffee grinders are available for less than $200.
Most grinders are not actually registered as quiet. Some are simply quieter than others. People who wear hearing aids or who have tinnitus of the ear can be impacted by the high dB of coffee grinders, which tend to range from 88-95 dB.
Components
It doesn't seem to matter whether the grinder is using blades or burrs.
Baristas and coffee professionals will dispel this myth for you. Conical or flat burrs are loud. The same goes for the speed of the grinder. 
In your search for the proper, quiet grinder, keep it simple.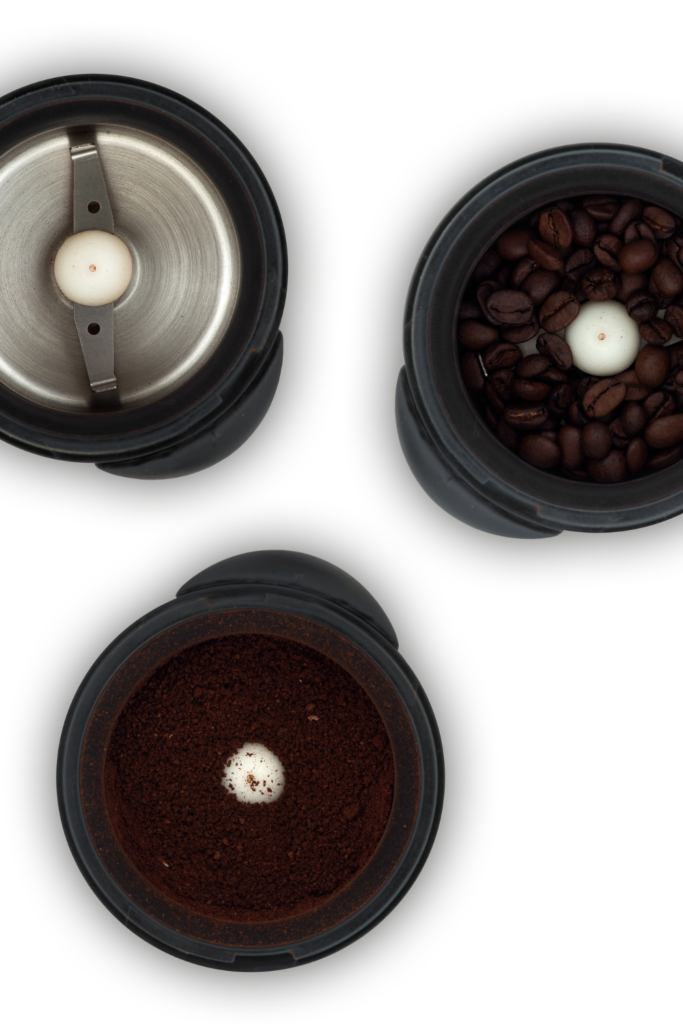 Look for grinders that use more metal than plastic, and use rubber to insulate sound on the inside and/or outside of the machine.
Once you have narrowed down grinders designed to minimize noise, you can start asking what method of brewing you plan to use the grinder for most, and narrow it down further from there.
Electric vs Manual
Manual grinders are handheld grinders you can take anywhere.
If you only make 1-2 cups of coffee daily, and you're not always switching up your brew method, a manual grinder isn't a bad option.
I tend to stick with pour over or Aeropress at home, so I don't always have to adjust my grind settings. Manual grinders must be manually adjusted by removing the handle and lid on top of the burrs and turning a knob to adjust the burrs.
Manual grinders are great if you like a hands-on approach to coffee.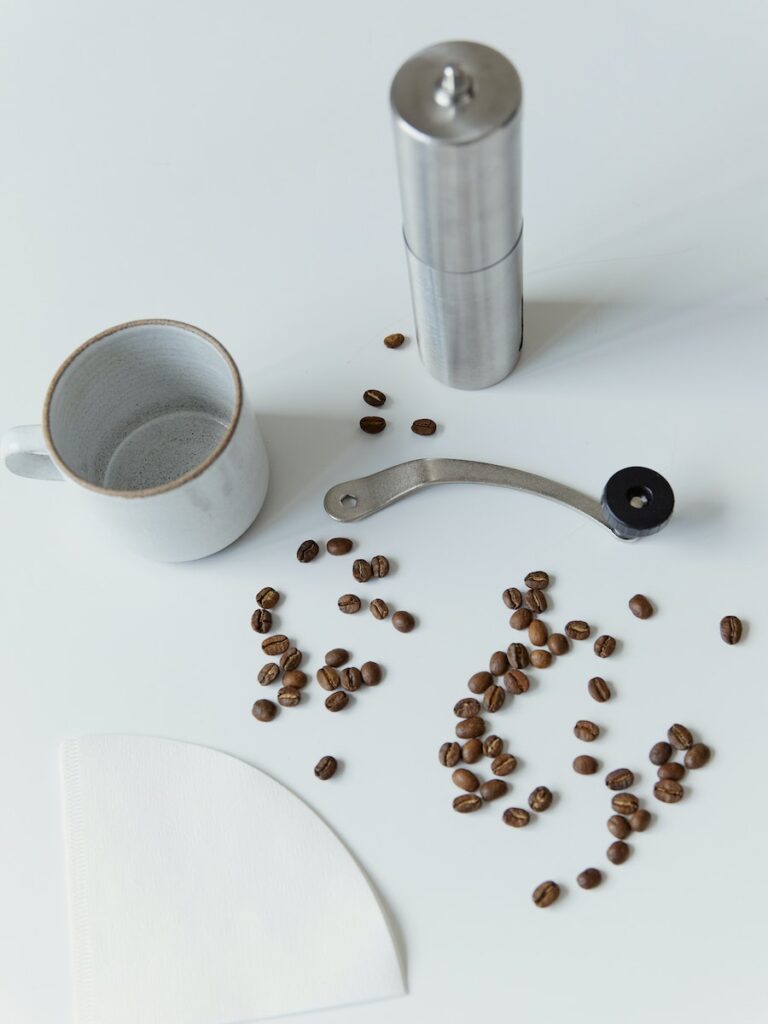 They are also nice to have on hand if you camp or travel, as they disassemble easily and fit into a backpack pocket. At the same time, if you're someone with joint sensitivity or overuse injuries, a manual grinder can be more of a pain than it's worth.
Electric grinders provide simplicity and range.
They come with a variety of settings, so you can pull espresso shots one day, and grind beans for cold brew the next. They can also provide a more consistent quality of grind at a much higher speed than manual.
Electric grinders take up more space, and of course, they are much louder. Because of their size, they are not portable. Most are designed to live on your kitchen counter and stay there.
Blade vs Burr Grinder
Blade grinders are notorious for being loud. They also grind coffee inconsistently and poorly.
You wouldn't put your coffee in a smoothie blender, so why would you use a blade grinder?
The results are not dissimilar.
Burr coffee grinders provide a more consistent grind overall for a perfect cup of coffee. This method will crunch and grind the coffee beans instead of hacking away at them in a high-speed tornado of bean shrapnel.
The inconsistency of blade grinders leads to an inconsistent flavor. If the beans are not ground in a uniform manner, you won't be able to get the extraction you're looking for.
I always recommend burr over blade.
One option is to buy pre-ground coffee and skip using a grinder at all. The problem with this is that pre ground beans lacks flavor because the coffee grows stale at a faster rate when it is pre-ground.
The good news is that burr grinders are becoming more and more popular, and less expensive. So if you want a consistent, quality cup of coffee, there is a burr grinder out there for you.
Grind Time
Grind time depends on the kind of burrs used in the grinder.
Grinders that use a greater diameter burr keep the coffee from heating up while it grinds. It also means that the coffee is ground faster because the burrs can cover more area while they grind.
The slower the grinder, the more likely there will be static electricity, which can cause channeling.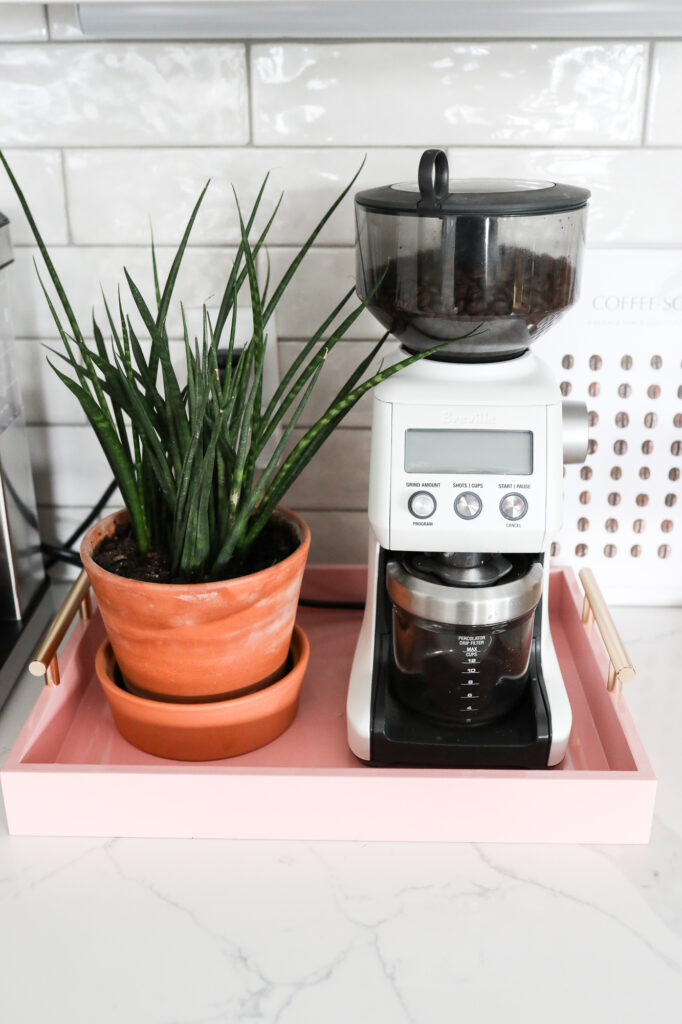 Channeling is when there are cracks in the espresso puck, allowing too much water to pass through the espresso unevenly. If you don't make espresso at home, I wouldn't stress this detail. You can always de-clump your grounds later if you need to.
A faster grind time will yield better results overall because it won't overheat the grounds or contribute to static electricity.
Capacity
Each grinder has a different capacity for how much coffee it can hold in its hopper and output chamber.
If you brew big batches of coffee, and the hopper capacity is less than 8 ounces, you may have to grind one batch at a time to reach your desired amount.
Output chambers typically run smaller than the hopper capacity, since the ground coffee takes up less volume. Make sure the output chamber volume will be enough to hold the larger batches, more than 30 grams.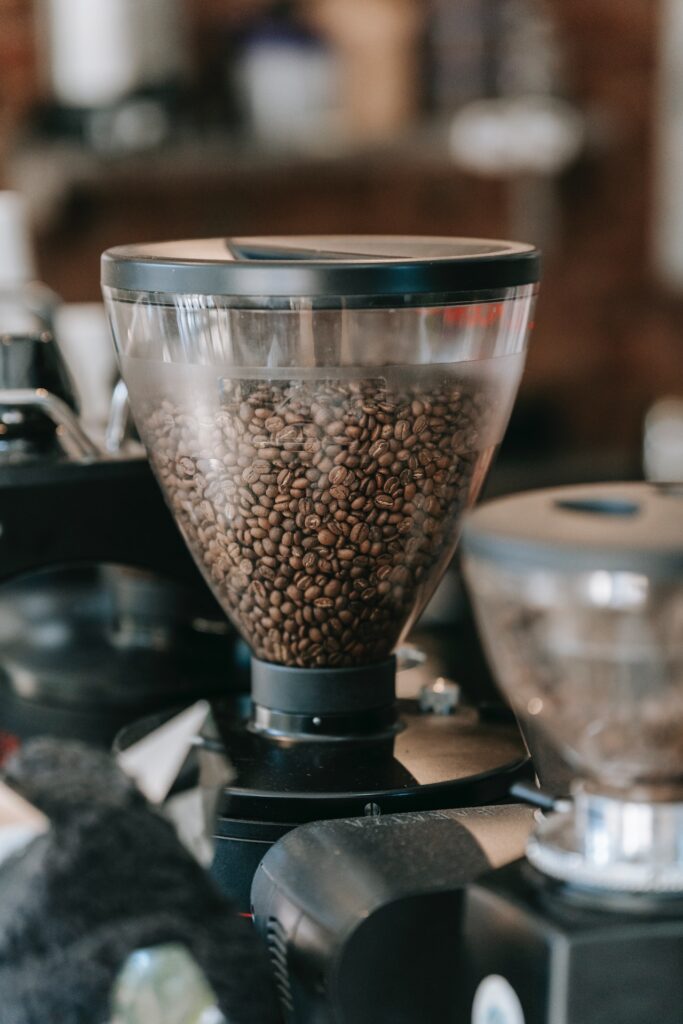 If you're like me and you only make one pour over or Aeropress a day, then you don't have to stress this part.
Dosing is also a factor. I can't measure out exactly 16 grams of coffee to dose for my morning Aeropress if all the coffee is in the hopper. So I measure the dose of beans I want for my coffee first and add them to the grinder. This improves accuracy and reduces waste.
Size
The size of the grinder does not affect the quality of the coffee. But it can be a practical consideration for other reasons. For example, a large grinder will dominate the counter space of a small kitchen.
Larger grinders will have a higher capacity for coffee. This can be a meaningful advantage if you like to brew in large batches.
Super small grinders tend to be manual or blade grinders. I don't recommend blade grinders for the quality reasons listed above.
Manual grinders are great for travel, low-budget, or sound-sensitive coffee lovers. They fit in a backpack or suitcase with no problem. The only drawback is that they are more hands-on than eclectic grinders, which do almost everything for you.
Material
The less plastic in a grinder, the better. Plastic degrades quickly, it can make loud noises. Parts can break easier. Stainless steel or metal grinders are often quieter and more durable. 
The most stylish grinders are also going to be more expensive. If the style is a priority for you, Fellow is a brand I'd recommend for super stylish grinders that don't take up too much space.
Many grinders come with removable hoppers for ease of cleaning. Some will include cleaning brushes so you can remove excess chaff from your grinder's parts.
It's important to check if the grinder produces a lot of static. Grinders that are slower can produce more static, causing the coffee to stick to various parts of the machine and produce more of a mess.
Control Settings
Coffee grinders are made for one thing: to grind good coffee consistently and evenly. So there shouldn't be a ton of bells and whistles.
Grind size settings in electric grinders provide a wide range for any home brewer's needs depending on the type of coffee you're brewing. If espresso is your main form of coffee, then opt for an espresso-specific grinder. It will give you better performance and (usually) a wide range of fine grind settings.
Another feature to look for is "stepless" grinding. Stepless grinding means you can adjust your grinder to an almost infinite number of settings.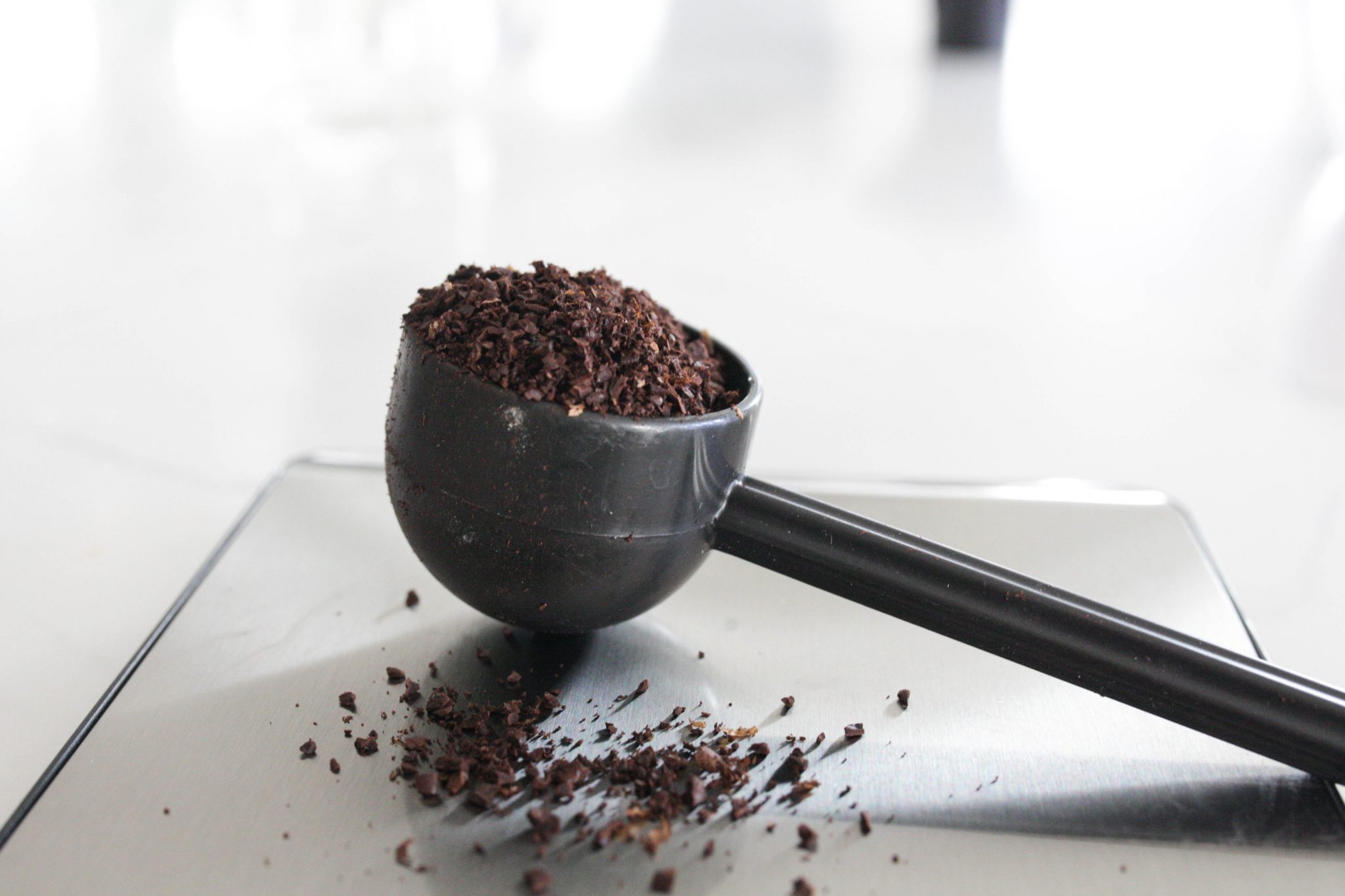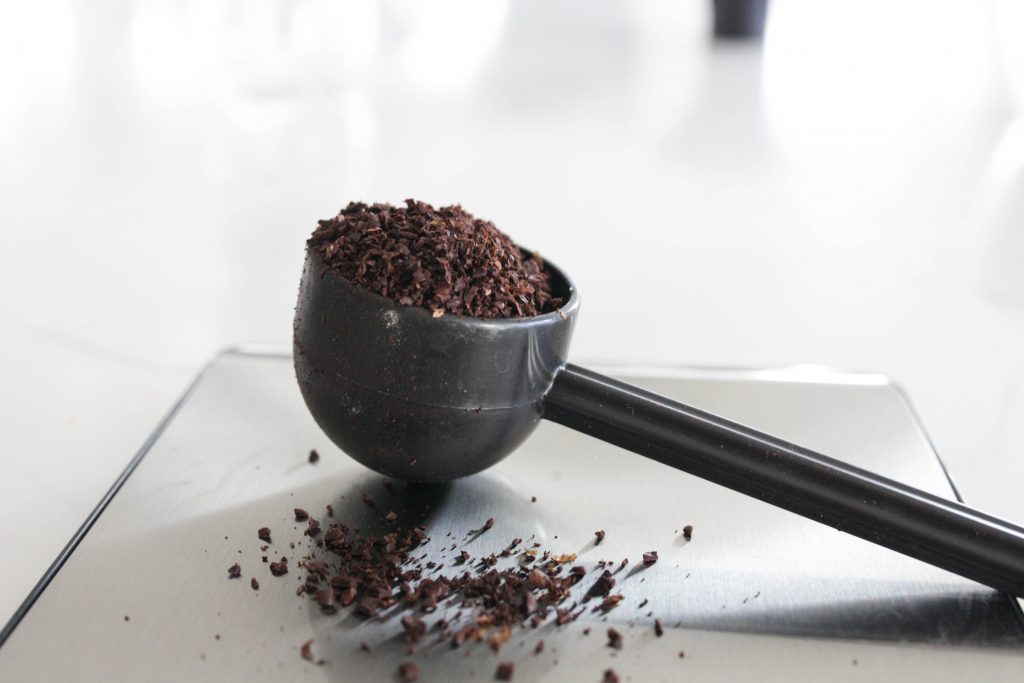 By contrast, "step" grinding means that the grinder has pre-slotted grind options. Step grinders limit the number of levels at which you can grind the coffee.
If you're looking for the perfect grind for your Aeropress, check out our extensive guide here..
If you want your beans to grind automatically, many grinders have timed grind settings. Some are fixed settings for espresso or filtered coffee. Others let you pre-set your grind time.
For example, if you've noticed that your perfect espresso dose grinds in about 5 seconds, you can set your grinder to grind for 5 seconds and then stop. This saves you time spent pressing a button or holding the portafilter to the grinder.
Price
You can pay $20 for a grinder, or $2000. The good news is that a quiet at-home machine doesn't have to be expensive, but it won't be free either.
For electric grinders, spending less than $150 won't get you far. The biggest differentiator in quality in this range is that a burr grinder is superior to a blade grinder.
From $200-$400, style, functionality, and design are more intentional. You'll get more grind flexibility in the grind sizing, to support a wider range of brewing methods. You can find reliability, consistency, and style in this price range.
$400 or more is for coffee aficionados.
Are you taking notes on the acidity levels of your espresso shots daily?
Are you buying single-origin espresso beans?
Are you trying to make your kitchen a perfect place for a photoshoot?
If you answered yes to some of those questions, then expect to be shopping in the $400 and up price range.
Manual grinders are super affordable, durable, and provide a consistent grind for less than $80. They are good for some things, but aren't a great pick for those who prefer a hands-off approach to coffee prep.
So Which One Should You Buy?
The Fellow Opus Conical Burr coffee grinder is going to be the best (quiet) bang for your buck. It's gorgeous, functional, and compact.
It uses steel conical burrs and produces a consistent grind.
It costs less than $300.
We earn a commission if you make a purchase, at no additional cost to you.
This model has a wide range of grind settings, making it a versatile choice for the home brewer.
It has a 12-cup brew capacity in its output chamber, so you can load it up with tons of coffee even though you can't store your beans in the hopper.
The Opus includes a dosing cup so you can dose your beans by volume for how much coffee you want to brew.
Last but not least, the output chamber is magnetic and matches the size of a portafilter, so you can make espresso with far less mess.
FAQs
Are all coffee burr grinders loud?
Yes and no. It isn't the burrs that make an electric grinder loud. It's the engine and the design of the grinder that contributes to noise.

There are many electric burr grinders on the market, and some are going to be louder than others. 

If you can find the dB rating for the coffee grinder you're interested in, you can get a sense of whether the grinder is on the louder end. Most grinders live somewhere between 80 and 95 dB. 

Manual burr grinders are the only surefire way to avoid excess noise while grinding your coffee.

What is considered a quiet coffee grinder?
A quiet, electric coffee grinder will be rated at 80 dB or less.
 
As there is a higher demand for coffee grinders that won't wake up the family, more and more manufacturers are prioritizing silence in their models. 

This can mean that they can use stainless steel blades instead of plastic, or rubber casings to reduce vibrations.
There you have it! We hope this helps you find the best option for you and your home. And if you decide you want to go with a manual coffee grinder, we have a whole article on those too!
Want even more grinder fun? Check out our comparison post about Baratza Encore vs. Virtuoso+ Burr Grinders – What's The Difference?
Free Coffee Art Printables
Don't forget to get on the list before you go! You'll get 3 free coffee art printables delivered when you sign up and weekly coffee tips and tricks, product reviews!