Taking colada coffee is a must if you're visiting Cuba or South Florida. Every culture has an iconic coffee ritual, and this social beverage is the mainstay in many Cuban communities.
The drink is creamy and energizing, but the social context in which it's often served is truly unique. It's not often that art meets science meets friendship. And this is one of those rare occasions.
In this post, we'll explore what colada is, how it differs from other styles of Cuban coffee, and how to make it at home.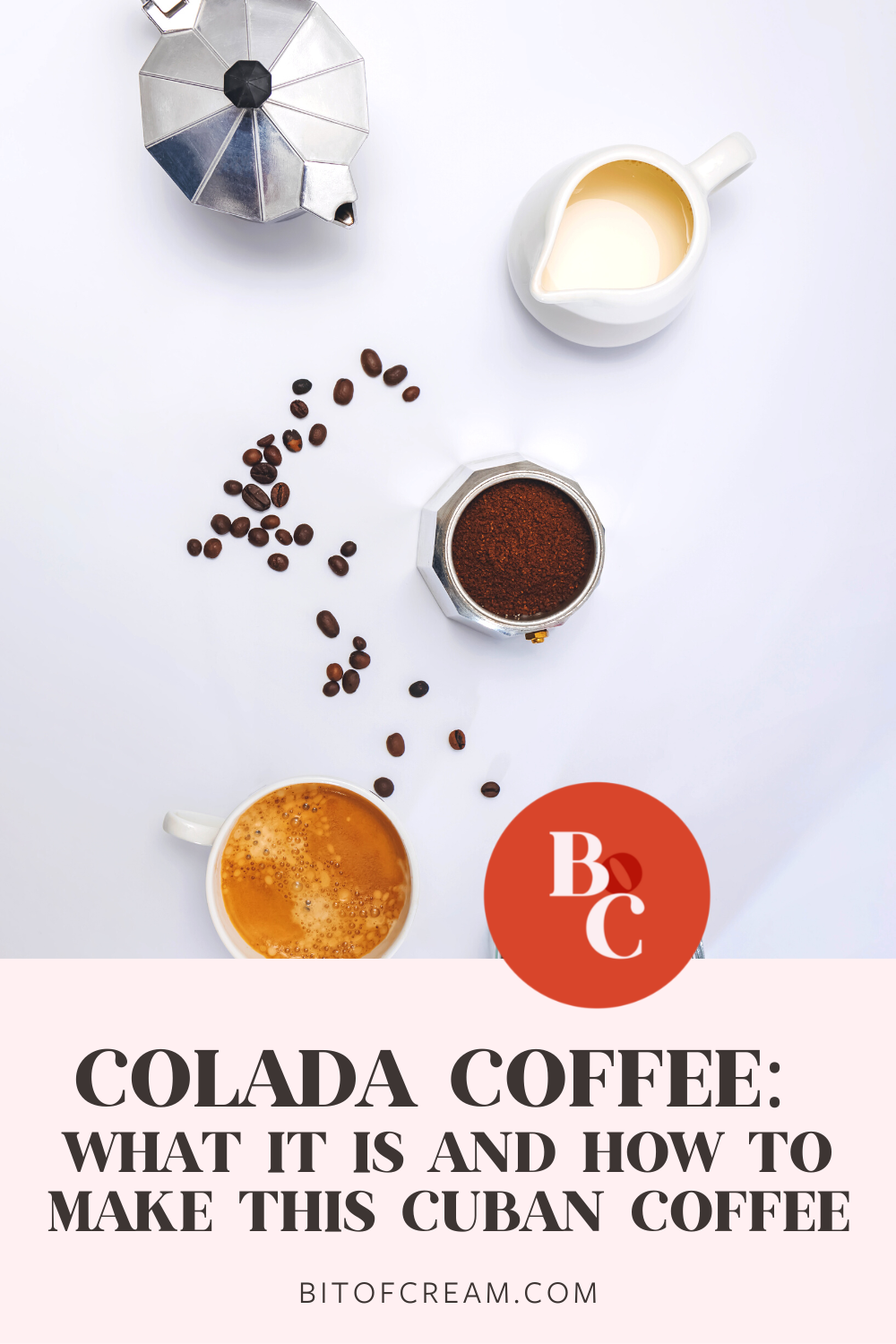 Bit of Cream is a participant in the Amazon Services LLC Associates Program, an affiliate advertising program designed to provide a means for sites to earn advertising fees by advertising and linking to Amazon.com. As an Amazon Associate we earn from qualifying purchases.
What is Colada Coffee?
Colada is a strong sweet coffee drink served in shot-sized portions with rich crema rising to the top of the cup. Many might call this drink "Cuban espresso," although it's not prepared using an espresso machine.
Colada can be served independently (as "Cafe Cubano), but like most things, the ritual is better when shared with friends. This is what makes colada a highly social drink.
It's prepared in batches of 4-6 servings and distributed family-style. Individual portions are poured into tiny espresso-sized cups.
So, practically speaking, what makes "colada" distinct from regular coffee?
The difference is all in the preparation method. Colada has a clear order of operations and a defining ingredient called "espumita."
Espumita cuts through the bitterness of strong Cuban coffee. It's also the source of the light, sweet crema atop the drink. Espumita is made by whipping sugar in the most concentrated brewed coffee until it yields a golden foam. It's packed with sugar, texture, and caffeine.
Another signature of colada is the type of beans used to make it. Reach for a strong Cuban coffee bean like Cafe Bustelo or Pilon to get the flavor profile right.
Colada is great for a morning wake-up or mid-day pickup, and it's best shared with friends. So pull out the dominos, pour your colada, and get ready to share a few laughs.
Why You'll Love It
If you love exploring the cultural traditions of coffee, then drinking a cup of colada is a must-experience ritual. Most people think of Italy, France, and (sometimes) Spain as leaders of coffee culture. But there are few things quite like coffee in Cuban communities. Here are a few things to love about colada,
This drink is powerful! Although it's dainty in size, each cup is packed with caffeine and sugar. It will pick you up in a hurry.
The flavor isn't overpowering. Even though a colada is strong, espumita tames the intensity of the Cuban coffee and makes each sip go down easily.
It's meant for friends. Family too. Coffee is often a one person experience, even when you take it in a crowd. But not with colada. Add chess, checkers, or dominoes, and good conversation. Outdoors, if you can.
Espumita is an act of creation. I promise you'll find a sense of accomplishment and satisfaction from creating the espumita. It's type-2 fun, meaning you have to work to get the reward. It isn't difficult, exactly, but it does take some muscle. The whole process is strangely gratifying!
Colada Compared With Other Cuban Coffee
Colada isn't the only Cuban coffee worth checking out. Here are a few other favorites,
Cafe Cubano – This is a colada served individually rather than family-style. The drink is often taken this way using small plastic cups when ordered at a restaurant or walk-up cafe window.
Cafe Con Leche – This drink originated in Spain, but is somewhat different when prepared with Cuban coffee beans. It's a combination of scalded milk and coffee, usually added atop a dash of sugar and mixed.
Cortadito – It's a twist on the traditional cafe con leche. Sweetened with thick condensed milk in used place of another sweetener. Often called a "Cuban Latte."
Ingredient Notes
Cuban Coffee – Use 4 Tbsp of dark-roasted Arabica beans. Cafe Pilon and Cafe Bustelo are two of the most popular Cuban brands you can find online and in many local grocery stores.
Sugar – Use 2 Tbsp of sugar when preparing a batch of colada. Some people use brown sugar, others white granulated sugar, or you can mix the two.
Filtered Water – An oft-overlooked part of any coffee recipe is the type of water used. It's a shame because most of what you consume is actually water. Does your water system use chemical additives like chloramine? If so, those flavors will always color your coffee. Start with filtered water for better coffee. Works every time.
Equipment
Moka Pot – While you can also use an espresso maker for colada, most people use a Moka pot. It's more affordable and probably less hassle. A traditional metal stovetop Moka will do the job, but an electric cafetera is preferable. A transparent pitcher provides mess-minimizing benefits when making espumita.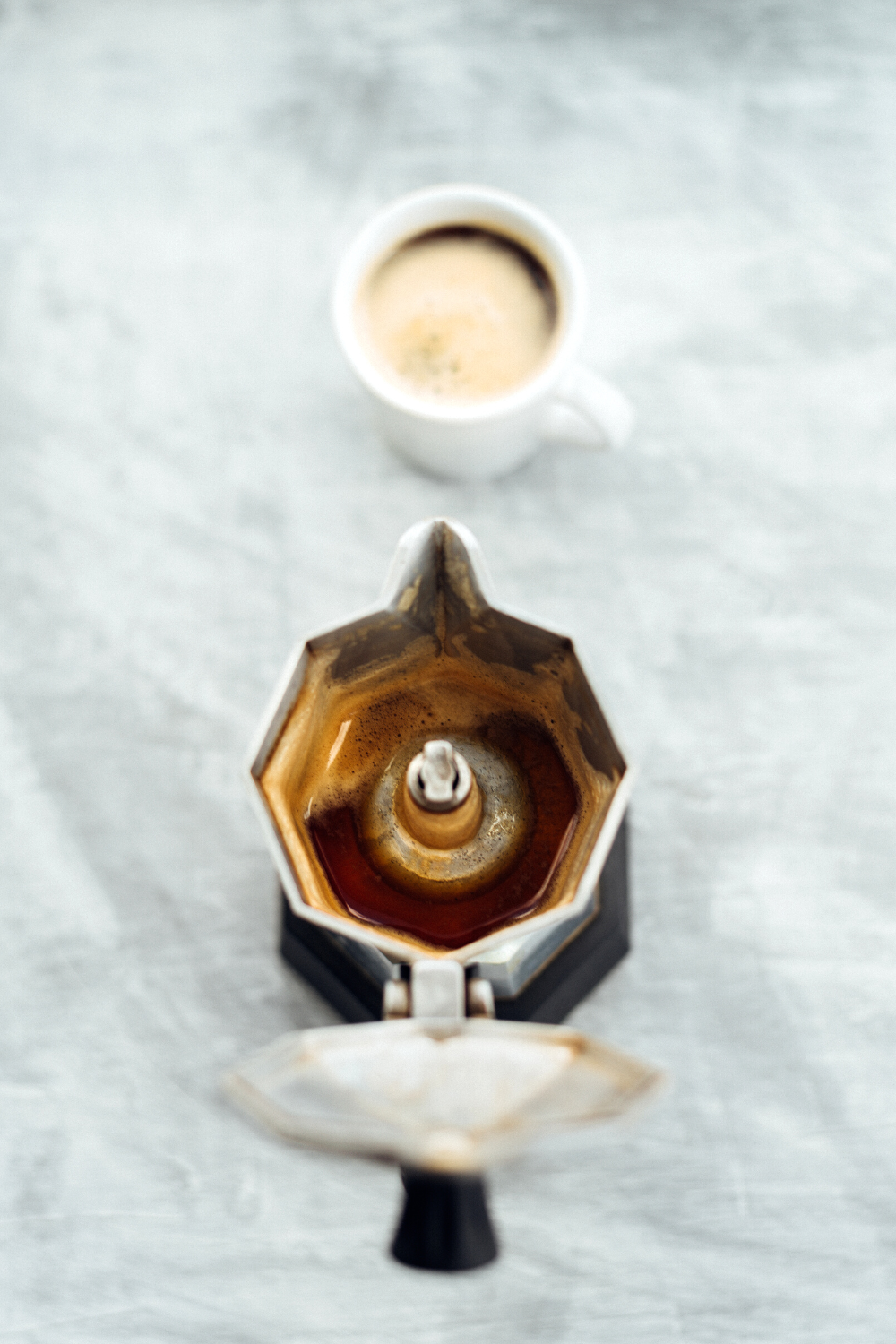 Bell Creamer – Use a bell creamer or milk steaming pitcher to mix each colada batch and distribute the coffee. Use an 8-12 ounce vessel, so there's enough room to whip the espumita without making a mess.
Spoon & Fork – Although many people simply "eyeball it," I find it helpful to have a large spoon to measure the sugar and coffee for espumita. You could whip these ingredients using a spoon also, but I've found that a fork is more effective. It's also easier to clean after.
Serving Cups – Tiny disposable cups, an ounce or smaller, are the norm for serving colada. For a more sustainable option, you can also try espresso demitasse cups, shot glasses, or small traditional mugs called tacitas.
Making Colada: Easy Instructions
Mise En Place – Start by gathering all of your ingredients and supplies. This process goes quickly! You don't want to be searching for materials when you should be hands-on.
Start Moka Pot – Fill the Moka pot receptor with ground coffee. Add water to the fill line, which is usually a bolt inside the boiler. Seal the top container tightly and start heating.
Prep Espumita – Add a tablespoon of sugar to a bell creamer, and watch the Moka pot for the first extracted coffee to pour in. Capture the first 1-2 teaspoons of strong coffee and pour it or spoon it directly atop the sugar in the pitcher. While the rest of the coffee brews, use a fork to whip the coffee and sugar into a frothy golden sugar foam.
Add Coffee – Pour the finished coffee directly into the bell creamer on top of the finished espumita. Stir gently to release light foam from the bottom of the container. It should float to the top of the drink as a light, sugary foam.
Serve It! – Serve quickly, doling out small portions of colada into 1-ounce cups.
Tips & Tricks
Pack ground coffee tightly into the Moka pot receptor. A dense, consistent pack is critical for making colada. It makes a big difference in flavor. The grind size should be about the consistency of table salt – the same as you'd use for drip coffee.
Put your muscle into making the espumita. This mixture will become the foam that rises to the top of the cup. If it's not combined properly, you'll miss out on the thing that makes this drink what it is. There is no such thing as over-whisking, so really lean into it.
Use granulated sugar, brown sugar, or combine both. Brown sugar makes for a thicker foam and a sweeter taste. It will also give you a subtle molasses flavor.
The best way to learn about colada and Cuban coffees is to visit a Cuban cafe and experience it yourself. There truly is no substitute. I promise you'll learn A LOT from going in open-minded, sharing a coffee and conversation. It's all excellent context to help your home preparation of making cuban coffee too.
Colada Coffee
Learn how to make this delicious Cuban coffee staple from the comfort of your own home!
Equipment
1 Moka pot

1 Bell creamer

1 Fork
Ingredients
8

g

Ground Cuban or Dark Roast Coffee

1

tbsp

Sugar

2

fl oz

Water
Instructions
Fill your Moka pot with water below the water chamber valve. Add ground coffee to the filter basket. Level and compress the grinds slightly, but not so much that the water can't pass through. Seal it and begin brewing!

Add 2 Tbsp of sugar to a bell creamer or small pitcher. As you see the first bit of coffee being extracted, pour about ½ Tbsp atop the sugar. Return the Moka pot to its brew cycle.

Vigorously whisk together the sugar and coffee in the bell creamer. Don't stop until it's light, airy, and golden. This is the espumita.

Pour the finished coffee into the bell creamer, and agitate it slightly with a spoon to release the espumita from the sides of the container. It should float to the top as a rich golden crema. 

Pour into a small tacita, demitasse cup, or shot glass, and enjoy.
Notes
Note: This recipe is written for a 1-Cup Moka pot, but you can easily scale it up or down. Keep the coffee-water ratio at 1:7, and use 1 Tbsp of sugar per cup.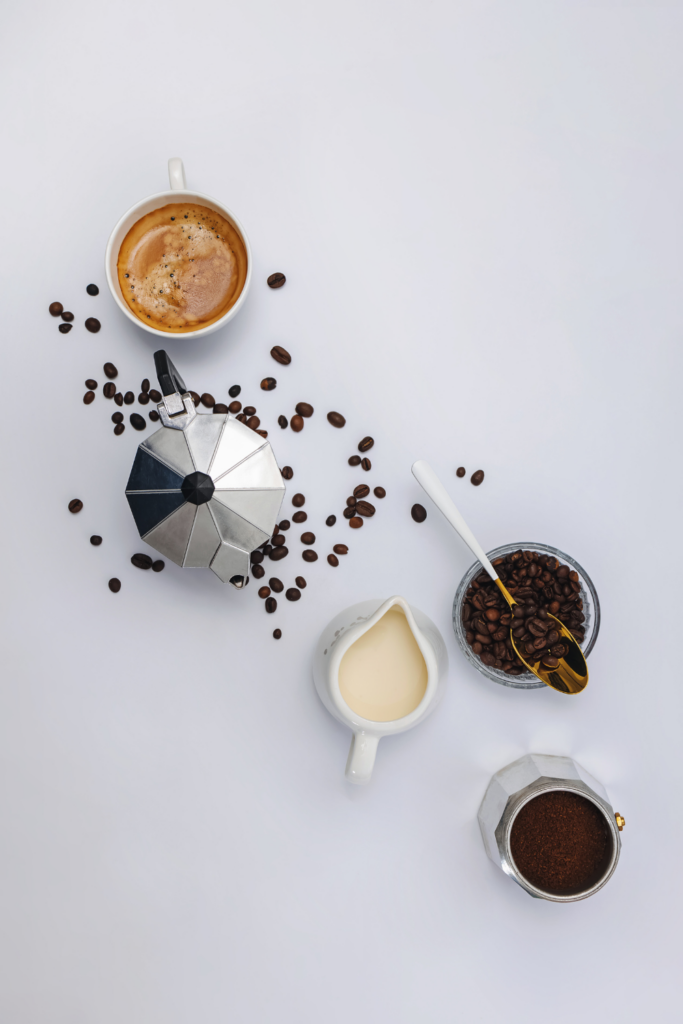 Final Thoughts
Colada coffee is considered a social drink that is widely consumed in Cuba and Miami. The most popular way to make a Colada coffee is definitely using a Moka pot, but you can certainly use an espresso machine too (check out our favorite De'Longhi Espresso Machines here if you're in the market for an espresso machine).
Cuban coffee varieties do share a lot of similarities, but what makes Colada coffee so uniquely fun is the fact that it's served in tiny cups, prepared in a large batch, containing sugar but no milk.
Want weekly coffee tips and tricks, recipes and more?
Put your email in the box below and you'll not only get added to our list but you'll also get 3 free recipe cards (Colada Coffee, Mocha and Spanish Latte) delivered right to your inbox!