A good coffee canister will reduce your coffee's exposure to light and oxygen, allowing it to keep a better flavor for longer.
Using a canister may seem like an incremental change, but these simple devices can make an incredible improvement to your morning cup.
They may look like glorified mason jars, but I assure you they are much more than that…so long as you get one with the right features built in.
This article is for all coffee drinkers but is especially important if you buy roast coffee in bulk (especially if you're a Costco fan who loves buying in bulk. If you looking for some of the best coffee brands Costco offers head here) or as pre-ground beans.
I'll share a few of my go-to favorites and what features to look for if you decide to find your own elsewhere.
5 Best Containers to Store Ground Coffee
| Product Image | Product Name | Primary Button |
| --- | --- | --- |
| | | |
| | | |
| | | |
Best Container with Date Tracker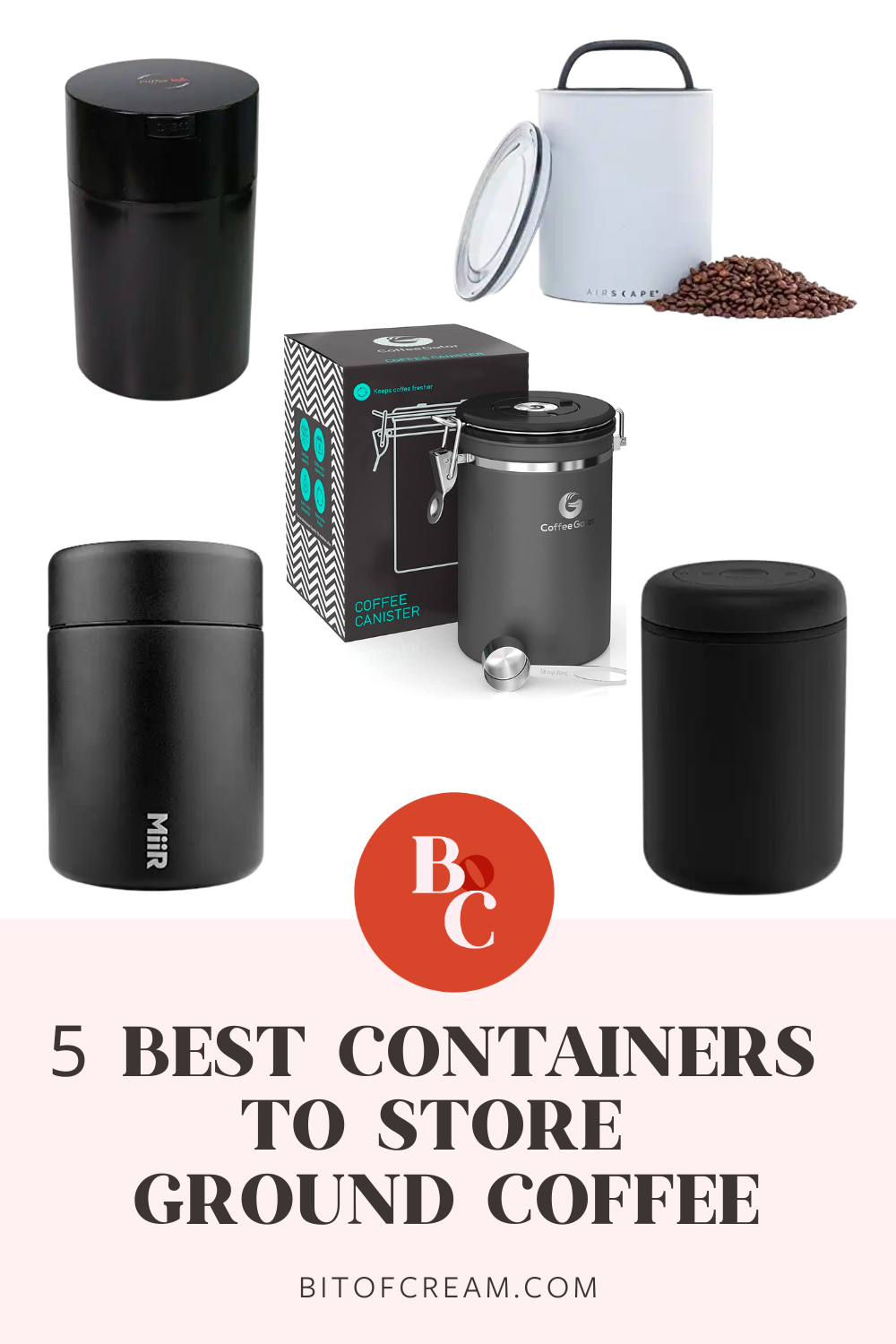 Our Top Picks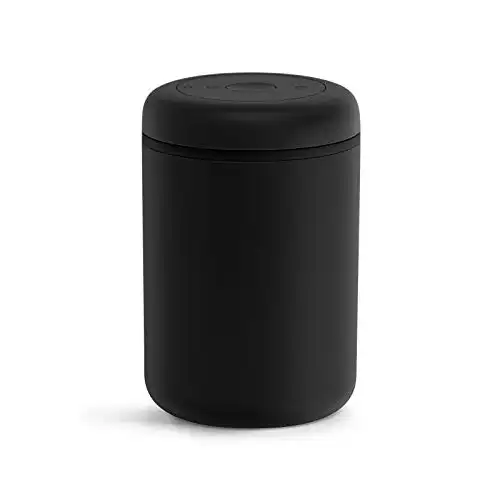 We earn a commission if you make a purchase, at no additional cost to you.
The Fellow Atmos coffee canister uses airtight seal technology to keep coffee super fresh. It also has a one-way valve that allows your coffee to release carbon dioxide, making it one of the best coffee canisters on the market and our overall top pick.
This is a 1.2 L canister, so it can hold a full bag of your favorite whole-bean coffee. After you put the lid on, all you have to do is twist the top until the light turns green. The green light indicates any excess oxygen has been removed from the canister.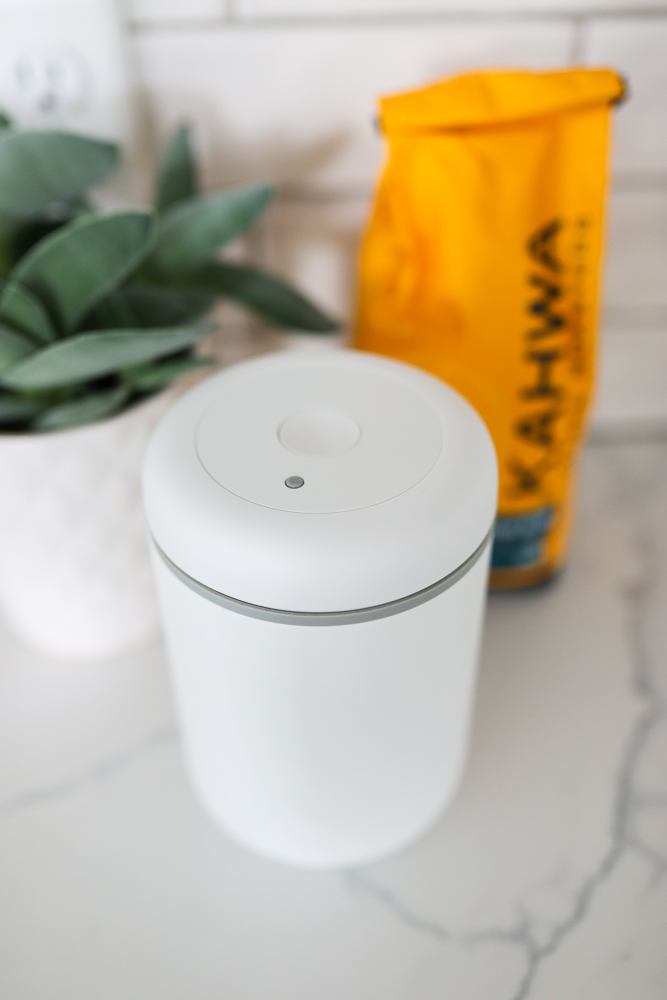 The matte finish on the outside of the container ensures your coffee won't lose flavor due to uv rays or direct sunlight exposure.
Fellow also boasts that the Atmos canister is great for sealing food. So if you need an extra for your pasta or want to extend the shelf life of your granola, you can use it for that too.
Last but not least, Fellow recommends sticking to whole beans with this canister. The vacuum seal technology is not compatible with the fine particles of ground coffee. 
The only problem that I have found with this container is that it can be hard to fully seal it so the light turns green. The first few times I had to have my husband do it. It takes a bit more strength than you might think! If you're someone who doesn't have a great hand grip this isn't a great option for you.
Pros
Good for bulk (1.2L size)
Easy to use and clean
Stylish design
Versatile storage options
One-way valve
Cons
Whole bean only
Not dishwasher safe
Can be hard to fully close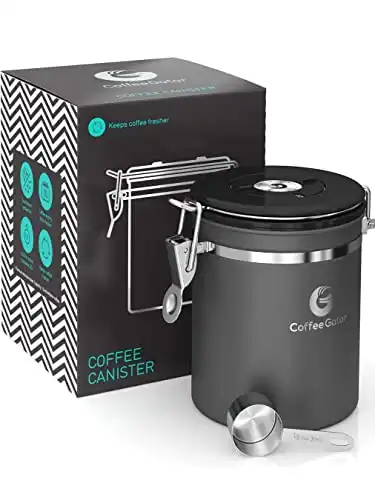 We earn a commission if you make a purchase, at no additional cost to you.
The Coffee Gator is a simple, airtight canister and one of the best coffee storage containers. It's easy to use like the Atmos, but instead of vacuum-seal technology, it keeps oxygen out without all the bells and whistles.
We all know how easy it is to lose track of time. You buy some coffee and throw away the bag with the roast date on it.
Maybe you don't drink much coffee every day, so it's easier to forget.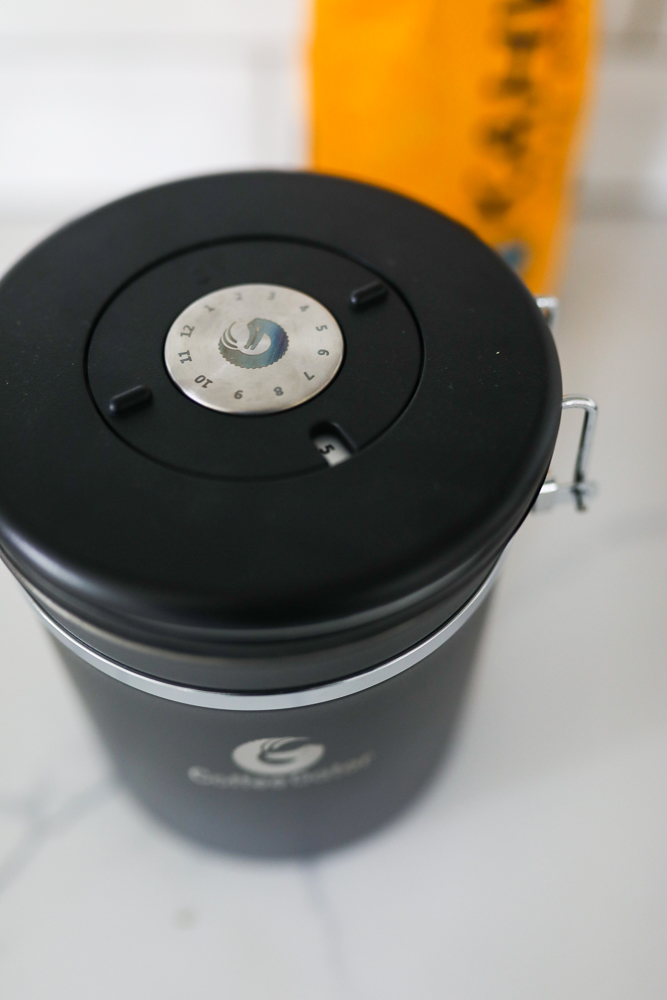 Coffee Gator has you covered. A date tracker on the lid allows you to keep track of how long you've been storing your coffee so you can stay aware of the expiry date.
The lid has a rubber seal, and the body has a CO2 release valve so your coffee can continue to safely off-gas. You can store fresh beans or pre-ground coffee.
The Coffee Gator is super durable stainless steel and comes in black, grey, or silver finish as well as 11oz, 16oz and 22oz sizes. This airtight coffee container will look nice on any kitchen counter.
Pros
Multiple size capacity
Includes scoop and to-go canister
Date tracker
Free scoop
Whole bean and pre-ground compatible
Cons
We earn a commission if you make a purchase, at no additional cost to you.
Like the Veken, the Miir uses a displacement-style accordion seal on its lid to lock out excess oxygen. It's as simple as storing coffee in a mason jar, except the lid and matte finish do double-duty to keep your coffee fresh.
Available in black, two kinds of copper, or white, there's a Miir airtight container to match your kitchen aesthetic. It's lightweight and compact, and it gets the job done. Made with stainless steel, it's also super durable. You won't have to replace this canister anytime soon.
The one downside to the Miir is it doesn't have a CO2 release valve. The rubber lined-lid does aid in pushing some of that out when you close the canister, but it can't fully replace the functionality of a release valve.
If you go through coffee within two weeks of buying it, and especially if you use whole-bean coffee, the Miir canister is a great option to ensure you always have fresh coffee on hand.
Pros
Simple design
Compatible with whole bean and pre-ground
Easy to clean
Affordable
Cons
We earn a commission if you make a purchase, at no additional cost to you.
Do you share coffee with your roommates or family? This is the best bulk coffee canister. Unlike any of the other canisters on this list, the Airscape holds 2.2 pounds of coffee at a time.
The Airscape uses a double-lid system to keep coffee fresh. There's a nice swoosh when you insert the first lid with an airtight rubber seal. The top lid has a handle that twists on for extra protection.
The Airscape looks and feels like a bucket. It has to in order to hold all that coffee. But if you're low on storage, you may struggle to find a place for this canister on your counter. It does come in white, silver, or black, so it should blend in well with any kitchen style.
I would not recommend this container for pre-ground use. The airtight system will get too gummed up with particles and be difficult to open, close, and clean.
Pros
Best canister for bulk whole-bean coffee
Easy to clean
Durable, alloy steel
Cons
Whole bean only
Two lids make it a process to open and close every morning
5. Best Budget-Friendly Option: CoffeeVac
CoffeeVac makes the best canister for coffee lovers on a budget. It's an airtight canister that is easy to use and super affordable.
You press a single button on the lid as you open and close the canister to vacuum seal it. If you're storing pre-ground coffee in the canister, be sure you keep the coffee in its packaging. The lid's suction disrupts the grounds, and particles of coffee will get stuck in the lid.
The CoffeeVac is straightforward but requires a little more attention to detail than others on this list. The lid seals the coffee inside with the press of a button. But if the lid isn't perfectly lined up when you go to put the lid on, it won't slide down.
The body is plastic. So it's semi-durable, but it doesn't look nearly as classy in your kitchen as the Atmos or Miir. That being said, the CoffeeVac is a super affordable option if you want to upgrade from a mason jar and on the market for a good coffee storage container.
Pros
Whole bean or pre-ground compatible
One-way valve
Best budget canister
Cons
Mostly plastic
Pre-ground has to stay bagged
The lid is tricky to remove/replace
What To Look For
Size
What are you hoping to use your canister for? Do you drink a lot of coffee or only a little?
If you go through less than 12 ounces of coffee per week, it might be worth investing in a coffee canister. It takes me at least two weeks to go through 12 ounces of coffee, so I pick the size nearest to a mason jar for my storage containers.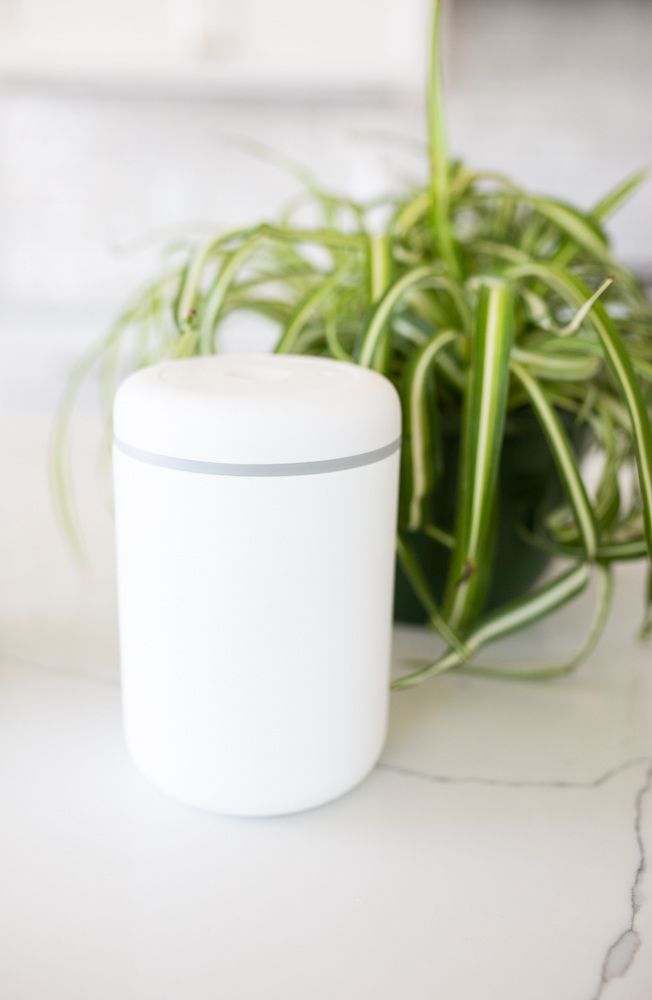 Some canisters include travel-sized companions, which is a bonus if you're someone who takes their coffee on the go. But most canisters are small enough to fit in a bag if you want to take your regular-sized canister on a getaway.
Clear or Matte
Matte canisters reduce exposure to light, which may otherwise alter the freshness of your coffee. Clear canisters are fine if you're going to keep your coffee covered in a resealable bag on the inside of the canister. That's what I recommend if you tend to purchase pre-ground coffee.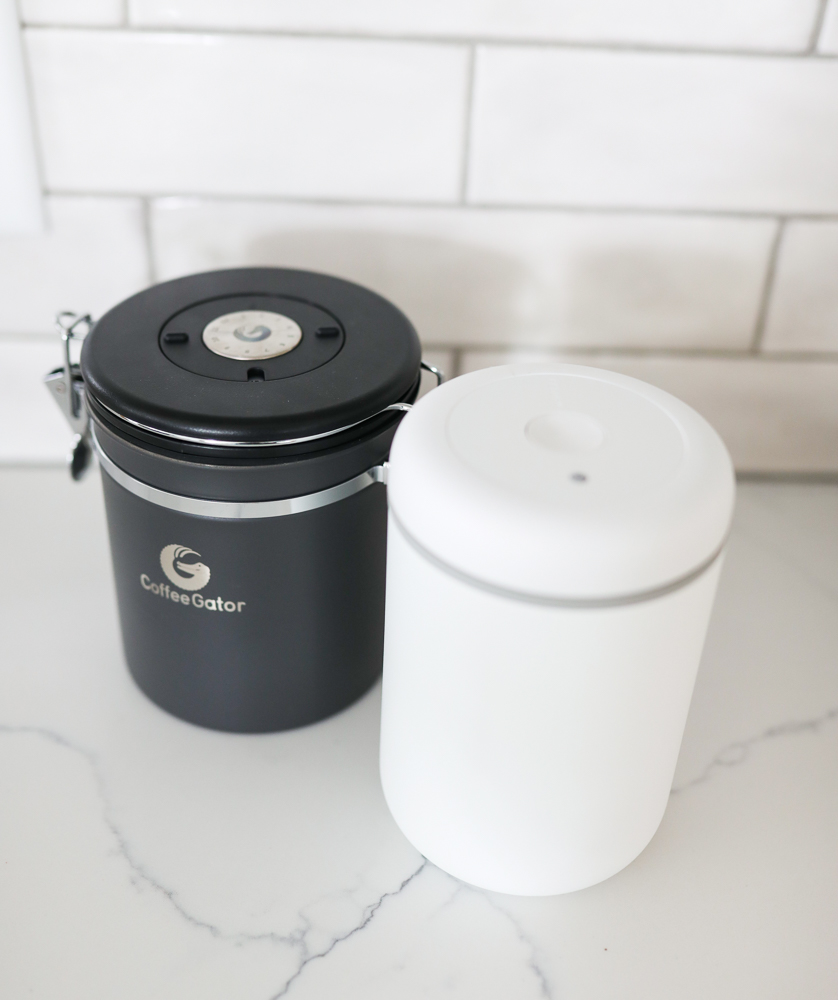 This will reduce mess and give you an extra bit of sealing. Pre-ground ages so much faster, so it kind of needs that extra sealing anyways. But your best bet is to go with a matte container to keep your coffee fresh and in the dark.
Stainless Steel
Stainless steel canisters are durable and food safe. They won't break if you knock them off the counter. They are lightweight and easy to keep clean.
I prefer a stainless steel canister because they are also food safe should you decide to store food items in your canister later.
One-Way Valve
Look for a canister with a one-way valve. A one-way valve allows your coffee to off-gas without letting in oxygen. It's important to let coffee off-gas safely.
We need the CO2 to release so that the flavor of the coffee can shine and clarify.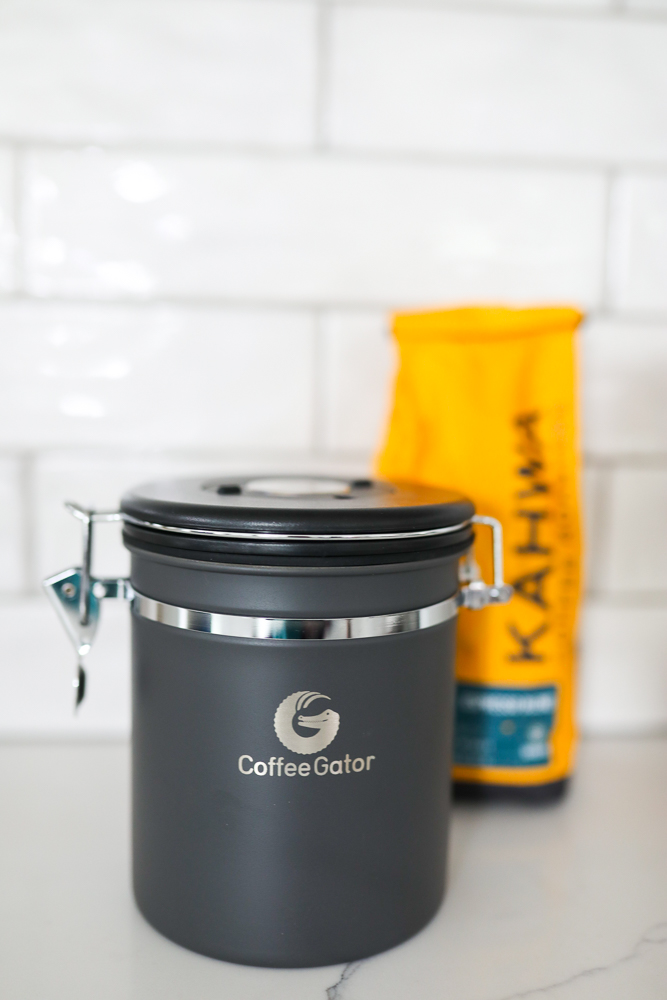 This is why baristas want to make espresso with coffee that's a few days old or more. If the coffee is too fresh, the initial excess of CO2 affects the flavor and messes with the brew time.
If you want to learn more barista secrets about espresso, head over to our extensive espresso guide for beginners.
Versatility
Do you use pre-ground coffee, whole bean, or both?
Make sure the canister suits your coffee needs before you buy. Some canisters are upset by the presence of pre-ground.
The particles of the coffee can get into the vacuum-seal mechanisms or creases of the lid. This can make the canister harder to clean and use.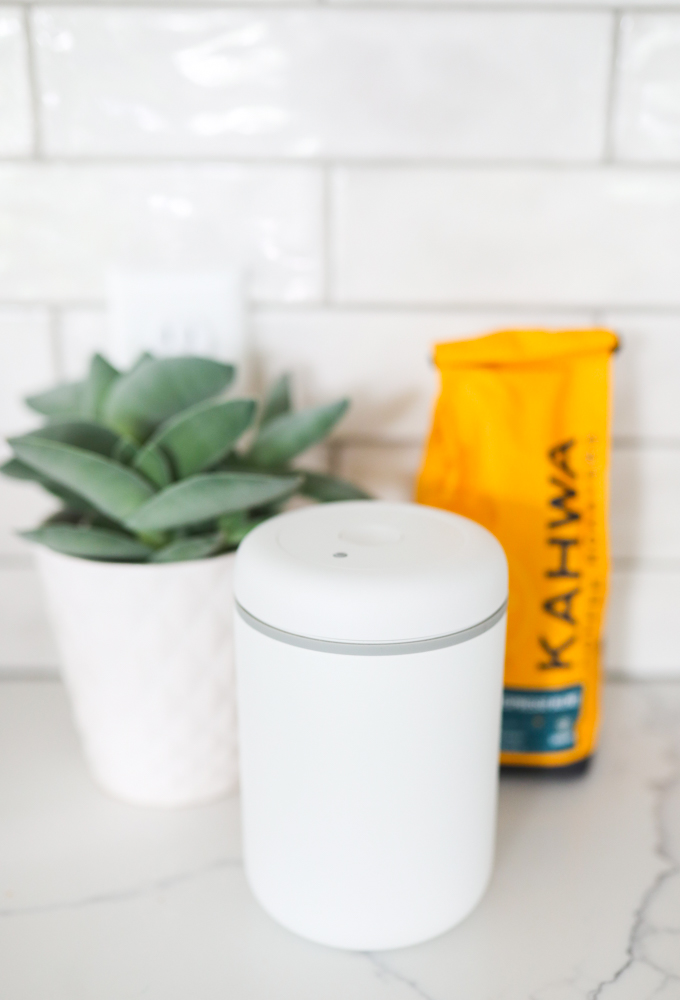 A canister with an airtight lid, not vacuum sealing, should work well if you tend to switch between whole bean and pre-ground. If you use whole-bean coffee, you needn't stress about this step.
Speaking of whole-bean coffee, if you're a decaf fan looking for some of our favorite whole-bean decaf coffee on the market check out our comprehensive list that goes over the best of the best!
I have yet to come across a canister that only works with pre-ground. Whole bean is usually the default.
So Which One Should You Buy?
The Fellow Atmos is the best coffee storage canister. Its simple design and vacuum seal technology keep coffee super fresh for a reasonable price.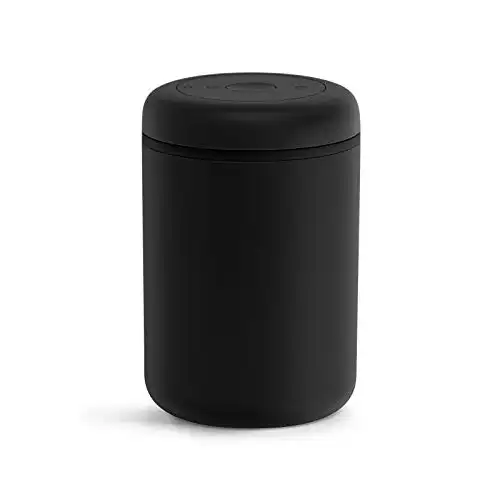 We earn a commission if you make a purchase, at no additional cost to you.
The one-way valve allows the coffee to safely off-gas. Its minimalist design and perfect size make it a good option to store on the counter and match any kitchen style.
The lid gives you the green light when it has vacuum-sealed the beans, so you always know you're good to go and your coffee is safe.
It doesn't weigh much. So if you're someone who travels with your coffee, you can take it pretty much anywhere.
If you're looking for the freshest coffee, then you won't be disappointed by the Fellow Atmos.
If you're on the hunt for some more tips on how to best store your coffee, we've come up with 3 coffee storing tips that every coffee lover should use.
FAQ
What is the best airtight coffee canister?
There are many airtight coffee canisters on the market. Coffee Gator and Miir make excellent options. They are super simple storage devices. While they don't turn your canister into an airtight vacuum, they do keep the coffee well sealed off from light and oxygen.
What container is best for coffee?
Any container that keeps the coffee from being exposed to light and oxygen is going to be a significant improvement from a mason jar or the bag the coffee arrived in. 
Are coffee vacuum canisters worth it?
If you use whole-bean coffee, you don't need a coffee canister. Some people do say that they can taste the difference. I think if you are someone who takes more than two weeks to go through a bag of whole-bean coffee, then a canister can help maintain some flavor over time.

If you usually buy pre-ground coffee, I would recommend a canister because pre-ground ages so much faster than whole-bean coffee.