Matcha coffee is a gorgeous, vibrant combination of fresh green tea, creamy milk, and rich coffee.
You can still enjoy the caffeine burst from the coffee. But now, you'll also receive matcha's gradual and sustained energy and health benefits.
Whether you prefer your matcha coffee hot or iced, It's a delicious craft beverage perfect for grabbing on the go. Even better, it's just as easy to make at home.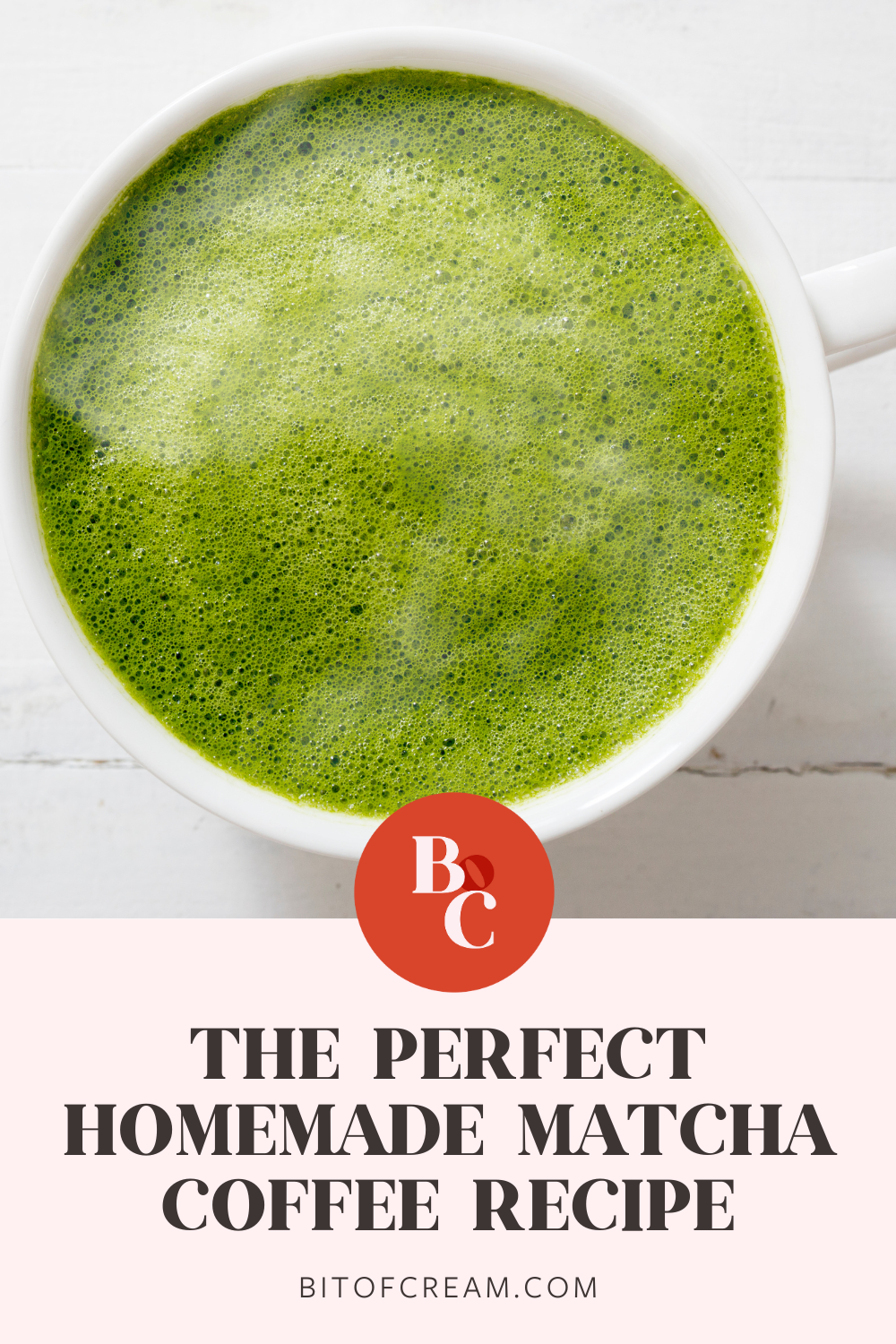 Bit of Cream is a participant in the Amazon Services LLC Associates Program, an affiliate advertising program designed to provide a means for sites to earn advertising fees by advertising and linking to Amazon.com. As an Amazon Associate we earn from qualifying purchases.
What is Matcha Coffee?
Let's start with what matcha is. Matcha is a vivid and finely ground form of green tea. It's a powdered form of Japanese green tea that's refreshing, vibrant, and delicious.
You can combine matcha powder with water to make traditional or ceremonial matcha. Or it can be sweetened and mixed with milk or coffee to create a craft beverage.
It's easy to get a matcha latte and a matcha coffee confused.
You might assume a latte automatically includes espresso or coffee, but this isn't true. "Latte" merely means "milk" in Italian. So a Matcha Latte is a combination of matcha green tea powder powder and milk.
A matcha coffee, on the other hand, is a matcha latte with coffee or shots of espresso added to it. This way, you'll enjoy the grassy, creamy flavor of the milk and matcha paired with the toasted nutty notes of coffee.
Why You'll Love It
It's hard to turn down vibrant, fun-colored matcha purely based on aesthetics. But it's not only matcha's mouth-watering appearance that makes it so popular. There's a ton of health benefits too!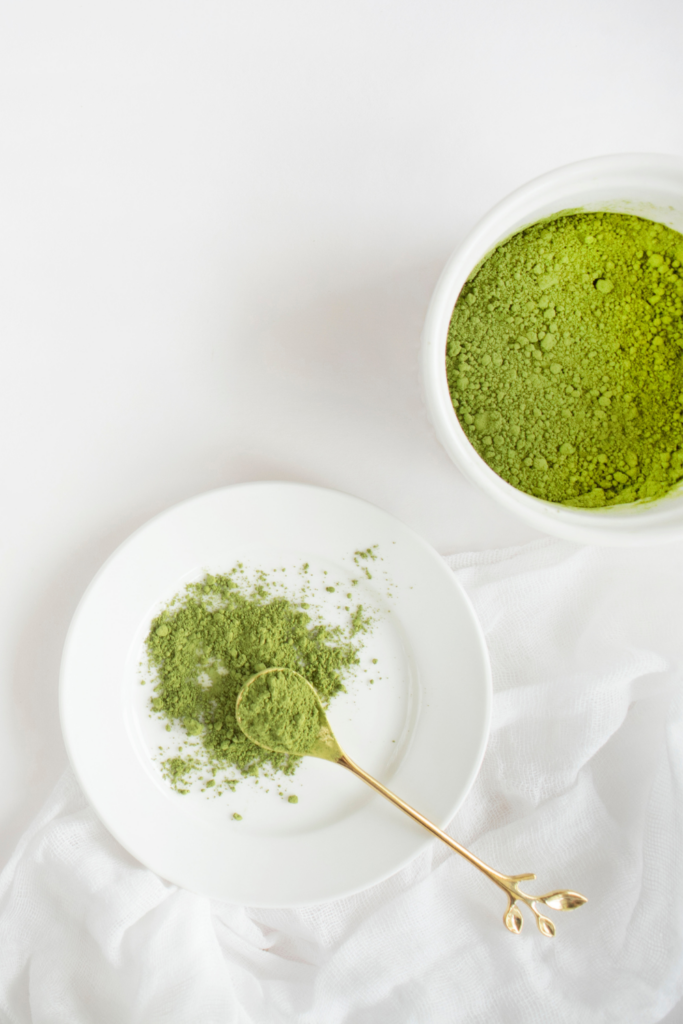 Some of the health benefits of matcha,
Matcha is full of antioxidants which have a ton of health benefits. Adding matcha to your coffee is like adding a tasty health tonic. It has properties ranging from anti-aging to anti-inflammatory.
All the invigorating alertness and none of the caffeine jitters. Ounce for ounce, matcha has about ⅙ of the caffeine of a cup of coffee. But the caffeine binds to the phytonutrients in matcha to slow the body's absorption. This creates a gradual, sustained energy increase instead of the spike and crash associated with coffee.
No bad breath! A compound in matcha called EGCG works as a sterilizing agent to slow the growth of plaque, germs, and bad breath bacteria in the mouth.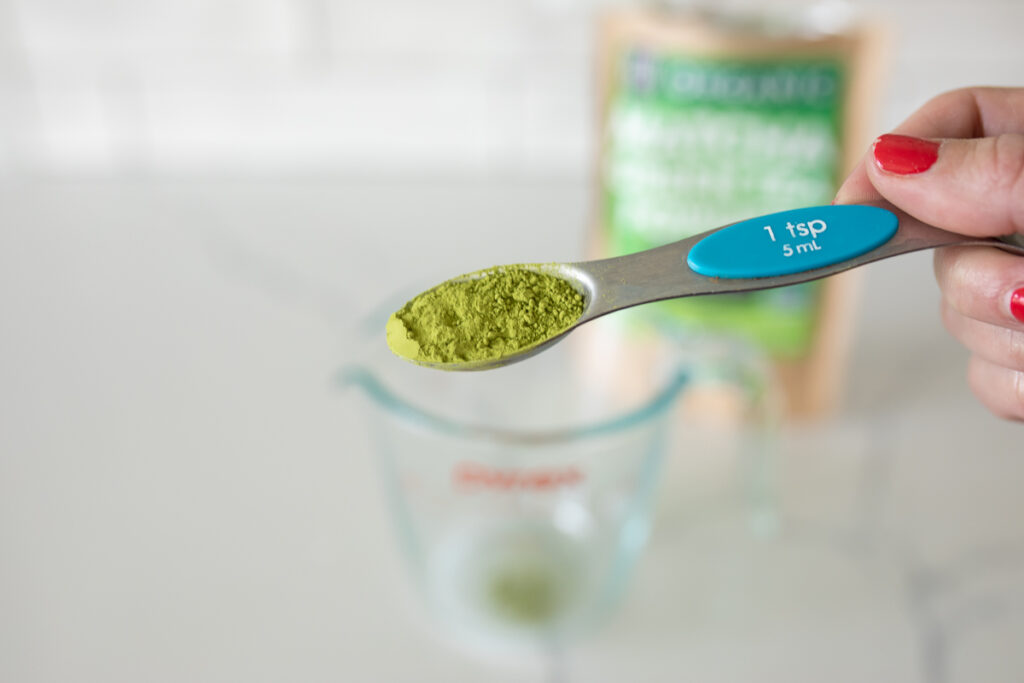 Ingredient Notes
Matcha Powder – Choose a matcha powder that's a bright, vibrant green color. You can purchase pre-sweetened latte mixes or stick to pure powdered Japanese green tea.
Espresso or Strong-Brewed Coffee – Matcha has a strong, earthy, vegetal flavor. So, you'll need a strong brew to hold up against the robust flavor. But, of course, any dark-roasted coffee or espresso will work perfectly.
Milk – Use whatever milk you prefer, from whole milk to almond milk to soy milk. An Iced Coconut Milk Matcha Coffee is refreshing in the summertime, or try a warm and cozy Matcha Coffee with creamy Oat Milk or any other plant-based milk you prefer.
Sweetener – Liquid sweeteners work best for this recipe since they dissolve easily whether you make your matcha coffee hot or cold. You could use simple syrup, honey, agave, date or maple syrup, vanilla syrup, stevia drops, etc.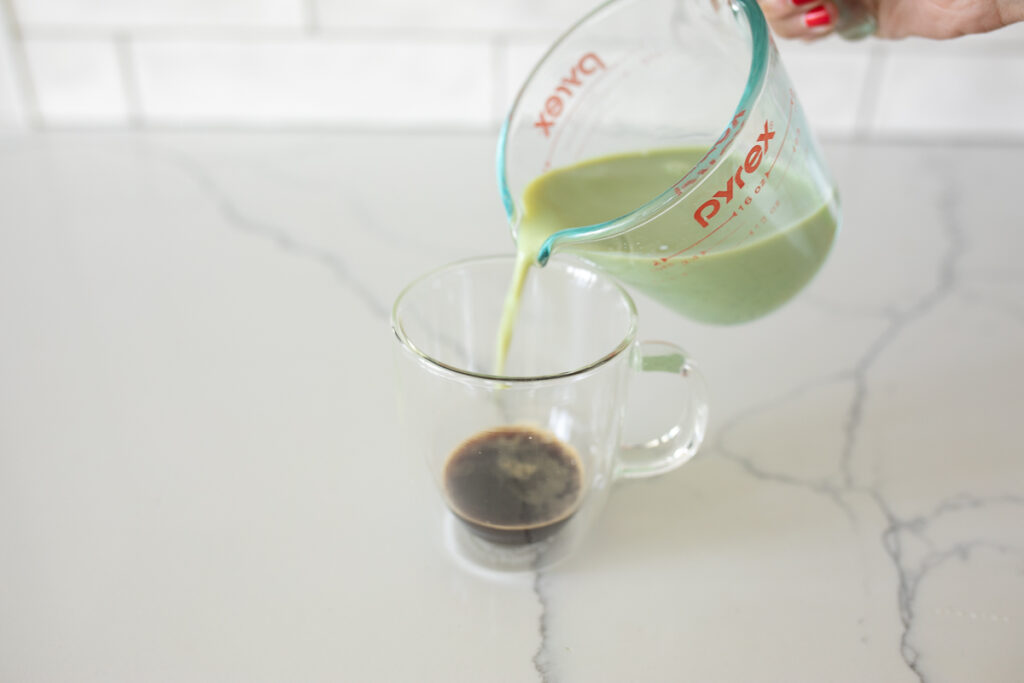 Easy Instructions
Brew the espresso or coffee. Start by pulling a shot of espresso or brewing strong coffee. Set aside.
Create matcha paste. Whisk together matcha powder and hot water to form a smooth paste in a separate cup or bowl. This isn't a perfect science, so don't stress if it's a little thick or thin.
Heat the milk. Whether you use a small saucepan on the stove or a cup in the microwave, gently heat the milk until it reaches your desired temperature.
Combine milk and matcha paste. Stream the warm milk into the matcha paste, whisking consistently. You should have a frothy, bright, creamy green result without clumps.
Mix all the liquids together. Next, blend the matcha milk (matcha latte) with the espresso or coffee. Stir gently to combine.
Sweeten to preference. If you like sweet drinks, don't forget to add your preferred liquid sweetener (like honey, agave, or maple syrup) to the matcha coffee.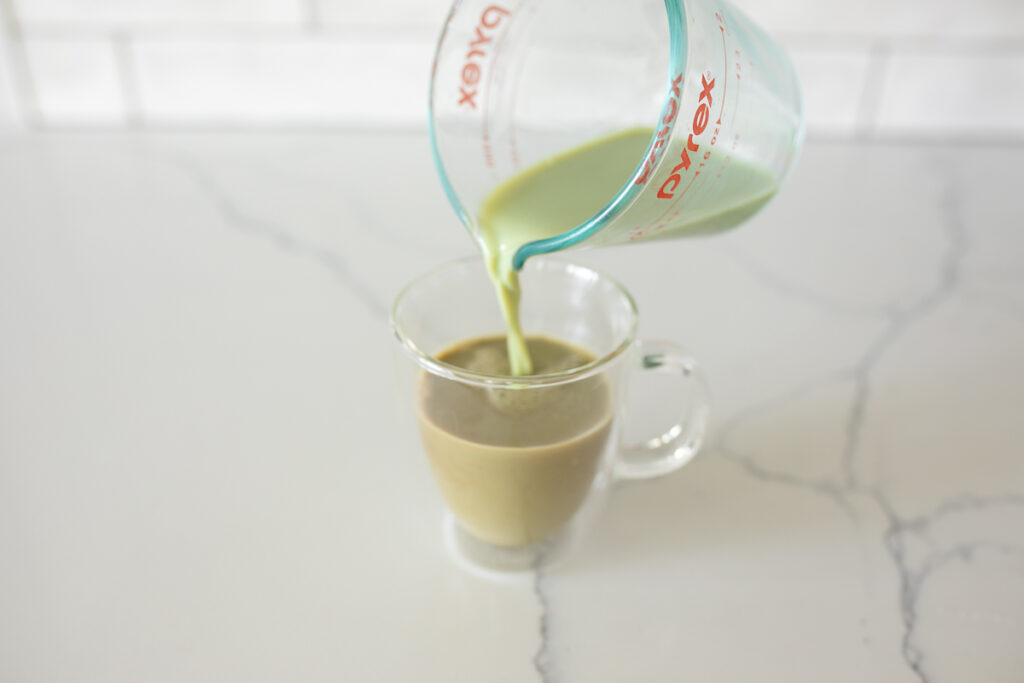 How To Create Clean Layers
If you're after gorgeous contrasting layers of bright green matcha, creamy milk, and dark coffee, there's a trick that you won't want to miss out on.
For best results, start by preparing the matcha with warm water. You'll use more water than in the recipe, about ½ cup, so the matcha is liquidy, not thick like a paste. Then, transfer the matcha to a tall glass or mug.
Then, place a spoon into the glass, and let it hover over the matcha with the backside facing up. Next, gently stream the milk down the base or over the back of the spoon. The gentler stream won't disrupt the matcha layer. Then, you'll repeat the process with the coffee.
It's important to note that an iced drink will maintain stark contrasting layers, while a hot one might get slightly muddled.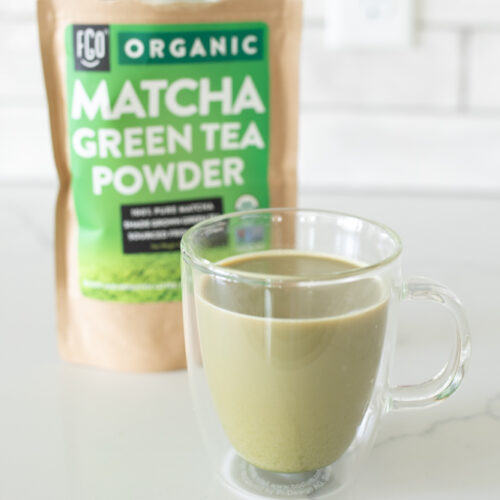 Matcha Coffee Recipe
Matcha coffee is a vibrant combination of fresh green tea, creamy milk, and rich coffee.
Ingredients
1

teaspoon

matcha powder

1

shot of

espresso

or 1/2 cup of strong-brewed coffee

1/2

cup

your milk of choice

1

teaspoon

honey

or sweetener of choice
Instructions
Prepare a shot of espresso or brew a strong cup of coffee.

In a separate bowl, whisk 1 teaspoon of matcha powder with a small amount of hot water (about 1/4 cup) until it forms a smooth paste.

Heat up 1/2 cup of milk in a small saucepan over medium heat or in the microwave until it reaches your desired temperature.

Pour the hot milk into the matcha paste and stir well to combine.

Pour the matcha milk into your cup of espresso or strong coffee and stir gently.

Taste and add a teaspoon of honey or sweetener of your choice if desired.
Notes
You can adjust the amount of matcha powder and sweetener to your personal taste preferences. Also, feel free to experiment with different types of milk or brewing methods to find your perfect matcha coffee recipe.
Make It Iced
If you'd prefer an Iced Matcha Latte, it's a simple alteration to the process to make the iced version.
Skipping the water and putting the matcha powder, milk, and ice in a lidded jar is easiest. All you need to do is vigorously shake the jar to combine and thoroughly disperse the powder.
Then, combine it with room temperature or refrigerated espresso/coffee. Sweeten it with a bit of sugar if you'd like, and enjoy!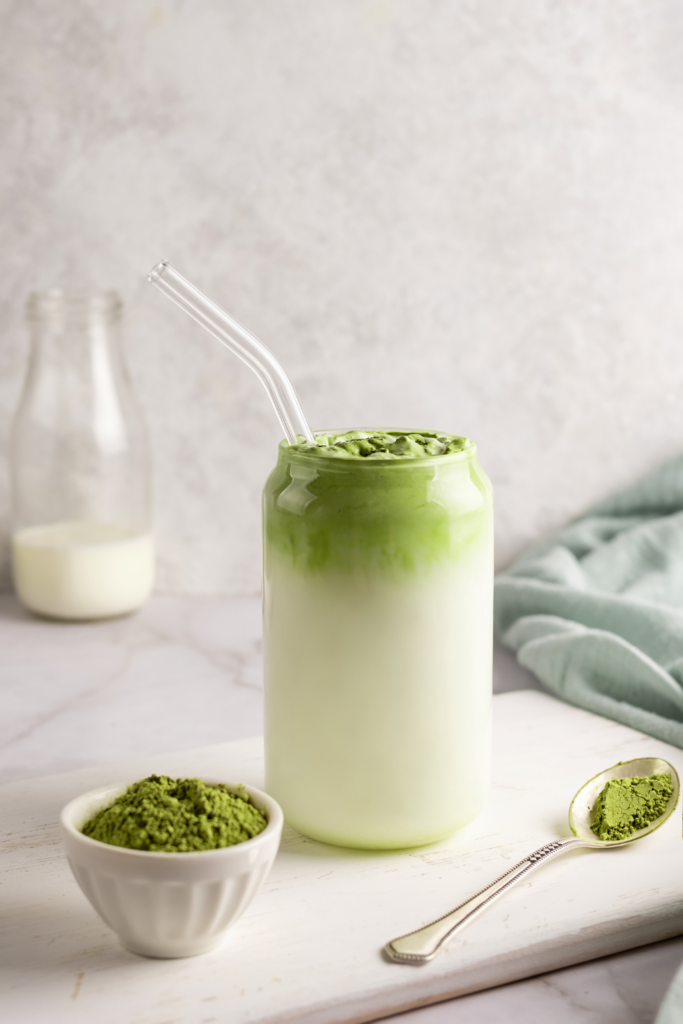 If you want an Iced Matcha with layers, you can follow the steps from the previous section but start with cold water, milk, and coffee. Then, add the ice after transferring the matcha to the bottom of the tall glass (so that it doesn't disrupt the layers).
Other Tips & Tricks
You can skip the matcha paste step altogether if you use a milk frother (like one you might use for cold foam). The frother will help evenly and fully disperse the matcha powder into the warm milk. And this way, you'll still avoid any dry clumps of unmixed powder.
If you're using the microwave to heat the milk, do so in small increments. The key to developing the sugars and creating the creamy sweet taste is heating the milk slowly.
You may need to tweak the matcha or sweetener measurements to fit your preference. If you want a brighter, more vegetal flavor reminiscent of kale smoothies and green juice, add more matcha, ½ tsp at a time.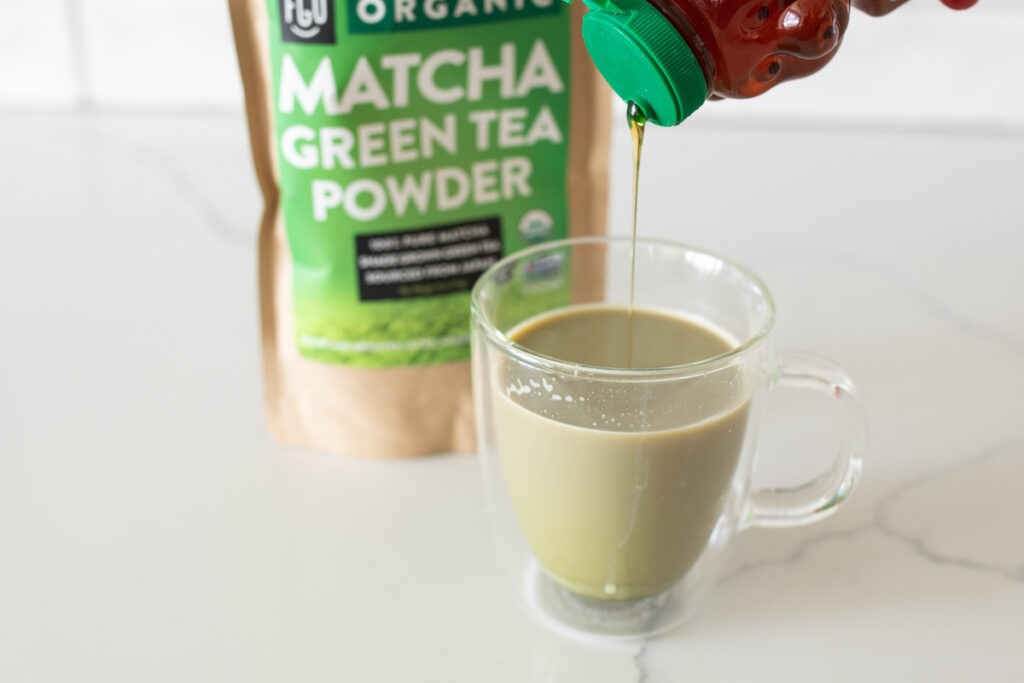 Serving Suggestions
A matcha coffee is a perfect sit-and-sip option, but you can also enjoy it in a travel cup on the go. It's not a fussy drink, but it's definitely a delicious drink!
If you're making your own matcha latte at home, I suggest serving it in a clear glass or mug so that you can see the layers of color. It's scientifically proven that presentation greatly influences how our brains experience taste. So when you take the time to make a fun drink, it'll taste even better than takeout coffee in a paper cup.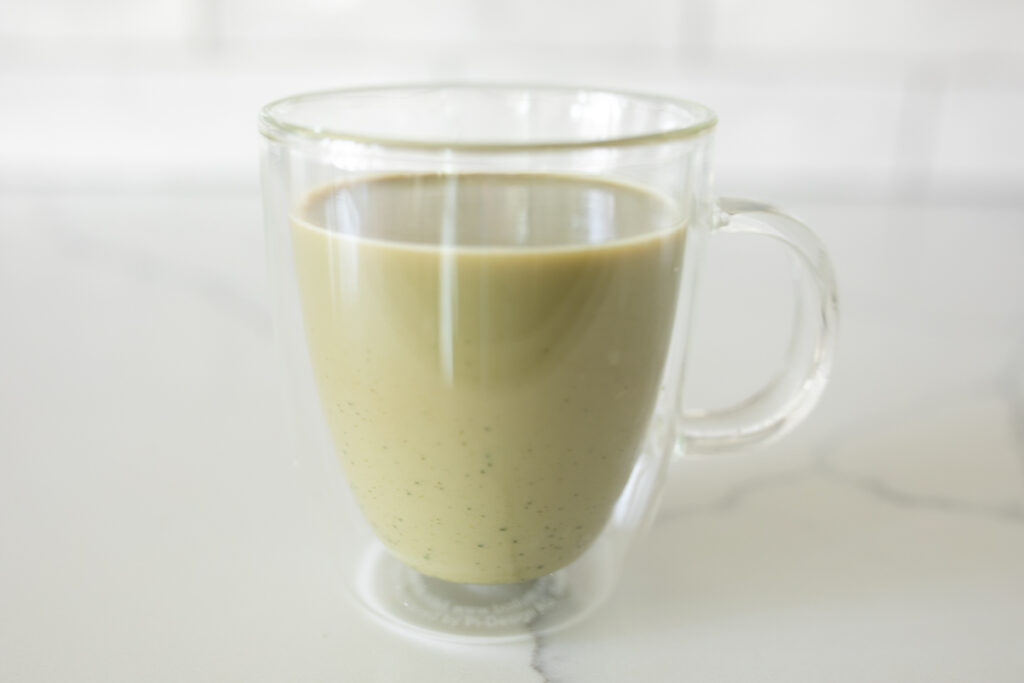 It's super easy to order this drink at Starbucks or most local coffee shops, too. So if you're in a rush one morning, you won't have to skip out on your matcha coffee. All you'll need to do is order a Matcha Latte with a shot of espresso.
Or, try something new and pick one of these 16 Mouth-Watering Sweet Starbuck Drinks. (And yes, the delicious Matcha Latte made the list!)
FAQs
Can you mix matcha with cold-brew coffee?
You can absolutely mix matcha with cold-brew coffee. The grassy, earthy bright green color of the matcha complements the smooth, mild cold-brew flavors perfectly. It's as easy as swapping the espresso in this recipe for equal parts cold-brew. 
How much caffeine is in matcha coffee?
The amount of caffeine in a matcha coffee will depend on the type of coffee you use. On average, a teaspoon of matcha powder contains about 70mg of caffeine. A shot of espresso has about 64mg of caffeine, and ½ cup of coffee would have about 40mg. 
What are the drawbacks of mixing matcha with coffee?
Unless you're sensitive to caffeine, there aren't any drawbacks to mixing matcha with coffee. If anything, matcha contains less caffeine than coffee. So mixing the two together is a better option for those with sensitivities. Especially since matcha is known to keep you feeling awake, alert, and energized for longer.