A coffee scale is a useful and often essential piece of coffee making equipment that directly affects the taste of your cup. It's one of the best upgrades you can purchase for your setup because you'll instantly taste more balanced and reliably delicious coffee.
Measuring your coffee grounds by volume with a scoop is fine for just fine coffee. But if you want exceptional coffee taste, precision and accuracy are key. With a coffee scale, you'll be able to perfect the coffee-to-water ratio of every cup and repeat those results time and time again.
A scale improves every method of coffee brewing, from French Press and AeroPress, to percolators, and even cold brew. Any digital scale will work for these methods, but Pour Over coffee is the brewing method where a dedicated coffee scale shines.
To brew pour over coffee, pour hot water over a cone-shaped filter full of freshly ground coffee. The water extracts the coffee from the grounds, passing through the filter into the bottom brewing vessel or your mug.
The key to this method is control and precision. You can use pre ground coffee or grind your own for extra freshness and flavor. Beyond that, you'll measure the exact grounds-to-water ratio and experiment with brew times.
An accurate and fast digital scale with a built-in timer will help you master the Pour Over method for high-quality, flavorful brews at home. In this article, we'll review the five best pour-over coffee scales for all different use cases. You'll be well on your way to brewing mouthwatering, consistent, delicious coffees.
The 5 Best Coffee Scales of 2023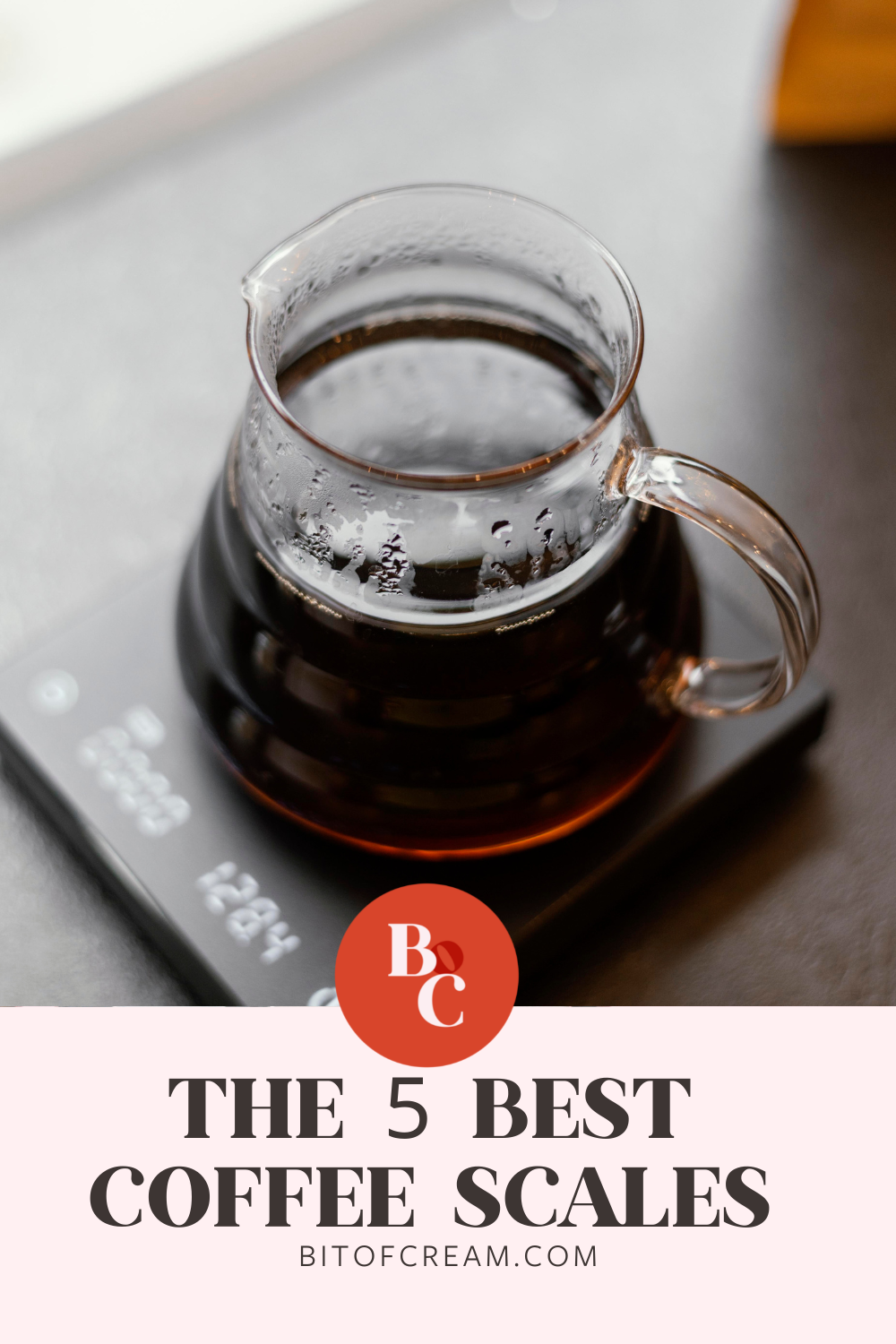 Bit of Cream is a participant in the Amazon Services LLC Associates Program, an affiliate advertising program designed to provide a means for sites to earn advertising fees by advertising and linking to Amazon.com. As an Amazon Associate we earn from qualifying purchases.
Our Top Picks
| Product Image | Product Name | Primary Button |
| --- | --- | --- |
| | | |
| | | |
| | | |
| | | |
| | | |
Hario V60 Drip Coffee Scale
Features a built-in timer

Slim, sleek and easy to store

Perfect for your daily pour over or manual coffee pours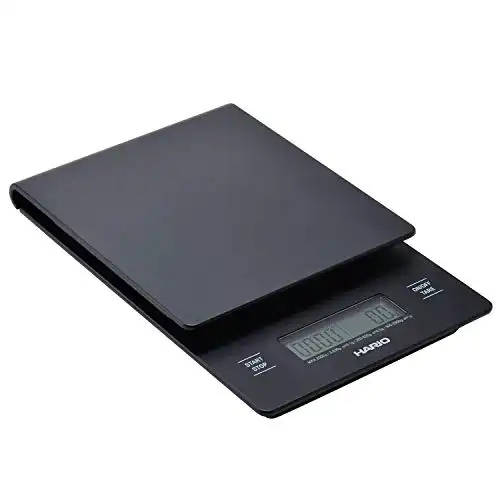 We earn a commission if you make a purchase, at no additional cost to you.
If you only drink pour over coffee or plan to use your scale only for brewing pour over, you must check out the Hario V60 Drip Coffee Scale. It's a basic drip scale that's compatible with Hario's V60 Drip Station. This allows you to weigh and brew your coffee in one streamlined setup.
Ultra Accurate Measurements
Hario boasts that this scale is accurate to 1/10 of a gram. There's no guesswork or margin for error with that kind of accuracy. The ratio that you see is exactly the coffee that you'll get.
Minimalistic Features and Design
The Hario V60 Drip Coffee Scale has two main features: a basic timer and a regular scale. There aren't any confusing modes, indicators, or spectrums to monitor.
The interface is completely intuitive just by looking at the sleek, matte design and clearly labeled buttons. You can use it right from the box with no learning curve.
Compatible Hario Accessories
Hario is a well-known Japanese brand within the coffee hobbyist world. They're known for their digital scales and other high-quality coffee equipment and accessories.
If you own the Hario V60 Drip Scale, you can purchase the V60 Drip Station and any V60 Dripper you like to customize your setup. You can even buy a kit that includes all of Hairo's pour over essentials—everything but the beans!
Pros
Compatible with other Hario coffee brewing equipment and accessories
Precise and accurate
Auto Shut-Off after 5 minutes
Intuitive to use
No-Fuss minimalist design
Cons
Requires 2 AAA batteries
Not waterproof
A small display without backlighting could make it difficult to read
Not as sensitive as competitors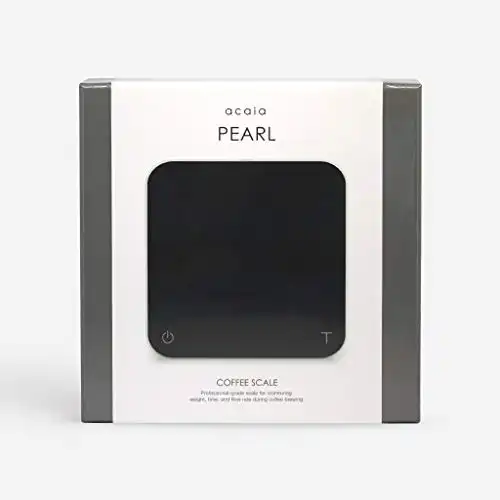 We earn a commission if you make a purchase, at no additional cost to you.
The Acaia Pearl Coffee Scale is a gorgeous, luxurious scale worth the splurge for serious coffee enthusiasts. It's fast, accurate, rechargeable, and perfect for beginners and experienced baristas alike.
Ultra Fast and Accurate
The Acaia Pearl Coffee Scale measures weight instantly and with a .1 gram accuracy. Most other scales will take ½ – 1 second to register and display the weight, but this scale doesn't miss a beat. It also has the most precise and accurate sensitivity out of all the scales compared in this list.
Real Time Flow Rate Indicator
One of the essential components to master with pour over coffee is the flow rate. You don't want to stream the water into the coffee too fast or too slow, or you'll end up with over or under-extracted coffee and some funky flavors.
The Acaia Pearl's functionality allows you to monitor your flow rate in real time. It even suggests thresholds for ideal flow rates. This way, you'll be able to improve and perfect your brewing abilities and achieve the best extraction every single time.
Rechargeable USB Power Supply
Those who strive to be environmentally conscious will appreciate this scale's rechargeability. It is a greener power source, and one charge lasts between 30-40 hours.
The Acaia Pearl Coffee Scale supports USB-C charging. And if you brew only one cup of coffee daily, that charge will last months.
Pros
Adjustable brightness makes the display easy to read in all light conditions.
Multiple brewing modes: Dual Display, Auto-Start Timer, and Beverage Mode
Flow Rate Indicator is helpful for beginner pour-over brewers
A heat-resistant pad ensures you'll never ruin the scale with the heat from your coffee
Easily navigable app interface
Rechargeable lithium polymer battery
Cons
Luxury price tag
The minimalist display keeps the interface from being entirely intuitive
Baristas who have put this scale to the test in busy coffee shops report that it's delicate and users should avoid dropping it
TIMEMORE Coffee Scale
Integrated timer for complete and total control of your coffee brewing process
Silicone pad heat insulation, waterproof and anti-skid

Type C USB charging interface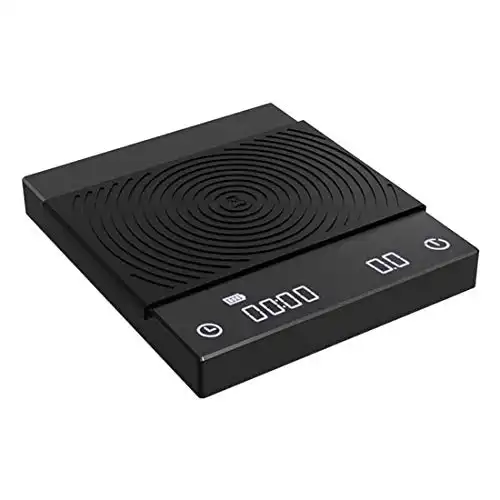 We earn a commission if you make a purchase, at no additional cost to you.
The Timemore Coffee Scale is a no-nonsense scale because it only has two features, but it's two features that it does well. It's a scale and a timer, and that's it. So if you don't want to read through an instruction booklet or app to understand how to use your scale, this one's for you.
Straightforward Functionality
The Timemore Coffee Scale doesn't have Bluetooth capability or a fancy app interface. It doesn't have pre-programmed brew settings, either. But what it does have is accuracy and straightforward functionality.
This is a scale with a built-in timer, and that's it. But honestly, that's all you really need to brew exceptional pour over coffee.
Sleek and Compact Design
You'd never guess the price of the Timemore Coffee Scale just by looking at it. Its design takes inspiration from the iconic, high-end scales that are popular among coffee hobbyists.
It's an ideal size for all coffee brewers since it's big enough to comfortably hold a pour over carafe but compact enough to store away easily.
Rechargeable Battery (USB-C)
Say goodbye to battery-sucking digital scales and hello to rechargeability. The Timemore Coffee Scale comes with a rechargeable lithium battery. One charge will last 10 hours, and since this scale will auto-shut off after 3 minutes, this charge could last for months!
Pros
Affordable price with attractive, minimalistic design
Intuitive interface without excess modes
Rechargeable lithium battery
Auto Shut-Off after 3 or 15 minutes, depending on if you have the timer running
Cons
Smaller display than competitors
Minimal but noticeable delay with the touch display
Cheaper feeling materials than competitors
Escali Versi Coffee Scale
4 modes allow for different coffee making scenarios

The silicone cover is heat resistant and provides protection from heat

LED screen is easy to read in all lighting conditions
We earn a commission if you make a purchase, at no additional cost to you.
The Escali Versi Coffee Scale is an exceptional, affordable scale. It's comparable to the technology used in scales 3x its price. All the features you could want, plus a reasonable price for beginner and experienced brewers, make this scale one you won't want to skip.
Lightning-Quick & Accurate Measurements
It takes only about ½ of a second for the Escali Versi Coffee Scale to display measurements. So, it's quick enough to keep up with even the most experienced baristas—the infamous ones who can make pour over in their sleep.
This scale isn't just fast; it's precise too. The Escali Versi Coffee Scale is about as accurate as luxury scales (like the Acaia Pearl in this list), but for a fraction of the price.
Four Pre-Programmed Pour Over Modes
This scale is a pour over drinker's dream. There are four pre-programmed modes precisely calibrated to ease the brewing process:
A fully automatic pour-over mode with two automatic tares and an automatic timer function.
A manual mode with tare and timer functions that are each performed manually.
A fully automatic pour over mode that has one auto-tare and one auto-timer.
A ratio mode that uses two automatic tares and no timer function.
No matter your pour over brewing method, there will be a pre-programmed function that mirrors your process.
Helpful Features
On top of the pre-programmed pour over modes, you could also use this scale in manual mode. Manual mode allows you to completely control and customize your variables as you see fit.
There's an automatic timer function and automatic tares. These features make the experience of using this scale low-effort and convenient. So, instead of feeling like you're adding an extra step to your coffee routine, this intuitive scale actually makes the whole process easier.
Pros
Extremely accurate with quick response times
Super bright digital LED display
Rechargeable (micro-USB) lithium battery
6.6 lb capacity
Easy clean silicone cover
Timer placement makes it easy for left-handed users to operate, even while holding a kettle
Cons
Almost too sensitive, so the weight often fluctuates (nominally)
Timer placement makes it difficult for right-handed users to start/stop the timer while holding a kettle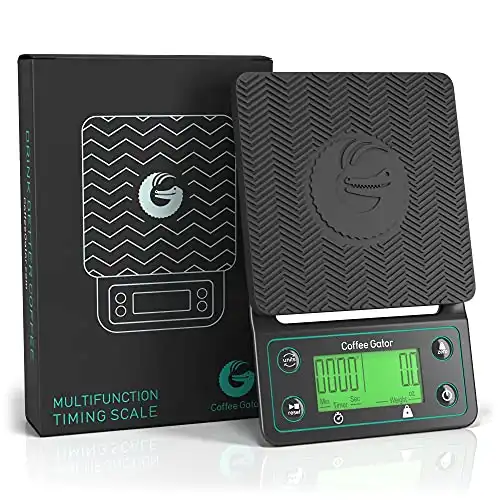 We earn a commission if you make a purchase, at no additional cost to you.
Don't be fooled by the Coffee Gator Coffee Scale's affordable price. It performs about as well as any other scale listed in this roundup. In addition, it's durable and accurate, making your coffee brewing process easier and more precise than ever.
Budget-Friendly & Accurate
The biggest draw for this scale is its affordability compared to its competitors. Delicious pour over coffee shouldn't come with an entrance fee, and this scale has made it accessible to all brewers.
It has the same scale and timer features as more expensive coffee scales but for a fraction of the price. Plus, it's accurate and has an easy-to-read interface.
Quick Unit Switch
You can easily choose and switch between different units of measurement depending on what you're weighing. For example, you could weigh the coffee grinds by the gram, then swap to milliliters when ready to stream in your water.
This scale displays the weight in ounces, pounds, grams, gram-milliliters, and milliliters. This scale has got you covered no matter what you're measuring, or what units you prefer.
Rubber Mat
The Coffee Gator Coffee Scale features a rubber grip mat that will keep your pour over carafe from slipping and sliding on the surface. It also protects the scale from residual heat while brewing. Plus, you won't have to worry about a splash of coffee ruining your scale.
Pros
Well-lit, prominent display for easy reading, even in the morning hours
Budget-friendly price makes excellent coffee within reach for all consumers
6.6 lb capacity
Multiple measurement units
Additional affordable accessories available
Cons
Noticeable lag when weighing small amounts
Not rechargeable; uses 2 AAA batteries
What To Look For In A Coffee Scale
Accuracy
The whole point of using a coffee scale to measure your grinds is for accuracy. The more accurate your measurements are, the more precise your coffee brewing will be, and the better coffee you'll brew.
Measuring your coffee by weight is more exact than measuring by volume with a coffee scoop or spoon. Therefore, a scale's accuracy is the most crucial factor to consider. Otherwise, there's no point in using the device at all.
Speed
The best coffee scales are fast, responsive, and will give you a reading without delay. It has to keep up with you and not stunt the process. There's nothing worse than waiting forever while the scale goes up 1 gram and down again…and on and on until you've accidentally added too much water.
Yes, you want an accurate reading, but you also want it fast.
Battery Life And Type
First and foremost, an auto power-off function is essential for conserving the scale's battery. Of course, almost all digital scales will have this functionality, but it's well worth ensuring the one you pick will save energy this way.
Some scales come preinstalled with rechargeable lithium batteries. So you'll need to remember to plug it in every now and again to give it a boost. However, most have already swapped to USB-C cables, so it'll fit right in with your other chargeable devices.
Otherwise, you can go for a conventional battery-powered scale with AAA batteries. The downside to this option is that you'll have to spend more money to replace the batteries once they run out of juice. However, these typically last for a long time, especially if the scale has an auto shut-off feature.
Features
Features like water resistance or a built-in timer to measure brew lengths might not be at the top of your priority list when shopping for a coffee scale. Get honest with yourself. Figure out what are the most important factors that contribute to your coffee-making experience.
Are you known for being clumsy—especially in the wee hours of the morning, with sleep in your eyes and caffeine at the finish line? We've all knocked over a mug or missed the coffee cup completely when brewing pour-over. Water resistance could come in handy and protect your investment if you splurged on a high-end scale.
You've made it this far into the article because you love a good cup of coffee and care about how you spend your money. The features of the scale should work for you and make the coffee brewing experience easier and more convenient.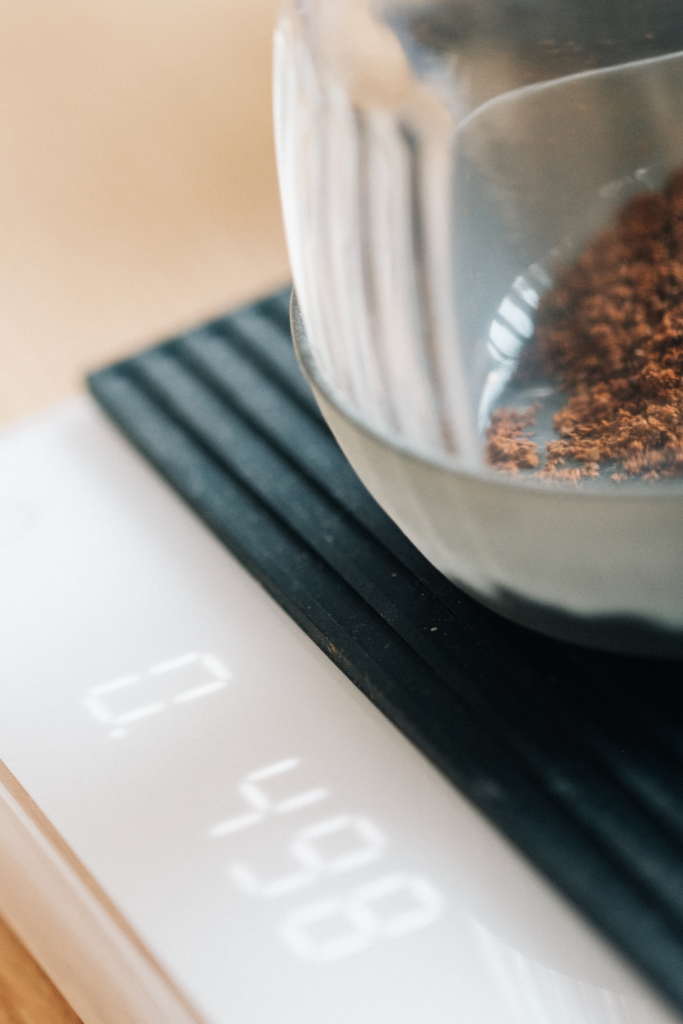 The goal is to have your morning coffee be as delicious and as effortless as possible. If it's not a feature you'll use, then skip it!
So Which One Should You Buy?
When you consider all of the luxe features, affordability, quick response, and accuracy, the Escali Versi Coffee Scale is our top pick. It's basically as accurate as the high-end Acaia Pearl Coffee Scale, but for a fraction of the price.
It's an excellent scale for all types of brewing, from tea to espresso, because of its accuracy. But it's even better suited for the Pour Over drinker. With four pre-programmed pour over modes, brewing with this method just got so much easier.
With features like a rechargeable battery, high weight capacity, timer function, and automatic tare, the Escali Versi Coffee Scale wins out as the Best Pour Over Coffee Scale for most coffee drinkers.
FAQs
Can I Make Pour Over Coffee Without A Scale?
It's possible to make Pour Over coffee without a scale but not recommended. Your coffee-to-water ratio will never be precise. 1 tsp is about 4 grams, and for pour over, you'll need 1 gram of coffee per 16 grams of water. So for each 1 tsp of ground coffee, you'll need 64 grams of water or about 2 oz. 
Does A Coffee Scale Need A Built In Timer?
You don't need to have a built-in timer on your coffee scale, but it is convenient when timing your brew length. It eliminates having to grab your phone or use the microwave to keep track. Measuring the brew length is one of the best ways to determine your coffee extraction. With this feature, monitoring the brew time is effortless, and you'll be able to replicate your ultimate cup of coffee every time.
Free Coffee Art Printables
Don't forget to get on the list before you go! You'll get 3 free coffee art printables delivered when you sign up and weekly coffee tips and tricks, product reviews!