Cuban Coffee is ultra-popular for its intense and full-bodied flavor—and rightfully so. Coffee this tasty deserves all the love it garners. It's not quite espresso and not quite coffee, but it is craveable liquid gold that packs a punch of caffeine.
You can enjoy it as a shot or try making my favorite (and simple) Cortado recipe. Either way, you'll need some authentic and delectable Cuban Coffee beans. But don't worry; I've got you covered.
In this list, I'll go over the 7 best Cuban Coffee brands so you can skip all the tedious research and get to brewing!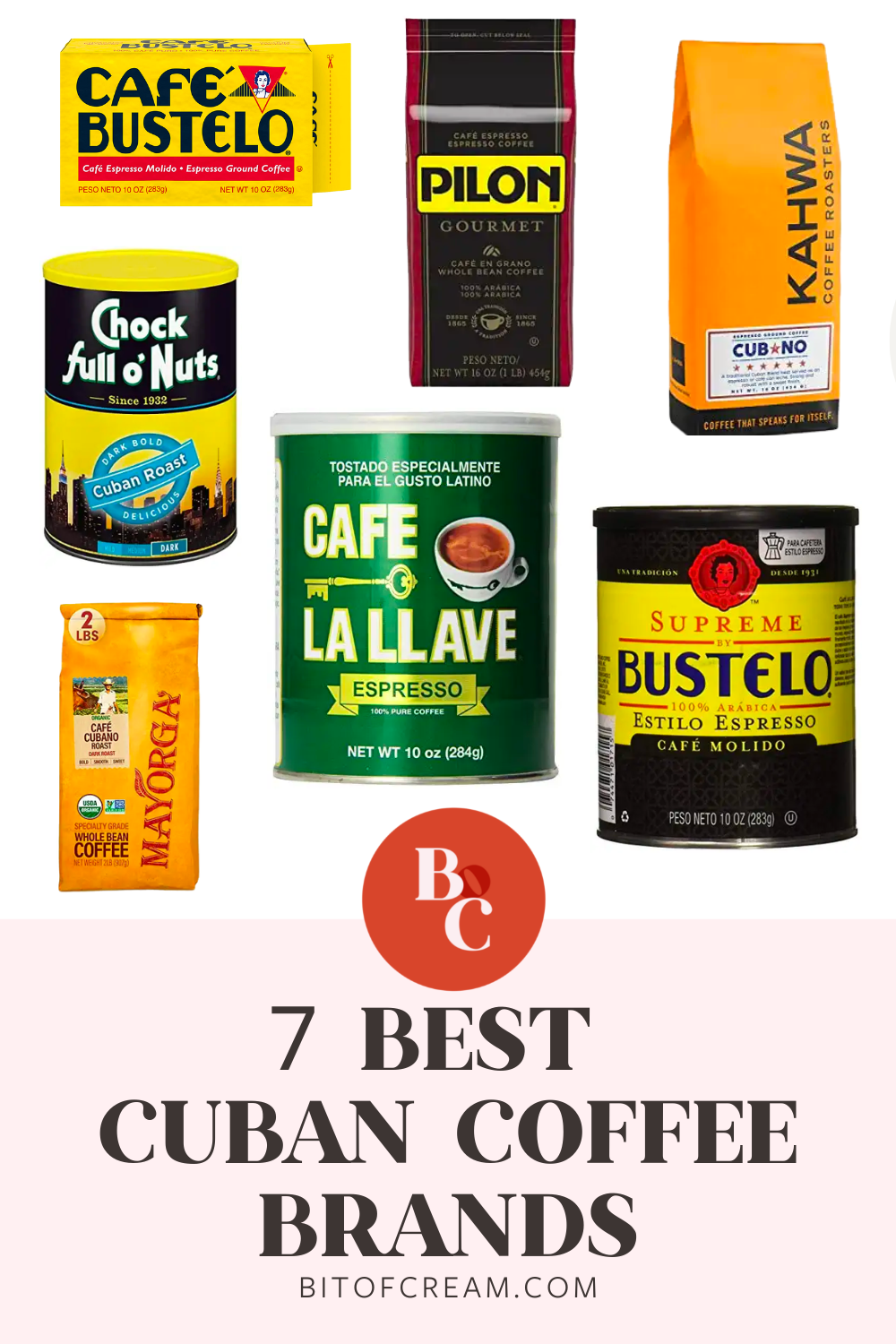 Bit of Cream is a participant in the Amazon Services LLC Associates Program, an affiliate advertising program designed to provide a means for sites to earn advertising fees by advertising and linking to Amazon.com. As an Amazon Associate we earn from qualifying purchases.
Our Cuban Coffee Picks
| Product Image | Product Name | Primary Button |
| --- | --- | --- |
| | | |
| | | |
| | | |
| | | |
| | | |
| | | |
| | | |
What Is Cuban Coffee?
Whether you know it as Cafécito or Café Cubano, Cuban coffee has enough history and flavor to remain at the forefront of the coffee world. Coffee has been grown in Cuba since the mid-1700s because the climate is immaculate for coffee growing. Fertile, humus-rich soils mean extraordinary coffee can be cultivated without chemical fertilizers!
Like espresso, Cuban coffee is known for being full-bodied, dark, and intense. However, it's not as thin or watery as coffee from other origins. The beans are most often Arabica or Robusta, which means a rich and dark flavor with a powerful caffeine kick.
There are different roast levels to choose from, just like any other coffee, so you can find a flavor profile you enjoy.
7 Cuban Coffee Brands To Try
1. Café Bustelo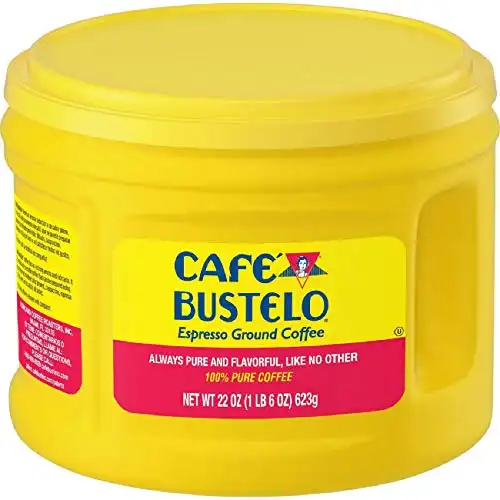 We earn a commission if you make a purchase, at no additional cost to you.
Café Bustelo is an iconic Cuban coffee that became America's mainstay Latin coffee. You'll find a can of this in almost every Latin household, and my Puerto Rican New Yorker grandmother is no exception.
It's so popular that you'll find it in virtually every style under the sun. Café Bustelo is available in pre-ground canisters, coffee bricks, K-cups, espresso capsules, and single-serve instant packets. Moreover, it's affordable and can be found at virtually any grocery store.
This delicious, robust coffee has the traditional intense flavor that Cuban coffee is known for. This is basically the benchmark Americanized Cuban coffee flavor that all other Cuban beans are compared to. The only downside is that the original Café Bustelo doesn't come in a whole bean option.
2. Supreme By Bustelo
We earn a commission if you make a purchase, at no additional cost to you.
Supreme by Bustelo is an extra bold Cuban Coffee made by the same company as Café Bustelo. The difference between the two versions is that Supreme is made of 100% Arabica beans, whereas the original version is a blend.
This variation is sold pre-ground, by the brick, in an instant version, and whole bean. It has a vibrant, classic Cuban flavor. It's a dark roast that'll give you a very full-bodied cup. Just a whiff of its intense aroma will wake you up in the morning.
I always recommend purchasing the whole bean version and grinding it at home. However, the diverse options are helpful when convenience is a priority.
3. Mayorga Organic Café Cubano
We earn a commission if you make a purchase, at no additional cost to you.
Mayorga is my top pick for a smooth and tasty Cuban organic option. You can purchase the regular Café Cubano or their Decaf Café Cubano. Both are made of 100% organic Arabica beans.
You can purchase the regular Organic Café Cubano as whole bean, espresso capsules, K-Cup pods, or ground coffee bricks. However, the Organic Decaf Café Cubano is only available whole bean.
Mayorga coffees are organic, non-GMO, made using renewable energy, and roasted in an allergen-free facility. The Café Cubano roast is their best selling coffee because of its bold, smooth, and naturally sweet flavor. The beans are slow-roasted to reduce acidity resulting in hints of vanilla you can actually taste and a syrupy smokiness.
4. Café La Llave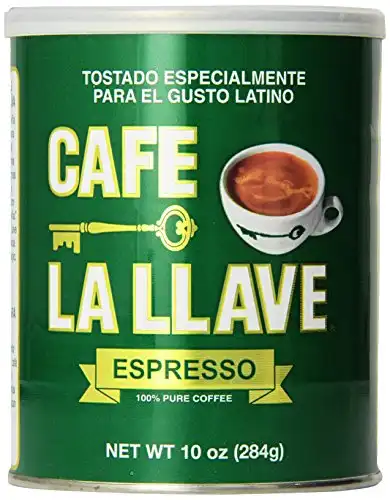 We earn a commission if you make a purchase, at no additional cost to you.
The Café La Llave brand began in Cuba nearly 150 years ago, so you can rest assured this coffee is as authentic as it gets. There are both regular and decaf versions to choose from, so you can enjoy Café con Leche in the morning and a Cortado after dinner.
The original Café La Llave is available pre-ground, by the brick, in espresso capsules and K-cups. Unfortunately, there aren't any Decaf K-Cups, but you can still purchase it pre-ground, by the brick, or in espresso capsules.
Café La Llave is a dark-roasted espresso bean with an ultra-robust flavor. It's one of the strongest-tasting Cuban coffees on this list, so if you like your coffee super rich and extra bold, this is the bean for you.
I prefer Café La LLave's Cafetería Premium Blend Espresso since it's sold whole bean.
We earn a commission if you make a purchase, at no additional cost to you.
This way, I can brew the freshest cup possible. It has a thick crema and silky mouthfeel that's delicious no matter how you brew it.
5. Kahwa Cubano
Kahwa Cuban Ground Coffee
A traditional cuban blend dark roast that is packed with a strong and robust flavor, with a sweet finish
100% premium high quality beans that are selected from different origins around the world
We earn a commission if you make a purchase, at no additional cost to you.
The Kahwa Cubano Coffee is one of the richest-tasting beans on the list. Plus, it has so little acidity that those who suffer from tummy-rumbles after a cup of coffee should brew a cup of this.
You can purchase Kahwa Cubano coffee pre-ground, whole bean, or in K-Cups. It's as dark of a roast as you can get with a toasty richness and subtly sweet finish. It has all the tasty characteristics of the classic Café Bustelo but with an even smoother mouthfeel.
My favorite way to brew this coffee is to keep it simple—Café con Leche with just a touch of sugar.
6. Pilon Gourmet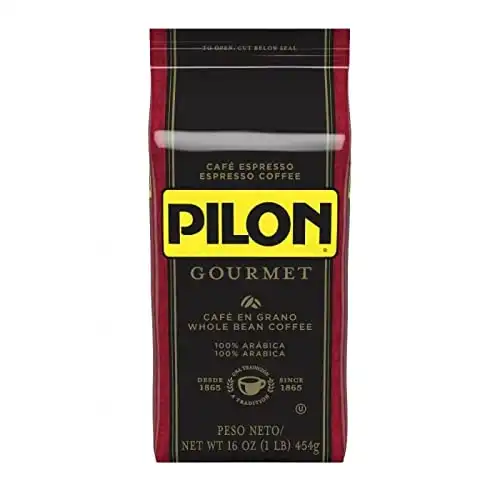 We earn a commission if you make a purchase, at no additional cost to you.
Pilon has original and decaf espresso blends, but their Gourmet Espresso Coffee is easily the best the brand offers. It tastes like a Cuban-Style Starbucks dark roast. However, it's richer and more flavorful than Starbucks Italian Roast—the darkest coffee the chain serves.
This is one of the most popular brands that you'll find served by Cubans to Cubans, which is why you'll only really find it in stores in and around Miami, FL. Fortunately, through the power of the Internet, you can have this delectable Cuban-Style espresso delivered to your doorstep.
Pilon Gourmet is available whole bean, pre-ground, or by the brick. It has a clean, smooth, intense flavor perfectly complemented by some cream and sugar. The roast is always consistent, and the brand tastes like an expensive, luxury coffee but at an affordable price.
7. Chock Full O' Nuts Cuban Roast
We earn a commission if you make a purchase, at no additional cost to you.
I know that I said my Puerto Rican grandmother always has a can of Café Bustelo in the house, and that's true. But I'm not joking when I tell you that she has it written in her will that she wants to be cremated and sealed into a Chock Full O' Nuts coffee canister. If that isn't a glowing review, I don't know what is!
Their coffees are affordable and delicious, and their Cuban Roast is no exception! It's only available pre-ground, and I'll make an exception to my "exclusively whole bean" rule for this coffee. It's dark, flavorful, and consistent to the last drop, no matter how you brew it.
You can drink this bold brew however you'd like. But nothing beats the nostalgic flavor of Chock Full O' Nuts brewed the Cuban way in a stovetop percolator like a Moka Pot. It's so aromatic, smooth, sweet, and perfect with a splash of cream.
How To Brew And Drink Cuban Coffee
There are plenty of variations on how to prepare Cuban coffee. It's most notably brewed as Colada Coffee with demerara sugar in a Moka Pot and served with milk or cream. The sugar is added to the brewing vessel so that it mixes with the espresso-like coffee to create a smooth, intense drinking experience.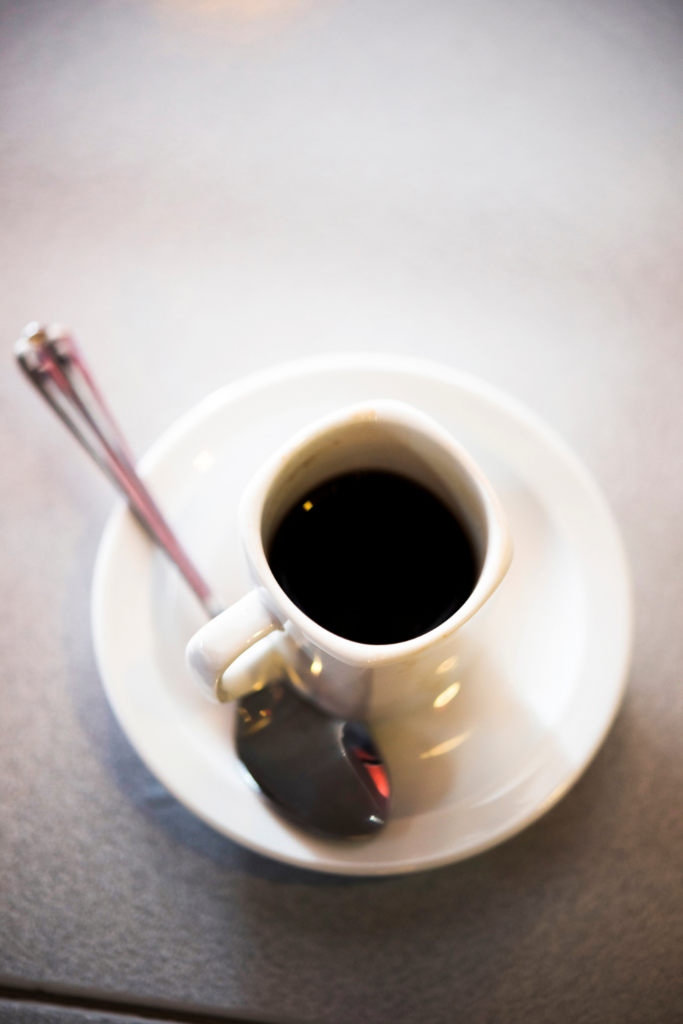 When the hot espresso drips onto the raw brown sugar, it caramelizes in a way that's unique to this process. Pouring hot coffee or espresso over sugar in a cup will never give you the same effect. This unique process distinguishes Cuban Coffee from other espresso drinks and craft coffees.
You can try brewing a Cuban Latte, Cortado, or Cortadito. The processes are simple and intuitive if you're used to using a Moka Pot or espresso machine.
Whole Bean vs. Pre-Ground Cuban Coffee
For the sake of convenience, you can purchase pre-ground coffee. But, honestly, that's the only thing pre-ground coffee offers—convenience.
Since coffee beans begin to stale as soon as they're roasted, you'll want to do everything you can to preserve the freshness and flavor of those beans. Grinding them immediately exposes them to more air, which leeches freshness and flavor.
Imagine how far those beans travel (all the way from Cuba, in this case) to arrive at your local grocery store. Picture all the transport involved. And not to mention how long that bag of beans was sitting on the shelf before you came along and picked it up!
If you're a coffee lover (and you wouldn't have gotten this far into the article if you weren't), buy whole beans. Truly, your best bet for all coffee brewing, especially with Cuban Coffee, is to buy the beans whole and grind them right before you use them. This way, you'll enjoy all the fresh, nuanced flavors possible.
Pre-ground coffee is okay when you're in a rush and don't really care for how the coffee tastes; you just need caffeine, and you need it now. But if you're looking for a coffee experience that you'll want to sit, sip, and savor, always go for whole beans.
FAQs
Can I Use Regular Coffee Beans To Make Cuban Coffee?
Even though Cuban Coffee is typically made with Cuban beans, you can get away with using any espresso bean. Look for Arabica or Robusta beans with a dark roast level; the darker, the better. You can even find some great options on Amazon if you're looking for a convenient yet quality espresso pick. 
Does Cuban Coffee Have More Caffeine Than Regular Coffee?
Since all Cuban Coffee beverages begin with an espresso-like brew, the grind is finer than regular coffee and has a shorter brewing time. This leads to more caffeine extraction, so you can estimate that a cup of Cuban coffee has about twice as much caffeine as a standard cup.
Want weekly coffee tips and tricks, recipes and more?
Put your email in the box below and you'll not only get added to our list but you'll also get 3 free recipe cards (Colada Coffee, Mocha and Spanish Latte) delivered right to your inbox!