Cheap coffee is everywhere. It comes in as many varieties, packaging, and roast profiles as the specialty stuff. Unfortunately, most of it isn't very good coffee.
Roasters all over the world have found ways to make coffee as cheap as possible. But it's hard to find great coffee beans on a budget.
Fortunately, there are a few great cheap coffee brands out there that even the most picky coffee drinkers will still enjoy!
In this article, I'll put you onto 5 of my favorite affordable coffees and explain what makes them taste so great!
Our Top Picks for the Best Cheap Coffee Brands
| Product Image | Product Name | Primary Button |
| --- | --- | --- |
| | | |
| | | |
| | | |
| | | |
| | | |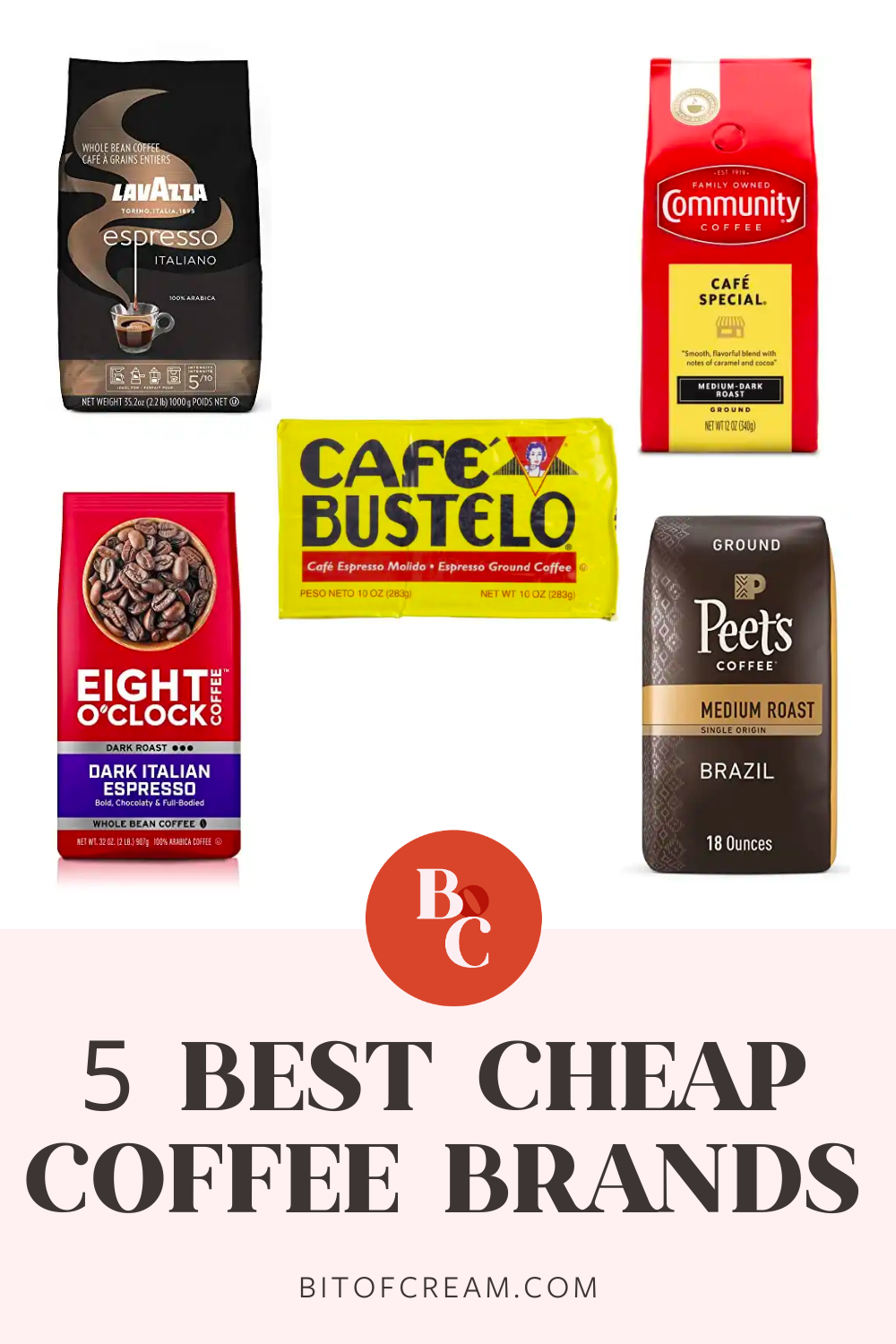 Bit of Cream is a participant in the Amazon Services LLC Associates Program, an affiliate advertising program designed to provide a means for sites to earn advertising fees by advertising and linking to Amazon.com. As an Amazon Associate we earn from qualifying purchases.
Detailed Reviews of Our Top Picks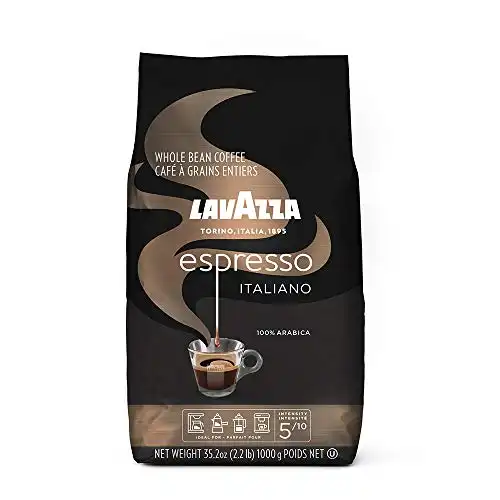 We earn a commission if you make a purchase, at no additional cost to you.
Lavazza is a great bang-for-your-buck coffee. It's super versatile with balanced flavor, sweet and full-bodied, which will have your taste buds tingling over the robust flavor!
Though this coffee is great on espresso, it is a great option for filtered coffee too. Or on French press.
Lavazza rates their coffees on different levels of intensity and gives the Espresso Italiano a 5/10. In my experience, this checks out.
Contrary to what you might expect from an Italian coffee, which tends to be on the super dark side, this blend is more delicate. You won't find any of the charred ashy flavors commonly found in store-bought espresso blends here.
Given its performance in a cappuccino, I reckon that if you fine-tune your ratio, you could make a decent Aeropress with this coffee as well.
Pros
Good for espresso, filtered coffee, and french press
Available in bulk
Medium intensity level
Cons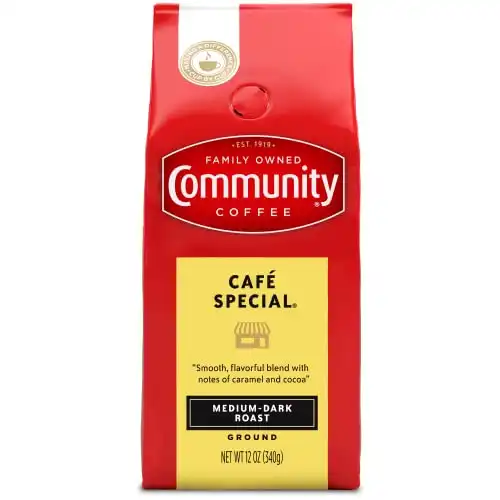 We earn a commission if you make a purchase, at no additional cost to you.
Unlike the Lavazza, this coffee is darker and less acidic. A nostalgic favorite, the Cafe Special blend is reliably mild, affordable, and tastes best on its own.
You might have to brew this blend on the stronger side to extract more flavor since it is pre-ground. But once you do, you're looking at subtle sweet notes balanced out by the bitterness of the darker roast profile.
I recommend this coffee for drip or pour-over brewing. Just be sure to tighten your coffee-to-water ratio by performing frequent taste tests. If you typically brew a 1:14, try a 1:11 and go from there.
Since you can't adjust the grind size with pre-ground coffee, stick to filtered brew methods. That means no French Press or Espresso.
If you're wondering the perfect coffee for french press though, head over to our extensive french press coffee guide that gives the best options on the coffee market!
The one downside to this coffee is that adding cream almost completely eliminates the flavor. So if you're happy to drink your coffee black, this is a good option at a nice price point.
Pros
Cons
Doesn't stand up to cream
Uses more coffee grounds per cup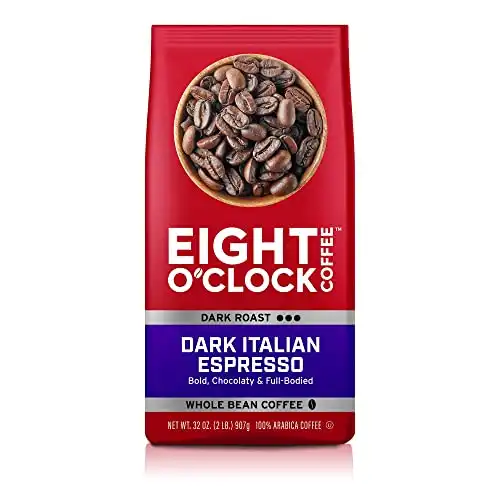 We earn a commission if you make a purchase, at no additional cost to you.
Do you prefer super strong coffee in small doses? Eight O'Clock makes an Italian Dark Roast that is not for the weak of palate, but it sure is a great buy.
This is a coffee that will wake you up with caffeine as well as the intensity of flavor. It has a strong nutty flavor as well as a hint of baking chocolate. The aftertaste is more balanced milk chocolate, a sweet reprieve after the intensity of the first sip.
This is a whole bean blend that's reminiscent of other dark roast Italian coffees.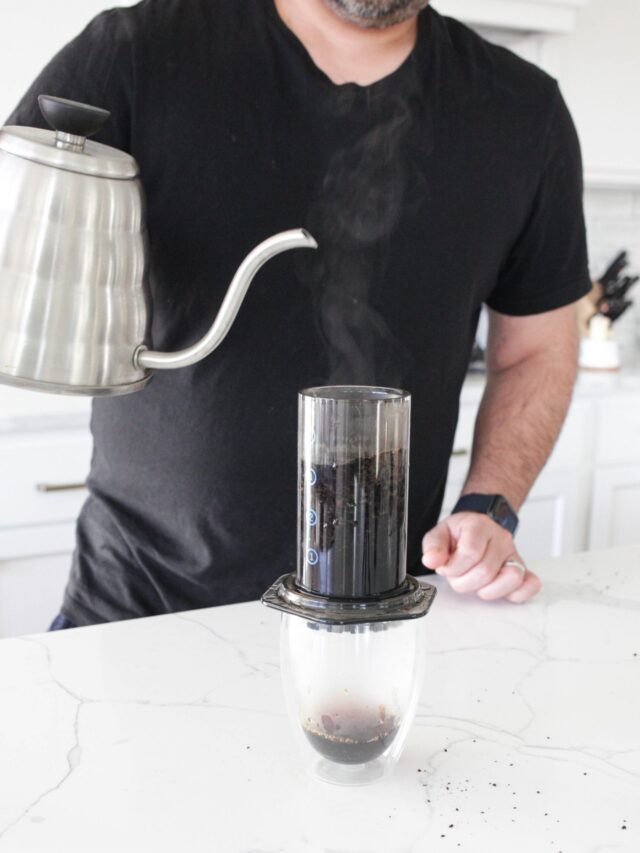 Espresso, Aeropress, and pour over are all great brew methods for this blend. The addition of milk to an Aeropress or espresso shot will make the sweetness come through in every sip.
Pros
Intense flavor
Low acidity
100% Arabica beans
Best with milk or cream
Cons
Not great on drip
Occasional ashy/burnt notes
4. Best Classic Espresso Option: Cafe Bustelo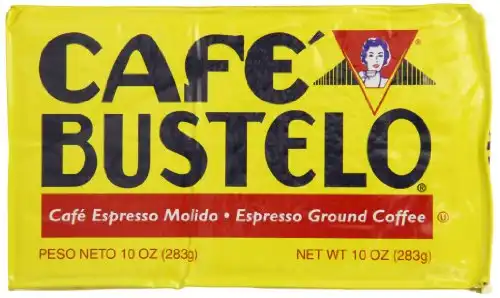 We earn a commission if you make a purchase, at no additional cost to you.
Like the Eight O'Clock Coffee, the Cafe Bustelo is intense.
This is a classic bulk coffee pre-ground specifically for espresso. But coffee lovers use it on all types of brew methods from pour over to Moka pot.
In south Florida, you'll find Bustelo used for colada coffee and Spanish Lattes.
Though Cafe Bustelo often uses Robusta beans for their blends, this fine-ground espresso is 100% Arabica. The flavor is a bit higher in acidity than other dark roasts with a moderate caffeine level and smooth flavor.
One of my favorite things about making Bustelo with my Bialetti is the crema-like consistency that forms at the top of the coffee.
Somehow this pre-ground coffee maintains a heavier body than most other pre-ground options out there. It's one of those coffees that only gets better with some dark brown sugar and a hint of cream.
Though I wouldn't put this coffee in my espresso machine. Here, the "espresso" label is best used to describe the strength and mouthfeel of the coffee rather than the way you should brew it. Moka pot, Aeropress, or simple automatic drip will all provide tasty results.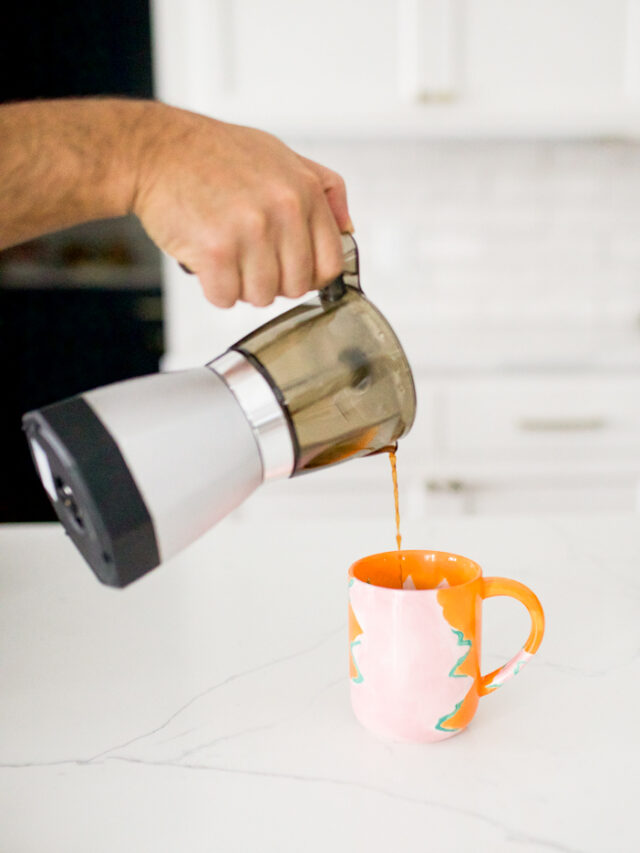 I also can't turn down a coffee that comes in a colorful tin I can use to store things in later. It's easy to travel with too!
Pros
Great on Moka pot
Available almost everywhere
Crema-like consistency
Smooth flavor
Easy to travel with
Cons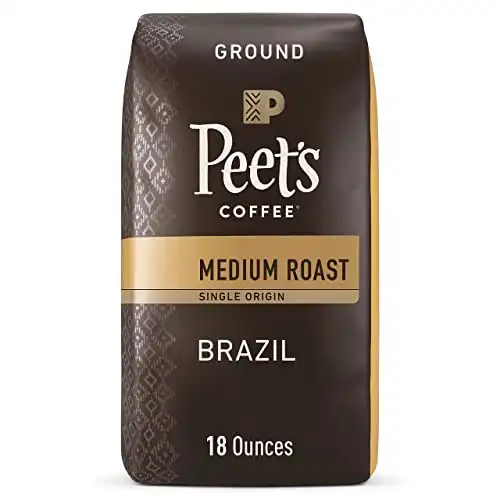 We earn a commission if you make a purchase, at no additional cost to you.
This is one of the few coffees on this list that has a great price and gives the subtle complexity of the Lavazza a run for its money.
When it comes to lighter roast coffee blends, a unique blend of flavors and added sweetness come into the fold. The Big Bang blend is a medium-dark blend with beans sourced from many coffee-growing regions. The fruity notes from the Ethiopian beans do give this blend a nice pop of flavor.
Though the blend says "medium," it's definitely on the darker side. That means you also get that bitter, baking chocolate flavor before anything else. If you can grind this coffee fresh, I would recommend making it on pour over to emphasize those subtle fruit notes.
This is a great budget coffee if you like a little bit of complexity in your morning cup of coffee without paying specialty prices.
Pros
Slightly fruity
Great for pour over
Low acidity
Cons
Spendiest on the affordable options
What To Look For
Arabic or Robusta
Does the coffee use a blend of arabica and robusta beans? Or is it 100% one or the other?
Many cheaper coffees use Robusta beans to keep roasted coffee costs low. Robusta beans are hardier plants that are easy to grow. Robusta beans often taste more bitter when roasted, and contain more caffeine than Arabica.
If you want to ensure your coffee isn't super bitter, or if you're just worried about caffeine content, double check the roaster sources 100% Arabica.
Pre-Ground or Whole Bean
If you don't have a grinder at home, there are plenty of budget coffees available pre-ground. These coffees can be difficult when you get home because you're stuck with a particular grind size that you can't change.
Unless you have a pressurized portafilter, you won't be able to pull a good shot of espresso with regular pre-ground, which will be too coarse.
A good place to start with pre-ground is either automatic drip or pour over. Take note of your ratios until you find the recipe that tastes best to you.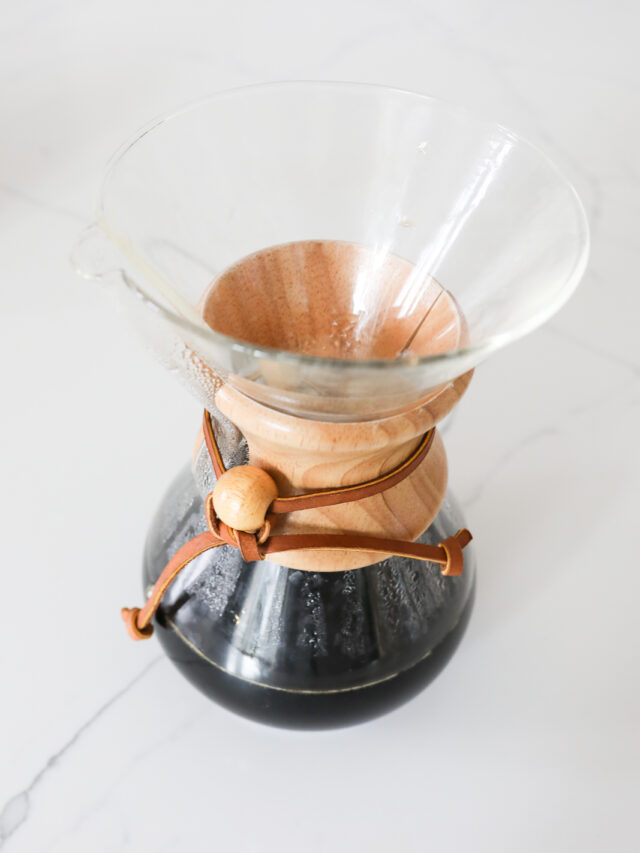 If you can grind coffee at home, then you have the flexibility to brew in different ways without sacrificing flavor!
Roast Profile
When shopping for budget coffees, you can find a variety of roast profiles. But most of them are just dark roast.
If you're an online shopper who is on the hunt for coffee that is strictly found on Amazon, check out our guide to the best coffee on Amazon.
When coffee is bulk-roasted in huge quantities, it's easier to roast more consistently if they just roast them all dark. If the sourced beans are not high quality, the dark roasting process can also mellow out some of the unsavory flavors.
So if you want to stick to budget coffee, just know that regardless of the label, dark roast is the norm.
Freshness
Cheaper coffees tend to hide their roast date and only offer the required "best by" date.
It's much more difficult to moderate the freshness of coffee when it's sold in huge quantities and sold on store shelves.
While buying coffee in bulk can seem like a great "budget buy," you risk losing the freshness more quickly.
Though, if you are a bulk shopping fan, don't miss out on these incredible coffee brands found at Costco!
You can offset this by buying coffee in batches that you know you'll go through in roughly two weeks' time.
Who hasn't been enticed by a 2.5lb bag of coffee? Personally, I don't drink it fast enough.
The reduction in flavor I would taste in the 2nd pound isn't worth it. If you can, buy one or two bags at a time. This way, even if you're buying coffee that isn't the freshest, you don't have to drink a pound of super stale coffee it took you a month to get to.
So Which One Should You Buy?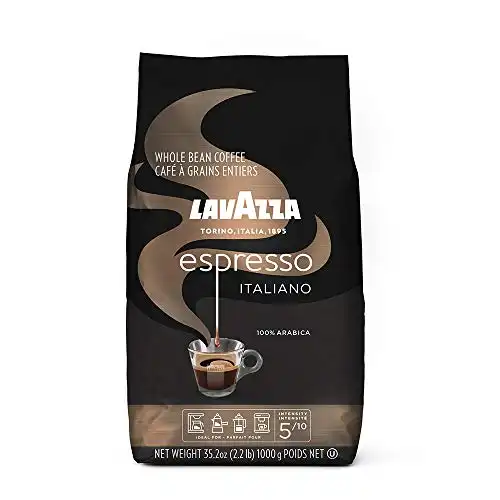 We earn a commission if you make a purchase, at no additional cost to you.
In my humble opinion, the Lavazza Espresso Italiano is one of the best cheap coffee brands on the market. As its name suggests, this 100% Arabica coffee is delicious brewed on espresso. But the benefit of this coffee is that it tastes great on drip, Aeropress, and pour over too.
So no matter what you're craving, the Espresso Italiano blend is a great choice. It's a dark roast, but not so dark that you're facing overwhelming bitterness. It's great on its own, and it stands up to a dash of cream.
If you're on a tight budget and experimenting with more affordable coffees that offer the best value, I recommend this as a starting point. You might even become a loyalist!
FAQ
What Is The Best Cheap Coffee?
Of course this is a subjective answer that everyone has to determine for themselves through trial and error. But we recommend the Lavazza Espresso Italiano as the best budget coffee brand.  The best cheap coffees meet three main requirements.

They're made with 100% Arabica beans, labeled as a medium roast coffee, and whole bean. If you stick to these standards when searching for your favorite budget coffee, you'll find something you like. But when in doubt, look for coffees with flavor profiles that stand out to you or with origins you know you enjoy. I tend to gravitate toward Ethiopian and Guatemalan coffees. 

If you can, keep a note on your phone and keep track of the different coffees you try. Write down what flavors you liked or disliked and the recipes you used to brew the coffees. Refer to the list when you go to the store to help narrow your options. 
Which Cheap Coffee Beans Are Best For Cold Brew?
Check the flavor notes on the bag of beans to see what stands out to you. 
If you can, purchase whole-bean coffee that you can grind at home using a coarse setting. 

Darker roast profiles can often withstand the addition of milk or cream because of their rich flavor. A creamy cold brew can't be beaten in the summer. But if you like the sweet fruit notes of cold brew, opt for something closer to medium or light roast. 

Pre-ground is an option as long as you are using a filtered method to make your cold brew, like a Toddy brewer. That way, you won't wind up with silty sediment in your cup. 
What Is The Best Cheap Coffee Making Method?

Automatic drip has always been an affordable way to make a good cup of coffee. But pour over is an even cheaper way to get started. It just depends on how much coffee you drink. 

If you're a single-cup brewer, there are plenty of cheap pour over cones you can buy at your local grocery store. Affordable, bulk packs of pour over filters will last you a long time! But if you're someone who brews multiple cups at a time, then investing in an automatic drip coffee maker is not a bad idea.
 
"Pod" brewers offer major convenience at enticingly low prices that are less of daunting task than learning how to use the other coffee gadgets on the market. But the truth is that, over time, you'll save money and create less waste using a drip machine. The quality is much better too.