Pour over is a delicate brew process that is well worth the time and attention.
Needless to say, you have to have the right tools to make a good pour over. Without the proper kettle, you risk wasting delicious coffee.
As a barista for over a decade, I've tried many different kettles and accessories to simplify the pour over process.
I've listed 5 of the best electric kettles for pour over coffee that you can rely on to craft a delicious cup of pour over. Each kettle has both the required functions necessary for pour over. Temperature control and a gooseneck spout.
Best Electric Kettles For Pour Over Coffee
| Product Image | Product Name | Primary Button |
| --- | --- | --- |
| | | |
| | | |
| | | |
| | | |
| | | |
Our Top Picks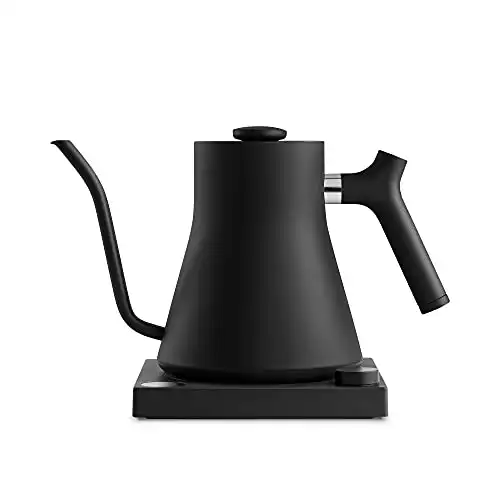 We earn a commission if you make a purchase, at no additional cost to you.
It's easy to see why The Fellow Stagg EKG is our top pick, it's hands-down one of the best kettles for pour over out there. It attracts many coffee lovers and professional baristas with its unique, minimalist design. And at the same time, it's super simple to use.
The Stagg uses a restricted pour, so you have the best ergonomic handle control while you pour delicate spirals over your coffee. Because Fellow takes every bit of user experience into consideration, the Stagg's weight has even distribution in the body of the kettle. This way, you don't feel like you're heavy-lifting every time you hold the kettle over your coffee.
Temperature control is variable, not pre-set, so you can set it down to the exact temperature using a simple dial on the base of the kettle.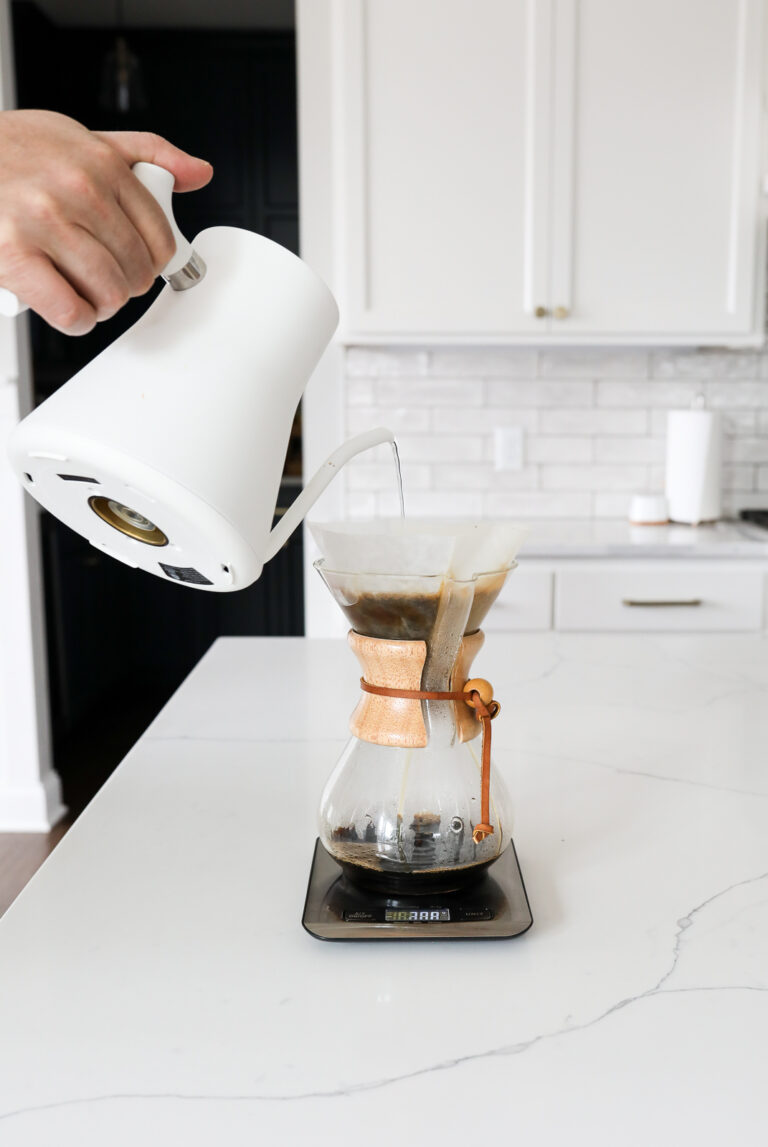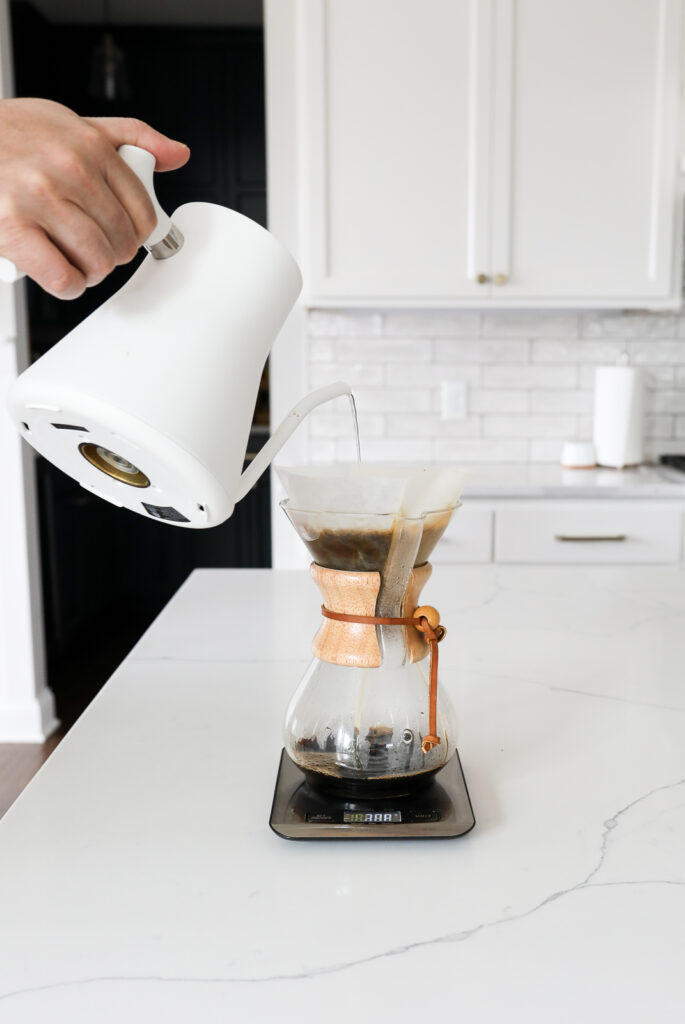 It takes 4 minutes to heat a full kettle, but depending on your choice of temperature, it often runs less than 4. The choice is yours whether you want Fahrenheit or Celsius temp readings. Just switch the toggle on the back of the base.
The base will stay on for a full hour if you don't turn it off. This is nice if you know you might brew a second cup before the hour's up and use the rest of your water.
The lid stays on tight while you pour, but if you're using a really full pot it can be easy for some water to leak out.
Pros
Variable temperature
Restricted pour
Functional design
Cons
The lid can leak hot water when the kettle is full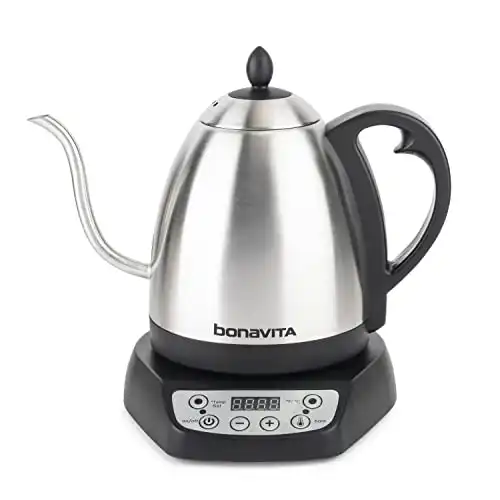 We earn a commission if you make a purchase, at no additional cost to you.
The Bonavita is a classic pour over kettle with simple and easy-to-use settings. Adjust your temperature one degree at a time with the +/- buttons on the base. A small, red-lit screen is easy to read and displays your temperature as it rises. Like the Stagg, you can also hold the water temperature and the kettle will hold for a full hour.
It can feel a little clunky to hold, but overall it has a good design. The Bonavita's body has a heavier base. So while it doesn't feel as smooth as the Stagg, it still has a great water flow that helps you pour with accuracy every time.
Using the Bonavita can feel a little old school. The red screen looks like an alarm clock and the buttons are actual buttons, not fancy dials or touch screens. That being said, it's super intuitive to use and doesn't include any unnecessary bells and whistles. If you love your pour over, the Bonavita is a great and reliable option at a great price.
Pros
Affordable price
Easy to use
Variable temperature control
Holds temperature for full hour
Cons
KitchenAid Precision Gooseneck Digital Kettle
Experience precision and control like never before with the state-of-the-art KitchenAid Kettle. Designed to elevate your brewing experience, this sleek and compact kettle is packed with innovative features that allow you to customize your tea or coffee just the way you like it.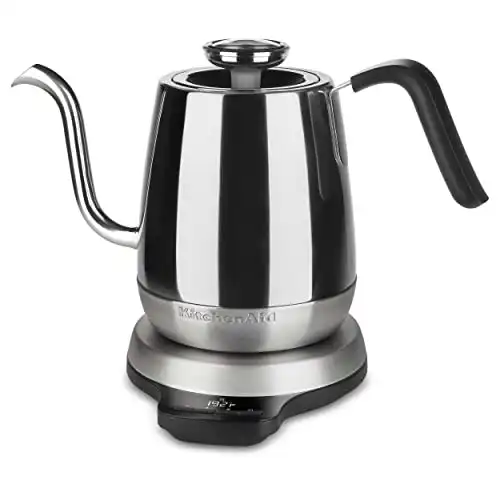 We earn a commission if you make a purchase, at no additional cost to you.
Like the Bonavita, the Kitchenaid Precision is your typical gooseneck kettle with a couple of extra unique features thrown in. You can check the temperature of the water when it's off the base, and you can adjust for flow speed.
The Kitchenaid Precision adjusts one degree at a time and holds up to 1 liter of water. Three separate "flow rate" settings are available if you find you want to pour faster for a cup of tea in the afternoon. This is something I wish all electric kettles could do. It's nice to not pour for a cup of tea as slow as you might make a pour over.
At the same time, the gooseneck spout on this kettle is larger than most, so you want to be extra careful about adjusting your flow rate. When you go to make a pour over and walk away from the base, you can check the temperature of the water as you brew. From a barista's perspective, this isn't necessary.
But if you like to go the extra mile, this is a cool feature that will make you want to keep your kettle on its base between pours.
Last but not least, the Kitchenaid Precision holds water temperature for 30 minutes before shutting off. As opposed to a full hour like the Bonavita or the Stagg.
This is a great, reliable kettle. But the extra features that seem to rack up the cost may not be worth it for the average home barista.
Pros
Flow rate adjustments
Extra temperature read on the kettle body
Stainless steel
Cons
Large gooseneck spout
Only holds the temperature for 30 minutes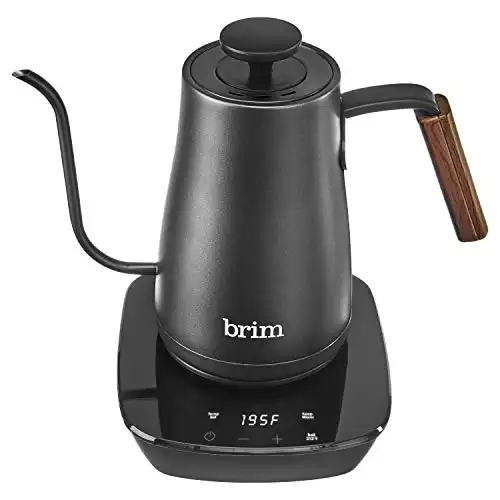 We earn a commission if you make a purchase, at no additional cost to you.
The brim kettle is an affordable alternative to the Kitchenaid Precision. Though the temperature control is less precise, the flow restriction is more reliable. The base holds temperature for up to 1 hour and offers both pre-set temperatures and 1-degree adjustments.
The long, cut gooseneck allows for easy, precise control when pouring. The base is easy to use with a "temp set" button for small adjustments and a "keep warm" button to hold the temperature. On other kettles like the Stagg, the hold is automatic. But the important thing is, the option is there if you need it.
The company's Youtube channel says that the brim kettle is precise within a range of 3 degrees. If you're used to a consistent pour over recipe, you may have to spend extra time with the temperature settings.
All in all, the brim meets all the essential functions a good pour over kettle should have. Though it may take some extra time if you're concerned about how temperature affects flavor.
Pros
Pre-set temperature + 1-degree adjustments
Holds temperature for 1 hour
Cons
Temp hold is manual vs automatic
Temp is less accurate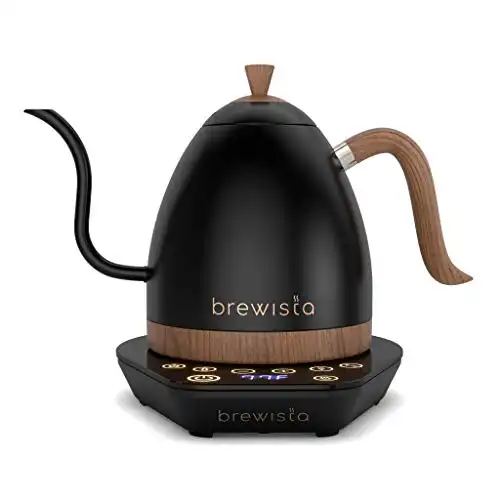 We earn a commission if you make a purchase, at no additional cost to you.
The Brewista Artisan has many settings like the brim, but takes style and precision to the next level.
The base gives the round kettle body a modern design feel. A nice wood-style handle contrasts the base of light-up, touch-activated buttons. What it wins in style matches its functional build and accurate temperature gauge.
Choose from pre-set temps or adjust within 1-degree. You can also choose between Fahrenheit or Celsius, and it holds temperature for up to 1 hour.
The gooseneck itself restricts the kettle's pour for ultimate control of your pour over.
The one downside to this kettle is that it seems to have a lot of buttons for so special features. This can be confusing and unnecessary. Other kettles have all the same features with only 1 or 2 buttons and 1 or 2 toggle switches.
All in all, the Brewista is precise and well-designed for a comfortable pour. At the same time, it seems to value complexity over simplicity. After all, it's only heating up water.
Pros
Functional design
Holds temperature for 1 hour
Cons
Too many buttons
Expensive
What To Look For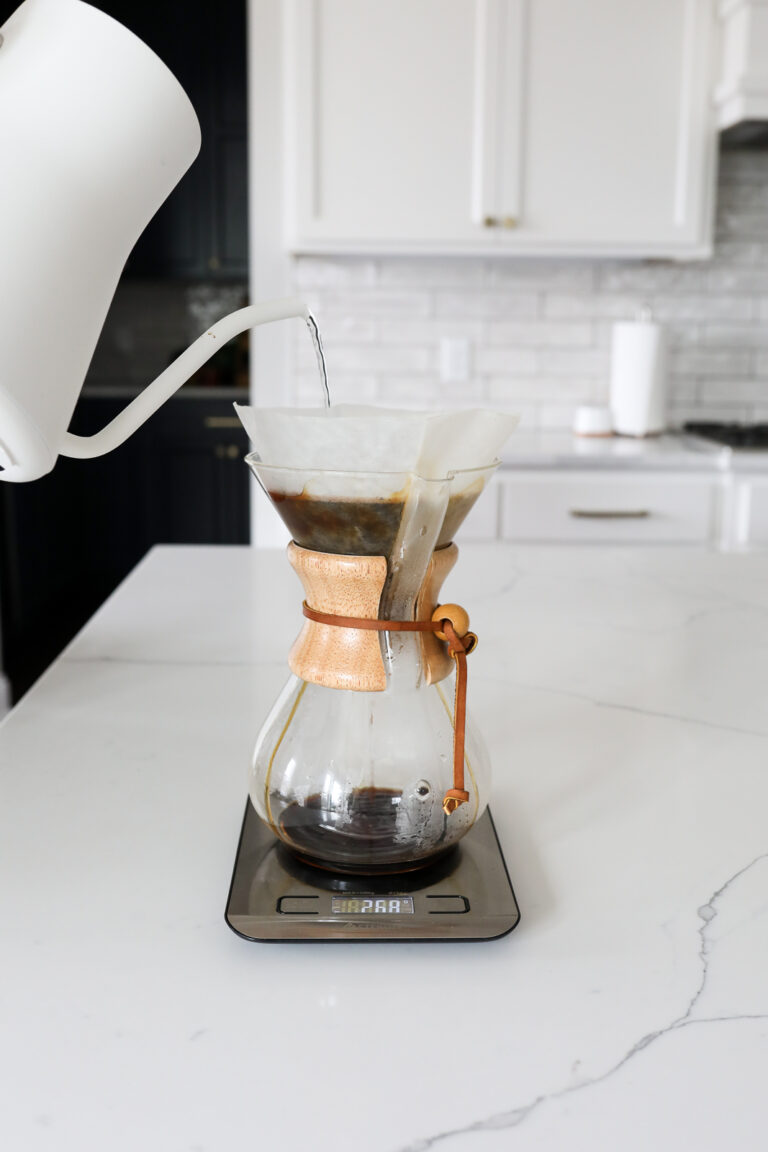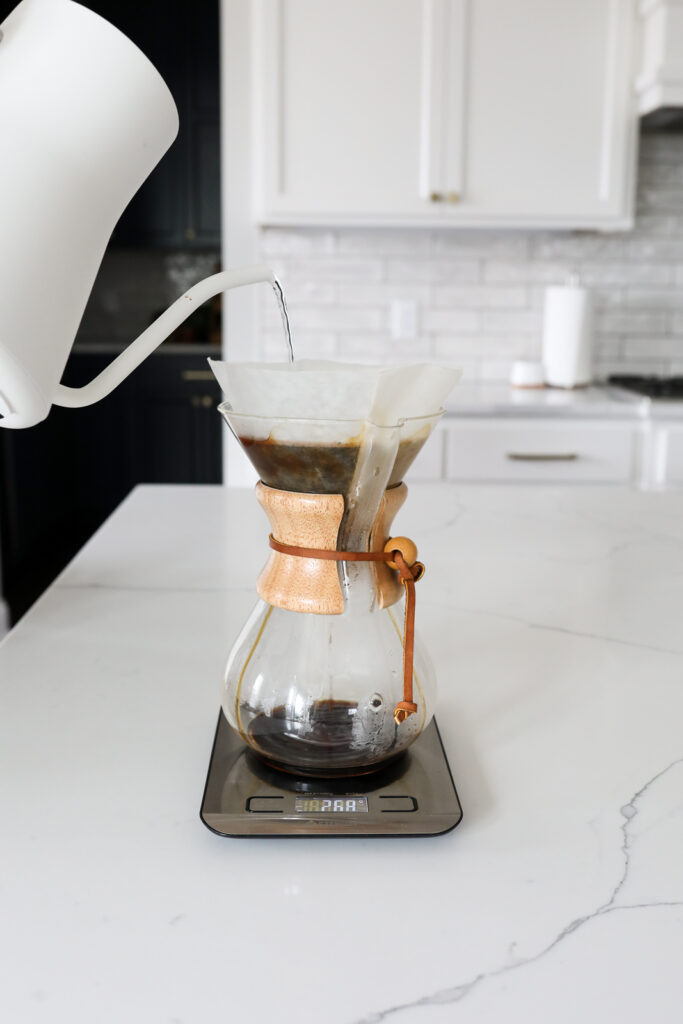 Gooseneck
An electric kettle optimized for pour over should always have a gooseneck spout. A gooseneck spout is not just for show. Compared to a regular kettle, the gooseneck slows down the flow of the water and restricts how much water can exit the kettle at one time. This is pivotal for pour over. If you pour too much water too fast, you risk disturbing the coffee grounds and impacting extraction.
If you're on the hunt for the most budget-friendly coffee beans that even baristas love, check out these top 5 coffee bean brands to use in your next pour over.
Temperature Control
What's the point of an electric kettle if you can't control the temperature? Pour over coffee is like any other brew method. It's temperature sensitive. If your water is too hot you risk burning every cup. That's why it's so important to invest in a temperature-controlled kettle. Electric kettles that lack temperature control can reach up to 212 degrees Fahrenheit. A typical pour over brew range is between 195 and 205 degrees Fahrenheit.
So Which One Should You Buy?
The Fellow Stagg EKG is the best electric gooseneck kettle for pour over coffee and a great option for daily use.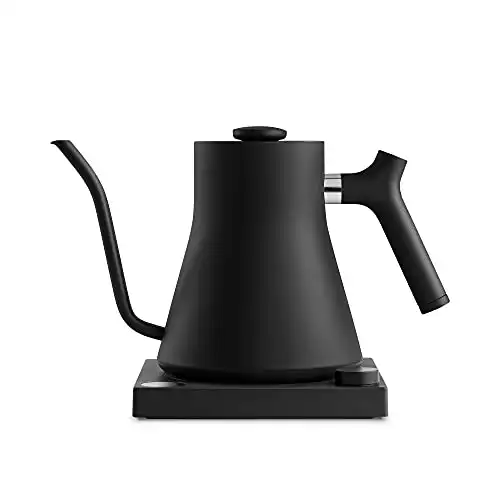 We earn a commission if you make a purchase, at no additional cost to you.
This is the perfect choice because the dial is unbeatable since most kettles use buttons you have to push over and over to reach the desired temperature. The kettle heats a whole pot of water in 4 minutes or less.
Most importantly, with a gooseneck, restricted pour is well-optimized for the careful process of pour over brewing. The design is so simple. The on/off switch also serves as a dial to adjust temperature 1-degree at a time.
If you love pour over coffee, then the Stagg kettle from Fellow is an excellent choice that will give you that high quality coffee shop level cup of coffee!
If you want to learn more about the different types of coffee drinks on the market head over to our master coffee drink guide.
And if you're looking for a way to keep your freshly brewed pour over warm all day long, check out our list of best double walled coffee mugs.
FAQ
What kind of kettle do I need for pour over coffee?
The best pour over kettles are electric and include both temperature control and a gooseneck spout. A stovetop option lacks temperature control. And since pour over is so particular, it's important to be able to adjust your temperature in the proper range, between 195 and 205 degrees Fahrenheit. 
Can you use an electric kettle for pour over coffee?
You can, and you should for the perfect pour-over coffee. Some electric kettles do not convey temperature and are too hot to brew pour over. Many electric kettles also lack gooseneck spouts. Gooseneck spouts restrict the flow of water. If the kettle doesn't have a gooseneck spout, you risk pouring way too much water at a time and not having a steady pour. This interrupts the timing of the pour over process, which can affect brewing process.
What is pour over coffee?
Pour over coffee is a manual brewing method that involves pouring hot water over coffee grounds placed in a filter. It is a simple and precise way to make a single cup of coffee with full control over factors such as water temperature, pouring speed, and extraction time.
You can check out a pour over for yourself the next time you come across a coffee shop that offers coffee flights!
Related Posts: